Doing it "for the 'Gram" used to apply to group selfies, inspiring travel photos, and food recipes made pretty. But nearly a dozen years after Instagram's start, Influencers have built serious business doing Instagram for the dollar dollar bills.
Businesses large and small are able to work with influencers to build brand awareness and engagement outside their branded account profiles. This updated guide provides you with an in-depth look at what you should do to run a successful Instagram influencer marketing campaign.
Why Use Instagram for Influencer Marketing?
First of all, you want to make sure that investing time and resources into an influencer marketing campaign will yield the desired results. Results are affected by targeting exactly what audience you want to reach. You already know that influencer marketing is effective, and not just because 68% of marketing specialists turn to Instagram for influencer campaigns. Now you need to determine if executing your campaign on Instagram is really the best option. 
Let's look at some of the reasons why you should use Instagram for influencer marketing.
Social Media Has Overtaken TV
The media agency Zenith predicts 2022 is the year that the ad market of social media will surpass that of the TV market — which seems both unreal and totally understandable, simultaneously. 
COVID-19 put a pause in the acceleration of social media's market share, but advertisers are expected to spend $177 billion in 2022 and upwards of $225 billion by 2024. Social media will account for 26.5 percent of all advertising spend.
Our study with Onalytica on B2B Influencer Compensation noted that the B2C Influencer Market alone is worth over $15 billion, with the B2B Influencer Marketplace quickly growing to catch up.
The Peoples' Choice
Instagram is a top choice for executing your influencer marketing campaign because, well, influencers prefer it. Bloglovin talked to 2,500 micro-influencers and found that Instagram is their most preferred platform. 59 percent of them say that it's the most effective platform to engage their target audience.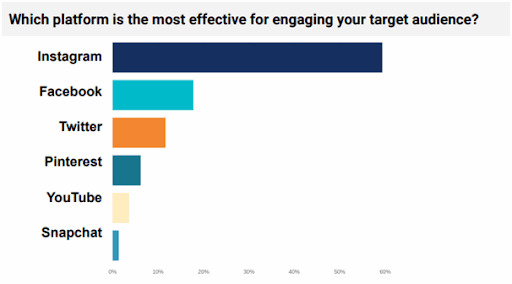 Globally, 23 percent of social media users follow influencers and other experts. That's the same percentage of people who follow sports teams and people! Meanwhile, another 18 percent admit to following Beauty experts as well, according to Global Web Index.
People Are More Popular than Brands
Brand accounts relying on organic efforts (non-boosted posts or ads) saw another fall in organic engagement rates in 2021. Trust Insights has documented the effectiveness of brands versus influencers on Instagram. While both are seeing declines in reach and results, influencers are generating 3-4x the engagement of organic brand posts by the end of 2021.
Brands won't be giving up their branded profiles anytime soon, but they obviously need to add ways for increasing reach and engagement. Working with Influencers can accelerate campaign results.
Massive Reach for Younger Consumers
Instagram is one of the most popular social media platforms in the world. It's also the beloved favorite of Gen Z. According to Global Web Index, more 16- to 24-year olds have visited Instagram than Facebook in every quarter since Q2 of 2019. 
Keep in mind that Instagram is less popular overall with baby boomers and Gen X, but can still be effective with clear targeting.
Understand the Cost
Before you can start planning your campaign, you should also consider your budget and make plans accordingly. While influencer marketing isn't always expensive, proper planning and budgeting can help you avoid unnecessary costs.
It's crucial to understand that the cost of working with influencers will vary according to the influencer's follower size and the industry you're in. It's safe to assume that the more followers an influencer has, or more recognition in a niche industry, the more they can charge for a sponsored post.
While you probably aren't planning to work with super-influencer Kylie Jenner or an A-list celebrity like Dwayne Johnson, you might still get sticker shock when shopping around.
General Rules of Thumb
Most influencer post rate cards start with their follower count and engagement rate. According to Hootsuite, the unspoken industry standard is $100 per 10,000 followers, with extra consideration for the type of post (ie: photo vs. reel vs. story), multiplied by the number of posts for a campaign.
Expect to have to negotiate rates on a per-content basis. That can range from $.16 per recent average engagement to create a single Instagram video to $.06 x recent average views for each frame of a Story.
The cost of working with influencers on Instagram will also vary according to the sector in which the influencer specializes. Don't forget to account for any expenses associated with a photo or video shoot the influencer is putting together, or your own expenses for a product or service shared with the influencer. By creating an appealing compensation package that pays for value and rewards results, you are setting the groundwork for a strong partnership. 
B2B Influencer Rate Considerations
B2B influencers tend to base rates not on the quantity of content, but on the time and effort needed to fulfill the agreement. These Influencers are often found on-stage speaking or covering what's happening behind the scenes at corporate events. Some B2B influencers leverage the power of words by writing blogs, ebooks, and white papers or hosting live videos.
These influencers will typically package together with a bundle of services or a content series, often with some consulting included. Rates can range from a few hundred dollars for one piece of content to several thousand for a multi-day or even month-long engagement.
Don't Forget To Set a Promotion Budget
Paying for the influencer and the content they create is one thing to consider. Be sure to allocate a budget specifically for the promotion of the content once it's gone live. To maximize your effort in creating a partnership, you will want to share with as many relevant audience members as possible.
Once you understand all of these costs, you will have a better idea of how much you might need to spend on your campaign. Depending on your budget, you can decide how many influencers you can work with and how much you can afford to spend on your campaign.
How to Find the Right Influencers
Now comes the process of finding the right influencers. This is easily one of the most challenging steps in influencer marketing, whether it's on Instagram or on other platforms. 
To overcome this challenge, you need to be clear about what you're looking for in an influencer. What characteristics will define your ideal influencer? First of all, they should be relevant to your brand and campaign. They should be creative and engaging. And depending on your campaign goals, they should also have significant reach.
By defining your ideal influencer, you'll find it easier to narrow down the best influencers for your brand from a list of potential influencers. There are several options to find these potential influencers.
1. Search for Branded Hashtags
Look for influencers who are already fans of your brand and create content about your brand. Conduct a search using a branded hashtag so you can find relevant user-generated content created about your products. You can then check out the users who have created these posts to look for potential influencers.
2. Expand Search for Relevant Hashtags
If you're not an established brand yet, or if you're not satisfied with the results from the previous step, you can also conduct a search for relevant and adjacent hashtags. It will help to narrow your search within a specific content type, like creators who post Reels, feed posts, Instagram Stories, or live videos. Just like with the first tactic, you'll need to examine the results and the accounts of users who have created the content that appeals to you.  
Let's say you're a professional services firm that wants to promote a new offer for small business owners. In this case, you'd ideally be working with business coaches and entrepreneurial influencers who can speak from their own experience about the problems you are trying to solve. Try searching for the hashtag #businessmentor and analyze the results.
3. Use the Right Influencer Marketing Tools
You can also make use of influencer marketing tools to simplify your search further. Using these tools, you'll be able to get a list of potential influencers based on a relevant keyword or category. Some of the best tools you can use for B2C Instagram Influencers include Activate, Ninja Outreach, and Influence.co. We also recommend Onalytica and BuzzSumo for B2B Influencer identification. 
Or you can skip this part and work with an influencer marketing agency instead. In this case, the agency will carefully analyze your needs and expectations to connect you with the most relevant influencers in their network.
Execute Influencer Campaign Based on Goals
Finally, you can start executing your Instagram influencer marketing campaign based on the goals you've set. Branded content must be identified on Instagram when there is an exchange of value between a creator or publisher and a business partner. 
Some of the most popular types of campaigns on Instagram are:
Sponsored Post:

What to ask for when you want to pay influencers to create content for your brand. They could simply feature your product in their content or tell an entire story about your product depending on what you choose or need. This type of campaign can be useful for achieving any type of goal. On Instagram, sponsored posts can be presented in the main feed as video or photo, but also could be Stories or a Reel. 

Contests:

If you're trying to leverage your influencers' followers to action, a Contest is a strong incentive. Send free products to influencers so they can organize a giveaway contest. This is an excellent tactic to engage a new audience and can help you gain new followers to raise brand awareness. It could also help build buzz around a new product launch or service offering.

Branded Content:

Featuring

influencers in your own branded content can give the content a little extra push. The content will be created and published by you while involving influencers in the production and promotion. For instance, inviting an influencer to co-host a live video on your brand account allows you to reach both audiences simultaneously. Branded content can be effective for promoting a new product or reaching a new audience in general.

Reviews:

Ask influencers to review your product or service so their followers can make an informed decision when buying from you. Encourage the influencer to make the review as honest as possible. After all, audiences are putting faith and trust in their opinion, not yours. . This form of campaign is perfect for those who wish to raise brand awareness, build trust, and drive conversions.

Brand Rep Programs:

Working with influencers over a longer term may open the door to making them into representatives for your brand. Provide each influencer with a custom discount link or code which they can share with their audience. For each conversion they drive, pay them a small percentage. This type of campaign can help raise brand awareness and drive conversions effectively.
After you execute your campaign, don't forget to track your progress. See what kind of results the influencers are driving. Having a custom URL or unique discount code for each influencer will make it easier to track the performance of your campaign. Based on your analysis of the campaign results, make changes and improvements as needed.
This blog was updated by Lauren Teague, Content and Analytics at Convince and Convert, February 2022.