---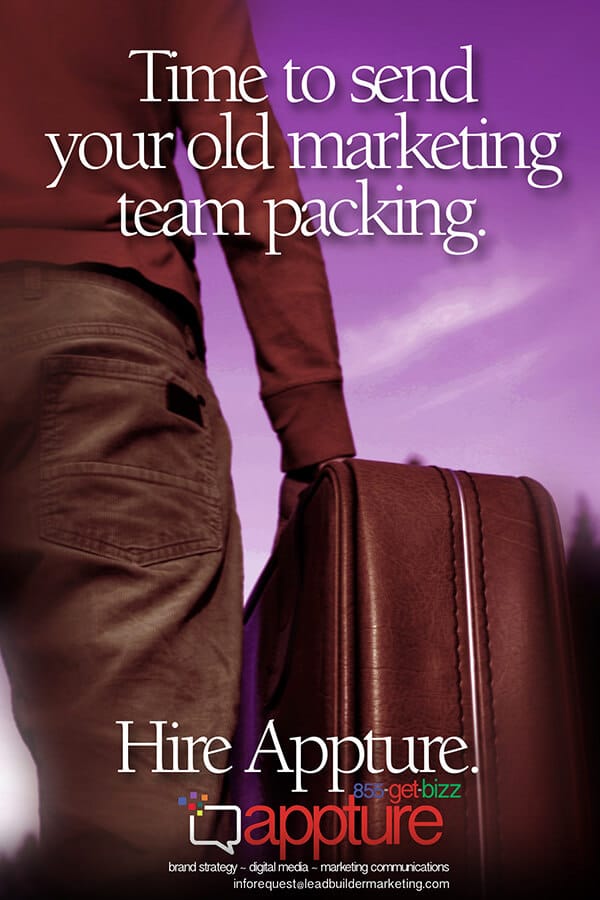 Local businesses rely on word of mouth and walk-in traffic to succeed. These days, word of mouth has moved online. It is indexed by a search engine and served up whenever a potential visitor looks for a topic connected to that business.
A business that wants to appear at the top of the search engine results list uses local SEO like today's word of mouth.
Before we answer the question, "What is local SEO," here are some statistics for you from Social Media Today.
Do you know these local SEO statistics? According to data from 2019…
97% of search engine users looked online to find a local business?
72% of consumers searching for local businesses visit stores within 5 miles of their location?
Nearly half of all "near me" searches end in a store visit?
Eight out of 10 people use Google Maps to find business locations
Although this data is two years old and COVID has changed business, local SEO needs have become more important, not less. Also, as the country opens up, local SEO remains a vital part of acquiring customers. These statistics are a good starting point.
If you aren't taking advantage of SEO, you're missing out on one of the best tools people use to find businesses like yours.
What is SEO?
SEO stands for search engine optimization. It's a marketing practice that increases your website visitors by pushing your site to the top of a search engine results page (SERP). Any time someone searches for a particular keyword or phrase related to your business, SEO helps them find you.
SEO aims to develop your website and content so that it shows up as high as possible in results for specific online searches. This is important because around 68% of people click on one of the top five organic results on a Google results page. (As opposed to ad results that may appear at the top of the page.)
Benefits
SEO is an easy, cost-effective method of increasing your website traffic and brand awareness. When you optimize your website and content for search engines, your chances of being at the top of the results page full of similar products and services skyrocket.
There are plenty of marketing tactics that rely on reaching out to people. SEO lets you reach out to people when they are actively looking for you. If someone is searching Google for the best bagels in Boston, they have bagels on the brain right at that moment. If your business sells bagels, you have a match made in internet heaven.
Consider how many times a day you look stuff up on Google every day. Everyone else uses it about as often. However, general SEO isn't enough to get people into your store. You need to weave in local SEO methods for that.
What is local SEO?
Local SEO optimizes for your location, not just your product, service, or solution. You want your business website to show up on local search queries. Therefore, you need to optimize your online presence for local searches.
For example, here is a search engine result page for hairstylists in Allston:
Local SEO is what makes these locations show up in a search for hairstylists in Allston, even though they won't show up for just "hairstylists."
This also works with search queries that include "near me" when the search engine knows your physical location.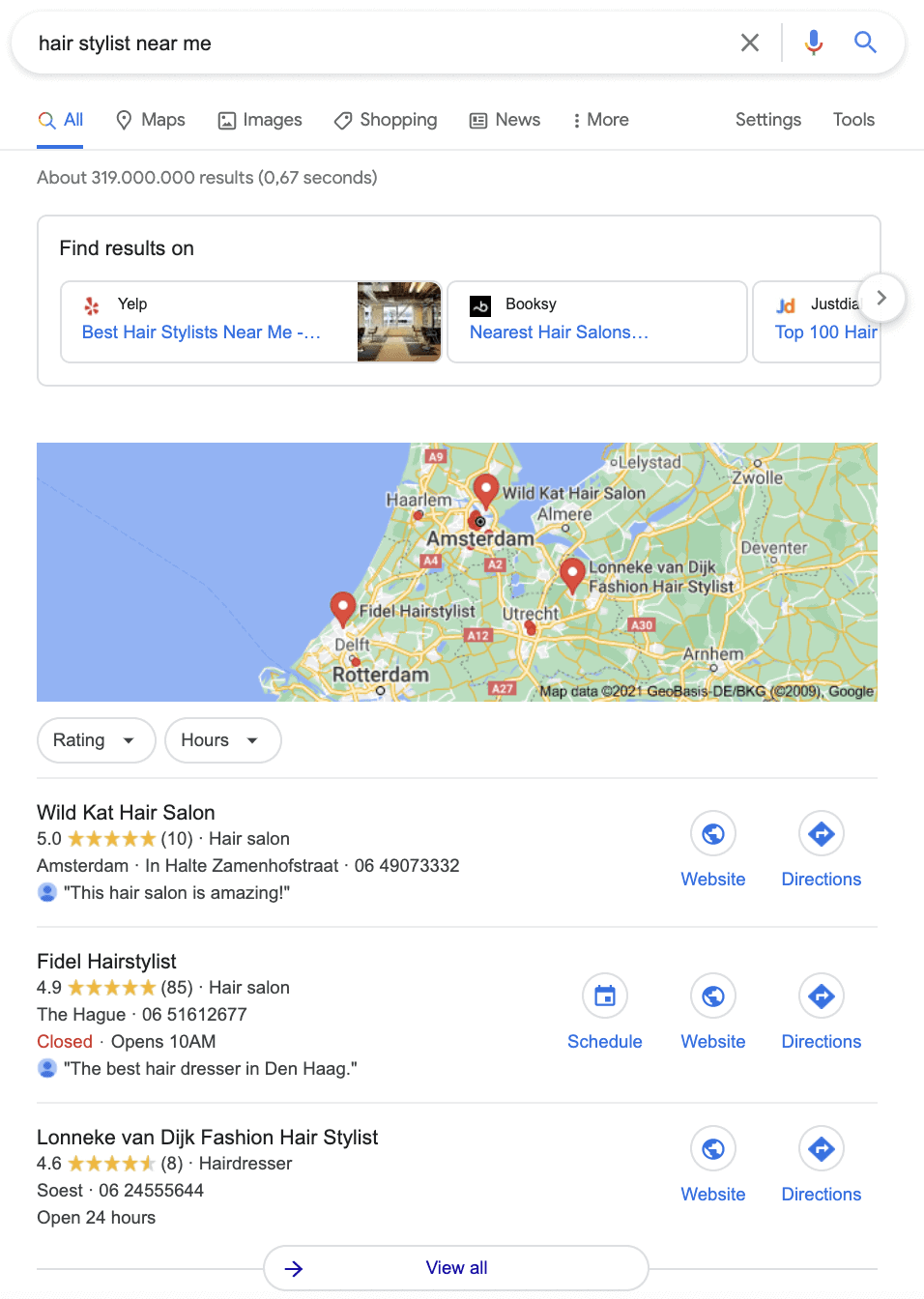 Google suggests local hair salons for the "near me" search because it has detected that the searcher is in Amsterdam. If they were somewhere else, they would get different results.
Local SEO is a strategy for anyone with a physical store. If you want to increase foot traffic in your brick-and-mortar store or score projects from people who prefer to work with someone close by, you can benefit. For example:
Jewelers
Restaurants and cafes
Clothing boutiques
Ice cream parlors
Anyone who sells directly to consumers in a face-to-face transaction definitely needs local SEO. If you provide an online service that people prefer to keep local, you need it, too.
Benefits
Almost half of all Google searches are local. The first thing people do when they want to find a business nearby is look it up on Google.
Nearly 90% pay a visit within 24 hours after selecting a result, so local Google searches are a clear indication.
If you want people to find you online, you need to implement local SEO along with your website SEO.
How to start using SEO
Search engines index content on the internet and then determine where that content should rank according to a list of factors. This ranking comes from an algorithm, or set of instructions, that tells the search engine what to look for in terms of authority and other elements. This approach is meant to ensure that people will find the most useful information in the top two or three results for any search.
Though a specific search engine algorithm isn't public and may change with time, there are some general elements to focus on.
Building authority
Since search engines want to give a user the most useful, relevant information for their search, you can "build authority" on key topics related to your business to rank higher in the search engine results.
Algorithms look at onsite and off-site factors to determine how much authority your page should have. Onsite authority is built through new, keyword-based, highly relevant content. Offsite authority is created when people share your content on social media, and other websites link to your pages.
You should focus on both to rank higher. To do this, you can:
Build onsite authority by regularly publishing fresh, relevant content on a specific topic. Search engines give higher rankings to pages with new and frequently refreshed content.
Build offsite authority by getting other sites to link back to your site. Search engines like to see that someone other than you believes your content is valuable.
Website SEO
You want search engines to understand what your business is all about. SEO makes it easier for the algorithms to do that. That way, when a consumer searches for your industry online, your business can be on the search engine's carefully curated list of best results.
Another element of website SEO is the consumer's browsing experience, because if your site is too complicated or garish, people may close it before finding the information they were looking for. Certain design elements of your website that focus on the browsing experience will be considered for your ranking.
Y ou can audit your website to learn how it's doing in terms of SEO currently, so you know what to do to improve it. Look at these website elements to determine your current SEO performance.
Speed: A website that loads too slowly loses visitors quickly.
Mobile-responsiveness: How does your website appear on a smaller screen of a mobile device? Mobile-responsiveness is especially important for local SEO, as people may search for your business while they're out.
Error pages and broken links: Are you frustrated when you see a page that says, "404?" So are your visitors.
Security: Make your site secure by obtaining a valid SSL certificate from your domain provider.
Page titles: Make sure every page has a clear, concise title. Check for duplicate titles, because they will compete with one another for page rank on search engines.
Keyword optimization: Use a single keyword per page and make sure it appears on the page title, meta description, alt tags (HTML image tags), and headings in content.
Speed, mobile-responsiveness, and security are all elements you optimize when building the framework of your website. Optimize keywords in the content you produce and the words you use to label pages.
Keywords and phrases
The term "keyword" is a little deceptive. A keyword can be a single word, or it can be a phrase. Put simply, it is a term people use to find specific content.
What do people type into search engines when they try to find your business? Those words would be the keywords you want to use in your content to make your pages rank highly on the search engine results page.
Keywords can help in other areas, too, like marketing email subject lines and newsletters.
Before you decide on a keyword you want to target, you need to do some research to figure out what will work best. Keyword research includes:
Identifying trending topics
Listing words you often use for your brand
Brainstorming words related to your business
Considering search intent
Using keyword tools available online or embedded in website building software
Search volume directly correlates to audience interest. This means that, if more people search a specific term, it is more relevant. As you narrow your list to the right keywords, ask yourself how people search for your company, product, or service. Find words that resonate with your audience.
Search intent is another facet of keyword research. Search intent is the reason someone looks up a keyword on a search engine. In other words, you ask yourself, "What are they trying to learn with this keyword?" This intent is split into four categories.
Informational
T hese searches are to learn general information about a topic. An informational search might take the form of "How to fix my iPhone" or "Why is my computer slow?"
Informational searches often use long-tail keywords and are formed as questions. A long-tail keyword is a longer keyword phrase that is more specific to the topic.
Navigational
A navigational search looks for a specific site the person already has in mind, like Walmart or Starbucks. A consumer enters the term into the search engine to bring up a result with a direct link to their destination.
Investigational
An investigational search looks for information to help someone make a decision or learn more about a topic. An example would be a search for "best blenders." The consumer hopes to find articles comparing brands.
Transactional
A transactional search takes place when an individual is ready to purchase something or undertake another action. The search might take the form of "cheap wholesale t-shirts." The consumer intends to buy a t-shirt and is looking for the best site to make their purchase.
Search intent is essential in keyword choice because if you don't meet the user's intent with your content, Google will notice and drop your ranking.
Google is also handy for suggesting other possible keywords. It provides a section near the top of the results page titled "people also ask," listing other questions or queries typed into the search bar about the same topic.
Type a potential keyword, phrase, or search question into the Google search bar and take a look at what people also ask about. Use those additional terms to start building a keyword list.
Developing content around keywords and phrases
Once you finalize your keyword list, begin developing content around each item in your list. The best content has a very specific focus and a narrow topic.
People look for value in the content they consume and prefer content that gives in-depth answers to their questions.
Optimize each web page around one keyword or phrase as part of your onsite SEO effort. All optimization takes place directly on the web page.
Target a unique keyword or phrase for each page so you don't have pages competing against each other. Place the keyword in specific locations on the page, because each is a factor the search engine uses in ranking the content.
Place your unique keyword in these places:
Copy: The text-based content on the web page
Title tag: The title of the web page that shows up on the results page and in the web browser tab when the page is open
Meta description: A brief introduction to your web page that shows below the title on the results page
As you write copy, use the keyword as it occurs naturally throughout the content piece. Don't overdo it, as this is known as keyword stuffing, which causes a search engine to actually lower a page's rank. Don't even try to add keywords invisibly with white font colors or anything. The Google algorithm will know.
The title tag should contain the keyword while being brief yet engaging. The title tag is short and conveys the value of your web page.
The meta description is a brief introduction to your web page. It should contain your keyword and invoke curiosity about the topic. You want to entice the reader to click on your website to learn more. Meta descriptions should be less than 160 characters long because that is the limit on the search results page.
Here is an example for the keyword "what is a coworking space.":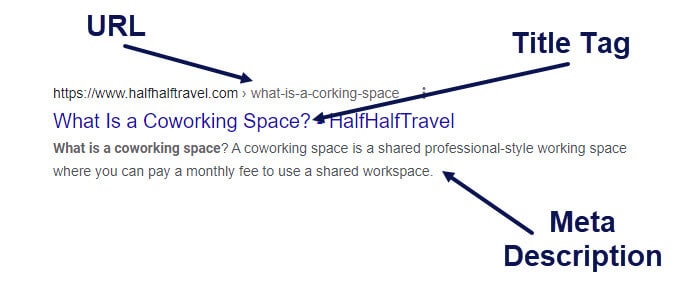 The title tag: Placing the keyword in the header or "title tag" tells the search engine what the page is about.
The URL: Placing the keyword in the URL, the text you see in your web browser address bar, is another valuable keyword optimization. The keyword comes at the end of the address and requires hyphens between the words.
The meta description: note the keyword at the end of the first sentence. The second sentence acts as a CTA (call-to-action), asking the individual to click on the link to your page where you have a keyword-optimized piece of content ready to go.
Beyond optimizing your web pages for target keywords, consider other ways to expand your keyword real estate.
Develop case studies
Write ebooks
Create videos
Writing blog posts is an excellent method of targeting a keyword. Blog posts also help with offsite SEO.
Build links to your website
If you can write posts for your own blog, you can write guest posts for other websites. The guest post should contain a link back to your website. As mentioned before, Google looks for those links when deciding on your authority.
Backlinks can come from forums and online business directories as well, but the most valuable backlinks are from editorial content like blog articles. This makes guest blogging for other websites a great way to build your offsite authority.
Develop informative content and other sites naturally link to it. Also, you can reach out to websites that might find your content valuable and ask for a backlink. Include in your pitch why a link to your content benefits them, and be sure to ask for your specific targeted keyword to be used as anchor text, the hyperlinked text in copy.
Be cautious. Backlink quality matters. A link from Forbes is more valuable than one from a spam site. Too many low-quality links can lower your search engine ranking.
Other ways to backlink include:
Linking your personal sites to your company website (be sure it's relevant to your company)
Ensuring your business is listed on review sites
Asking for press coverage about your business to link back to your website
Making sure you are sharing your website and content on social media, and encouraging others to do the same
Now that you have your bearings for general SEO, it's time to layer on the local SEO.
How to get started with local SEO
A significant number of web searches are for local businesses. People may be looking for a restaurant in their vicinity or want to find a local retailer selling a specific item. They might be trying to find a local non-profit or new place to get their hair done. Local SEO aims to rank you high in these searches.
As an added bonus to increasing traffic to your physical location, local SEO can also help you snag a spot on one of Google's "snack pack" pages. A Google snack pack is a special grouping of local search results that showcases the top three businesses for a specific local Google search.
The results inside the snack pack show more information than a typical search result, including online ratings, your address and phone number, and your hours of operation. One-third of local search clicks go toward snack pack results.
There are six steps to perform for local search engine optimization to get your business to the top of the page and maybe even in a Google snack pack.
PRO TIP: Save your standard business details like your company name, address, phone number, hours of operation, business categories, website URL, and social media profile links in an online spreadsheet. Copy and paste from the spreadsheet into any business listing platforms. That way, your information is consistent across platforms and sites, building more authority with the search engines.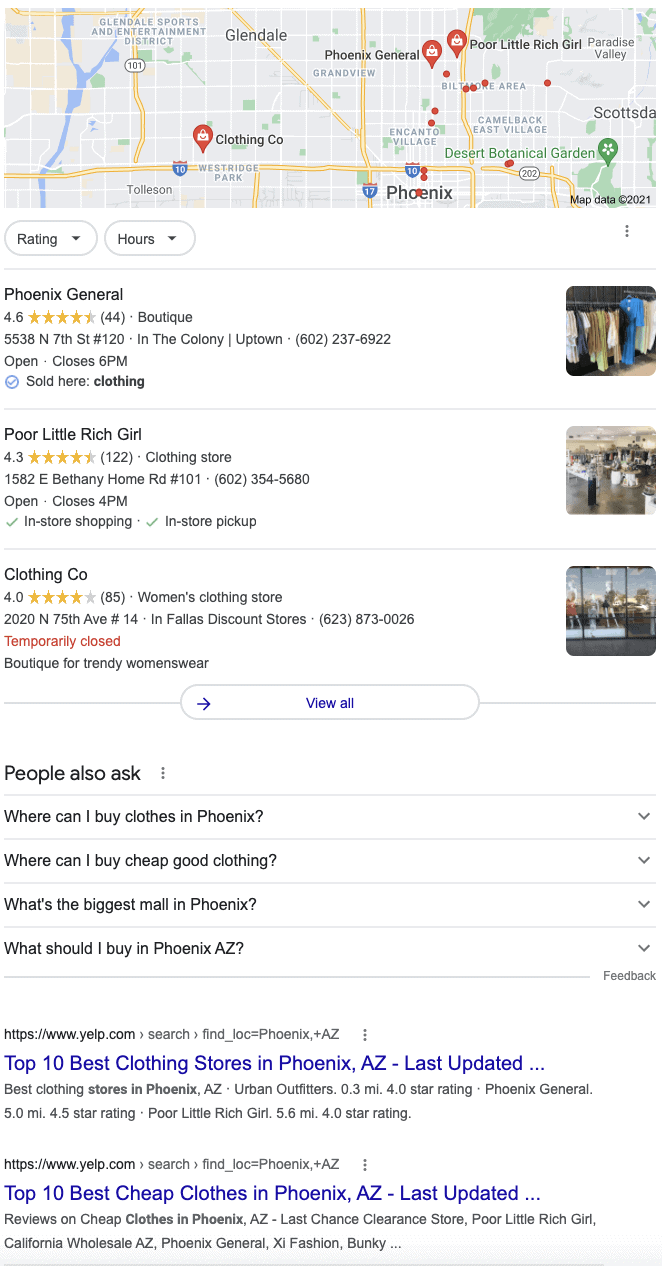 Here is an example of the snack pack. Notice the extra information given, including ratings and available features, compared to the results below them.
Step 1: Claim and optimize your Google My Business listing
Google provides a free tool to help businesses optimize their online presence for Google search results and Google Maps. You have space for reviews, to interact with customers, and to share essential details about your business, all in one place.
To claim your Google My Business listing:
Visit the Google My Business page.
Log into your Google account. If you don't have an account, set one up.
Enter your business name. If your business already has a listing, claim it. If not, select "create new listing."
Add your address. Google requires your address for verification purposes. If you have a storefront, use that address. If you have a virtual office or work from home, use your home address and click "hide your address" to protect your privacy.
Set your location pin. Adjust the pin, to make sure your location is accurate. Don't trust Google Maps to put it in the right place.
Choose a business category. You are only allowed one main category, so choose wisely. Make sure it is a good representation of what your business does.
Add your contact information. Make it easy for customers to reach you by adding a phone number and website URL in the search results, so people can contact you with a click.
Verify your listing. Google verifies through a phone call or postcard to ensure you actually own the business. Verification has specific steps. Make sure you follow them to the letter to avoid delays.
To optimize your Google My Business listing:
Add a high-quality photo of your business location and products. Listings with photos receive 35% more clicks and 42% more Google Maps direction requests.
Reply thoughtfully to your Google reviews. Businesses that reply to reviews earn more revenue than those that don't.
Add accurate hours of operation, including holidays and planned closures.
Include parking information.
Write a compelling business description.
Urge satisfied customers to write online reviews.
Answer visitor questions with the Q&A feature.
Step 2: Claim your Apple Maps listing
Apple has about 55% of the American cell phone market. Many people use Apple Maps to find local businesses.
To claim your Apple Maps listing:
Log in to Apple Maps.
Connect with an Apple ID and follow the prompts to claim your listing. It will ask you over the phone to verify you own the business.
Add all standard business details, such as company name, address, phone number, hours of operation, business categories, business URL, and social media profile links.
Step 3: Claim and optimize your Bing Places listing
Bing may not be as popular as Google, but it still provides value to business owners. Bing makes it easy to upload your business information directly from your Google My Business listing. However, you will need a Windows Live account to get started.
Note that to qualify for a listing, you will need a physical storefront, because Bing doesn't allow Bing Places listings for virtual or online businesses.
Step 4: Conduct local SEO keyword research
You performed your keyword research for general SEO. Now, it's time to research local keywords.
As you research, consider the local aspect of your business. Use location-specific keywords — known as Service in Location (SiL) keywords. Local keywords are typically the name of your location added to the end of your primary keyword.
For example :
"primary care doctor in Cincinnati"
"accountant in Boston"
"manicurist near me in Seattle"
Ask yourself, "What would I want to search to find my business?" Your local customer base searches the same way you do.
Step 5: Optimize your website with local keywords
Place local keywords in your title tag and meta description, just as you would for general SEO. Then, add your NAP (Name, Address, Phone number) to the footer of your website. The NAP is a significant ranking factor for local SEO. Without it, you don't stand a chance at a spot in a Google snack pack.
The NAP information should be identical across all platforms since Google prizes consistency.
If you have multiple locations, create a specific landing page for each location. Then, use the web pages to target unique local keywords and feature the associated NAP information. Your URLs should look similar to these:
Yourbusinessname.com/dallas-texas
Yourbusinessname.com/fort-worth-texas
Yourbusinessname.com/arlington-texas
Enhance your local SEO with blog posts and articles with the local audience in mind. Put together articles like "Best Place to Find Churros in San Antonio" or "3 Places That Rock Lefse in Minneapolis."
Local content attracts local consumers to your website and introduces them to your brand. After that, you can convert them to customers, grow your business locally, and make more sales.
If your business is in a popular tourist destination, local SEO will bring your business to visitors' attention before they arrive, which may land you on their itineraries.
Step 6: Focus on local link building
Local backlinks are just as valuable as any others. Places to have local backlinks include :
Local business directories
Niche industry directories
Your local Chamber of Commerce
Helpful local resources on your blog or website
Guest posts on other local business blogs
Other local businesses' websites, maybe in a cross-promotion campaign where you link to them on your site as well
Look around in your area to see who you can contact for a backlink to your website.
Conclusion
Local SEO adds a unique layer to your overall search engine optimization efforts.
As you build your online presence, do your keyword research. Focus on one relevant keyword per web page, article, or blog post. Then, place that keyword in the title tag and meta description for that page.
Use local keywords whenever possible and claim your business listings, so when people ask their smartphones or cars for a restaurant near them, your business shows up at the top.
Also, maintain your keyword research and SEO. SEO is not a one-and-done activity. Use a quality SEO tool like Constant Contact to ensure you are making the best of your time and money.
Now, get out there and local SEO like a pro!