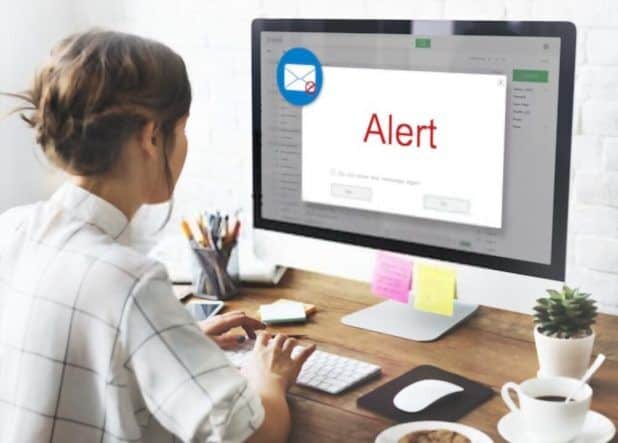 November 11, 2020
SPONSORED
Technological advancement has made the security of computers and mobile devices tighter. With that, cybercriminals are also regularly discovering new ways to conduct malware attacks on the users' system. You might be aware of common malware such as viruses, trojans, spyware, and more. After getting entry into your system, they could create havoc and can steal much sensitive information. There are many mediums through which the malware can infiltrate your system. Cybercriminals always look for a medium with a vast user base so that the malware can be widespread, and they can easily carry out the cyber attacks. One such medium is email. 
Emails, for a long, have become a popular medium for viruses and other malware spreading. The malicious codes and files which are sent through emails are commonly known as email viruses.
In this post, we would discuss more on what is email virus, types of email viruses, and how to prevent it.
What is an Email Virus?
As mentioned in the introduction, an email virus is a malicious code or files sent through emails for the quicker and larger widespread. Cybercriminals can hide the maligned code in the email message, links, or attachments. The code can get activated by clicking the links, opening the attachments, or just by interacting with the email message.
Email viruses can be disturbing and can cause a massive burden to the system and servers by continuous email generation. Generally, email viruses are sent for extracting the private information of the user, such as bank credentials, social media logins, social security numbers, and other security info. Users are prompted to spread such emails, so if you receive any mail asking you to send this to more people, it might be a chain of email virus scam. An adequately framed email virus is quite hard to detect as it is created explicitly by professional attackers.
Types of Email Virus
Email Viruses are packed and spread among users through various means. Some loosely designed fake emails can be easily identified by its subject line, suspicious or phony sender, or the useless matter. At the same time, some others can trick even the experienced persons using the social engineering attacks. Here are the top forms through which email viruses are spread.
Spam Email
Spam Emails are the bulk email chains sent to thousands of people collectively. Such emails contain offers and catchy subject lines so that recipients couldn't resist opening it. There are unsolicited links present in it that are responsible for the infection spread. Ransomware malware is most commonly spread through such spam emails.
Hoax Email
Hoax email is another popular method to spread viruses through emails. Such emails contain false warnings that create panic among receivers, and they willingly get trapped in the cybercriminals' tricks. False alerts can be anything like a nonexistent virus threat, fake system hack alerts, phony update alerts, and more. 
Spambots
Spambots are specially designed programs that collect email addresses from different sources and create a mailing list. This mailing list is then used for conducting the bulk emails. Since Spambot is not spread through emails so technically, it can't be termed as an email virus, but it is an essential part of collecting the emails and virus spreading.
Whaling
Whaling, which is also known as Business Email Compromise, is organizational email scamming. A genuine-looking email is sent to a person who handles finances and can carry out the transactions. In the email, the sender pretends to be the higher authority who wants immediate trade of the said amount. The transaction is asked to be carried out through links. The receiver, without realizing any suspicion, willingly initiate and complete the transaction.
Macro Viruses
Email is the most common medium for spreading the Macro virus. A Macro virus is a malicious code written in the macro language and is usually used in programs such as Microsoft Word, Excel macros. Such viruses are spread through email attachments in the form of essential documents. On just opening it, the malicious codes get activated.
How to prevent Email Viruses?
To secure your system, it is imperative to recognize malicious emails and prevent email viruses from entering your system. The following tips can be helpful for that purpose.
Keep a robust antimalware program installed on your device. It would not only protect your device from email viruses but also from other hazardous threats.
Use the spam email filters. Although many email service providers give the in-built feature for filtering out spam emails, you can still get third-party spam filters for extra security.
Refrain yourself from opening email attachments from unknown or suspicious sources. If it looks really important, then thoroughly scan it with an antimalware solution and then open it. Usually, these extensions are the virus carrier: .dll, .exe, .com, .pif, .js, .scr, .dot, .xls, .xlt.
Never click or open the link you received on your inbox sent from unknown, unreliable sources. Such links are usually sent by the cybercriminals to carry out phishing attacks.
Abstain yourself from giving your email addresses to insecure and untrustworthy sites.
If you get an alert for a virus attack or similar, verify its authenticity and then only click on the link or take any further action.
Keep your Operating System, mail applications, and browsers updated. Also, keep updating your security solution too. Regularly check for the latest updates manually. Keeping them updated would correct the security loopholes and prevent the latest attacks.

 
Bottom Line
Cybercriminals always look for feasible and affordable mediums to spread the malicious codes and programs and that too to a larger people. Emails provide them excellent means to carry out their dubious tasks. Computer users can be easily trapped to install malware into their systems using fake emails. It usually happens because people don't know that viruses and other malware can be spread through emails too. 
This post thoroughly guides you on everything about the email virus and its prevention. It is always better to recognize and prevent virus attacks instead of removing them after the infection.
---
George Davis is a freelance writer. His aim is to help small and medium business reach huge audience through the power of words.