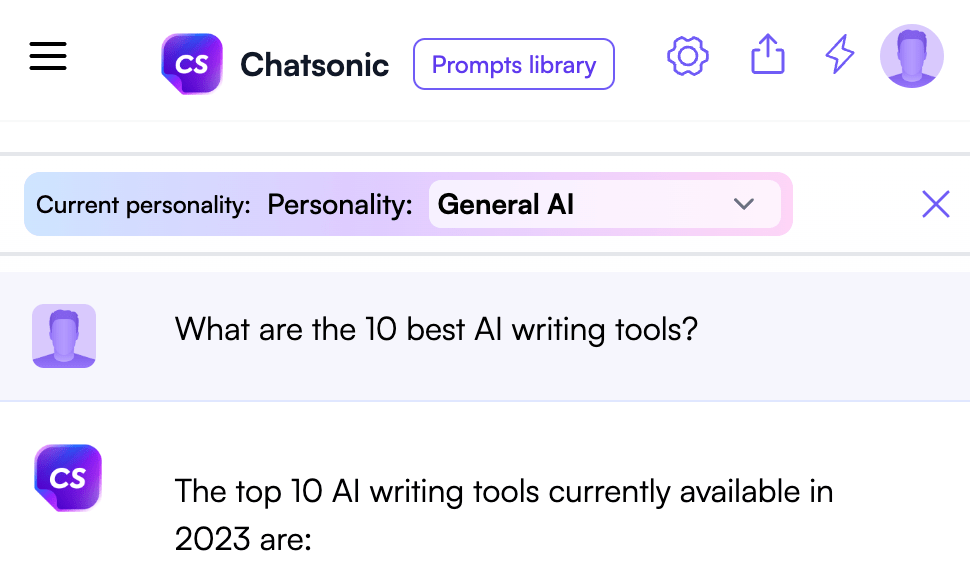 What are the best AI writing tools?
To find out, I went meta and asked 39 AI writing tools to recommend their top 10 AI writing tools. I then tallied the votes.
Here are the 10 most voted for:
| AI writing tool | Number of votes |
| --- | --- |
| Grammarly | 26 |
| Writesonic | 24 |
| Quillbot | 22 |
| Jasper | 21 |
| OpenAI GPT-3 | 19 |
| Wordtune | 18 |
| ContentBot | 16 |
| Article Forge | 15 |
| Hemingway | 14 |
| ProWritingAid | 13 |
Sidenote.
By the way, if you're interested in the output, you can see the results here.
Editor's Note
The reason why so many new AI writing tools seem to pop up every week is because most of them are based on the same technology. We've also created our own. 
If you want to use free tools that do not require you to sign up, check out our free AI writing tools here.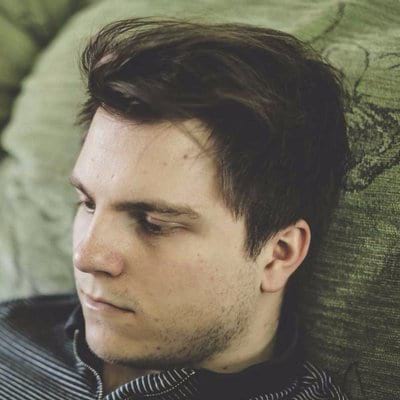 Percentage of votes: 67%
Pricing: Free; paid plans from $10/month
Grammarly is a typing assistant that checks your content for grammar, spelling, punctuation, and clarity. Upload an existing document, and Grammarly will review your content and give it a score: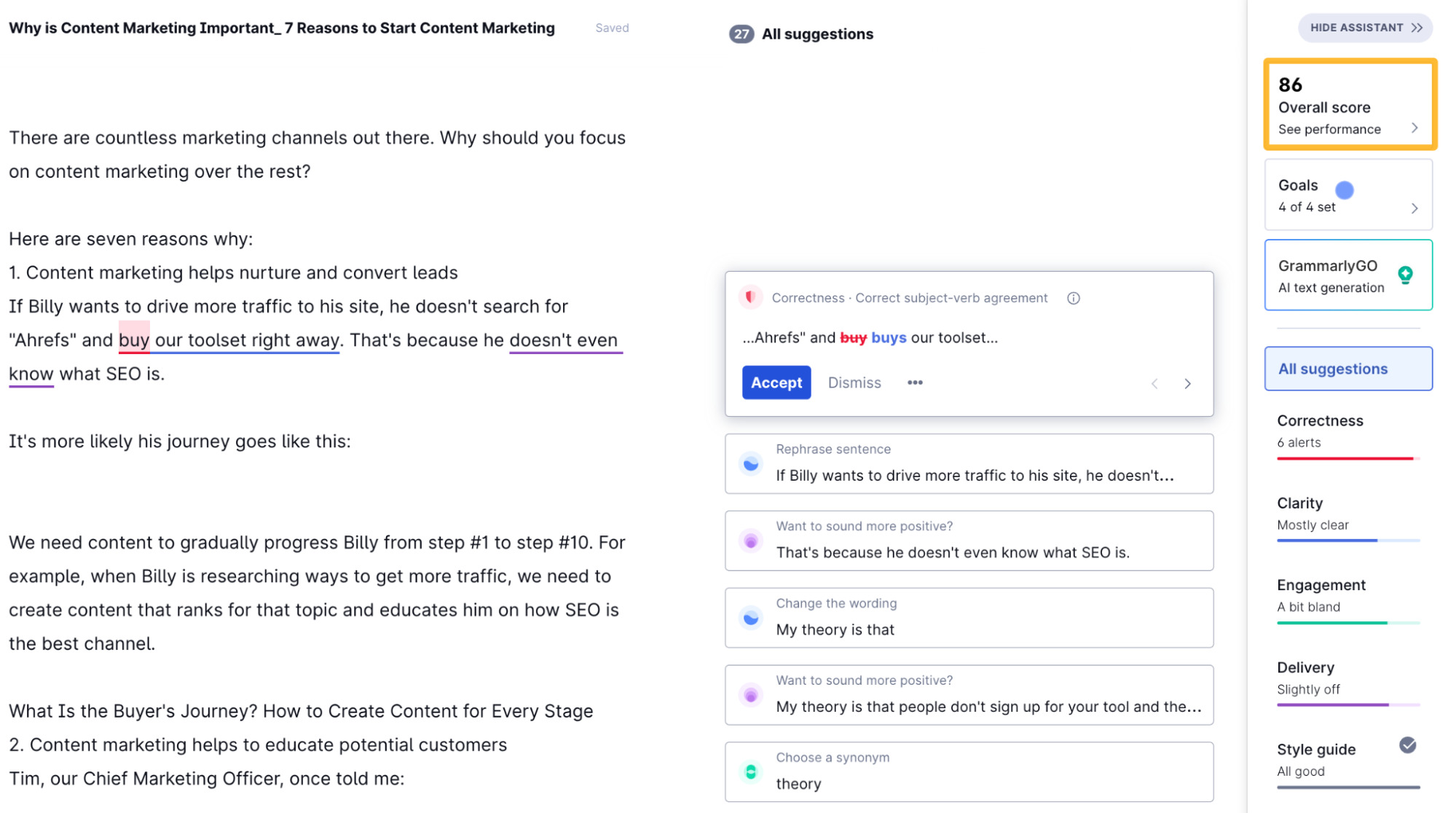 Grammarly added AI text generation capabilities (GrammarlyGO) in April 2023.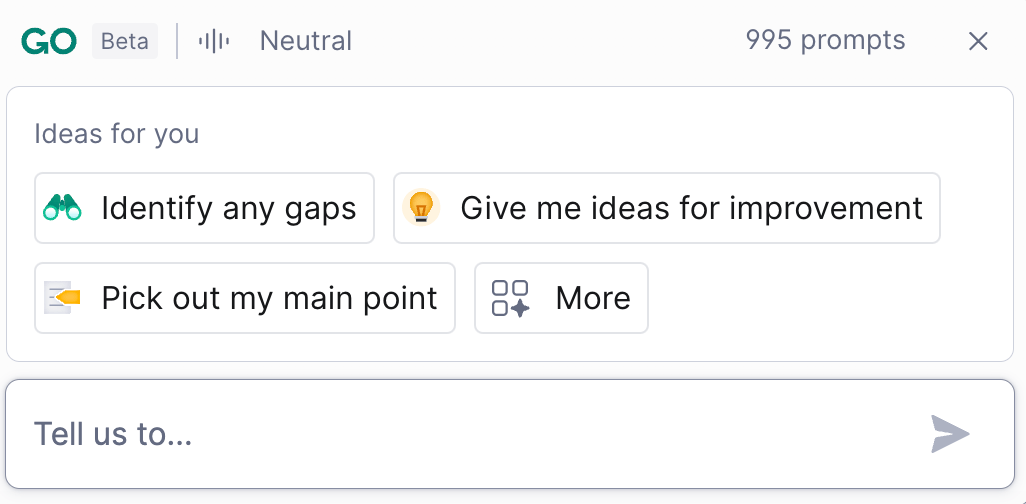 The meta part is that you can use GrammarlyGO to generate AI content and have it reviewed by Grammarly at the same time.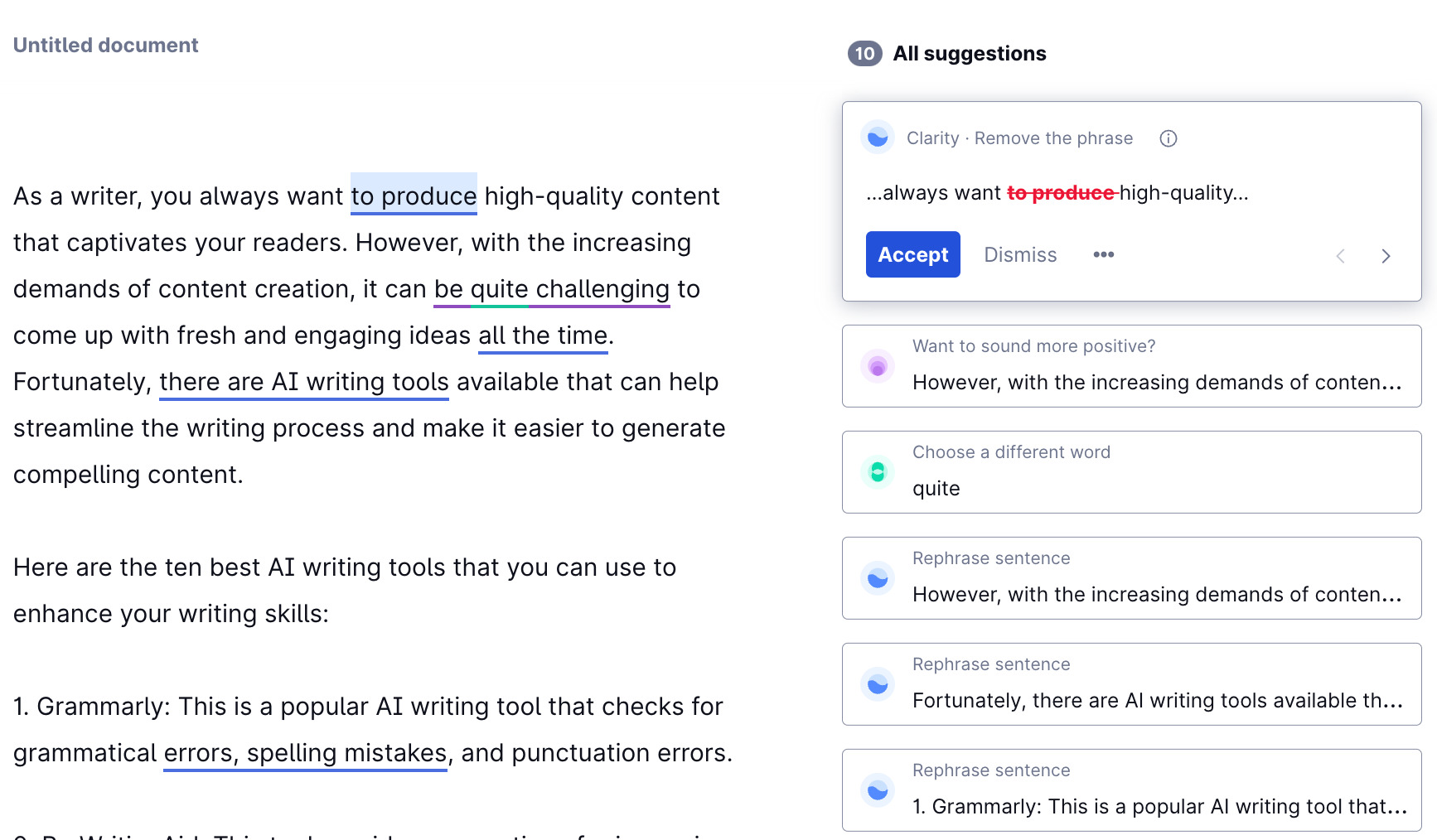 Highlighted feature
Grammarly has a built-in plagiarism checker. Since large language models (LLMs) have a tendency to plagiarize, this is useful for reviewing the content generated by Grammarly itself: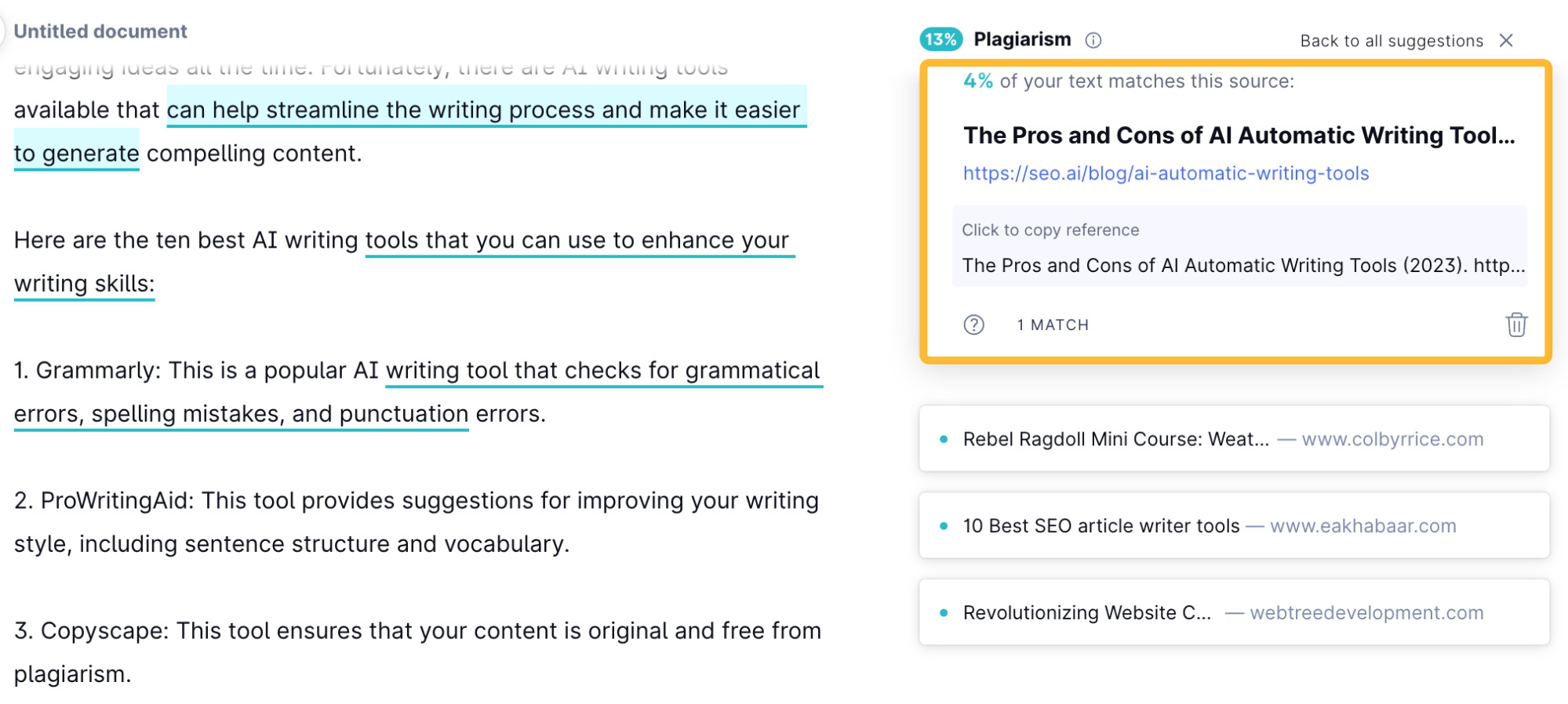 However, it is not perfect. Since I was rewriting my post on why content marketing is important, I decided to check my new draft for plagiarism in Grammarly. Grammarly flagged that 19% of my text matched another:

Turns out that page was the one plagiarizing me in the first place—they ripped off my original blog post and republished it on their blog (without permission). They even left the link to my Twitter (X) handle intact:

Percentage of votes: 62%
Pricing: Free up to 10,000 words/month; paid plans from $20/month
Writesonic is an AI-powered writing assistant that helps you create high-quality content quickly.
It's not just blog posts. Writesonic also enables you to create ad copy, text messages, product descriptions, social media posts, landing pages, and more.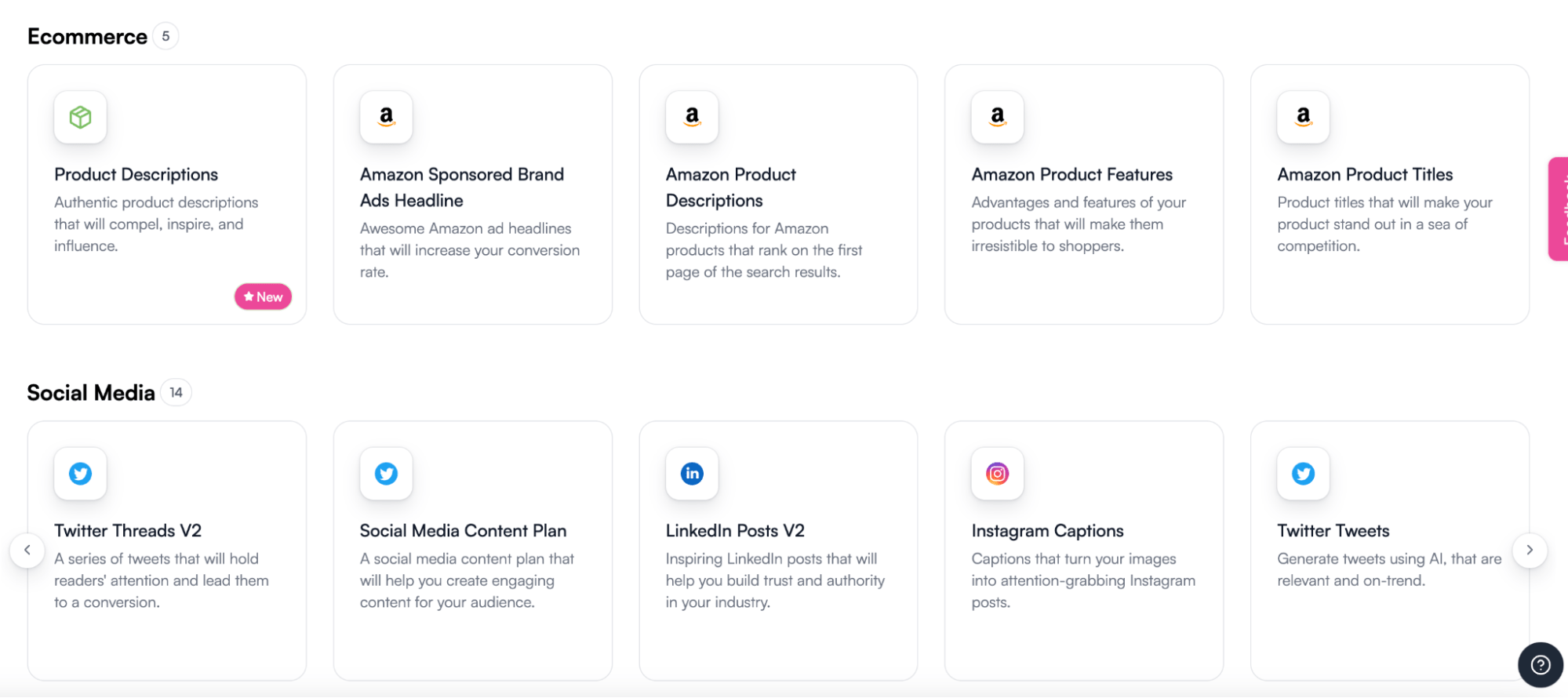 It even has a chatbot (Chatsonic) similar to ChatGPT.
Highlighted feature
Writesonic's Brand Voice feature allows you to maintain brand consistency and tone with your AI-generated content. I uploaded one of my pieces, and here's what it said: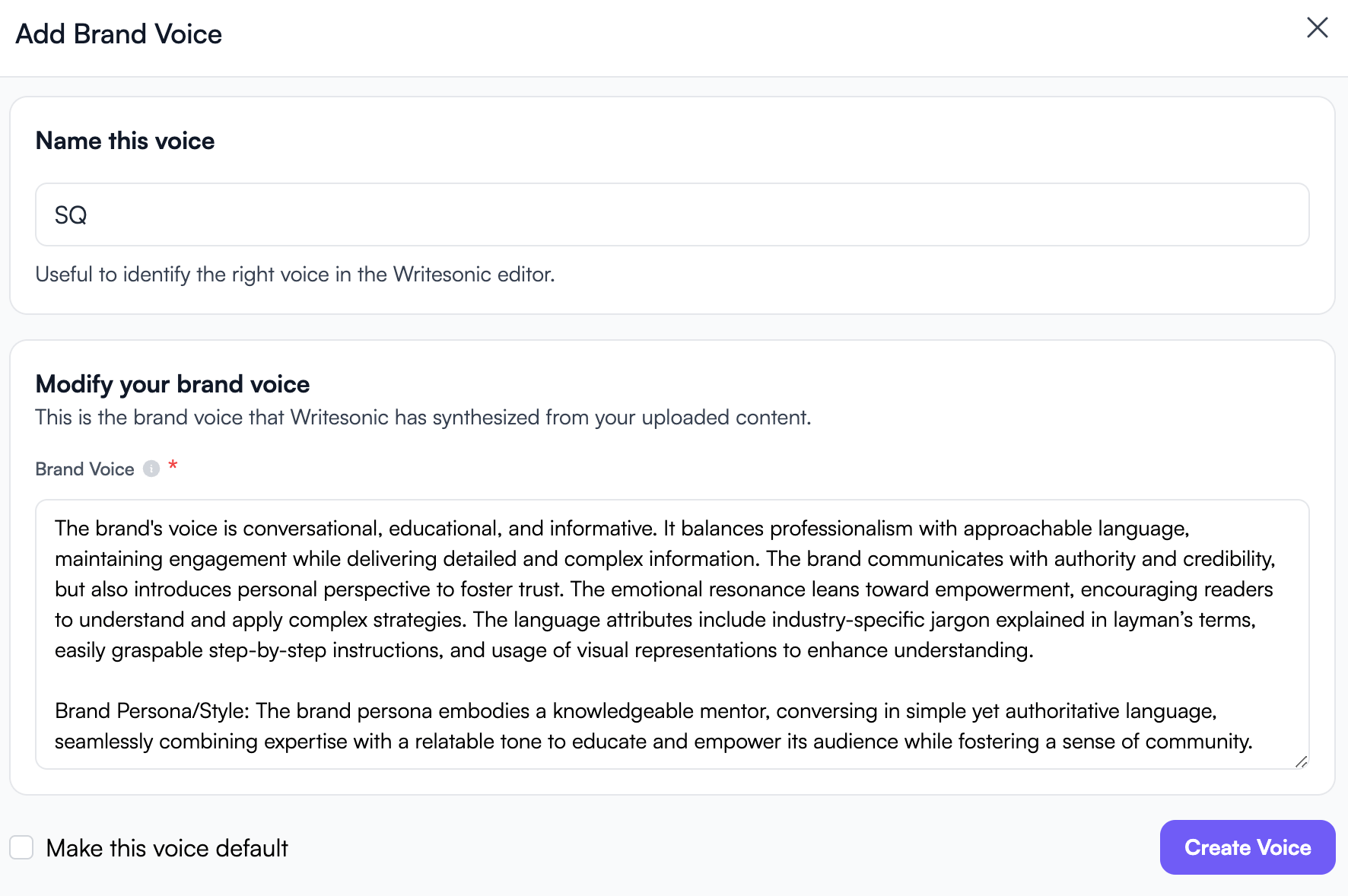 Thanks for making me sound like a model student, Writesonic. My Asian mum would be proud. 
Blush-worthy compliments aside, I then tried to generate an article using "my" brand voice: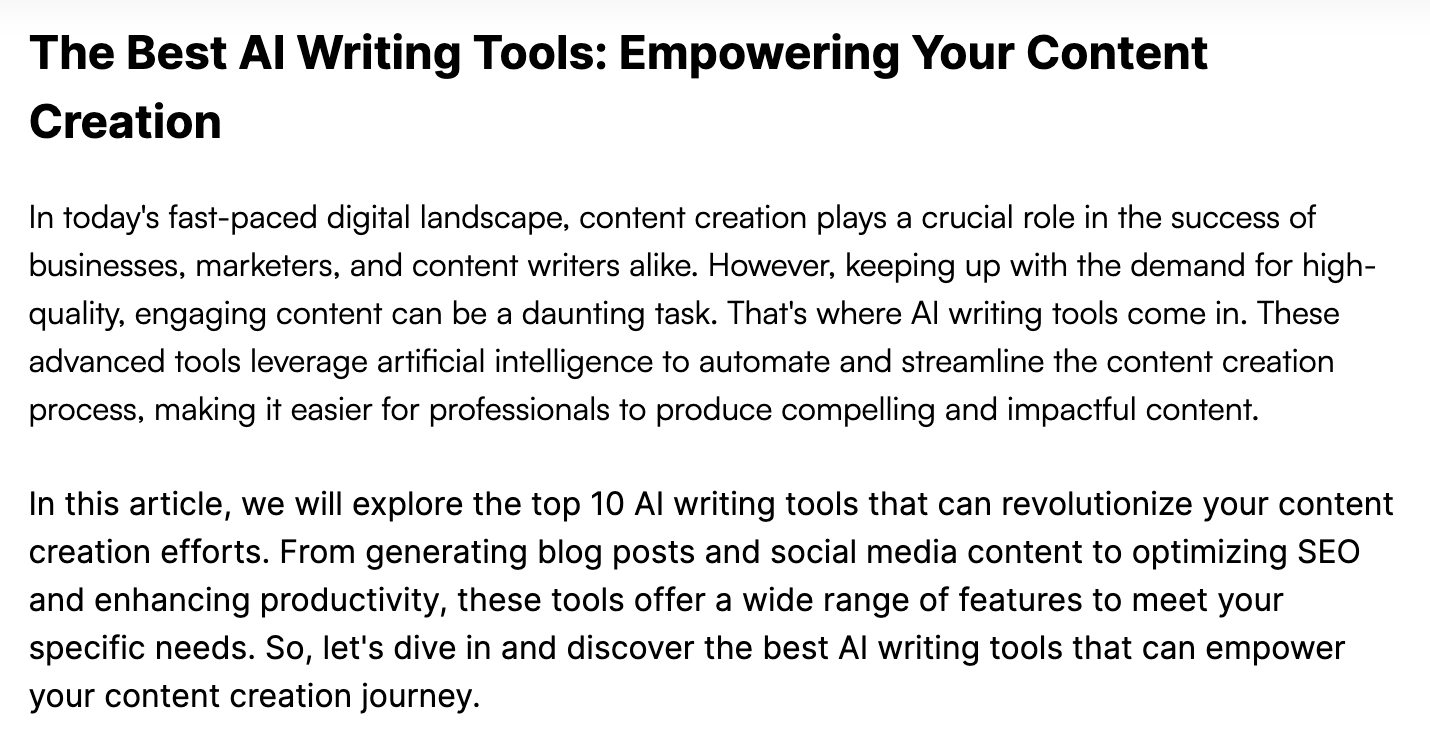 Unfortunately, it still sounds more like AI than SQ. (And if I ever use "in today's fast-paced landscape" in a blog post, I give you permission to call me out.)
Percentage of votes: 56%
Pricing: Free; paid plans from $19.95/month 
Quillbot isn't just an AI writing tool—it's also a paraphraser, grammar checker, plagiarism checker, summarizer, citation generator, and translator. 
What I like about Quillbot is that you can ask it to do a variety of tasks while generating content. For example, you can ask it to generate new ideas, add examples, counterexamples, new viewpoints, and more.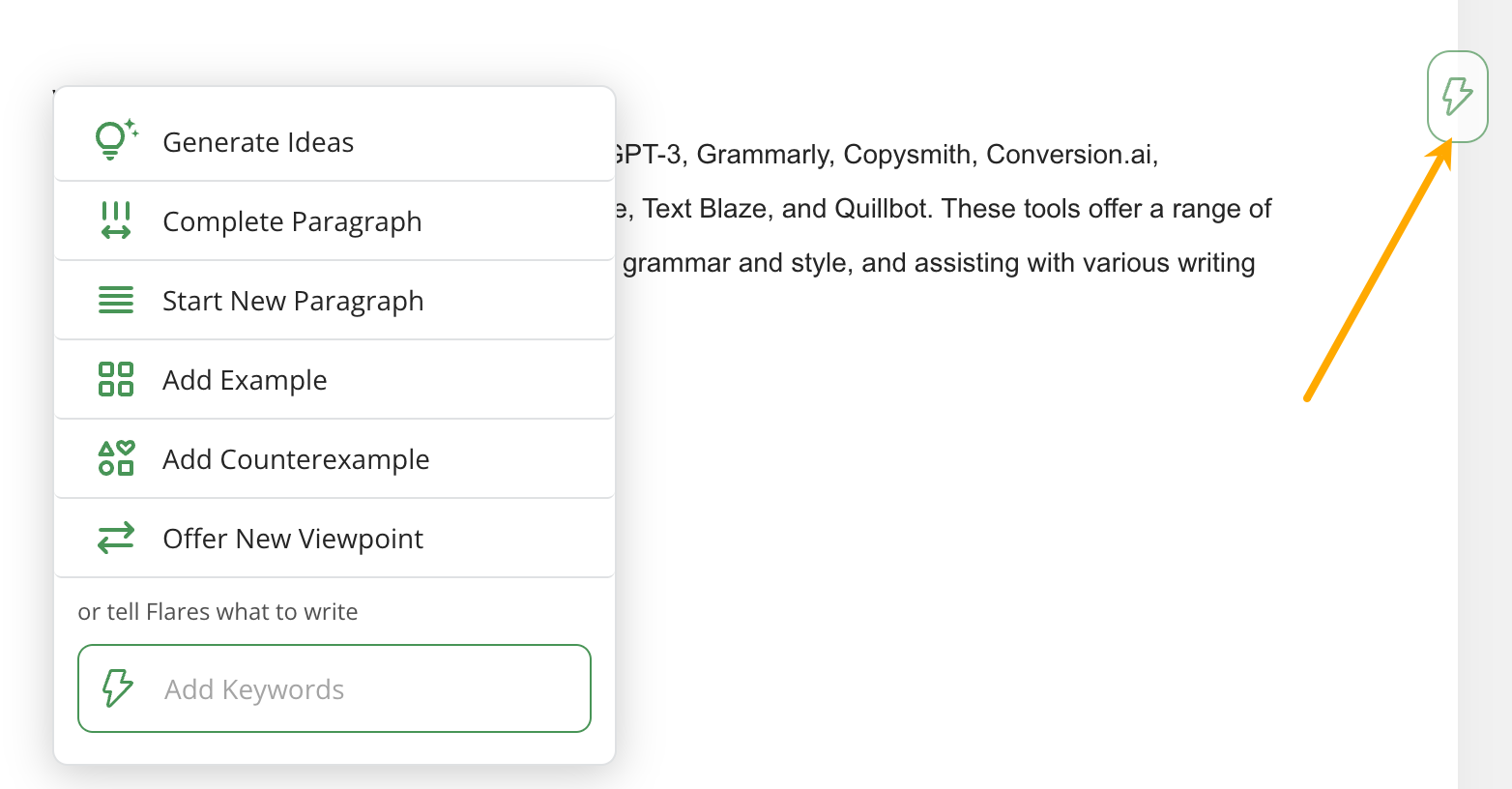 Here's what it looks like when I asked Quillbot to add an example: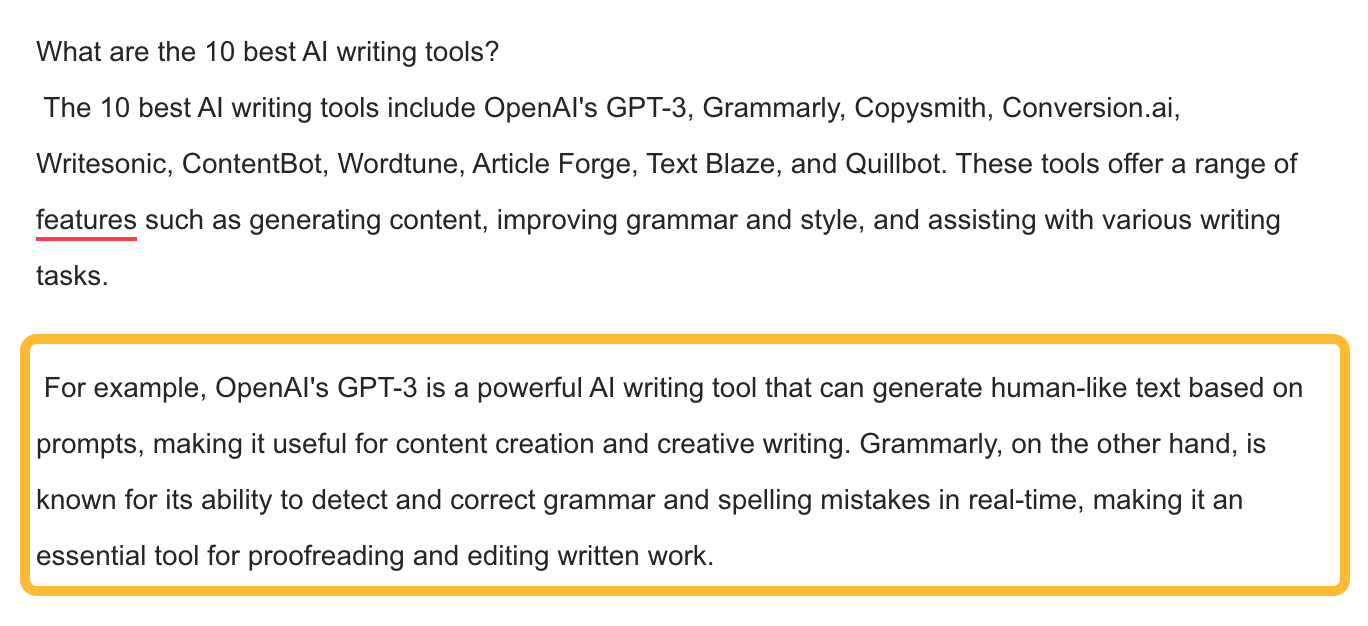 All of Quillbot's tools work seamlessly together. For example, after generating content with Quillbot, you can ask it to summarize your text so you can add a tl;dr in the intro: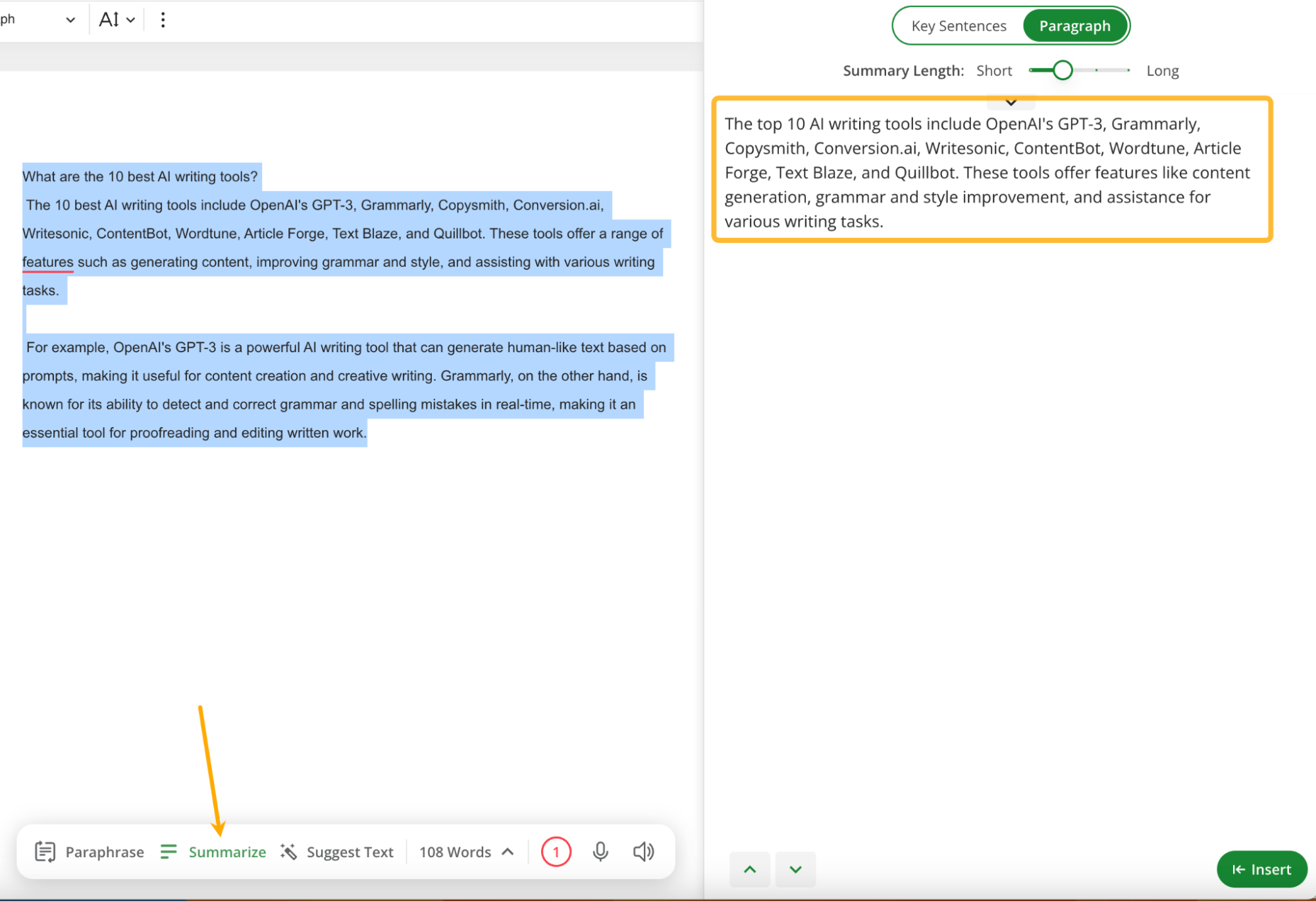 You can also ask it to paraphrase your content with different types of tones (and even ask it to use more or fewer synonyms):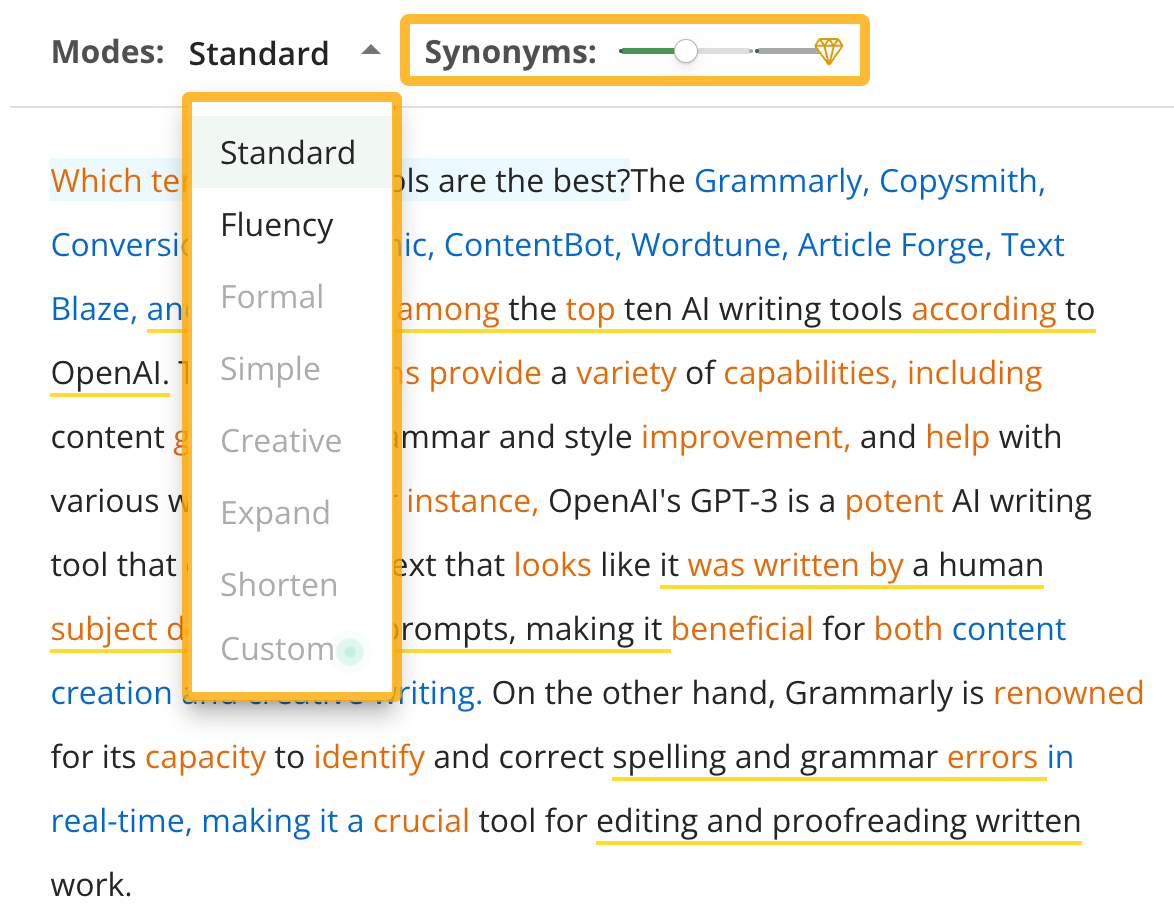 Highlighted feature
While not exactly AI, Quillbot's "Research" tab makes it easy to search the web while writing. You can even toggle "Academic" on to search for scholarly articles:

Percentage of votes: 54%
Pricing: Paid plans from $49/month
Formerly known as Conversion.ai and Jarvis, Jasper is probably the most well-known AI writing tool. At one point (albeit before ChatGPT launched), Jasper was even valued at $1.5 billion.
You can do practically anything with Jasper: summarize content, improve or rewrite content, generate blog posts, product descriptions, ads, emails, press releases, social media posts, etc. You can even generate images.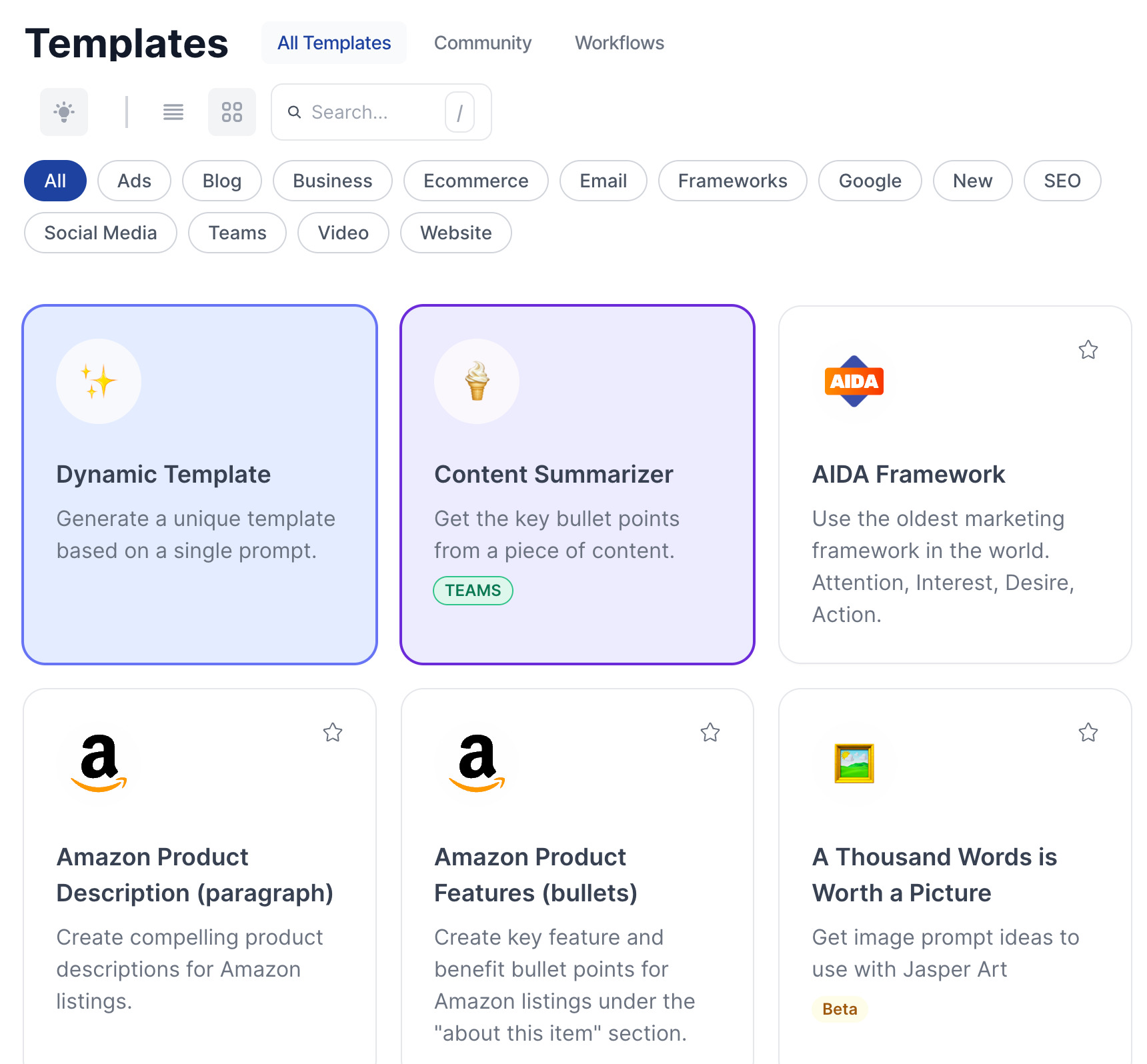 One thing I like is how marketing-focused Jasper is. It has templates for popular copywriting frameworks like AIDA, PAS, Before-After-Bridge, and more: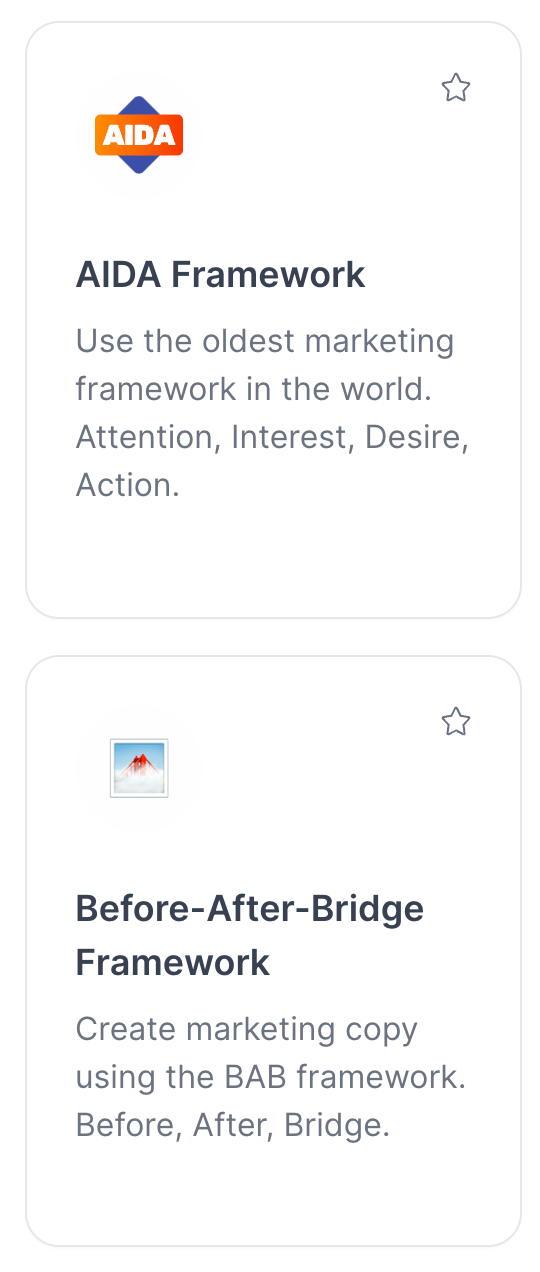 Highlighted feature
Jasper has a template called "Ridiculous Marketing Ideas" which is, in its words, "a fun template that generates bad marketing ideas that might get you on the front page of the paper for all the wrong reasons." 
I tried using it for a fake umbrella company, and these were the results: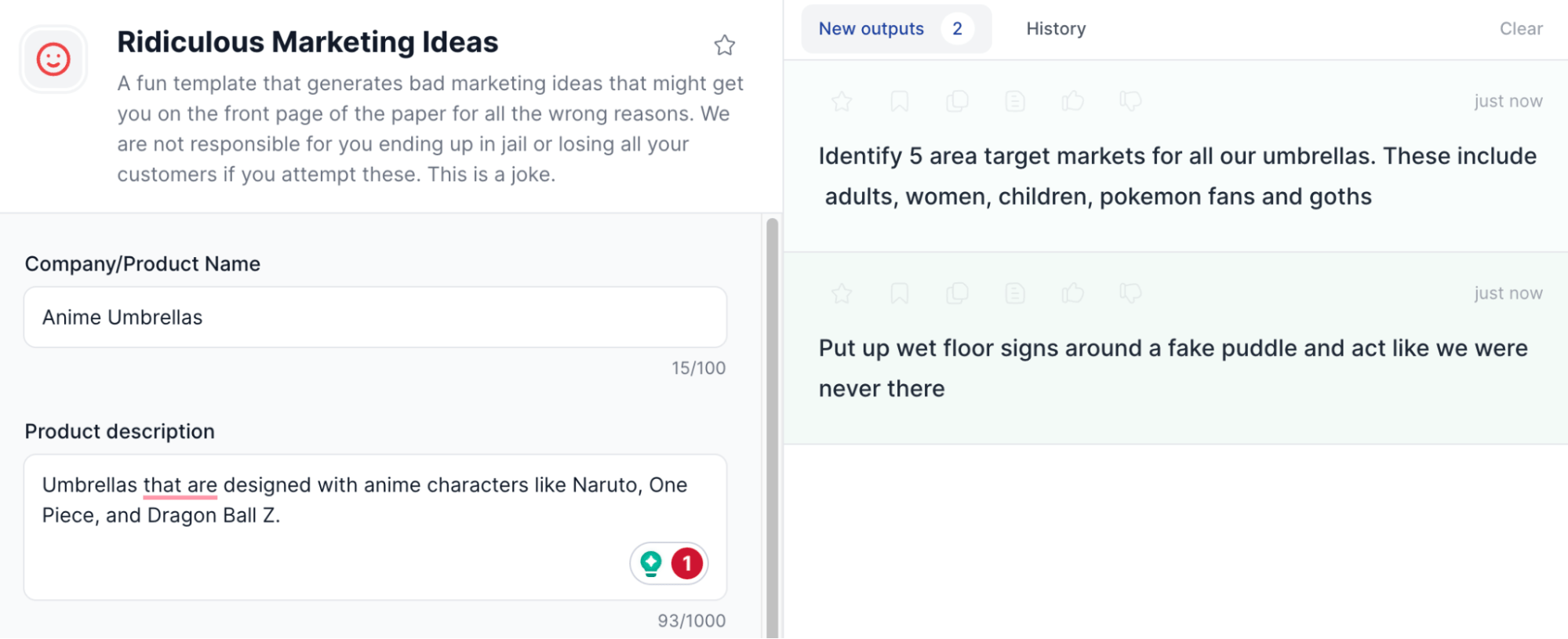 Nothing mind-blowing, in my opinion. But it may serve as a spark to help your marketing team break out of the mold. 
Percentage of votes: 49%
Pricing: Free; $20/month for Plus
You already know all about GPT-3 and its resulting tool, ChatGPT. It's the birth of every "threadboi" admonishing you on the 10 AI tools you don't know. 
You can use it for anything writing-related: create outlines, blog posts, social media posts, emails, etc. Everything any writing tool can do, ChatGPT can. Which makes sense, since most AI writing tools are built on OpenAI's API. 
The best part? It's free. (Unless you want GPT-4. Then you'll have to cough up money each month.)
But here's the thing: GPT-4 has already been released for some time. But none of the AI writing tools suggested that, likely because training data ends in 2021. So, it's also something to keep in mind—that every AI writing tool, including ChatGPT, can show outdated and inaccurate information. 
Highlighted feature
We like using ChatGPT for creating "boring," short-form content like meta descriptions: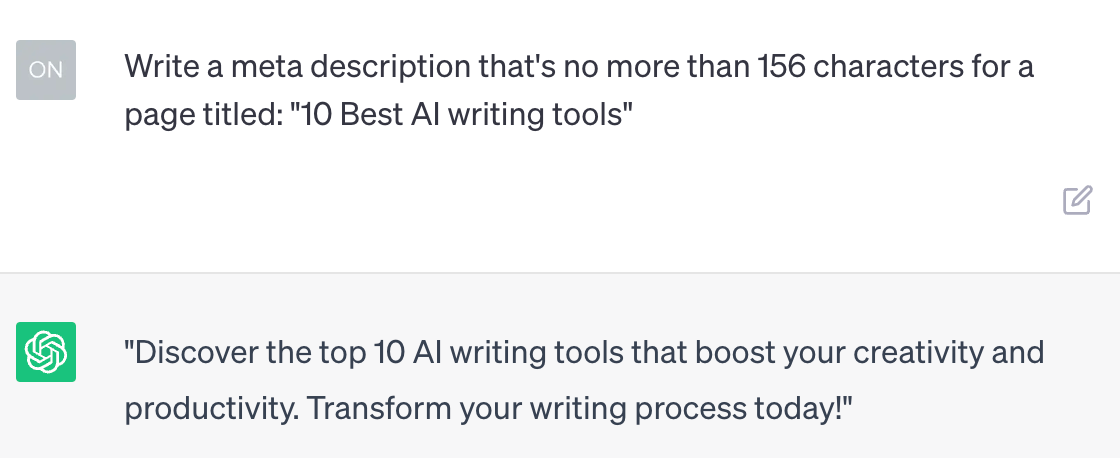 Percentage of votes: 46%
Pricing: Free (10 rewrites and three prompts/day); paid plans from $9.99/month
Originally more known as a "rewriter," Wordtune is now able to generate content too. But its mainstay is still its rewriting feature. Highlight any sentence or paragraph, and Wordtune will suggest multiple variations: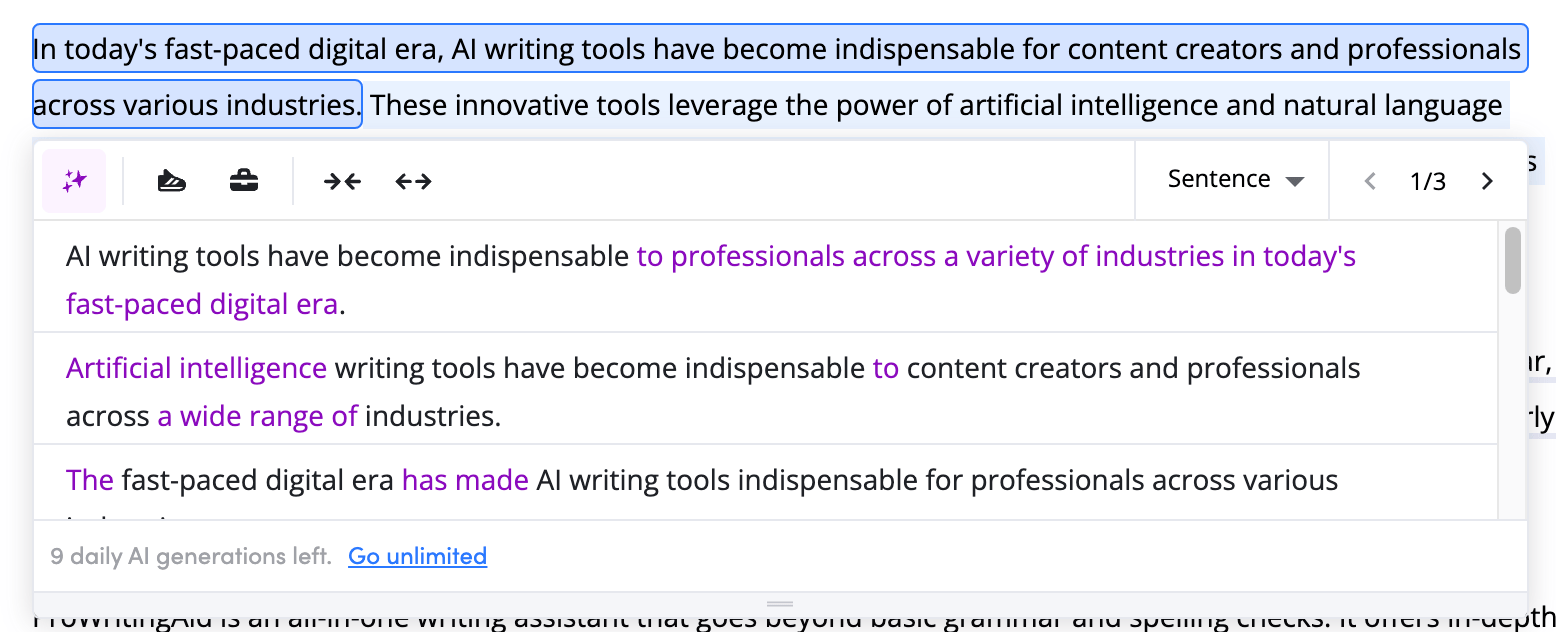 You can even ask Wordtune to shorten or expand a word, sentence, or paragraph.
Highlighted feature
Wordtune offers Spices, which are specific prompts to help improve your content. For example, I can ask Wordtune to include a historical fact, give an inspirational quote, or make a joke: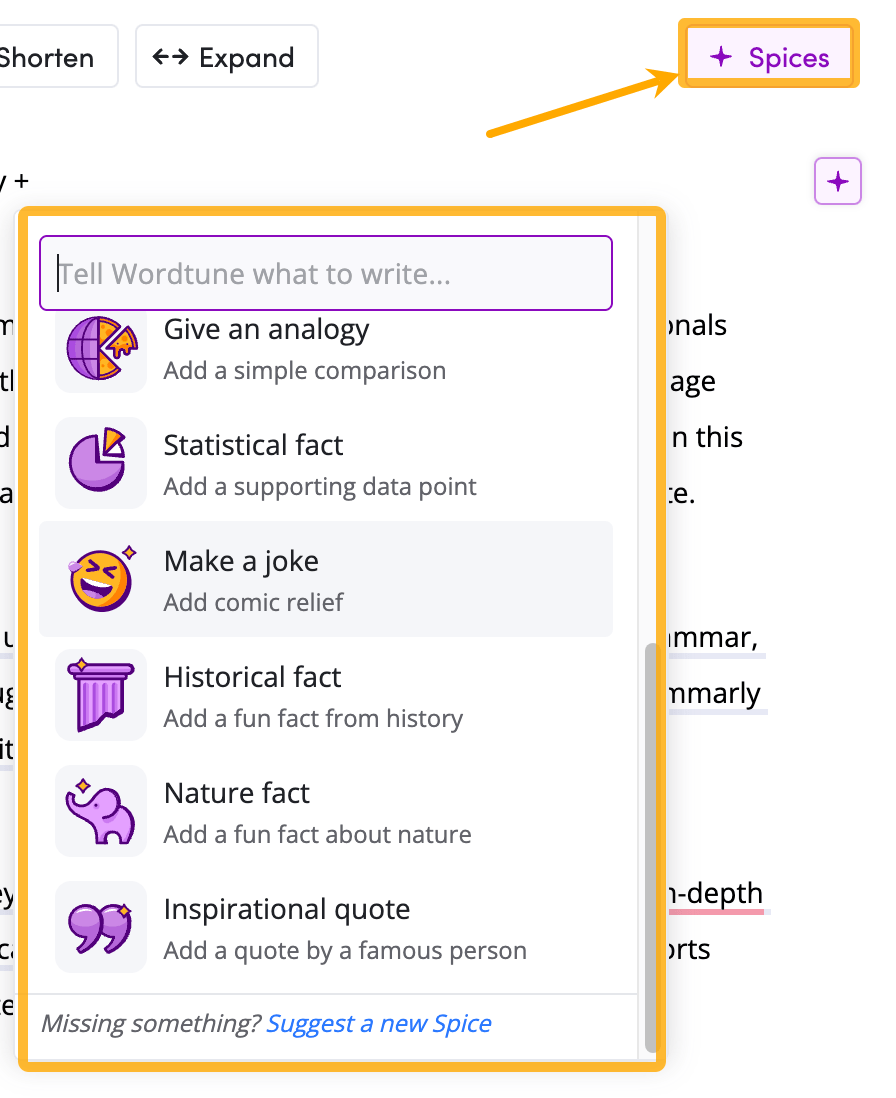 Here's what it suggested when I asked Wordtune to make a joke:

Percentage of votes: 41%
Pricing: $1 for Prepaid (free 10K words); paid plans from $19/month
Another AI-powered content creation tool that helps you generate high-quality content quickly.
Like many of the other tools on this list, ContentBot allows you to create pretty much any type of content, such as social media posts, landing pages, blog posts, and more. It also has a "Prompts" library, where you can select your choice of templates: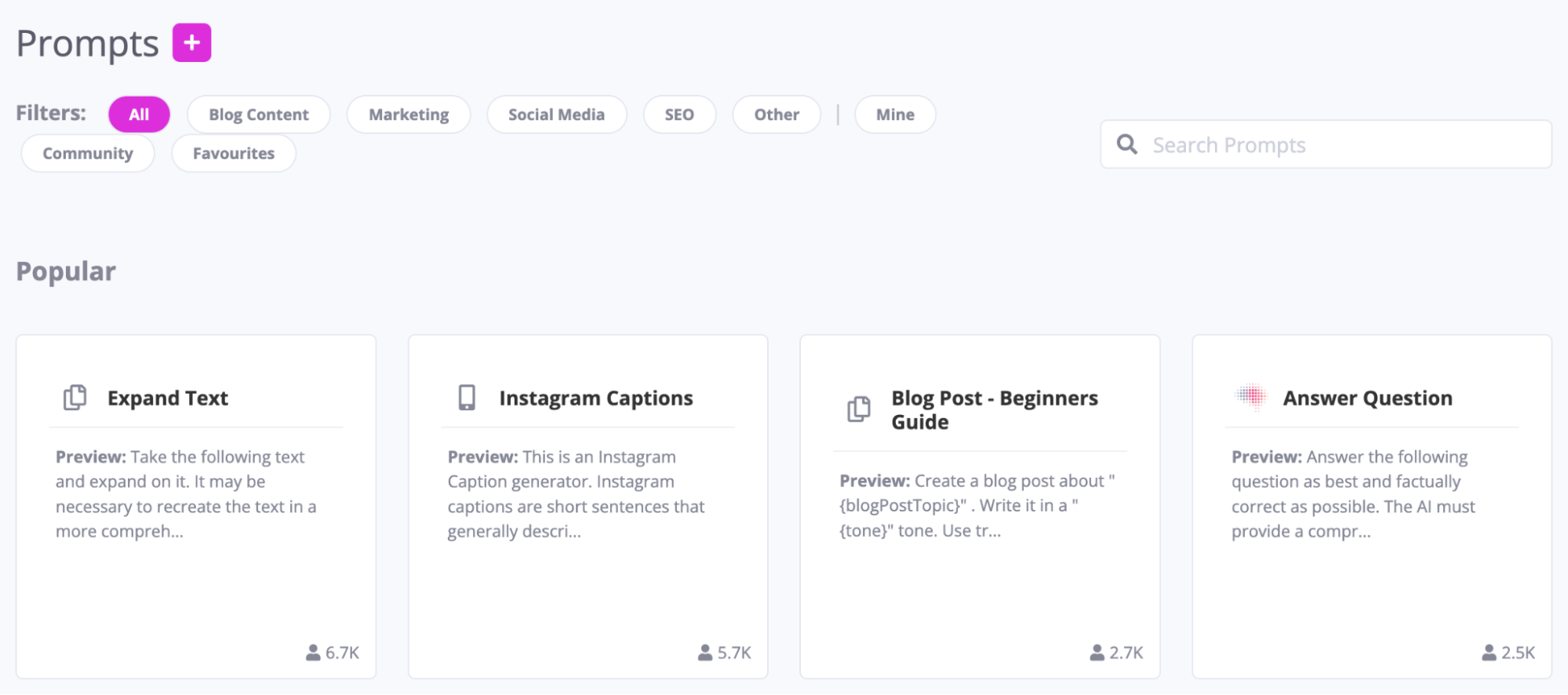 Highlighted feature
Use ContentBot to generate an entire landing page using just keywords. For example, I asked ContentBot to create a landing page for Ahrefs' Keywords Explorer: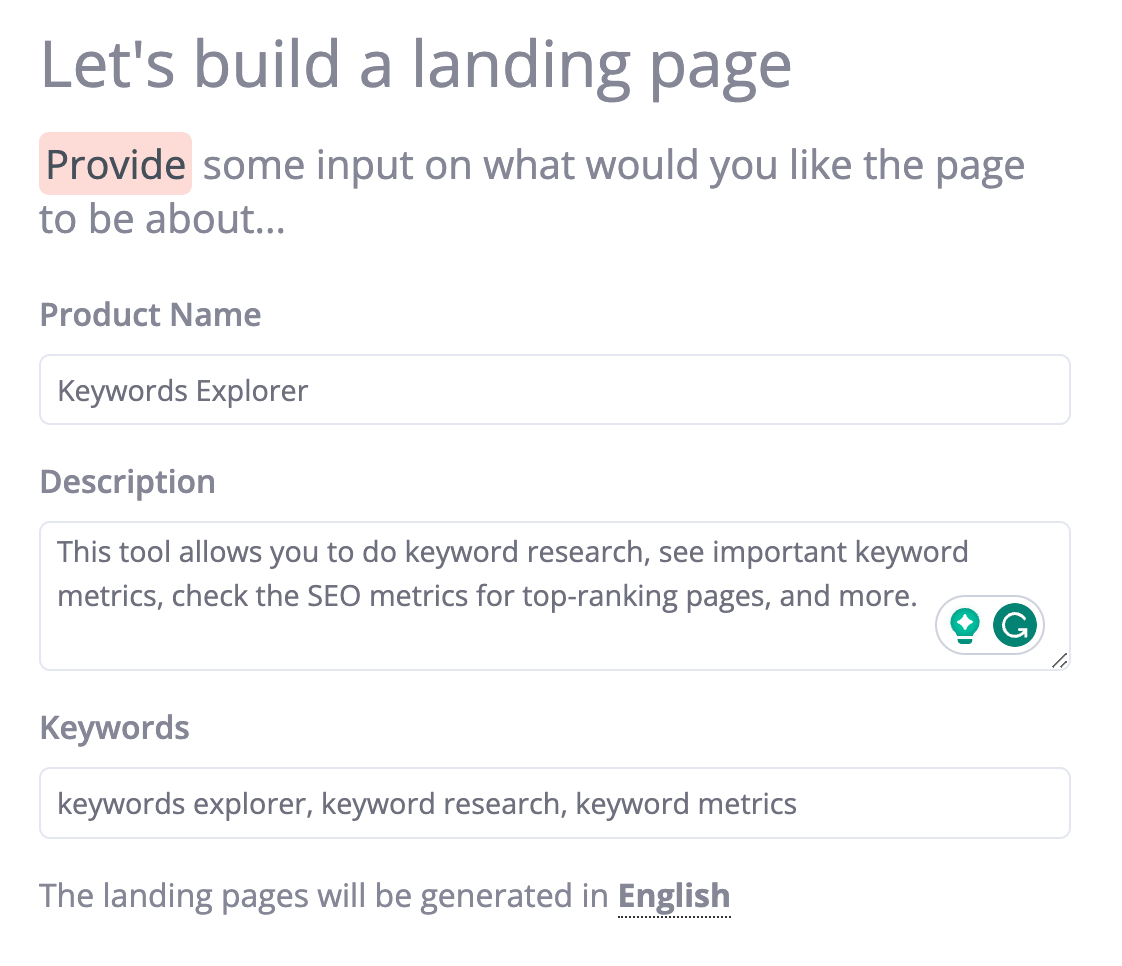 Here's what it created: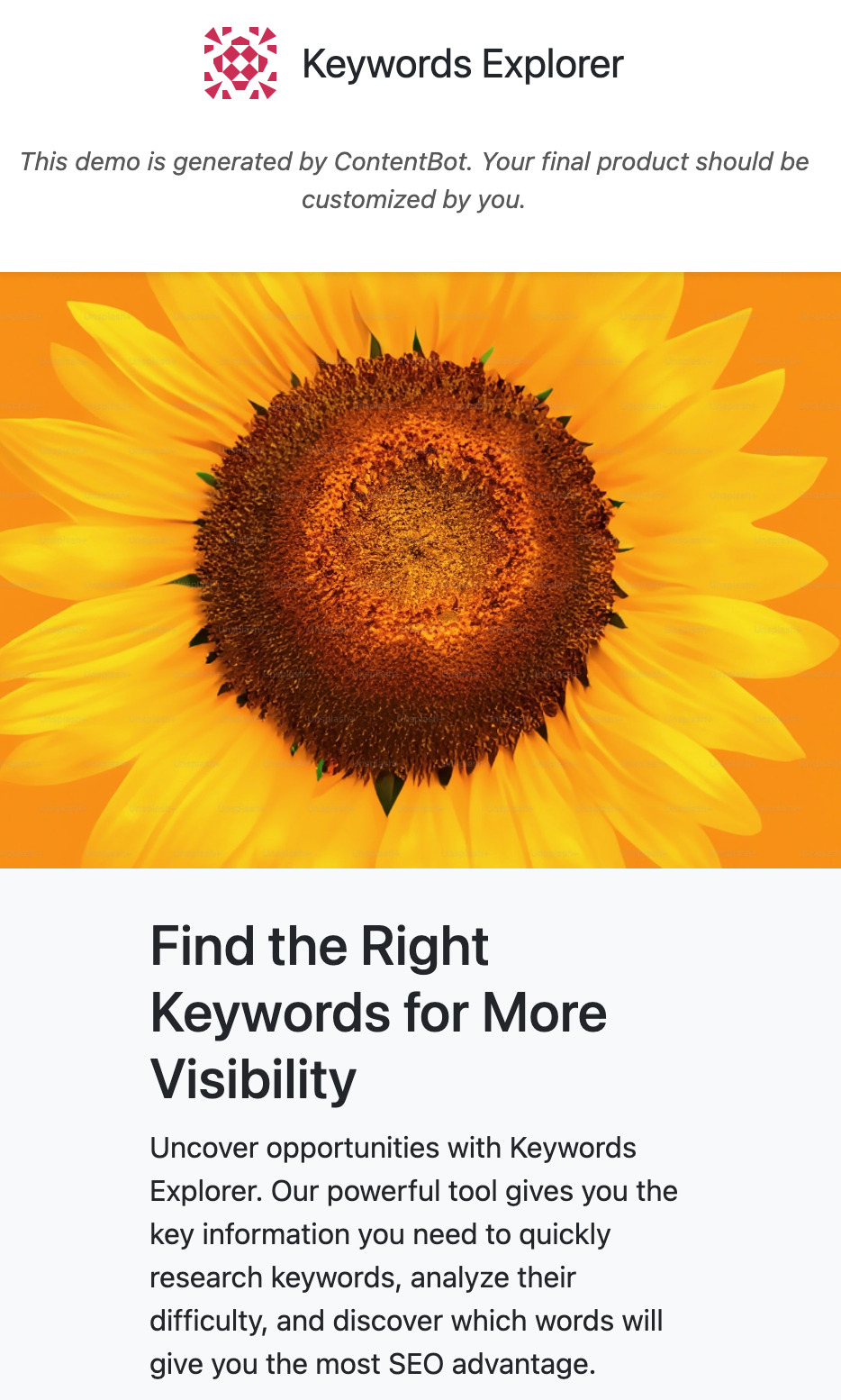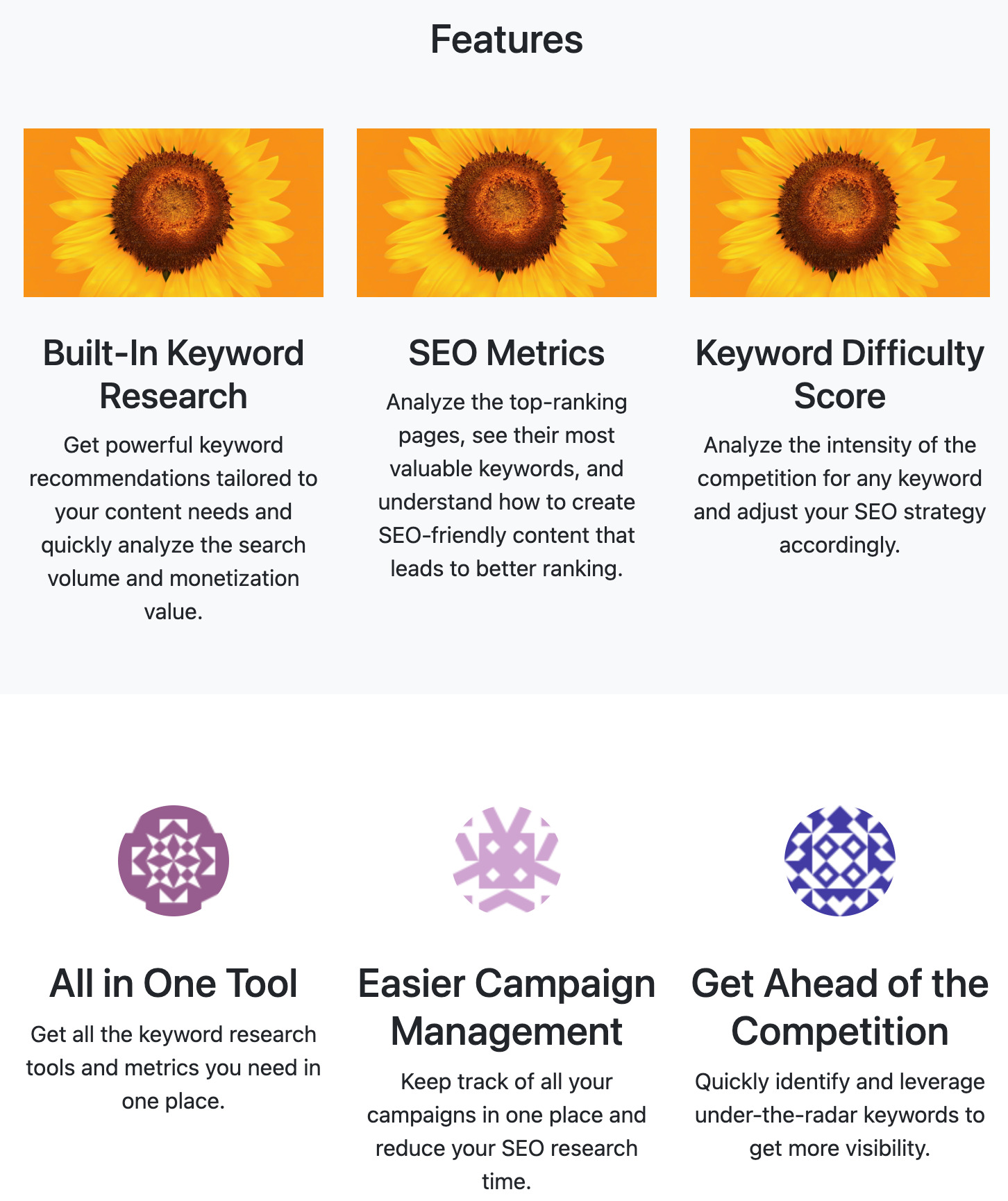 Uninspiring design aside, the copy is semi-decent. Considering that writing landing page copy isn't all sunflowers and roses (see what I did there), it can be an acceptable start to inspire your own.
Percentage of votes: 38%
Pricing: $27–$247/month (depending on number of words)
Pretty similar to other tools on this list, Article Forge makes it easy to generate content fast. Give it a keyword and some instructions, and Article Forge is off to the races.
What's slightly different is that you can tell Article Forge topics to exclude, ask it to add images and videos, and even replace keywords with links: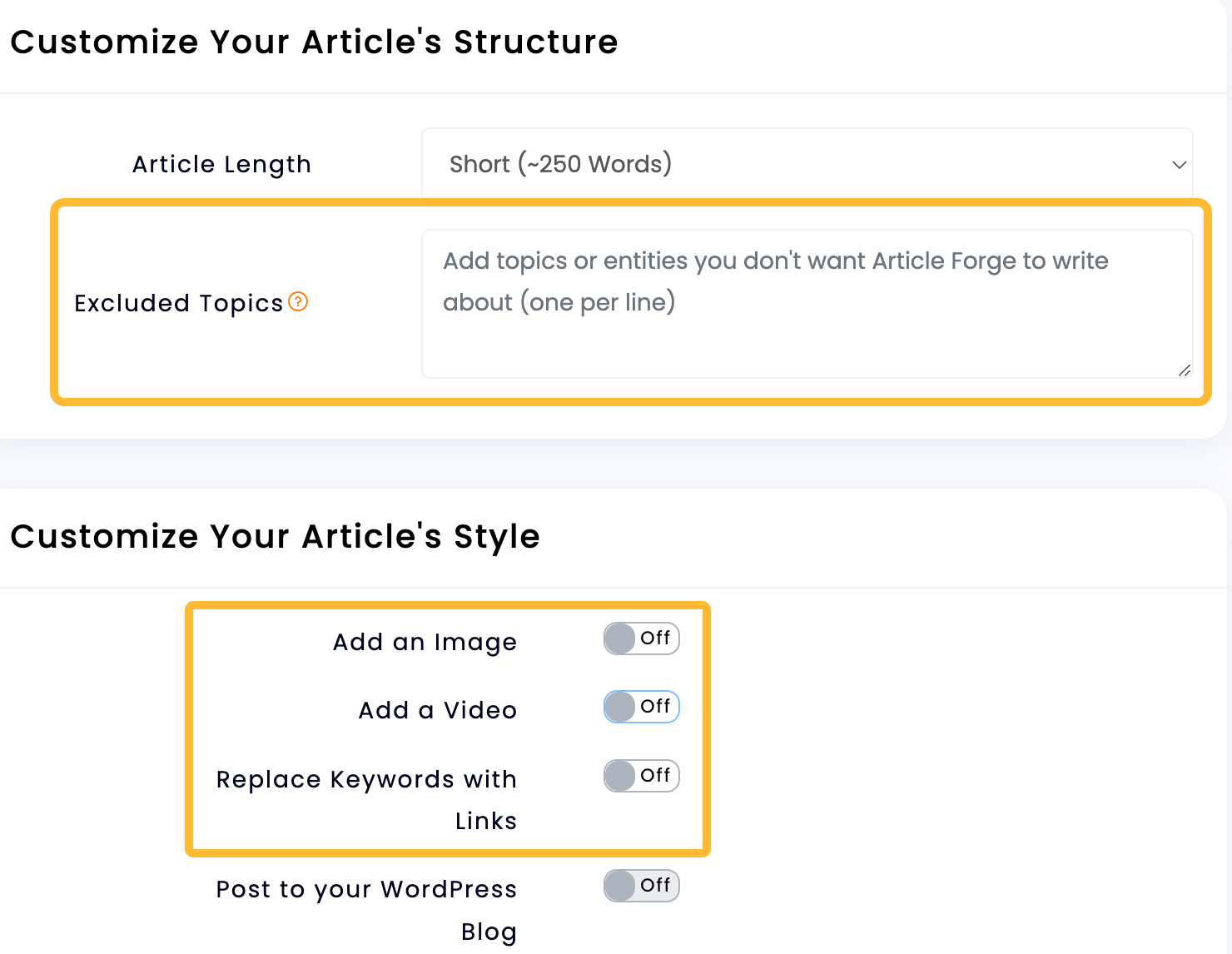 Highlighted feature
If you give Article Forge access, it can even publish the posts for you (or schedule them!):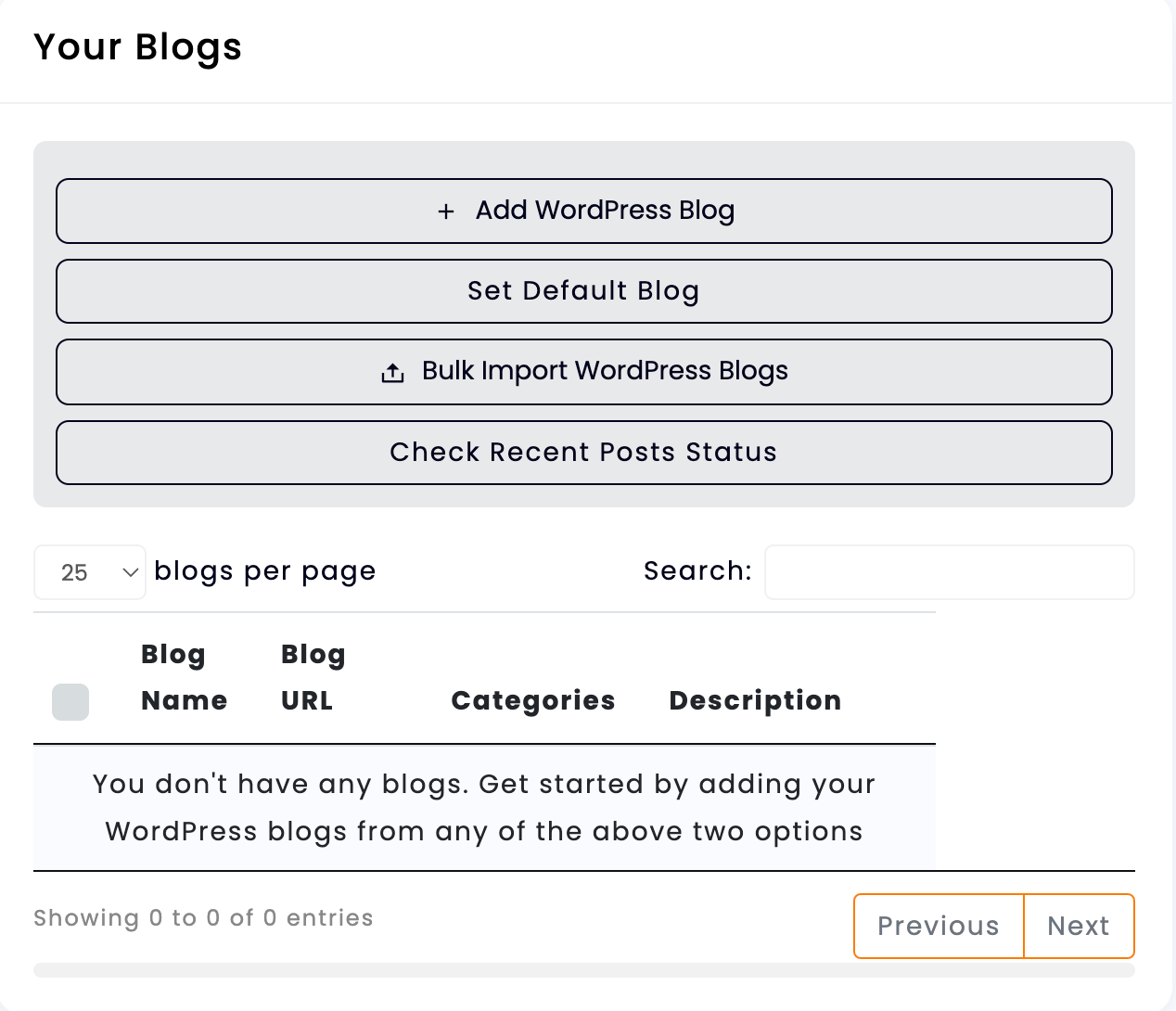 Percentage of votes: 36%
Pricing: Free (web); one-time payment of $19.99 for the app
In a case of "don't trust AI blindly," Hemingway is not an AI writing tool. Instead, it grades the readability of your content and also highlights sentences that are unwieldy, use the passive voice, or include too many adverbs. It does not suggest improvements or rewrite content for you. 
However, it does seem like Hemingway is going to add AI features (e.g., rewriting), as seen on this waitlist: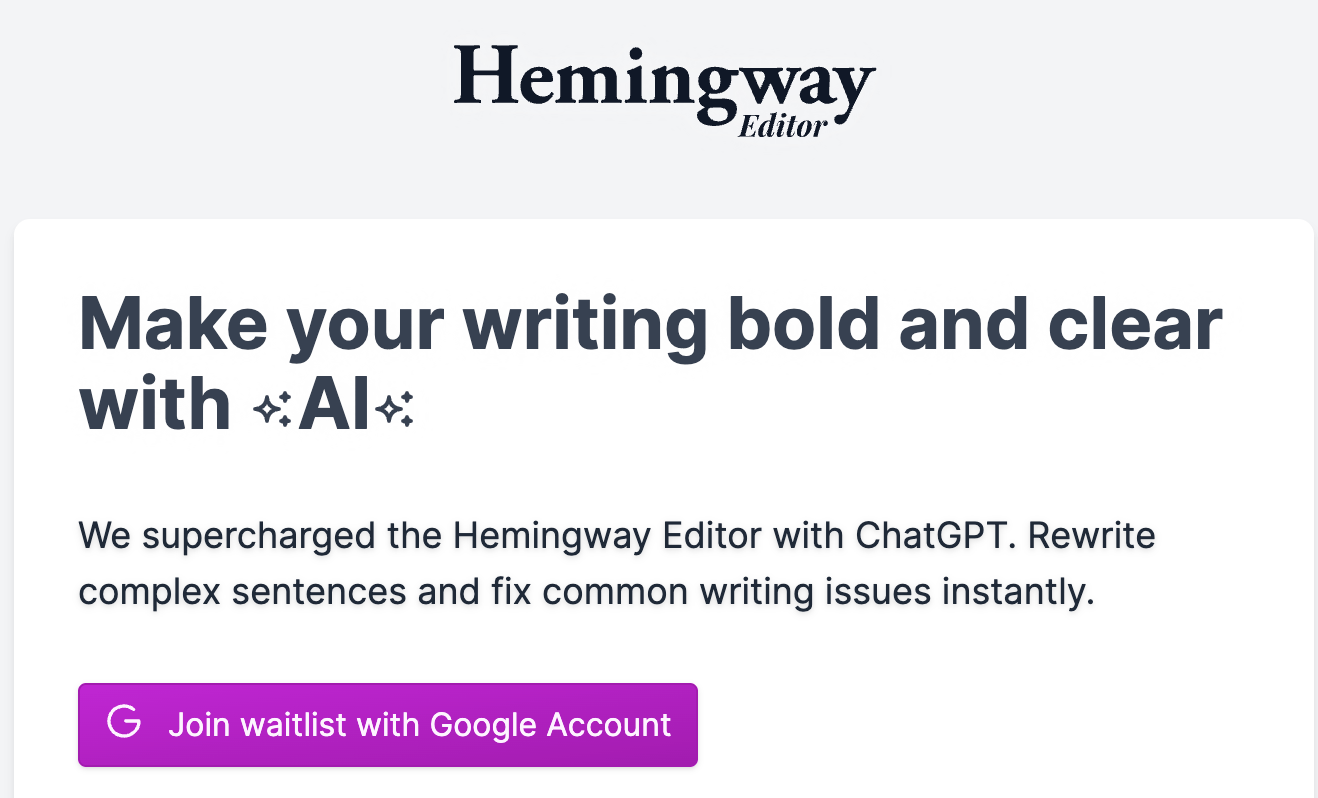 Perhaps AI is more prescient than we expected?
Highlighted feature
The paid Hemingway app allows you to use it offline, publish content directly to WordPress/Medium, and export your content as Word docs and PDFs.
Percentage of votes: 33%
Pricing: Free (500-word limit); $30/month for premium OR one-time payment of $399
The final tool is another "mistake"; ProWritingAid is not an AI writing tool. Instead, it's a grammar checker that reviews your content for grammatical and stylistic errors.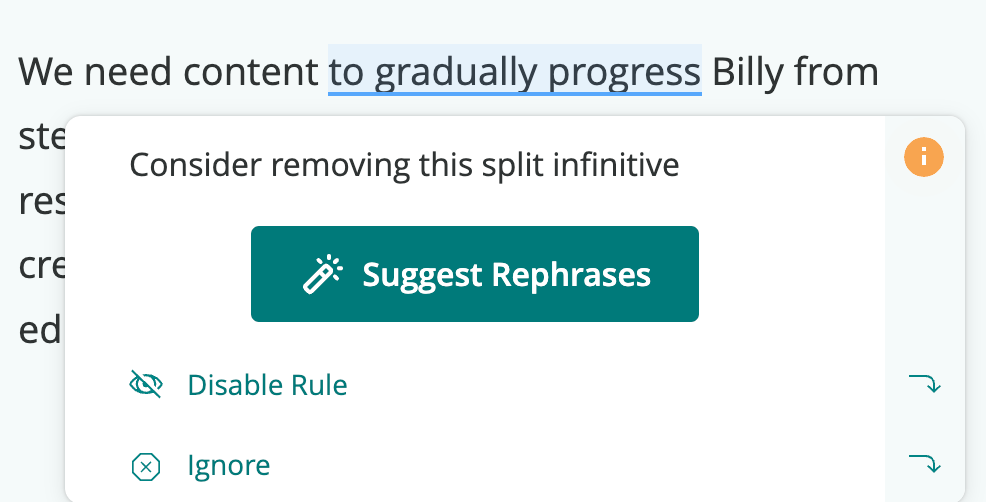 It does, however, offer rephrase suggestions. So, in short, more like Grammarly and less like Jasper. (At least at the time of writing.)
Highlighted feature
ProWritingAid has a plagiarism checker. However, you have to pay for it separately.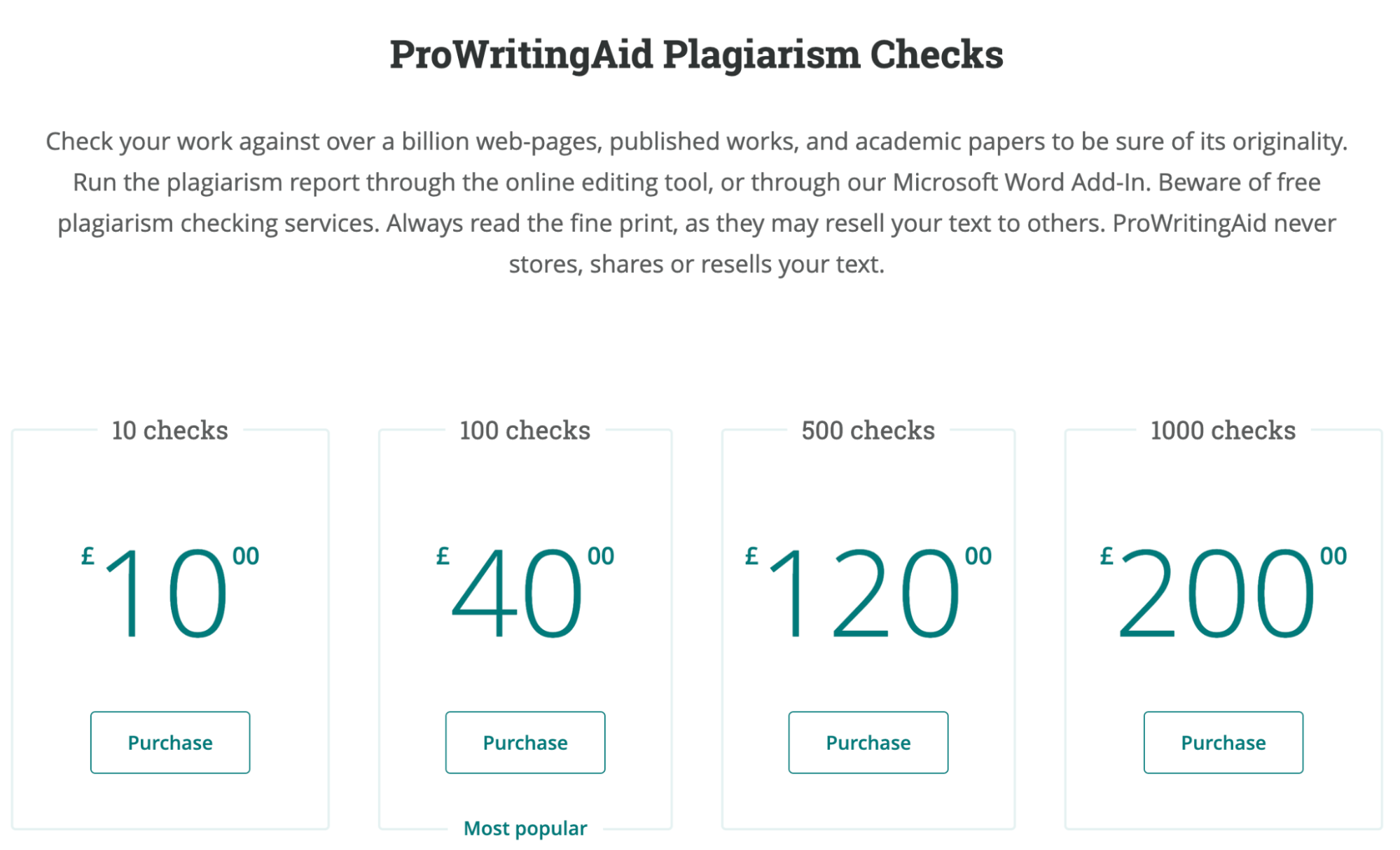 Final thoughts
This list is somewhat insipid. All 10 are likely tools you've heard before. But it's probably because they're based on the same technology, and the training data stops at 2021. So it can't theoretically know about the newer tools that have been released. 
I know some people think using lesser-known AI writing tools is better because they believe those generate "fresher" and "less regurgitated" content. I'm not sure how true that is. But if you're looking for AI tools that no one knows of, you're better off looking for AI bandwagon threadbois.
I haven't used these tools extensively in my workflow (yet), but I do think most of them are pretty similar. So it eventually boils down to your budget and your preferred UI. To that extent, this list should suffice. 
Any questions or comments? Let me know on Twitter (X).