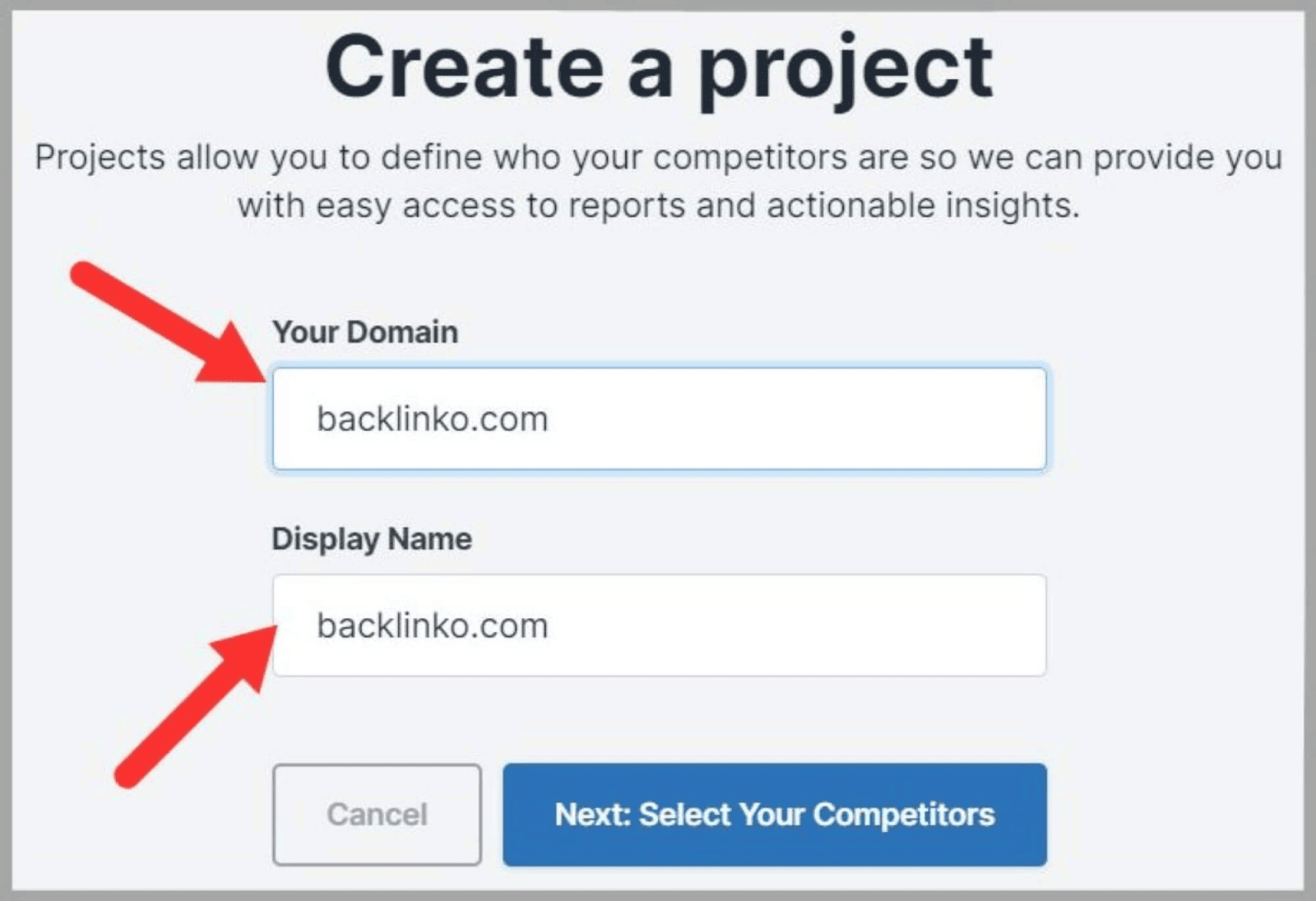 If you've been shopping around for a new tool to help you with your SEO And PPC campaigns then you may have heard of SpyFu already.
But how does it work?
And is it any good?
In this guide, I'm going to take you through all of SpyFu's features.
I'll show you how to use them and discuss their benefits for your SEO and PPC efforts.
Let's go!
What Is SpyFu?
SpyFu is a really popular SEO and PPC tool that uses web scraping technology to gather data.
It's mostly used by digital marketers to improve their online search performance through keyword research and competitive intelligence.
It's a VERY versatile tool that has many uses, including:
Competitor analysis
Keyword research
SEO analysis
PPC research
Finding backlinks
Reporting and tracking
But its main purpose is to identify lucrative search terms used by your competitors in both paid and organic search campaigns.
There are other SEO tools with comparable features, but SpyFu truly stands out when it comes to competitive analysis, or "spying" (hence the name).
SpyFu Setup
Setting up a project with SpyFu is incredibly straightforward.
Once you've created an account, simply log in and then click on 'Create a Project'.
Then, enter your domain and display name.
SpyFu then suggests some competitors to you.
You can decide if you want to use these competitors for your campaign or not.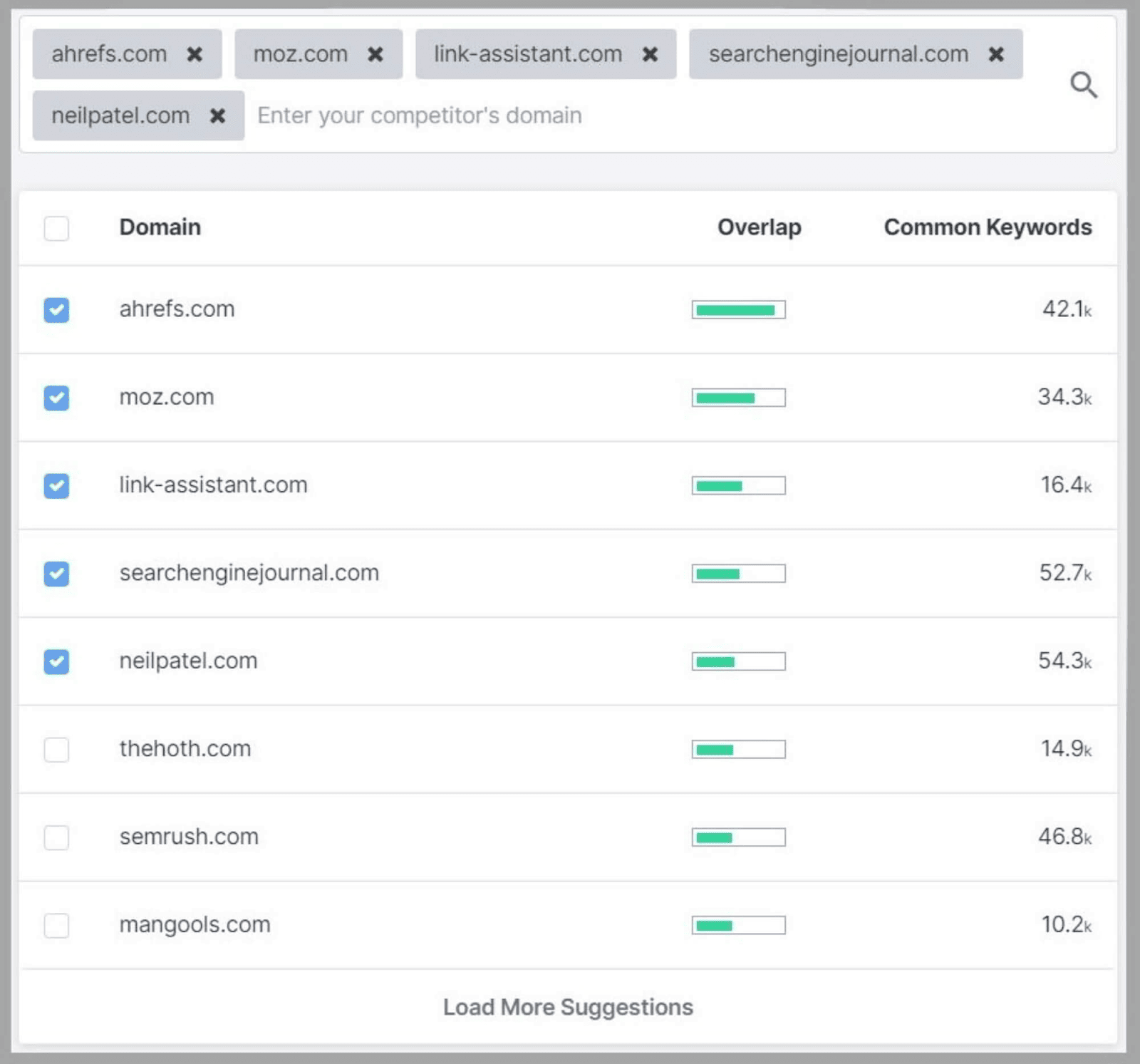 Once you've done that, your project is all set up and you're good to go.
SpyFu Features
User Interface and User Experience
To be honest, there are a few things I hate more than an overly-complicated UI.
Thankfully, SpyFu's dashboard and UI prioritize simplicity and a clean layout.
The dashboard has eight tabs at the top for easy access to things like keyword research, SEO tools, PPC research, tracking, and reports.

The search bar is centrally located on the dashboard which makes it quick and easy to get an overview of your domain.
You can also search for keywords or individual URLs depending on which feature you're using, and it allows you to change your region to make sure the data is fully relevant to you.

SEO Research

Here you'll also find tabs for:
SEO Overview
Competitors Analysis
Kombat SEO
SEO Keywords
Ranking History
Top Pages
Backlinks
SEO Reports
I'll cover all of these tools below.
SEO Overview
The SEO Overview page consists of different sections that allow you to have a quick glance at your data. These sections include:
Top Organic Competitors
Shared Organic Keywords among all your competitors
Performance data for your keywords
A quick view of your backlinks and top pages
A glance at your keyword ranking history
The icons on the left of the screen act as a menu. You can either click on the icon to jump straight to a section or scroll down until you find it.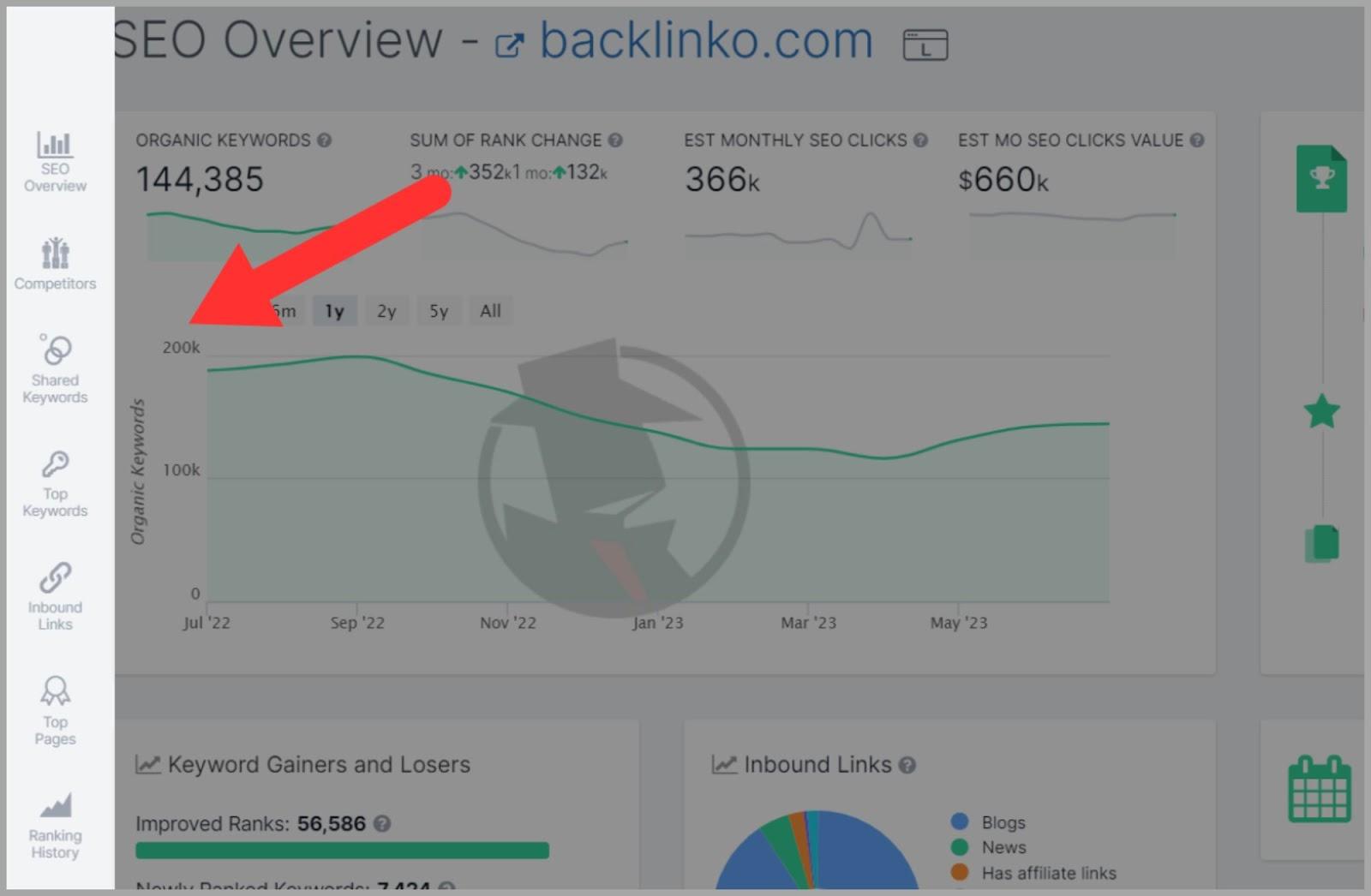 At the very top of the page, you can instantly view the total number of organic keywords associated with your site or your competitors.
You'll see the estimated number of clicks you get from all of your organic keywords, and the estimated value of your organic traffic.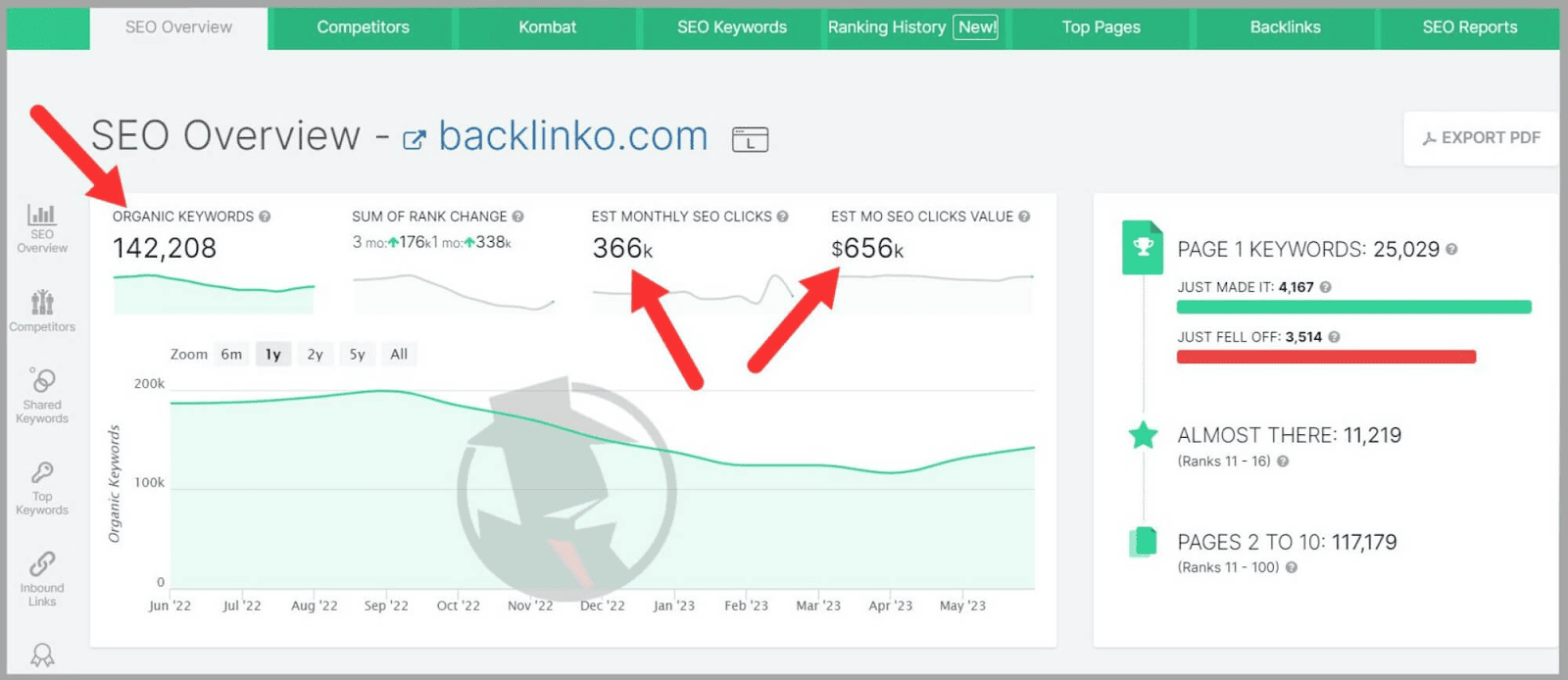 To get a deeper analysis, you'll need to click on the different sections
For example, if you want to check up on your Inbound links or view your keyword gainers and losers, keywords that have experienced notable improvements or declines in rankings, simply click on the section you want to analyze…

…and a new page will open up providing you with more in-depth data.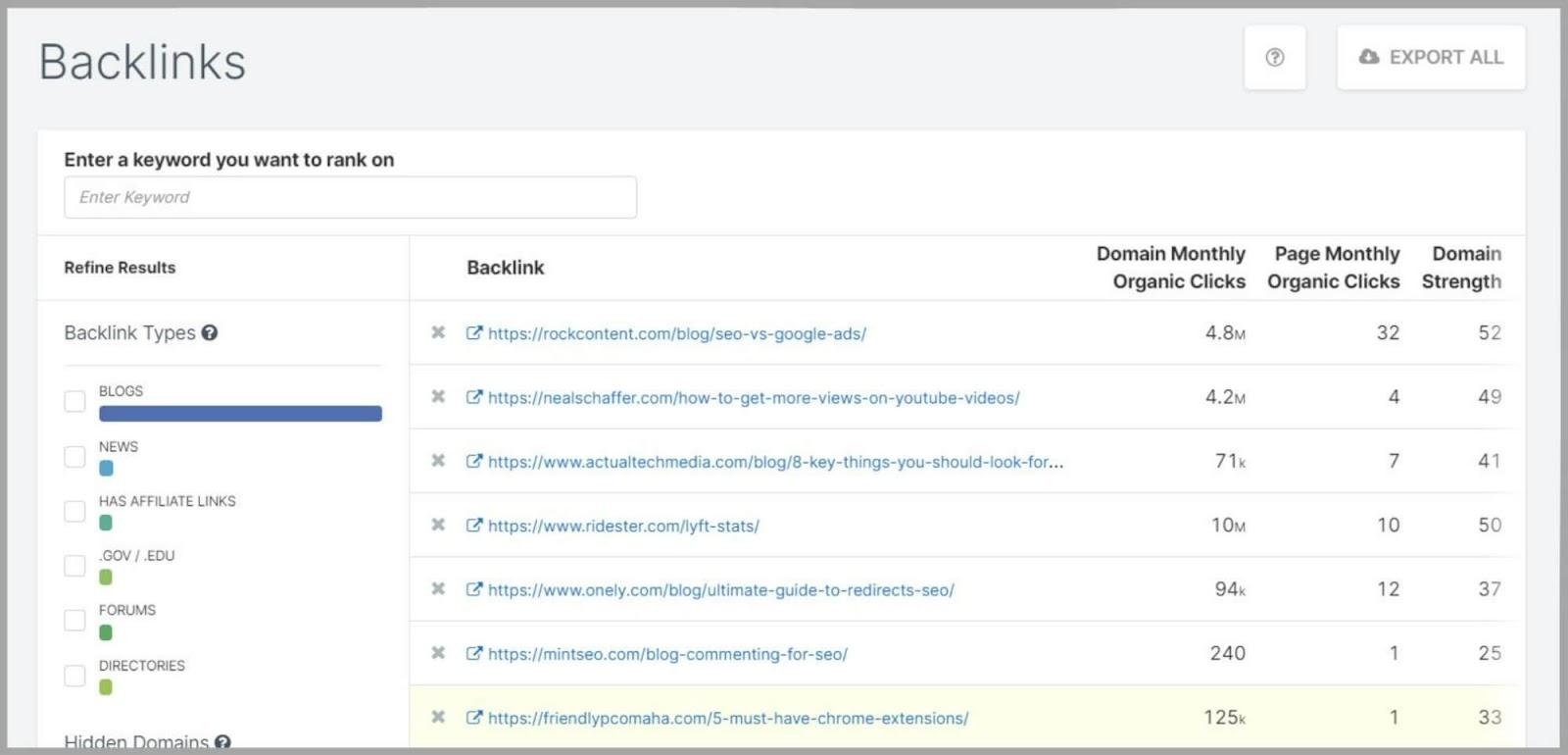 Competitor Analysis
SpyFu allows you to identify your closest organic competitors and analyze their SEO strategies.
You can also assess your PPC competitors, but more on that later.
When you click on the 'Competitors' tab, you enter a domain in the search bar and SpyFu presents you with a nice graph.
This shows you your top five competitors ranking for organic keywords.
You can also view their monthly clicks and monthly value.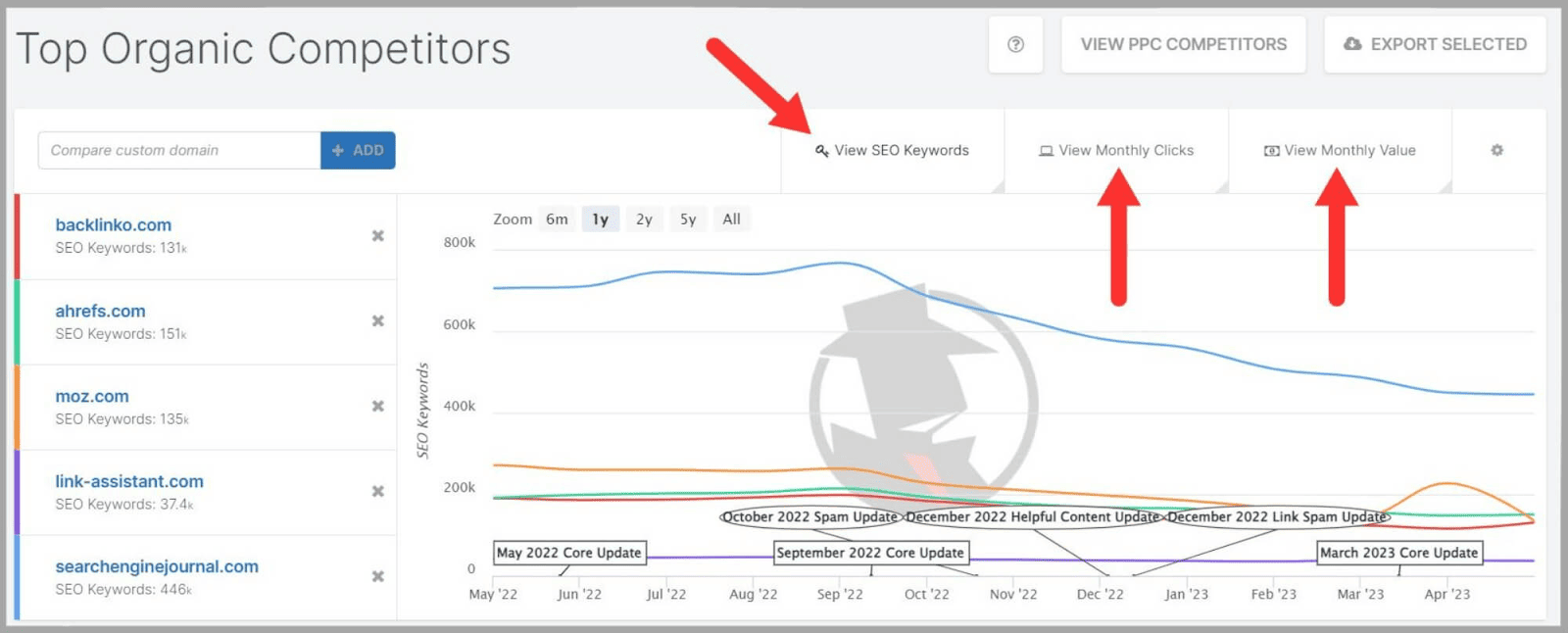 The information on this graph allows you to compare the trajectory of your competitors with your own site's progress.
Below this, there's a full list of competitors with several metrics that SpyFu uses to determine your competitors.
These metrics are:
Overlap – this gives you a quick idea of how many organic keywords you share with a competitor
Number of Keywords – the total number of organic keywords SpyFu has found for a domain
Monthly Clicks – an estimate of how many clicks a domain gets from all of its organic keywords
Monthly Value of Clicks – this is a value that SpyFu gives to organic keywords based on the estimated worth of a click generated from these keywords for a domain
Common Keywords – is a useful metric to pay attention to as it shows you how many keywords you're targeting that your competitors are as well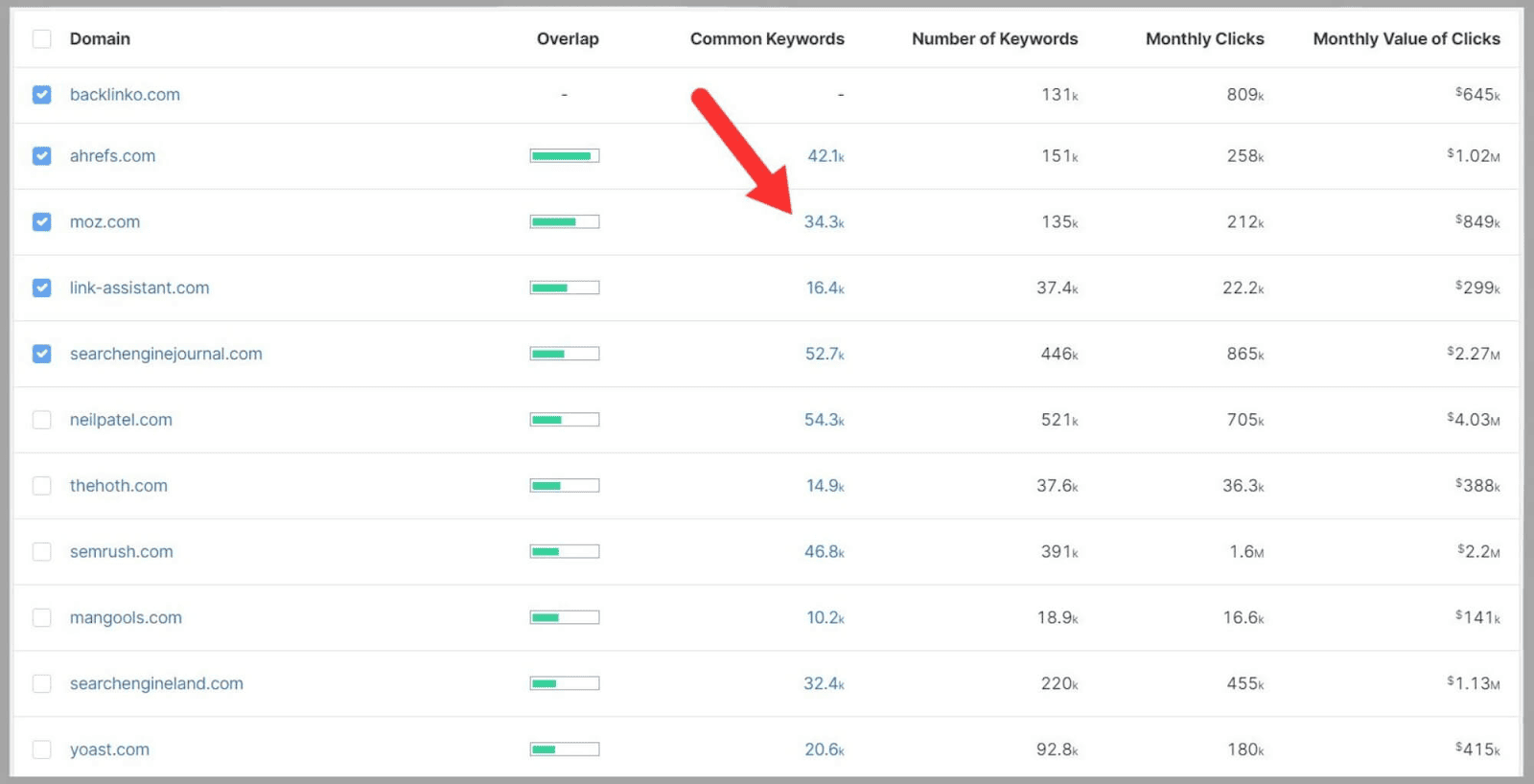 Kombat for SEO
Before I delve into the Kombat tool, I'm going to fill you in on the filters that you can use in any of SpyFu's keyword research features.
They're always located at the left of the page and they're great for customizing your searches.
It allows you to filter out your domain's keywords from appearing in your results..
You can also filter to only view keywords within a certain range. For instance, let's say you only wanted to see keywords with a search volume above 100 and a keyword difficulty of 20.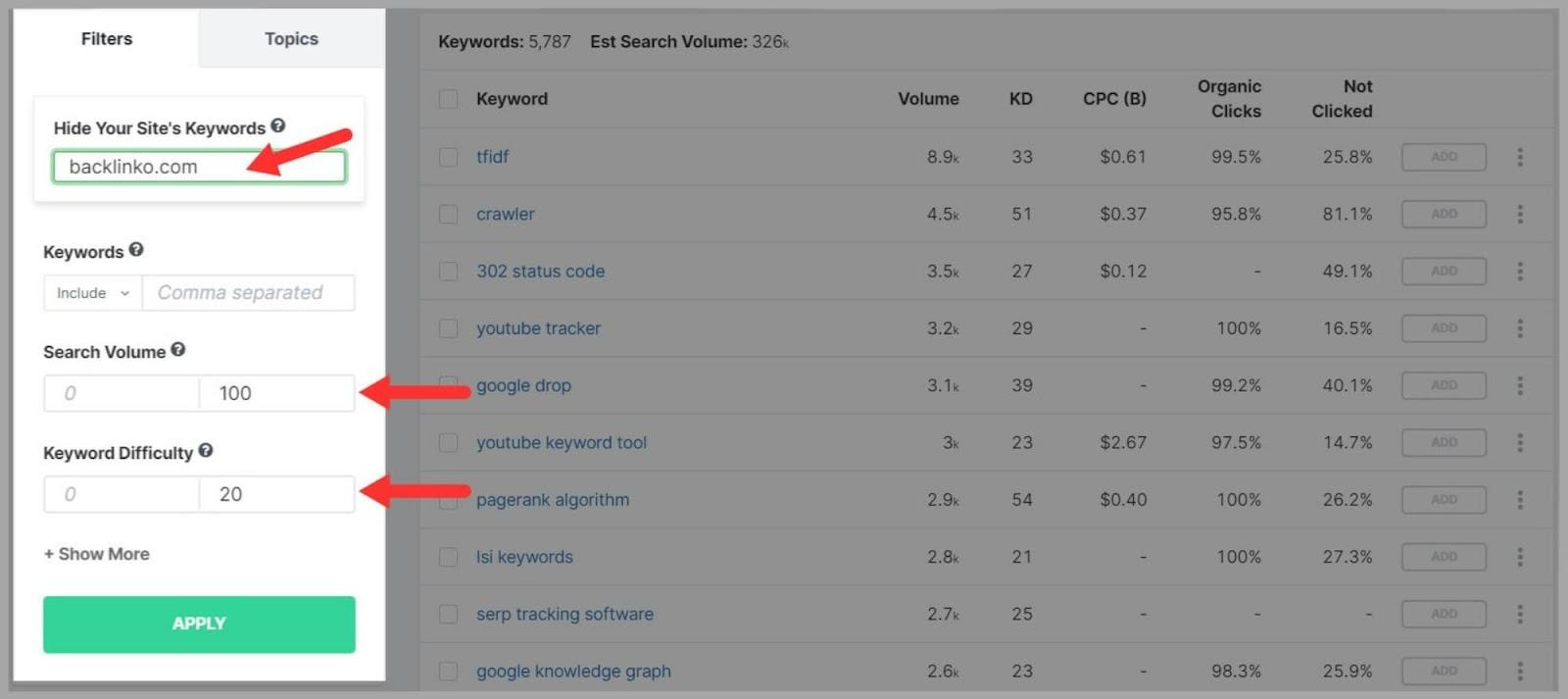 Plus, you can include or exclude keywords from your searches which is great for excluding branded terms.
Next to the filter options you have the topics option. By clicking on this, you can see keywords clustered under their parent topic.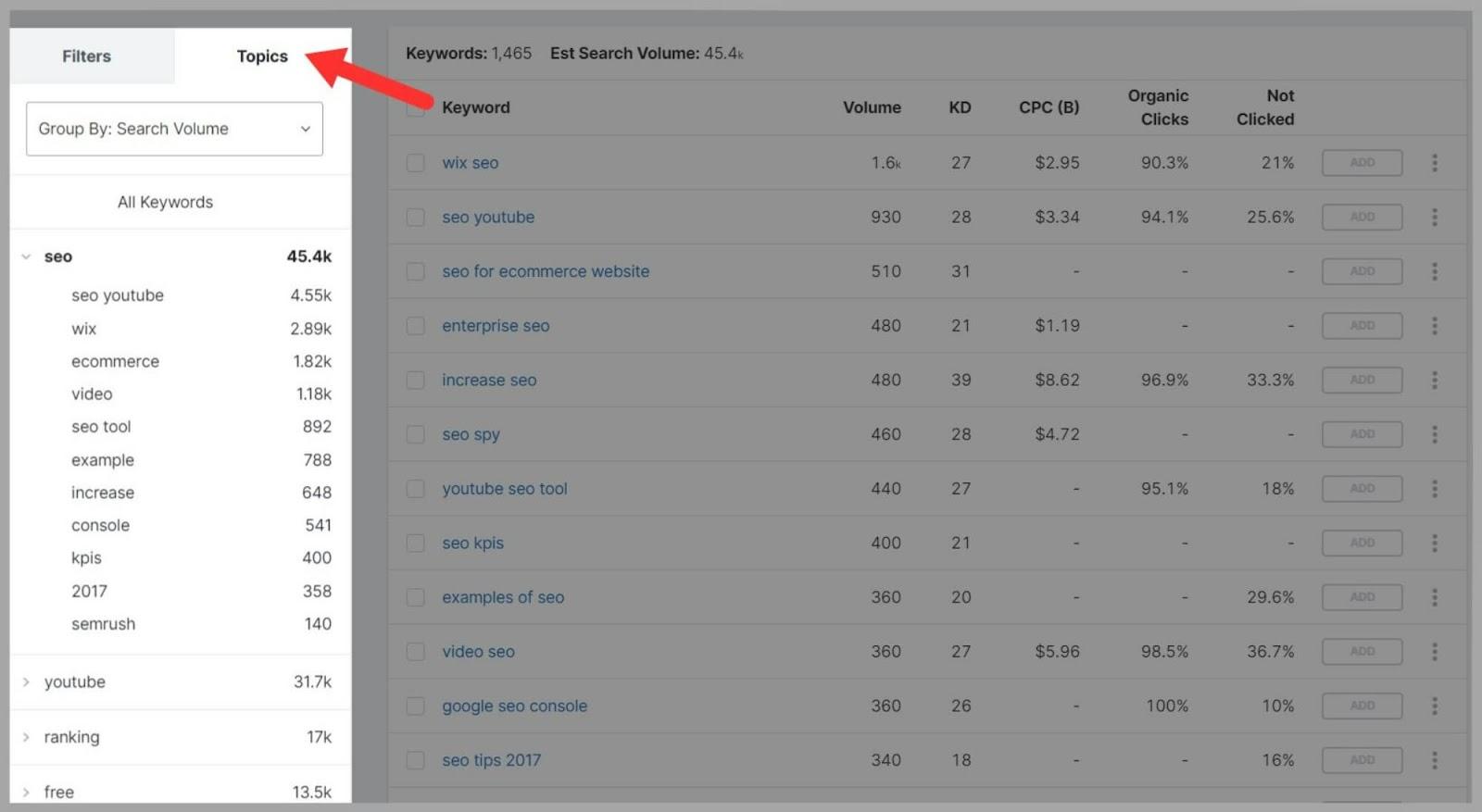 These can provide you with more ideas for creating content around a certain topic.
Now, let's take a close look at the Kombat for SEO tool itself.
This tool is one of the most helpful features that you get with SpyFu.
It puts your domain up against your competitors in the form of a Venn diagram.
You can stick with the competitors SpyFu suggests or add your own.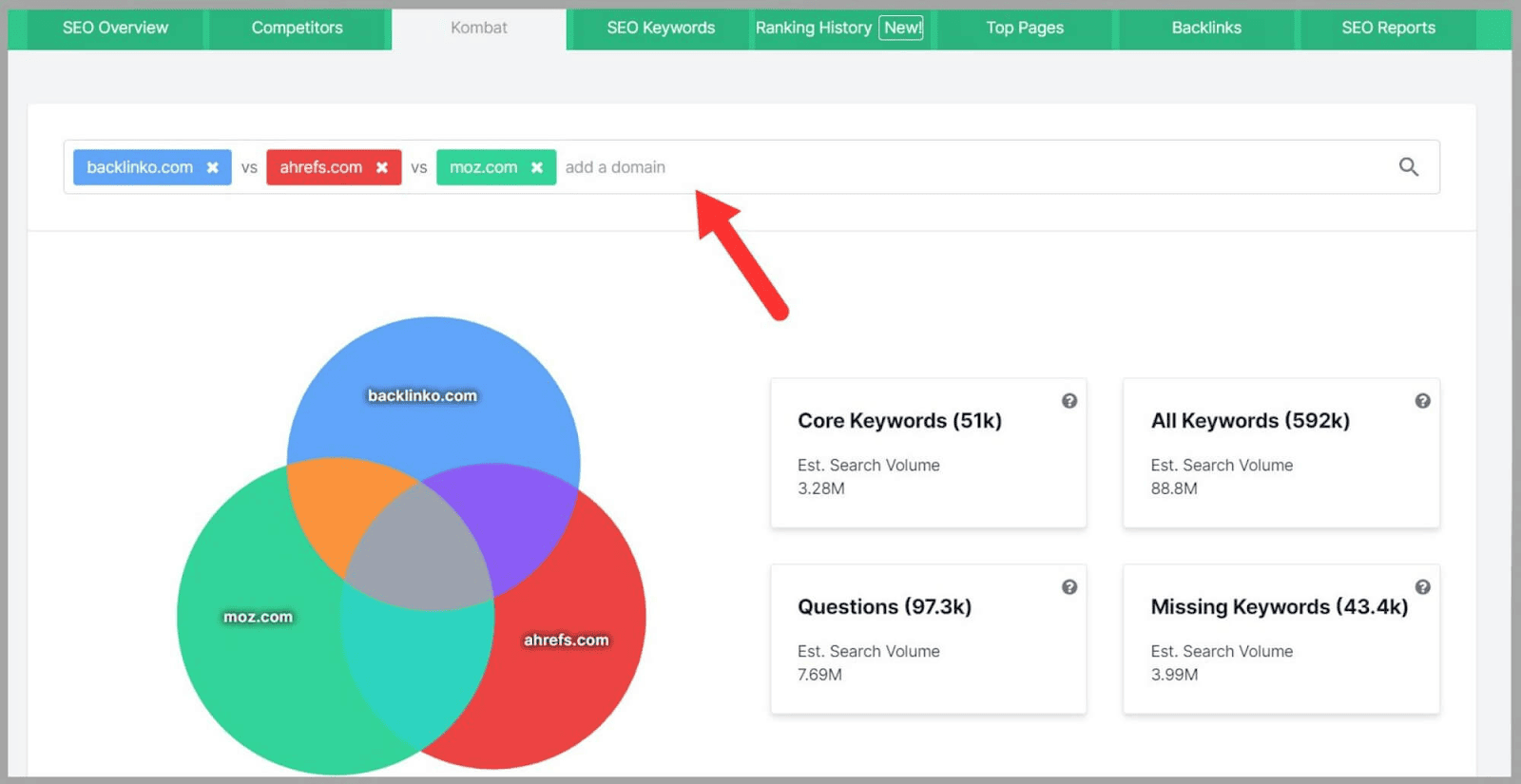 There are four keyword categories:
Core Keywords
All Keywords
Questions
Missing Keywords
If you hover over one of the categories then the overlapping sections will be highlighted in the diagram.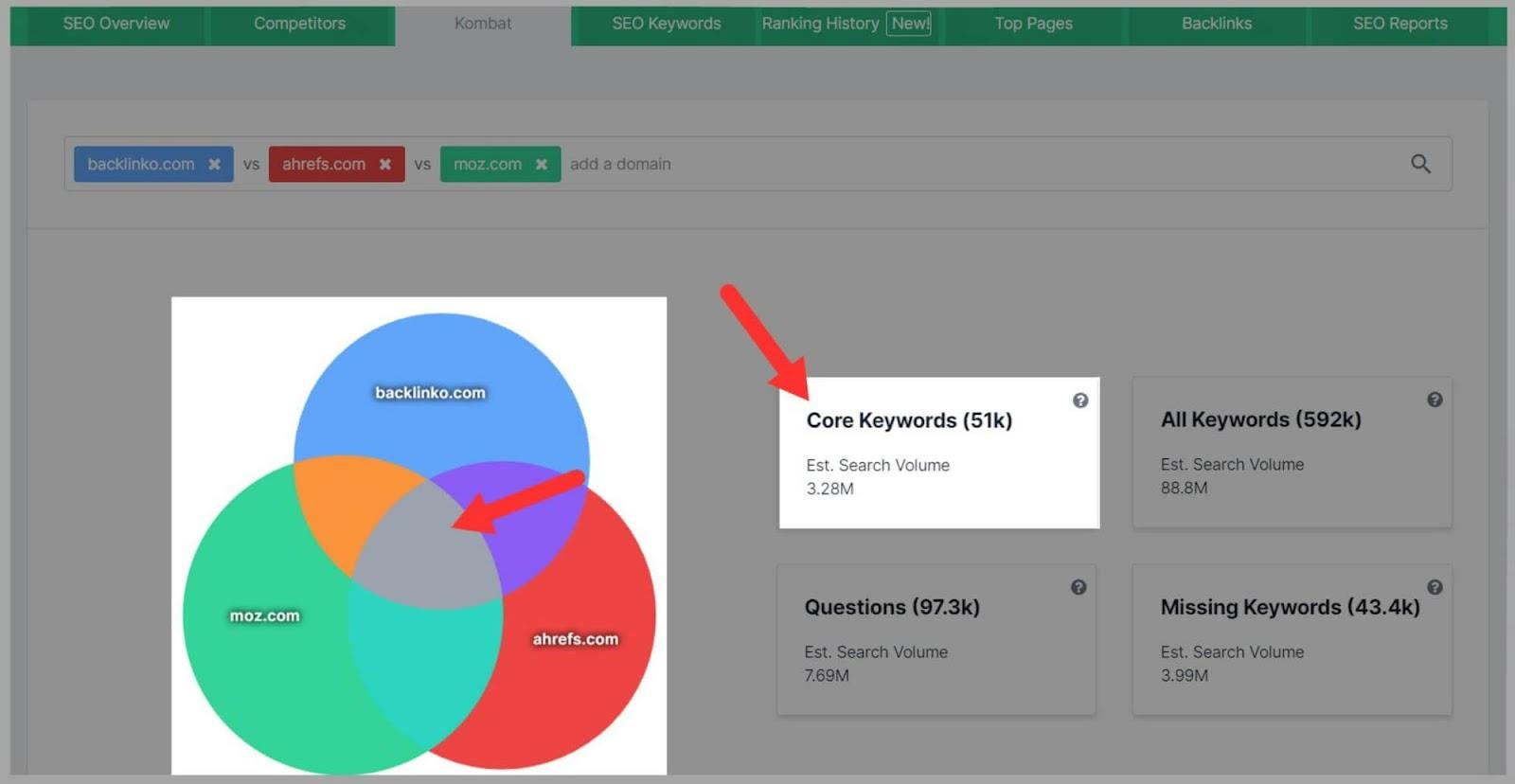 'Core Keywords' are the search terms that all of the domains rank for.
'All Keywords' refers to search terms that any of the domains is targeting.
'Questions' are based on search queries from any of the domains.
Finally, 'Missing Keywords' are the keywords your competitors are targeting that you aren't.
Clicking on any of the categories takes you to a list of keywords.
The 'Missing Keywords' list is SUPER useful.
These keywords present opportunities that you've missed which could be highly relevant to your business and SEO campaign.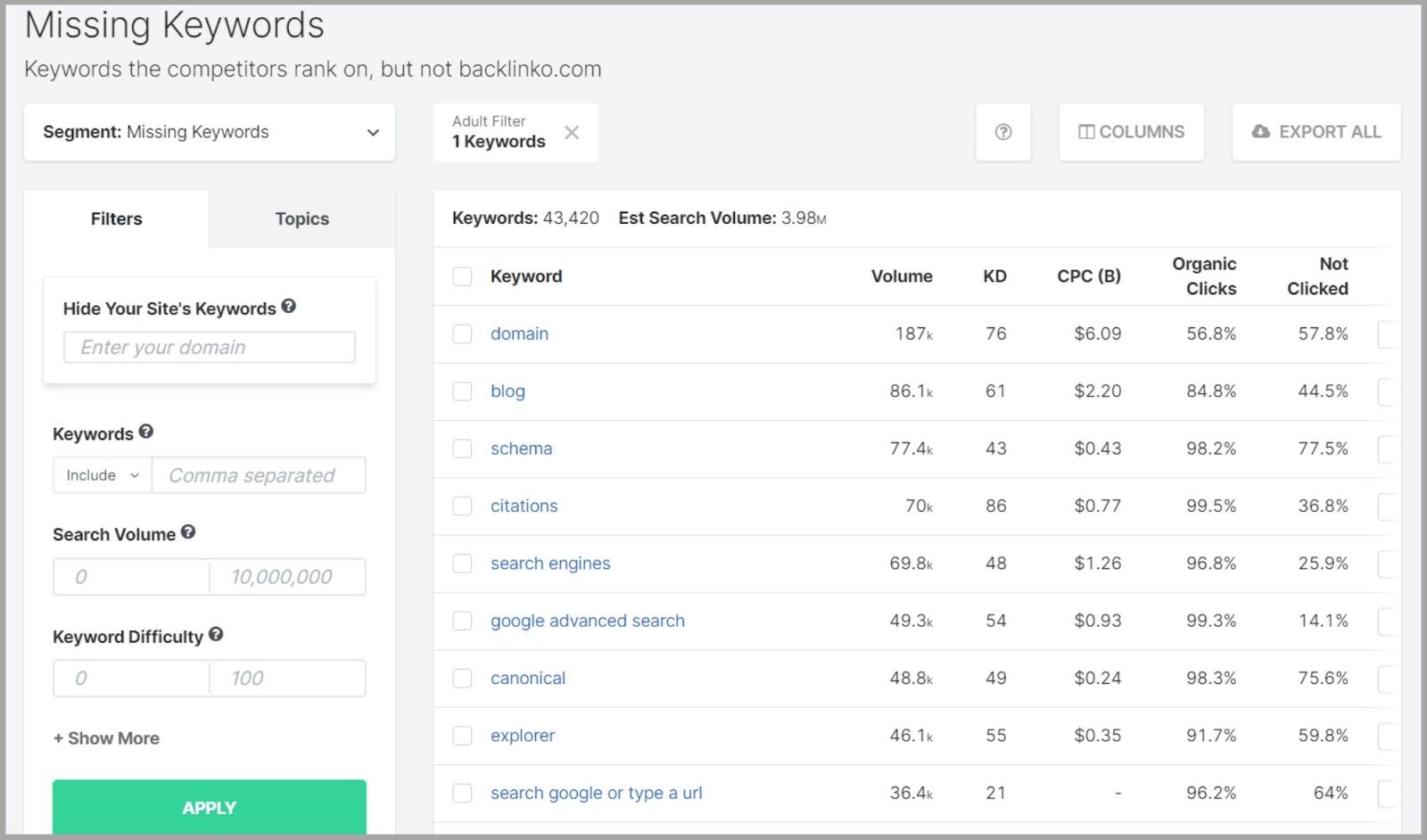 That being said, you won't need to target every search term on the list. You will come across queries that will be irrelevant to your keyword strategy. So, you'll need to scroll through the list and choose the ones that are the most relevant by selecting the boxes next to the keywords.
You can then export them as a CSV file and import the file to Google Sheets for further analysis.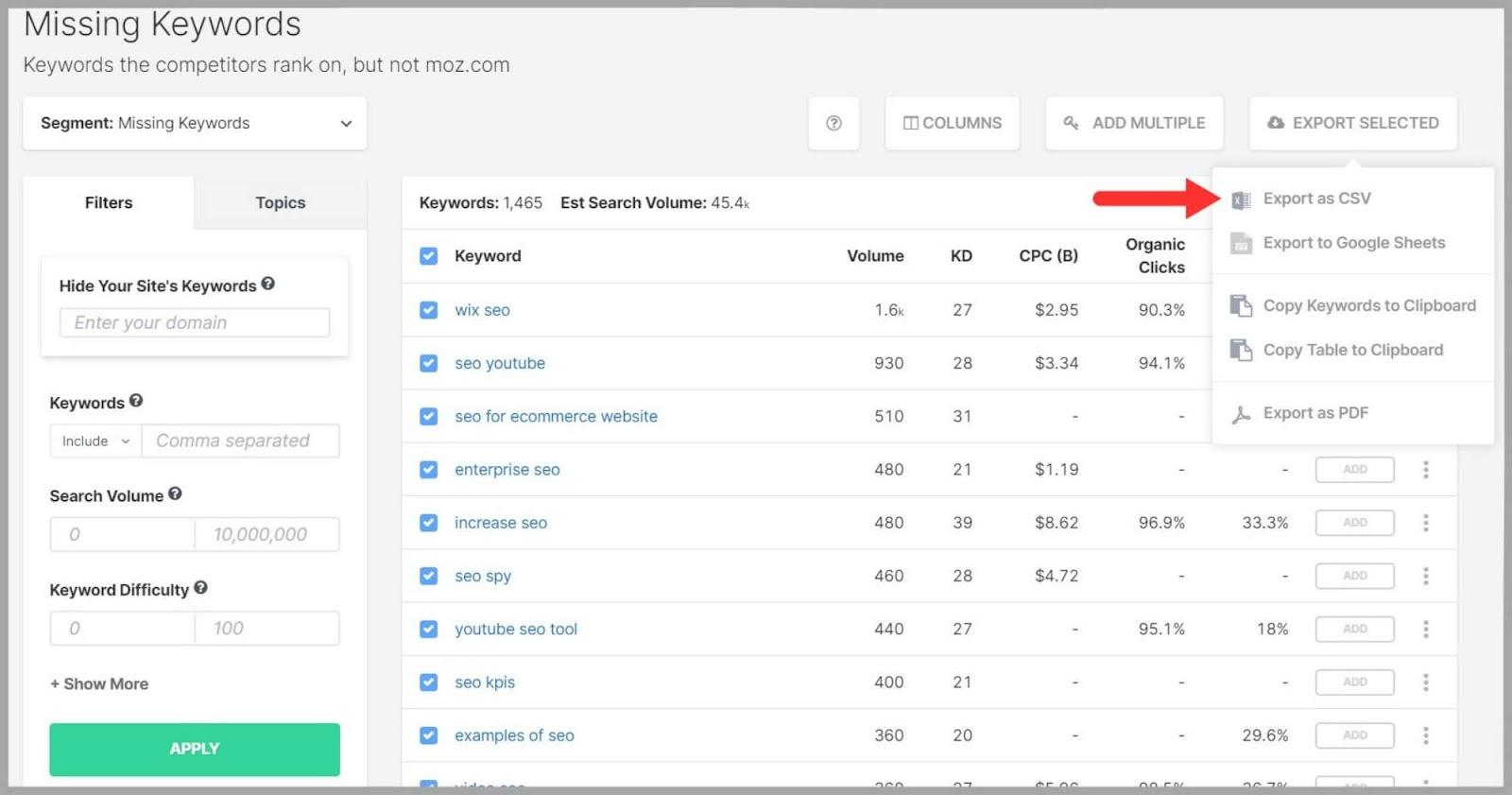 You might find that you will need to optimize certain pages with specific keywords or you may need to create new pages for the missing search queries.
SEO Keywords

With this tool, you can take a closer look at your competitors' keyword rankings as well as analyze your own.
To analyze your keywords, paste your domain in the search box, set your region, and hit 'Search'.
You'll then be presented with a complete list of your keywords along with five metrics. These include:
Volume
Rank (Change)
SEO Clicks (Change)
KD
CPC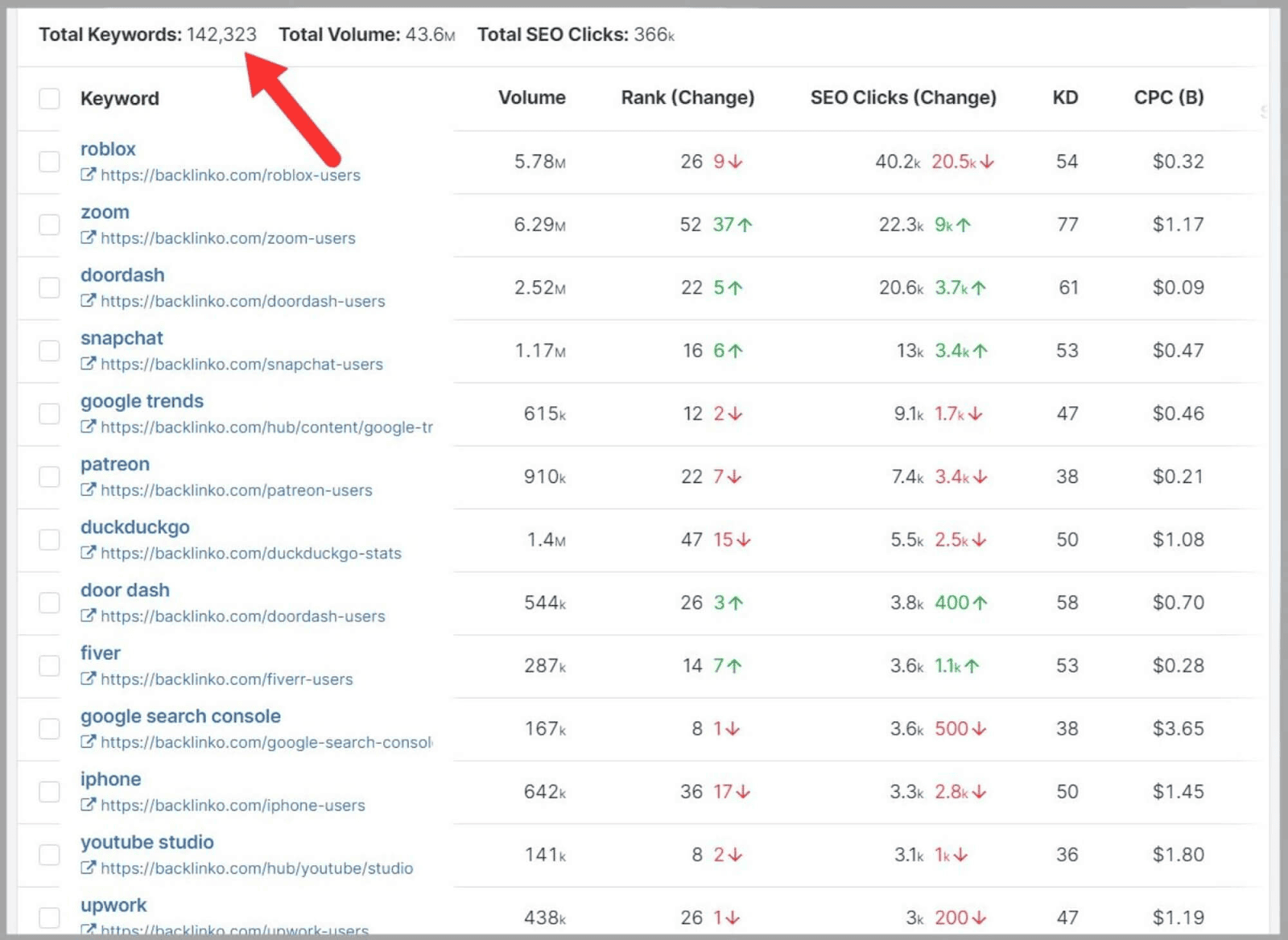 The 2 metrics to pay close attention to here are, Rank (Change) and SEO Clicks (Change).
Rank (Change) – There are two elements to this metric:
Rank shows you what position your keywords are currently ranking in.
(Change) means how many positions they moved up or dropped down to.
SEO Clicks (Change) – here's what these metrics tell you:
SEO Clicks is an estimation of the number of clicks a page should receive a month based on its current ranking position.
(Change) shows you how many more clicks or fewer clicks your page got by comparing its current ranking to its previous ranking.
Let's look at an example. In the image below you can see the 'YouTube tags' page moved up 1 spot and is currently ranking in position 2, and according to SpyFu, it now gets 420 more clicks.
Nice!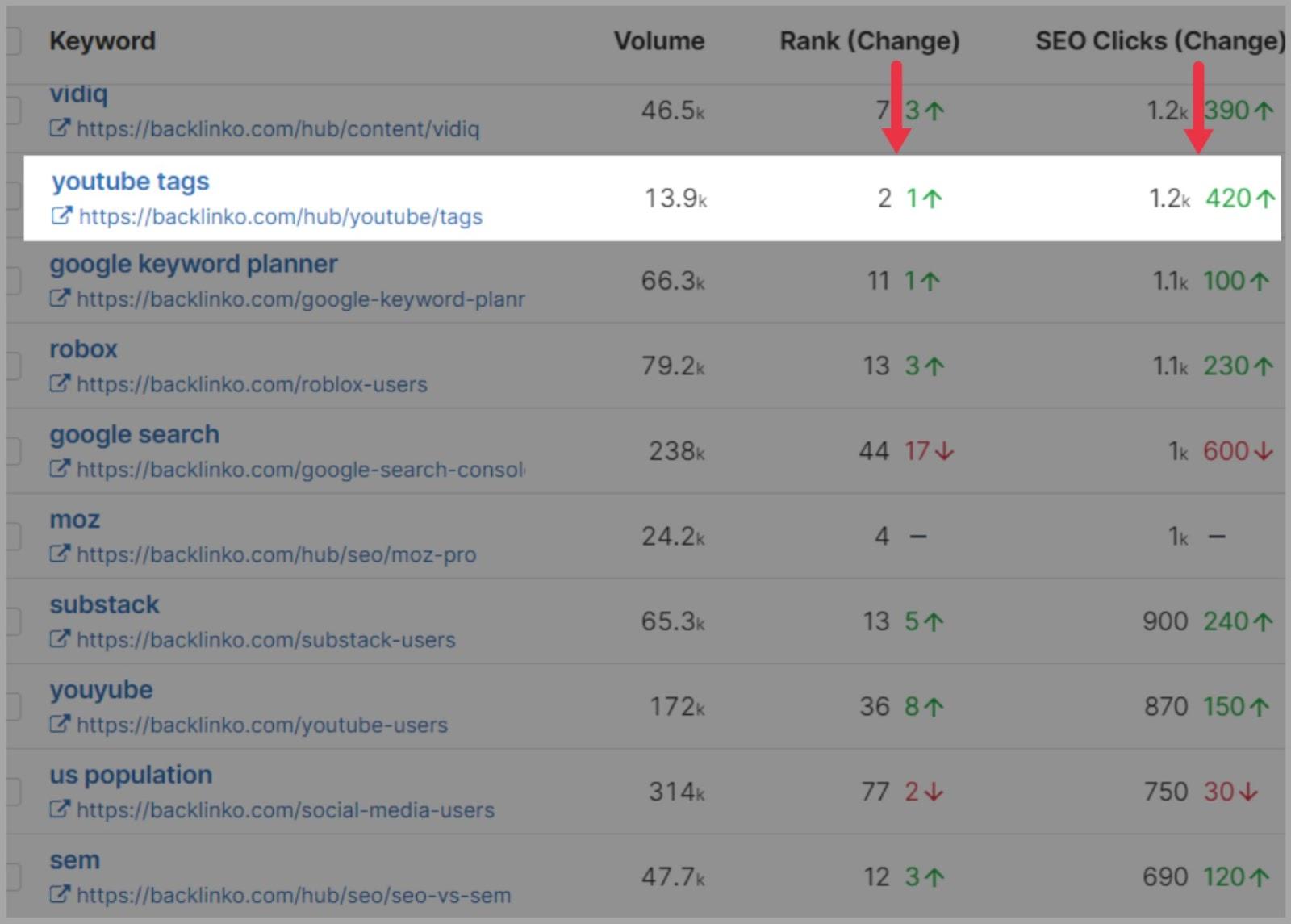 To make the most out of this tool you'll want to use the filter options to compare your keyword rankings against your competitors' rankings.
To do this, you need to paste your competitor's domain in the search box and hit 'Search'.
In the 'Filters' section paste your domain in the box right under 'Compare to Your Site's Ranks'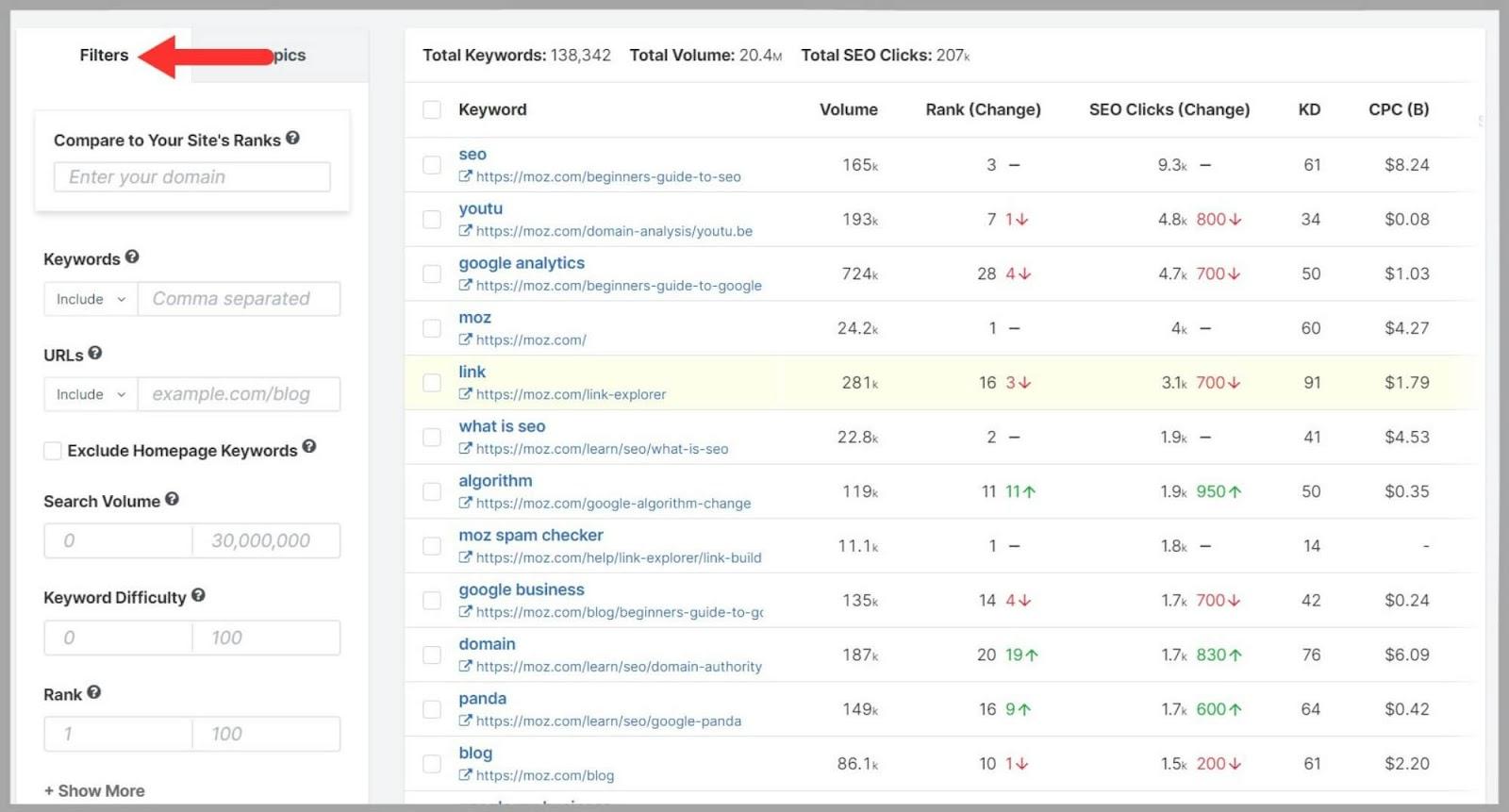 You can also choose to include or exclude keywords and URLs, such as /blog.
You can even exclude homepage keywords and adjust search volume, keyword difficulty, and rank.
Simply click 'Apply' when you're done…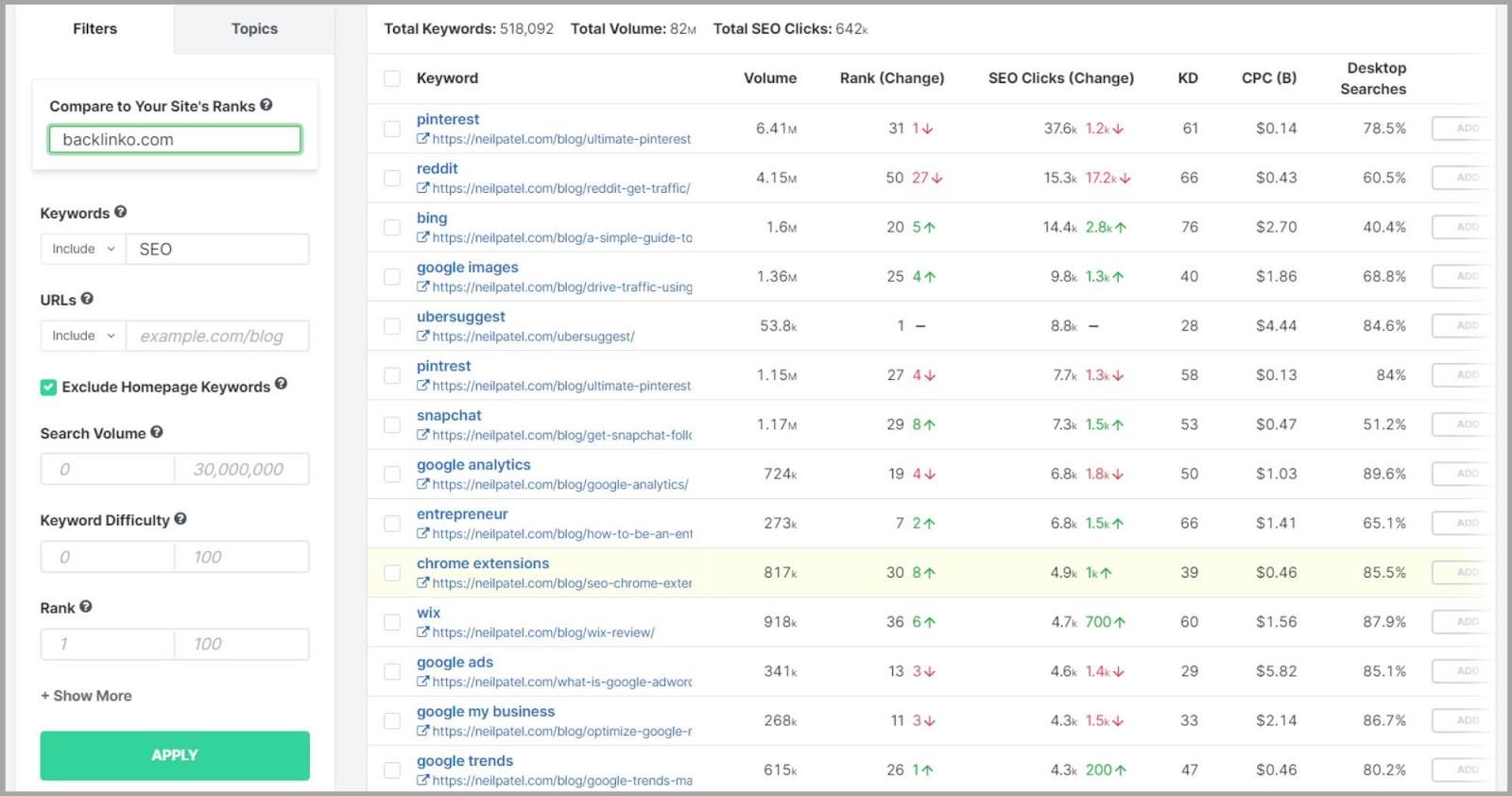 …and the tool will give you results based on the filters you've set. You'll get a side-by-side view of the keywords both you and your competitor rank for and the positions in which they rank.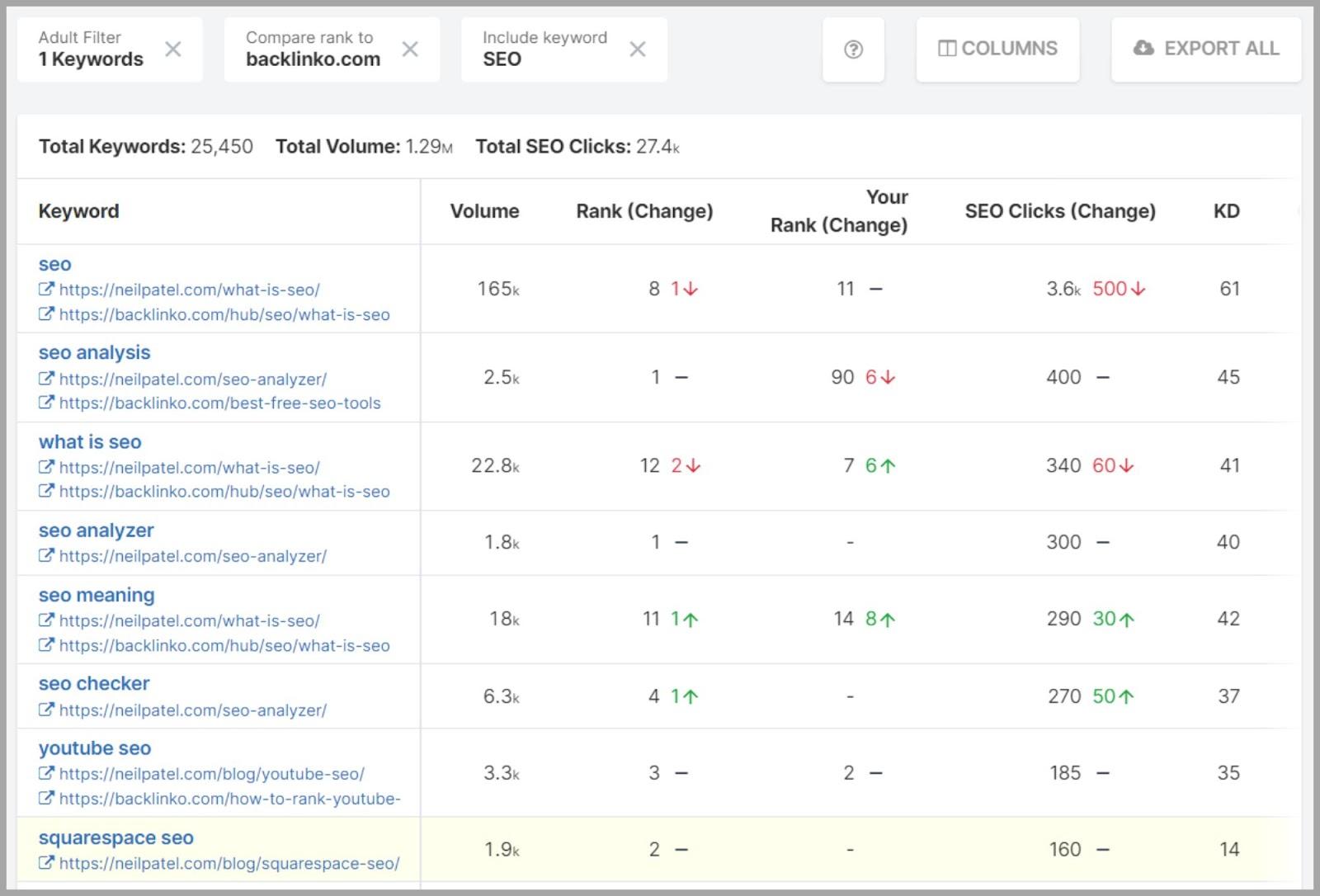 This is SUPER insightful. Not only will this tool help you to see where you're falling behind your competitors in terms of keyword rankings, but it also helps you to discover new content ideas.
For example, in the image above, I can see that there are two topics I don't have content for; 'Squarespace SEO' and 'SEO analyzer'.
But that's not all. If you need more data you can use the 'Columns' tab to add or remove metrics.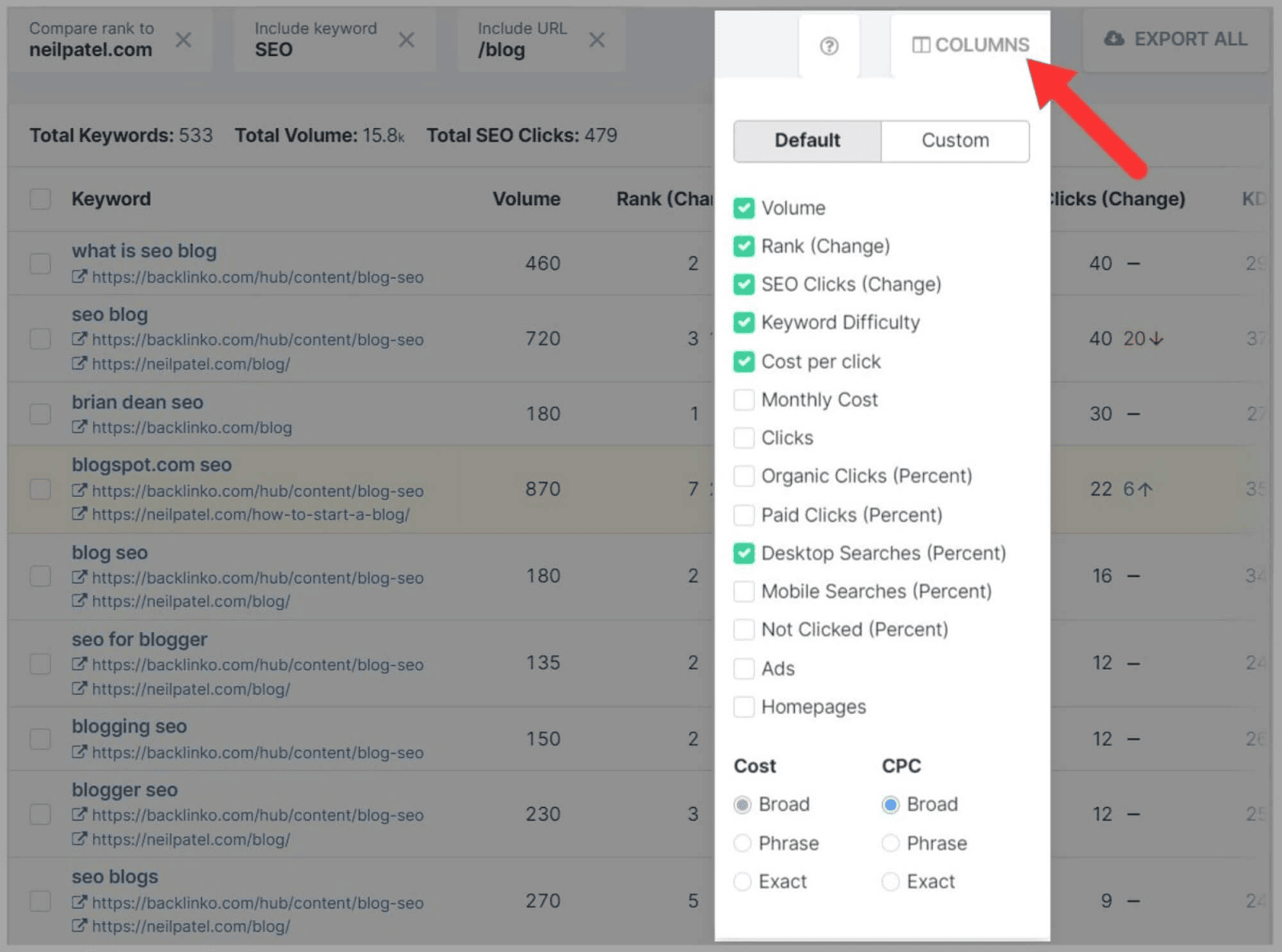 And you can choose how you want the results to be sorted.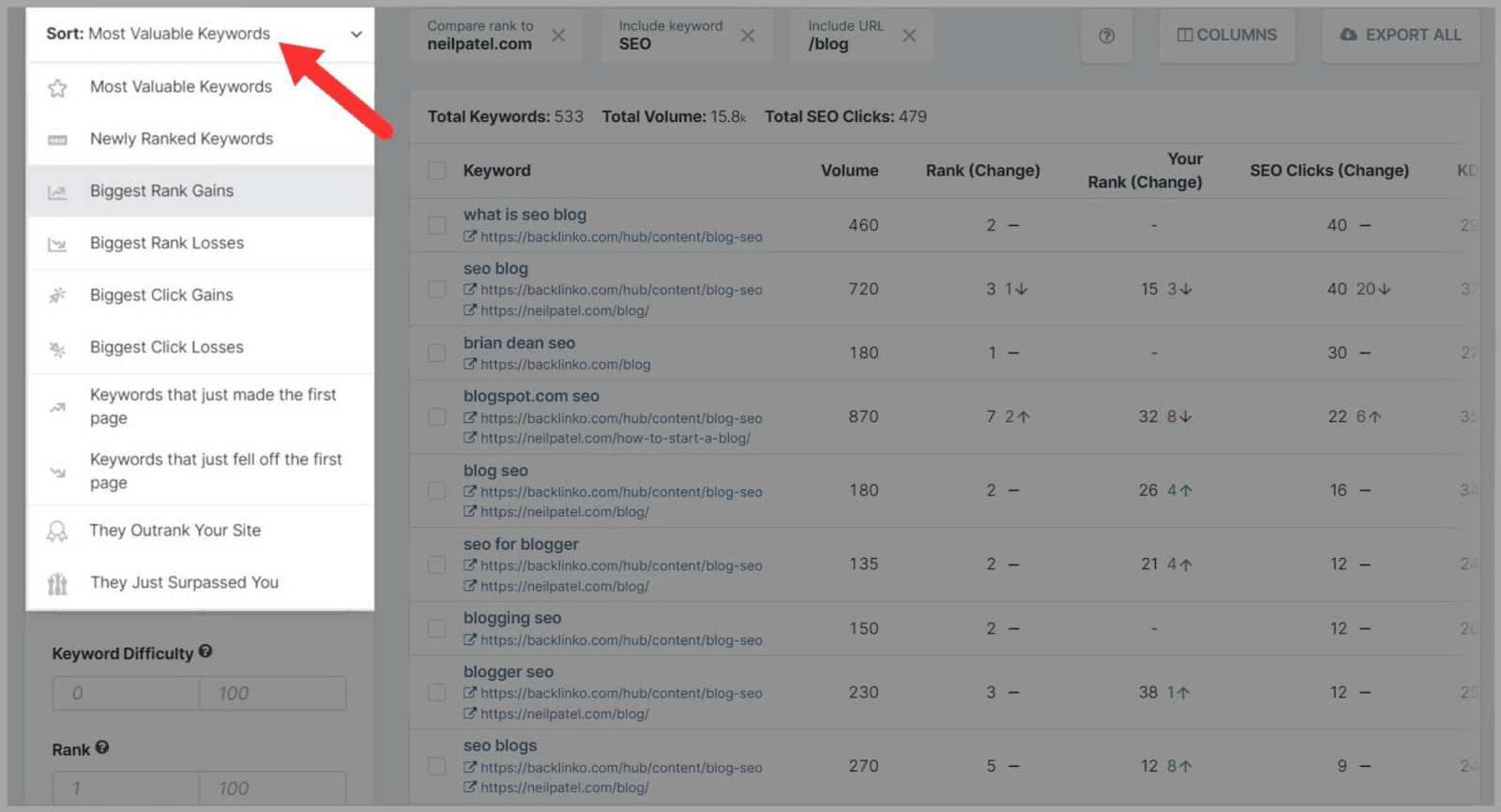 I went with Biggest Rank Gains.
SpyFu has left no stone unturned when it comes to analyzing where your keywords rank and that of your competitors.
Pretty neat.
Ranking History
Rank tracking is important for identifying the strengths and weaknesses of a domain.
That's why this is a really nice feature.
Ranking History lets you track your and your competitors' rankings over a specific period of time.
First, you enter either your domain or a competing domain in the search bar.
I've entered my domain as I want to see how my rankings have fared over time.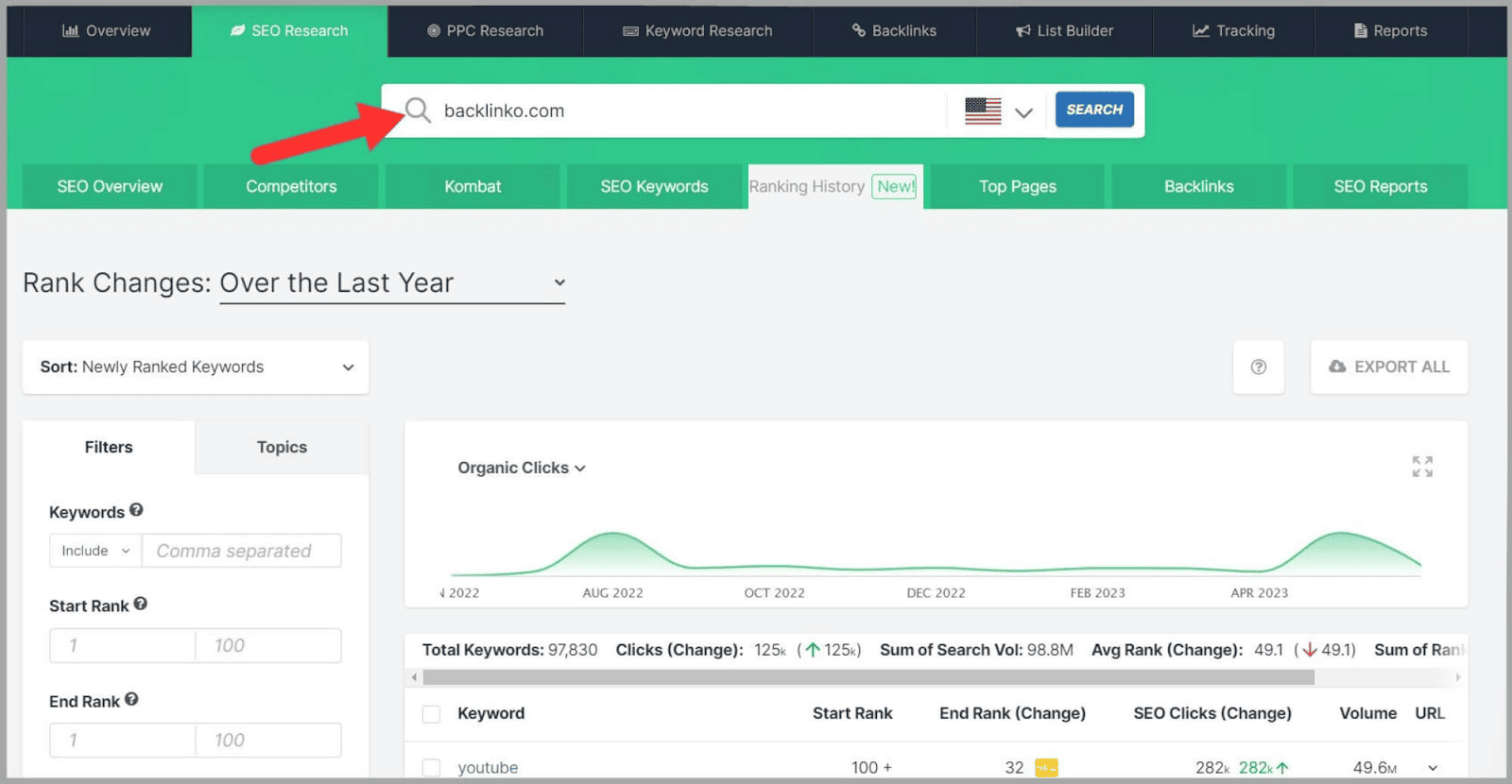 Then, you choose the time period you want to view.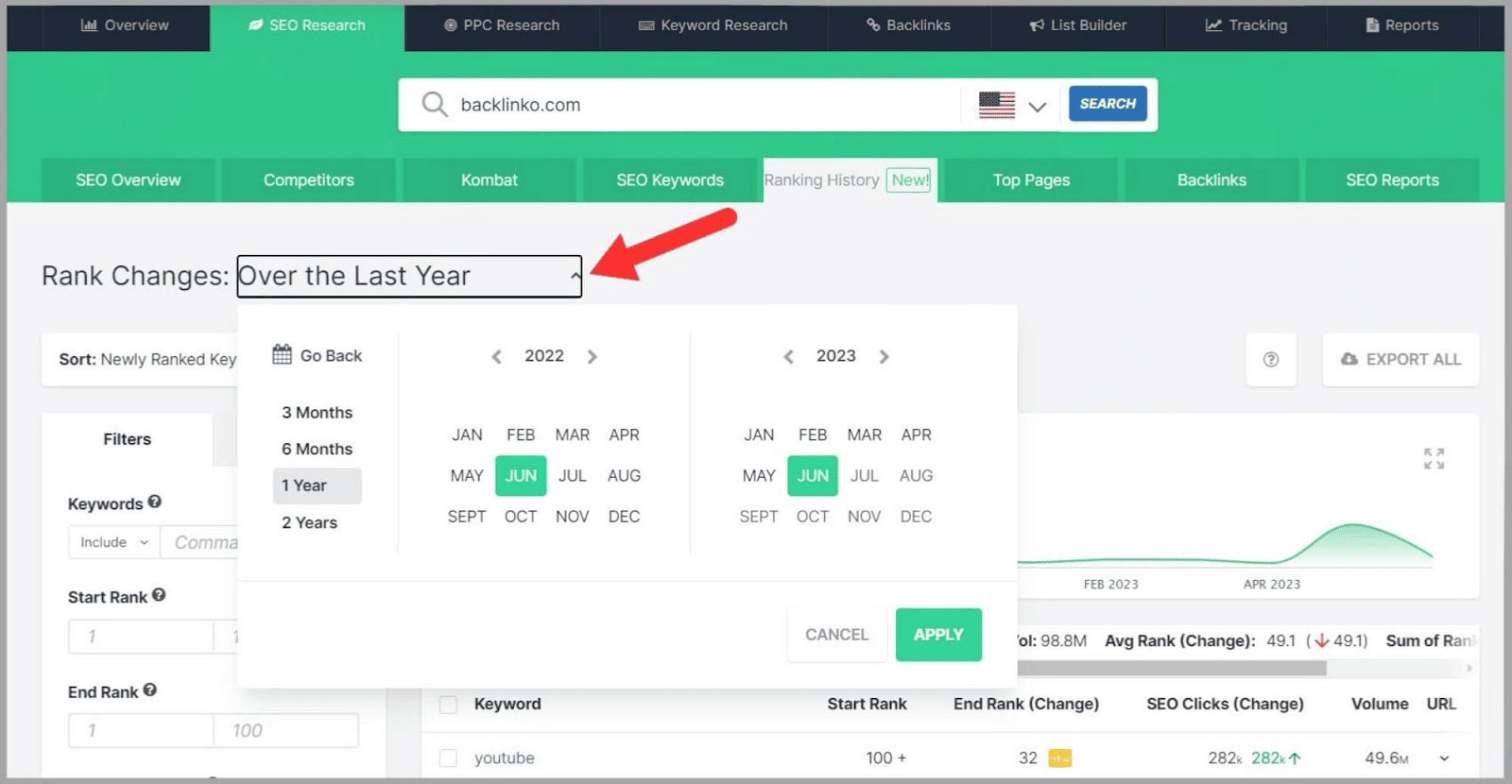 Next, you choose how you want your results to be sorted. I went with 'Biggest Rank Gains'.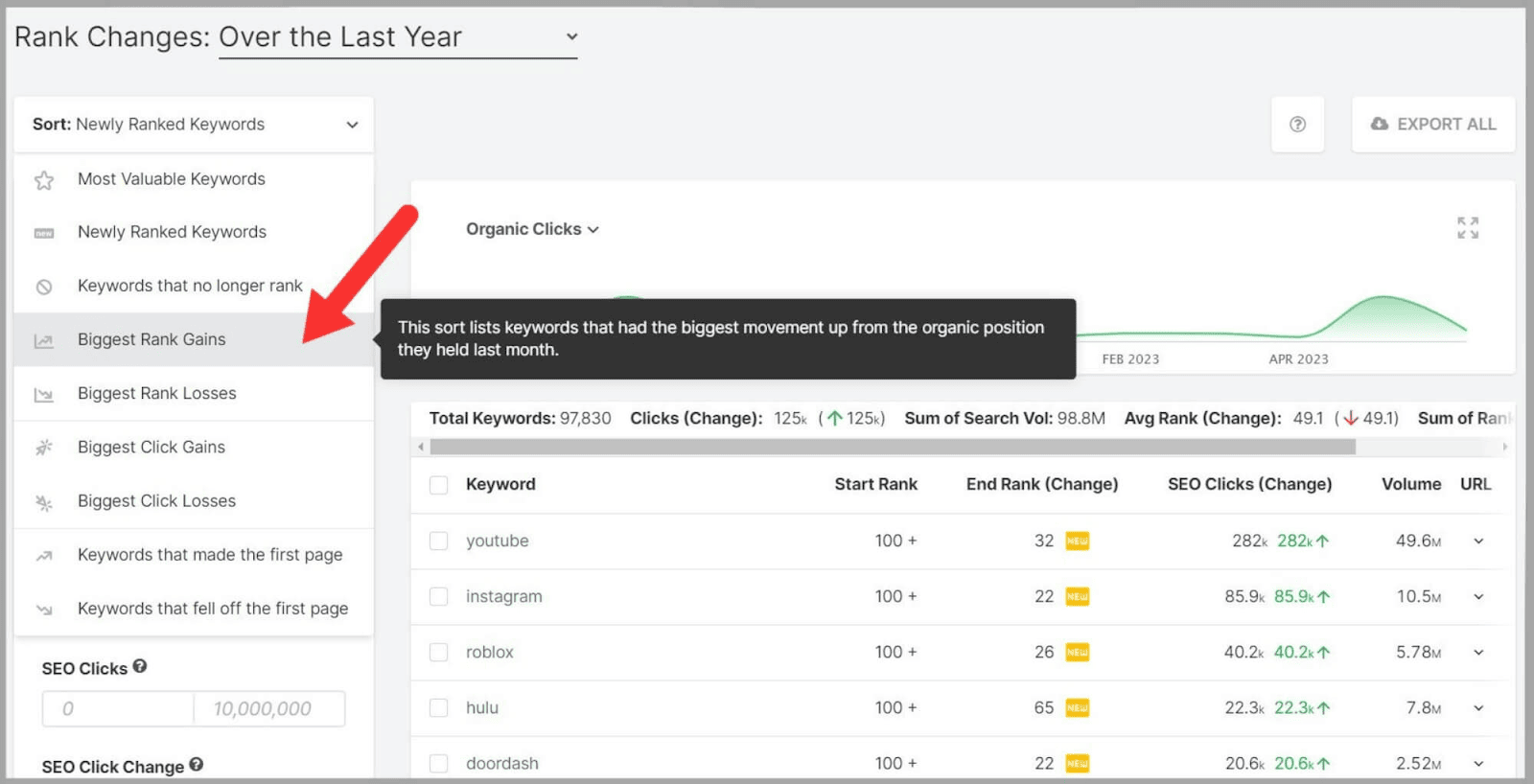 You can then choose a specific keyword to target and narrow down your search to sets of keywords related to different categories or topics.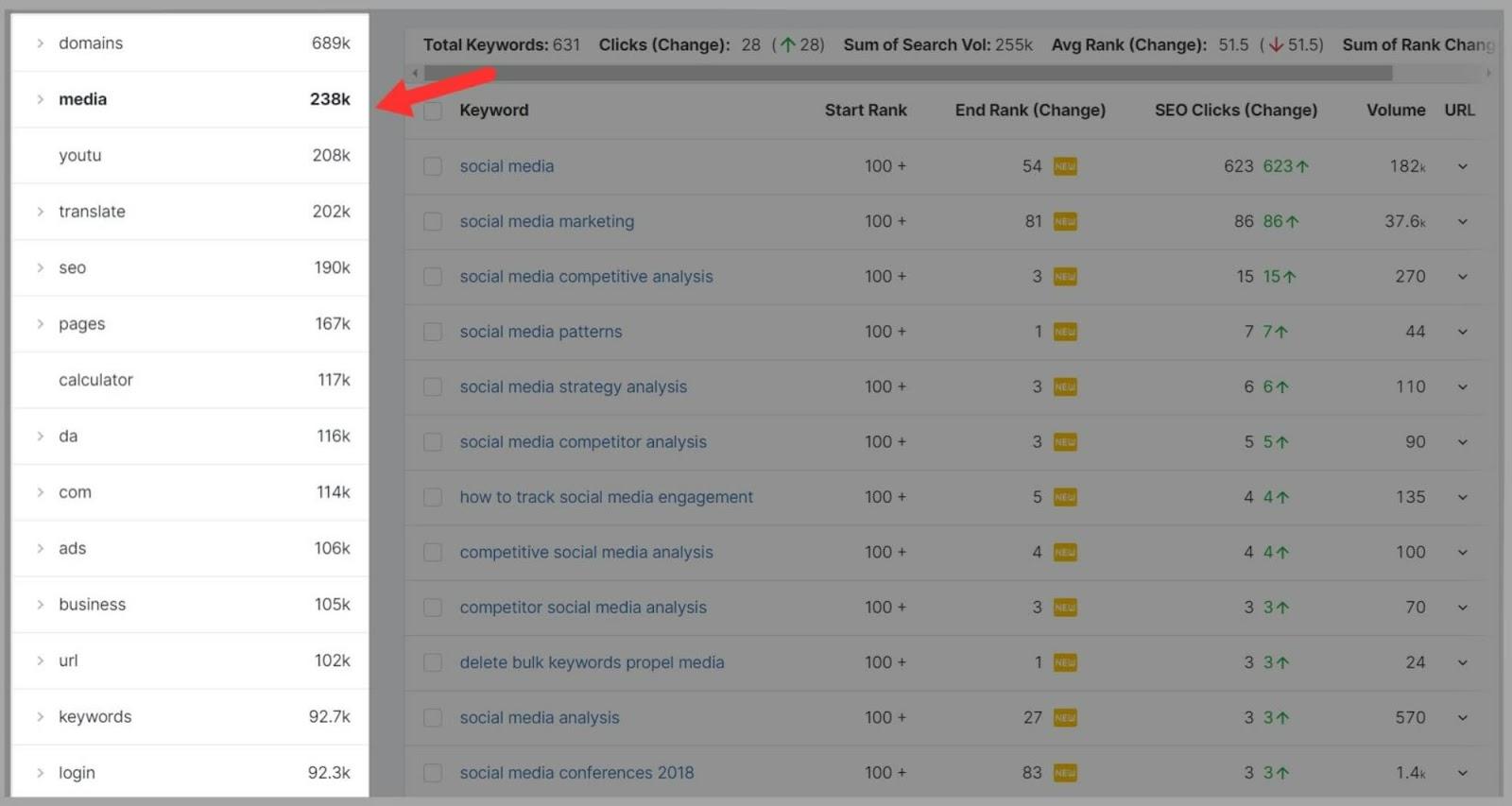 Plus, you can apply other filters:
'Start Rank'
'End Rank'
'End Rank Change'
'SEO Clicks'
'SEO Click Change'
'Search Volume'
Lastly, you hit the 'Apply' button and SpyFu gives you your results.
You can see where keywords ranked at the start of the time period and where they rank now.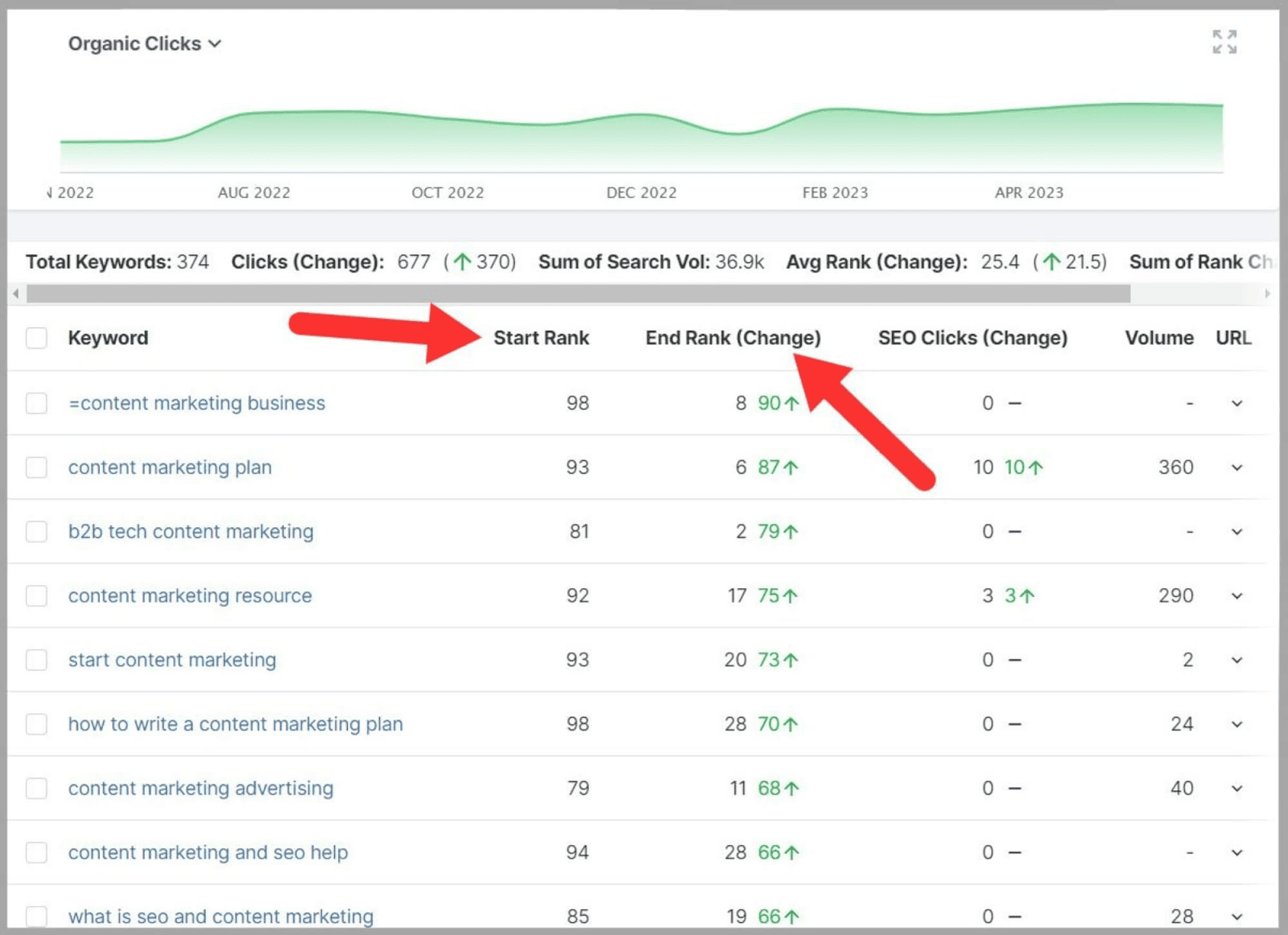 So, looking at the 'content marketing plan' keyword, I can see that it moved up 87 spots in the past year. It started off ranking in position 93 and ended up in position 6.
I can now investigate what caused this improvement in my rankings. For example, this could be due to building more quality backlinks or making adjustments to the content on the page in the past year.
By using this tool, I can pinpoint exactly what tactics have been successful and use them to keep improving my rankings.
Top Pages
When conducting competitor research, it's important to know which keywords are earning a lot of clicks.
It's also vital to know which pages are receiving more traffic than others.
This can be done easily using SpyFu's Top Pages feature. The tool allows you to see which pages are pulling in a lot of traffic for both your site and your competitors' sites.
If you see that certain pages on your site are driving a lot of success you should create more content around those topics.
When analyzing your competitors' domains you should take note of the pages that are driving traffic to their site. Do you have pages that cover those topics? If not, you should target those topics too.
This is where SpyFu's Top Pages feature comes in:
It shows your competitors' most successful pages in terms of organic clicks from the SERPs. You can also see which keywords those pages are ranking for.
It breaks down a domain's keywords and their corresponding click estimates into page-by-page detail.
The tool provides keyword metrics like 'Organic Clicks' and 'Not Clicked'. This helps you to make strategic decisions and prioritize keywords.
To use it for competitor analysis, click on the Top Pages tab and type in your competitor's domain.

You can choose to view the pages with the most organic traffic or their newest pages.
The 'Pages With the Most Organic Traffic' report will give you insights into which topics are driving the most traffic.
The 'New pages' report will show you pages that have just started ranking. This is useful because you can see what topics and type of content is working within your niche RIGHT NOW.
You can also use the keyword filter option to narrow down the results to specific keywords that you're targeting.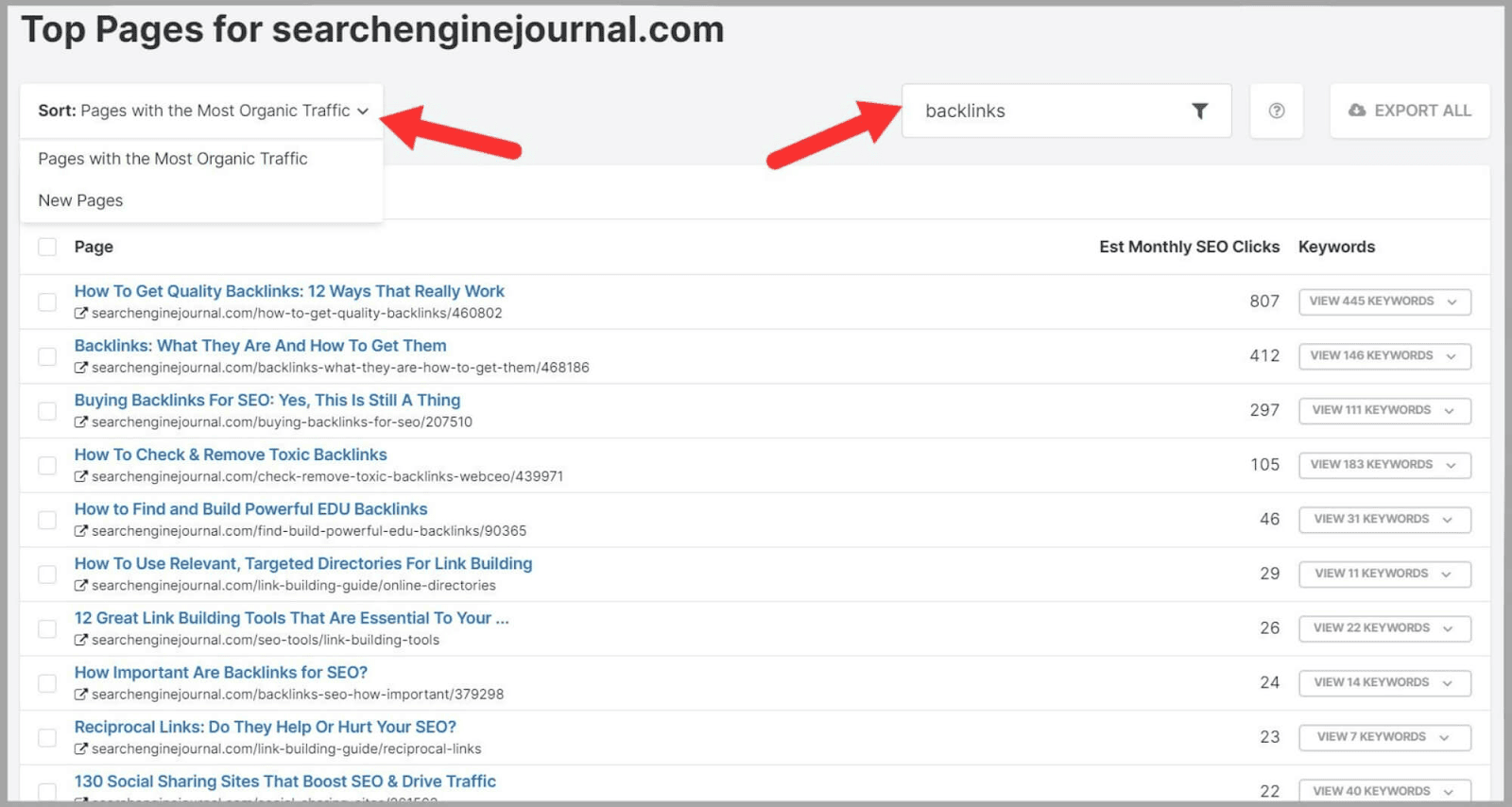 You'll then see an ordered list of the site's pages with their estimated monthly SEO clicks.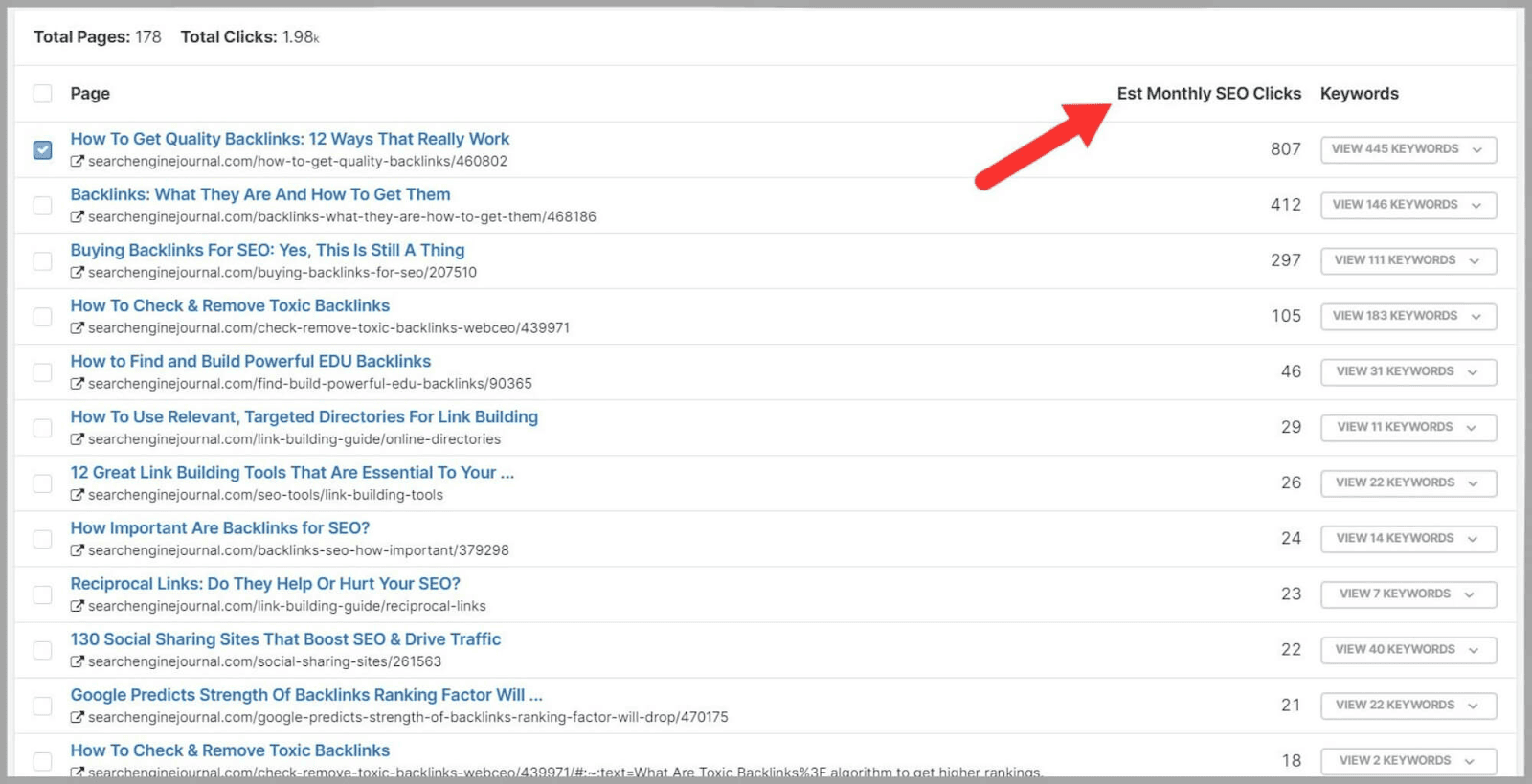 There's also the option to see the keywords that each page ranks for along with metrics like:
Ranking position
Search volume
SEO Clicks
Keyword Difficulty
Organic Clicks
Not Clicked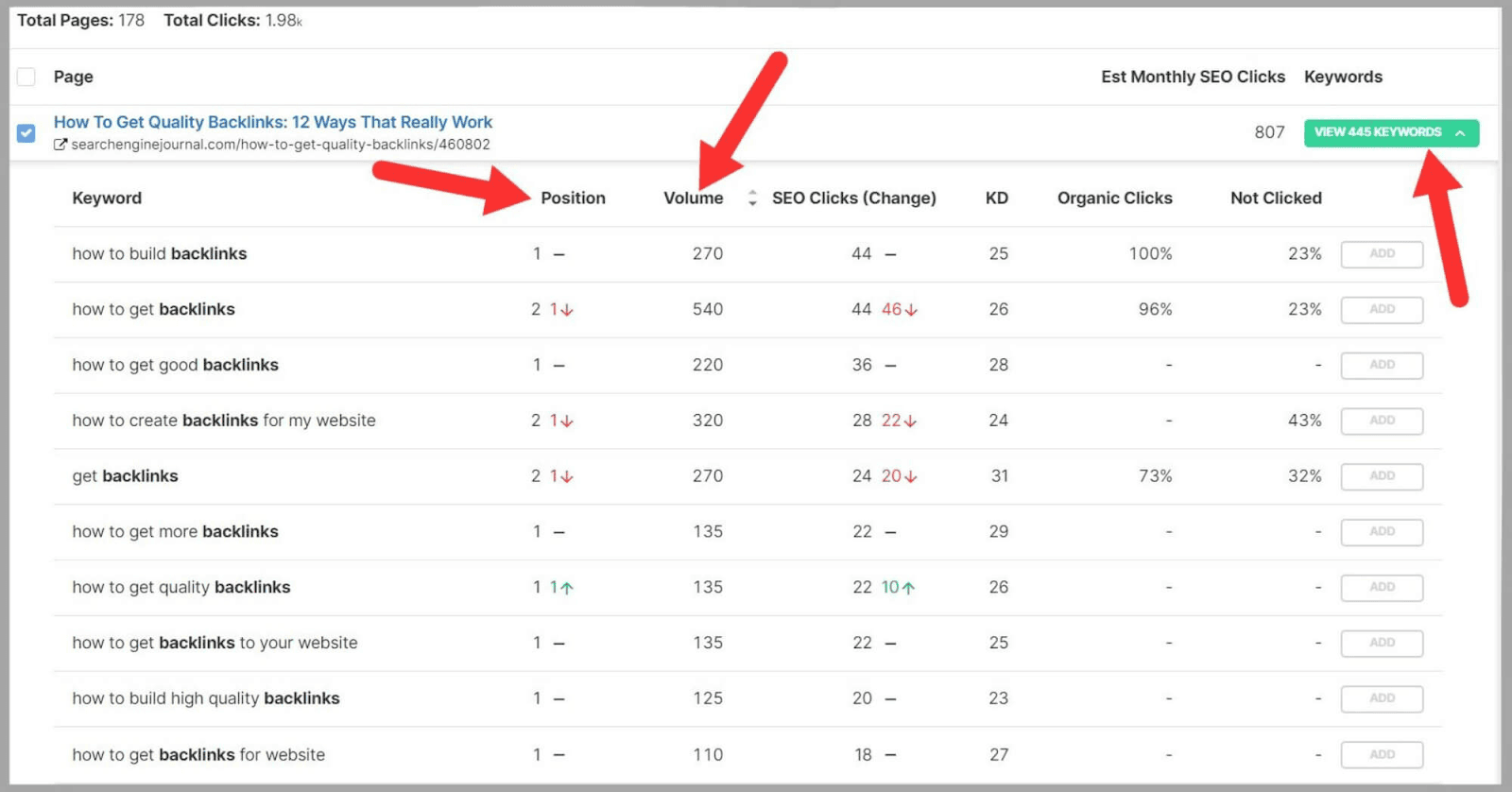 The last two metrics are SUPER informative and I'll tell you why.
Organic Clicks – shows you how many clicks on this keyword's SERP went to organic results.
Not Clicked – tells you how many users leave the SERPs without clicking on an organic result. It could mean that the users are getting their search query answered directly on the SERP. This is valuable information as it can help you avoid targeting the wrong keywords.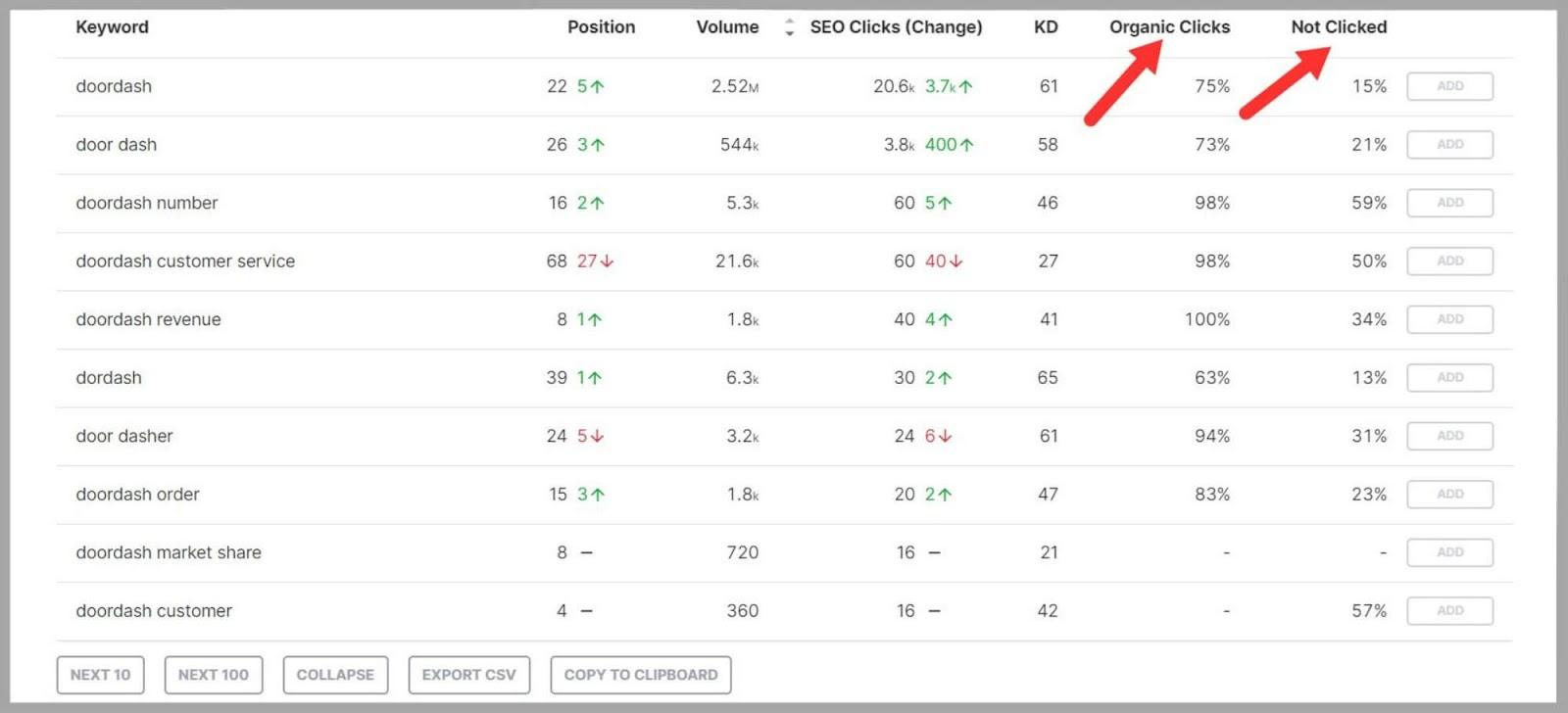 As with all of SpyFu's features, this tool also allows you to export your data and analyze it on a spreadsheet.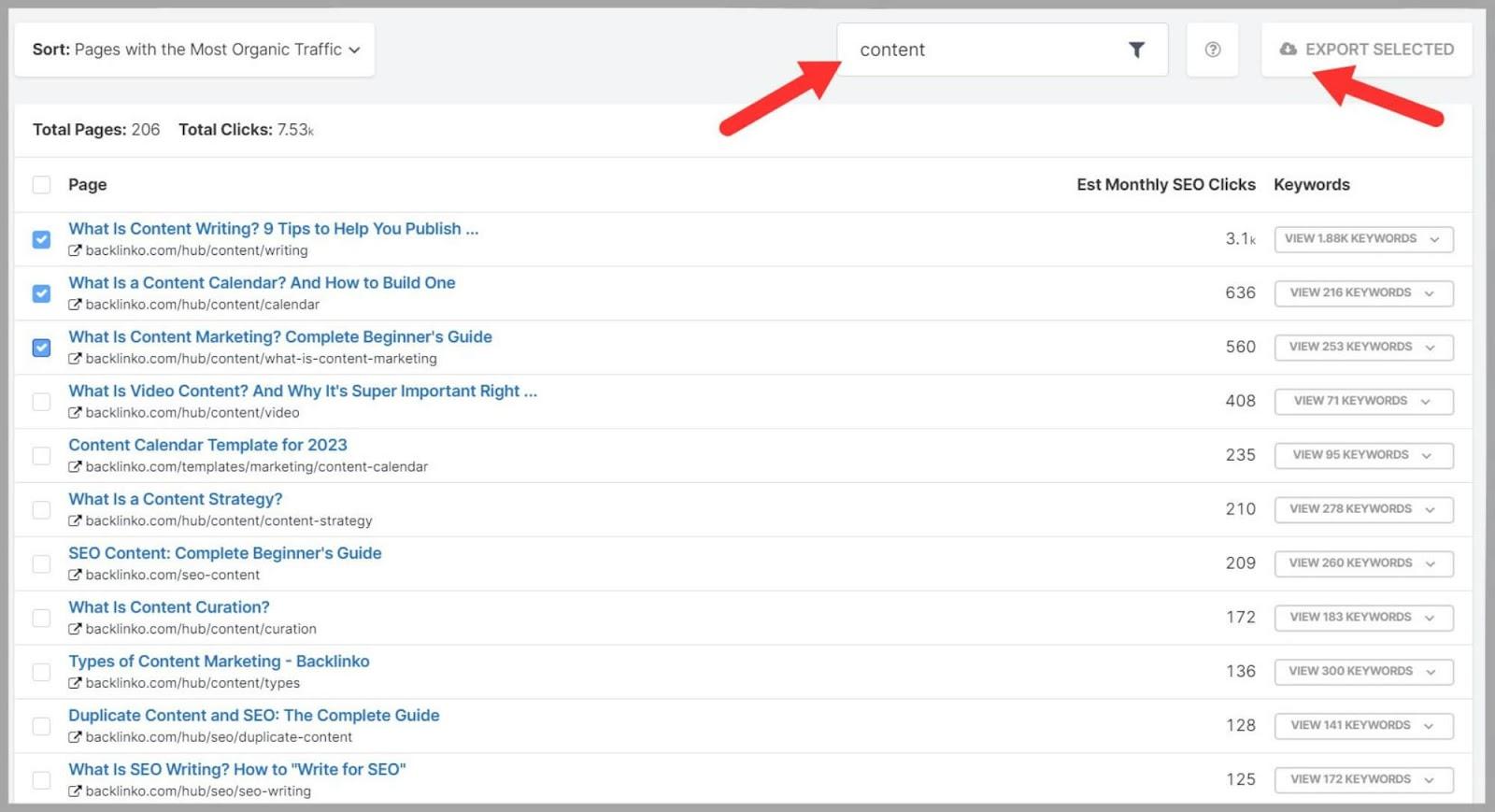 Backlinks
SpyFu's approach to link building is different from many other SEO tools.
It's designed to help you find powerful backlinks that will get you ranking for the keywords you target. You can also see which sites are linking to your domain or your competitors for specific keywords.
To start, if you want to see the domains that link to your site, all you need to do is input a keyword into the search bar. In this example, I chose "local SEO". You can also filter your results by certain categories or page types, such as:
Blogs
Pages with affiliate links
.GOV/.EDU sites
Forums
News sites
Directories
SpyFu then provides you with a list of all the domains linking to your site for that keyword.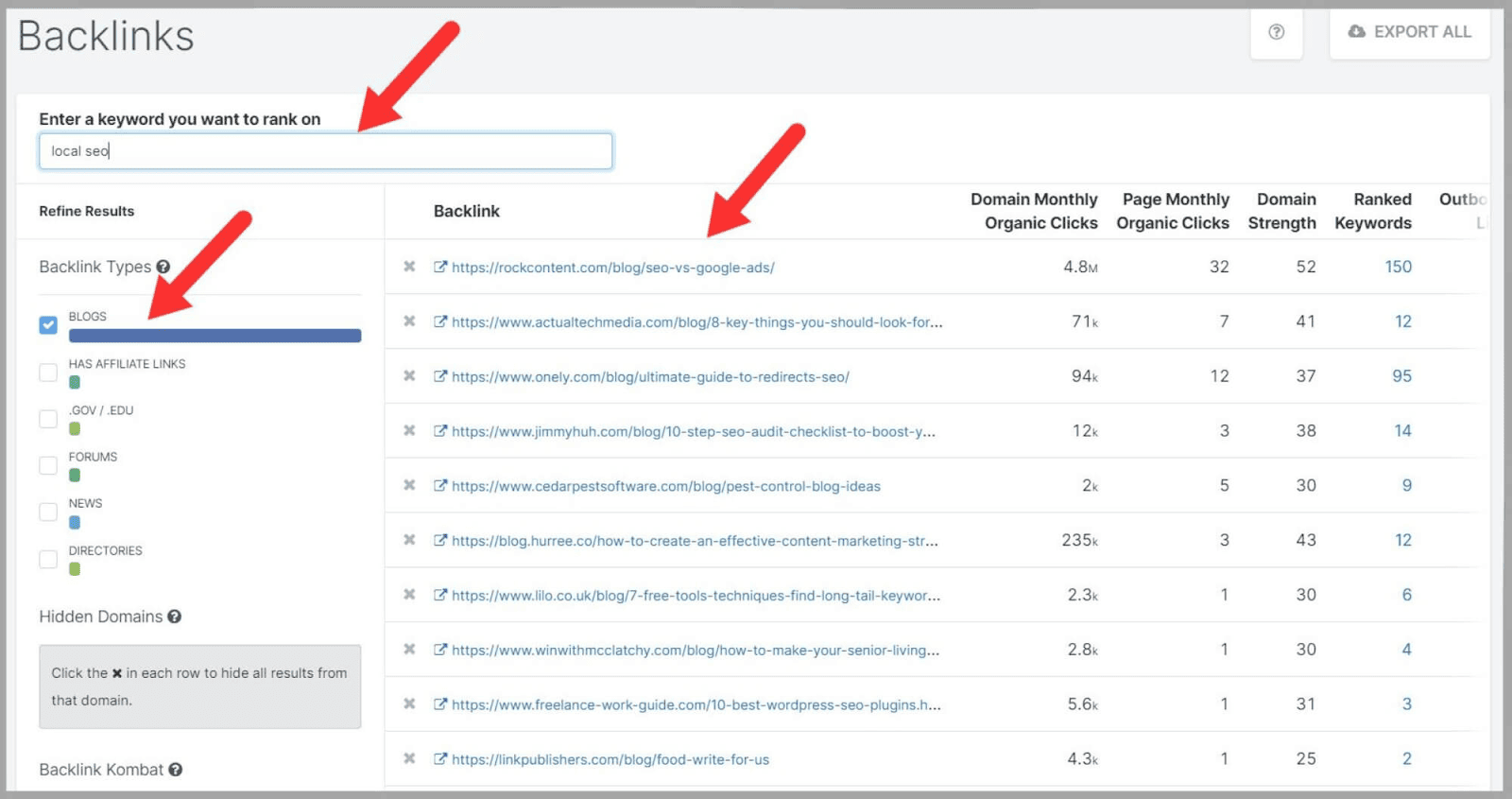 If you hover your cursor over the 'Outbound Links' metric you'll also see the other sites that these domains are linking to.
For example, the rockcontent.com/blog/seo-vs-google-ads/ page is linking to writeraccess.com.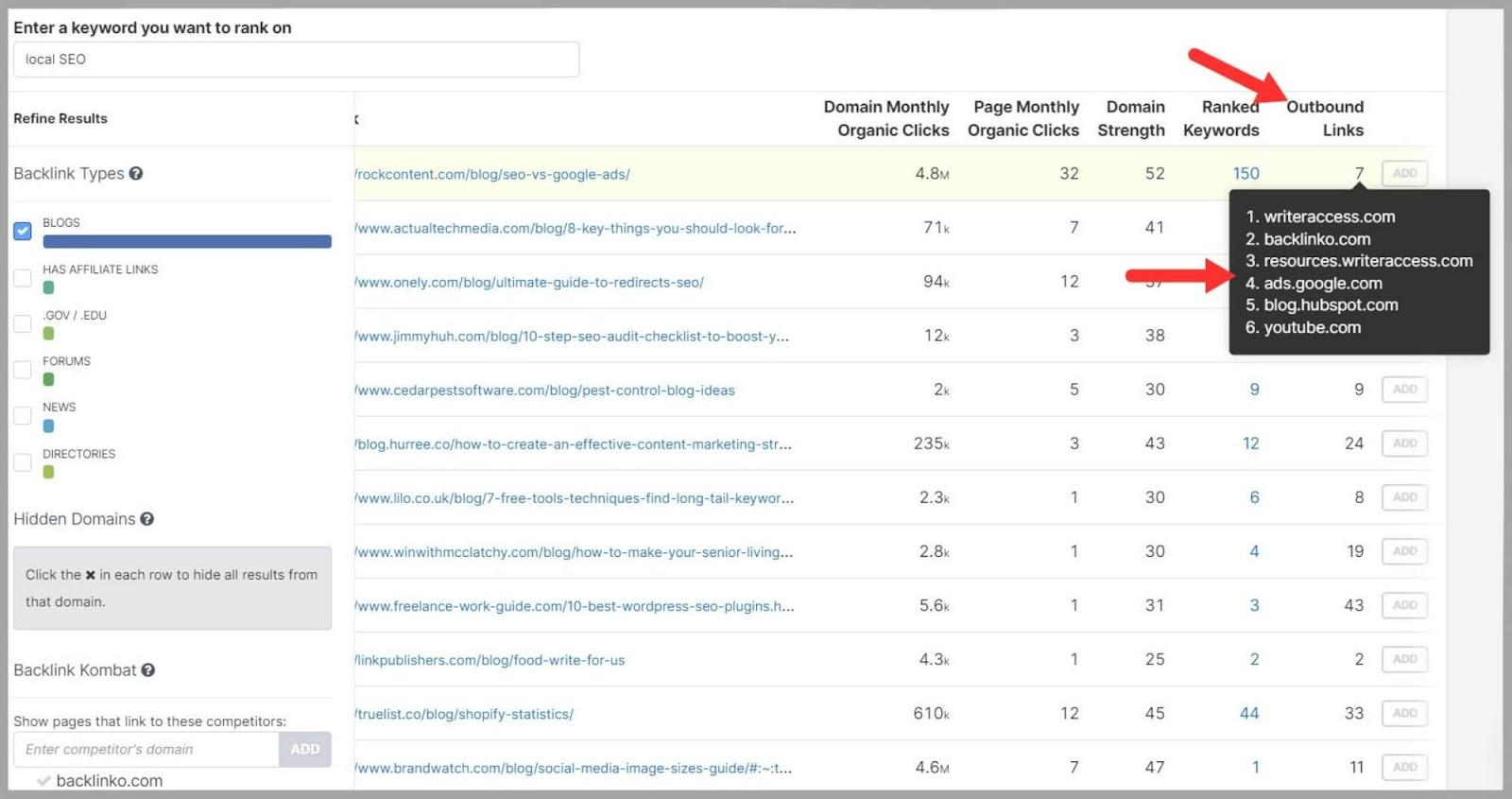 If you want to use the tool to analyze your competitors' backlinks, then you just need to type one of their domains into the search bar to see the sites linking to them.
The Backlink Kombat tool helps you get even more specific.
You can choose to see pages that link to your competitors but not to you.
You can also exclude your domain so you don't see your pages that are already getting linked to.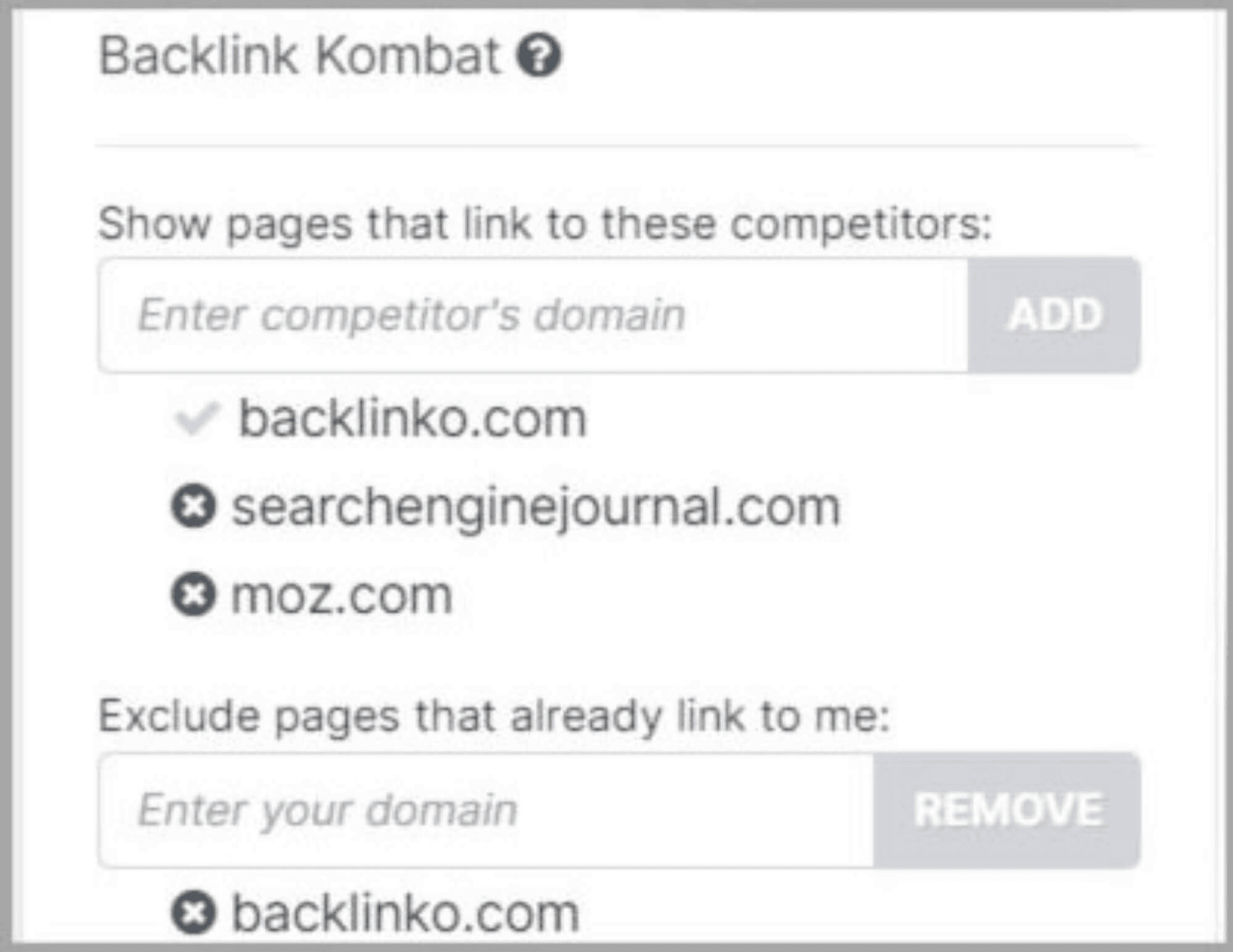 This means you can find really relevant sites that aren't already linking to you.
As with all the data SpyFu gathers, you also have the option to export your data.
Overall, SpyFu's Backlink tool is good for finding backlink opportunities quickly and easily.
However, the tool isn't designed for auditing backlinks.
Tools like Semrush are much more comprehensive and if I only had the budget for one link building tool, SpyFu wouldn't be the one I chose.
SEO Reports
The SEO Reports feature is great if you want all of your SEO data in one place.
It's also perfect for showing clients the progress you've made for their sites with your SEO efforts.
The reports break down all of the information you can view when you're using SpyFu.
There are reports designed for different stages of the sales cycle including:
Pre-sales
Onboarding
Planning
Retention
Upselling
Plus, you can brand the reports with the logos of your clients.
To create your own report, go to the SEO Reports tab and input a domain.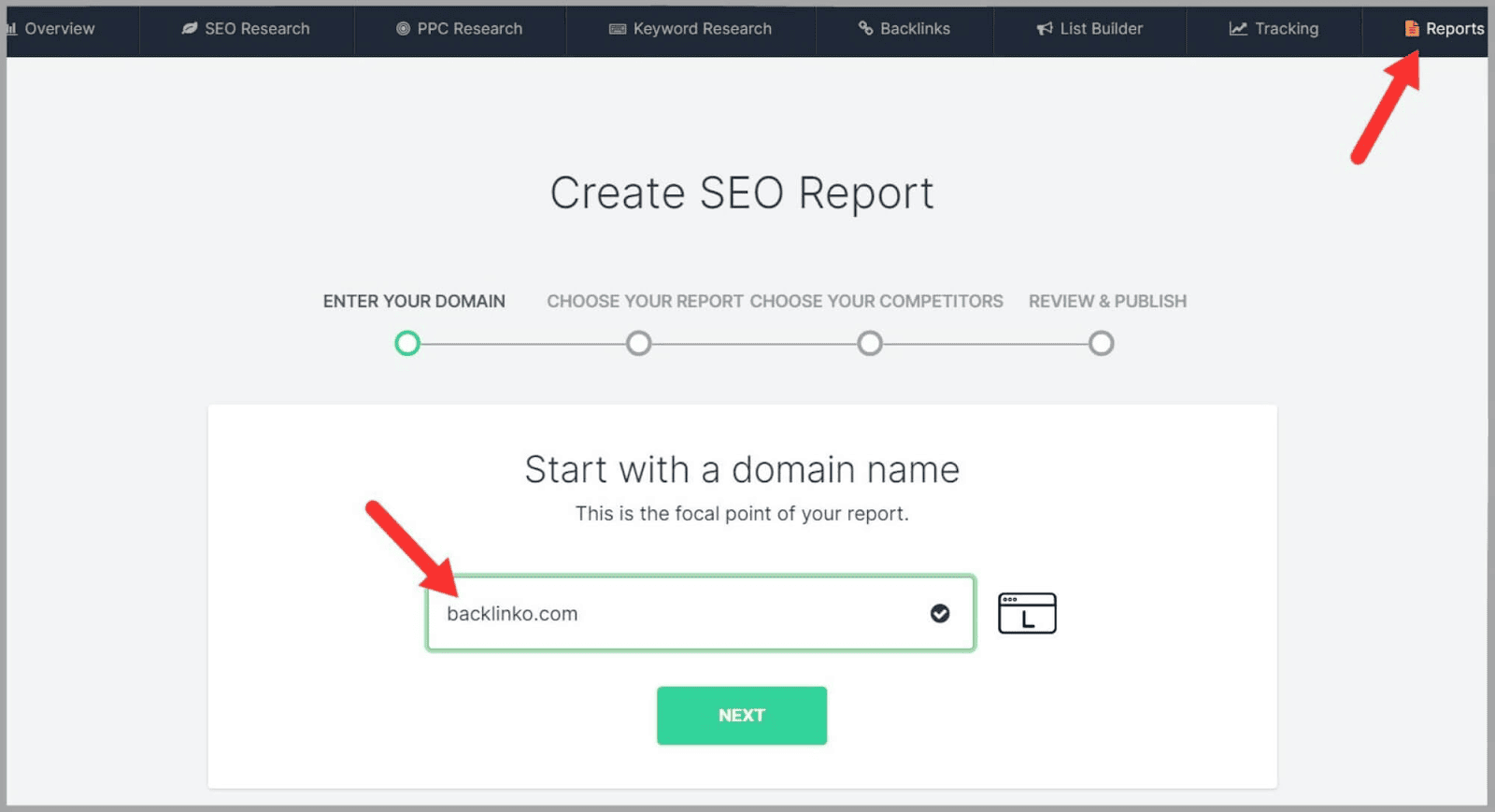 Then, choose the type of report you want.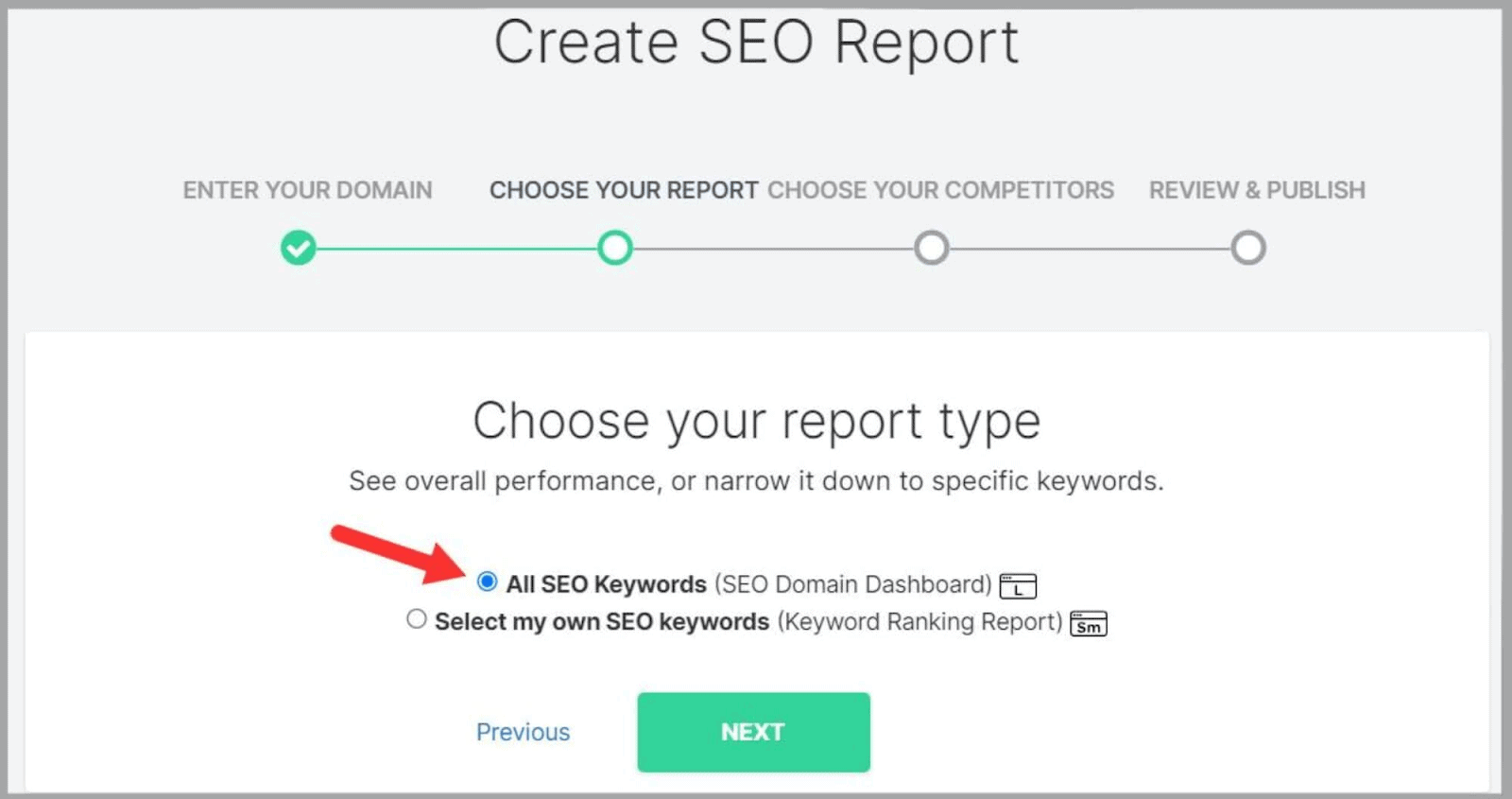 Next, choose your competitors.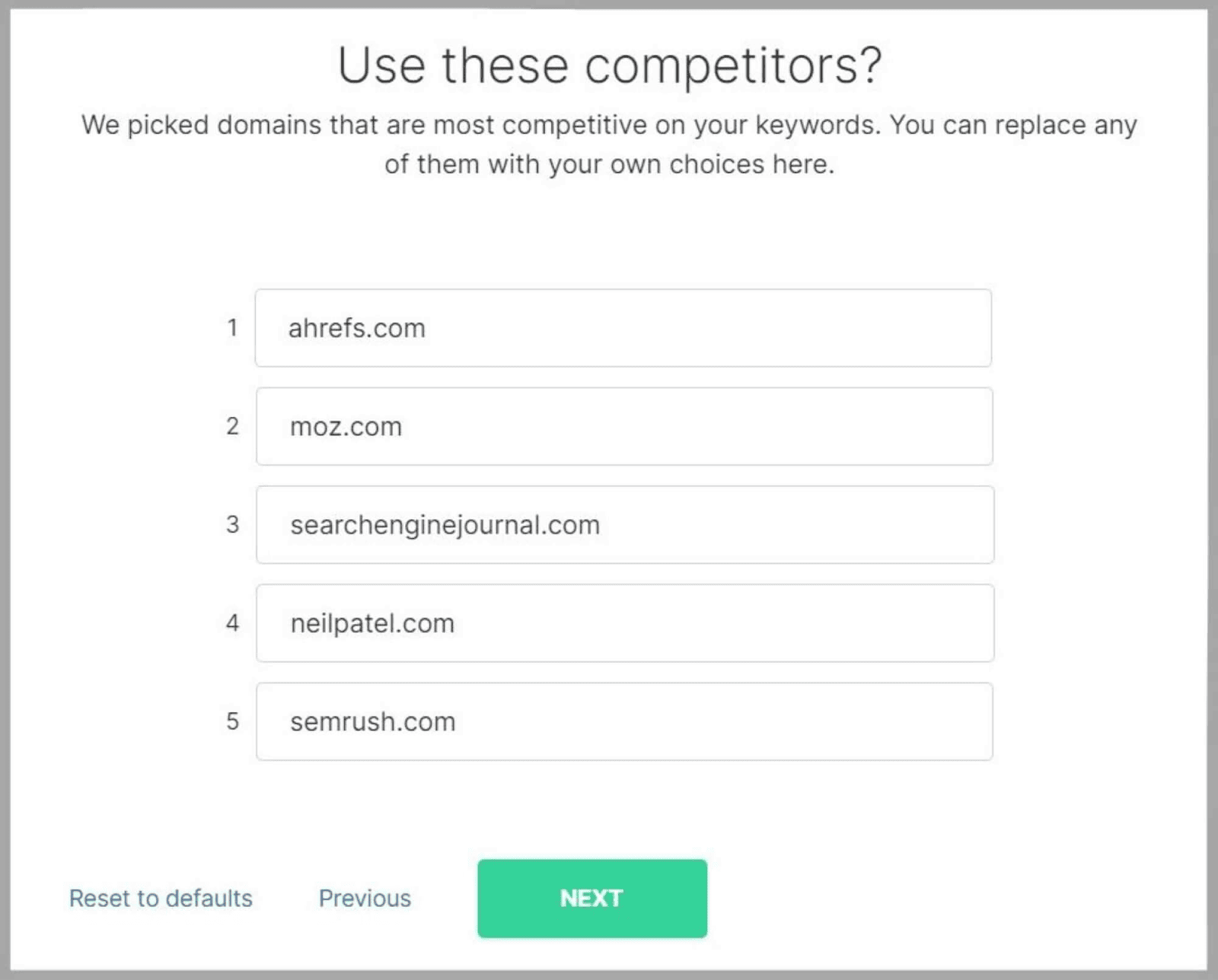 Click 'Finish' and let SpyFu do the rest.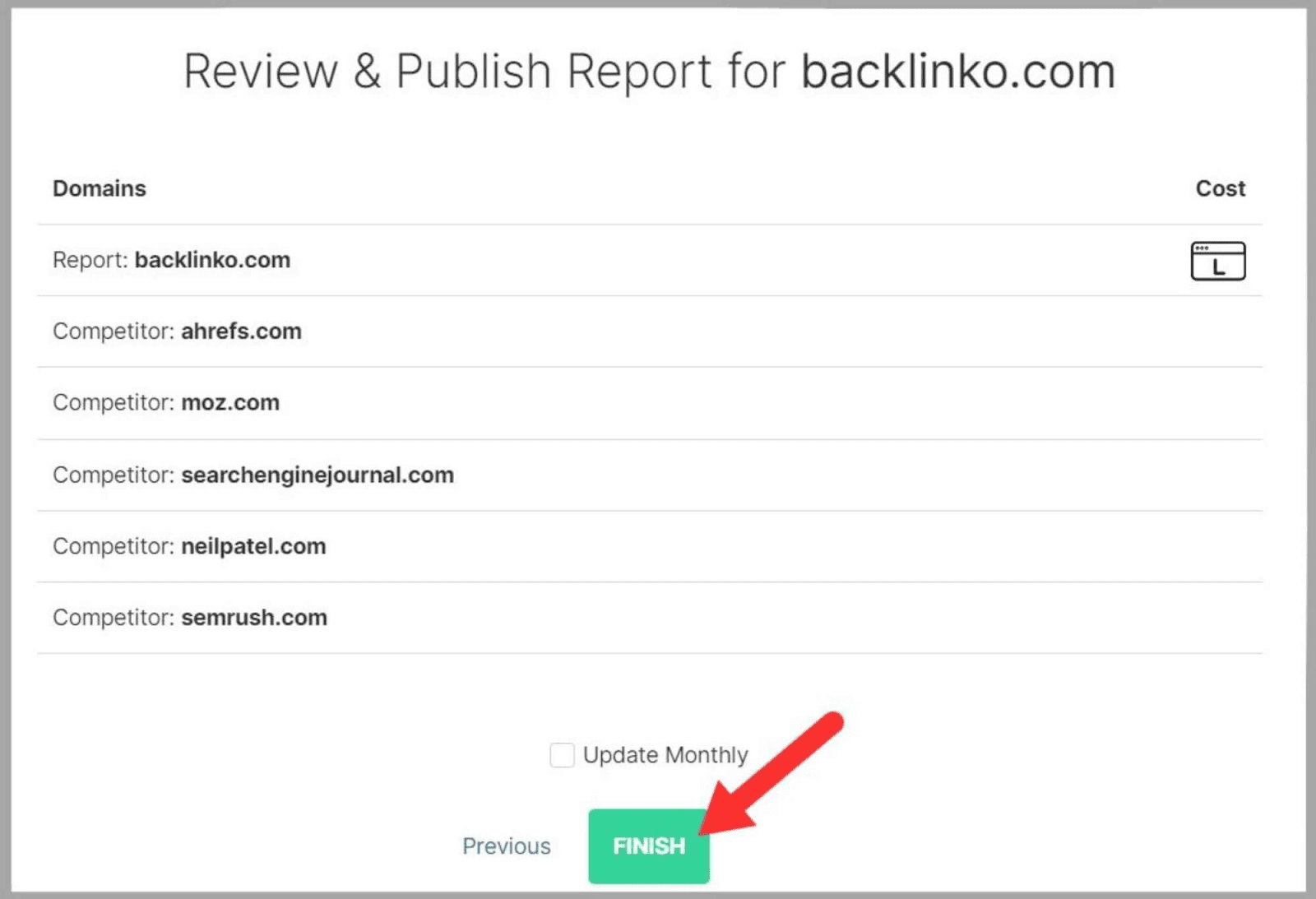 Here's an example of the info that's included in your SEO report.
It showcases your biggest keyword gains over the previous month and your ranking improvements for your most valuable keywords.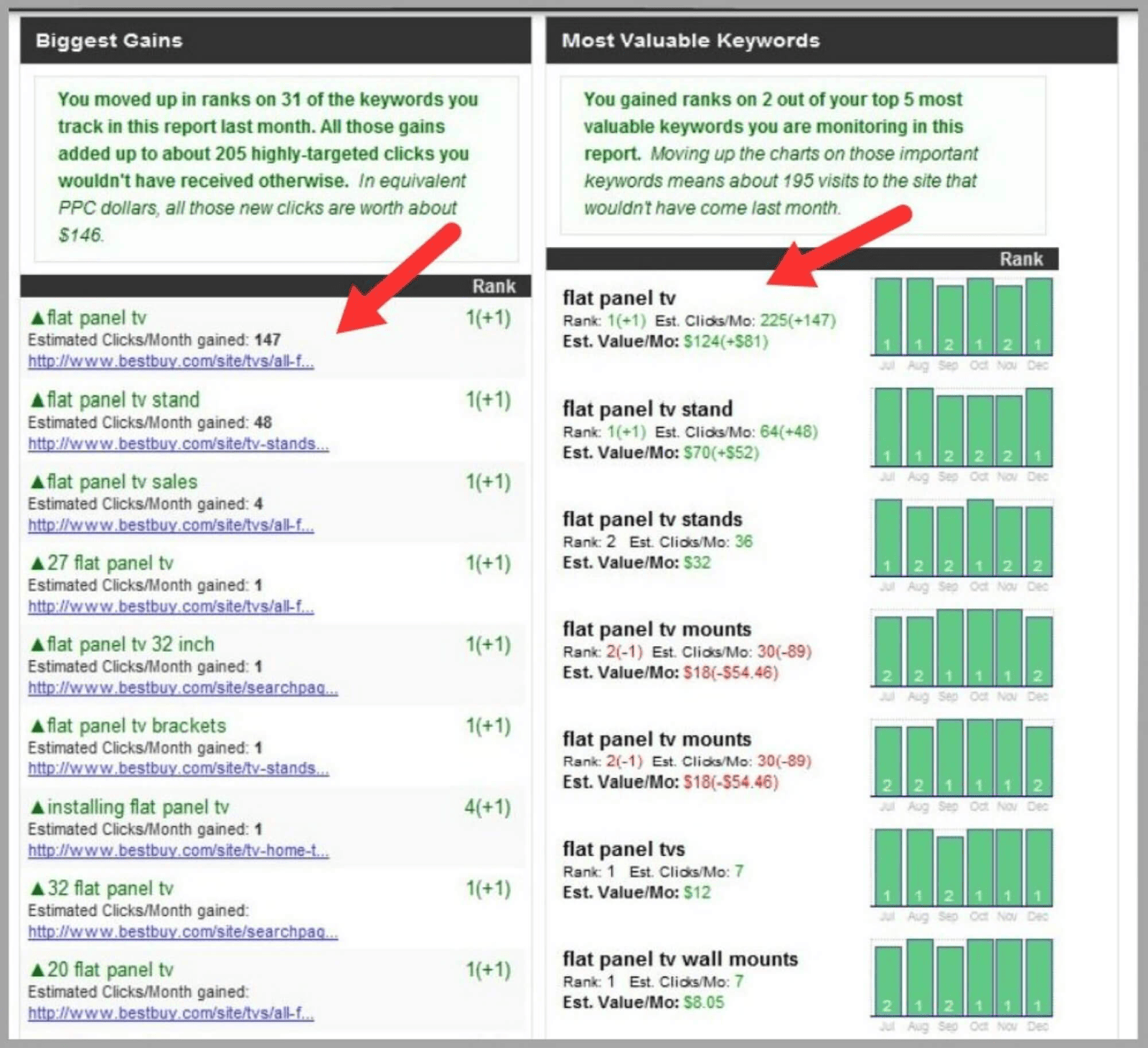 You can choose to receive this report on a monthly basis.
That way, you can check your progress month-on-month and keep your clients regularly updated.
NICE.
PPC Research
PPC Overview
SpyFu is just as useful for PPC research as it is for SEO.
The PPC Overview section gives you a helpful overall view of your PPC campaigns. You can also use it to analyze your competitors' campaigns.
To start, you just need to type in a domain at the top of the screen.
SpyFu then generates a ton of data with metrics like:
Estimated monthly PPC clicks
Estimated monthly PPC budget
Paid keywords
Google Ads buy recommendations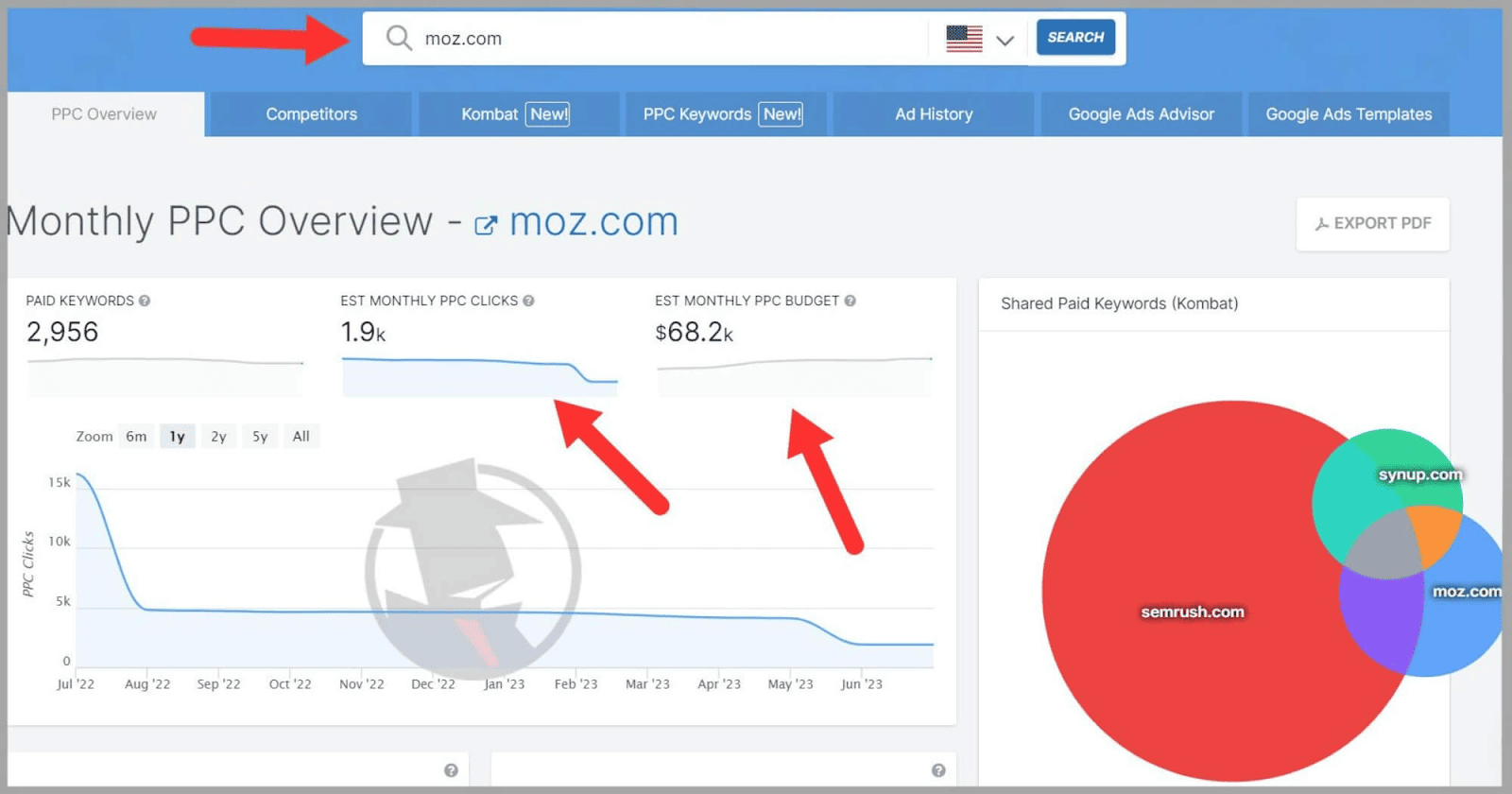 By scrolling down, you can also view a list of the most successful paid keywords with handy metrics like Monthly Cost, Search Volume, and Paid Clicks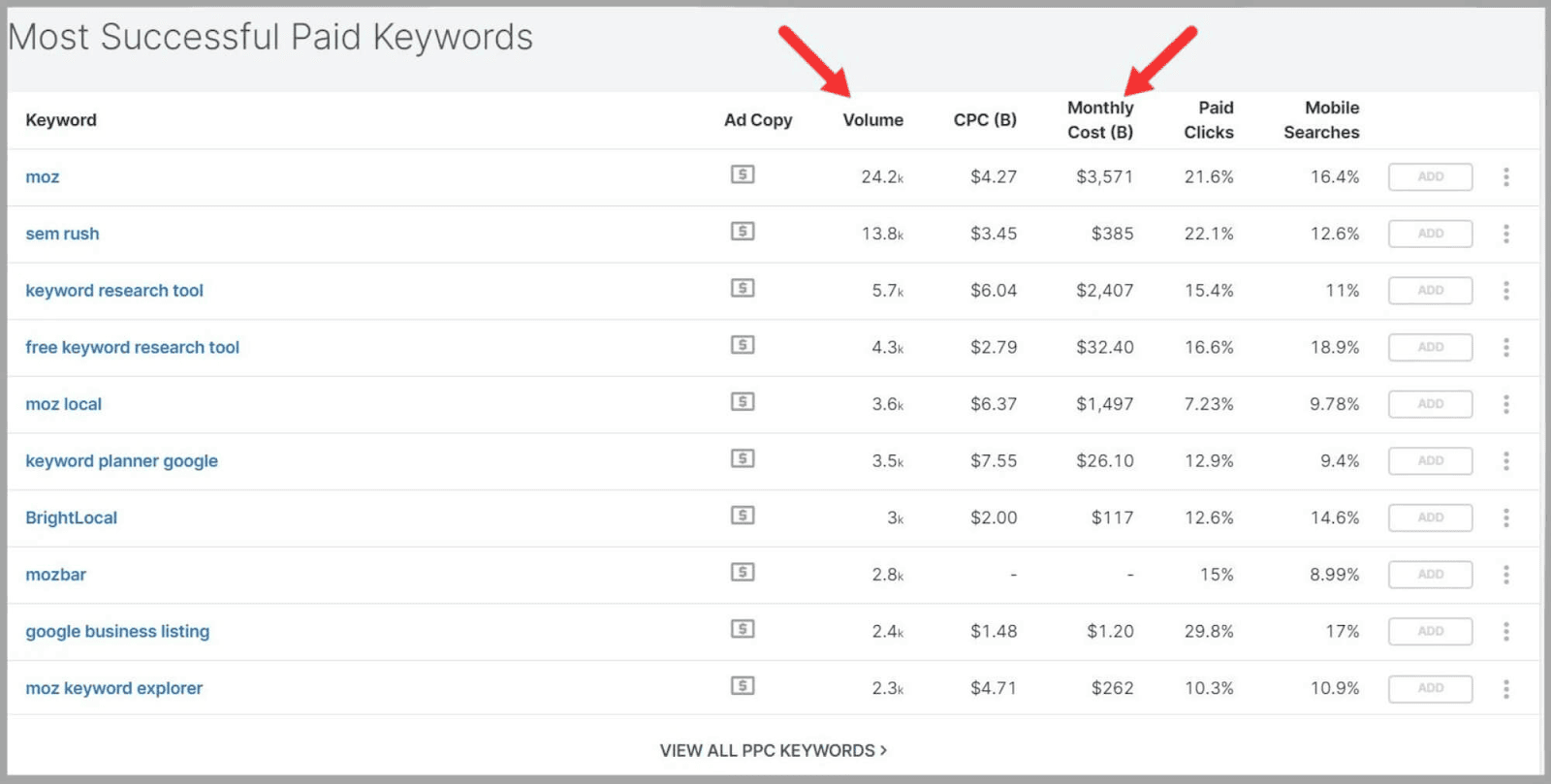 The Monthly Cost metric shows you the estimated cost the advertiser is paying each month to bid on and advertise for a specific keyword.
Search volume represents the average number of searches per month for each keyword.
Paid clicks refer to the traffic generated through online ads where the advertiser pays a fee for each click on their ad.
These clicks usually lead users to the advertiser's landing page, increasing their visibility and potential for conversions or sales.
By analyzing these metrics, you can gain valuable insights into your competitors' paid advertising strategies.
If you understand which keywords they're bidding on, the associated costs, and the search volume then you can make more informed decisions about your own paid advertising campaigns.
You can assess how competitive the market is and identify potentially lucrative keywords.
PPC Competitors
The PPC Competitors tool works in a similar way to the SEO Competitors tool.
SpyFu identifies your top-paid competitors and then presents data in a graph.
You can toggle between viewing their PPC keywords, Paid Clicks, and Ad Budgets.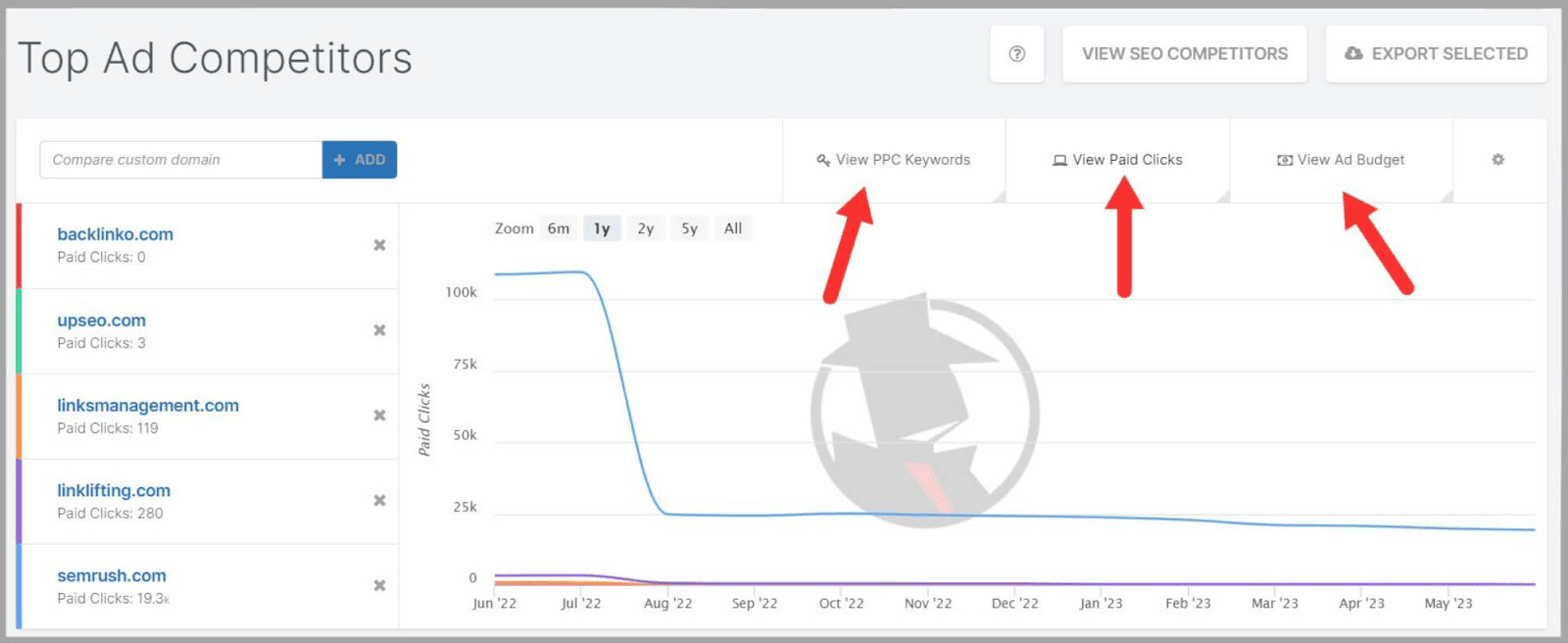 The graph allows you to identify patterns in your competitors' PPC campaigns.
You can use it to pinpoint the time periods where their metrics increased and when they dipped.
This information will be really useful later on when you start using the Ad History tool (I'll get into this soon).
Below this graph is a table that shows you the keywords where your competitors overlap, and the common keywords that your competing domains are bidding on.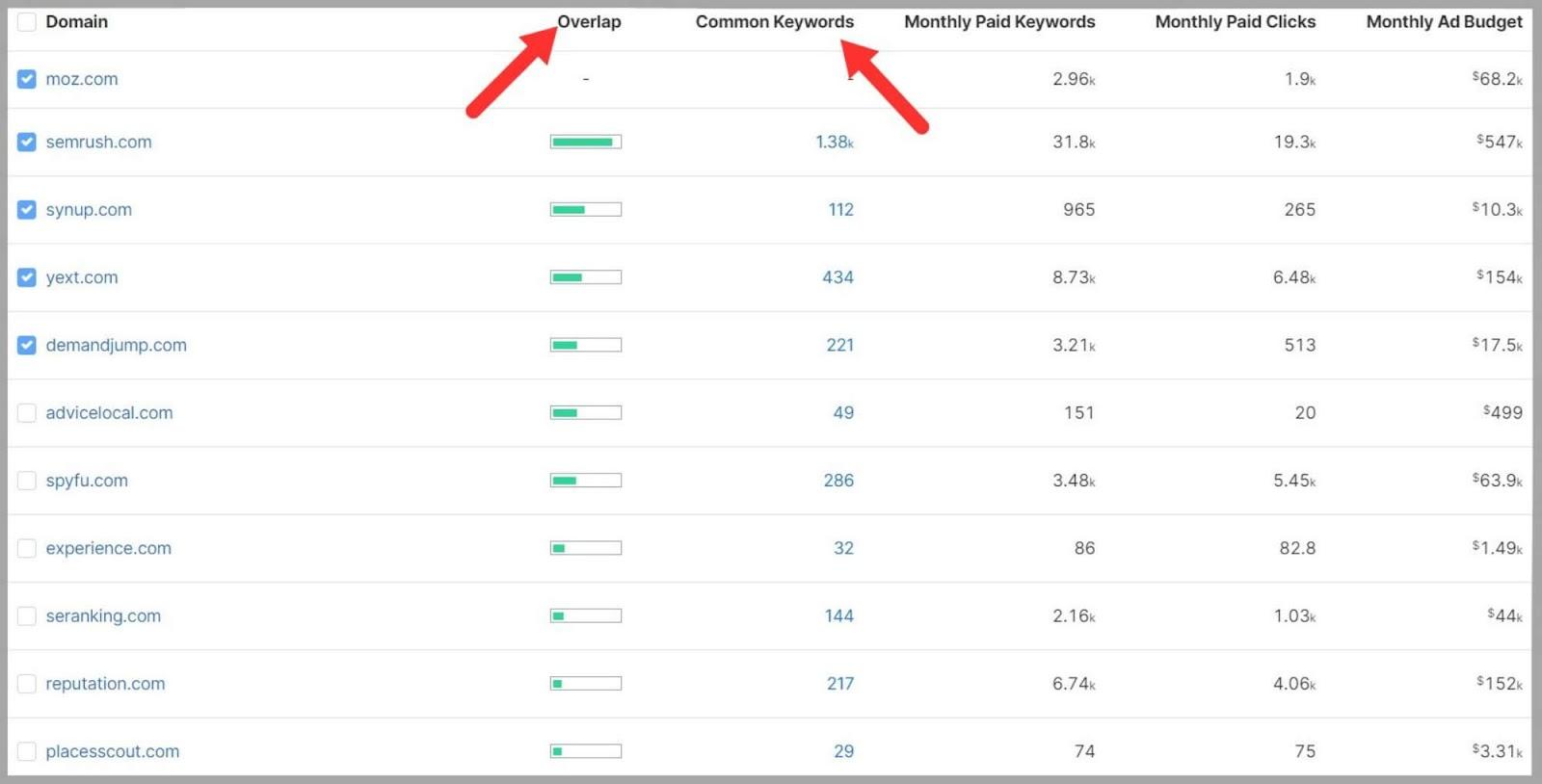 This means you can see which keywords your competitors think are important for their PPC campaigns, and helps you determine how competitive certain keywords are likely to be.
Kombat for PPC
The PPC Kombat tool gives you great insights into the keywords your competitors are bidding on.
It provides you with actionable advice about keywords you should consider investing in as well.
It also shows you which of your keywords could be considered 'Potential Ad Waste'.
These are keywords you're targeting that none of your competitors are.
If you're the only one targeting these terms, then you could potentially be wasting your efforts on keywords that don't attract a large enough audience.
Kombat finds these terms for you so you can make a decision on what to do with them.
If you want to see SpyFu's suggestions about terms you should consider buying, click on 'Consider Buying.'

You're then presented with a list of keywords along with metrics you can view, such as Search Volume and Ads.
Ads tell you how many domains are running ads for the keyword.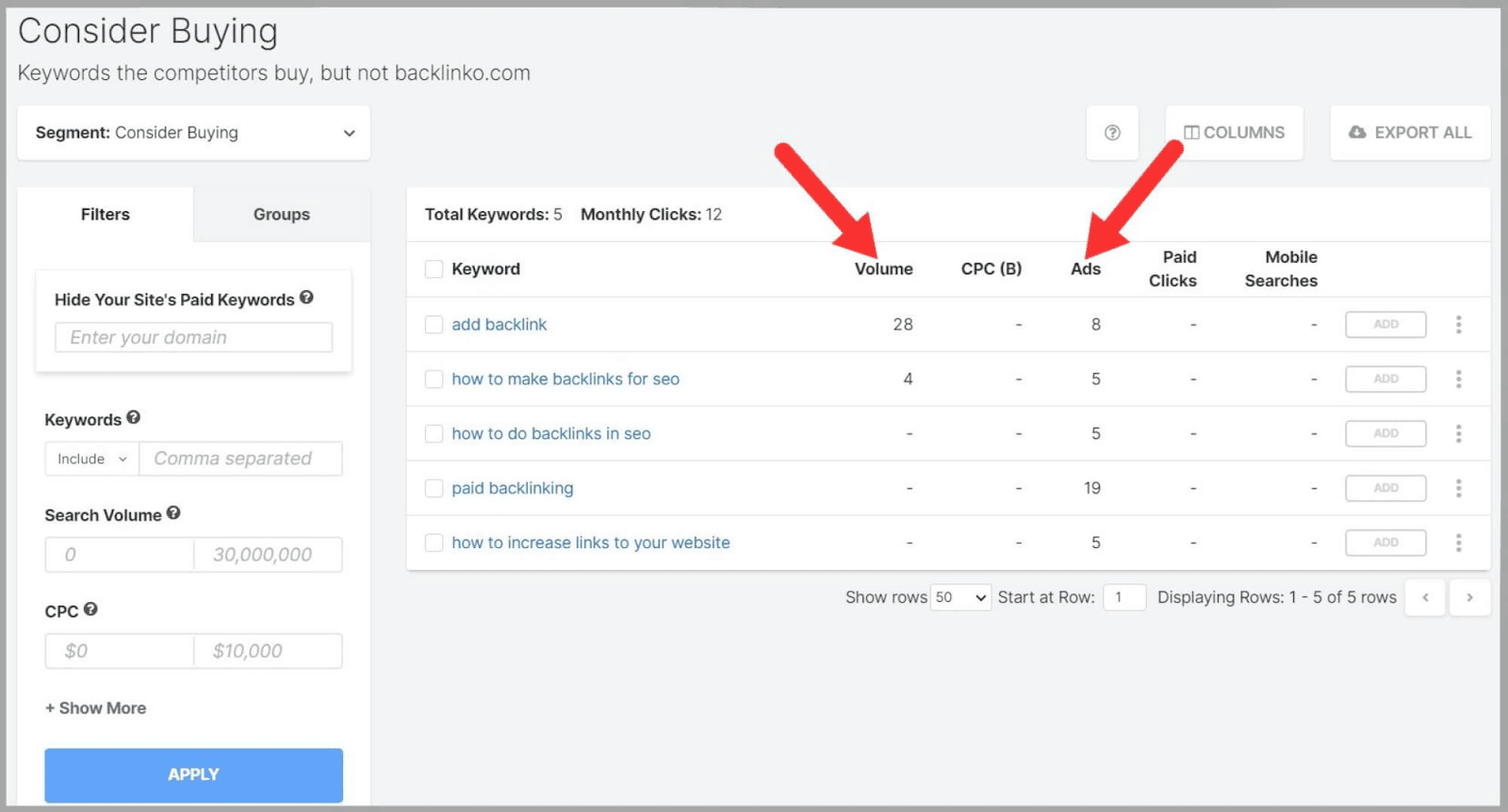 This will help you to decide whether you want to go ahead and target these keywords or not.
If only one domain buys a keyword then it could simply be a test.
If two or more domains are buying the same keyword then that could be a signal that there's value in buying that keyword.
PPC Keywords
The PPC Keywords tool lets you research your competitors in even more detail.
Firstly, you type in a competing domain.
Then, you can also type in your own domain at the left of the screen so that you don't see keywords you're already bidding on.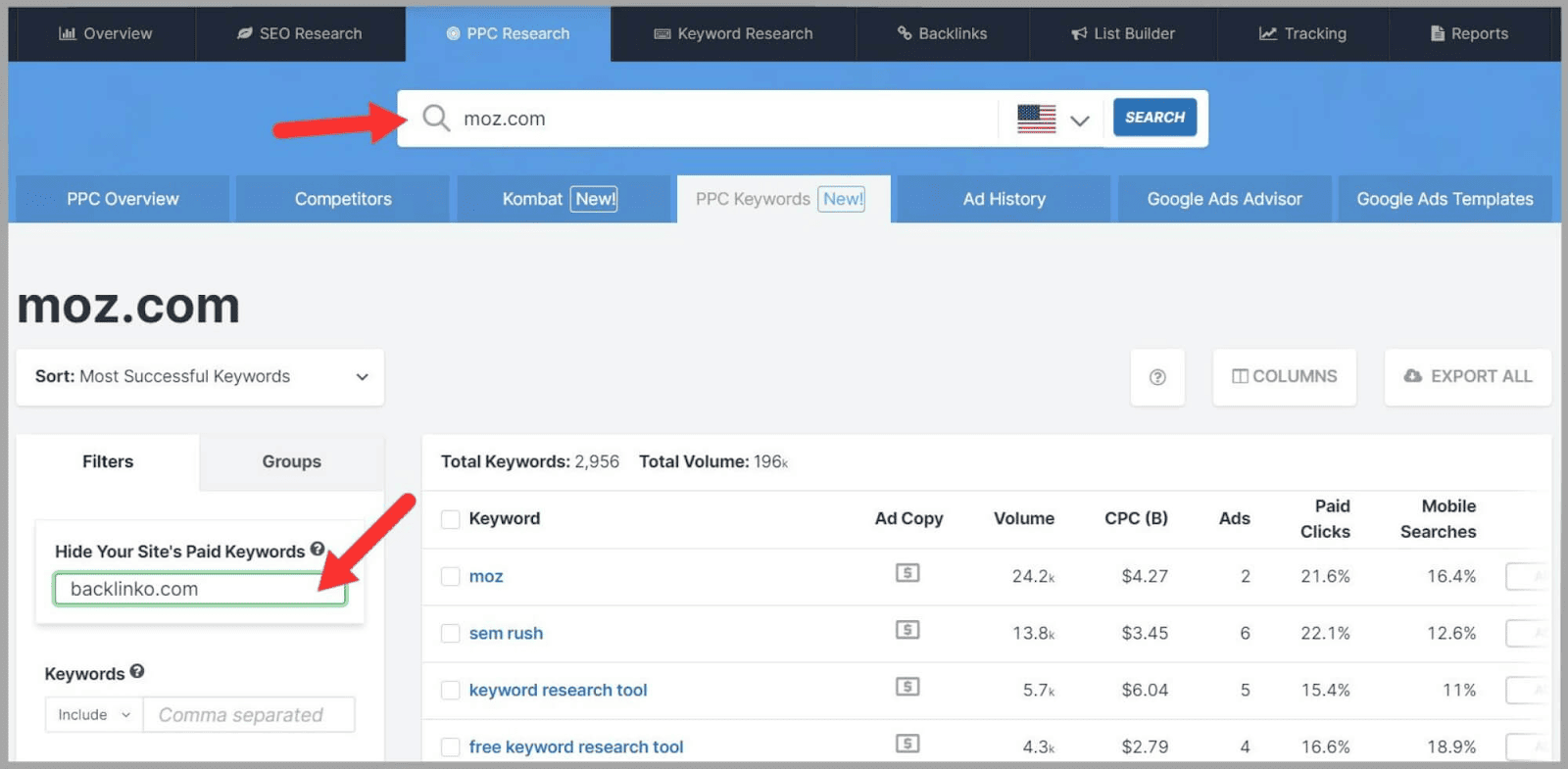 I really like this as it saves time sifting through keywords and makes sure you avoid duplicates.
When you've applied your filters, SpyFu lists the keywords your competitors are paying for that you're not.
As usual, it gives you metrics data so that you can decide which keywords to target.
Depending on your niche, your competitors' PPC keyword lists may be small or they might be PRETTY extensive.
So, it's important that you can focus on keywords that relate to the same theme.
When related keywords aren't grouped together, it's more difficult to analyze them.
If you group them together, you can look at the bigger picture and spot overall trends.
A great way to do this is to use the 'Groups' view on the left side of the page.
You'll still see the full list of your competitors' PPC keywords.
But, they'll be organized into clusters of related terms.
You can also use the filter to group them by 'Search Volume' or 'Keyword Count'.
Plus, you can use the filter to view a domain's 'Most Successful Keywords' or 'New Keywords'.
The 'New Keywords' are terms your competitors' have recently started buying. This helps you to keep up with the latest trends within your niche.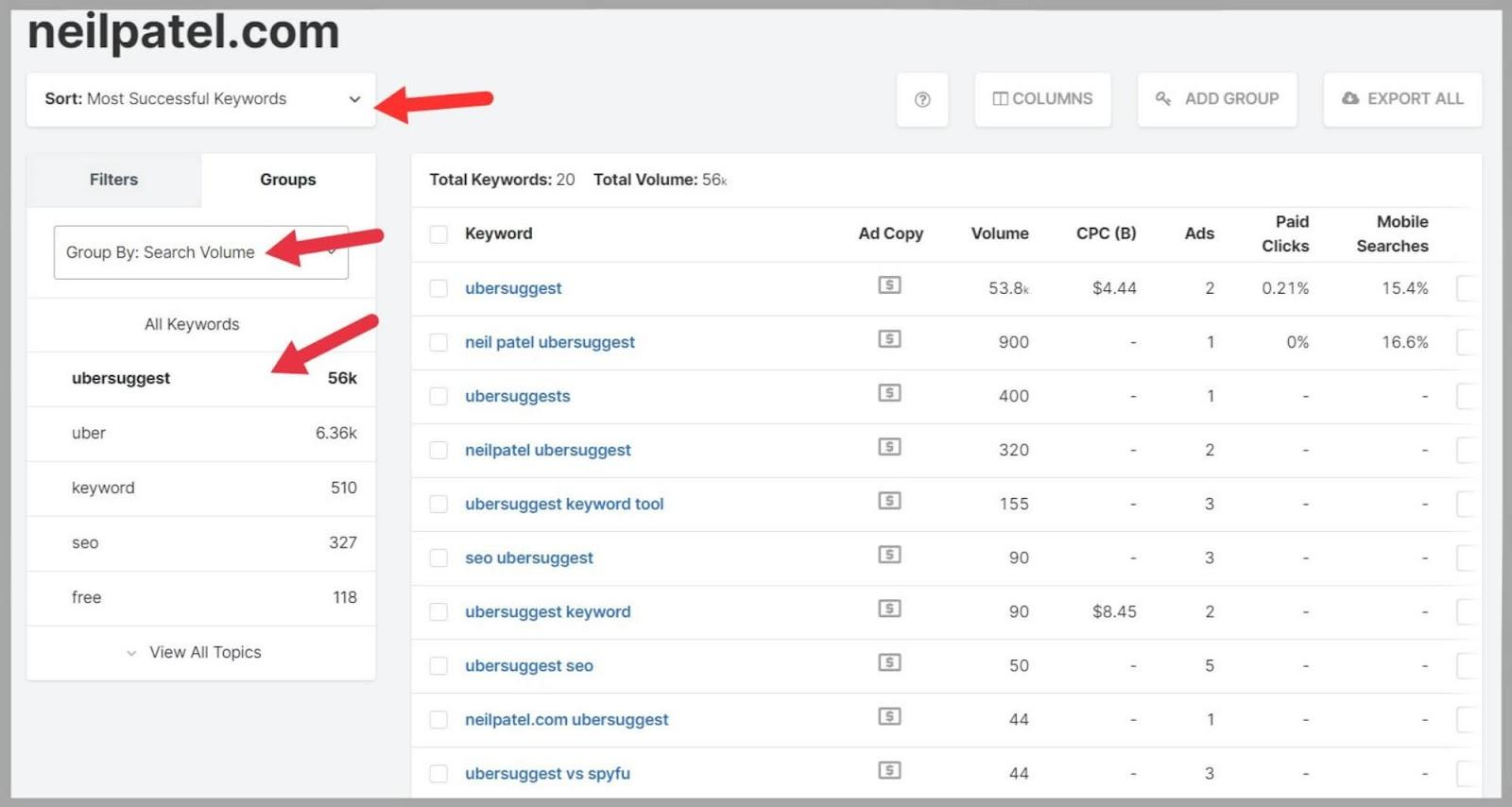 If you hover over the 'Ads' column then you can see the number of domains that have advertised for the keyword and the actual domains.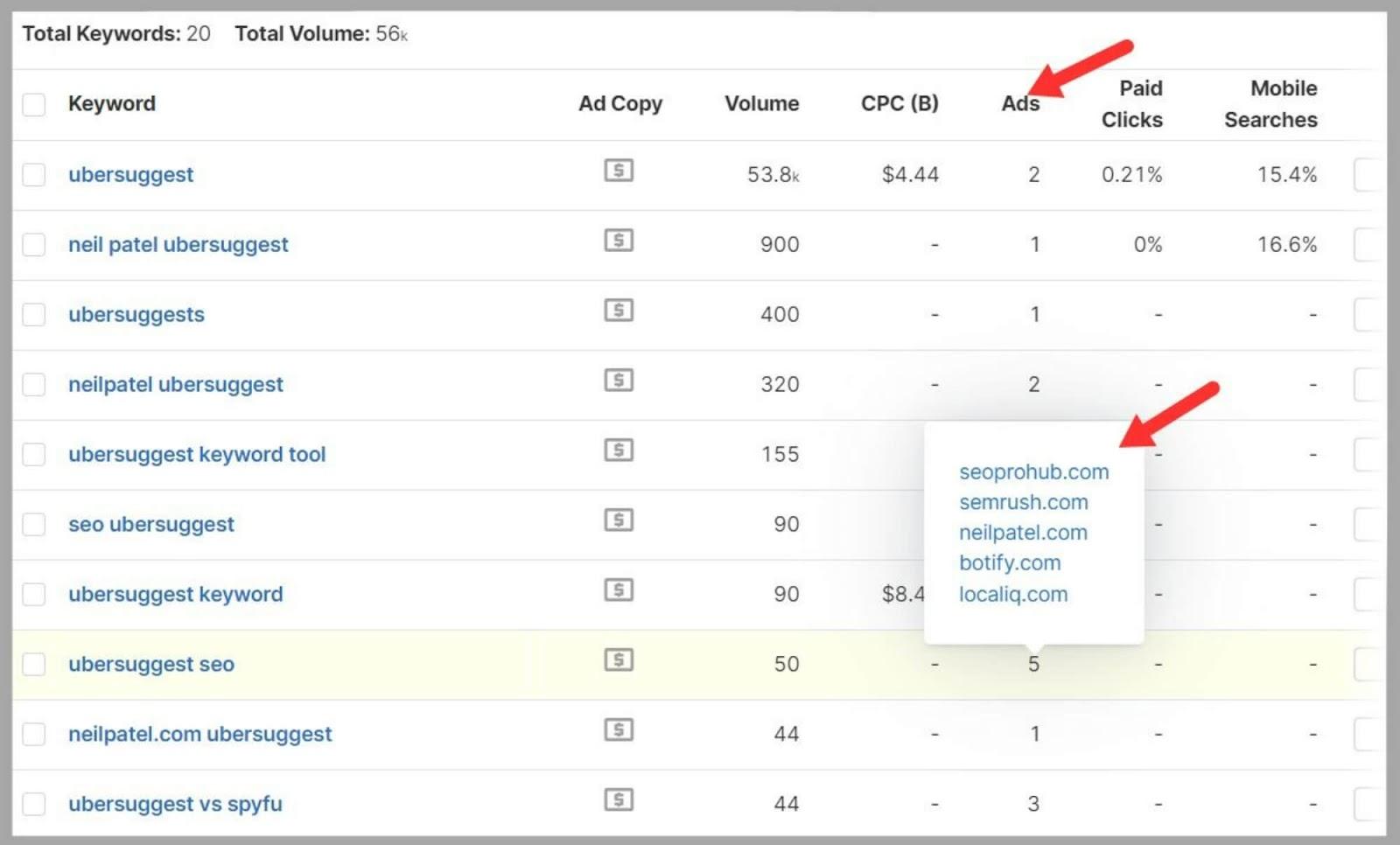 The 'Ad Copy' metric will provide you with the domain's most recent ad for the keyword.
It gives you details including:
Ad copy
Headline
Ad position
Display URL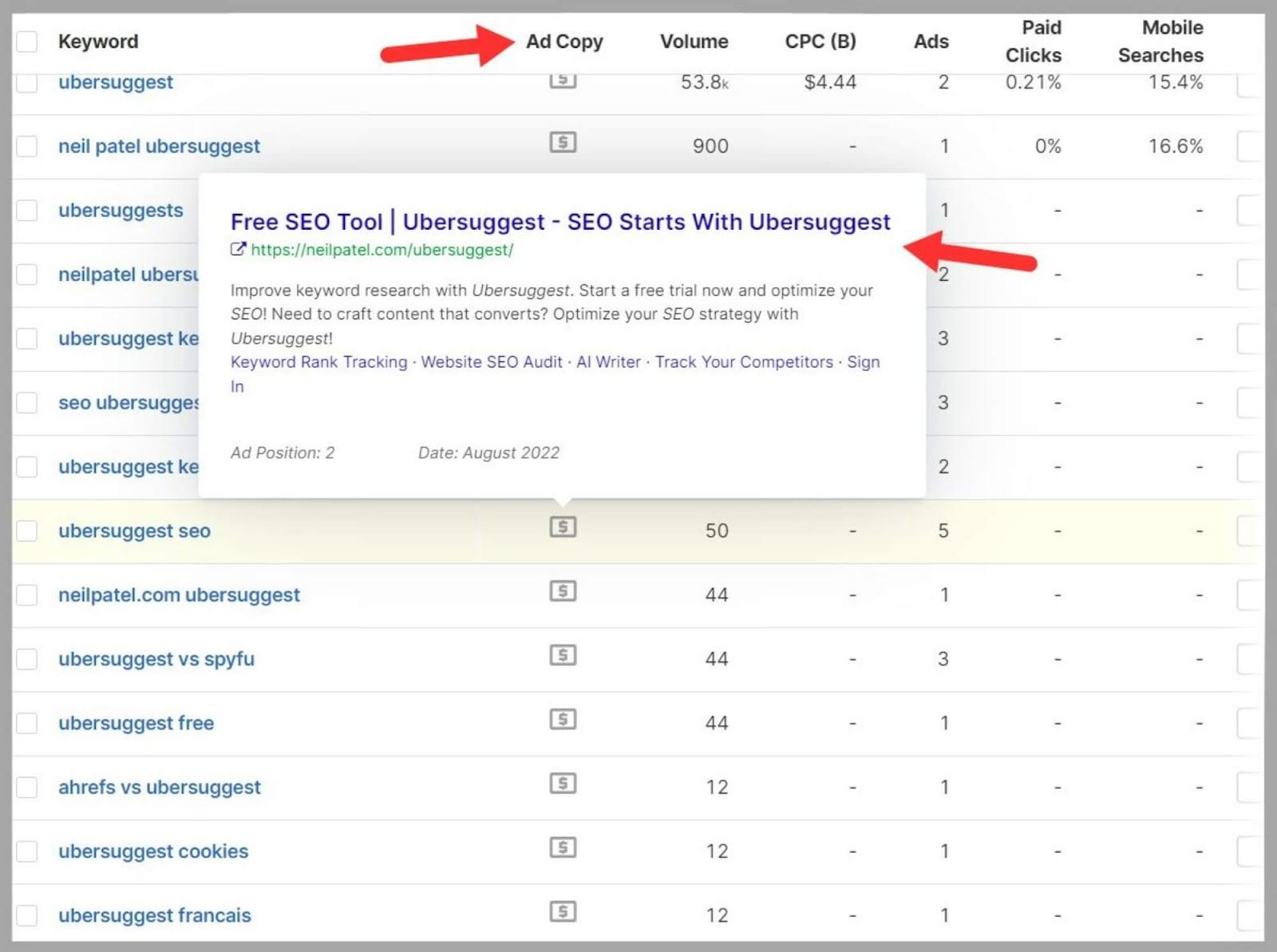 When you find keywords that look good, you can click 'Add' to add them to your own project.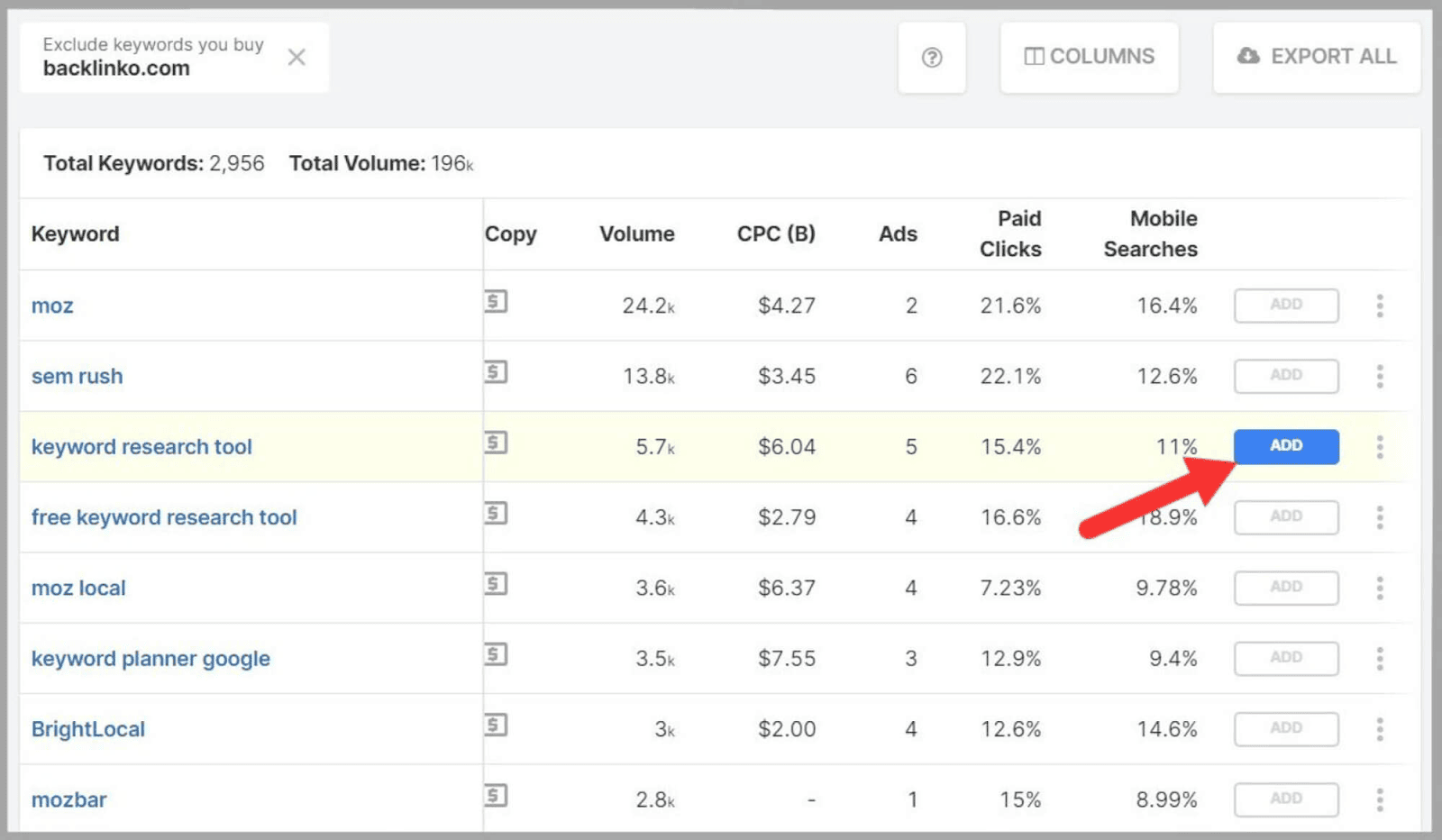 You can also export the keywords you find to your Google Ads account.
Simply select the ones you want and then choose from one of the export options.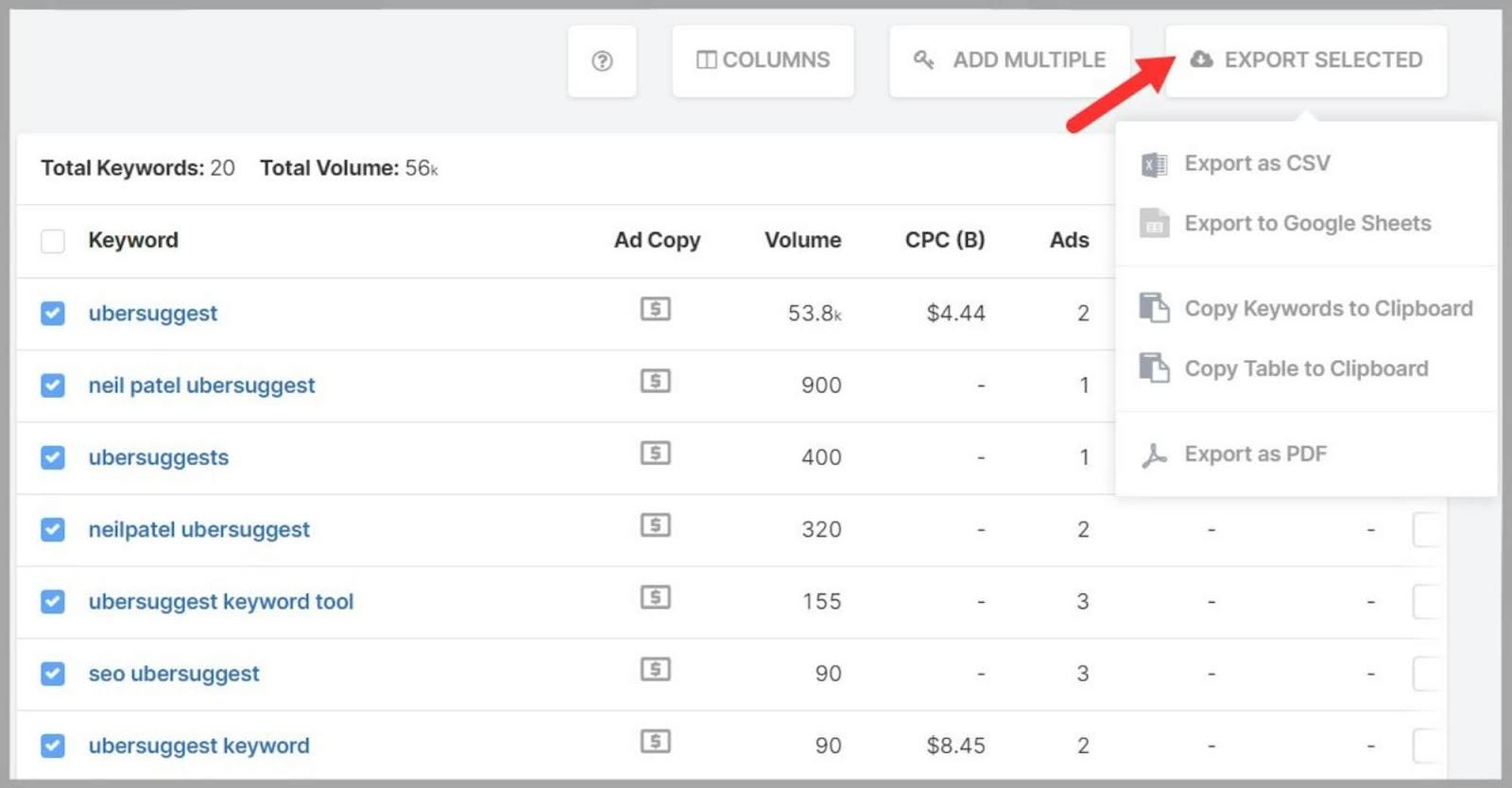 If you select 'Copy Keywords to Clipboard' then they'll be added directly to your account.
The 'Export as CSV' and 'Export to Google Sheets' options allow you to transfer them to a spreadsheet.
SpyFu also provides you with 'Next Generation Metrics.'
These are metrics designed to help you find the terms that make the most sense for your site.
Sometimes, if you just see metrics like Search Volume and CPC it can be hard to tell if you should target this term.
That's why SpyFu has added what it calls 'real-world signals' such as 'Searches Not Clicked'.
This metric shows the number of times a keyword is searched but users don't click on any of the search results.
So, let's say a keyword has a high search volume. Sounds like it might be worth targeting, right?
Well, now let's say that it also has a high 'Searches Not Clicked' count.
This means that those searches aren't necessarily going to translate into traffic to your site.
Turns out that keyword might not be worth targeting after all.
The 'Next Generation Metrics' are:
Clicks
Paid Clicks (%)
Searches Not Clicked (%).
To apply them to your results, click the 'Columns' tab and then select the ones you want.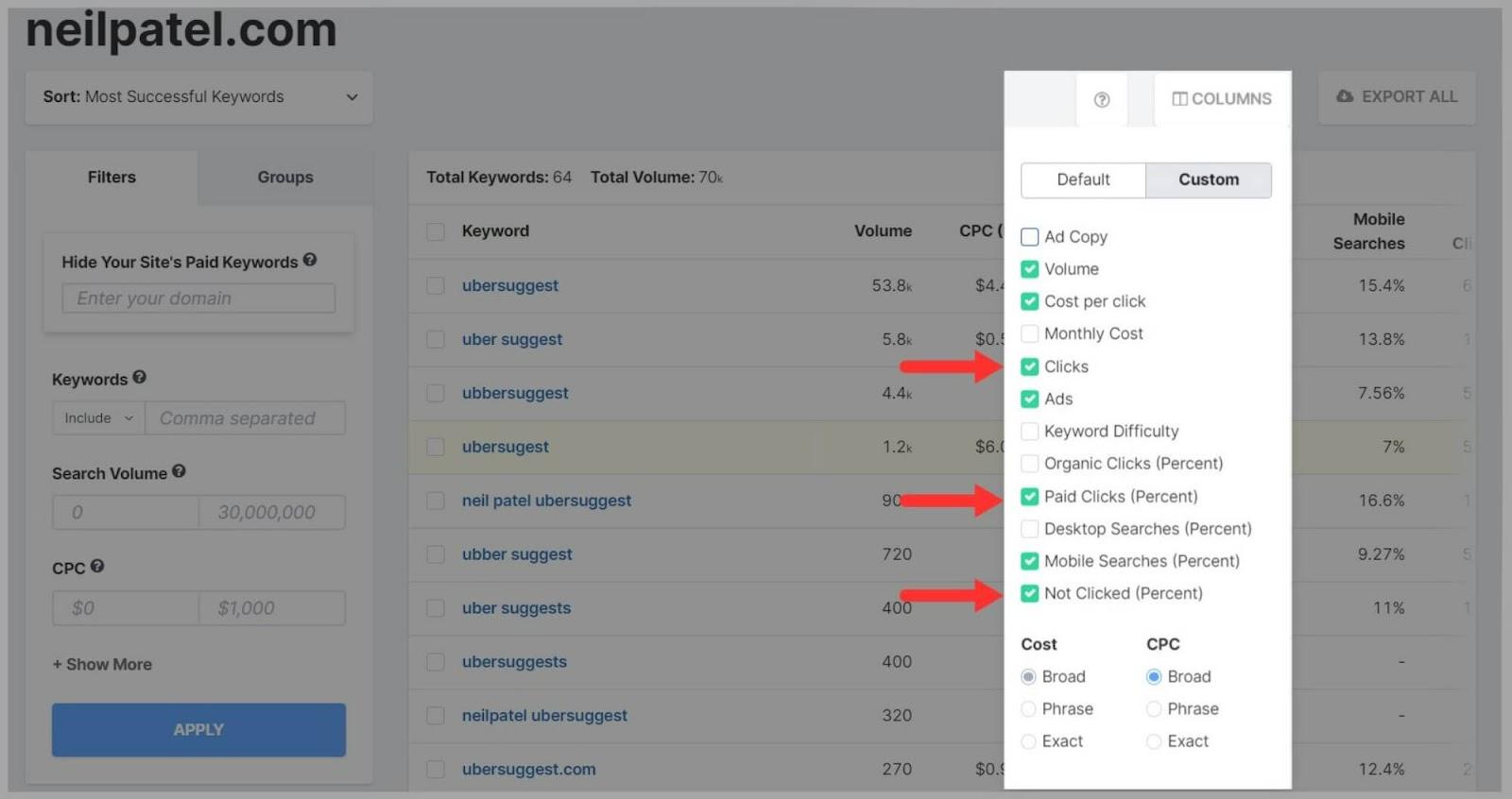 Ad History
This tool means you can take a deep dive into your competitors' ads to see which ones were successful, and how they've changed over time to be more (or less) effective.
You can analyze the ad copy that's clearly working so that you can better optimize your own ads.
Once you've typed a competitor's domain into the search bar, you then need to apply a filter so that you can focus on ads for a specific keyword.

SpyFu keeps a complete record of each and every ad that a domain has run, and the Ad History tool gives you access to this.
Within the Ad History tool, you'll notice a color coding system used. When you see that an ad has been the same color for a period of time it means that the same ad has been running for that entire period. When there's a color change, it means the ad has been altered or completely changed.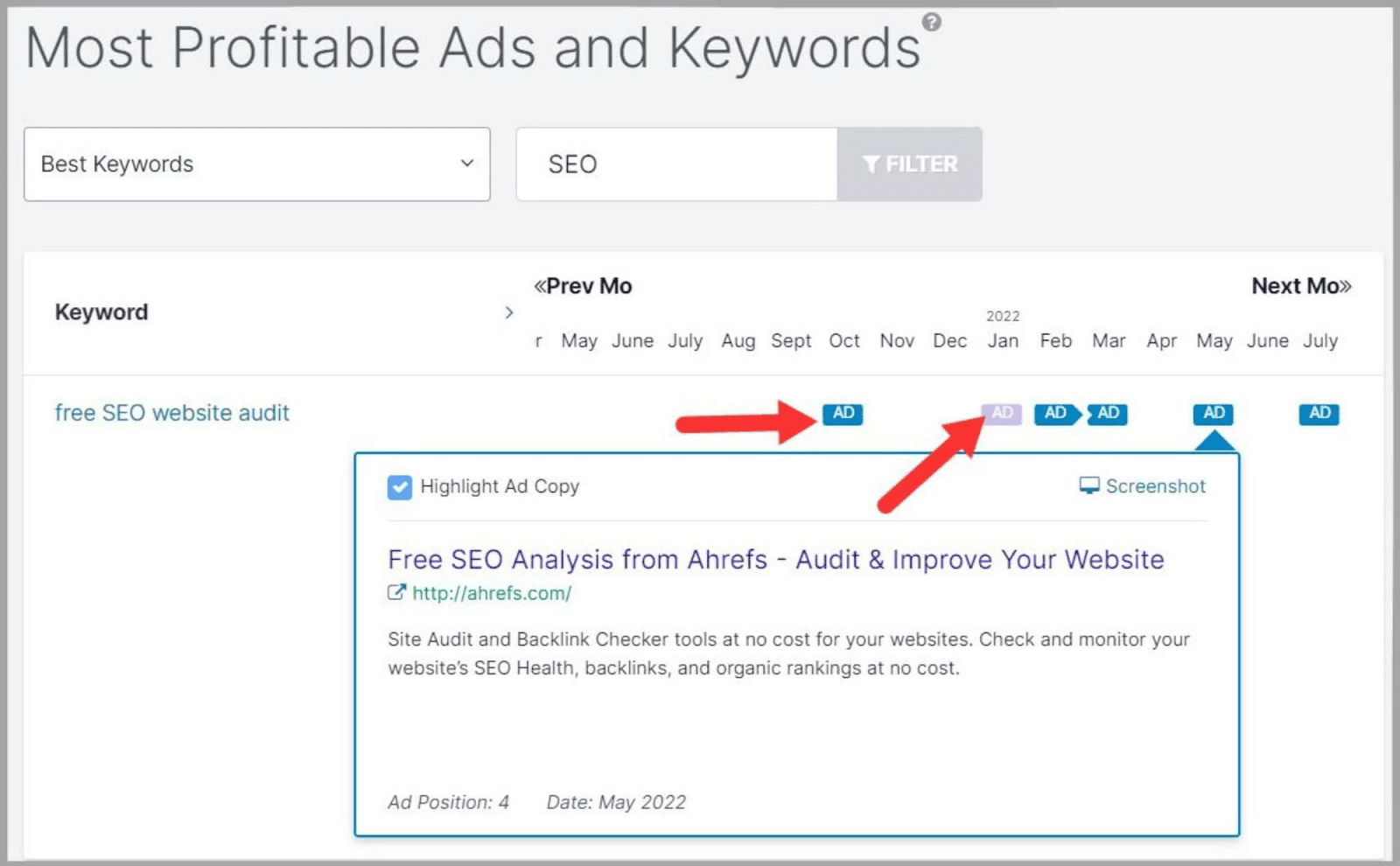 When you click on an ad, you'll see the ad at the right side of the page along with three metrics:
% of ads served – this measures the percentage of the domain's ads that use this specific ad copy
% in top of the page – how often this ad was at the top of the SERPs
Average position – where the ad placed on average among a certain number of competitors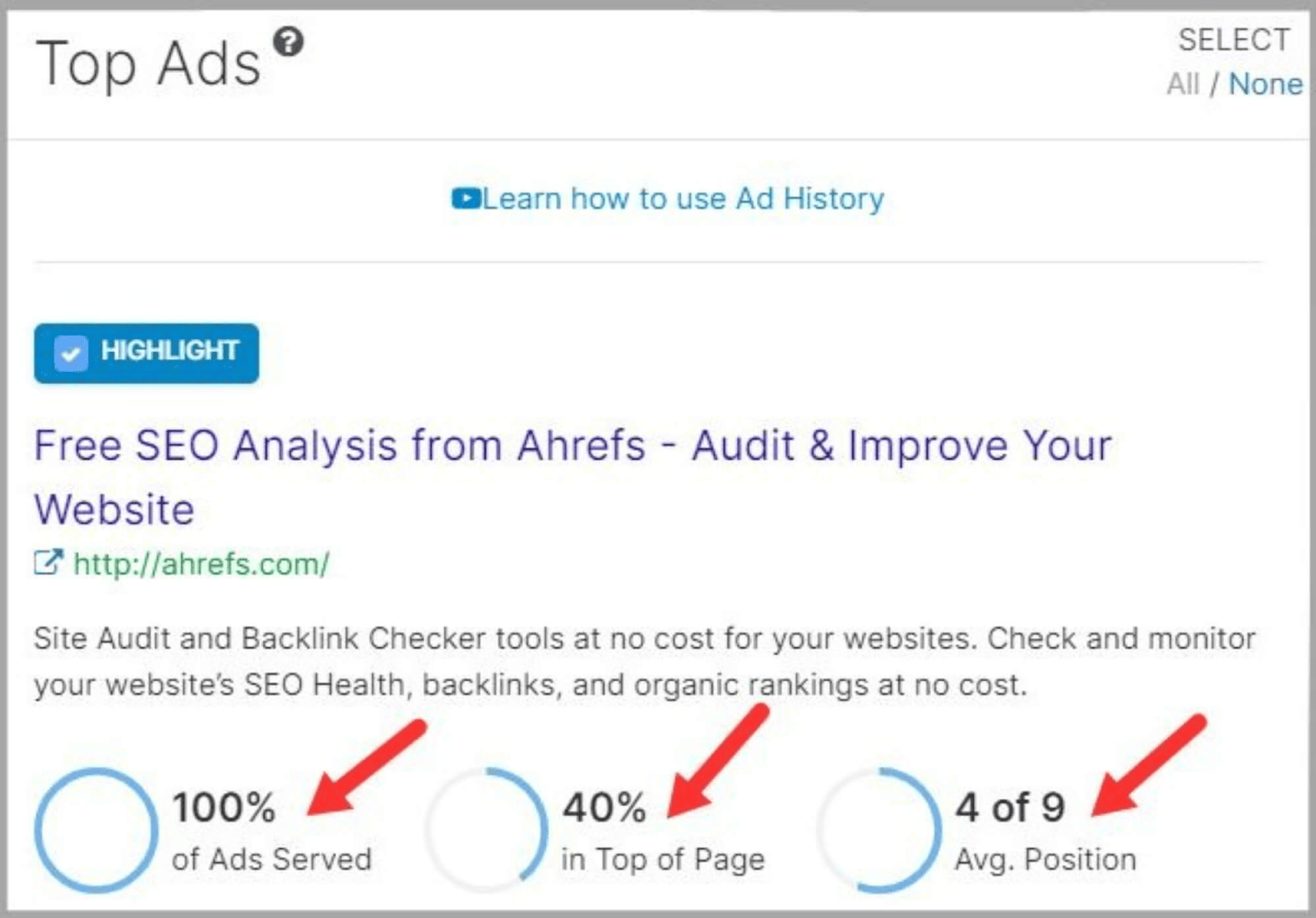 For example, this ad has an average position of 4 out of 9 which means it placed 4th on average in a field of nine competitors.
The higher the number of competitors, the more competitive the field will be.
On top of that, the Ad History tool allows you to compare the ad copy from your competitors' weak and strong ads.
You can see how they tweaked them to make them more successful and use this information to tweak your own ads.
Google Ads Advisor
Google Ads Advisor is where you'll find the best recommendations about which keywords you should consider buying.
SpyFu considers several factors when recommending keywords to you:
How many of your competitors are buying them
The level of impressions they get from high-volume searches
How much they cost per click
After you enter your domain into the search bar, you'll see a list of keywords with the following metrics:
Impressions per month
Cost per click
Cost per month
Potential clicks per month

SpyFu also gives you a rating for the keyword.

When deciding which keywords to target, you need to prioritize the 'Great Buy' and 'Good Buy' terms.
To view these, use the 'Buy Recommendations' filter option.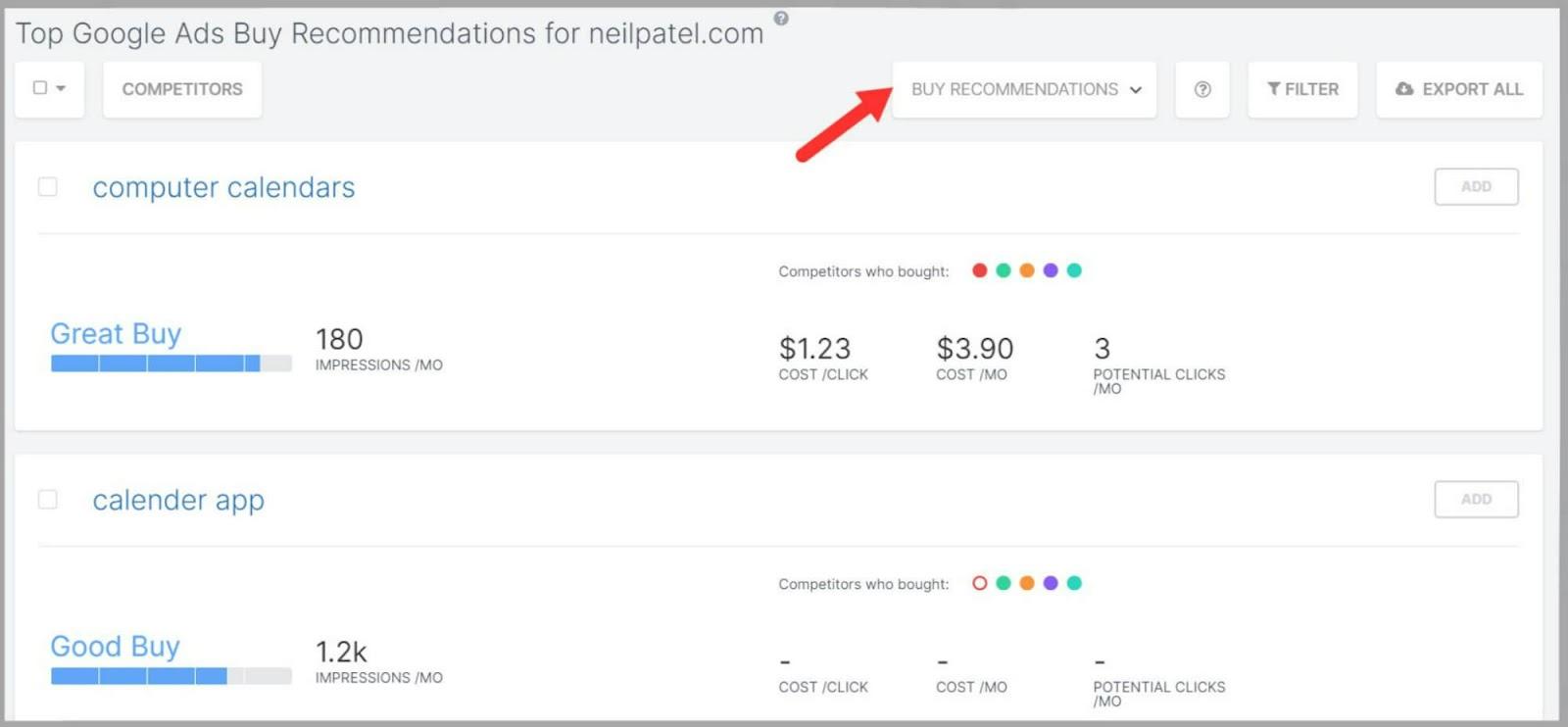 The tool also provides a 'Negative Match' option to view keywords that SpyFu thinks you should drop for your campaign.

By doing so, you could save money and reallocate it to more lucrative keywords.
If you want to export your keywords to your Google Ads campaign then you can select the ones you like and click 'Export Selected'.

Google Ads Templates
SpyFu also provides you with templates you can use for your Google Ads campaigns.
SpyFu's team crafts these templates to help you get your Google Ads going in a matter of minutes.
First, you need to click 'Choose A Template'.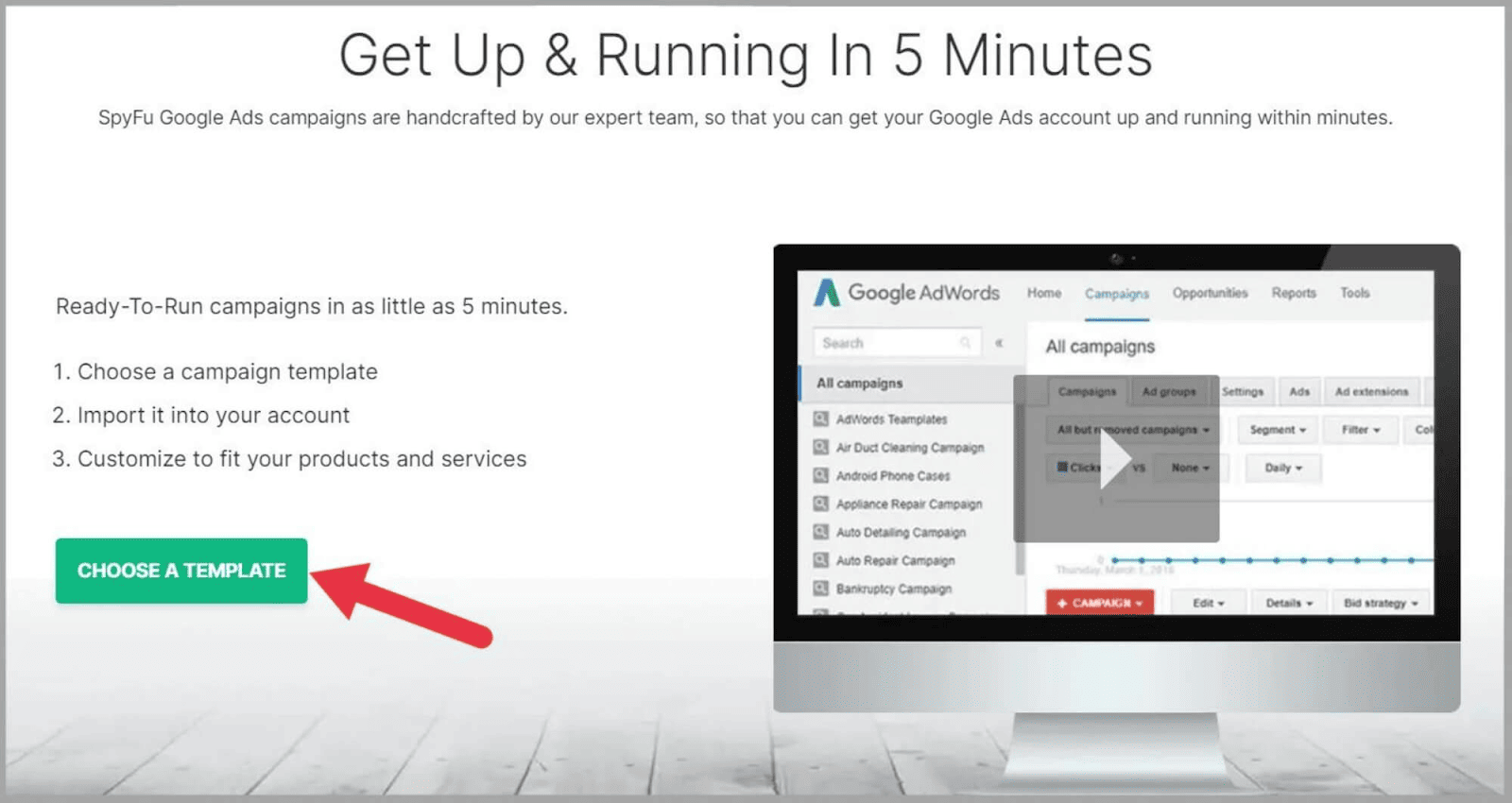 Then, you select your industry and download your template.

If SpyFu doesn't already have a template for your industry then you can request for them to upload one.
You can then import this into your Google account.
This process is relatively complicated so I won't cover it here.
But SpyFu has detailed instructions on how to do this once you've downloaded your template.
Keyword Research
Keyword Overview
The Keyword Overview tool gives you LOADS of valuable data on a wide range of keywords.
It has many different sections including:
Top Google Ad Buys Recommendations
Most Successful Advertisers and Their Best Ads
Organic Ranking History
Organic Search Ranking Analysis
Current Ads
By simply entering your chosen term into the search bar, you'll be supplied with useful data you can use for your own keyword research.

You'll see Similar keywords and the Search Volumes for them. SpyFu also shows you a list of related questions that you can target with your content.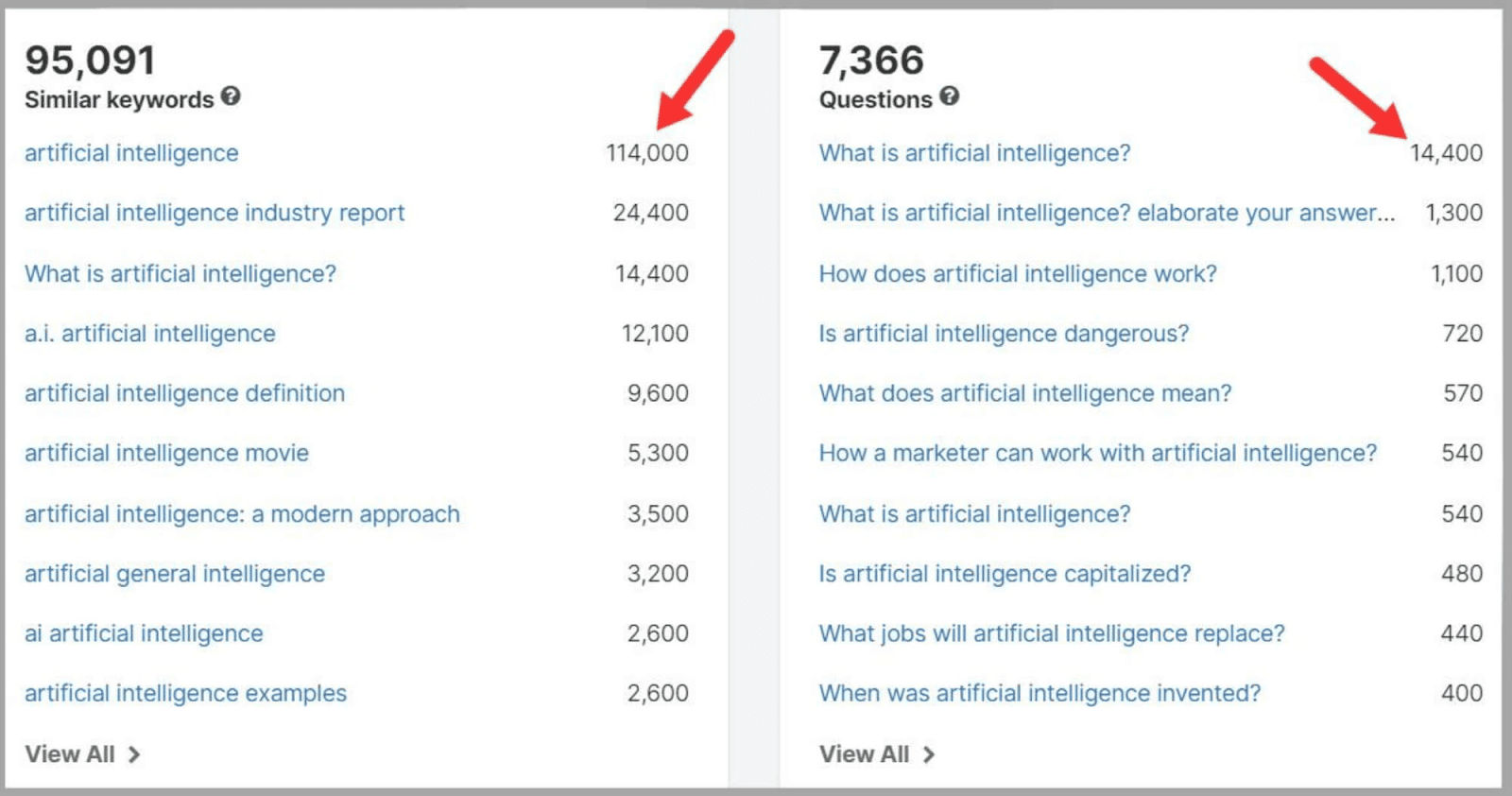 Below that, you'll find related keywords that your competitors also rank for and keywords that advertisers bid on too.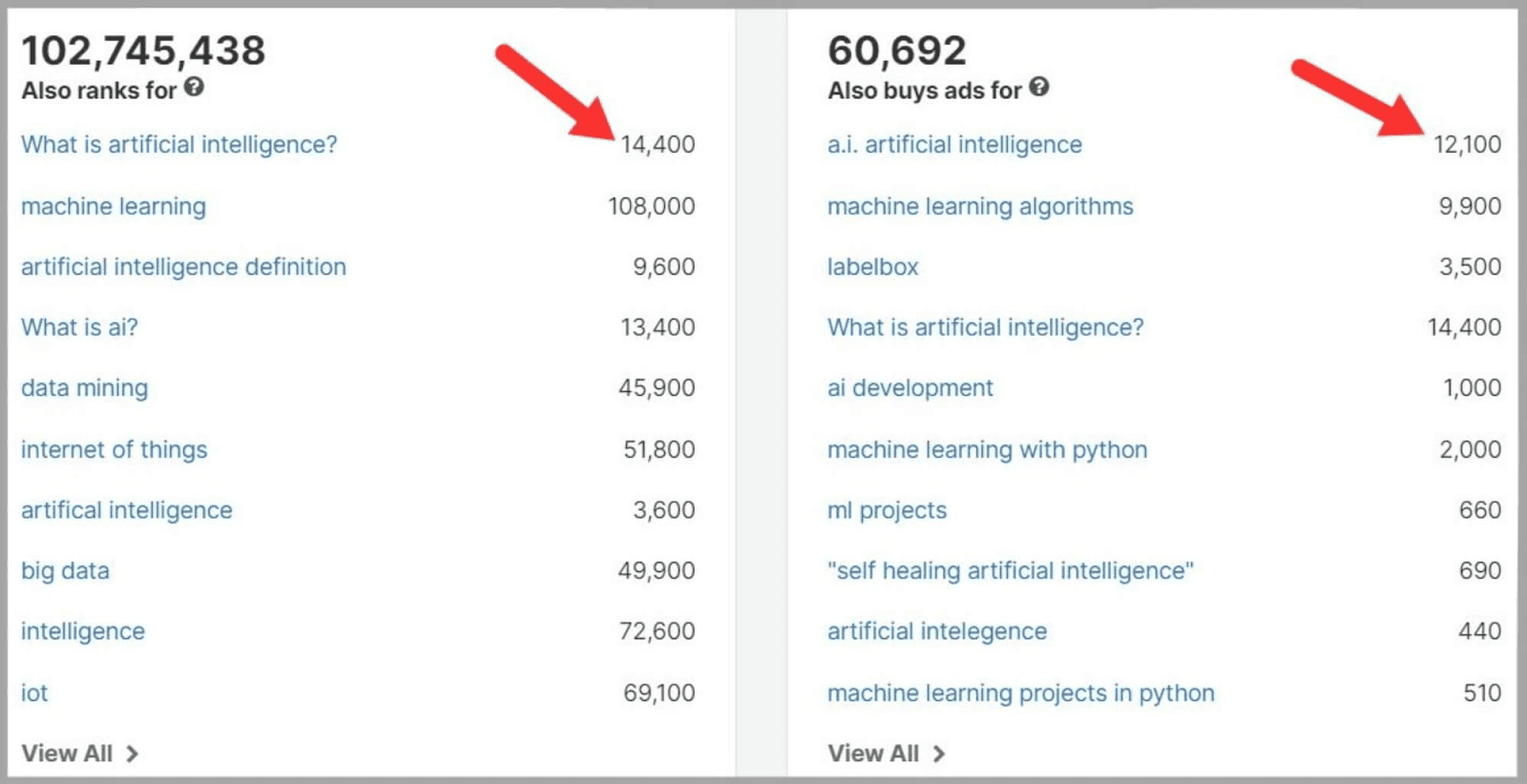 One thing I really like is the graph that shows you the share of mobile and desktop searches for your keyword.

Here, I can see that the keyword has clearly been searched on desktops more than on mobile devices recently.
So, when targeting the term I would prioritize creating content that's more optimized for desktop users.
Related Keywords
This nifty tool does exactly what you'd expect it to—finds related keywords and gives you important metrics about them such as Search Volume, Keyword Difficulty, and CPC.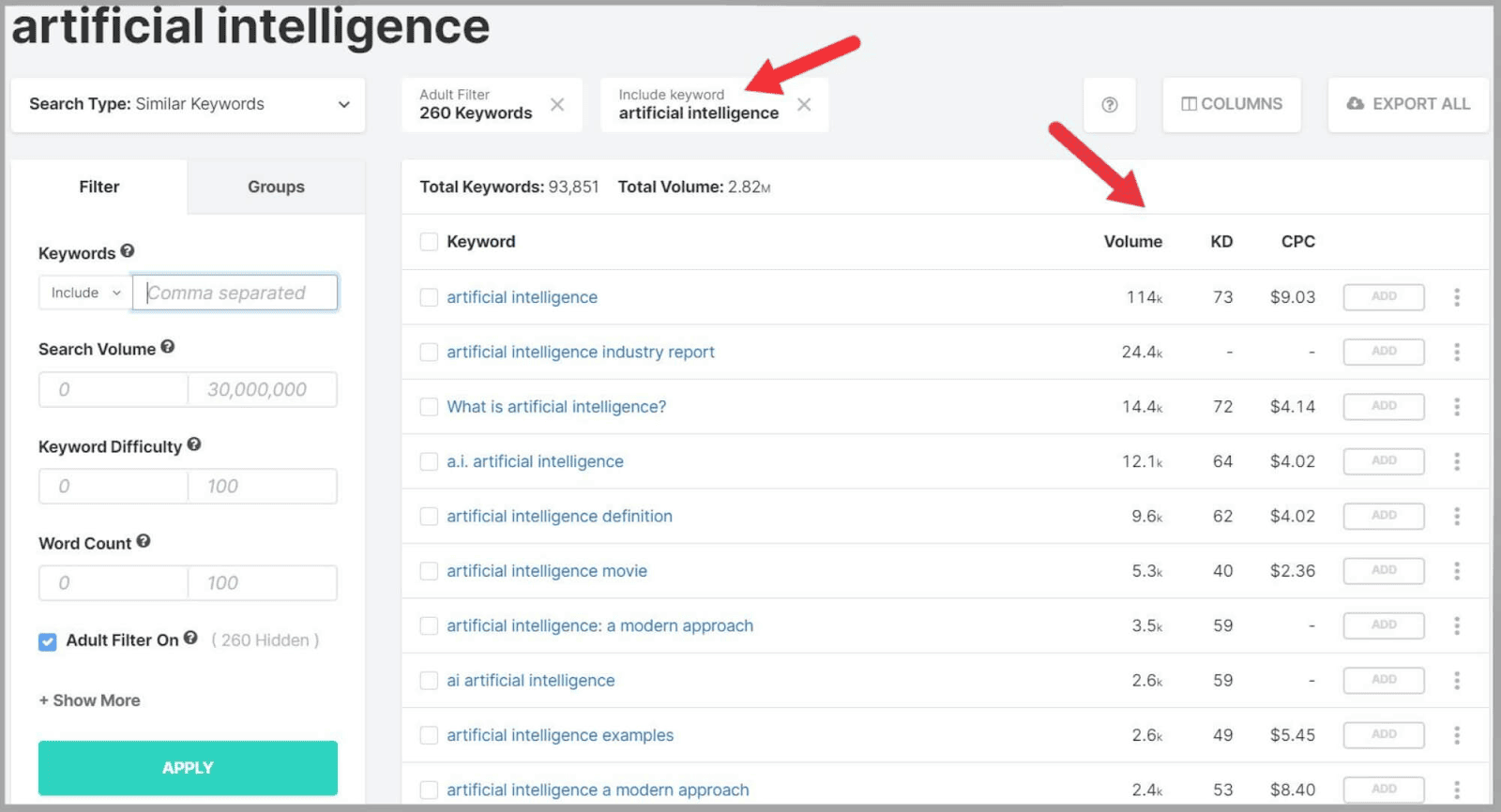 Of course, that's really useful but this tool does much more than that.
One of the best things about it is the keyword groups feature.
Let's say you're looking for questions related to the keyword 'Artificial Intelligence'.
Enter the keyword into the search bar.

Then, you need to change the search type to 'Questions' and choose whether you want your terms to be grouped by search volume or keyword count.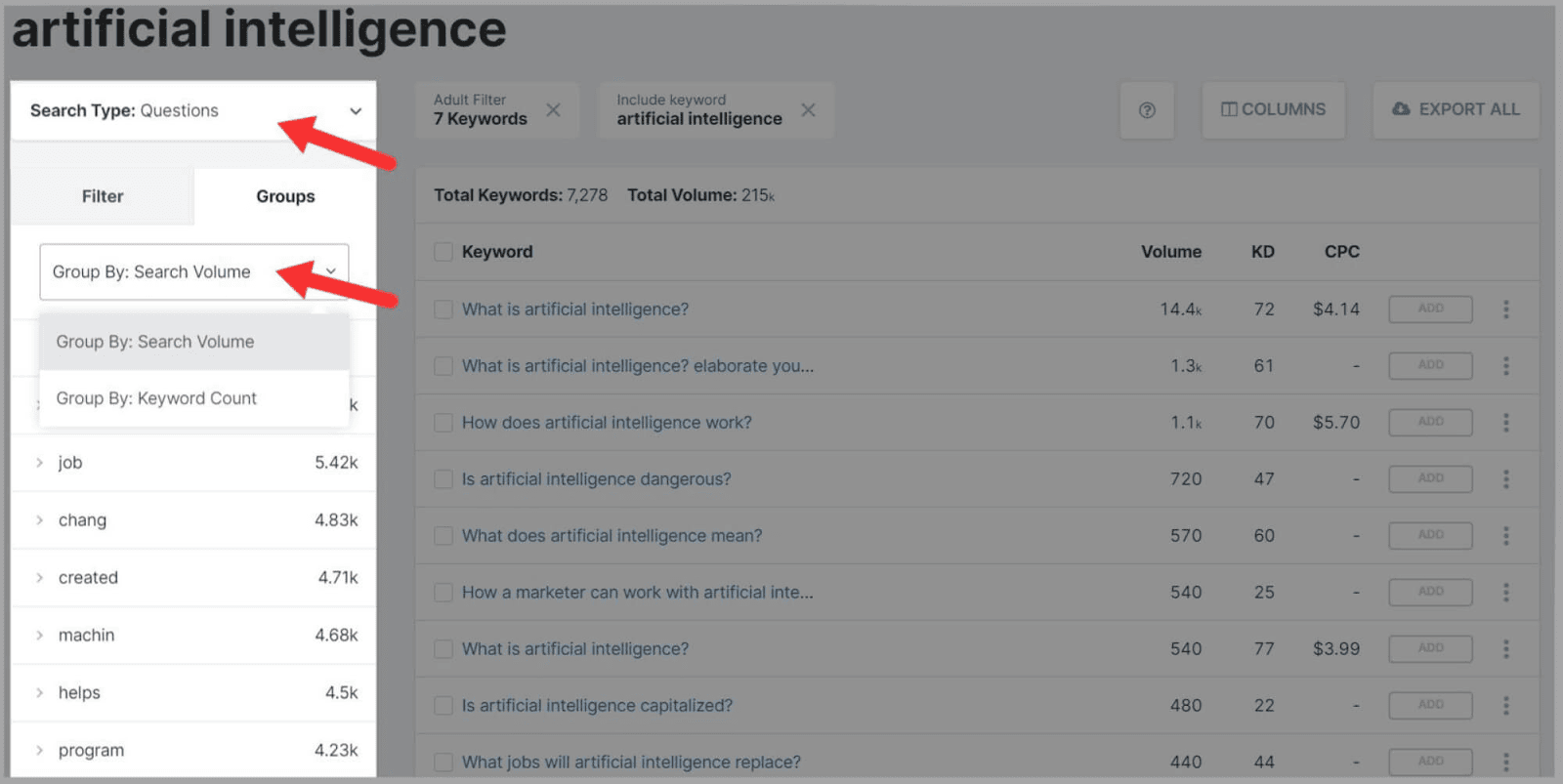 Then, you'll have a list of related keyword groups that you can click to view very specific questions.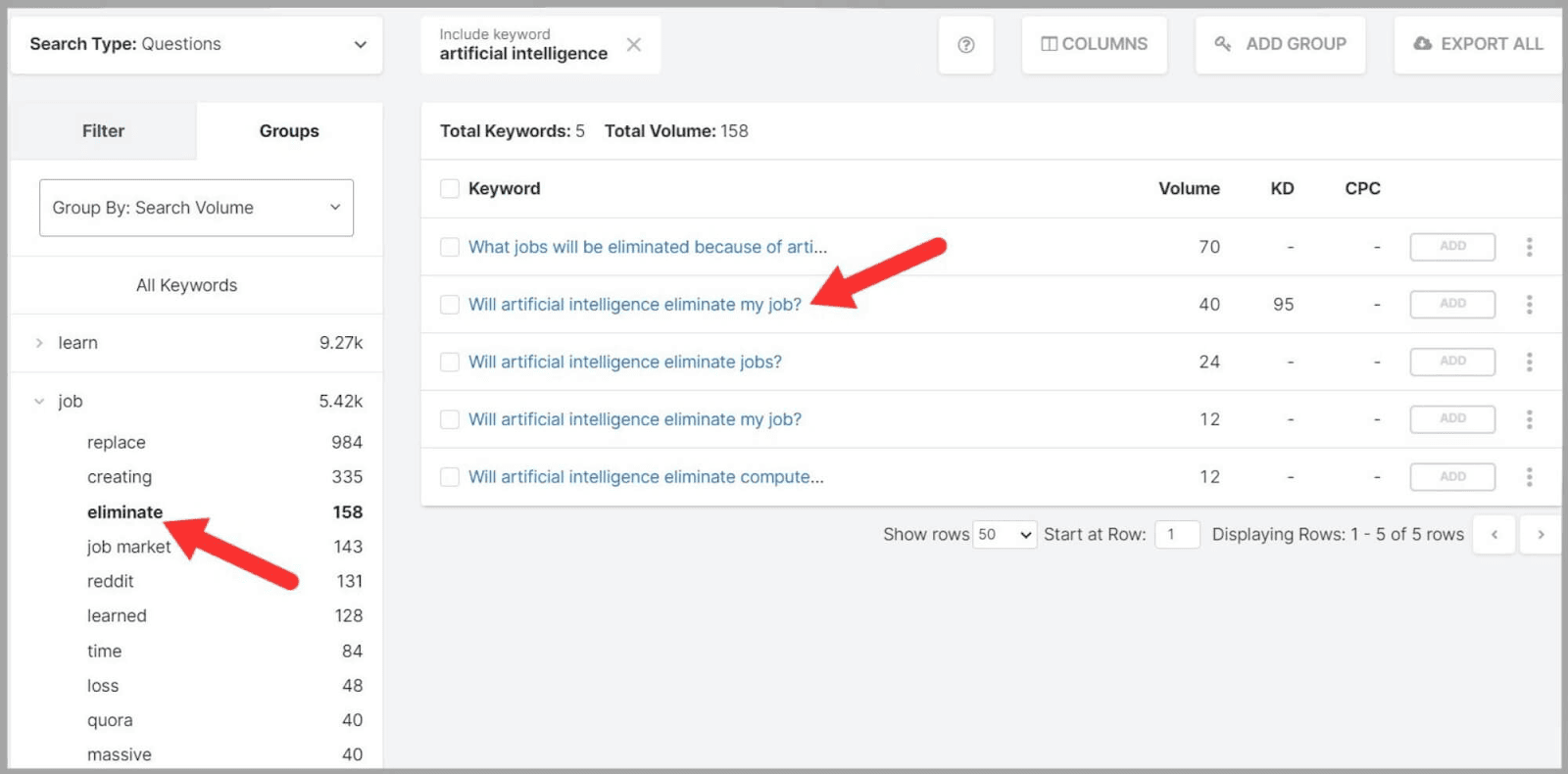 By incorporating these questions into your content you can make sure that you cover a topic from different angles…
As with the other keyword tools, you can also apply different filters to narrow your search.
If you want to filter out keyword matches that are sensitive or NSFW then you can apply the 'Adult Filter.'
Plus, you can:
Ask SpyFu to include or exclude specific terms
Set a search volume range
Set a keyword difficulty range
Set a word count range
The tool allows you to export your keywords to a spreadsheet or your Google Ads account too.
Sounds pretty awesome, right?
Advertiser History
This is really good for tracking competitors' most successful ad copy for a specific keyword.
Here, I've stuck with the keyword 'Artificial Intelligence' and SpyFu gives me a table of results.
We have the following metrics for each domain that's bought this keyword:
Monthly Ad Budget
Total Keywords
Average Ad Position
Top of Page Percentage
Coverage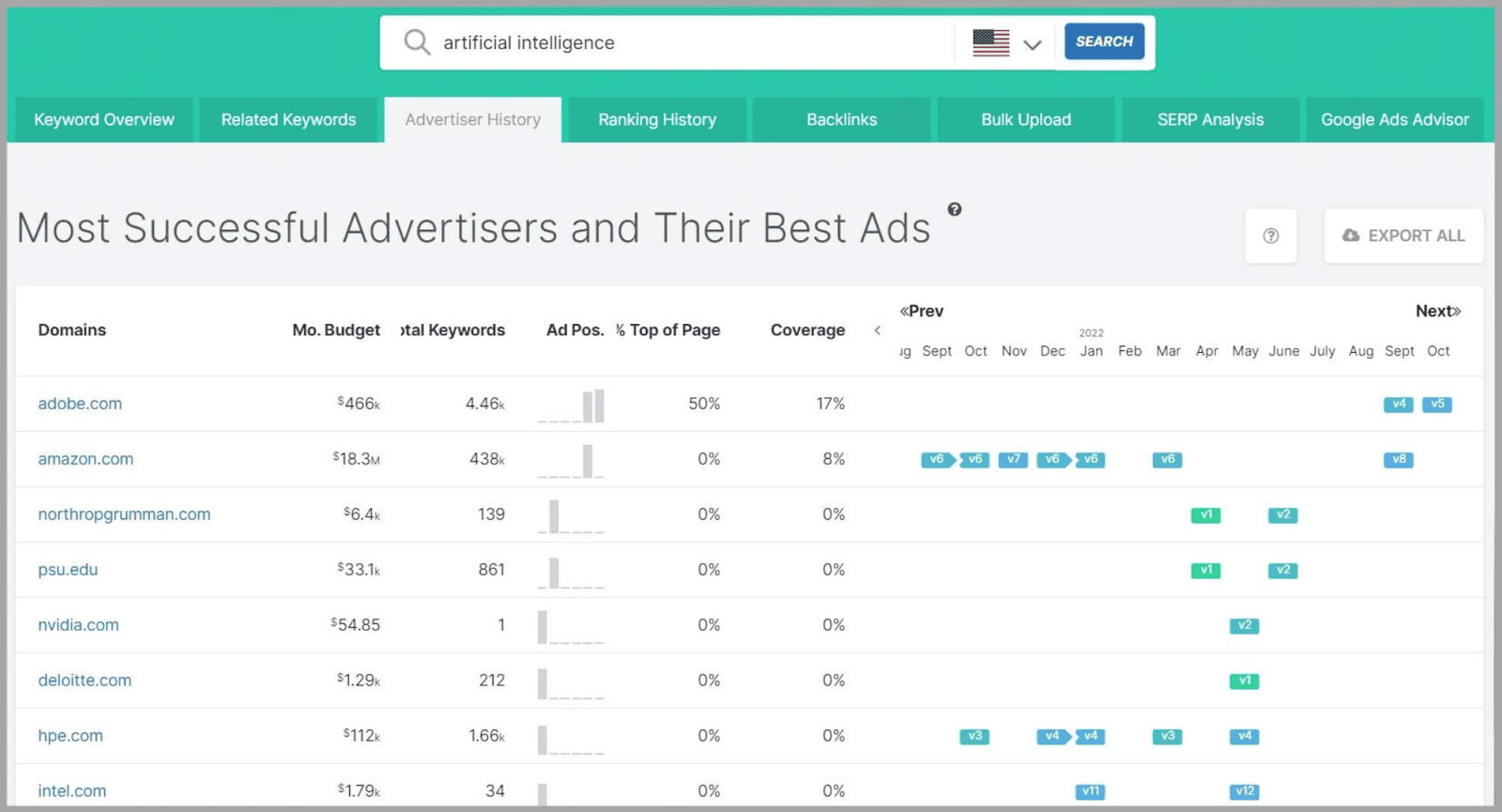 The tool also lets you track the different versions of the ad copy that a domain ran for a period of time.
The different versions are numbered so you can tell them apart (V1, V2, V3, etc.)

You can clearly see that Amazon tried V7 briefly but then decided to switch back to V6.
This means you can probably assume that V6 was working better than V7.
However, you can see that they switched to V8 at a later date.
So, you can click V8 and take a look at the ad copy to get an idea of what could work for your campaign too.

Ranking History
The Keyword Research Ranking History tool lets you track the organic ranking history of your competitors for your chosen keywords.
This allows you to see which domains are flying up the SERPs and which are on their way down for keywords you want to target.
When you enter your keyword into the search bar you see a graph with lines representing your top 10 competitors for that term.
At the bottom, you can also switch to graphs for the biggest gains and biggest losses in rankings during a set time period.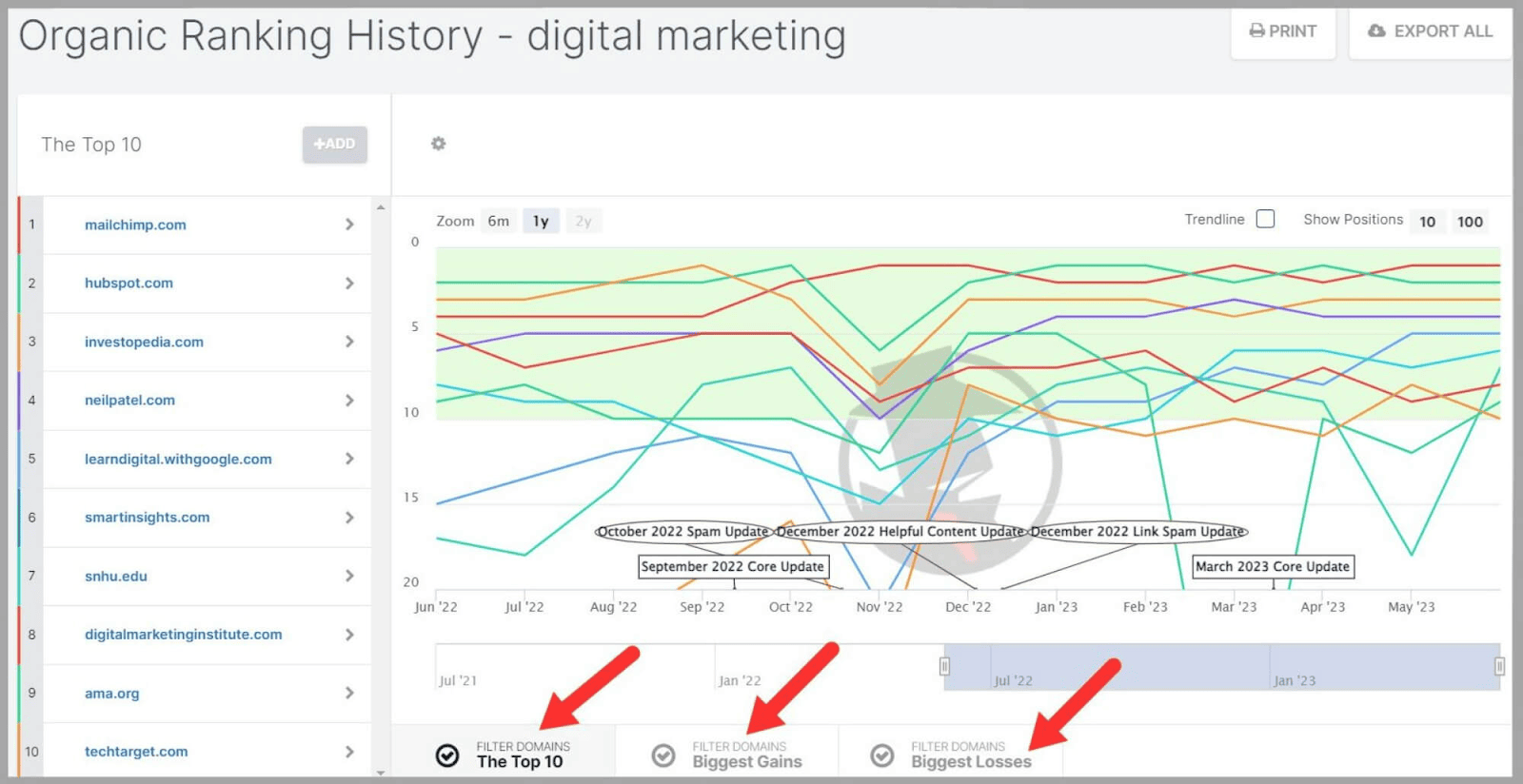 You can click the 'Trendline' box to see a line indicating the overall trend in terms of rankings.
Bulk Upload
The Bulk Upload is a relatively simple feature.
It allows you to upload up to 1,000 keywords at the same time.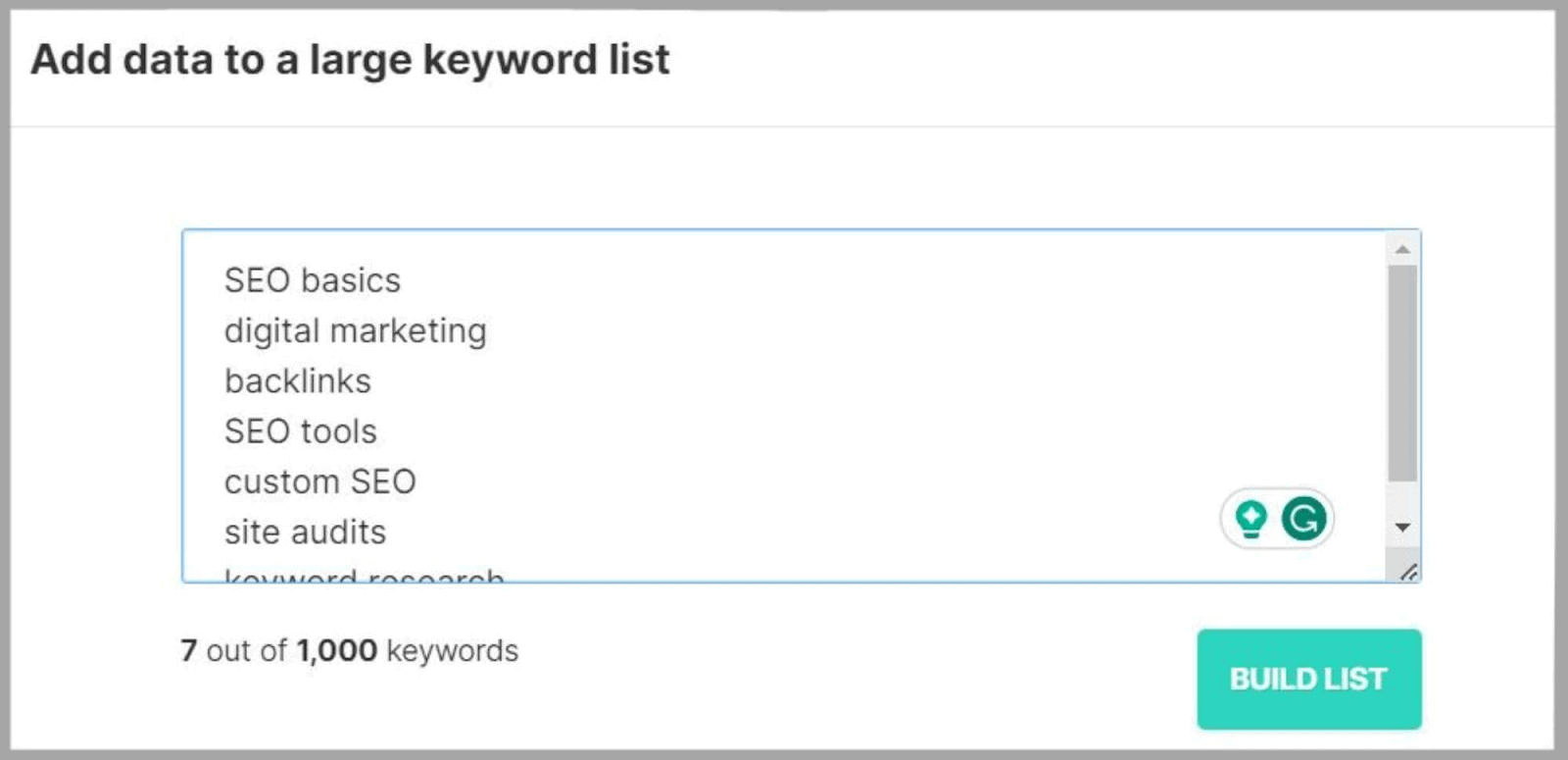 Then, SpyFu provides you with data for them, such as:
Search Volume
KD Score
Cost
Organic Clicks and Cost per Click.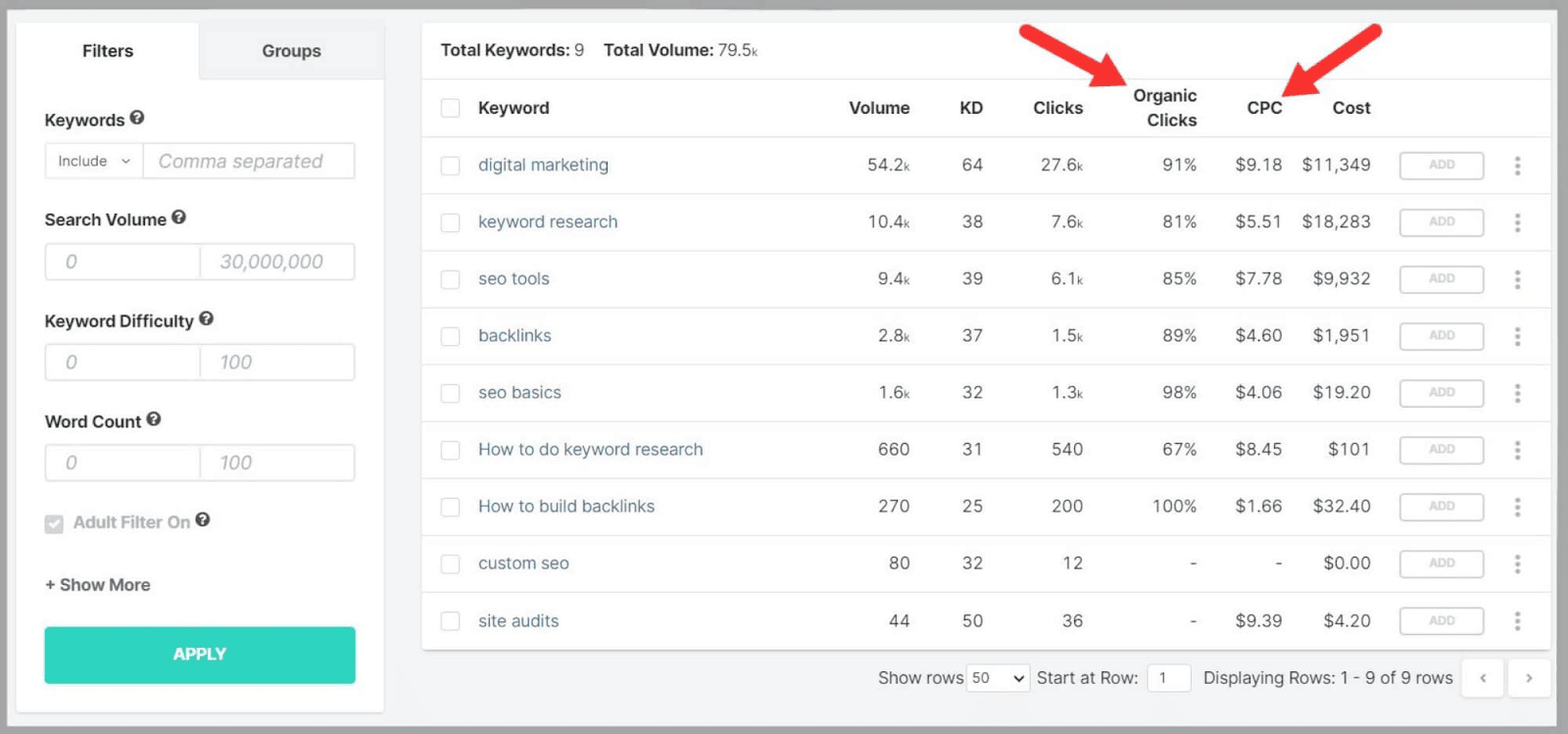 You can either export them to your own spreadsheet or add them to SpyFu's project manager.
SERP Analysis
I'm a big fan of this SpyFu feature.
Why?
Because at the end of the day, the reason we all do SEO is to rank higher in the SERPs.
That means studying and analyzing the SERPs is absolutely vital.
That's where this tool comes in.
The SERP analysis tool helps you to:
Identify significant ranking factors associated with your keyword
Take note of influential sites that dominate multiple positions in the SERPs
Explore specific content that achieves high rankings
See all ads displayed on the SERPs
All of the data SpyFu uses for this is taken directly from Google's SERPs.
Let's take a look.
Once you've typed in your keyword, you get a summary of metrics about it.
The first group of metrics tells you how hard it would be to rank for that keyword.
These are:
Ranking Difficulty
Number of homepages and Gov, Edu domains
Number of keywords in title
Number of keywords in URL
The second group tells you what you could expect to get from ranking for the keyword.
These are:
Monthly Clicks – this is an estimate of the number of clicks expected for the top-ranking organic result
The 'Domain Diversity' percentage
The 'Social Domains'

If the 'Domain Diversity' score is low then it means one or two domains are dominating the SERPs for this keyword.
The 'Social Domains' metric shows you if any of the results are from social media sites or sites like Wikipedia.
The URL results below show you the rank, rank change, domain strength (out of 100), and estimated monthly clicks.

If you scroll down to the bottom of the page you'll see the 'Current Ads' section.

This shows you the latest ads that appear on the SERP for your keyword.
By analyzing the SERP you'll gain insight into how hard it'll be to rank for the keyword you're targeting.
You'll get an idea of what type of content you'd need to create and you'll also be able to work out the users' search intent
For example, are the pages ranking for your keyword listicles, product review pages, or product category pages?
If the SERP is made up of product review pages then you know you're not going to have any luck trying to rank a service page.
Backlinks Outreach
When you're trying to build links, outreach can really suck.
It's time-consuming and it often ends in dead ends.
The SpyFu Backlinks Outreach tool is designed to make the process more streamlined.
It helps you get in contact with webmasters and saves you time by finding email addresses for you.
To get started, you click the slider on the right side of the screen.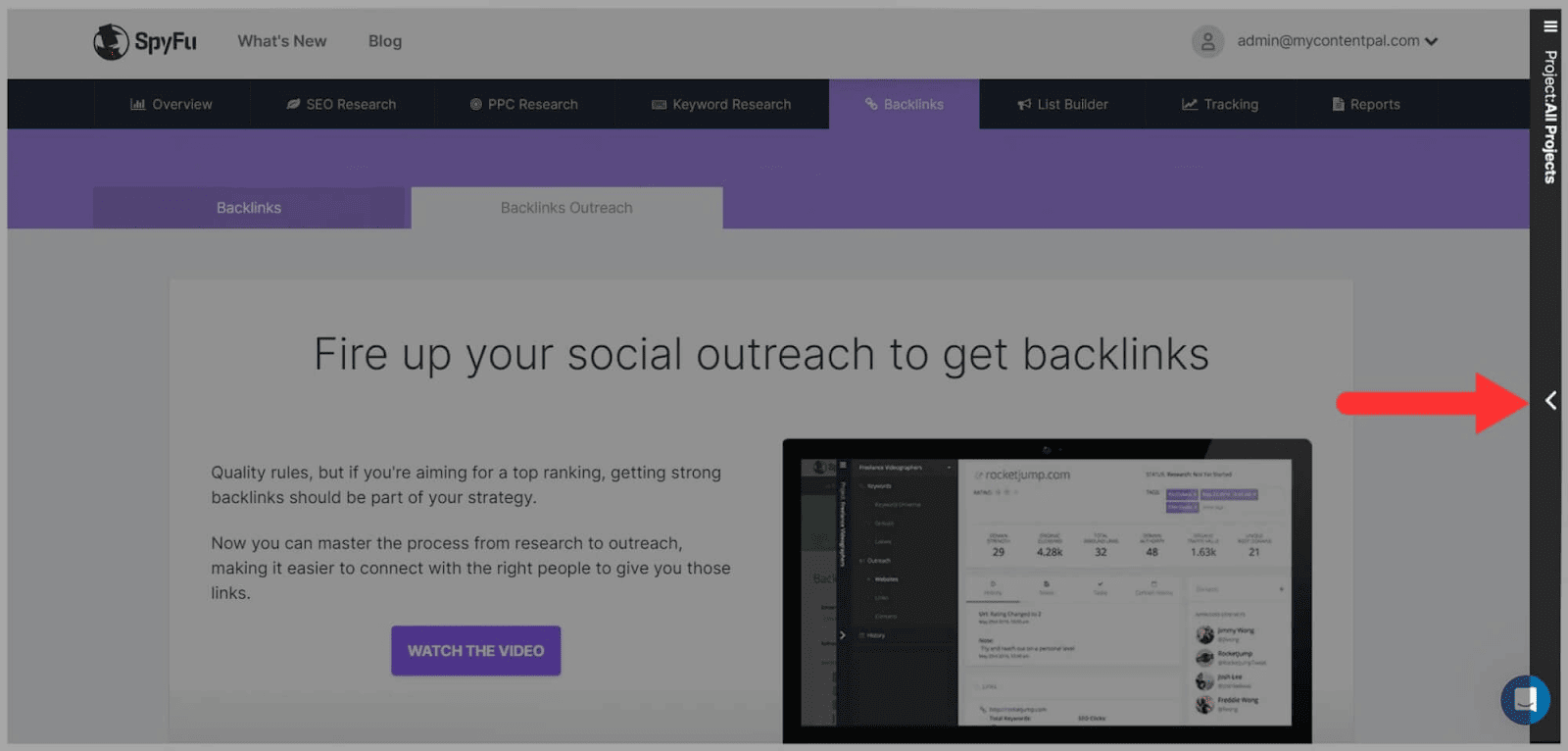 Then, you need to create a new project by typing in your domain and giving the project a name.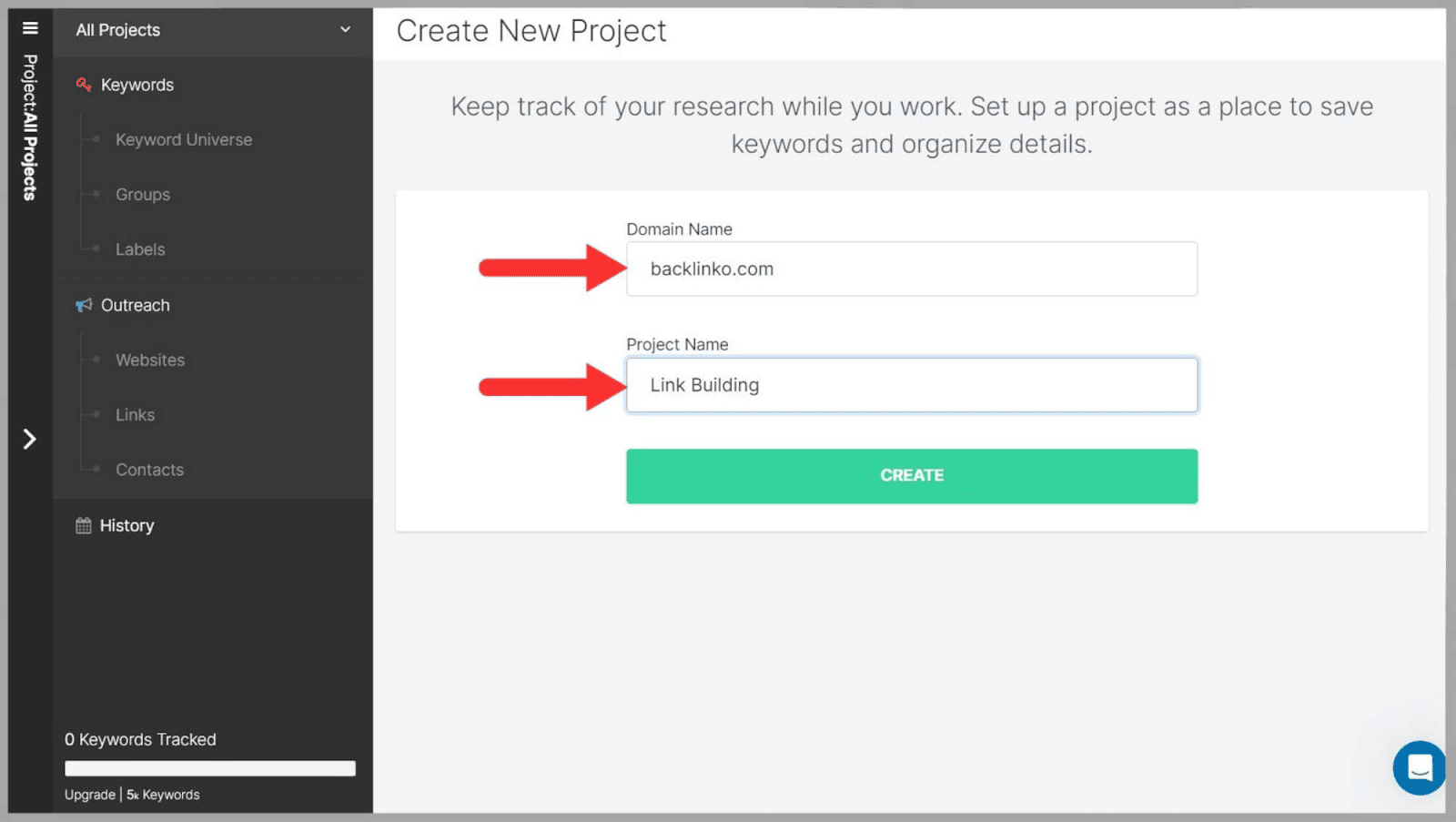 Next, you assign a status to the project and give it a rating based on its importance.
You then add some URLs that you want to link to as part of this project, add some labels, and type in some notes.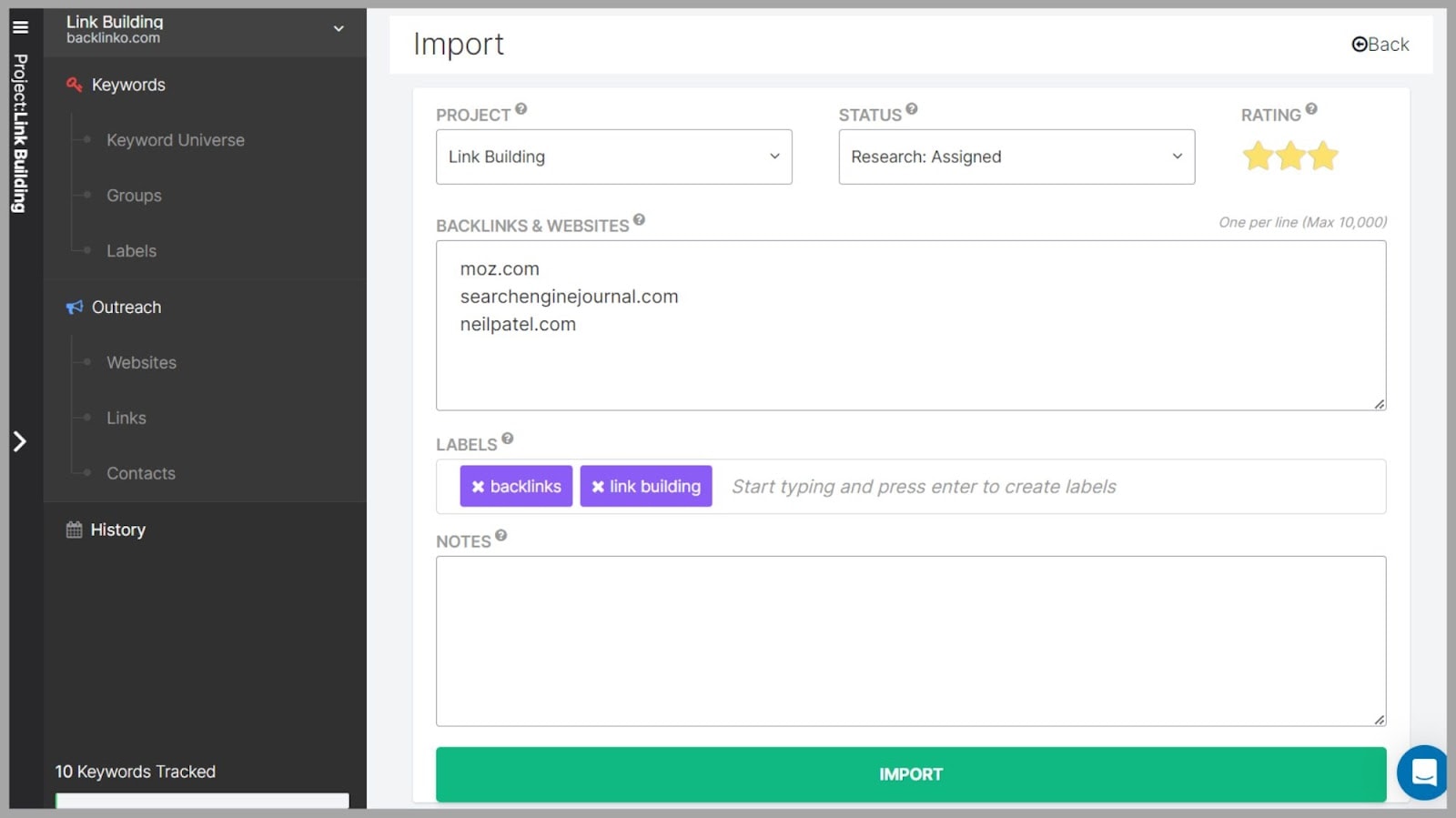 When you click 'Import' you'll see a list of the domains.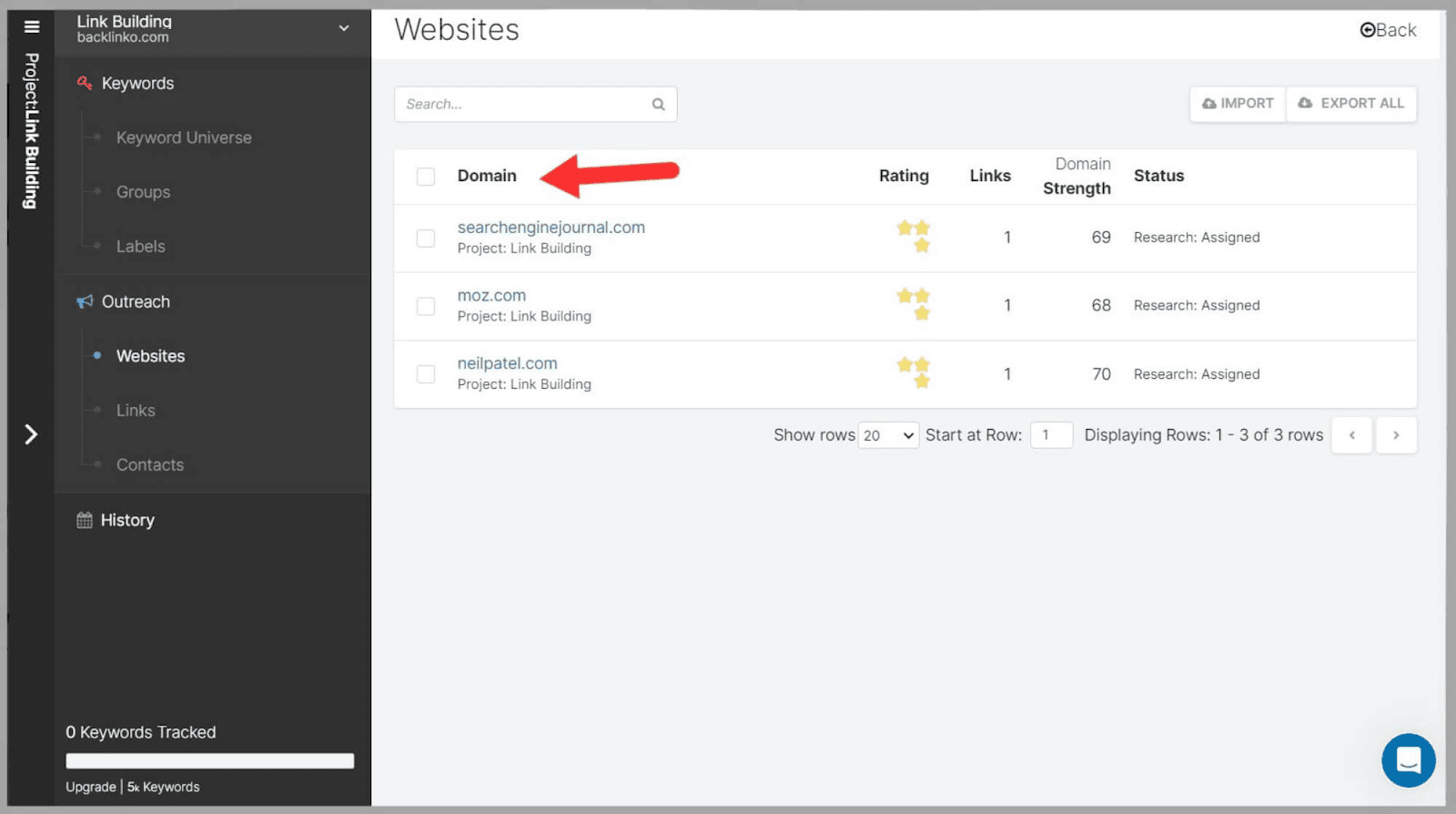 If you click on one of the domains you'll be taken to a page where you can view the contacts SpyFu has found for you.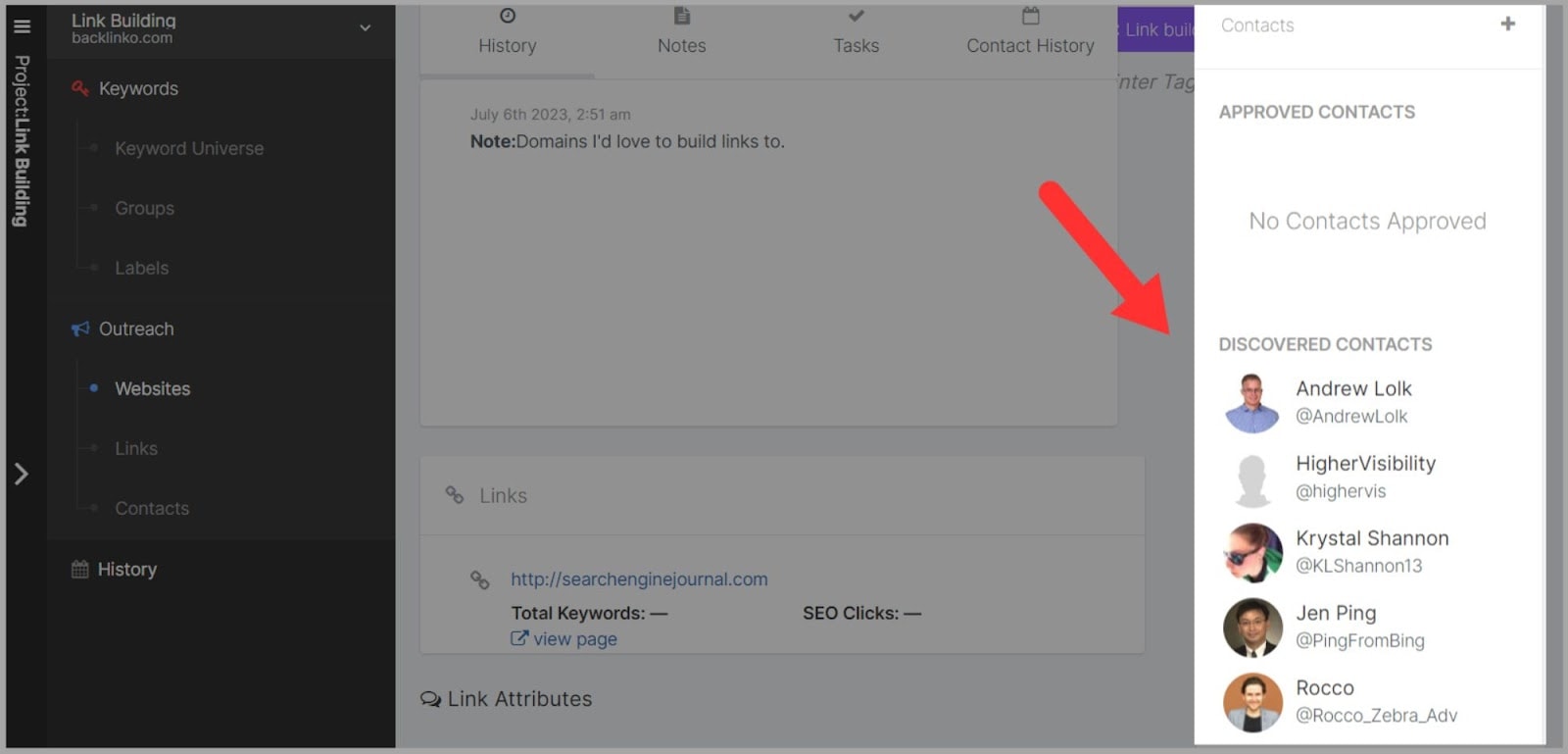 List Builder
Domain Top Lists
Domain Top Lists is pretty simple compared to the other features SpyFu offers.
Yet, it's still useful.
It provides you with ranked lists of domains for different metrics such as:
Domains with the Most Organic (SEO) traffic
Domains that Spend the Most on Google Ads
Highest Organic Traffic Companies with Twitter Accounts
Companies with Phone Numbers
Companies with Email
Companies with Social Media
Companies
Companies without Social Media
Companies without a Blog
To view the full list click on 'View All'.

You get taken to the list and you can view some other details like 'Ad Budget', 'SEO Clicks', and 'Contact Types.'
For example, when I click on 'Domains with Most Organic (SEO) Traffic' I can see that wikipedia.org spends nothing on its ad budget which means all of its traffic is organic.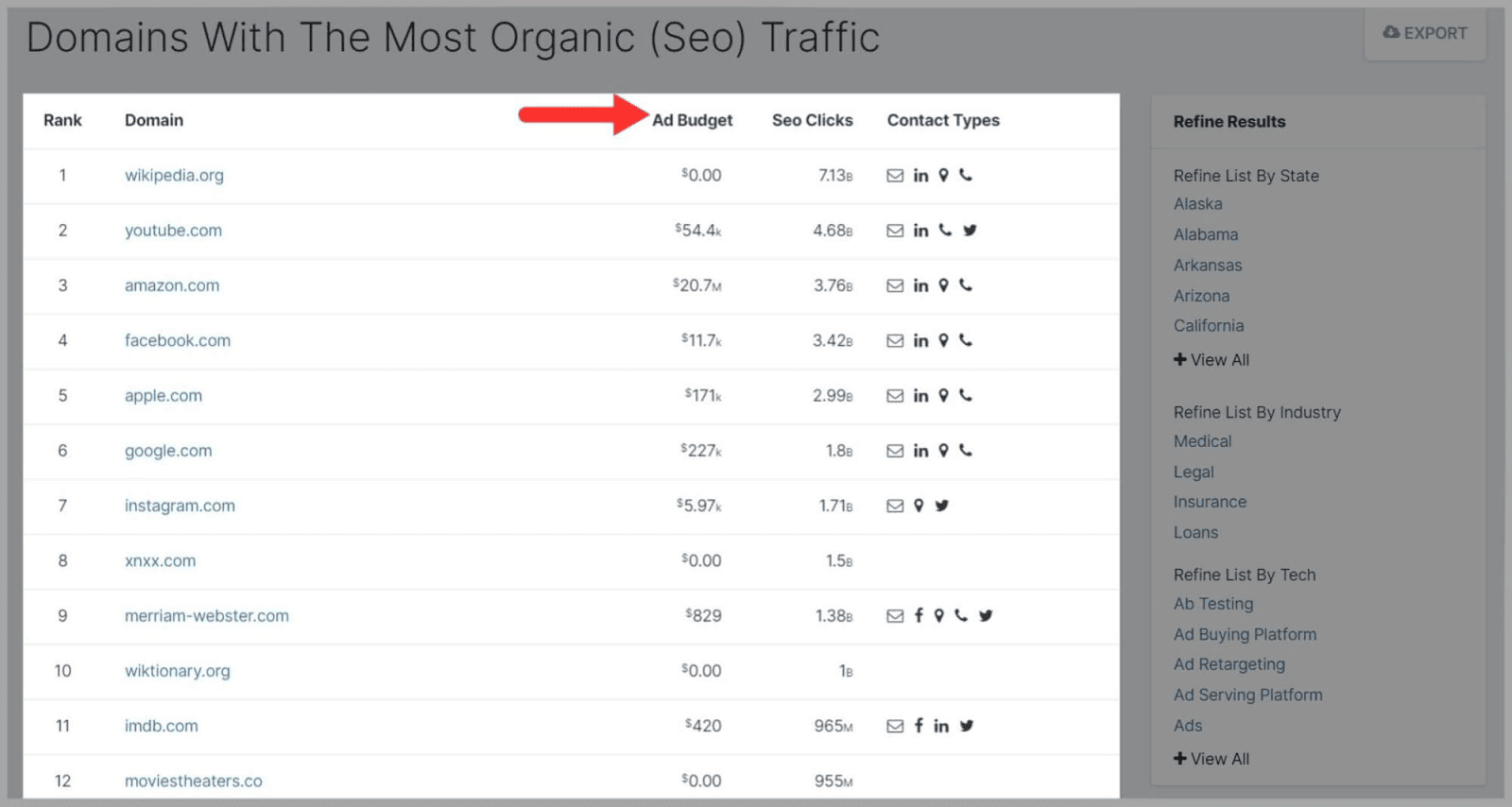 You can also refine the list further by state, industry, and tech.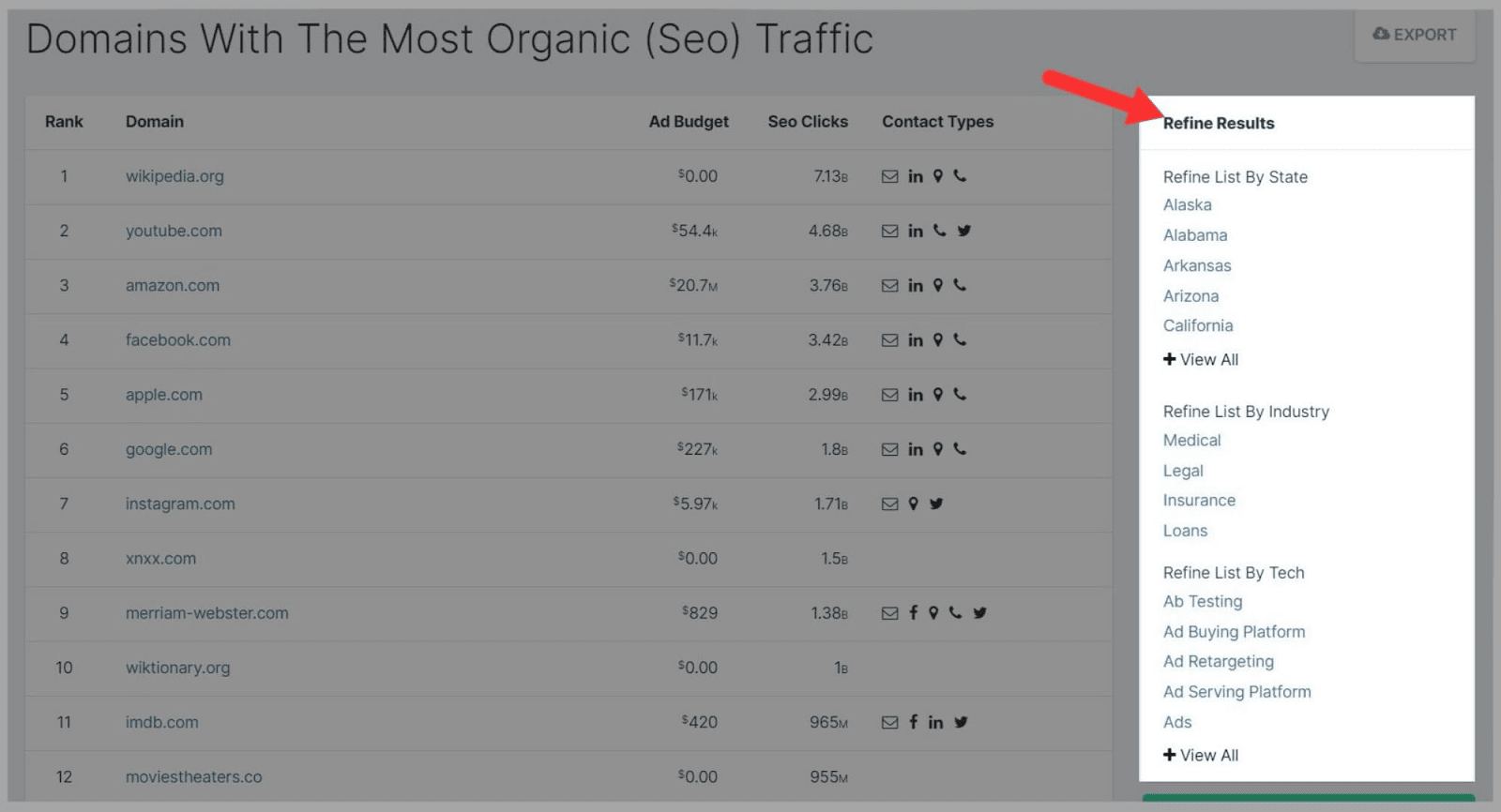 Plus, you can export your lists to your own spreadsheets.
Keyword Top Lists
The Keyword Top Lists feature shows you numbered lists of keywords for metrics like 'Keywords with Highest Cost Per Click (CPC).'
As with Domain Top lists, you view the full lists by clicking on 'View All.'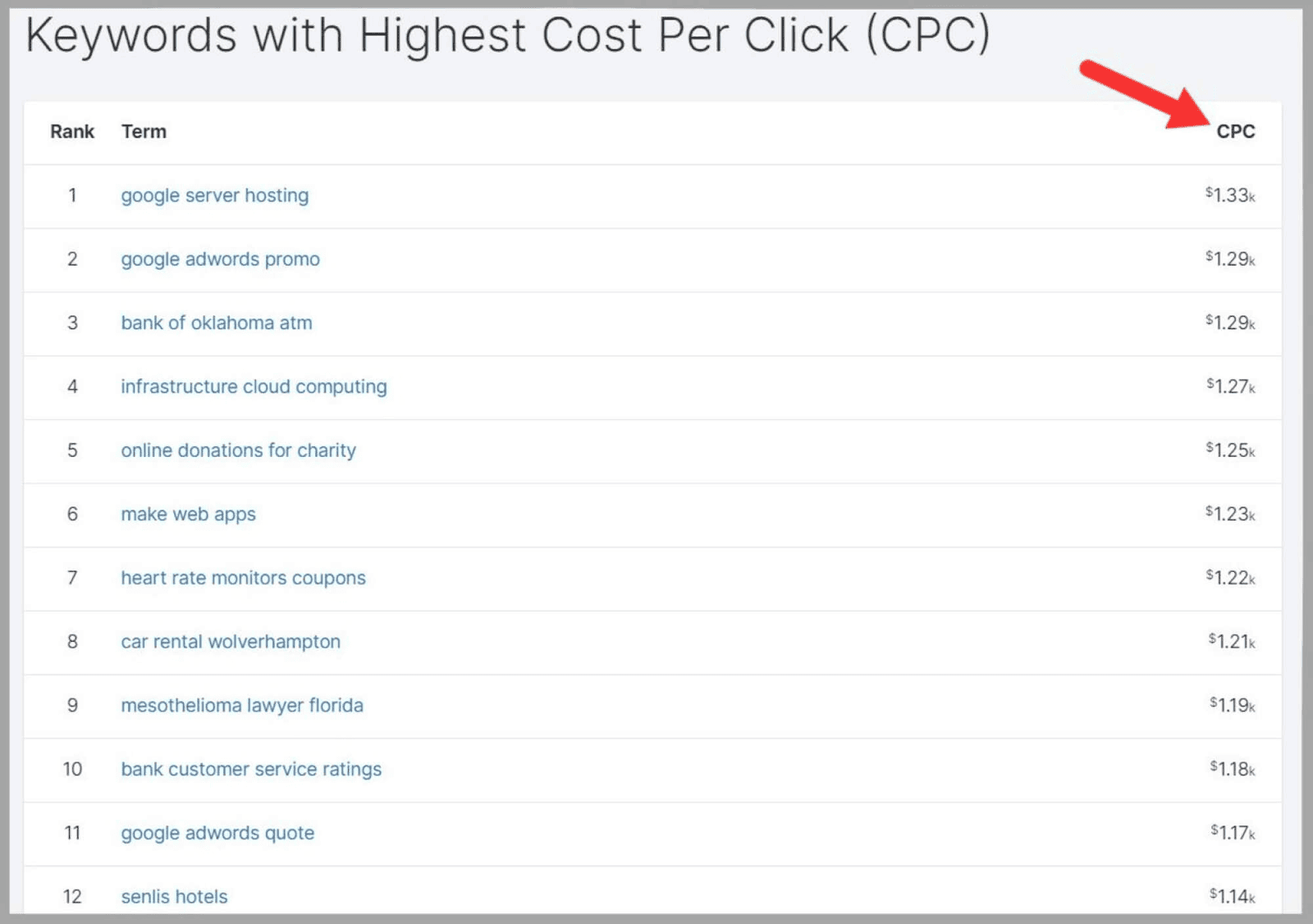 You can then assess which relevant keywords are worth targeting for your business, and which are too expensive.
Custom Lists
This feature lets you request customized lists from SpyFu that are tailored to your specific needs.
The lists always include both organic and paid stats.
To request a custom list, you can call SpyFu or schedule a call with a member of their team.

Having customized lists makes sure that the data you have is relevant to your niche and goals.
Instead of having to sift through LOADS of data yourself, SpyFu can do the hard work for you.
Awesome.
Leads
Leads, or prospects, are users who might be interested in your products or services.
By using the right strategies, you can move leads along the sales funnel and turn their interest into conversions.
But, getting leads can be a time-consuming and pretty frustrating experience.
That's why I'm a fan of SpyFu's Leads feature.
You can use it to quickly build up lists of leads without having to spend ages finding them yourself.
First, you enter a keyword and choose an industry. You can also add a location filter.

Then, you can refine the search even more by using the filters for:
Google Ads Budget
SEO Clicks
Available Contact Info
Technology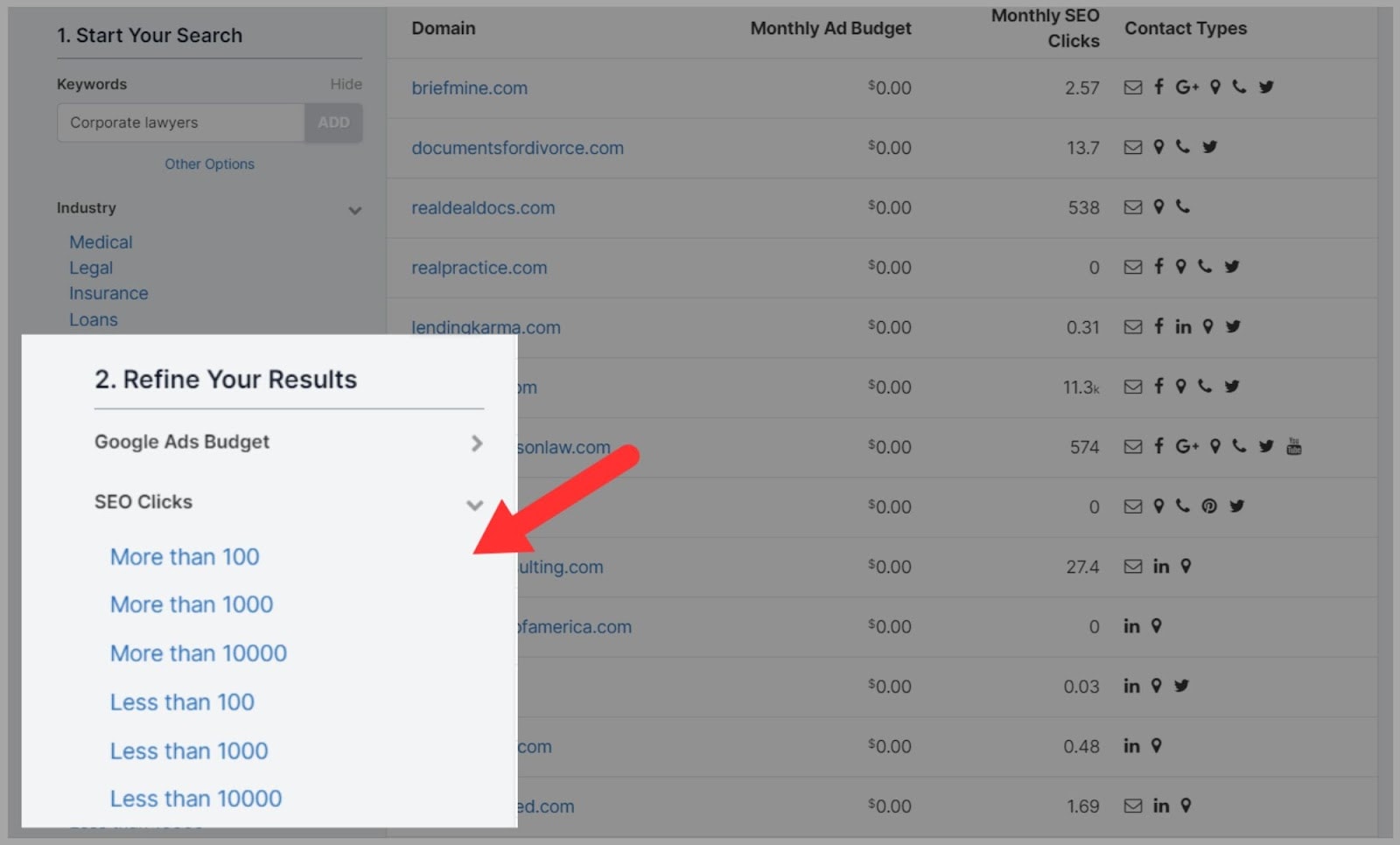 SpyFu generates a list of leads that you can export to chase up whenever you're ready.
With the Basic plan, you can export 250 leads per week.
Tracking
This feature helps you keep on top of all the data SpyFu has collected for you about your competitors.
It's great for keeping everything in one place and eliminates the need for lots of different spreadsheets.
As you use the SpyFu features, you can easily add data to your projects so that you can keep track of it.
For example, when you're using the Related Keywords tool you just click 'Add.'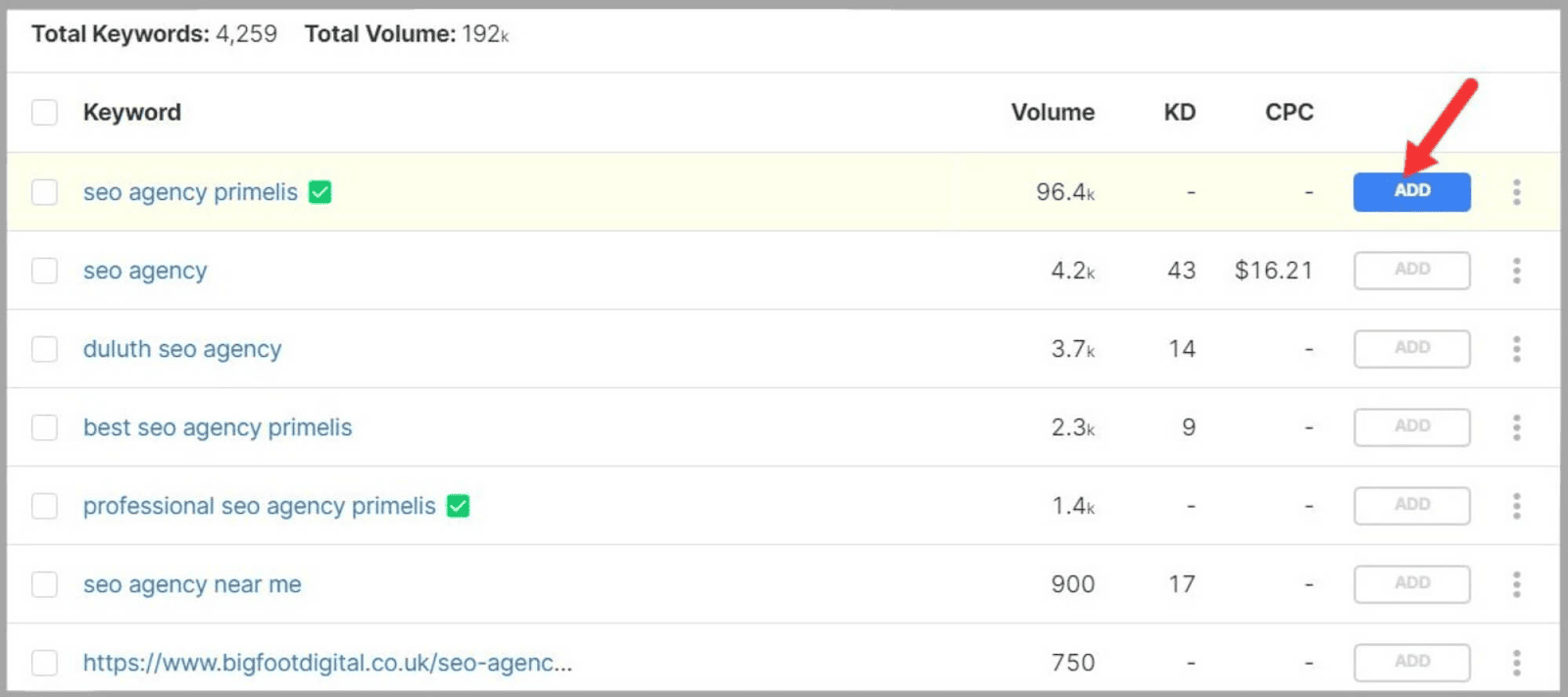 And then choose the project you want to add the keyword to.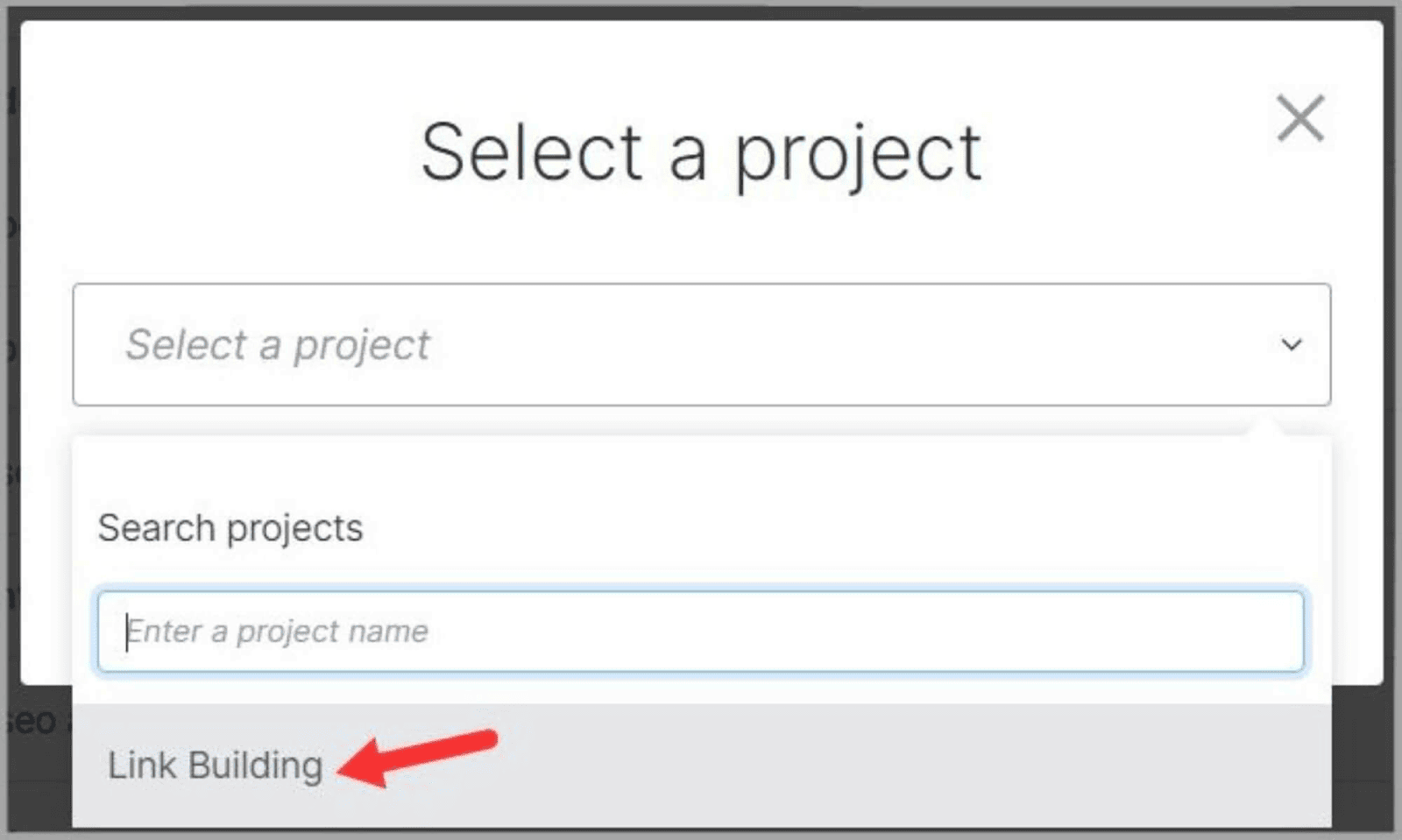 To view your projects you click on the slider at the right of the page and you can view all of the keywords you've added.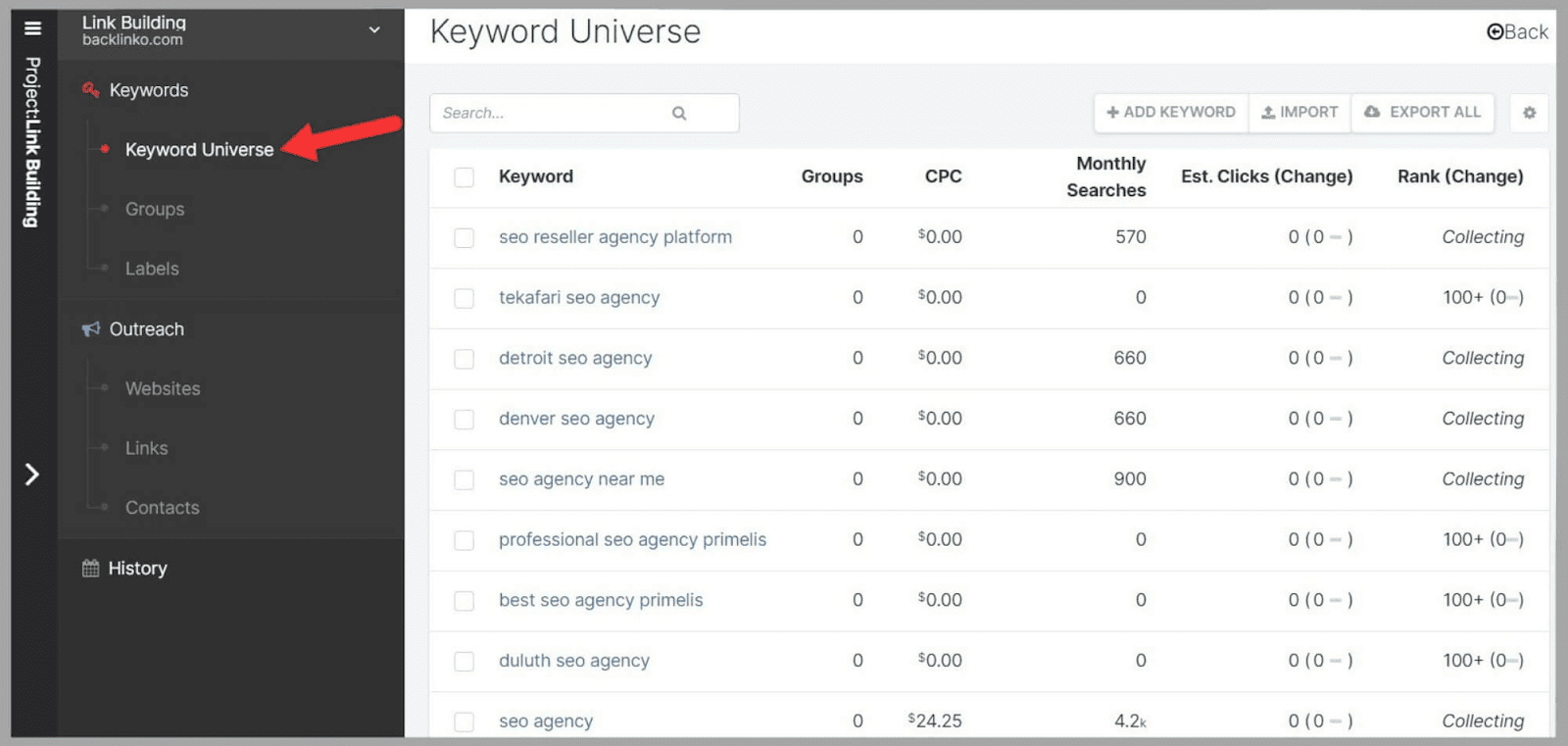 You can also view the domains you've added to your outreach projects.

This feature is a fairly new addition to SpyFu and it makes using the whole tool much more user-friendly.
Plus, SpyFu even sends you weekly tracking updates about your own domain.
Win-win.
Reports
The Reports section of the tool is where you can get SpyFu to generate your SEO and PPC reports.
I already covered SEO reports earlier so let's take a look at the PPC reports.
They work in a very similar way to the SEO reports.
First, you enter your domain.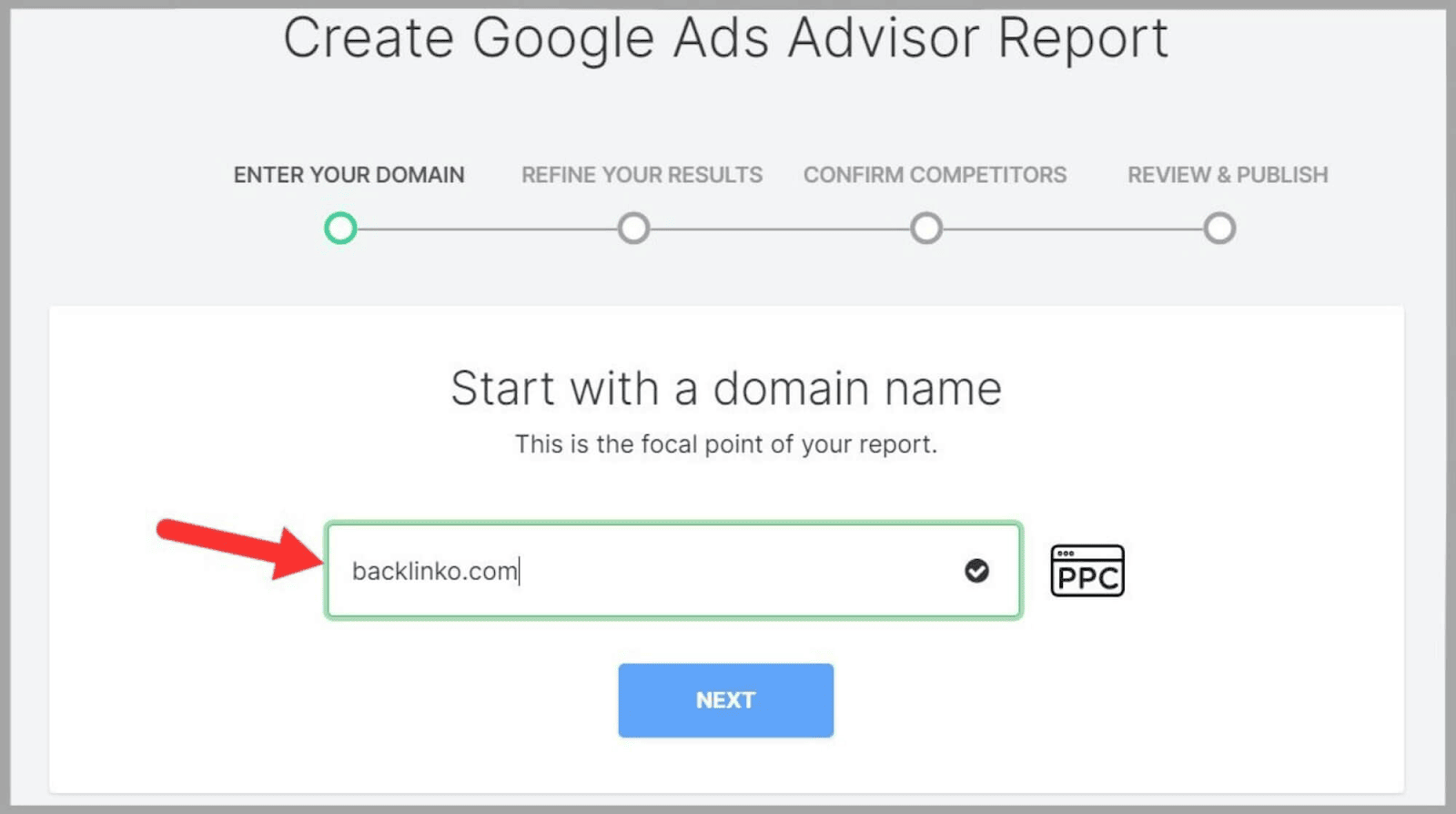 Then, you set a goal. For the goal I chose, you need to enter at least 10 keywords.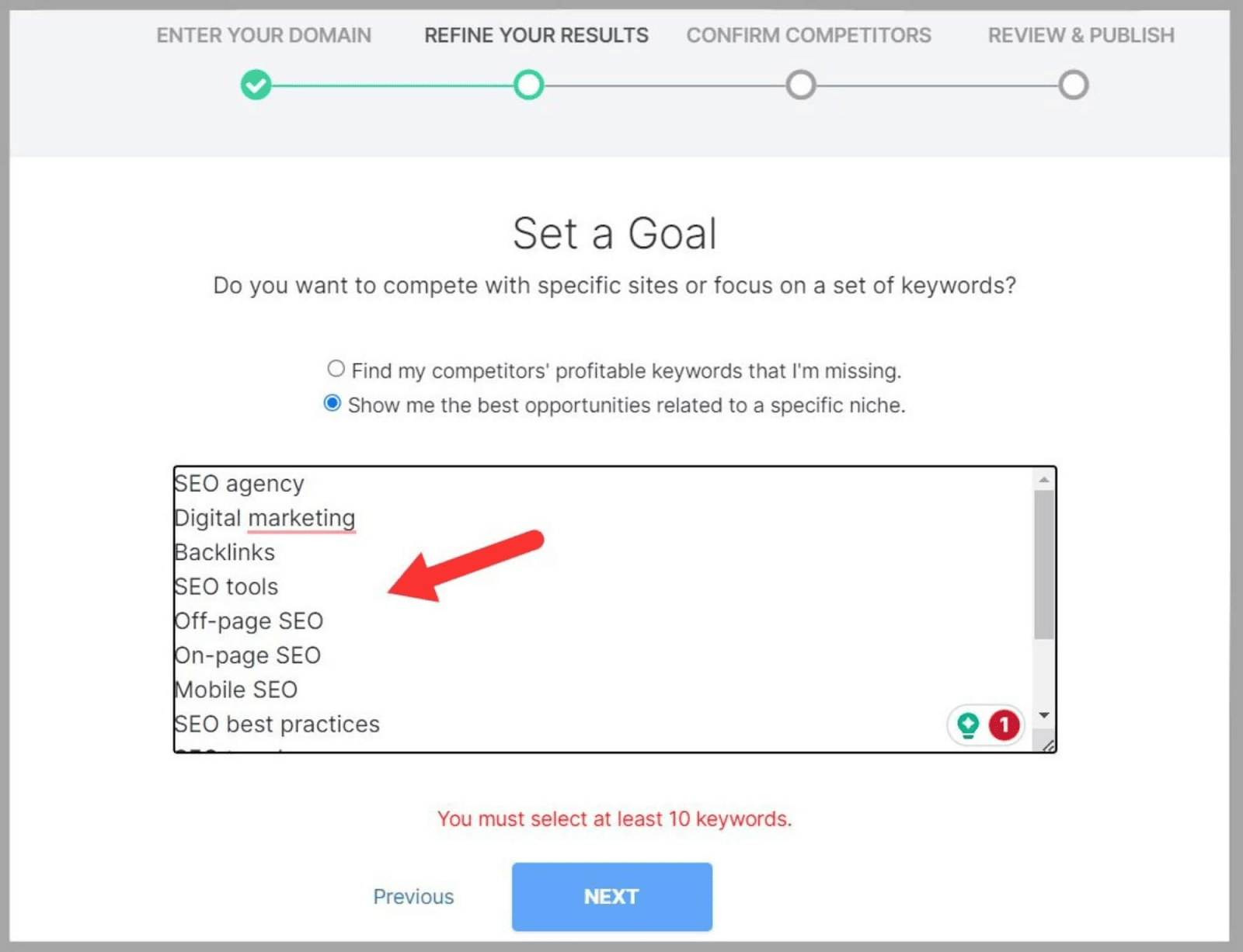 Next, you choose your competitors. You can stick with the ones SpyFu suggests or add your own.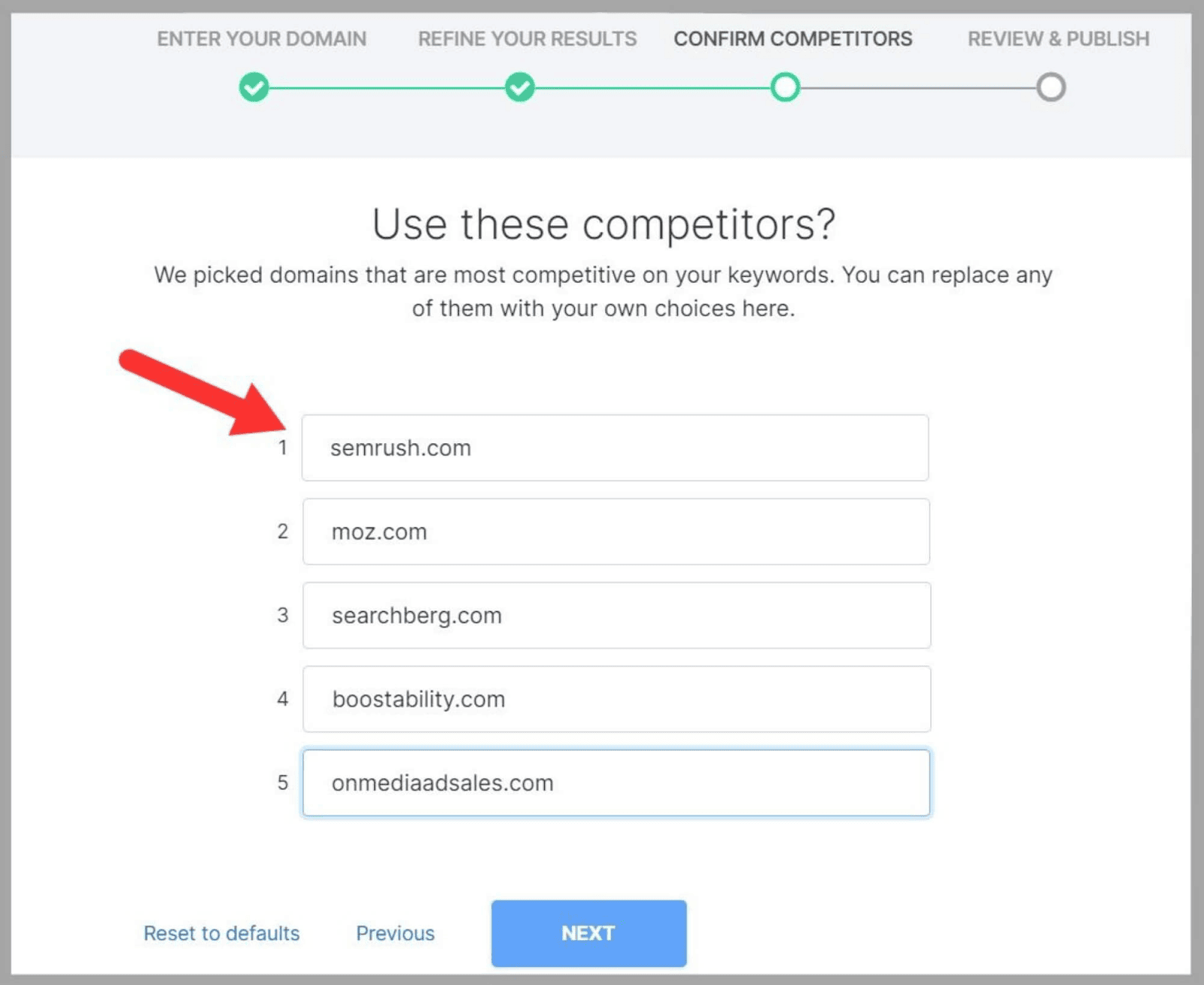 Finally, click 'Finish' and SpyFu starts generating your report.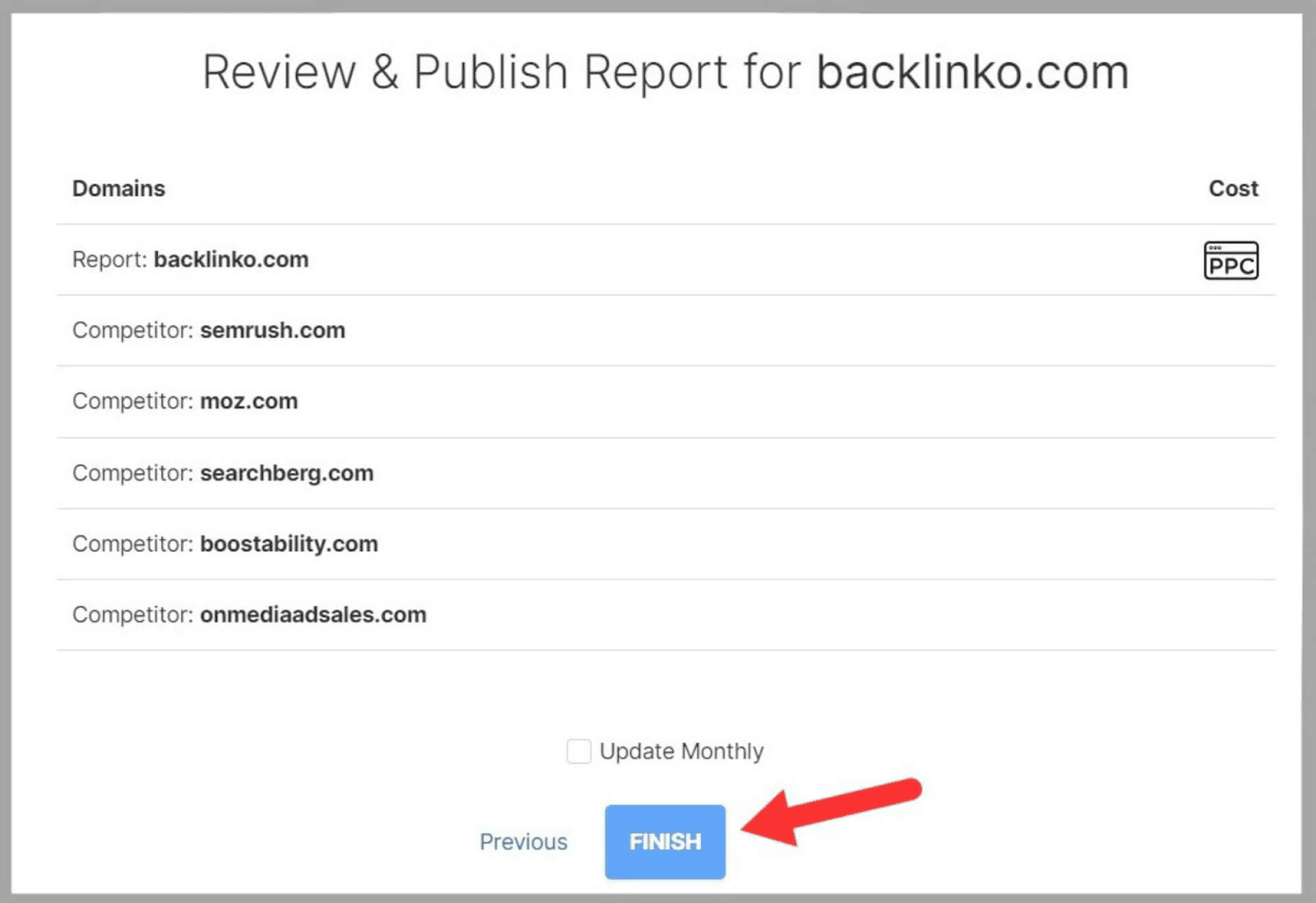 You can view all of your SEO and PPC reports whenever you want in the 'Reports' tab.
These reports are great for demonstrating the value of your efforts to your clients.
They're easy for clients to understand and clearly highlight the progress you've been making with their PPC and SEO campaigns.
Pricing
SpyFu has three different pricing plans:
The good news is that each plan gives you unlimited access to all of SpyFu's data.
Let's take a look at what you get with each plan.
Basic
Price
$39 per month if you pay monthly
$16 per month if you pay annually
What's included
10,000 row data exports
10,000 row search results
6 months historical data
100 domain overview PDFs
5,000 weekly tracked keyword rankings
250 sales leads and domain contacts
Professional
Price
$79 per month when you pay monthly (the first month is $39)
$36 per month when you pay annually
What's included
Unlimited domain overview PDFs
Unlimited data exports
Unlimited search results
500 sales leads and domain contacts
10+ years historical data
API access
15,000 weekly tracked keyword rankings
Custom branded reporting
Team
Price
$299 per month when you pay monthly
$149 per month when you pay annually
What's included
Unlimited domain overview PDFs
Unlimited data exports
Unlimited search results
2,000 sales leads and domain contacts
10+ years historical data
API access
40,000 weekly tracked keyword rankings
Custom branded reporting
5 user logins
SpyFu Vs Competitors
As you can probably tell from reading this guide, I REALLY like SpyFu.
Still, it's certainly not the only SEO tool out there that I'd recommend.
Let's see how it stands up against three of its best competitors.
SpyFu Vs Semrush
Although Semrush is a bit pricier than SpyFu it's my top choice of SEO tools due to its incredible range of features.
If you're looking for a tool for SEO, paid search ads, and content marketing then Semrush is the one for you.
SpyFu is more suitable if you need a solution for keyword research and competitive analysis, without prioritizing backlink analysis.
The Pro version of Semrush also costs $129.95 per month whereas the Professional version of SpyFu is $79 per month.
Still, if you want to run SEO audits on your site, analyze competitors' comprehensive traffic funnels, and utilize a top-notch keyword rank tracking tool, then Semrush is worth the extra money.
SpyFu Vs Ahrefs
Ahrefs is an exceptional all-in-one SEO platform.
It's particularly good for backlink analysis. As mentioned earlier, SpyFu's backlink tool does not allow you to audit backlink profiles.
SpyFu however, is the better option if you want to view your competitor's paid ads.
Like Semrush, Ahrefs is also more expensive than SpyFu.
The most basic Ahrefs plan starts at $79 per month.
SpyFu is just $39 per month.
SpyFu Vs Serpstat
Serpstat is a good tool but it's not as powerful as Semrush and Ahrefs.
Plus, if your main focus is competitive analysis and keyword research (without the need for SEO audits) then SpyFu should suffice.
On the other hand, if you do want to run SEO audits and utilize a robust backlink analysis tool, then I would choose Serpstat over SpyFu.
Its individual plan is $50 per month.
SpyFu Pros and Cons
Pros
Huge selection of tools
Very affordable compared to its competitors
Helps you analyze your competitors in amazing detail
Can be used effectively for both SEO and PPC
Levels up your keyword research game
Cons
No SEO site audit feature
The number of features can be overwhelming for SEO beginners. Some of them are also hard to get used to
Does not allow you to audit your backlinks
FAQs
How accurate and reliable is SpyFu's data?
SpyFu states that its data is accurate around 90% of the time. Of course, it's hard to tell how accurate some of its data is. For example, when SpyFu estimates a domain's ad budget you can't be sure this is accurate unless you're in charge of the ad budget yourself!
SpyFu is a really useful tool but always bear in mind that a lot of its data is estimated.
Can SpyFu integrate with other SEO and marketing tools?
Yes, the tools that SpyFu can integrate with are:
Google Ads
Google Analytics
Google Search Console
Google Business Profile
WriterAccess
Qubit X
Does SpyFu offer customer support and assistance?
Absolutely.
SpyFu's customer support team can be reached via Live Chat from 6 am – 5 pm Monday to Friday.
Or, you can call them at 888-201-0422 (US) and 480-409-0462 (International).
Generally, SpyFu's customer support team has good reviews on sites like Trustpilot.