If you do it right, affiliate marketing can make you money while you're on the beach, in the mountains, or even taking a nap. I would know—I've been doing it for years.
I started my first affiliate marketing blog 10 years ago with just $40 and not a clue what I was doing. Now, it's earning six figures, and I only have to work a few hours a week to run it.
In fact, that affiliate site receives over 100,000 visits per month from Google:
In this article, I'm going to teach you how to start affiliate marketing with (almost) no money. I'll share how I did it and what you can do to get started today.
Affiliate marketing is the process of promoting someone else's products or services and making a commission whenever someone buys after clicking your affiliate link.
For example, if you publish a blog post or a YouTube video sharing the best vacuum cleaners for pet hair and someone buys a product you recommend after clicking your affiliate link, you get paid a percentage of that sale.
It's a great business model because it has almost no overhead and you don't have to manufacture, or ship products, or handle customer service. You get paid to promote cool stuff.
The only way to start affiliate marketing with no money is to get an affiliate link and start sending it to people you know. While this is possible, it's not scalable and won't make you much money unless you're constantly networking.
Instead, the most successful affiliate marketers create a website and social media channels in order to get traffic to their affiliate links. While social media accounts are free, a website does cost a few bucks.
Specifically, you need to purchase a domain name and website hosting. A domain costs you around $3–$7 for the first year, and hosting starts at $2.75 per month (paid annually, this is $33).
So you will need at least $36 to get started as of the time this post was published.
If you're ready to make your website, I recommend following this YouTube video by WP Beginner. It walks you through how to get your hosting and domain name set up and how to use WordPress for complete beginners.
If you've got the $36 and you want to give this business model a try, I've come up with five simple steps to get you started in affiliate marketing:
Step 1. Find a niche OR a good affiliate program
The first and most important step is figuring out what you want to talk about and promote—in other words, your niche.
Your niche can be almost anything, from a hobby, to an interest, to a lifestyle. Like dogs? That can be a niche. Interested in cryptocurrency? Niche potential. You get the idea.
Niche selection is one of the hardest parts of affiliate marketing. You need to pick something you won't mind creating content about for years to come. It takes time to build the brand authority and awareness to turn this into a full-time business, so don't be afraid to spend some time here.
Now, there are a few ways to choose your niche. You can either pick a niche you're already interested in, OR you can look for good affiliate programs first and base your niche on those program(s).
Finding high-paying affiliate programs with quality companies can be difficult. Usually, you'll either find good products with low commissions (2%–4%) or crappy products with high commissions (20%+).
But every once in a while, you'll find a high-quality product with a high commission rate. And if you do, it may be worth basing your niche around. It's much better to get high-paying partners than just to promote Amazon products.
There's nothing wrong with building an Amazon affiliate website. However, don't expect to make a lot of money from this unless you're able to get a huge amount of traffic and sales. 
Last year, I sent Amazon more than $1.2 million in sales… and only made $47,310.

So yeah—it's worth looking for a better affiliate program. 
The best affiliate partnerships are made by creating a direct relationship with the brand you want to promote and working out a private deal.
So where do you find great affiliate partners?
Think about the things you already enjoy doing and look at your favorite products or services in those niches. See if any of those products have an existing affiliate program. If not, call a brand to get in touch with its marketing team or even the owner to try and work something out.
You can also find potential affiliate programs by searching for "[your niche] affiliate programs" on Google. You'll often find lists of brands that have an affiliate program, as well as the details of the program.
Lastly, you can check popular affiliate marketing platforms like AvantLink, impact.com, ShareASale, and many more.
Ready to look for a niche? Here are two guides to get you started:
Step 2. Decide on one traffic channel
One of the biggest mistakes I see beginners making (and have made myself) is focusing on creating content for too many traffic channels at once. They make accounts on YouTube, Instagram, TikTok, Facebook, and Pinterest, all while managing their blog—it's too much.
Every single one of these channels takes months or years to learn and build engaged audiences on. And each of them can fill enough time to be a full-time job.
Instead, choose one or two main traffic sources—my favorites are YouTube and Google because they can bring recurring organic traffic—and get really good at them.
Yes, you can have an account on every channel. Sure, you can share your blog posts on them pretty easily. But keep the bulk of your content creation and attention on one channel, then use the others to support that channel.
At Ahrefs, we specialize in search engine optimization (SEO)—that is, creating and optimizing content to appear in search engines. 
Organic traffic from search engines like Google is one of the best ways to get recurring, passive affiliate revenue. It takes time to learn the skills and get to page #1 on Google. But SEO is worth learning in the long run because it brings you traffic every time someone makes a search and finds your content.
One of my sites received over 100,000 visits from Google in a single month without me creating or promoting a single piece of content during the entire month:

YouTube is similar because it's also often used as a search engine, making it another great source of recurring visitors without the need for constantly creating and promoting new content.
Of course, which traffic channel you choose depends on your own preference and the niche you're in. Some niches are much more competitive in search engines than others. 
You can use Ahrefs' free keyword difficulty checker to quickly see if the keywords in your niche are hard to rank for or not. Think of keywords you may search for in the niche and type them in the tool to get more information.
For example, "best vacuum cleaners for pet hair" may be hard to rank for: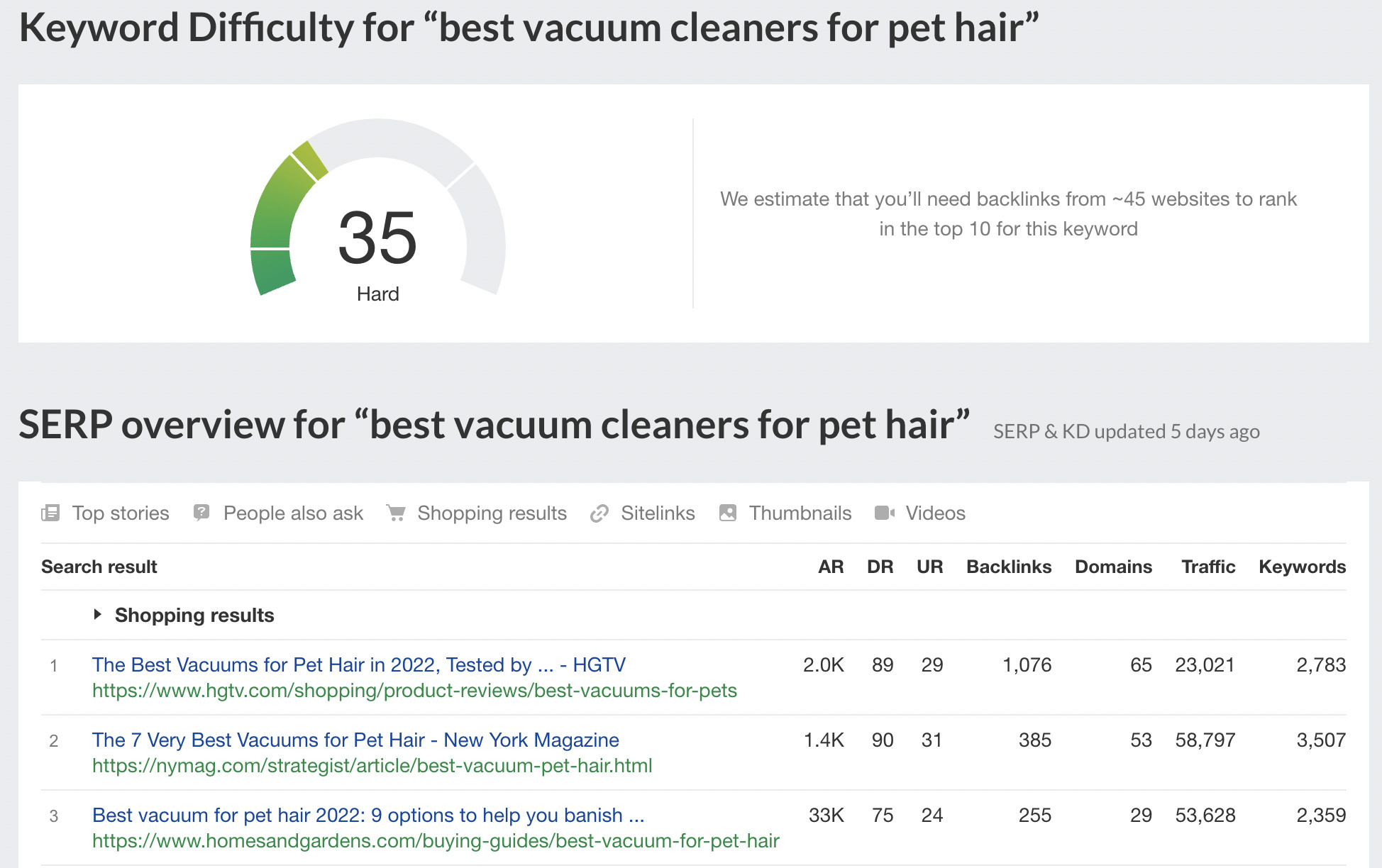 Our tool estimates you'd need backlinks (links to your page from another website) from ~45 websites to rank in the top 10 for this keyword. And you can see some of the competitors are big brands like NYMag and HGTV. 
The Keyword Difficulty (KD) score—35—is on a scale from 0 to 100, with 0 being easy and 100 being extremely difficult. It's on a logarithmic scale, which means it gets exponentially harder to rank for a keyword as the number goes up.
For comparison, the keyword "car vacuum cleaner" has a KD of 27, and we estimate you'd need ~32 backlinks to rank in the top 10.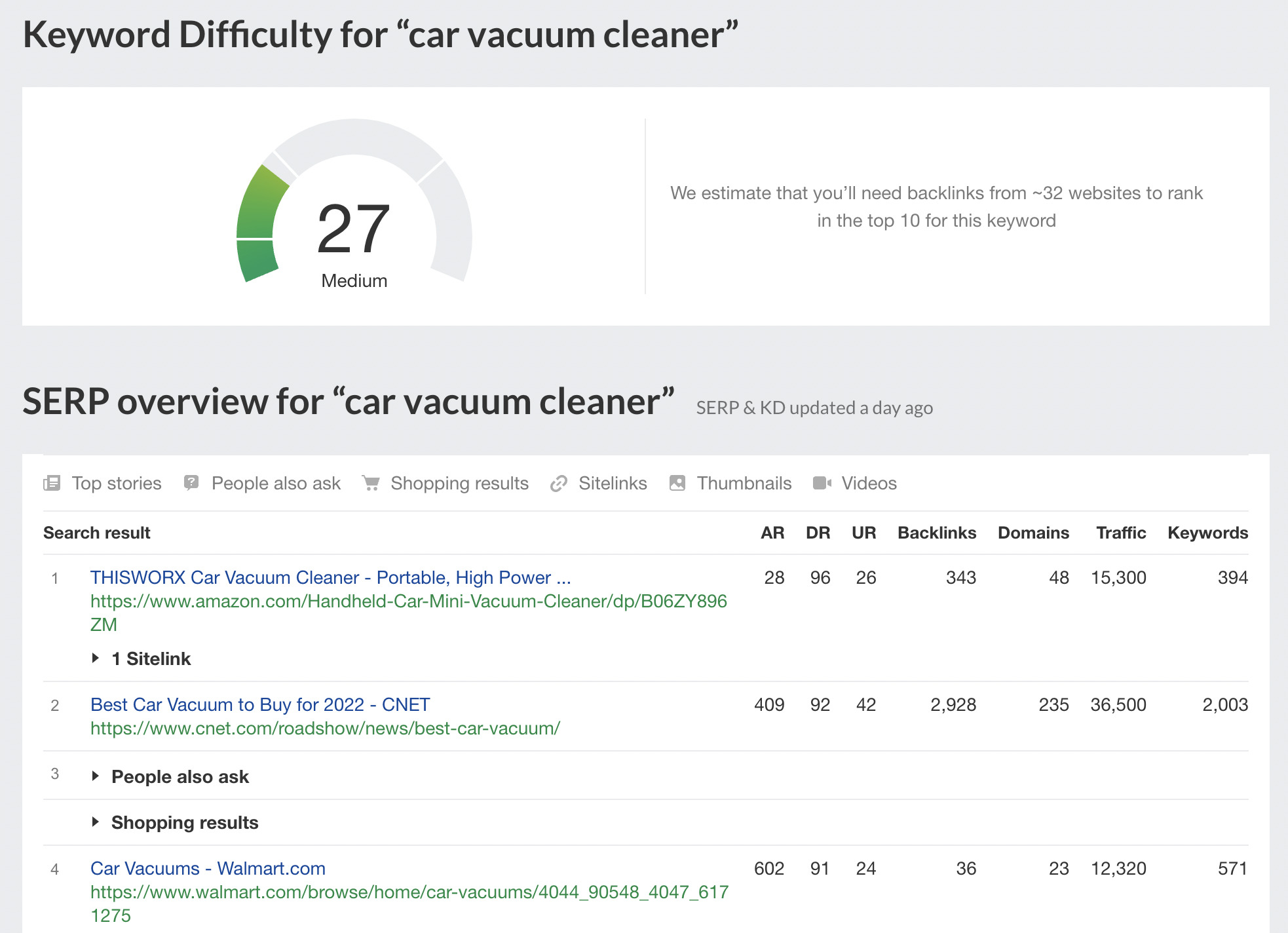 If you find some low- to medium-difficulty keywords, it could be a sign Google is a great traffic source for you. Otherwise, you may want to consider a different traffic source to get started with.
Here are some guides to help you learn about different traffic channels:
Step 3. Create killer content
Regardless of the platform you choose to focus on, you will need one thing to succeed:
Great content.
Your content should be so good, so interesting, so riveting that people are eager to consume and share it. Whether that's videos, pictures, or blog posts, the only way to stand out in this saturated market is to make your content really damn good.
That doesn't necessarily mean you need the highest-quality cameras or the best-looking website. In fact, what makes content great varies, depending on the niche and the platform.
But typically, your content needs to be good at one of two things:
Entertaining
Informing
If you can both inform AND entertain people, you'll do well with affiliate marketing. That can mean excellent storytelling, deep research, or great presentation of information. 
Of course, capturing traffic from Google is going to be very different from Instagram or TikTok. The intention is different—one platform is used for learning, the others for entertaining.
Creating amazing content for Google involves a lot of research:
Then, you need to compile that research in a way that's easy to understand, well written, and optimized for search engines. The goal is to create something that's better than what's already ranking on page #1 for your target keyword.
For example, a good article for Google may look something like this, which ranks #1 for "rv accessories":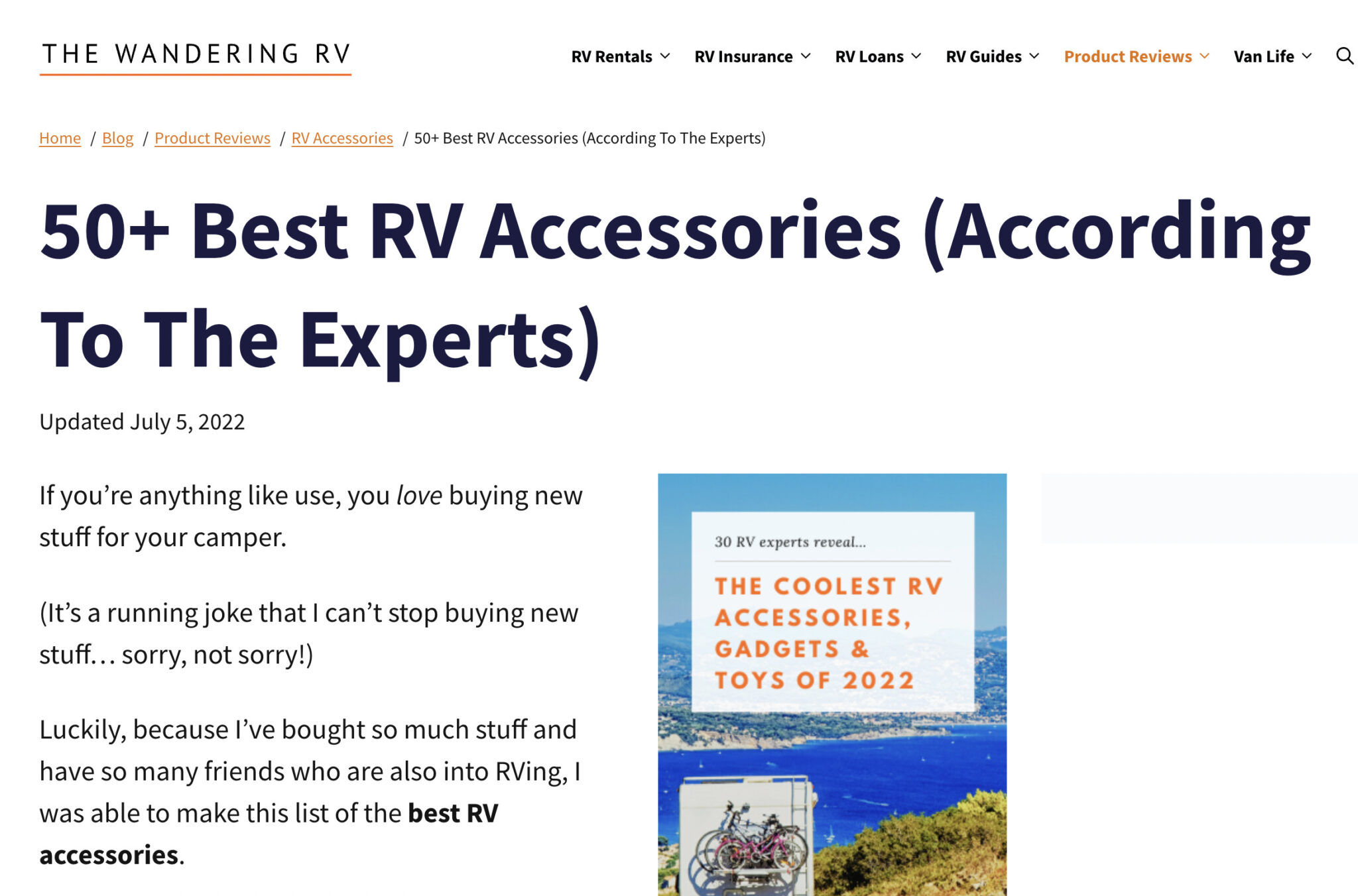 As you scroll down the article, you see recommended boxes that share product information quickly and easily; also, the products are recommended by people who have actually used them.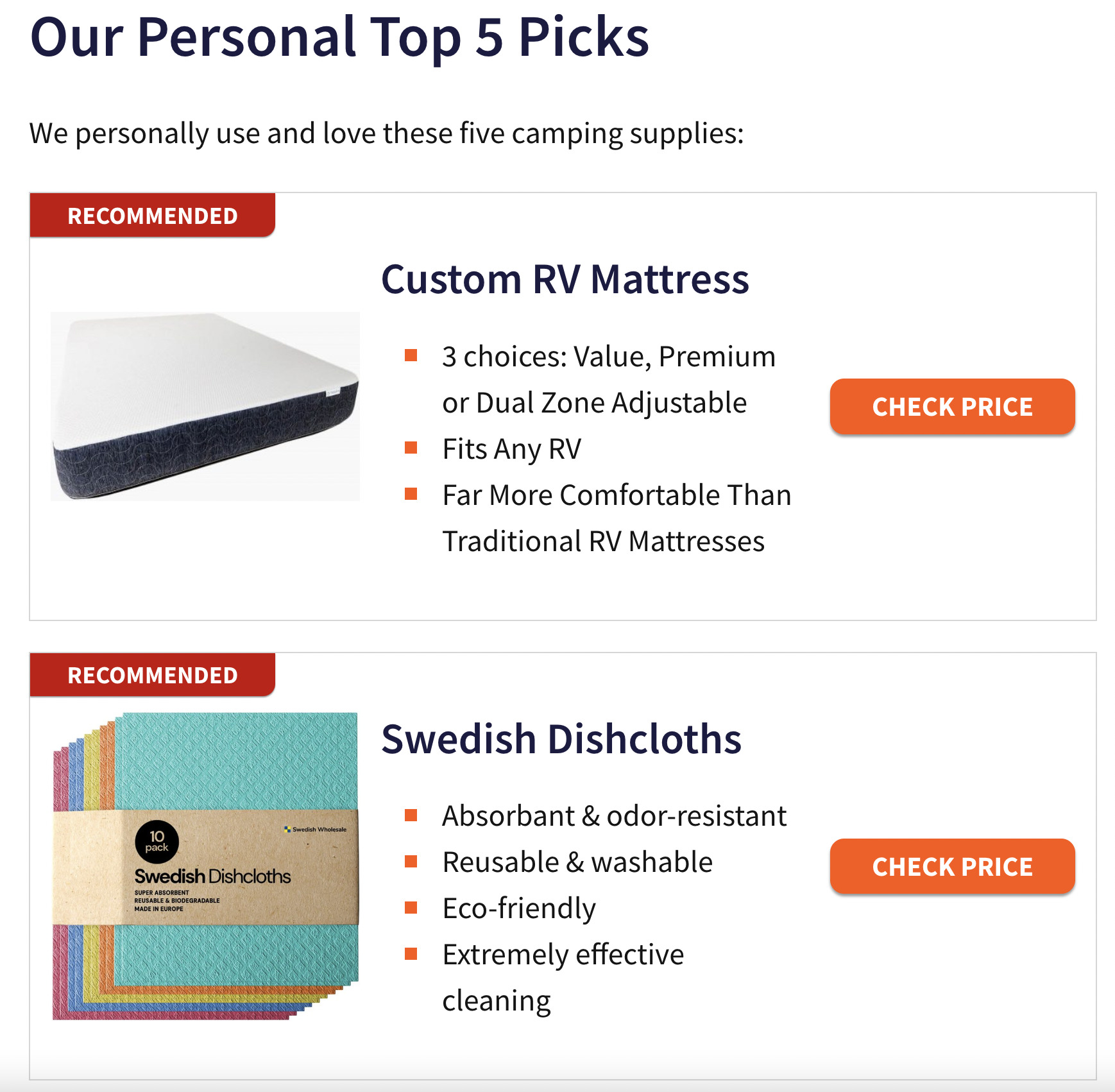 The goal with social media is still the same—to create something that's better than what's already out there—but it's done in a different way.
Instead of presenting the best research in the easiest-to-digest way, it's often about creativity, storytelling, and unique perspectives.
That can mean a low-quality, handheld video of yourself being real in a moment when life is super difficult. Or it can mean crisp, edited films with drone footage, awesome angles, and sound design.
For example, here's a video I posted on TikTok that blew up and received over 1.7 million views:
Social media is a different beast—people want to be entertained, not just fed information.
This is why it's hard to define what "great content" means for social media. But generally, it comes down to being good at informing and entertaining. If you can nail those skills, the rest will fall into place.
Here are a few guides to help you create better content:
Step 4. Promote like crazy
Remember how I said to focus on one channel for traffic?
What I really mean by that is to focus on creating content for only one channel—you can still utilize other channels to boost that content.
For example, if you decide to focus on SEO or YouTube, you can still share your content on Facebook and Pinterest even without a large following.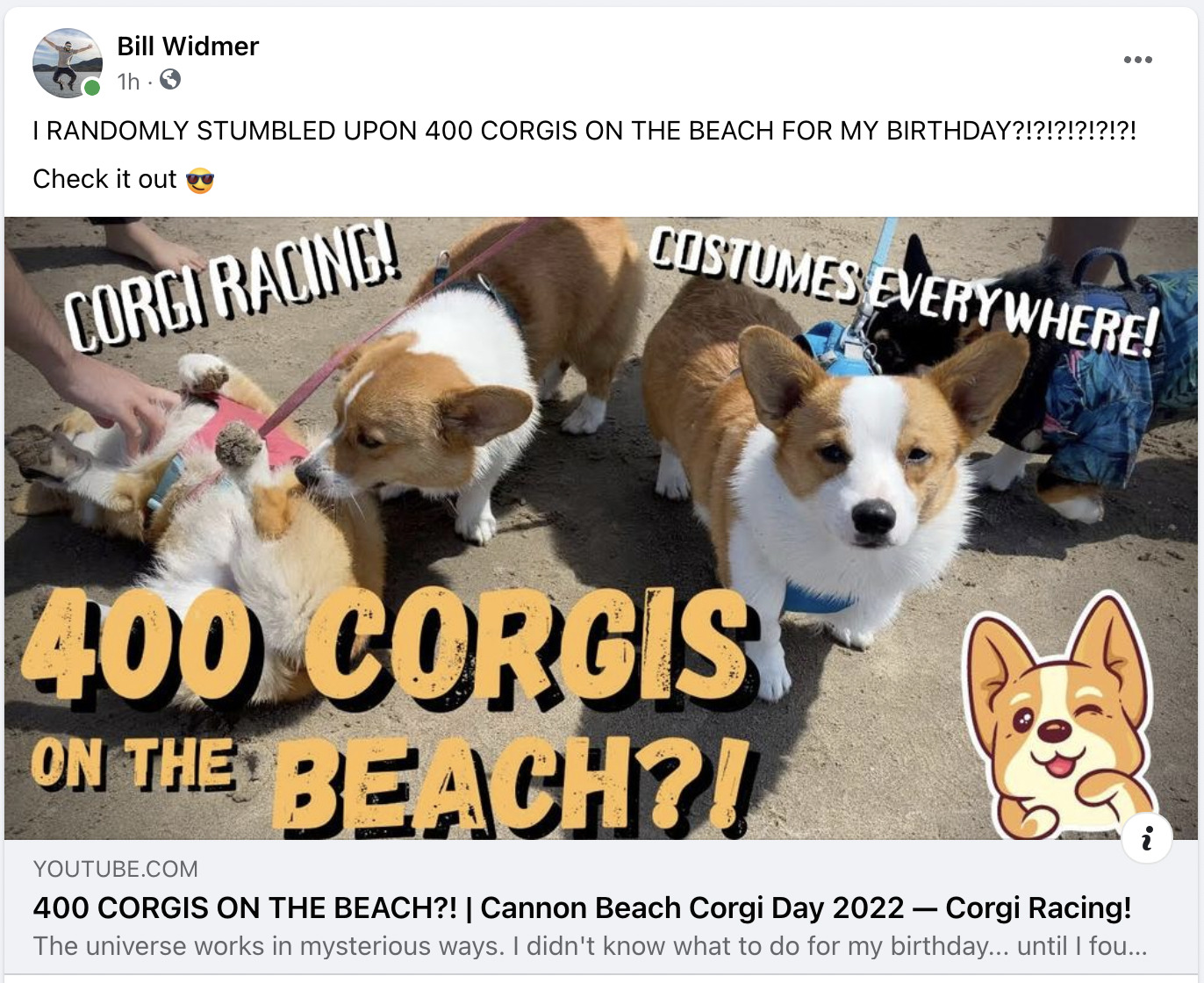 That doesn't mean you have to dive deep into Facebook and Pinterest groups and spend hours every day on social media to grow your audience—just look at it as a small piece of a larger strategy. Share it and move on.
Other things you can do to promote your content without spending money include:
Engaging with others on forums.
Building relationships with others in your niche and similar niches.
Commenting on other people's videos and content.
Doing cold email outreach.
And more.
Check out our complete guide to content promotion to learn how to get eyeballs on your content.
Step 5. Scale it up
Once you find a traffic channel that works, you can work to scale up your efforts. Double down on the content and promotion methods that are working and cut the ones that aren't.
At this point, you can look into hiring a writer, video editor, or social media manager to help you maximize your time.
Places like UpWork and Fiverr can help you find an assistant for a relatively low cost. It may take multiple hires to find the right person. But once you do, they'll save you time, making the hiring process worthwhile.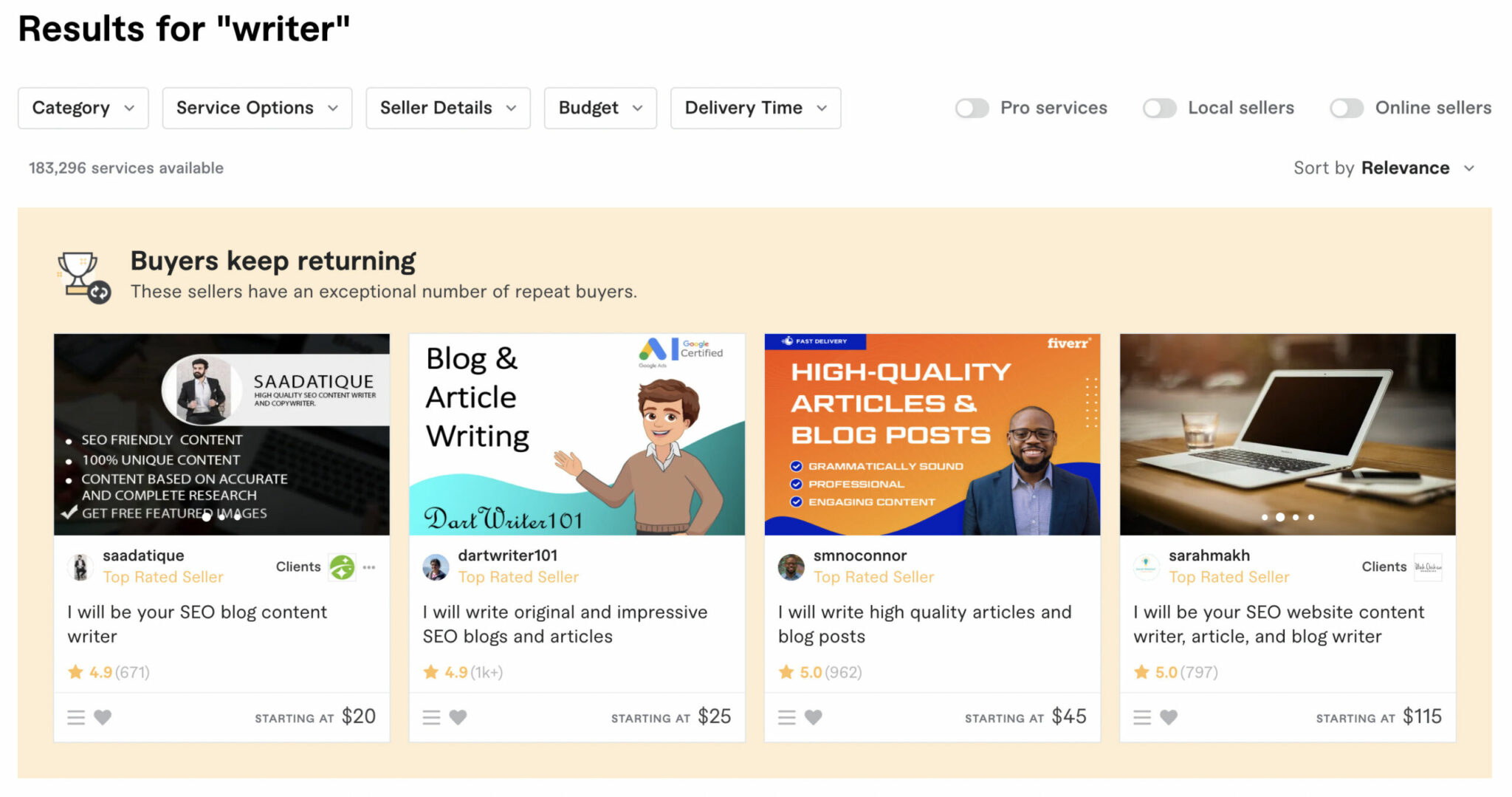 To have the best possible chances at landing a high-quality worker, only choose people with good reviews. 
Don't just look at a five-star review average and assume they're good, though. Read a few of the recent reviews to make sure they're not fake purchased reviews.
And there you have it—the five steps to start affiliate marketing with basically no money.
Final thoughts
Starting an affiliate marketing business with no money is possible, but it does have a big learning curve and requires being scrappy and thinking outside the box.
With enough determination, you can create a business that earns passive revenue while you spend your time on hobbies, relaxing, with family, or doing whatever you want to do.
It requires a lot of learning and work, but it's worth it. If you have questions or want to get in touch, feel free to ping me on Instagram.
If you're ready to learn more about affiliate marketing and SEO, check out these other guides: