If you want to publish more blog content, you need to create solid content briefs.
Content briefs are simple documents that tell a writer… what to write about. They provide the information and context writers need to understand the goal of each article, ensure they cover all the key points, and turn in an A-grade draft with minimal hassle.
A good content brief should be simple. It should cover the essential information a writer needs without drowning them in SEO jargon or taking away their freedom to write in the way they think best.
Briefs should also be brief—they are not
1. Write a working title
Every content brief should start with a working title for your article.
This doesn't need to be a perfect, polished title. The goal of your working title is not to earn clicks or pique the reader's interest—it's to help the writer write. Keep it simple, and communicate the core idea of your article.
Examples:
How to create a content brief
Sharing our experience attending BrightonSEO
Why cloud architecture is overhyped
Keyword clustering using Ahrefs
If you're creating SEO content, your working title should reflect the primary intent of your target keyword. In other words, it needs to give searchers what they want: whether that's a how to, a list of tools, or a set of templates.
You can check the intent of your keywords with a quick Google search, but if you'd like to see the results for different countries (and make sure the results aren't being personalised to you), you can check intent in Ahrefs.
Enter your target keyword into Keywords Explorer and scroll down to the SERP overview box. You'll be able to see the titles of the top-ranking articles for that keyword.
Here's the SERP overview for the keyword content brief: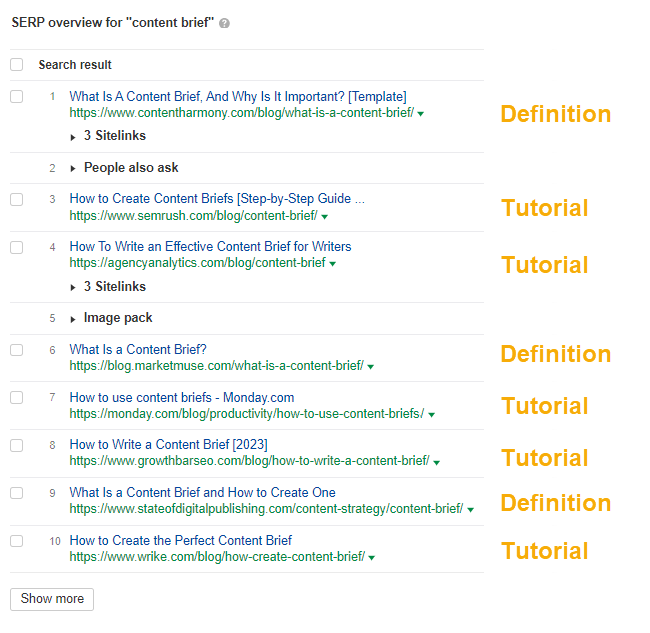 Pay special attention to the formats used by the top-ranking content. If they all take similar angles (like, in this example, "how to"), there's a good chance searchers are satisfied by it.
(Although that shouldn't stop you from using your best judgment and finding ways to stand out from your competitors—more on that below.)
There's a reason you want this article written (otherwise, why spend time and money creating it?). 
Share your goal with the writer. Help them understand why they're writing something and they'll have a better chance at hitting your goal.
Examples:
Explain how to create an effective content brief.
Document our experience as sponsors of the BrightonSEO conference.
Share our CEO's opinion on cloud architecture.
Teach existing users how to use our new keyword clustering feature for keyword research.
This doesn't need to be a complicated persona document or a deep-dive into the reader's awareness stage and demographic data.
Instead, share details that will help the writer choose the correct language and level of complexity for their article, like:
The audience's experience-level with the topic: are they beginners looking for simple tutorials, or experts looking for advanced tips and tricks?
Their role: are you hoping to reach software engineers or solopreneurs? Junior content marketers or experienced CMOs?
Sometimes the existing search results can help narrow down your audience. If the top-performing articles all include "for beginners" in their title, there's a good chance you should follow suit.
You can help your writer by suggesting important sub-topics to include in the article.
Common sense is a helpful guide: for an article about content briefs, you'd probably want to include a definition and a tutorial for actually creating a content brief.
You can also take a more more data-driven approach to finding sub-topics. I like using Ahrefs for this.
Start by putting your topic into Keywords Explorer, and heading to the Related terms report. Select the Also rank for tab, and you'll see a list of additional keywords that top-ranking articles for your topic commonly rank for: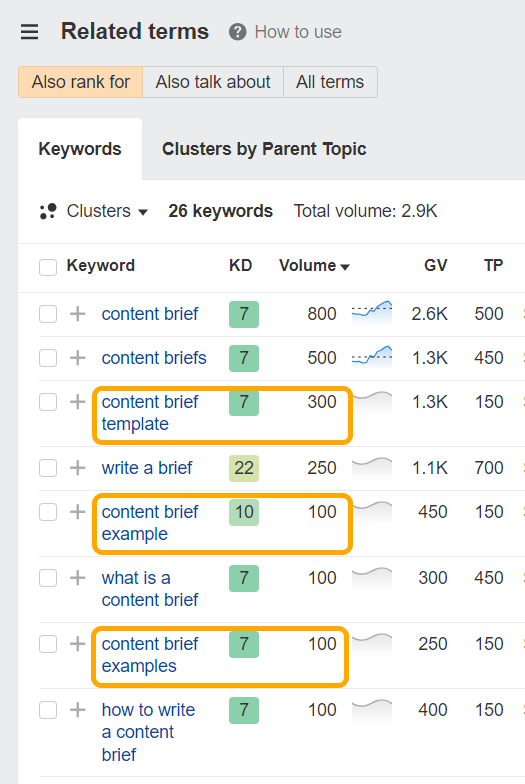 In the example above, we're looking at the keyword content briefs. From the results, it seems that top-performing articles also rank for keywords relating to templates and examples. For this article, the writer might want to include a section about content brief examples.
(Spoiler: we did, check it out below.)
The point of content marketing is help grow a business (otherwise, it's just… writing). With that in mind, use your content brief to suggest relevant opportunities to mention your products.
It can feel salesy when products are shoehorned into articles where they don't belong. Instead, focus on topics where it would be natural to mention your product. This is something we do at Ahrefs (hence the screenshots above).
If your writer isn't already an expert with your products, help them out with by explaining how your product "fits in" to the topic at hand, and recommending product features that would be helpful to mention.
Examples:
We don't offer a content briefing product, but here are three ways our data can help with the process.
We spoke to tons of customers at the conference: here was their top product feedback.
For this section on keyword clustering, it would be worth mentioning the new clustering tool in Keywords Explorer.
We recently moved our hosting from the cloud to on-premises installation.
Virtually every article has to compete for attention with similar articles covering the same topic. To help your article stand out, you can suggest unique information to include—things that competing articles don't cover.
You could recommend experts to interview, or relevant quotes to include. You could include data and statistics to reference. You could even share a few personal experiences and stories that might help the reader understand the topic.
Examples:
Use HARO to find people willing to share their content brief template.
Let's tell the story of how I used keyword clustering to rank for 1200-keywords with one article.
Here's some research about the costs of cloud hosting for you to reference.
Last of all, include any nitty-gritty practical details your writer would find helpful, like:
Article deadline
Useful resources (like your style guide)
Editors or reviewers they should communicate with
Internal links to other related articles on your website
Fill out these details for every article, share your briefs with your writer, and await content goodness to appear in your inbox.
Our content brief template is simple, and a great starting point for most people looking to publish more posts. But there are many situations that might call for more (or less) detail in certain areas, like writing extra-technical content, or creating articles that form part of an ongoing series.
I asked a handful of content leads and agency owners to share their personal content brief templates. Check out the templates below, and download any that you might find helpful.
Draft.dev's technical content template
Creator: Karl Hughes, Draft.dev
Link: Make a copy here
Karl Hughes runs the technical content marketing agency Draft.dev. His briefs contain a huge amount of detail to help a big team of writers cover extremely technical topics.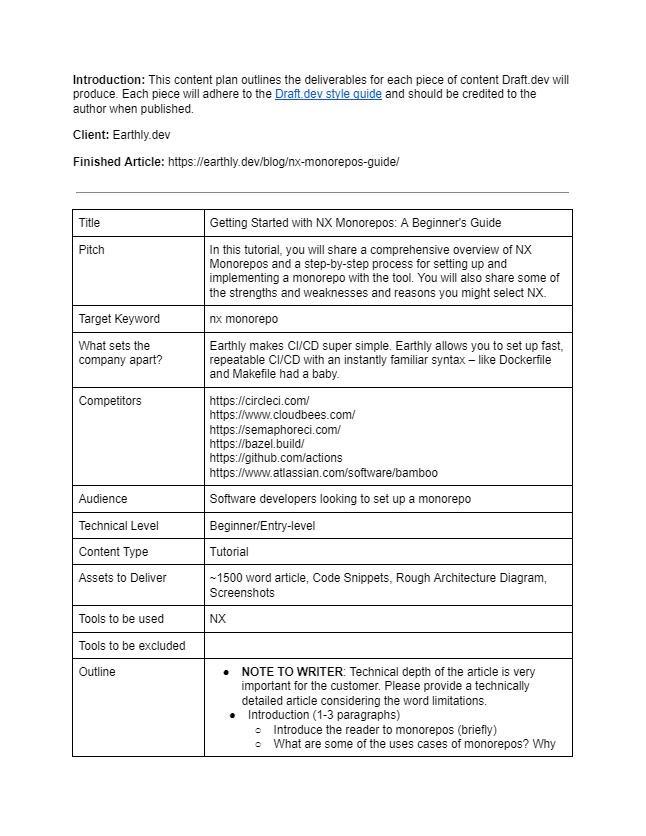 Freshpaint's product-focused content template
Creator: Mark Rogers, Freshpaint
Link: Make a copy here
Mark Rogers is the Director of Content at Freshpaint. His briefs focus on Freshpaint's product: providing a product overview, sharing boilerplate about Freshpaint's HIPAA compliance, and explaining how the product "fits in" to the topic at hand.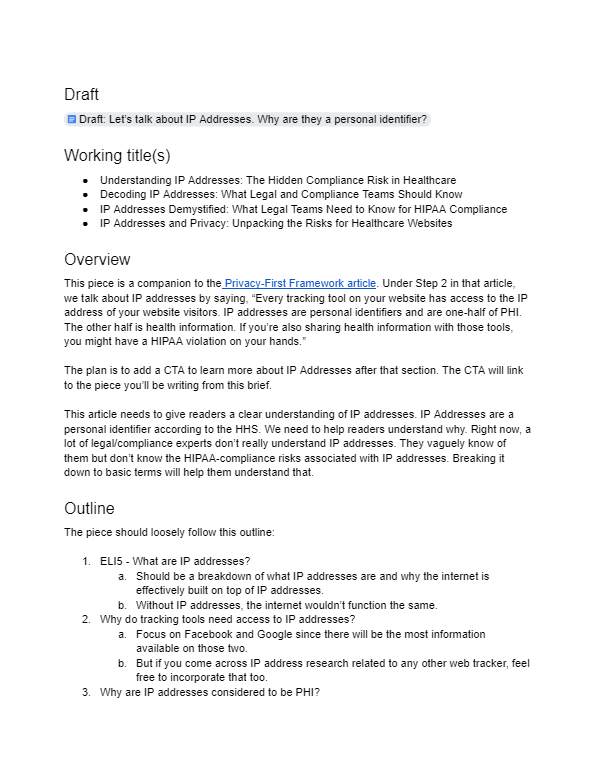 Fio Dossetto's ABCD template
Creator: Fio Dossetto, contentfolks
Link: Make a copy here
Fio is the creator of contentfolks and the head of content at Aura. Her ABCD template shares plain English information across four key areas: audience, brand, context, and details.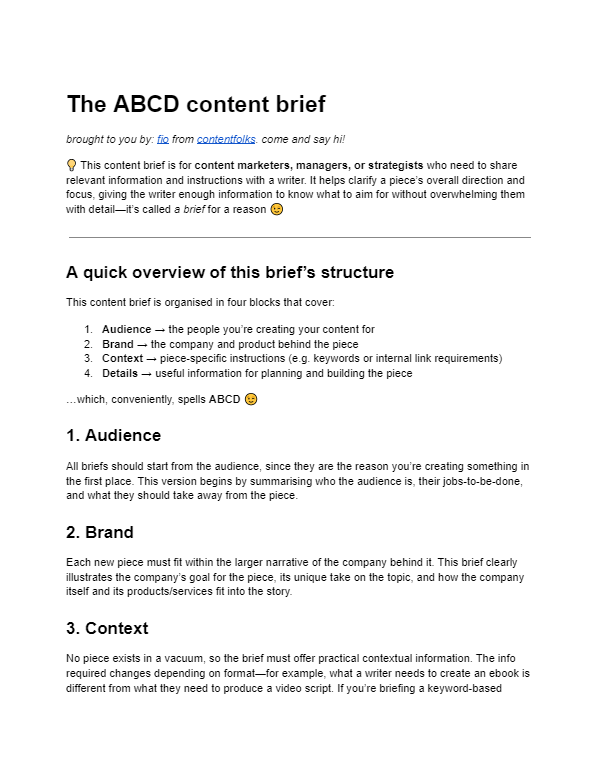 Deel's marketing-focused brief and editing checklist
Creator: Anja Simic, Deel
Link: Make a copy here
Anja Simic's content briefs for HR platform Deel do a great job at connecting each article back to the bigger marketing strategy. The brief helps the writer to reference case studies, awards, and data from recent Deel studies.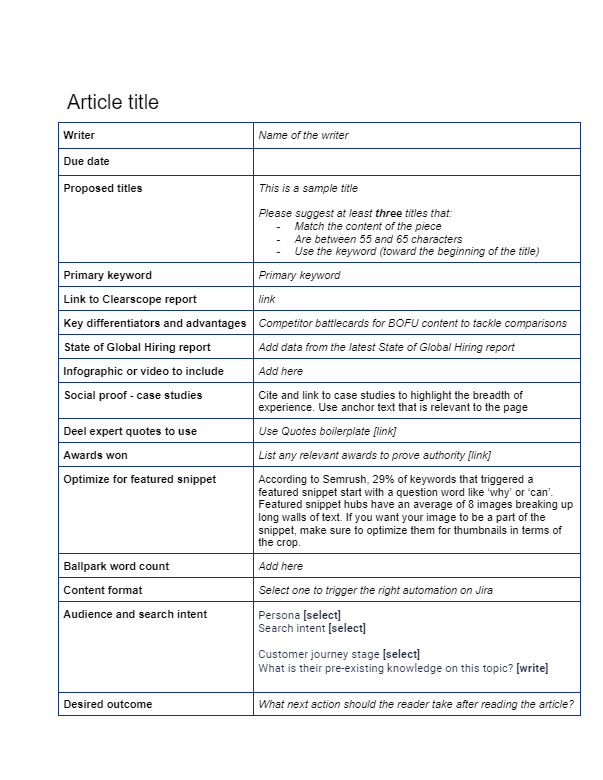 Omniscient Digital's audience, SEO, brand, and conversion template
Creator: Alex Birkett, Omniscient Digital
Link: Make a copy here
Omniscient Digital is a content marketing agency. Their briefs provide room for their strategists to share expert guidance to writers: recommending ways to bring new information to the discussion, mention the customer's products, and generally stand out in the SERPs.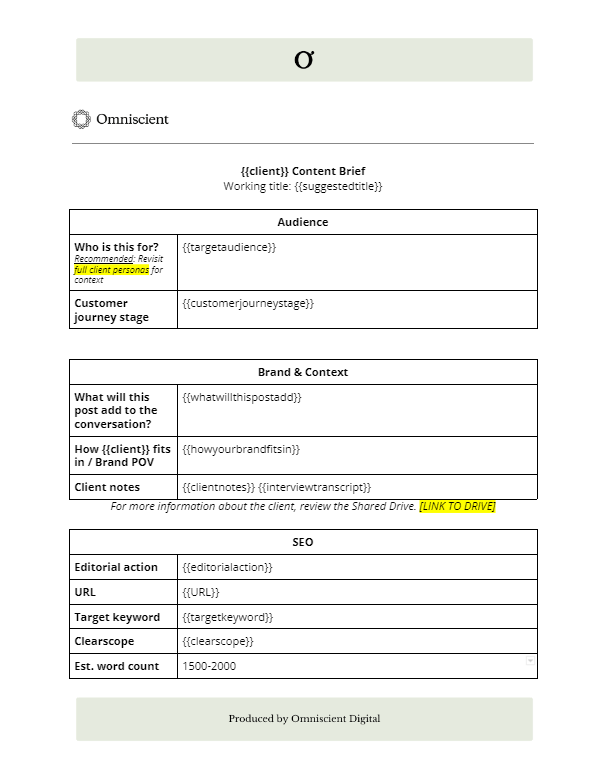 Final thoughts
I've written hundreds of articles and managed dozens of writers over the years. In both cases, problems with inconsistent quality and endless rewrites usually boiled down to one thing: miscommunication.
A content brief is a simple, straightforward way to provide your writers with exactly the information they need to write great articles. It ensures that both you and your writer understand why and how to create every article—removing most miscommunication issues at the source.
How do you build content briefs? Let me know on X or LinkedIn.