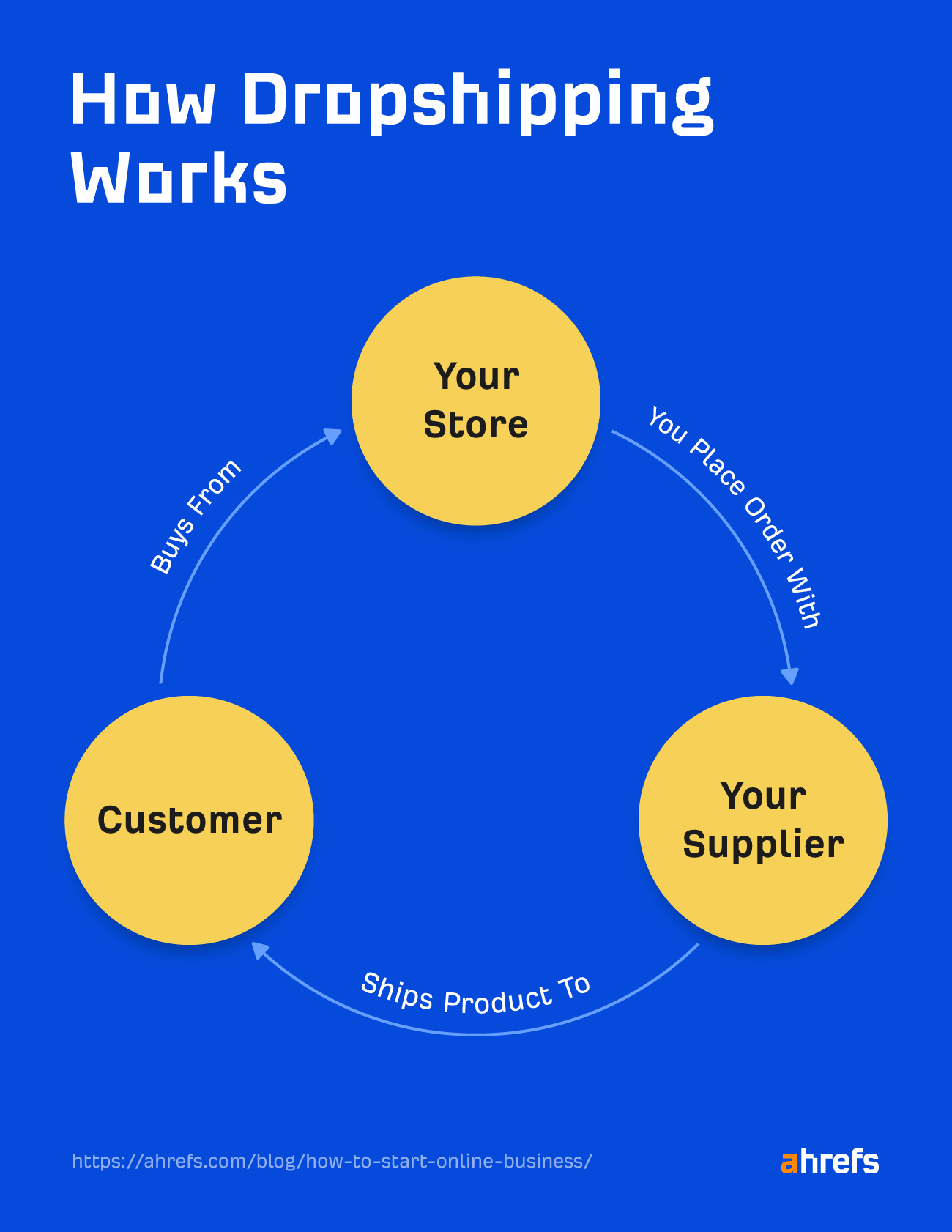 Starting an online business changed the course of my life forever. It allowed me to live my perfect life, travel the world, and set my own hours. It taught me more than my four-year college degree and any job I ever worked.
An online business allows you to take control of your life in a way that nothing else can. It's one of the few ways to create true financial freedom.
But it also comes with its challenges. There's a lot to learn, and it takes time to see the fruits of your labor. I started five different businesses before finally finding one I loved enough to stick with and make it work. Since then, I've built three separate six-figure companies.
It would have never happened if I didn't allow myself to "fail" over and over again to learn what works and what doesn't. Luckily, I already failed plenty, which means you get to learn from my mistakes.
So how do you start an online business? And how do you grow it to become your primary income source? Here are the nine steps to building an online business I've learned in my decade of entrepreneurship.
Steps #2 and #3 can be done interchangeably. You may find you want to stick to a certain niche then figure out how to monetize it later, or you may decide you want to make a course or do a particular type of monetization and figure out the niche later.
Either way, choosing a niche is one of your most important decisions. It can take one to two years of work before you start making significant money from your business, so ensure it's something you'll be OK with talking about for a long time.
Some niches will be more competitive than others. 
A good niche is one that:
Has high-paying affiliate programs or products with a high margin.
Isn't too competitive.
Has a large variety of things you can talk about.
Is interesting enough to keep you working on it for a long time.
Personally, I only work in niches that I am interested in learning about myself. Even if I don't know a lot about something, if I'm at least curious about it, I will be able to stick to it. I've tried working in niches I don't care about, and it doesn't work for me. You may be different.
To come up with niche ideas, answer the following questions:
What do I know a lot about?
What am I curious about?
What do other people tell me I'm good at?
The answers can help guide you into a niche. Alternatively, you can just pick something random and try it. I did that for a few of my own businesses—I just had a random idea one day and went for it. In the worst-case scenario, you learn a lot and figure out what you don't like.
Another way to come up with niche ideas is by looking at affiliate programs, then choosing one based on high-paying affiliate partners. From there, you can either build an affiliate site or build your own competing business with that affiliate. If the affiliate program pays well, the business likely makes a good profit margin on its products.
For example, if you head to AvantLink's merchant list (you have to make an account to see it), you can browse affiliate programs in any niche and sort them by things like commission, category, conversion rate, and more.

I like to sort the list by commission rate (high to low) and go from there. But you can also continue to step #4 if you can't decide because doing keyword research will help you find more opportunities.
As you develop ideas for a niche, it's crucial to figure out how difficult it will be to break into it and where people in that niche are spending their time.
I always start with keyword research because it shows me the potential of the niche and the kind of content I'll have to create to compete in that niche.
It starts with "seed keywords." These are broad, generic keywords that cover the biggest topics in a niche. 
For example, if you're interested in the coffee niche, some seed keywords may be:
coffee
cappuccino
french press
nespresso
Etc
Use these keywords to find the big competitors in your niche that most closely represent your own website or the one you're trying to make. If the results are too different from a niche website, you'll need to get a little less broad.
For example, if I Google "coffee," I see sites like Starbucks, Wikipedia, Peets, etc. Obviously, these giant brands are not my competition.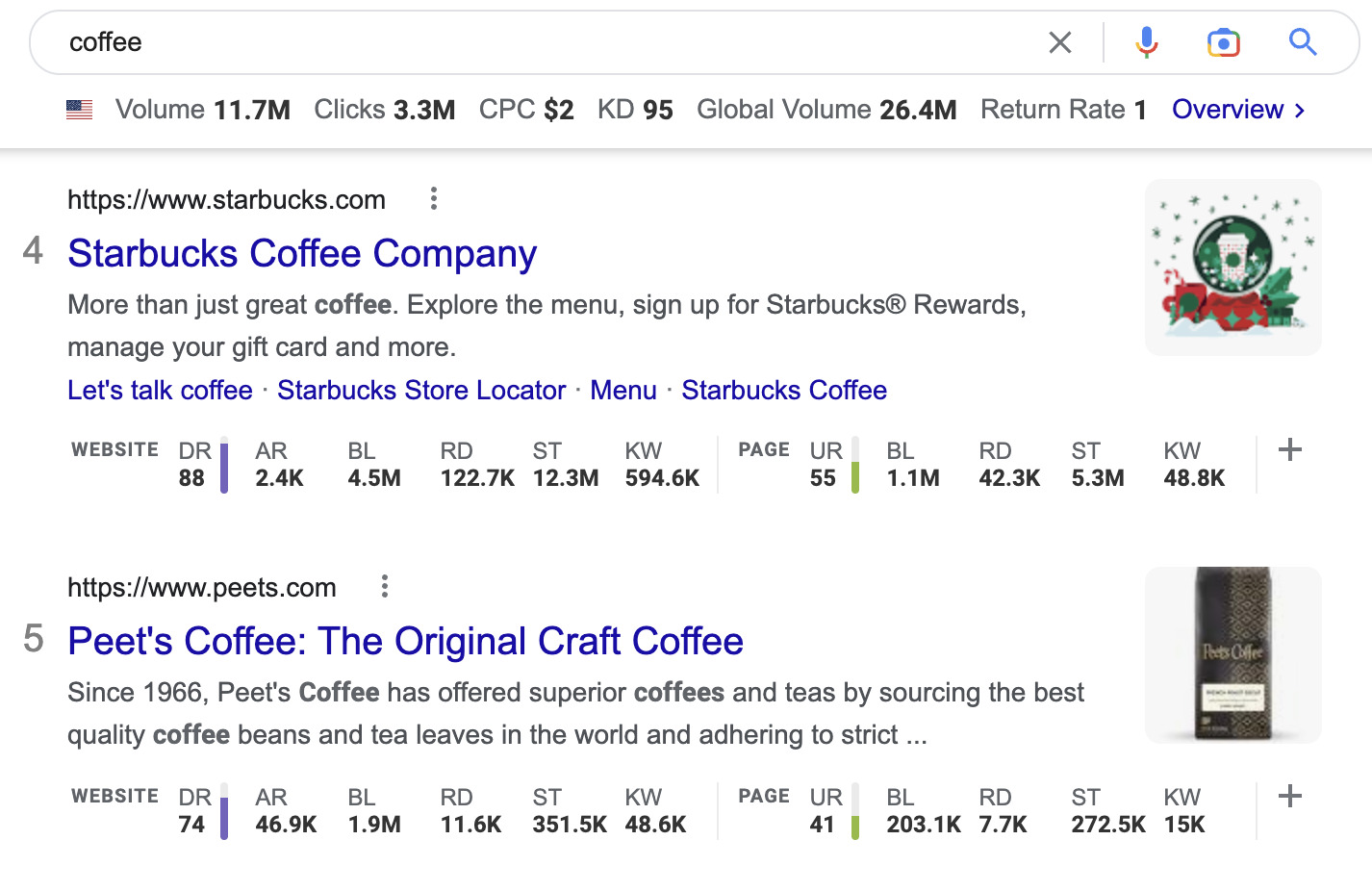 Instead, let's try something a little more niche, such as "how to use a french press." Here, we find a website called homegrounds.co.

This site is closer to an affiliate marketing site, which is what I'm looking for. Now, I can plug that website into Ahrefs' Site Explorer and see what other keywords it's ranking for and the page ranking for that keyword.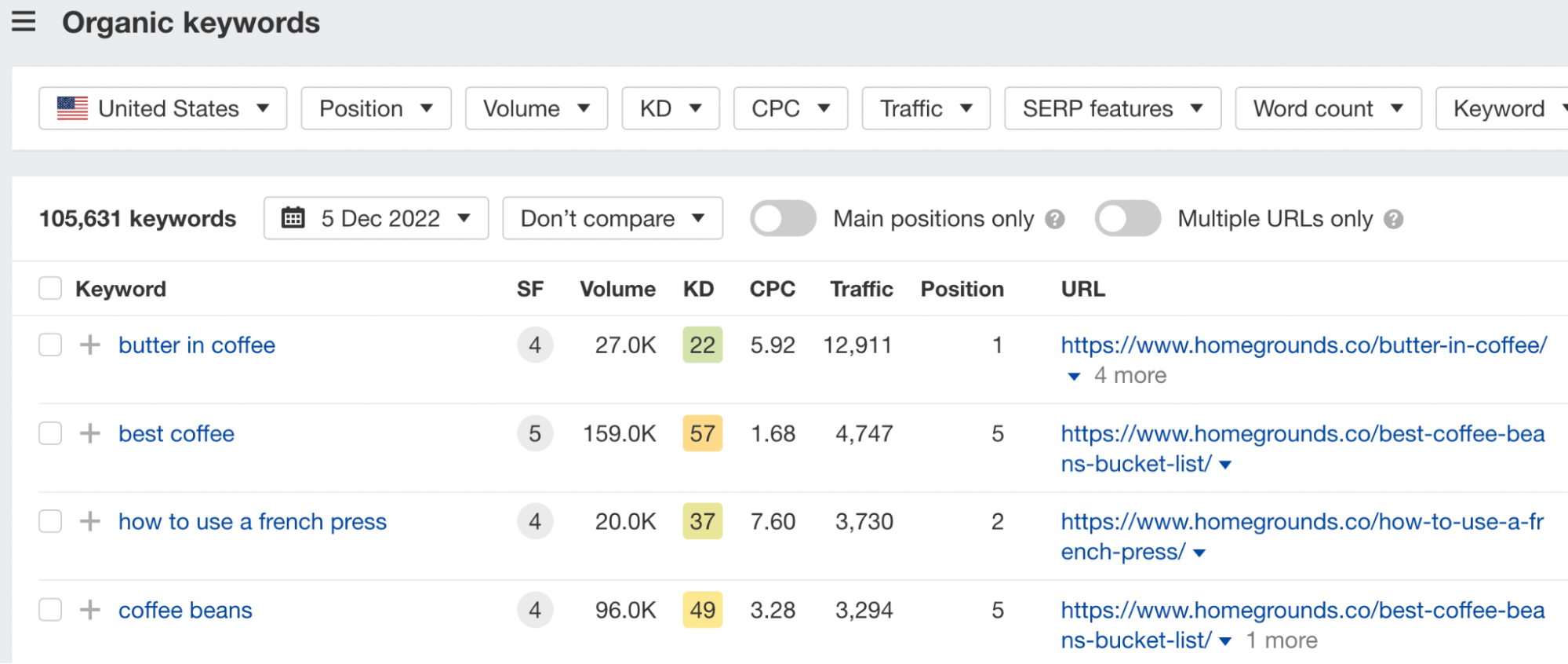 You'll also see how many people search for that keyword per month (volume) and an estimation of how difficult it will be to rank for that keyword on Google (KD or Keyword Difficulty).
By scrolling through these keywords and looking at the potential volume, KD, and what page is ranking for them, we can get an idea of how hard it may be to enter the niche and what kind of traffic we can expect. We can also browse the website to see how it monetizes its content (paid ads, affiliates, products, etc.).
Do this for three to five websites in your niche to better understand how to tackle entering the niche and make money from it. 
In addition to keyword research, you can use a tool like SparkToro to get an idea of where your potential audience spends their time (which social media channels, forums, etc.).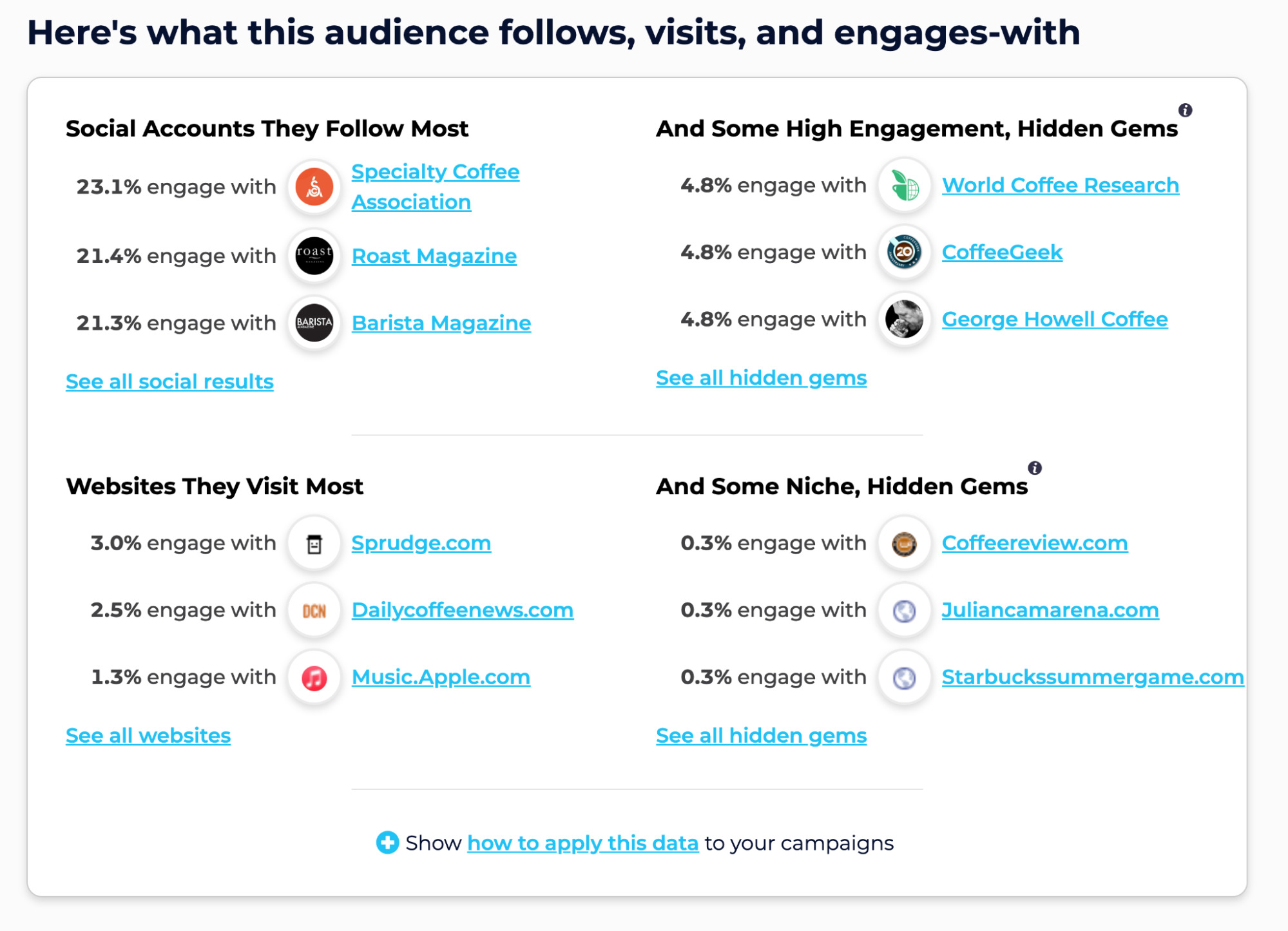 If you like what you see, continue to step #5. If not, continue researching other niches.
The name of your business won't make or break it, but it's still important. Here are some tips for choosing a good business name:
Be clear, not clever – Your name should be easy to understand and spell.
Pick a name that doesn't limit you too much – You may start selling chairs, but you want a name that allows you to expand into selling other furniture or even other things entirely.
Shorter is usually better – This is especially true for an online business where your customers may need to type out your URL and social media handles.
You also need to make sure you're not encroaching on any trademarks or existing business names. If you're in the U.S., you can look up whether a name is available or not on your state's local government website or with a service like LegalZoom.
Once you've decided on a name, it's time to set it up as a legal entity. Note that I'm not a lawyer, this isn't legal advice, and my knowledge is limited to the U.S.
Sidenote.
This step doesn't need to be done right away. You can do it at any point before you actually start earning money. Check out this Business Insider article for more info.
Typically, you can get away with a sole proprietorship to start. This is the bare minimum requirement to do business in the U.S. 
However, once you start making decent money, it's a good idea to upgrade to an LLC (limited liability company) or even eventually a corporation to limit how liable you are in the event of legal action, as well as to benefit from tax savings. 
I recommend talking to a business attorney to help you set this up when you're ready. But don't feel pressured to do it from the beginning; you can worry about it once you're making some money.
Beyond setting up a company, you also need to register your business and obtain any relevant permits. How you do that and if you need permits depend on which state you live in and how you monetize, so I'll leave it up to you to research. Consider calling your local SBA (Small Business Administration) office for advice.
At this point, you should have a business entity set up and be ready to buy your domain name and build your website.
Your domain name will typically be your business name with a top-level domain (TLD) like .com or .co.uk at the end. You can get a name from a service like NameCheap or GoDaddy. Or you can buy one directly from your hosting company if you want to spend a little more but have an easier time setting it up.
Hosting is a service that allows you to "host" your website on the internet. Think of it as digital rent. I use Kinsta or SiteGround for WordPress blog websites, Shopify for e-commerce websites, and Wix for everything else (services and local businesses).
Sidenote.
Shopify and Wix are two-in-one platforms: They are both a content management system (CMS) like WordPress and provide website hosting. This makes them a bit easier to use and set up than WordPress with a separate hosting service.
My preferred method of building websites is with WordPress. If you're planning on doing affiliate marketing or blogging, it's the best option because it's the most flexible.
Keep in mind that WordPress.com and WordPress.org are separate things. I use the .org version, which you must install on your website using your hosting provider. Usually, this is a one-click install. The .com version is a competitor to Wix, but I don't like it personally.
With SiteGround, you just purchase its WordPress hosting plan and it will set it up for you.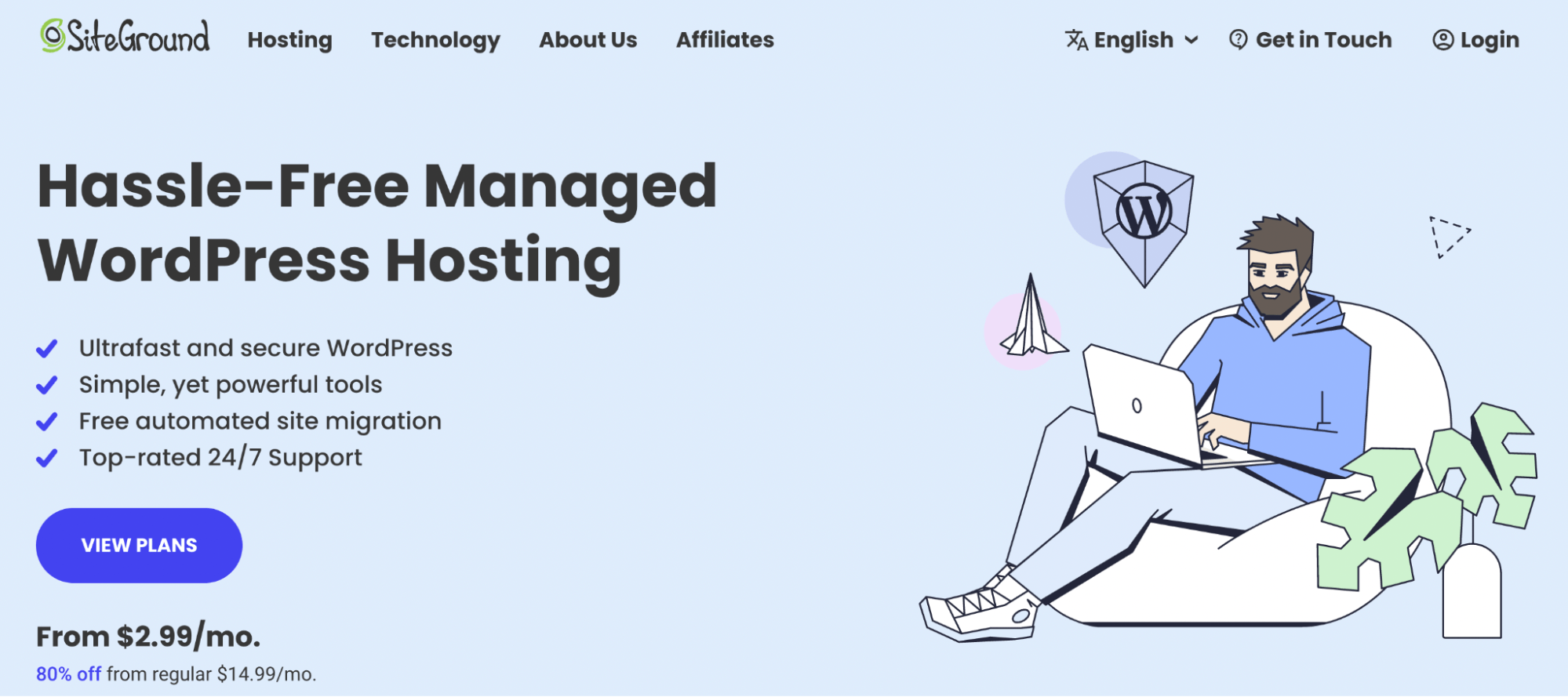 Once the backend is set up and you've finished purchasing your domain name and hosting, you can log in to your website by typing www.yourdomainname.com/wp-admin.
Once you log in, the backend of your website looks like this: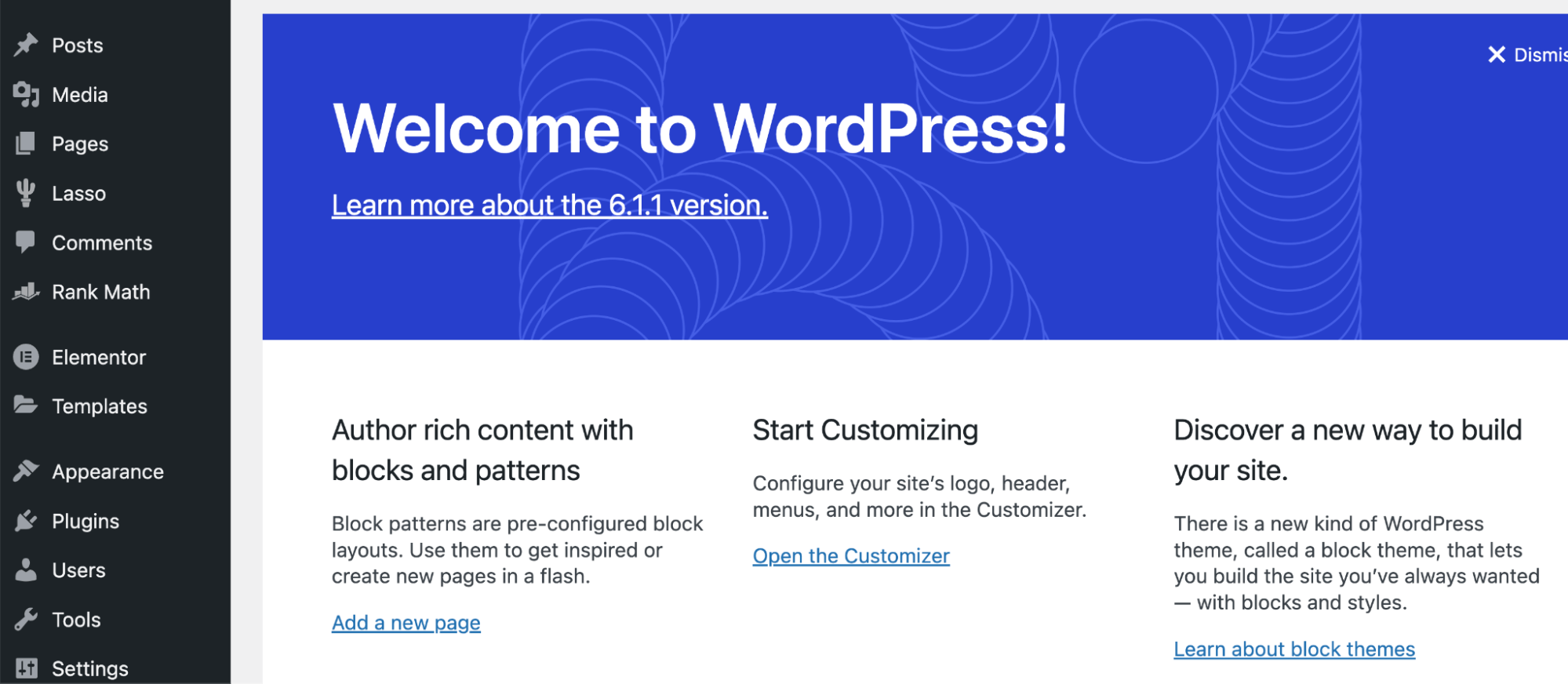 This is where you can manage the appearance of your website via themes and customization, the blog posts and pages on your site, and more.
You'll need to choose a theme to start building the frontend of your site. Most WordPress themes are well optimized these days, but you should focus on picking one that looks good and also loads quickly. Choose one that only has features you will use.
At this point, there's a lot to learn and do to build your site. Rather than going through every single step in this article, here are some guides I will refer you to:
Regardless of the type of business you create, content is king. Publishing blog posts, videos, or podcasts is the best way to promote your business and get sales online.
Therefore, learning how to create and promote valuable content is one of the most important skills you can learn as a digital entrepreneur.
What makes content "valuable" depends on the platform. When it comes to SEO, valuable content means satisfying the search intent of the person using Google to find your content.
But "valuable" content on TikTok may mean your video is entertaining, YouTube may mean your video is informative or visually fascinating, and Facebook may mean your content sparks discussions.
My best advice is to figure out what content does well in whatever medium you're creating content in, then master the fundamentals of that type of content.
For example, I write blog posts with the goal of ranking highly in Google search results. The content I create needs to be informative, helpful, easy to skim, and (when possible) entertaining.
To get better at my craft, I studied writing tips to become a better writer, researched how the Google search algorithm worked so I knew what it was looking for, and constantly pushed to find information I could include that no one else in the search results had.
I also spent well over $100,000 on online courses and mentors to teach me how to be better. It has been a constant game of self-growth and improving my craft.
All of these efforts have resulted in the sale of one of my websites for nearly half a million dollars. I can't show the figures for that site, but I've since started another website I'm working on that is getting over 7,000 visits per month in less than one year as a side hustle: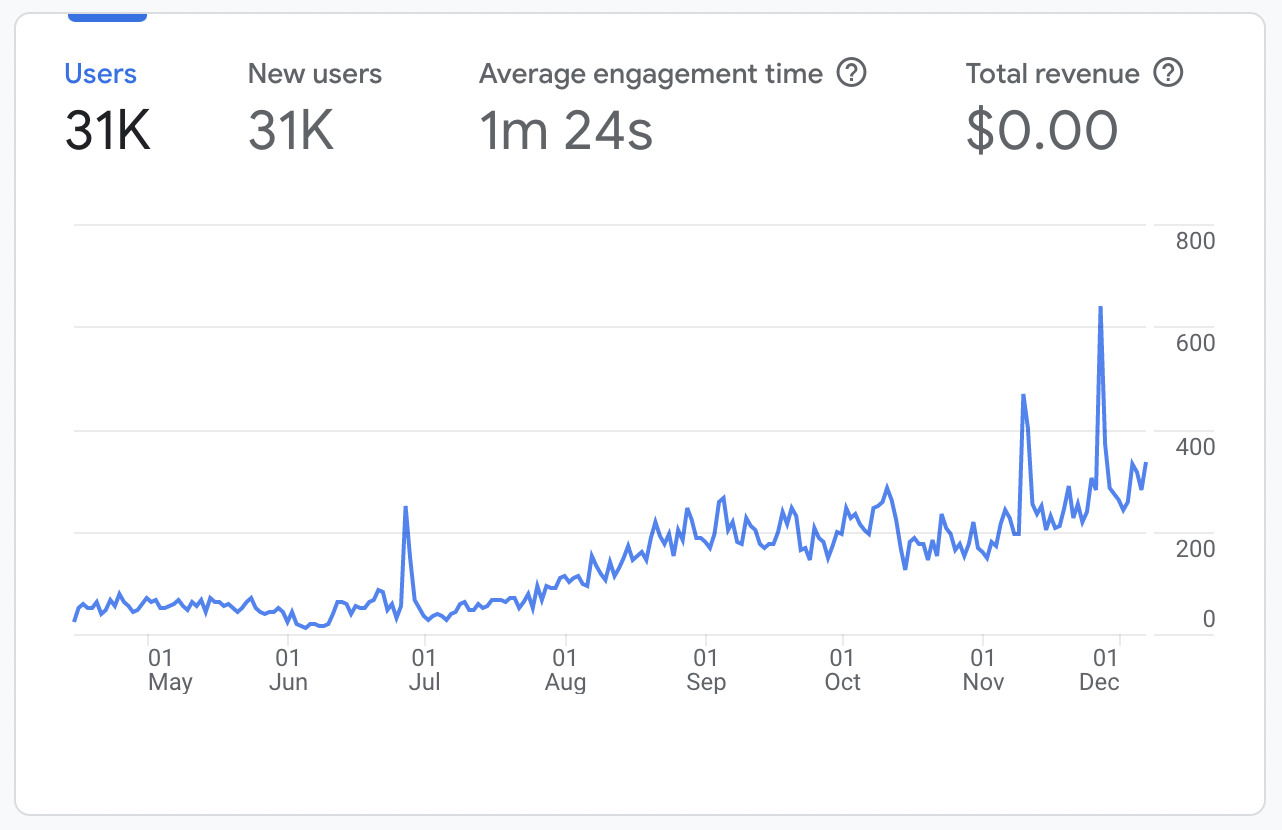 Organic search-focused content is the main traffic generator for many websites; chances are it can be for yours too. It's free, recurring traffic.
That said, you can figure out the type of content to create by studying your competitors and seeing what does well for them, then creating your own version of that content.
For example, say I want to break into the golf niche. I would look at my competitors on Google and social media to see what content they're creating that's working well and how they're promoting it.
If we search for "golfing" on YouTube, we see three different kinds of videos from three different competitors that are each doing well: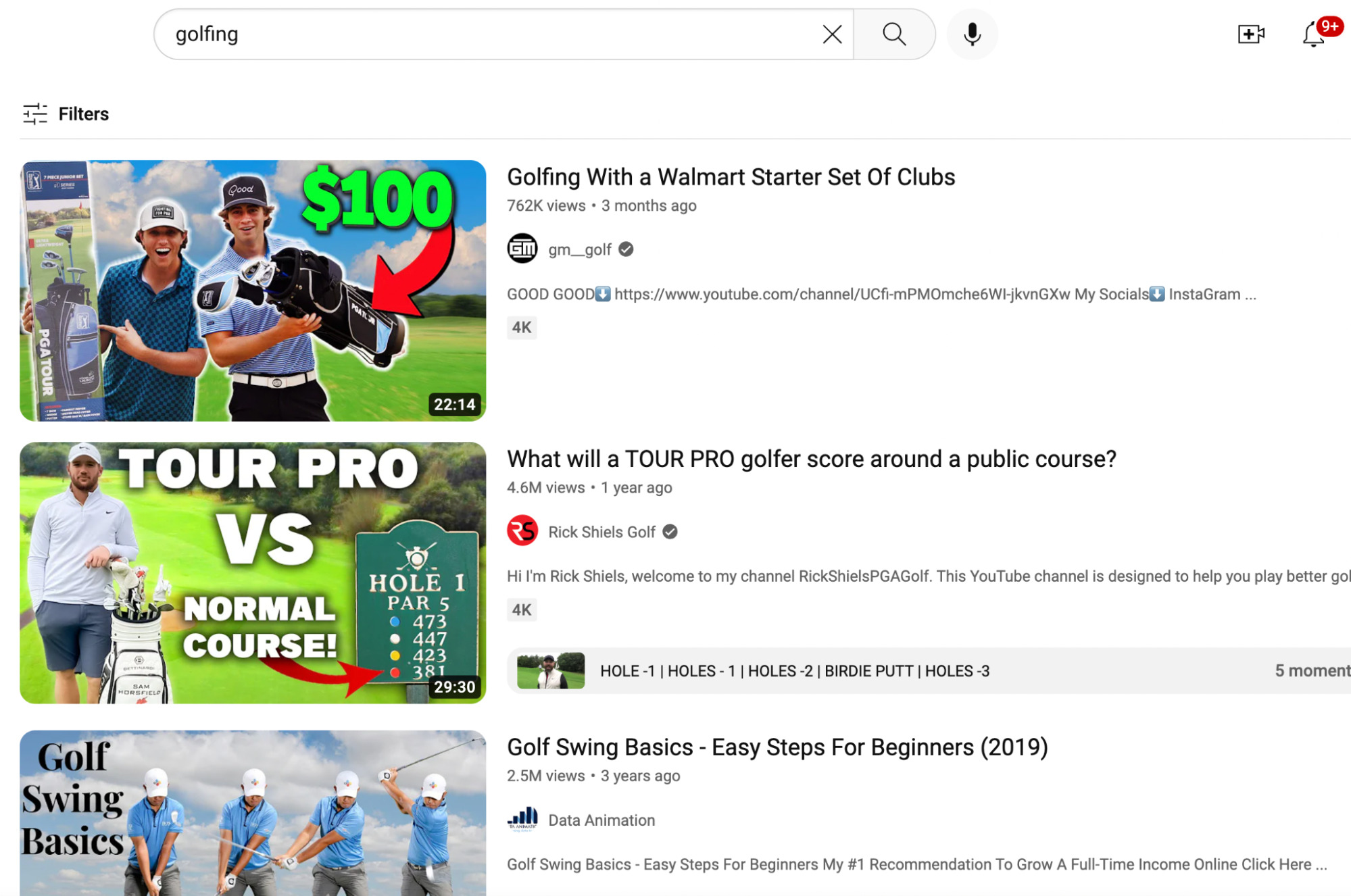 To take it further, we can use Ahrefs' Keywords Explorer to find keyword ideas to rank for on Google and to see what kind of content our competitors are creating.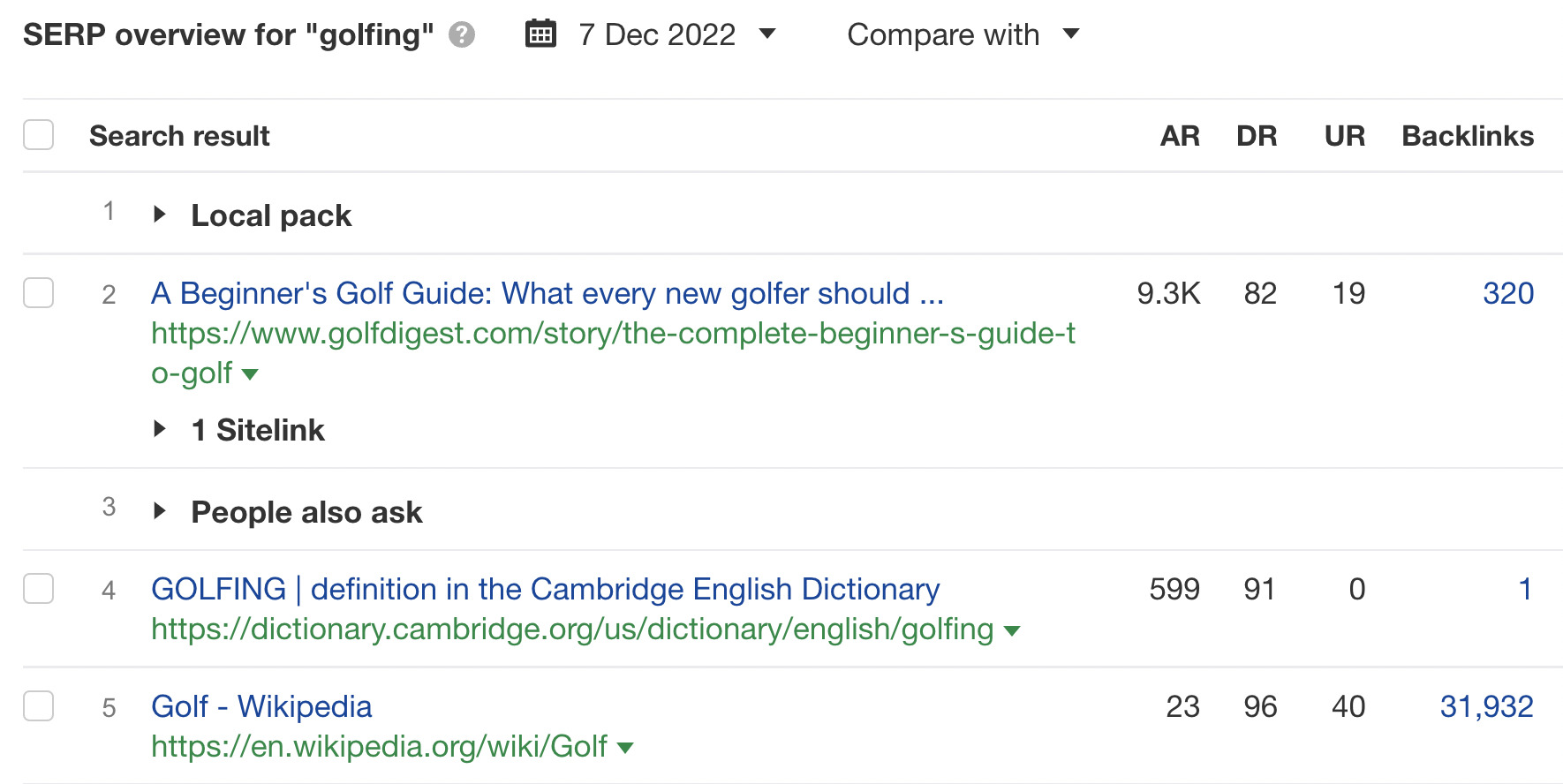 However, these competitors are already well established, and it may take a lot of work to beat them. That's where Ahrefs' Related terms report comes in handy.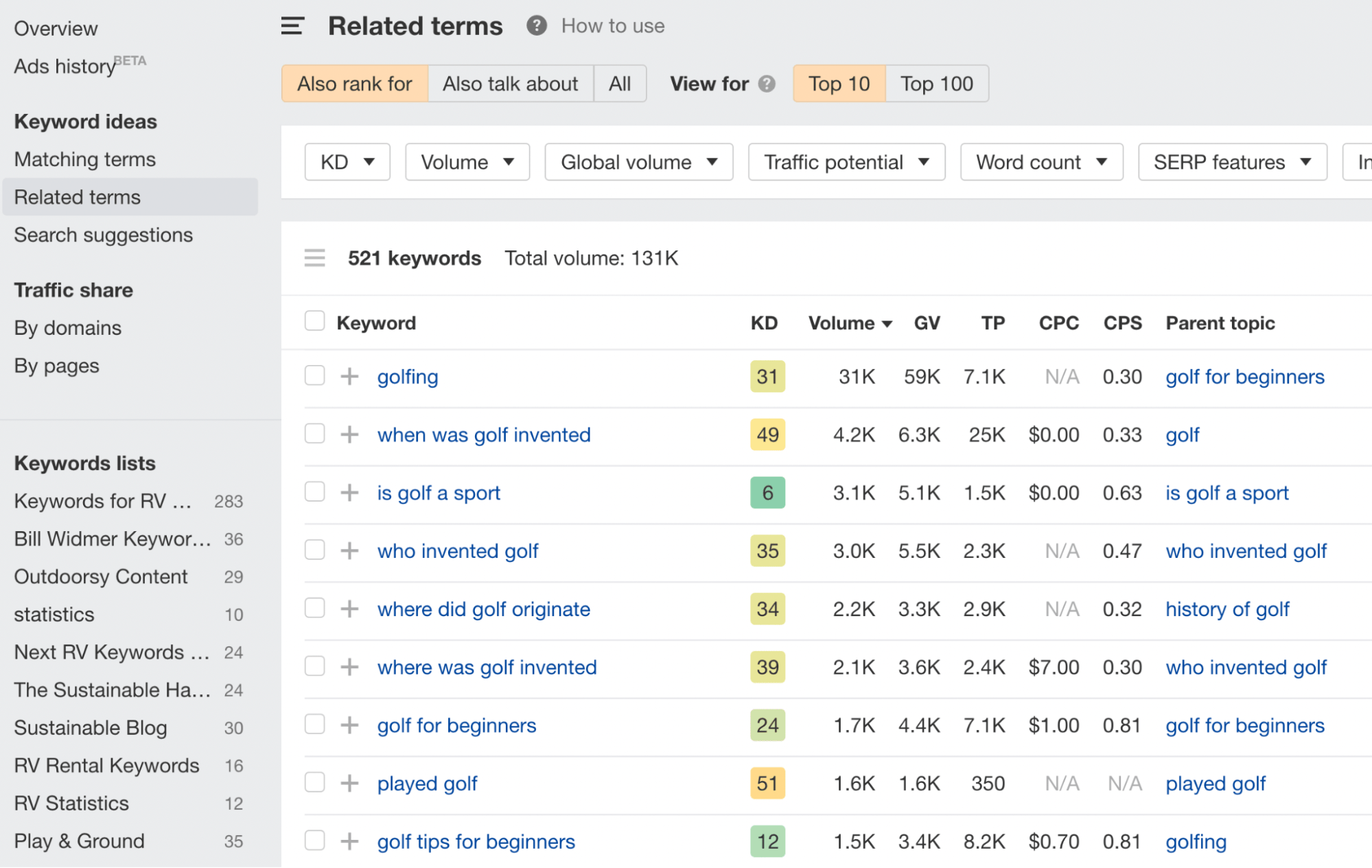 For example, the keyword "golf tips for beginners" only has a KD score of 12, which means it's relatively easy to rank for compared to the keyword "golfing" at 31.
If we look at the SERP overview, we can find competitors who aren't as established, then look at the keywords their website is ranking for.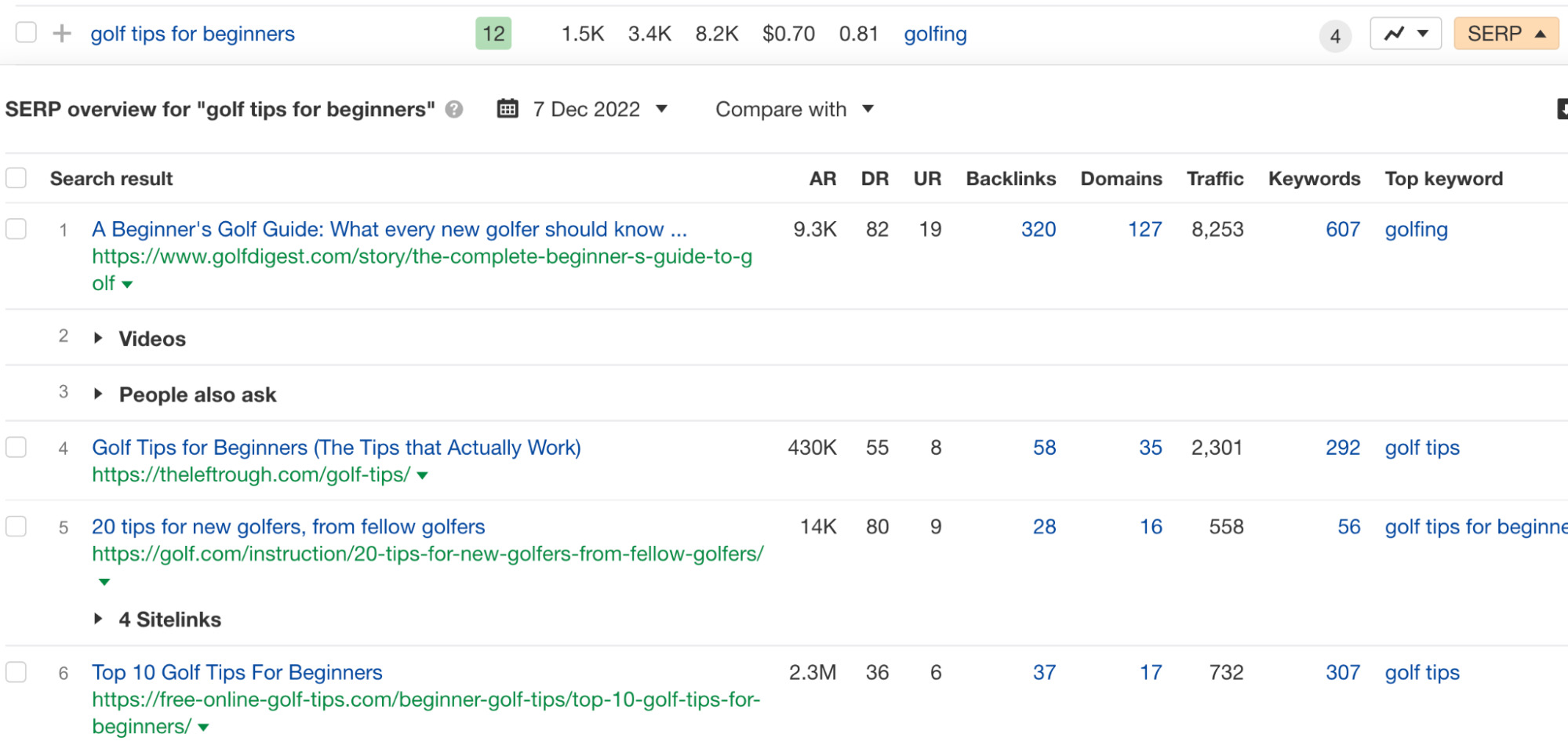 The website free-online-gold-tips.com only has a Domain Rating (DR) of 36. This means that compared to bigger competitors like Golf Digest, with a DR of 82, it is relatively new to the game. The fact that it's ranking for this keyword means it's not as competitive.
If we look at its website in Ahrefs' Site Explorer, we can see other keywords it's ranking for that aren't as competitive, as well as the content it wrote that's ranking.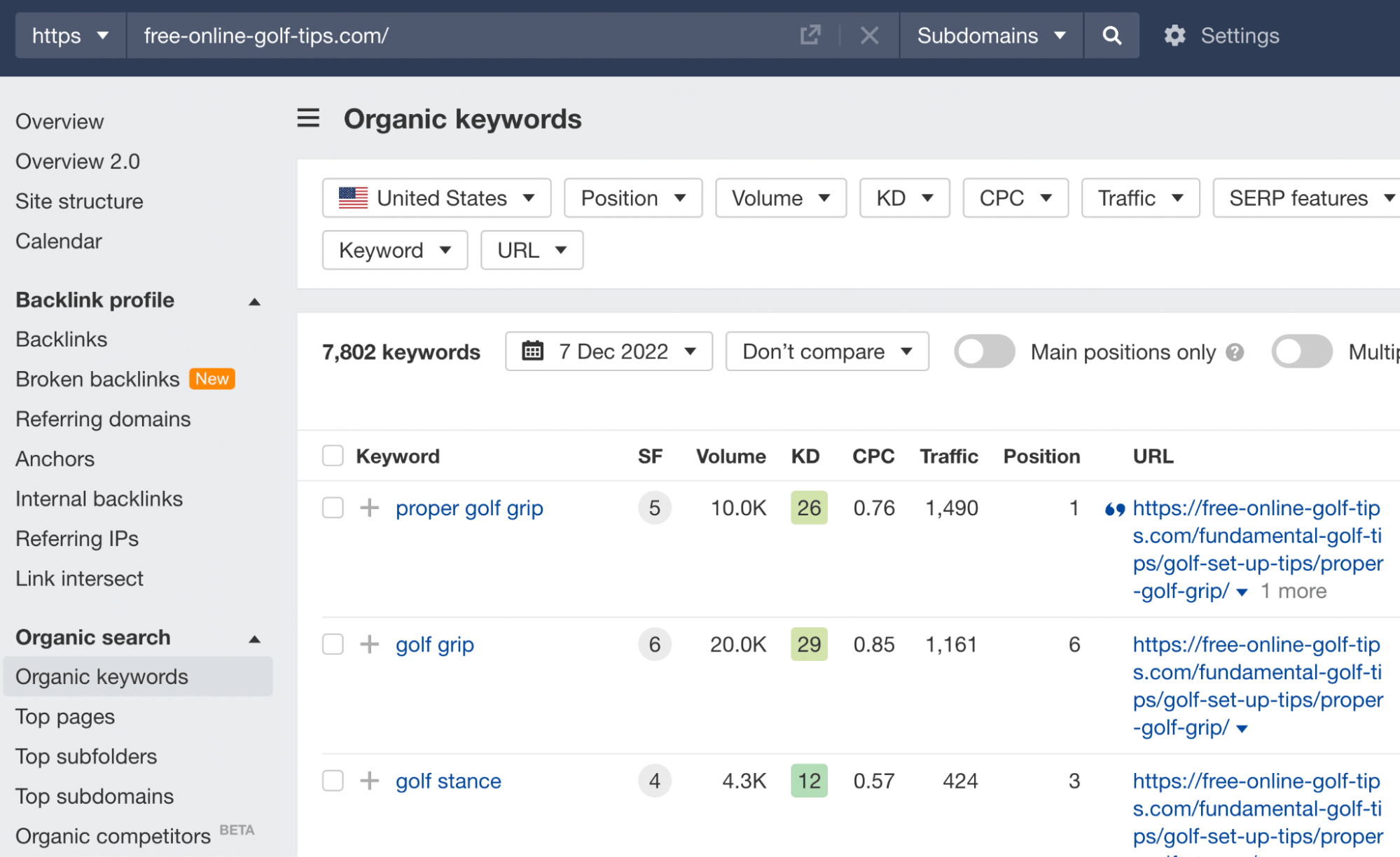 Doing this can help you decide what type of content to create. Making your content better is another story—here are some other guides to help you with that:
Once you've created the content, it's also important to learn how to promote it so it can actually be seen and give you an ROI in the short term. Basically, your goal is this: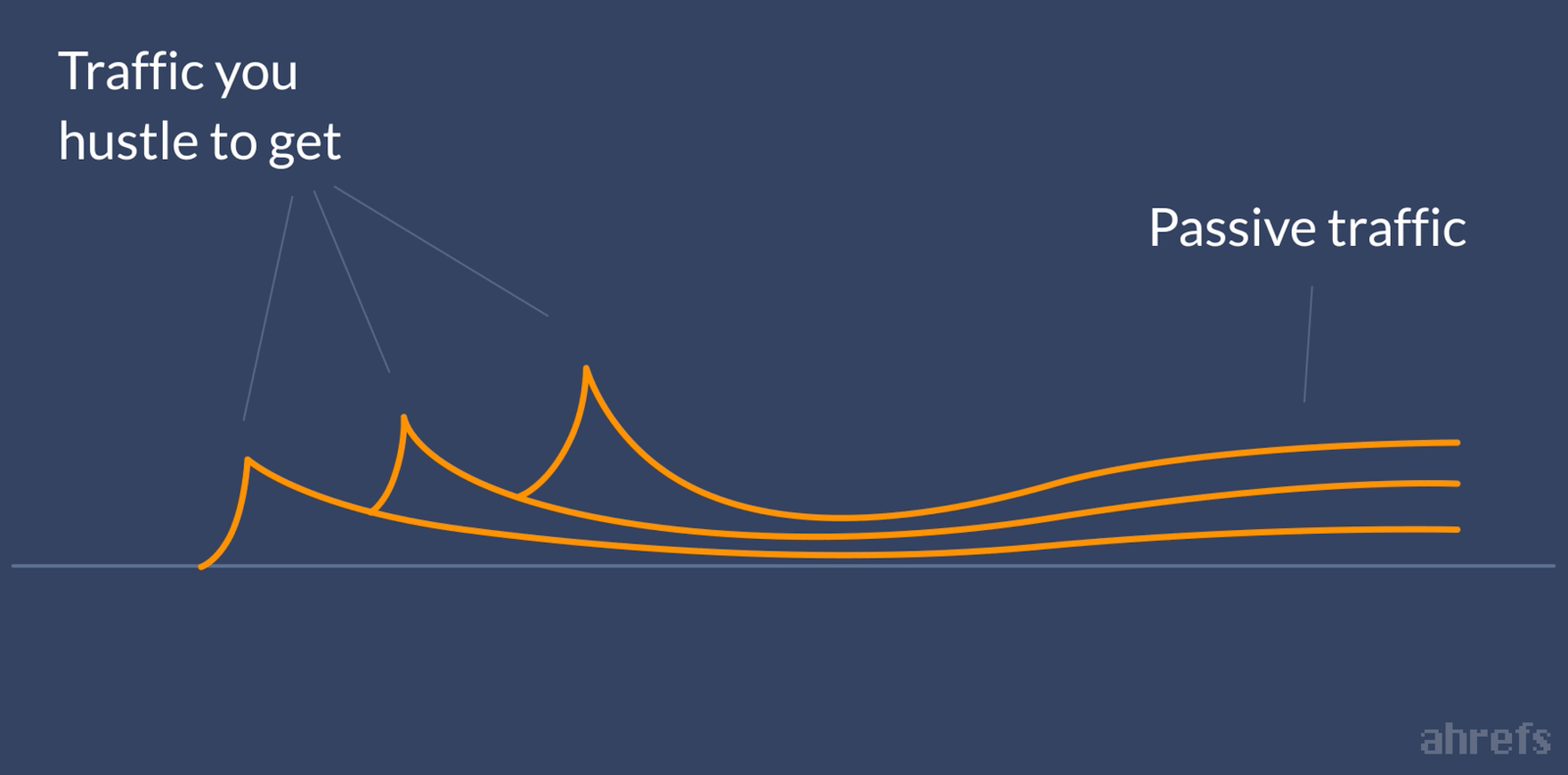 You hustle to get the early site traffic, then SEO kicks in to give you free, recurring traffic.
Now, there are a lot of ways to promote your content. Social media, email outreach, paid ads… the list goes on.
Rather than going over every content promotion strategy here, I'll refer you to our guide to content promotion.
The final step in becoming a digital entrepreneur is scaling up your efforts or pivoting into another business idea.
As I mentioned at the beginning of this guide, I pivoted five times before I found a business I could scale up. It wasn't because I failed or threw in the towel. I just realized I didn't want to continue putting effort into those businesses to make them succeed.
This is a part of the journey. Trying things and being OK with changing and possibly "losing" your investment. It's completely all right to choose to pivot if you're not enjoying the process and can't see yourself continuing in the long term.
If you decide to continue, it's time to scale up whatever is working. For me, that means hiring a team of writers, editors, outreach specialists, and a virtual assistant. But it also means NOT doing certain tasks that aren't moving the needle.
At this point, I recommend you create a brain dump of all the tasks you do to run your business. This could be things like:
Doing keyword research
Creating content
Promoting content
Making sales calls
Finding affiliate or manufacturing partners
Etc
Once you've written out every task—even the smallest ones you may only do on occasion—it's time to organize them into four lists:
Things only you can do.
Things that can possibly be done by someone else.
Things that can be automated with a tool or software.
Things that don't need to be done at all.
From here, it's easy to create standard operating procedures around the tasks that can be done by someone else, find tools to automate things, and cut some tasks out entirely.
Here are some helpful related guides:
Voilà—you now know how to start an online business from scratch.
Final thoughts
I have to reiterate that starting an online business has been the single best decision I've ever made in my 29 years on this planet. It's given me the freedom—both financially and over my time—to travel the world and build the exact life I want.
There's a lot to learn (certainly more than I can teach you in one guide), and it's a steep learning curve. You will fail, and you will feel disappointment and doubt. It's all part of the process.
If you start today and commit to learning how to make money online, I promise you will succeed. You may have to pivot, but you will eventually hit a winner. And 10 years from now, you'll thank yourself for reading this guide and making this life-changing decision.