Marketing is one of the most important skills to learn as an e-commerce store owner. By learning marketing, you'll always have a steady stream of new customers.
Plus, knowing the basics of marketing can get you ahead of the competition, and it's valuable to have a base understanding if you ever hire marketing roles for your company.
In this guide, I share the five main marketing channels and how to use them, plus a few marketing tips to help you earn more and spend less.
Now that you know where to promote your products, here are a few tips to help you maximize your sales and minimize your marketing costs:
1. Don't compete solely on price
Above all, never get into a price war. You will never be able to compete with giant brands on price. They can afford to lose money until you're long out of business.
Instead, compete on things like quality, customer service, experience, and value. 
Make sure the entire experience of finding your brand and buying from you is seamless and easy. And use your marketing to educate and entertain, not just to promote your product. If you offer people something of value first, they will be more likely to buy, even at a higher price point.
For example, Squatty Potty both informs and entertains in what is arguably one of the best ads ever made:
Or, back to Solo Stove, it makes videos that teach you the best way to use its products:
2. Don't offer big discounts
Offering discounts may be an easy way to make a quick buck. But in doing so, you may be shooting yourself in the foot. By offering frequent discounts, people may come to expect your discounts and won't buy your products at full price because they know discounts are coming.
3. Begin with keyword research
Search engines can be a lucrative source of free marketing if you're able to rank highly on them. But SEO can take years—especially for a beginner.
That's why it's best to do some keyword research to figure out what your customers are searching for so you can start optimizing your site right away. (You'll thank me in two years.)
You can do this with Ahrefs' free keyword generator tool. Type in a broad keyword that describes your products, and the tool will spit out keyword ideas with some basic data: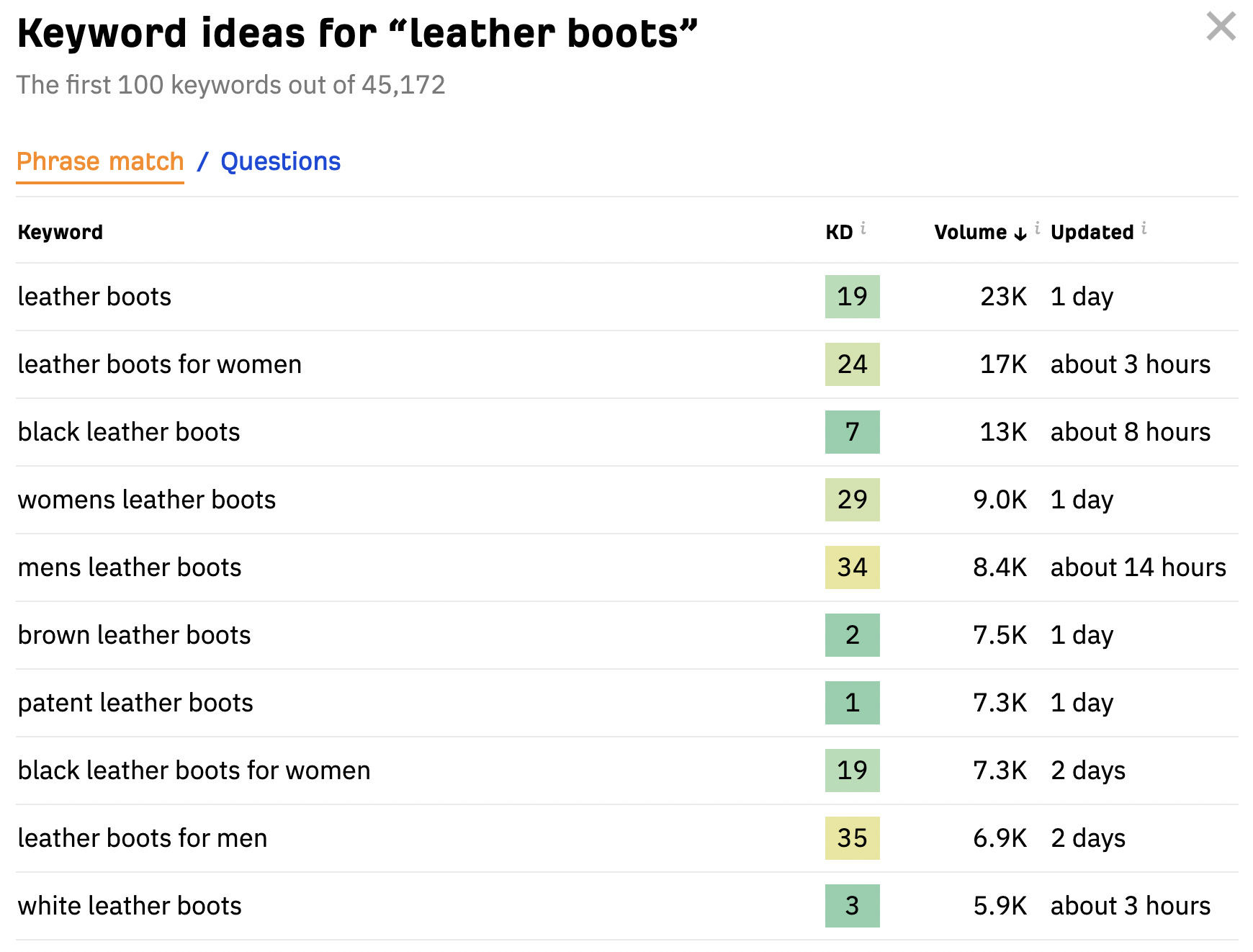 Keep in mind that you'll want to find different keywords for different purposes. 
For example, "brown leather boots" may be a good keyword for your category page, while your product pages may be better served with more specific keywords like "brown leather ugg boots" or "womens brown leather knee high boots." 
Basically, use broad keywords for category pages and specific keywords for product pages. Again, refer to our e-commerce SEO guide to learn more.
4. Optimize your website for search and conversions
Continuing from the last tip, you should take the keyword research you did and optimize your category and product pages for their best keywords. 
This is called on-page SEO, and it involves:
Talking about your target keyword in your title, URL, and within the page itself.
Writing a compelling title tag and description to make your result stand out on the SERPs.
Optimizing your images to load fast and have descriptive filenames and alt text.
Including internal links between your pages to make them easy to find.
There's a bit more that goes into it, so read our on-page SEO guide to learn more.
Beyond SEO, you should also optimize your website for conversions. After all, you don't want to spend all this time and money on marketing only to lose sales, right?
Conversion rate optimization (CRO) includes things like using high-quality images, effective copywriting, and clean website design with minimal distractions. I highly recommend going through Shopify's CRO guide.
5. Start a blog
Having a great product and effective ads can only take you so far. If you want to utilize organic marketing channels like social media, search engines, and newsletters, you need to offer more than just advertisements for your products.
That's where content comes in.
Photos, videos, and blog posts give you the ability to capture customers at different stages in the marketing funnel whom you otherwise wouldn't have sold to.
Here's what this may look like and what people may search for at each stage: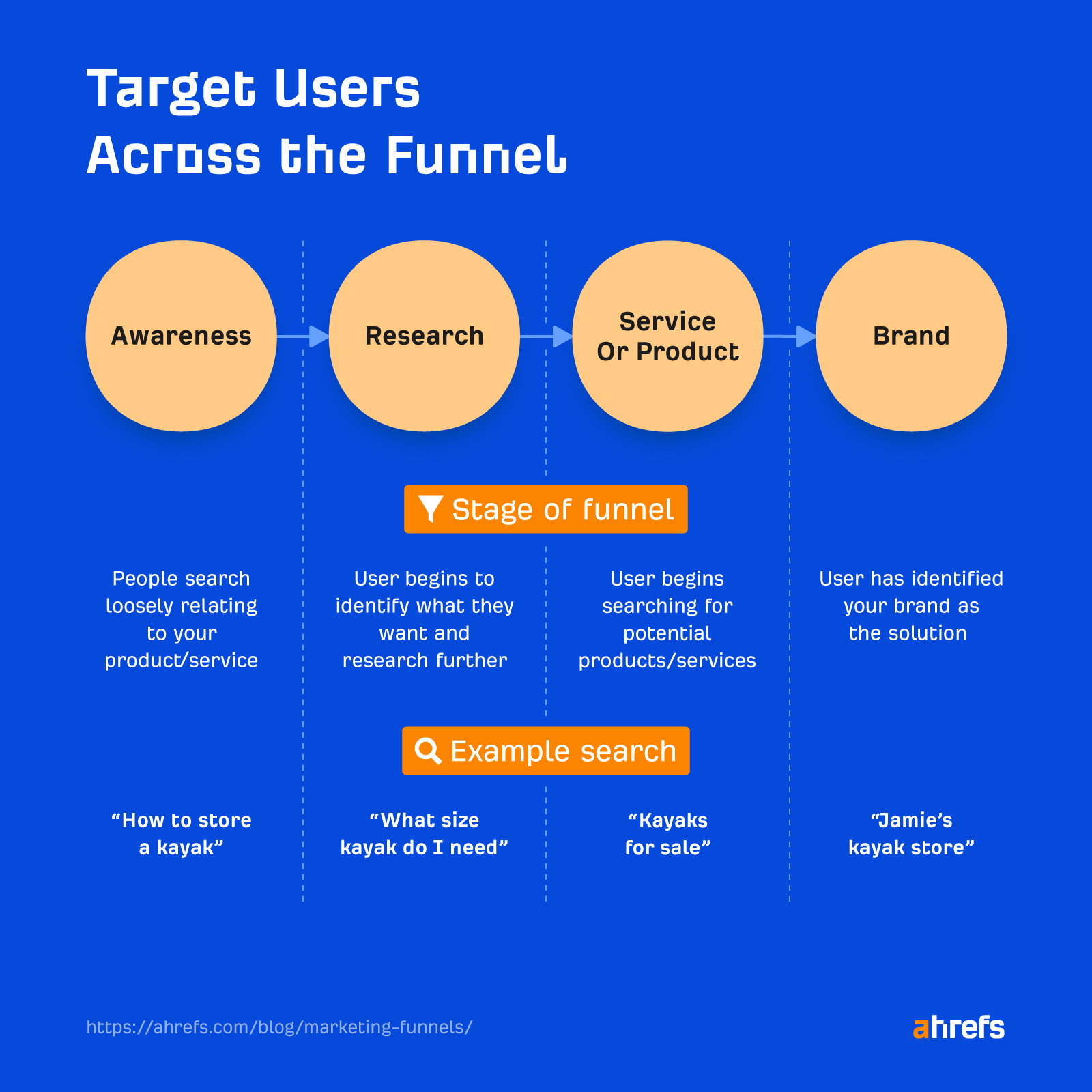 Let's say you own a shoe store. A potential customer has a problem; they need a good pair of waterproof shoes that are functional but also look good. So they do a Google search for "stylish mens waterproof shoes" (the "service or product" stage).
The results aren't shoe stores. They're all blogs that talk about shoes: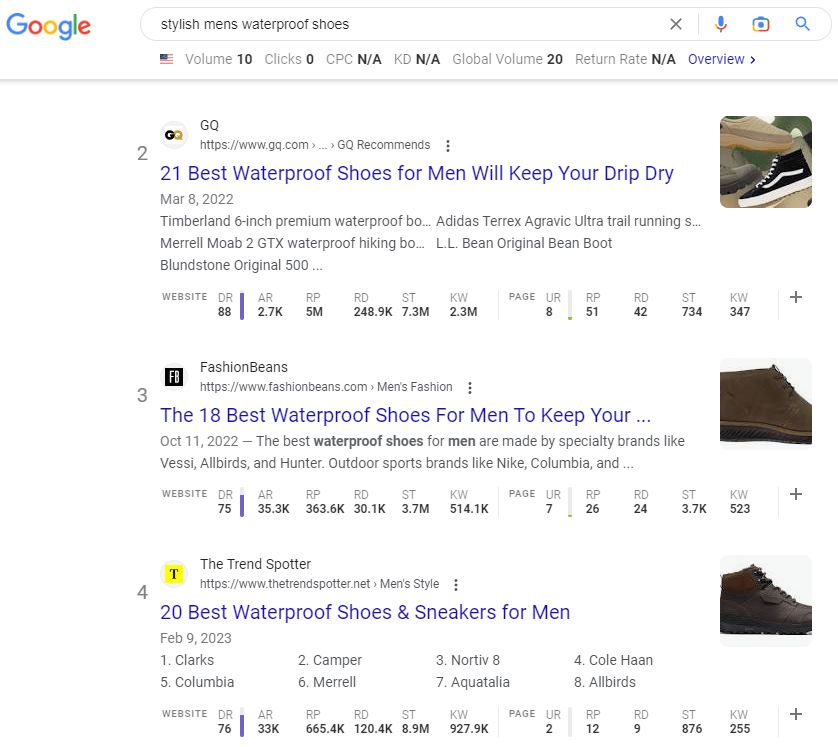 It's possible for you to write a blog post of your own with the goal of ranking well for that keyword and promoting your own shoes. You can also use that article as content to add to your email newsletter and social media feeds.
Pro Tip
It will also be a great idea to reach out to all the blogs that are ranking to try and get them to include your shoes as well. If you start an affiliate program, you can tell them about it, and they'll be more likely to include your products since they have an incentive.
Expand this idea for other issues potential customers may have, like learning different ways to tie shoes or ideas for outfits that can go with your shoes. You're only limited by your creativity.
Check out my guide to e-commerce blogging to learn more.
6. Create video content
Video content is becoming more and more important. If you want to do well on TikTok, Instagram, YouTube, and even Facebook, you need to make videos. Plus, many of the SERPs now contain video results in addition to blog pages.
For example, we manage to rank for the keyword "learn seo" with both a blog post and a YouTube video: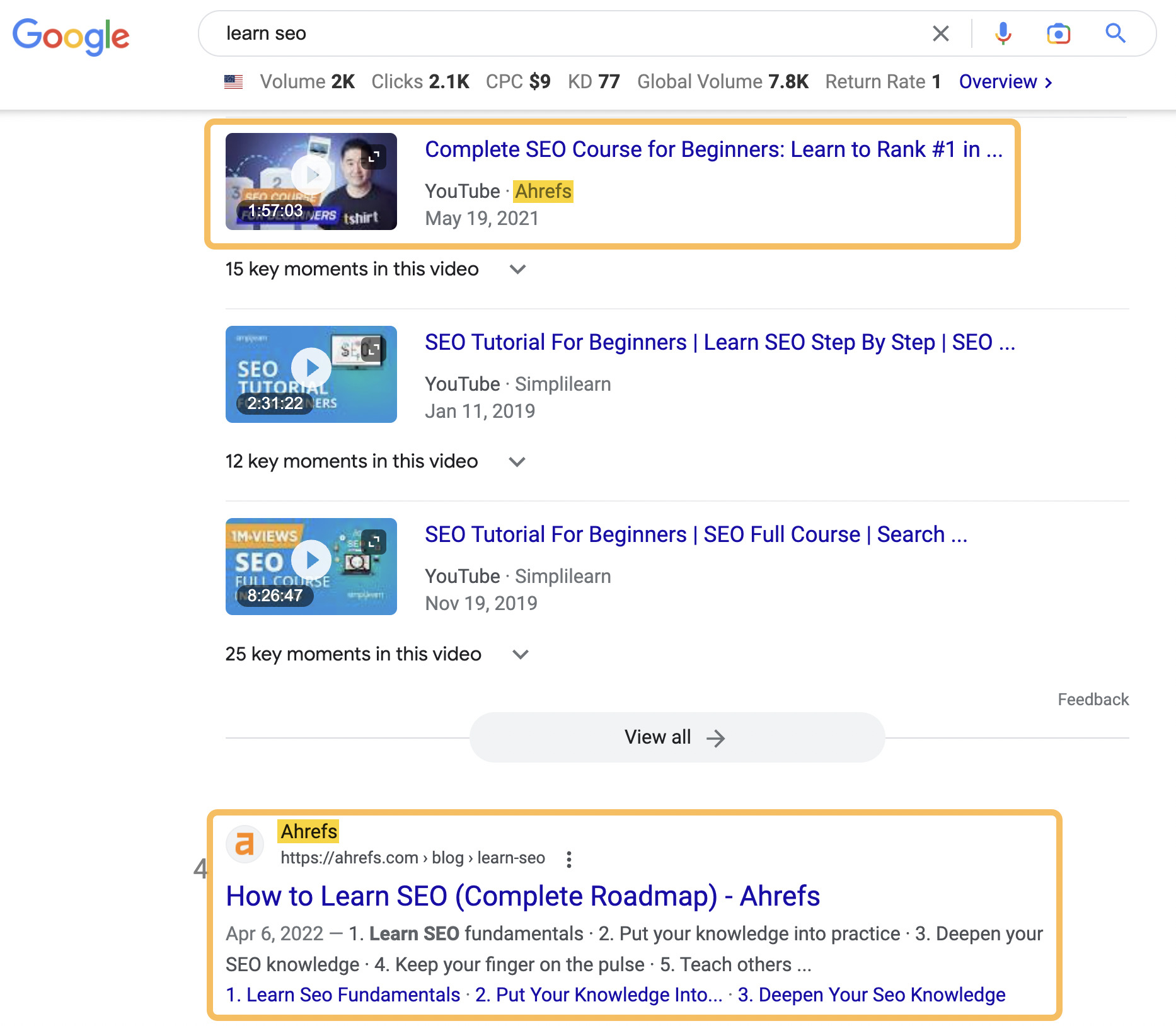 We wrote a full guide to video SEO if you want to learn how we did it.
But what kind of videos should you create? 
It depends on your audience, the platform, and your product. In general, shorter videos do better than long ones, like this five-second TikTok by Guess that got over 800,000 views:
Of course, there are a lot of ways to utilize video in your marketing plan, and there's plenty of space for longer videos. Check out our guide to video marketing to learn more.
7. Make standard operating procedures
Many of your marketing tasks will be repeatable. Things like outlining your content, sharing your posts, and even running ads can all be standardized to make things quicker and easier.
This is why you should create standard operating procedures for these tasks. A standard operating procedure (SOP) is a document that outlines exactly how to do a task step by step—often with screenshots or videos—that allows you to hand off the task to a virtual assistant to free up your time and streamline the process.
For example, we have a guide to creating SEO SOPs. But you can make an SOP for any repeatable task, such as: 
Creating blog or product images.
Adding new products to your newsletter and social media feeds.
And so much more.
Here's an example of a step in our SOP for creating content at Ahrefs:

Creating an SOP is easy. Just create a Google Doc and use headings to organize your task into steps and add screenshots or even videos to show the process. The clearer and more concise you can be, the better. 
Final thoughts
Learning e-commerce marketing is a surefire way to make a lot more money from your online store. There's a lot to learn, so take it one thing at a time.
Eventually, you should aim to hire a VA or marketing team to help with these tasks so you can focus on other areas of your business. Having a basic understanding of how they're done will help you make good hiring decisions.