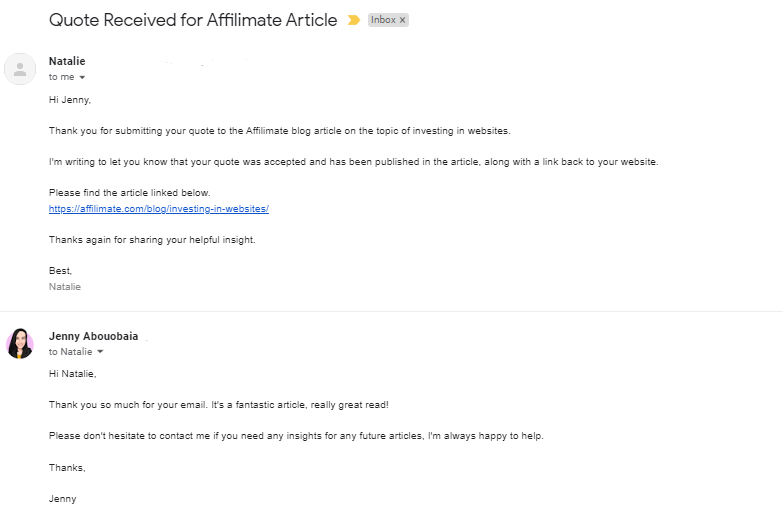 Public relations has always been a critical factor in building a brand, and it is no different in today's digital society. Times have simply moved from billboards and press comments outside office buildings to creative digital campaigns and quotes in key online publications.
The best part? Digital PR and
What are the main benefits of digital PR?
OK, now we know the point of public relations. So let's talk about what you'll get out of it:
More sales and leads
Build authority with links from top-tier publications
Build links that competitors can't replicate to get ahead of the competition
Gain trust as an industry expert
Earn links that drive referral traffic
More sales and leads
In all my years working with clients as an SEO, I found getting more qualified leads and sales is always on their list of KPIs—no matter what other goals they may have. 
The great thing about digital PR is that it gets your brand in front of the right people at the right time. A well-coordinated campaign can ensure your new product, a seasonal sale, or a special offer is seen by your ideal customers and promote a huge influx of highly relevant, qualified leads.
Recommendation
The key here is relevance. Most people get confused about niche or topic relevance and think of it in the same way as traditional link building. 
Building links for SEO on niche relevant sites can help improve topic relevance so Google has a better understanding of what your website is about. But in digital PR, relevance means getting your business, product, or service in front of a relevant audience. 
For example, if you have a B2B cybersecurity business, you don't want any old mention on Cybersecurity Weekly. Rather, you want to be featured in content that CEOs and founders are likely to read, such as Harvard Business Review, Forbes, and Entrepreneur.
Build authority with links from top-tier publications
One of the major benefits of digital PR (certainly as an SEO) is building links to highly authoritative websites that you simply can't achieve with other forms of 
2. Data-driven proactive campaigns
Journalists love data. Fact.
Conducted some groundbreaking research? Got some fun and quirky statistics? Journalists love to feature that stuff. 
The idea with these campaigns is to come up with an idea around something newsworthy that you can gather comprehensive data on and then proactively approach journalists with the story.
I recently created a campaign for a client in the HR industry about lying on your CV for remote positions. We conducted a study in the U.K., and it turns out that over one-third of jobseekers were lying to get remote positions. 
We created an in-depth piece of content detailing the full results on the client's website, along with a long-form infographic with the key data points. It was then picked up by hundreds of media outlets, including MSN and Yahoo: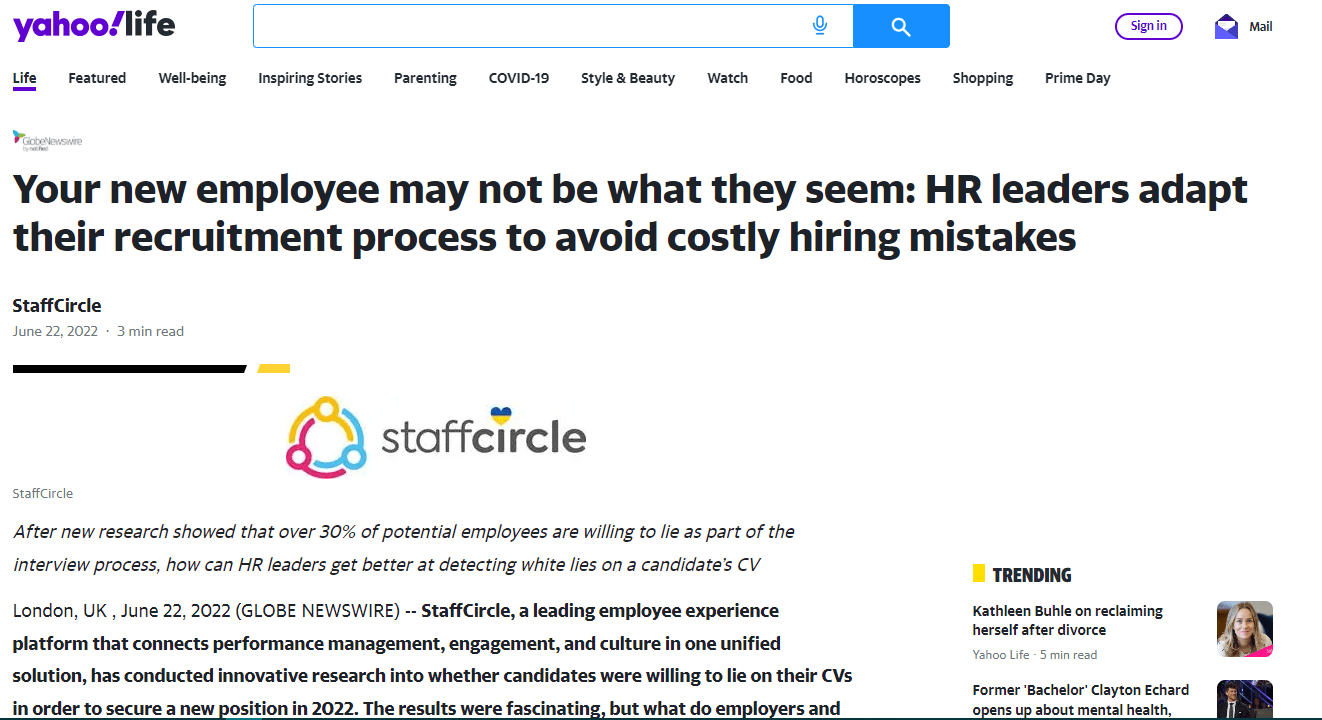 3. Press releases
Just won an award? A new company merged? If you have a newsworthy story, a press release is a great way to get traction, create brand awareness, and amplify your position as an authority in your industry.
Here's an example of a press release we distributed earlier this year about major keyword updates: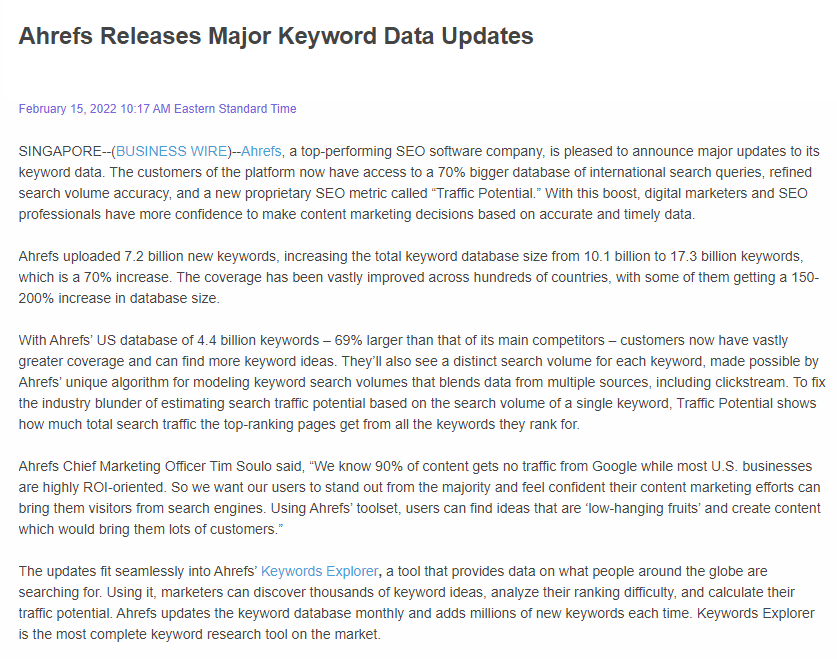 There is a formula for success when it comes to writing press releases, though. To get picked up, they need to be written and formatted correctly. To learn more about how to do it, you can read this great guide from our Rebecca Liew.
4. Creative campaigns
We've established that journalists love data, but that doesn't mean all campaigns have to be data-led to pick up traction. 
Big brands are finding more and more success with creative campaigns that include bold visuals or creative stunts (think the digital version of a flash mob) to capture attention and go viral. 
A fantastic example is Taylor & Hart's diamond Haribo ring campaign, created by creative PR agency Rise at Seven: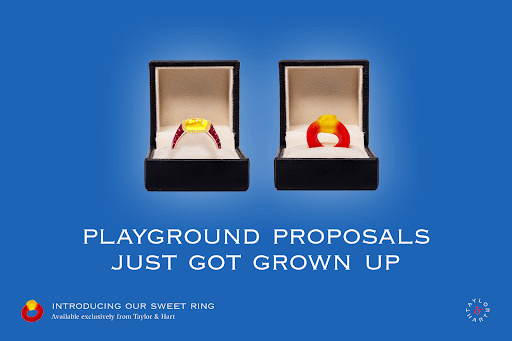 This campaign tugged at the nation's heartstrings, driving 8,500 people to its landing page and picking up almost 40 qualified leads… for a £25,000 ring!
5. Newsjacking
For this tactic to be successful, you have to be hot off the presses. 
Newsjacking is all about monitoring news stories as they break and jumping on them with comments and thought leadership pieces. It is an always-on technique that is used by PR professionals to put brands at the center of a trending topic.
Most people who do newsjacking successfully have teams of people monitoring the news daily for stories to jump on. For a beginner, an easy way to get started is to set up Google Alerts to notify you of specific topics. That way, you can be quick to respond with expert commentary.
Recommended reading: 9 Great Public Relations Tactics With Campaign Examples 
Final thoughts
Digital PR is one of the most effective ways of establishing your brand and those behind it as an authority in your space. Also, it works in tandem with SEO to boost your link building efforts.
Is it time to start using digital PR to make your brand unmissable?
As always, if you have any questions, feel free to ping me on Twitter.