June 11, 2021
SPONSORED
Losing data is a common problem of almost all users and we keep on finding ways to recover the lost data. There are many methods to restore the deleted files from the SD card, flash drive, or a corrupted hard drive. The most reliable method is run data recovery. We will review one of the best data recovery software; iBoysoft Data Recovery, its pros, cons, and other features, and whether you should buy the premium version of this data recovery software or not.
The Features of iBoysoft Data Recovery:
iBoysoft Data Recovery is the data recovery software that can recover deleted or lost data from any type of storage device. It has the following key features.
It performs deep scans in the operating system to find the lost document or file.
It can recover deleted file, partition loss files from corrupted, formatted, unreadable Mac hard drives, external hard disk, SD card, memory card, USB drive, etc.
This software has a key feature that allows the user to preview the document before restoring it. This can help the users to view the lost file and reconfirm the file before recovering it.
The tool is easy to use and any person can use this software even if he/she has never experienced using this software.
The data recovery software has different installations for Mac/Windows. So the users can use this software easily on different operating systems to recover the lost data.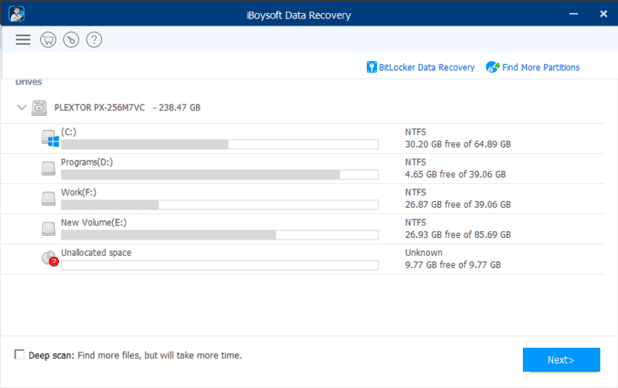 What Are the Pros of iBoysoft Data Recovery?
There are pros and benefits of this data recovery software.
1. Recover 1GB data:
iBoysoft Data Recovery gives a 1GB data free trial version. It means you can recover 1 GB of files, documents, photos, and videos from this software.
2. Works on the Latest Updated Operating System:
This data recovery software can work on the latest version of Windows and Mac. iBoysoft Data Recovery for Windows is compatible with Windows 10/8.1/8/7/Vista/XP and Windows Server 2019/2016/2012/2008/2003. And its Mac version supports from macOS 11 to Mac OS X 10.7.
3. Easy to Use:
This software is very easy to use and any beginner with no technical experience can use it because all the instructions are very clear on the screen and it is great for users of every type.
4. Safe to Use, Protect Data Against Viruses:
iBoysoft Data Recovery performs protective and safe scans on the file to recover lost data. This recovery is not pirated, it has proper authentication which builds trust in this software. The users can use this software without any fear to lose personal or important data.
5. Great Customer Support:
The customer support of this tool is very supportive, attentive, available 24/7 and answers all the queries of customers in a few minutes.
The performance of iBoysoft Data Recovery is excellent in different file lost scenarios that occur like deletion, partition files, system failure, power failure, corrupted system, etc.
What Are the Cons of iBoysoft Data Recovery?
Although this tool also has some drawbacks and low points that are described below.
1. Does Not Operate on Linux:
This data recovery software operates on Windows and Mac efficiently but unfortunately, the software does not work on a Linux operating system.
2. Time-Consuming Process:
T iBoysoft data recovery software performs deep scans but it takes a lot of time took hours to recover a single file. The overall performance of this file recovery software is good but the scanning time of it should be decreased.
Conclusion:
The iBoysoft data recovery software is a great way to retrieve and recover the lost data. Every system and software has benefits and shortcomings. The premium of this version can recover a large amount of data and premium and advanced features to recover the boot system. It offers a money-back guarantee in case if you are not able to recover it, that's why it's worth buying the premium version of this software.
---
Katrina Yuan is a tech lover who digs IT trends and helps others with practical tips and solutions. Until now, she's been writing and sharing tons of related articles.