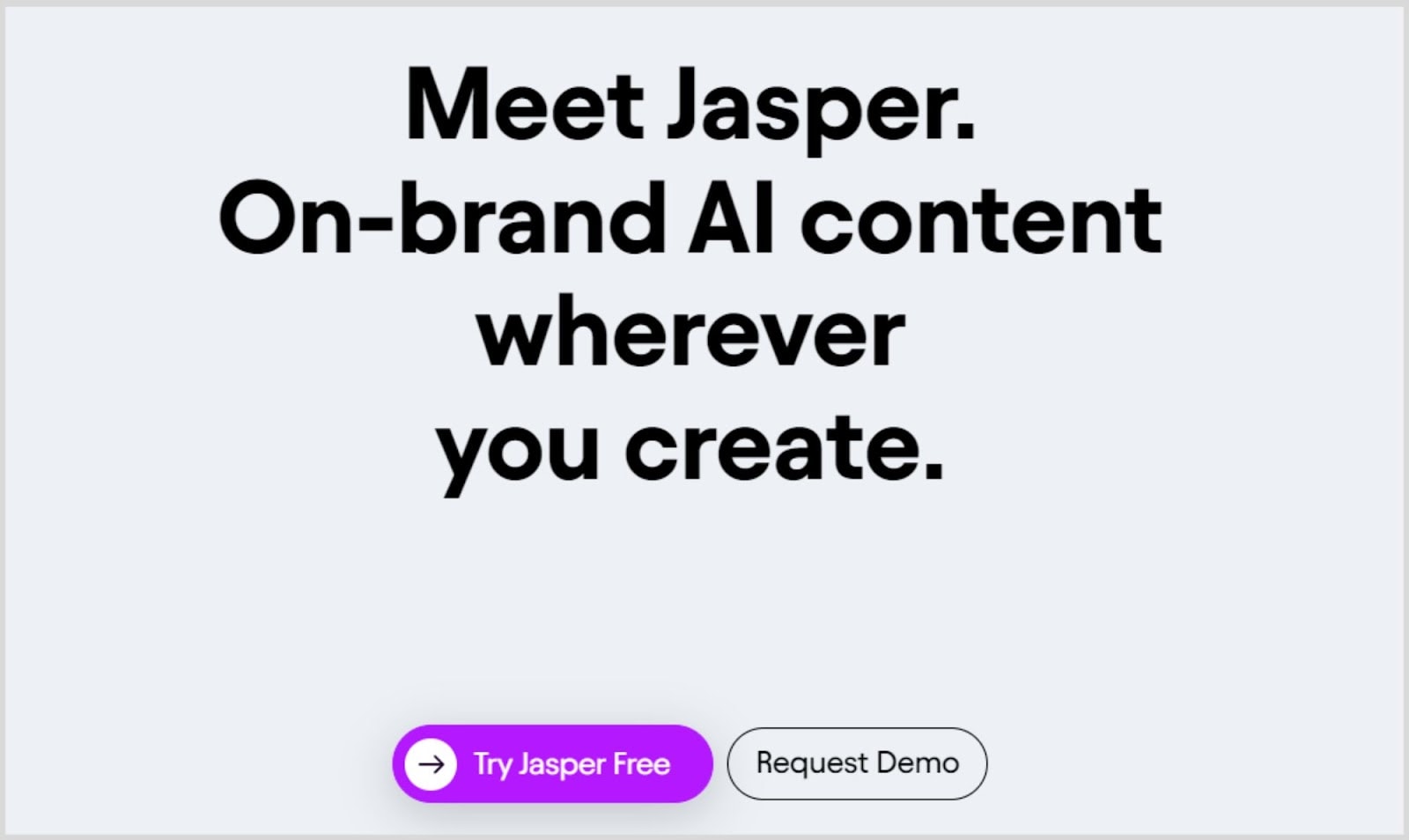 The dawn of AI has many content creators fearing the worst—and you may be one of them.
Don't worry.
I'm going to show you how AI content generators will actually make your life a lot easier.
I've thoroughly evaluated 23 leading AI copywriting tools so I can give you insights into their features, advantages, drawbacks, and pricing.
My pick of the bunch is Jasper, but which will you choose to 10x your content production?
Let's find out.
1. Jasper: Best For Content Marketing
Jasper is the best AI content generator for creating marketing copy, but that's not all it can do.
It comes with over 50 templates that make it great for creating nearly any type of content. From product descriptions to social media profiles, Jasper has you covered.
Here's just some of what it can do: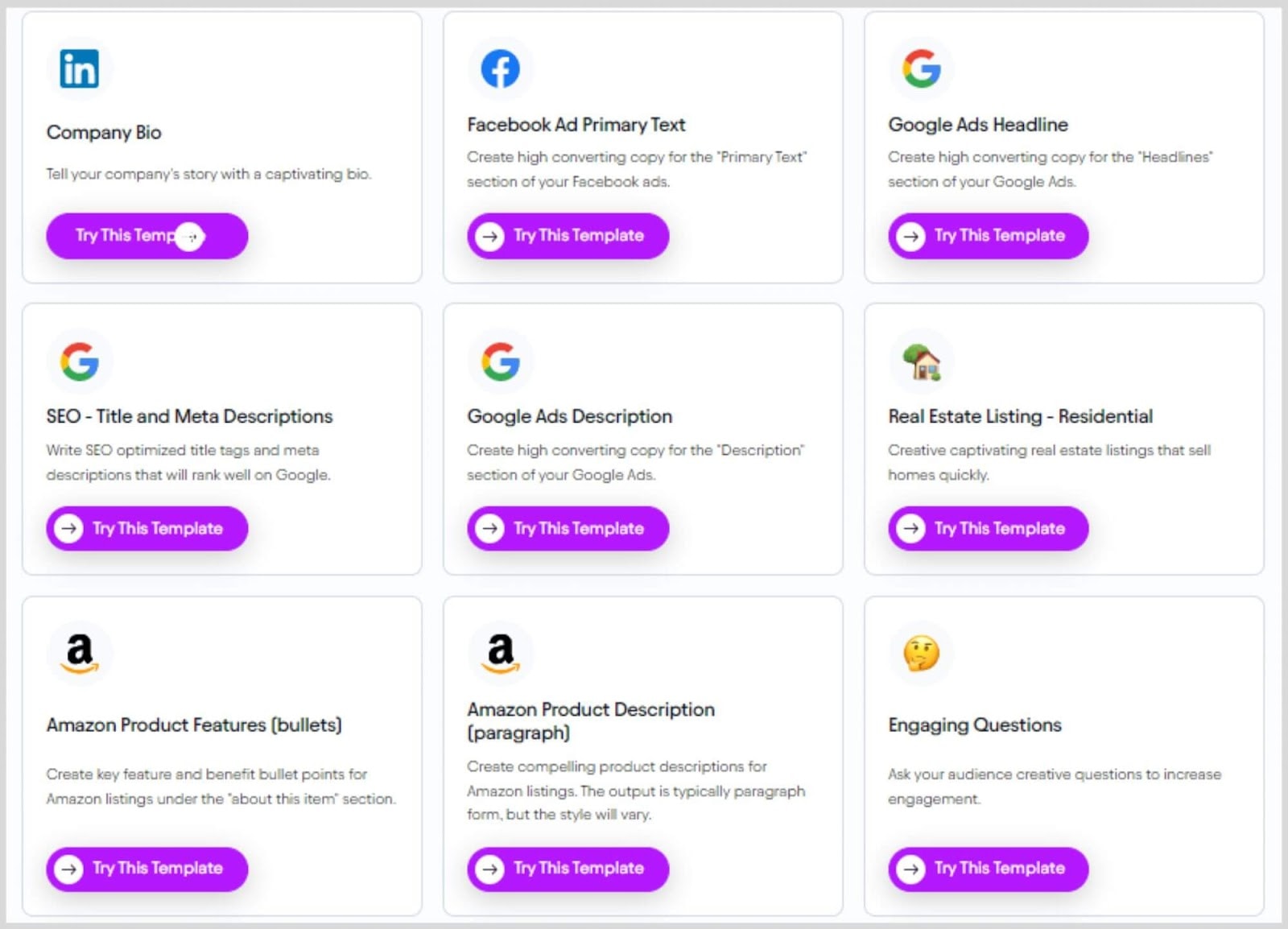 I found Jasper really easy to use. All I had to do was select a template, type in the information about my desired content, and adjust the output settings. Then, I simply hit the generate button and my content was ready in seconds.
Some of its most useful templates include video script outlines, blog idea outlines, photo post captions, and social media ad posts. The variety of templates on offer makes it a great choice for social media marketers and bloggers.
When I was creating an ad with the Facebook Ad Primary Text template, I had to use three prompts.
The first one was for a company or product name. I went with the company name "Extreme Fitness".
Jasper then asked me for a product description. I added these details: "$9.99 a month, no contracts, individual and group fitness classes, dedicated personal trainers".
For the tone of voice, I chose "fitness fanatic":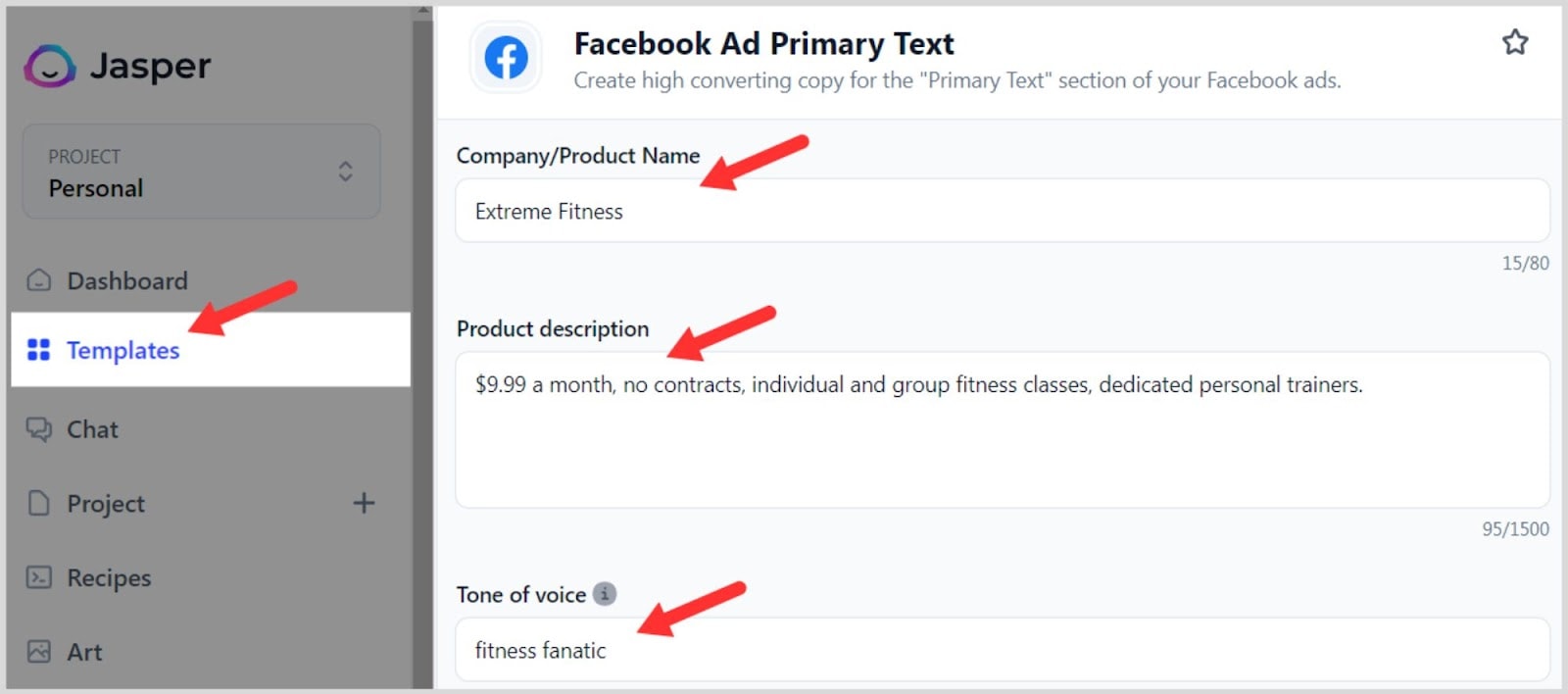 And then let Jasper generate my content: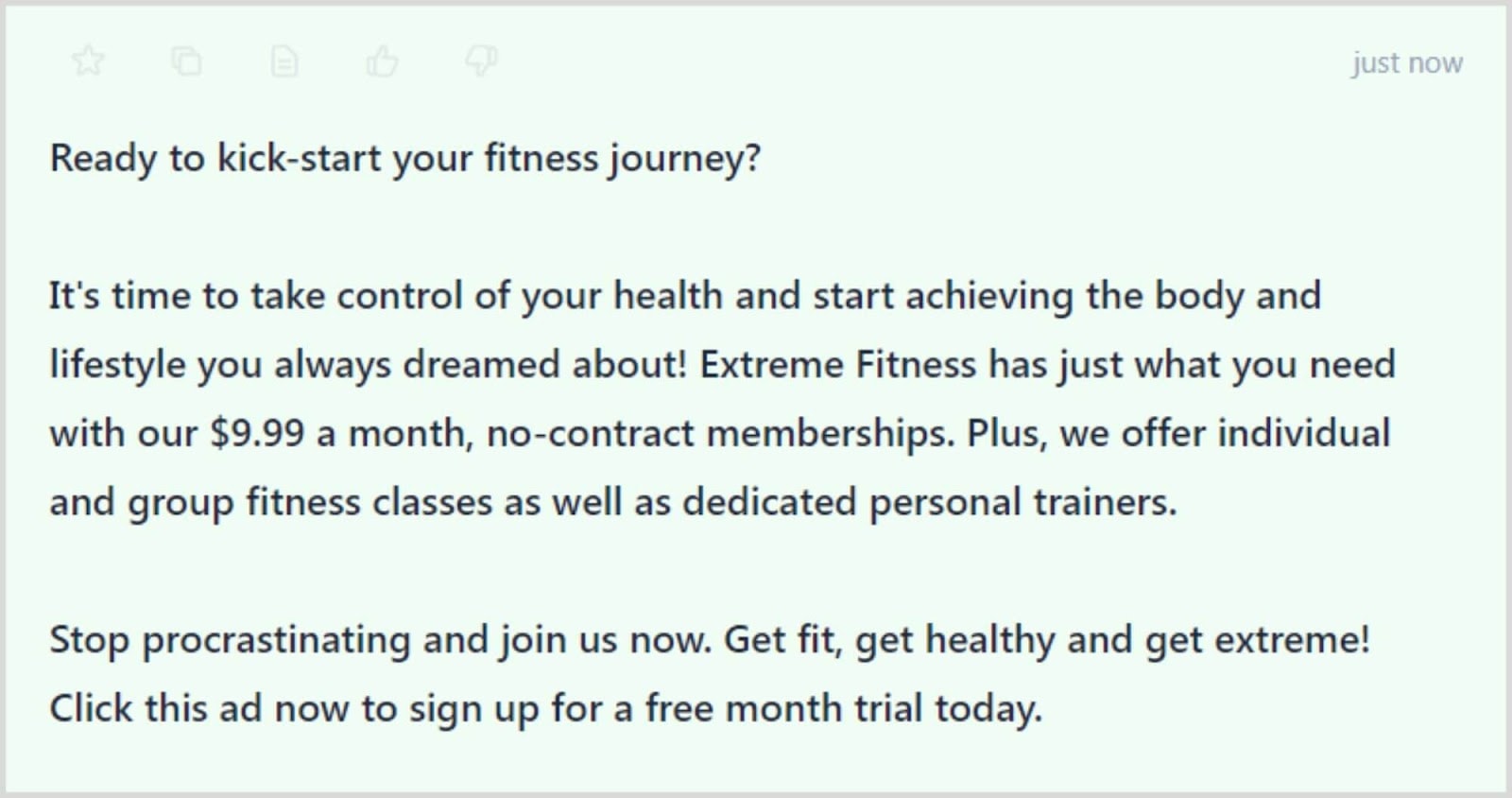 Features
Search engine optimization (SEO): Jasper has Surfer SEO integration, so you can create perfectly-optimized content with just a few clicks.
Grammarly integration: Automatic spelling, grammar, and clarity checks.
Tone settings: Adjust the tone and phrasing to suit your desired audience.
Speech-to-text input: Add further detail to the text using your voice.
What I like:
The Jasper AI writing tool comes with more than 50 copywriting templates. All you need to do is input a small amount of information, such as some keywords, and Jasper generates your content for you.
Generating long-form content is also straightforward. Once you've written a sentence or a paragraph, Jasper has enough information to produce high-quality content.
I find that Jasper's chatbot, Jasper Chat, has the edge over ChatGPT. It has a Google Search integration that returns source links, allowing you to fact-check the output. Although this does mean it takes a bit longer to work, it's brilliant for writers who have mastered the art of writing prompts.
I really liked using Power Mode too. It opens up a sub-menu displaying each of the Jasper Workflows. These are similar to templates but with more structured input fields. You can use them to craft an awesome LinkedIn post, brainstorm a unique value proposition, or nail a clear company bio.
What I don't like:
The main issue I found with Jasper is that it struggles to create content about highly technical topics. When I asked it to write about page speed optimization, it tended to generate content with sections that weren't totally relevant to the topic.
Pricing plans:
Jasper has a seven-day free trial and its most basic pricing tier, the Creator plan, starts at $49 per month, which gives you unlimited words. The Teams package is $125 per month and the Business plan has custom pricing.
2. Copy.ai: Best For Copywriting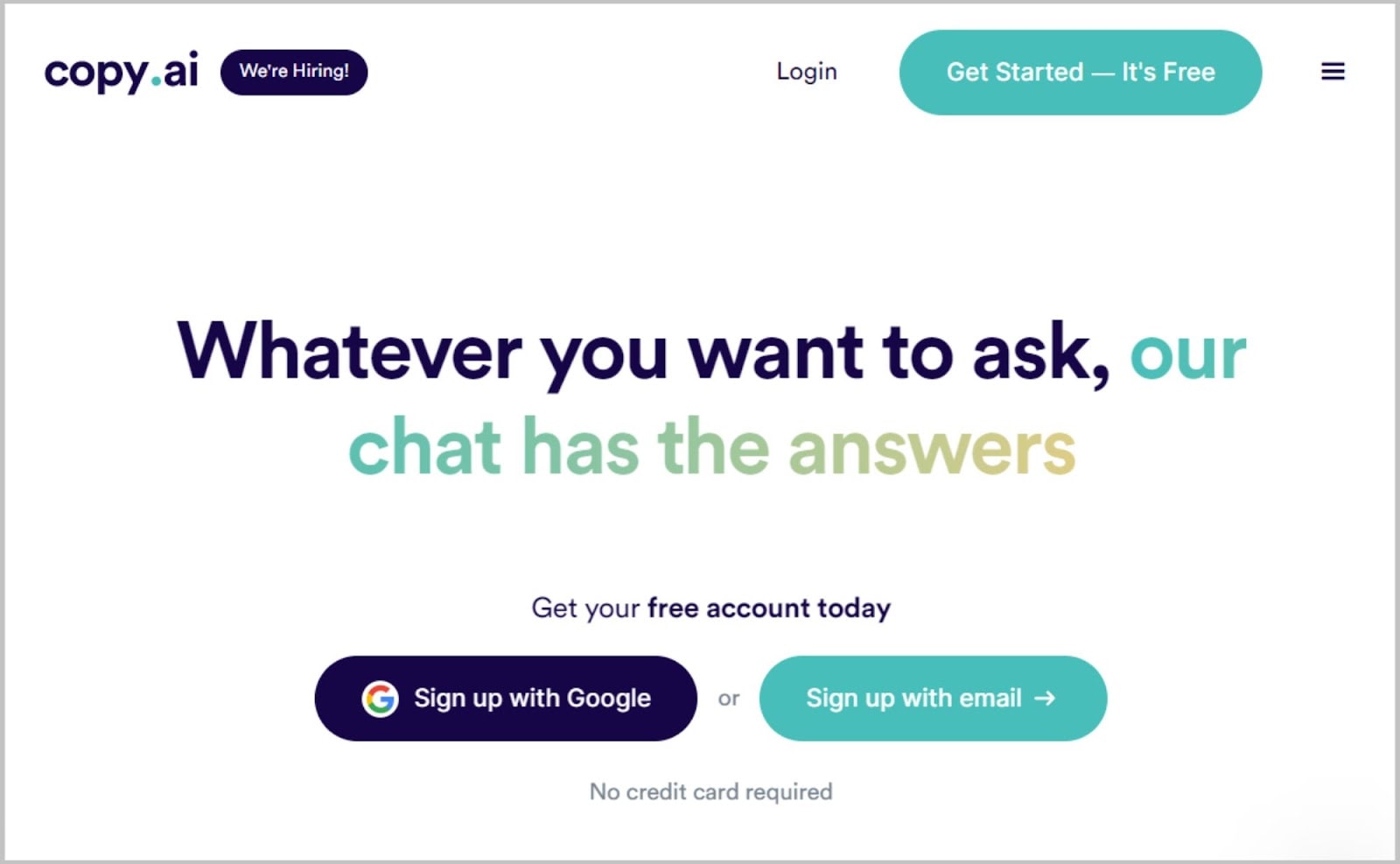 Like Jasper, Copy.ai is an AI content generator that's ideal if you want to create blog posts and social media posts. It requires very little user input to generate unique content.
When using the Blog Post Wizard tool, your templates just need a title, some keywords, and a tone of voice. Copy.ai will first generate an outline for the piece (which you can adjust as needed), then start writing your content once you're happy with the outline.
Here's how it did when I tasked it with writing a post titled "what are backlinks?":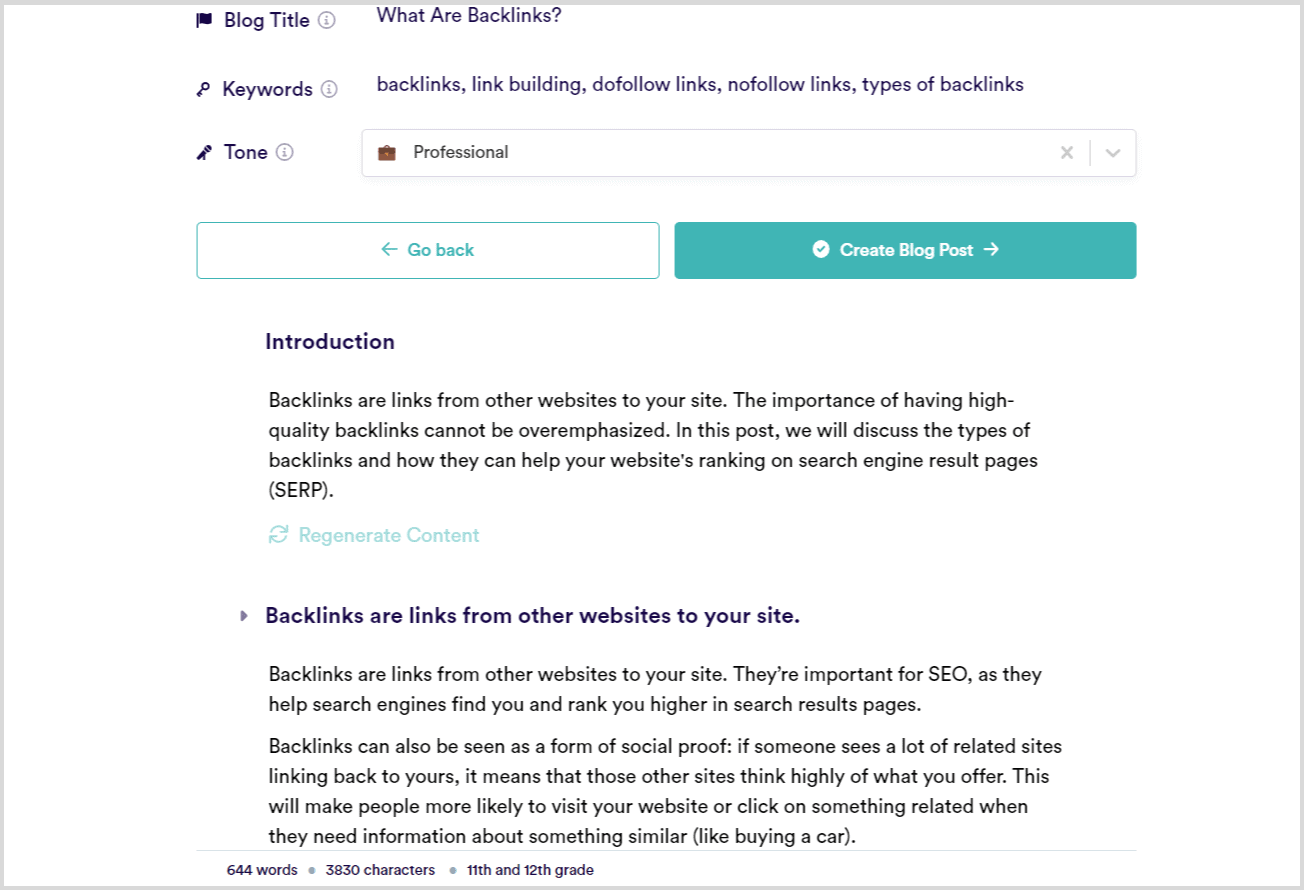 The rest of the templates, such as the Facebook Headlines template, are just as easy to use and Copy.ai helps you out with editing suggestions along the way.
Features
Chrome extension: With Copy.ai at your fingertips, you can breeze through your workday without juggling multiple tabs. It's the ULTIMATE convenience hack for busy professionals—it integrates seamlessly with apps like Gmail and Google Docs.
More Like This feature: With this, you can save your favorite ideas generated by the AI and then ask it to create more ideas, well, like these!
Over 90 copywriting templates: This includes templates for digital ad copy, eCommerce copy, and social media content.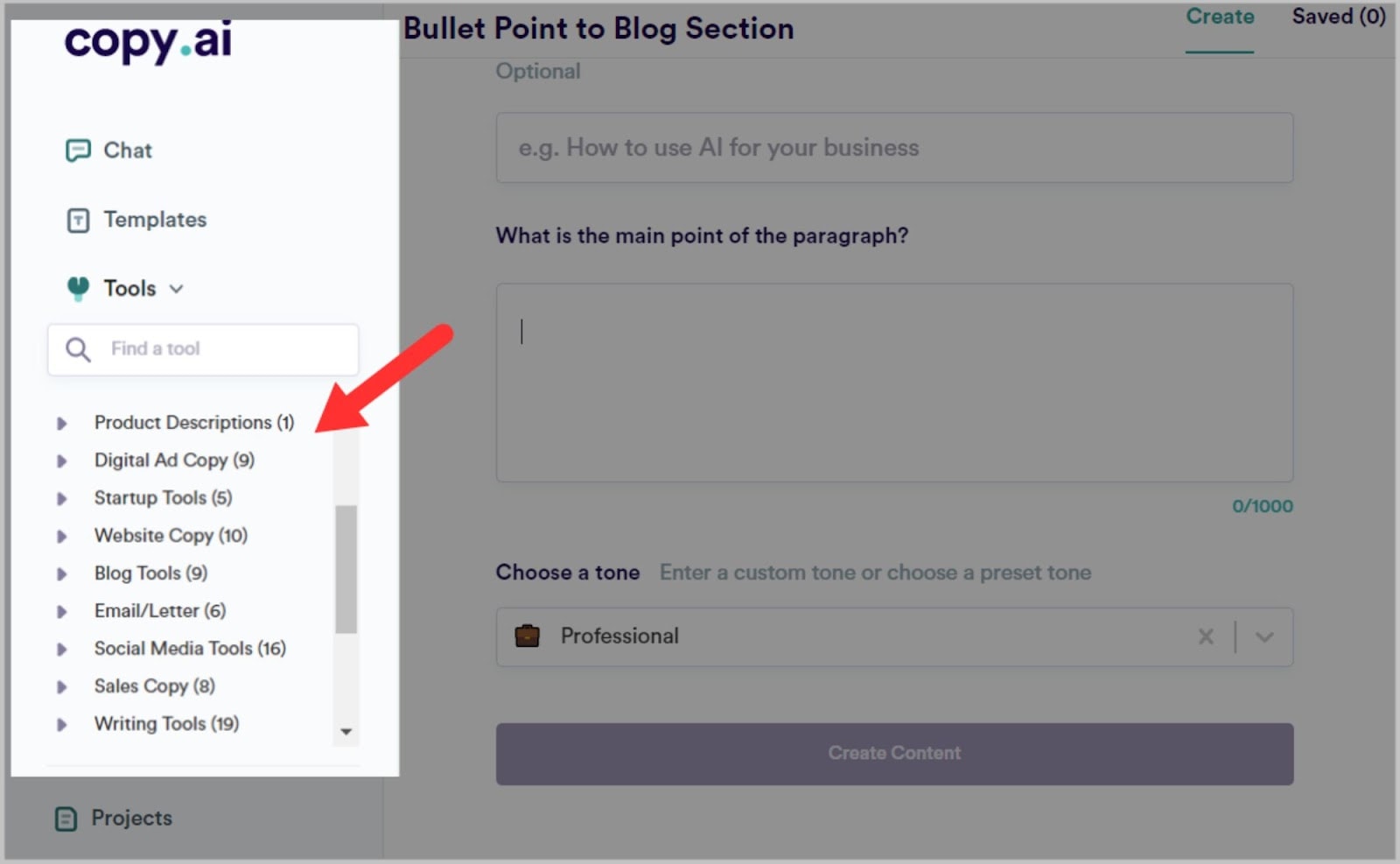 What I like:
The fact that Copy.ai allows you to have unlimited projects is pretty neat. And, you can easily create folders to store related content and then organize your files by project. (You'll never lose that much-needed ad copy again!).
What I don't like:
While all content produced by AI writing tools needs to be fact-checked, I found that Copy.ai particularly struggles with dates. I asked it for the specific dates of the 2020 World Series games, and the results were pretty inaccurate.
I also found the content creation process was much slower with Copy.ai than with Jasper.
Here's why.
Jasper quickly generates long pieces of content based on the prompt, whereas Copy.ai takes a more gradual approach, providing content snippets that you build upon.
For that reason, I'd recommend Jasper for copywriters looking to produce high volumes of work in a short space of time. Copy.ai is better suited to content creators who aren't as pressed for time.
Pricing plans:
Copy.ai's free plan only gives you 2,000 words of content each month. If you want to use it for regular content writing, then you'll need the Pro plan which starts at $49 per month. As with Jasper's first pricing tier, for $49 a month, you get unlimited words.
The BIG difference is that Copy.ai's Pro plan gives you access to five user seats but Jasper's Creator plan only gives you access to one. So, Copy.ai is a MUCH more affordable option for teams where multiple people need access to the tool.
3. Semrush:  Best For SEO Content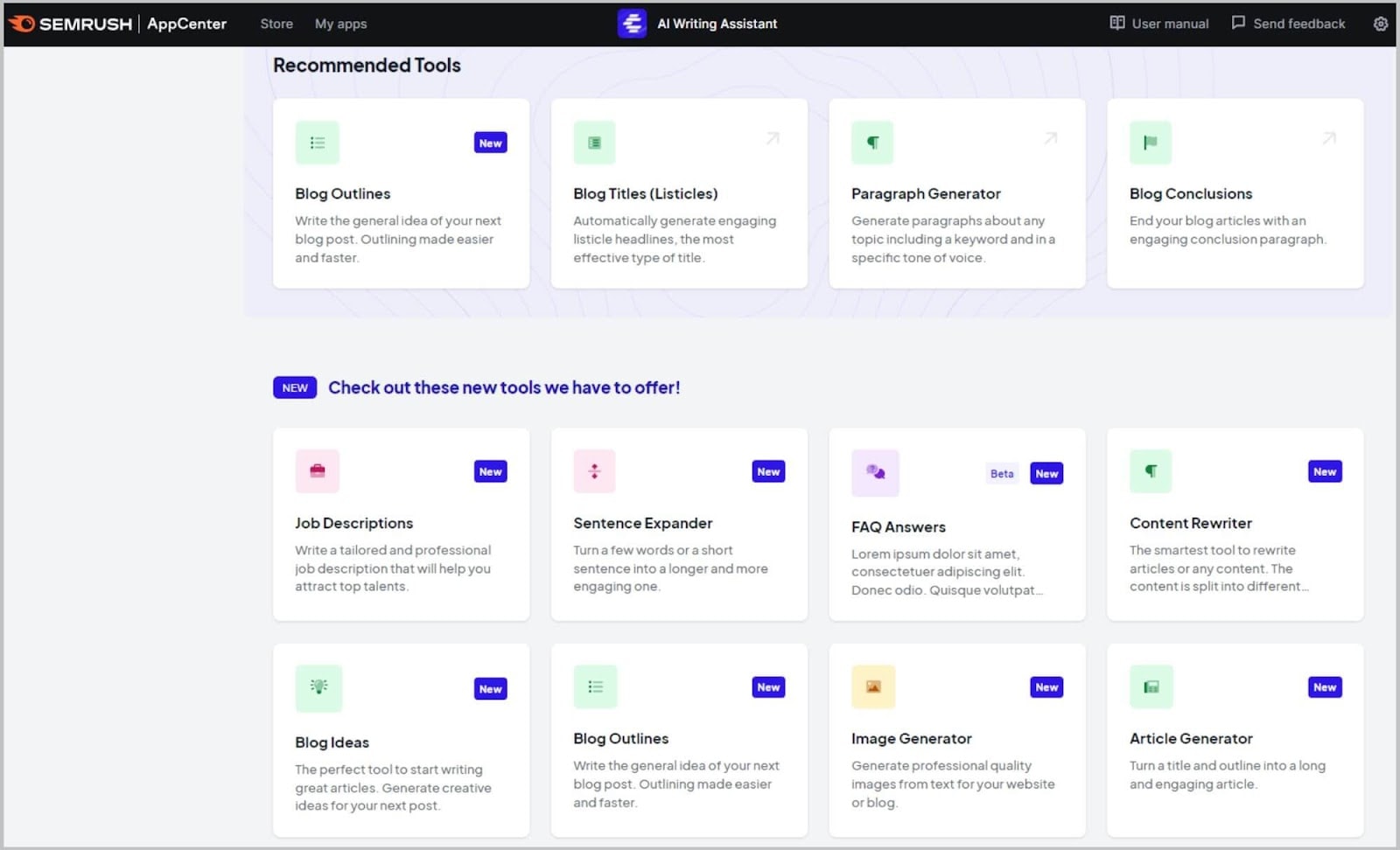 Semrush's AI Writing Assistant is perfect for both content creators and marketers. It generates unique, fully-optimized content, ready for you to publish (after some fact-checking, of course). Just sit back and watch as the rankings start coming in.
The AI Writing Assistant is a separate app available from the Semrush app store.
The Paragraph Generator tool is great for generating small pieces of content that you can work into the rest of your piece. To use it, you type in the title of your article and then feed it the subheading you want it to create content for.
When you're ready, hit the Generate button and watch as the AI Writing Assistant produces an optimized paragraph for you.
Pretty cool.
The title I chose was 'Understanding On-Page SEO: A Comprehensive Guide'. The subheading I used was 'The Difference Between On-Page and Off-Page Seo'. Here's a look at what I got: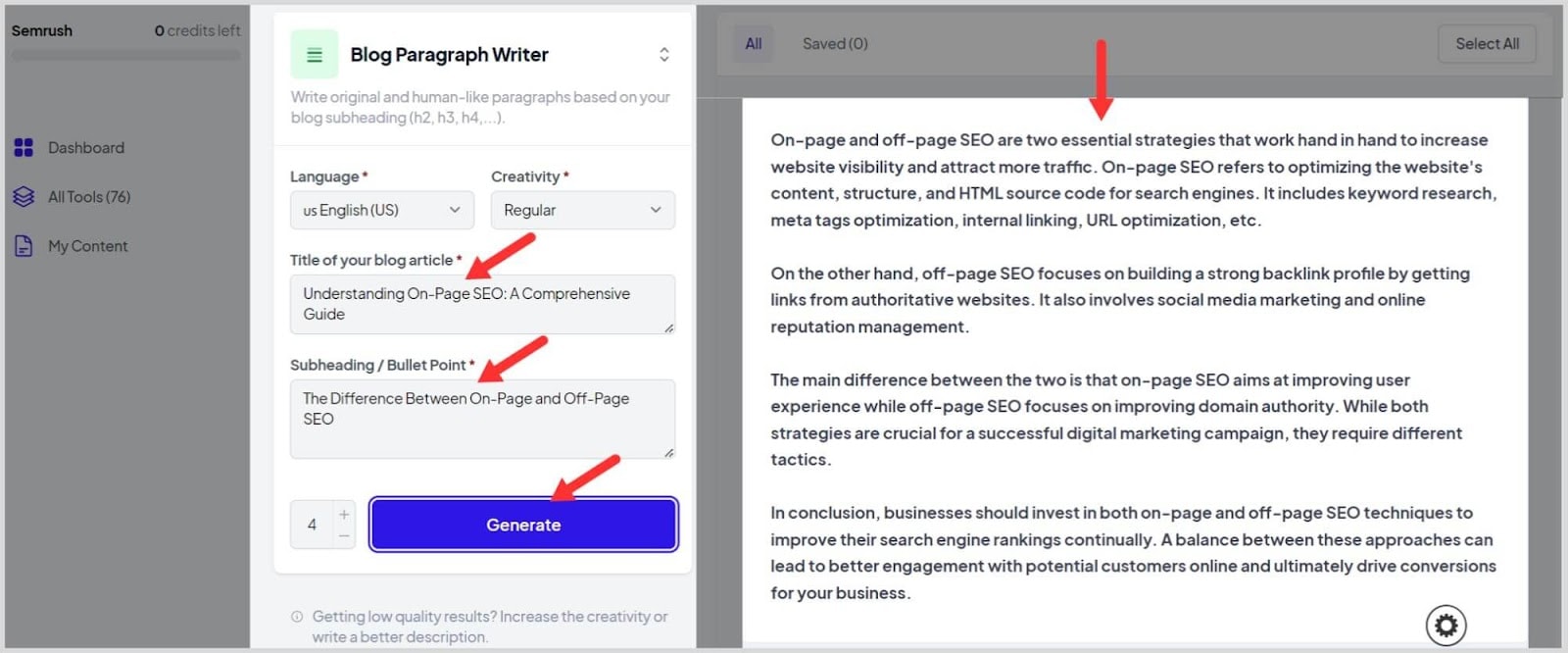 Features
Content writing tools: There are 75 to choose from, including a text summarizer, an Amazon product description writer, a meta description writer, and a LinkedIn post generator. All your content needs are covered here.
Plagiarism checker: You can easily check for plagiarism with the built-in tool, saving you money on Copyscape credits.
Optimization: Allows you to add keywords suggested by Semrush to increase the chances of your content ranking.
What I like:
There were a lot of different things that I really liked about Semrush's AI Writing Assistant. One of the best things is that the tool helps you to write content that's optimized but isn't just stuffed with keywords. The content it produces is highly readable and actually gives value to the reader.
With Semrush, you can quickly check how your content looks and make sure that it's as readable as you want it to be. Although ChatGPT can focus on readability if you prompt it to, this is done as standard when using Semrush's AI Writing Assistant.
This makes it the perfect choice if you're looking to create well-optimized content that your readers will truly value.
What I don't like:
I didn't experience many issues when using the AI Writing Assistant. The only times I got sub-par results were when my headings and titles were too vague.
Pricing plans:
Semrush's free plan gives you 1,500 credits. When they run out, you'll need to upgrade to a premium subscription which costs $45 per month.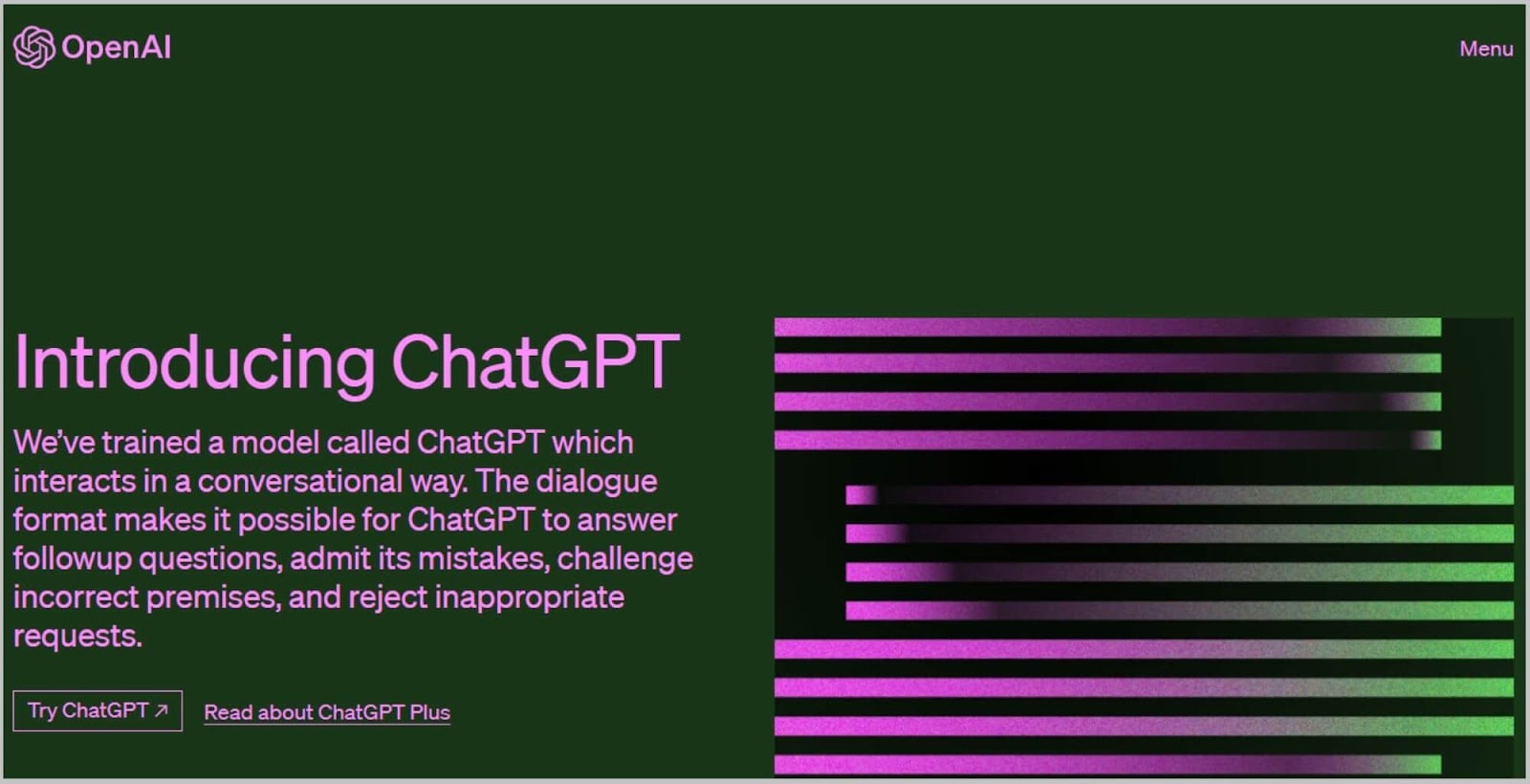 If you're interested in content writing and SEO, then you've definitely already heard of ChatGPT. It's caused a wave of both fear and excitement throughout the SEO community.
Still, I'll give you a recap.
ChatGPT is an AI Chatbot that was released by OpenAI in November 2022. It's trained on a huge dataset and responds to user prompts with content in a desired form.
I asked ChatGPT for some keywords to target for a blog about "The Most Expensive Houses in Phoenix, Arizona".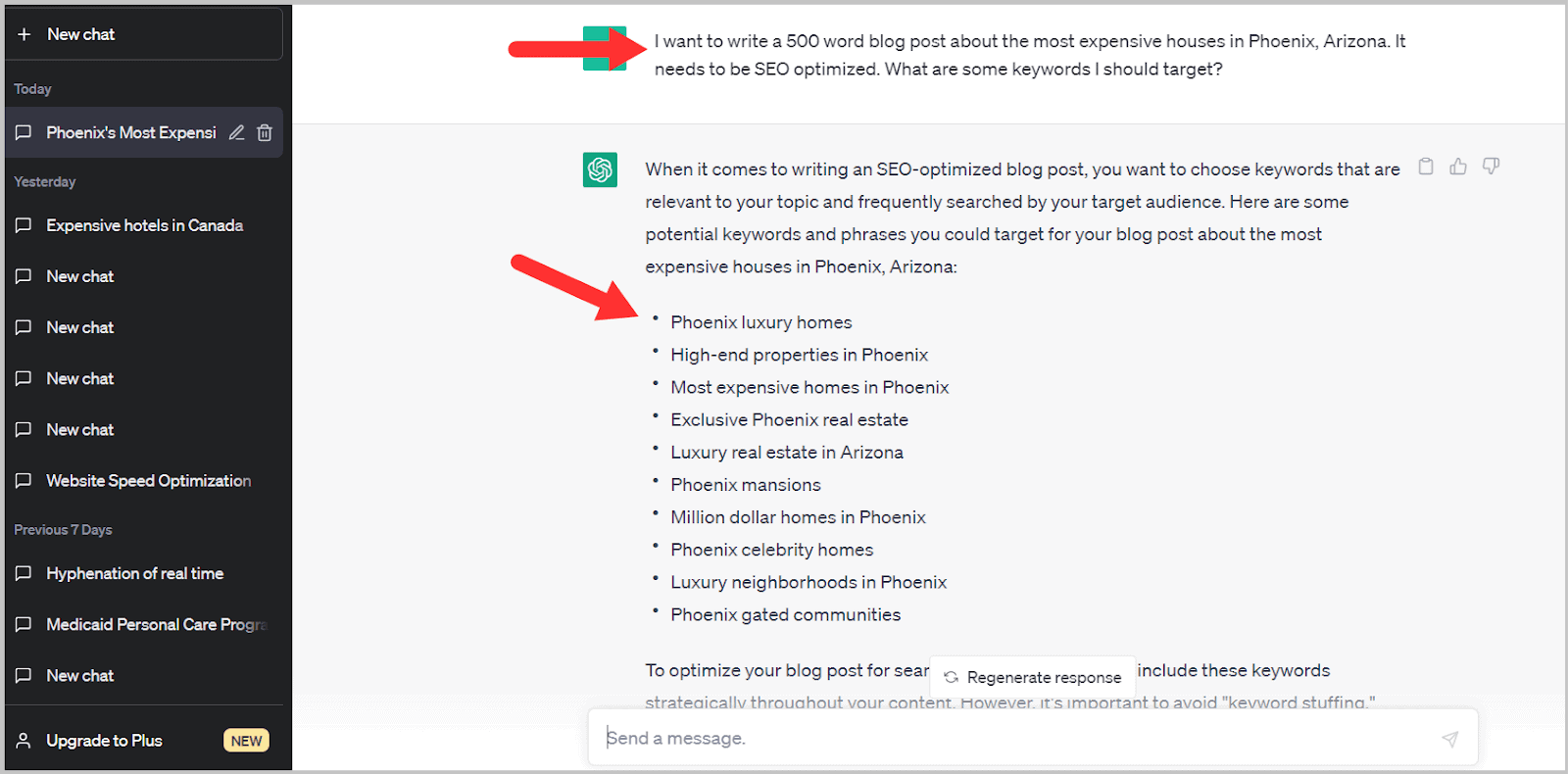 I chose "Phoenix luxury homes", "high-end properties in Phoenix", and "most expensive homes in Phoenix" from the keywords it gave me.
Then I asked ChatGPT to write a 500-word optimized blog post for me:
As you can see, the results are pretty decent for a few moments of work!
Features
Versatility: ChatGPT can be used for coding, writing lyrics, writing blogs, and much more. It's great for work AND play!
Personalization: ChatGPT can replicate different voices (even mine!)—often successfully.
What I like:
One of ChatGPT's strengths is its ability to create SEO-friendly content. It's fairly adept at analyzing content and suggesting keywords.
Another thing to keep in mind is that ChatGPT, as the name suggests, is a chatbot. This means that you can have in-depth conversations with it about any topic you please, which is perfect for overcoming writer's block (and having a bit of fun).
Let's say you've been stuck for ages trying to come up with headings for an article about the best organic dog food (we've all been there). You can have a back-and-forth with ChatGPT to give you some fresh ideas on the subject and get that piece moving along.
ChatGPT also allows for a high degree of customization which means it can be prompted to generate content for many different use cases. It's certainly more customizable than Jasper which relies on its pre-built templates to produce its content. So, if you prefer coming up with prompts yourself rather than having more guidance, you'll prefer ChatGPT over Jasper.
What I don't like:
The main drawback with ChatGPT is that its dataset doesn't include any information after September 2021. This means that all of its content must be thoroughly fact-checked, and it can't provide you with the most up-to-date information on a topic.
Pricing plans:
You can still use ChatGPT for free or you can sign up for ChatGPT Plus for $20 per month. The paid option gives you much faster response times, access during peak hours, and priority access to all the latest features.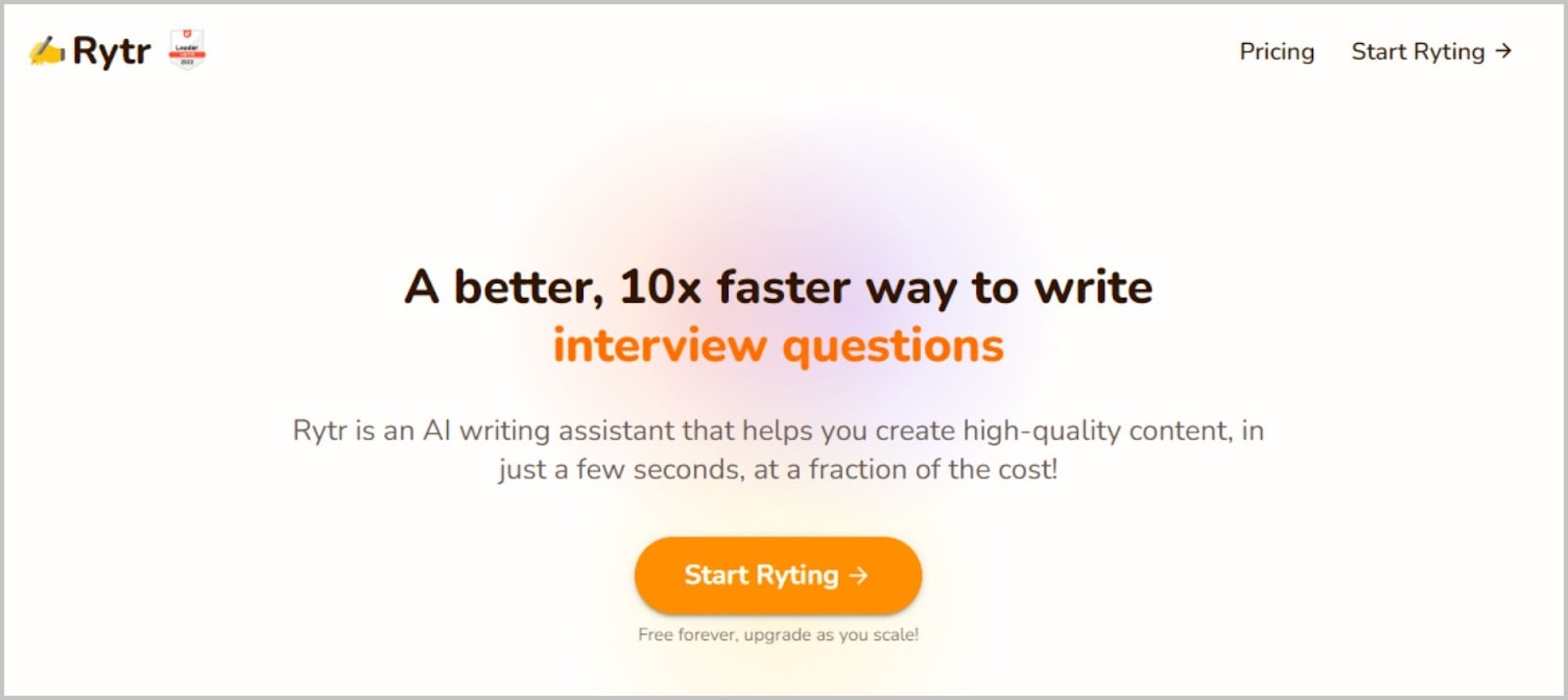 Rytr's AI content generator utilizes GPT-3 technology to create content. This puts it at a disadvantage compared to AI tools that use GPT-4, such as Writesonic. GPT-4 has 100 TRILLION parameters compared to GPT-3's 175 billion. All of those extra parameters lead to more accurate and coherent text.
This is one of the reasons I'd mostly recommend using it for short-form content writing.
To create your content, you:
Choose the desired tone of voice
Pick a use case
Provide a topic for your content
Add a few relevant keywords you want to include
Choose the number of variants you want (so you can choose the best)
Select the creativity level you want the AI to use
Click on "Ryte For Me".
For my prompts, I chose "what is content marketing?" as my title and then used "content marketing tips", "content marketing strategies", and "content marketing best practices" as my keywords: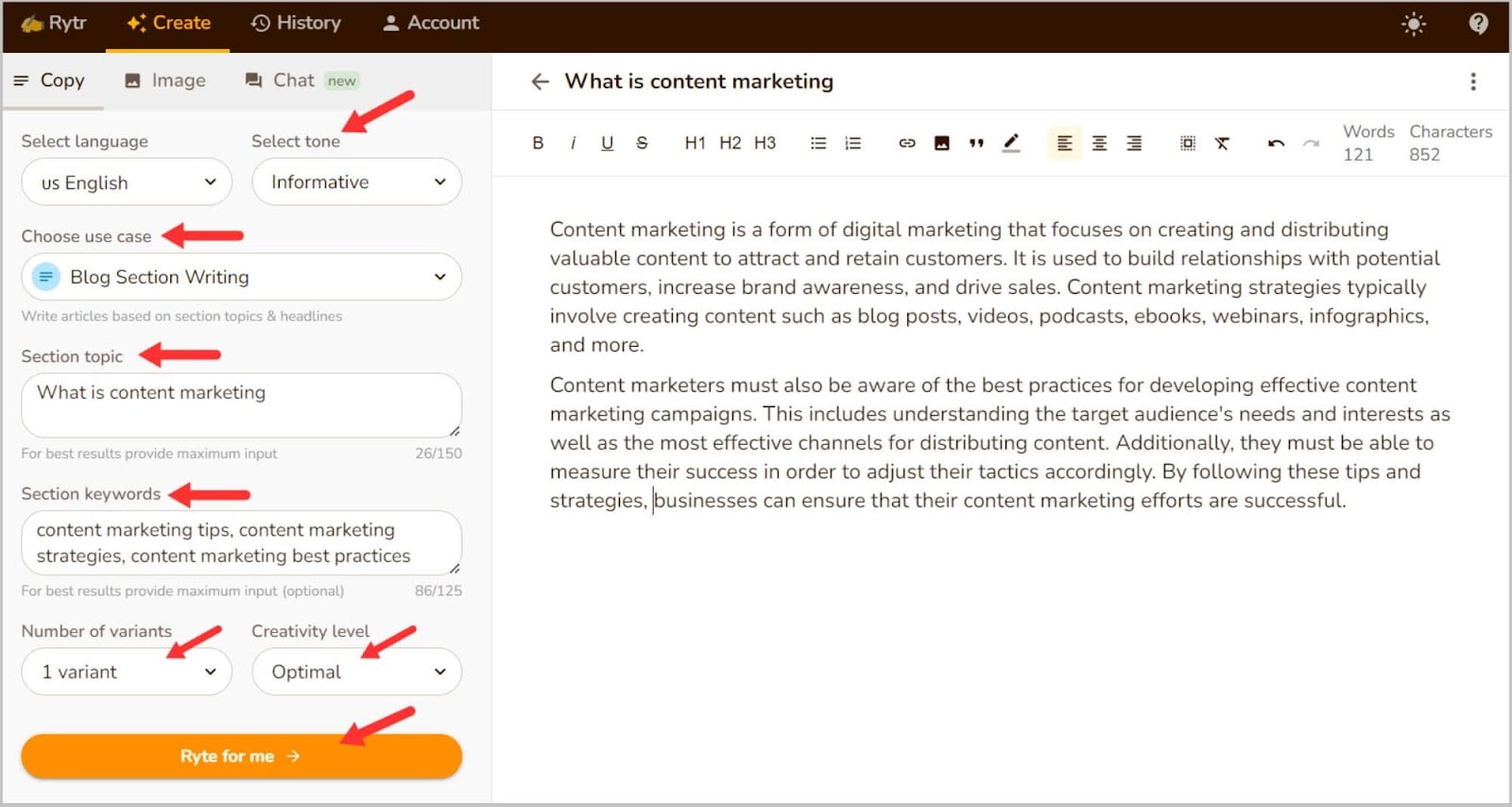 The text it generated for me was pretty generic, to be honest. The tone of voice was informative but to the point where the readability really suffered.
I found the content ChatGPT produced for me was MUCH more readable and had far more personality.
Features
Document management: Rytr's folder and file explorer helps you keep your project organized.
Image generation: Ryter isn't just an AI writer—you can also use it to generate royalty-free images. It's a GREAT tool for making that blog post look more visually appealing.
Language support: Rytr supports more than 30 languages.
What I like:
One of my favorite features of this AI content generator is the number of available use cases. With over 40 at your disposal, including profile bios, meta descriptions, and job descriptions, you can quickly create a wide variety of content.
What I don't like:
The biggest drawback I experienced when using Rytr is that there sometimes isn't too much difference between the tone of voice options.
For example, I asked it to generate the same piece of content using an informative voice and then using a humorous voice. I can't say that I found myself laughing at the "humorous" version.
Similar AI writing tools such as Copysmith, Kafkai, and Jasper perform MUCH better in that department.
Pricing plans:
Rytr's free plan is pretty generous and includes access to over 40 use cases but limits you to 10,000 characters (not words) a month.
Its Saver plan is $9 per month, allows you to generate your own custom use cases, and gets you 100,000 characters per month.
The Unlimited plan is $29 per month. For that, you get unlimited characters and access to your own dedicated account manager.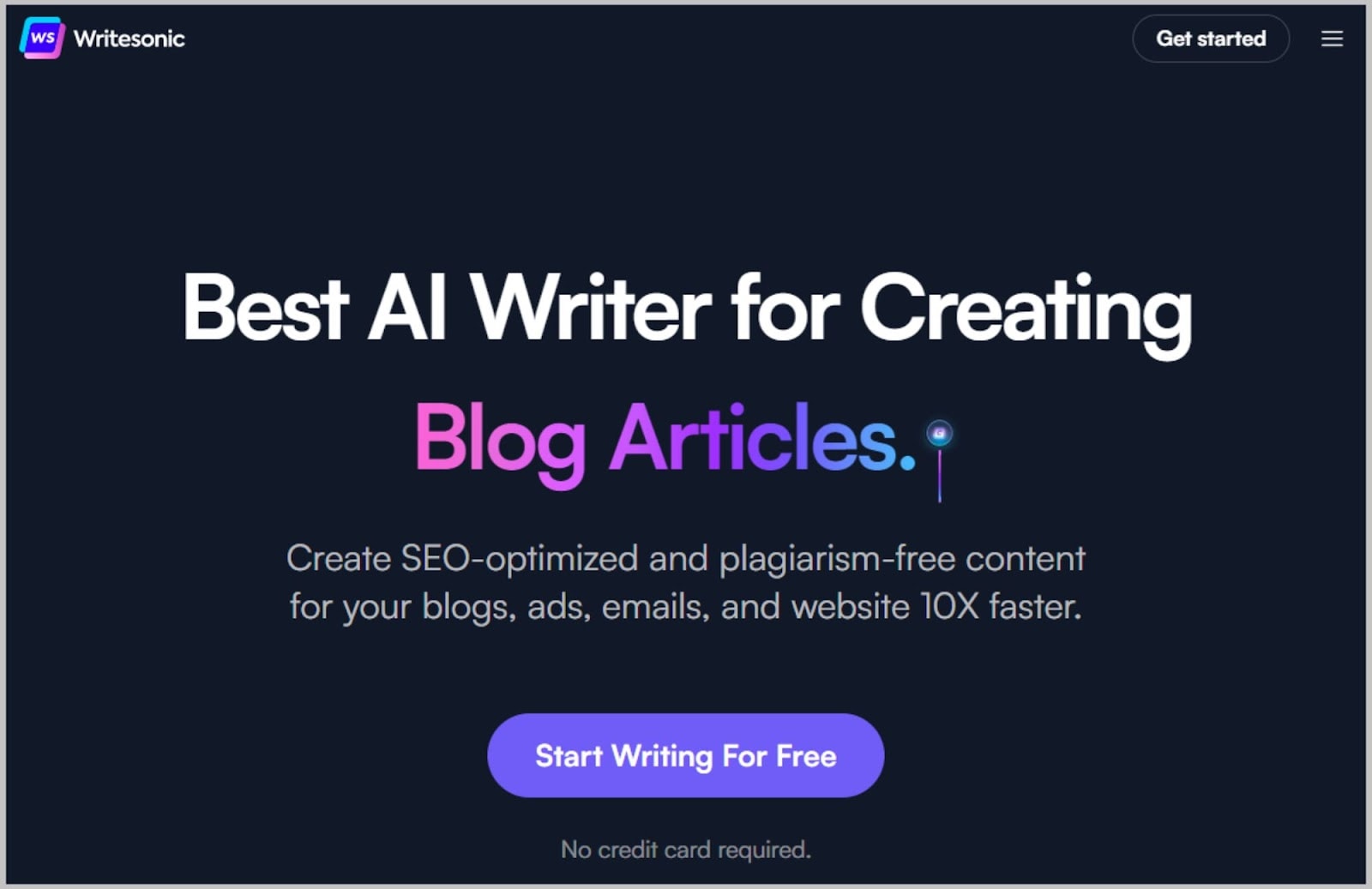 Writesonic is a good option if you're looking to create an engaging blog post and need high-quality templates to guide you.
All the new AI Content Writer 4.0 feature needs is subject to start with. The topic I chose was "best port cellars in Porto":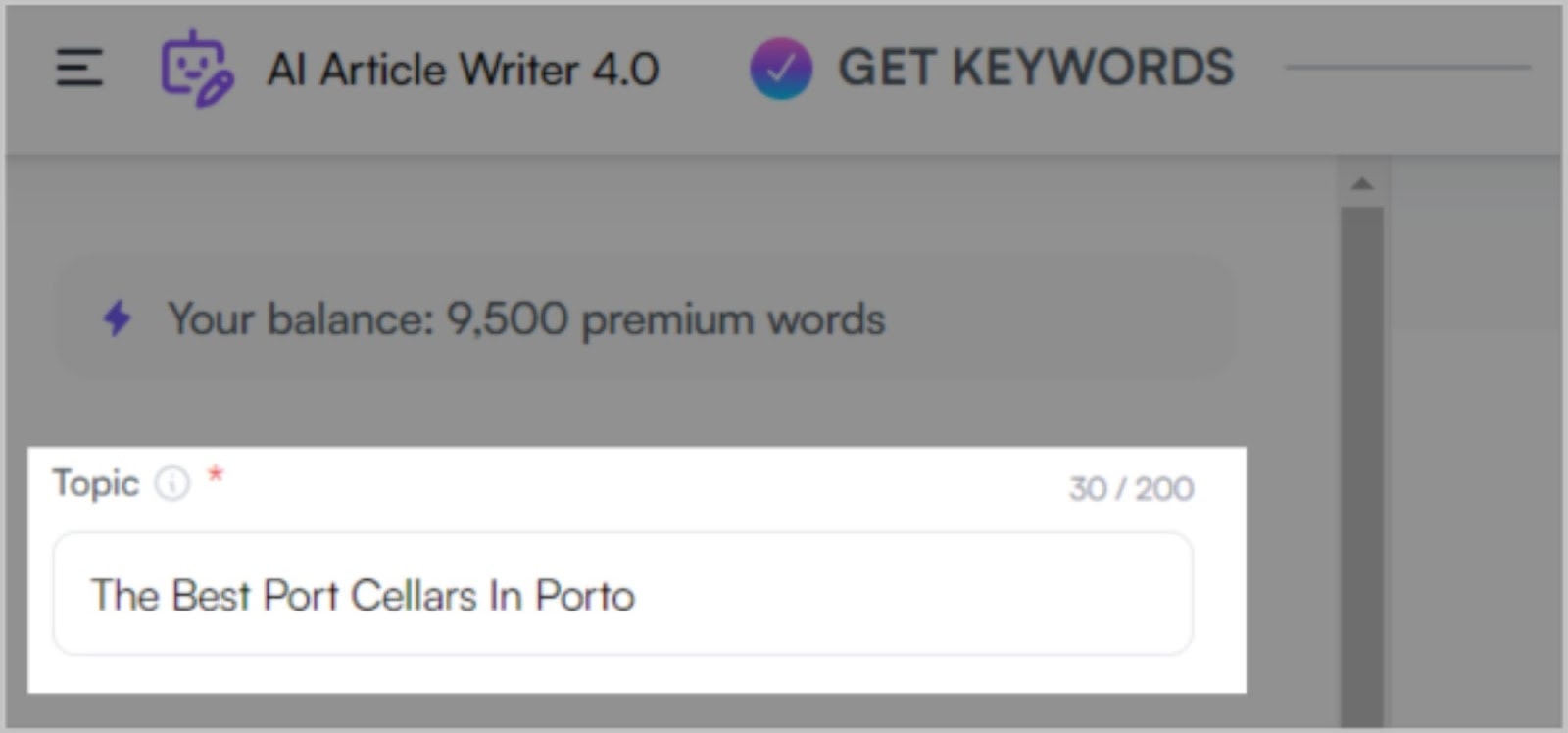 It then generated keywords for me. The three I chose were "Taylor port", "best port wine", and "Porto wine tasting":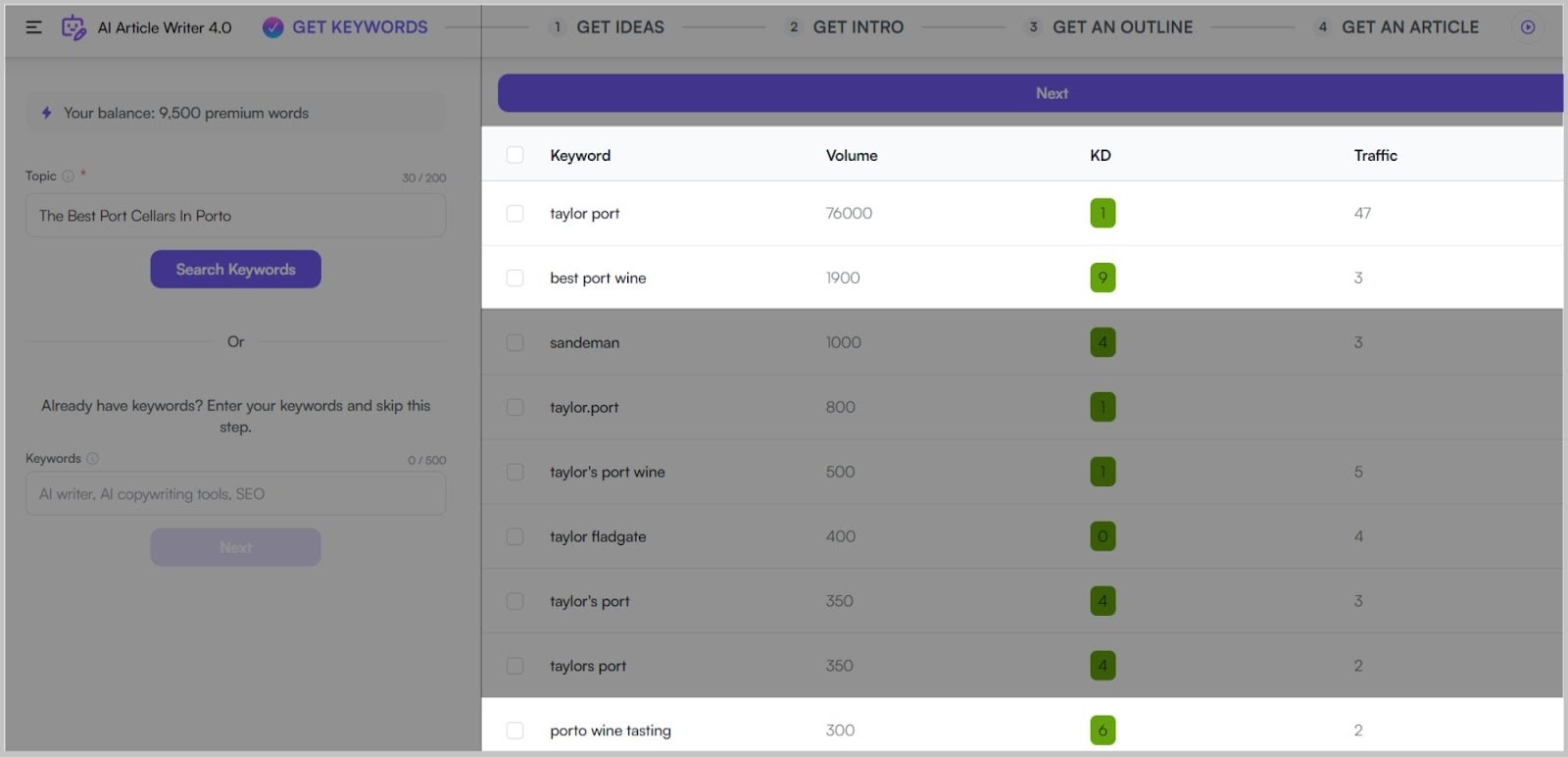 The idea generation stage is next. Here, you choose the tone of voice, point of view, quality type, language, and a call to action, if you like.
I chose an engaging tone of voice, a first-person point of view, and I set the quality type to premium: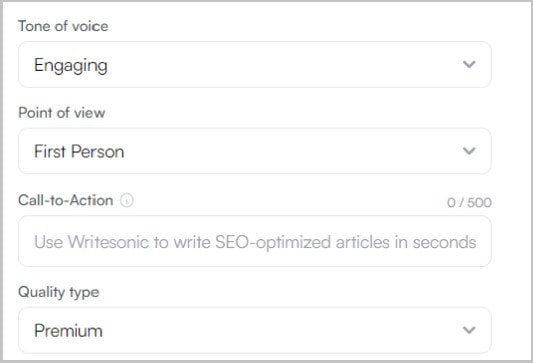 Writesonic then gave me a few headings to choose from. I went with "Taylor Port: Uncovering the Hidden Gems of Porto's Port Cellars".
Once I'd chosen my heading, it then generated an outline including different sections and headings. The next stage is to choose your favorite outline: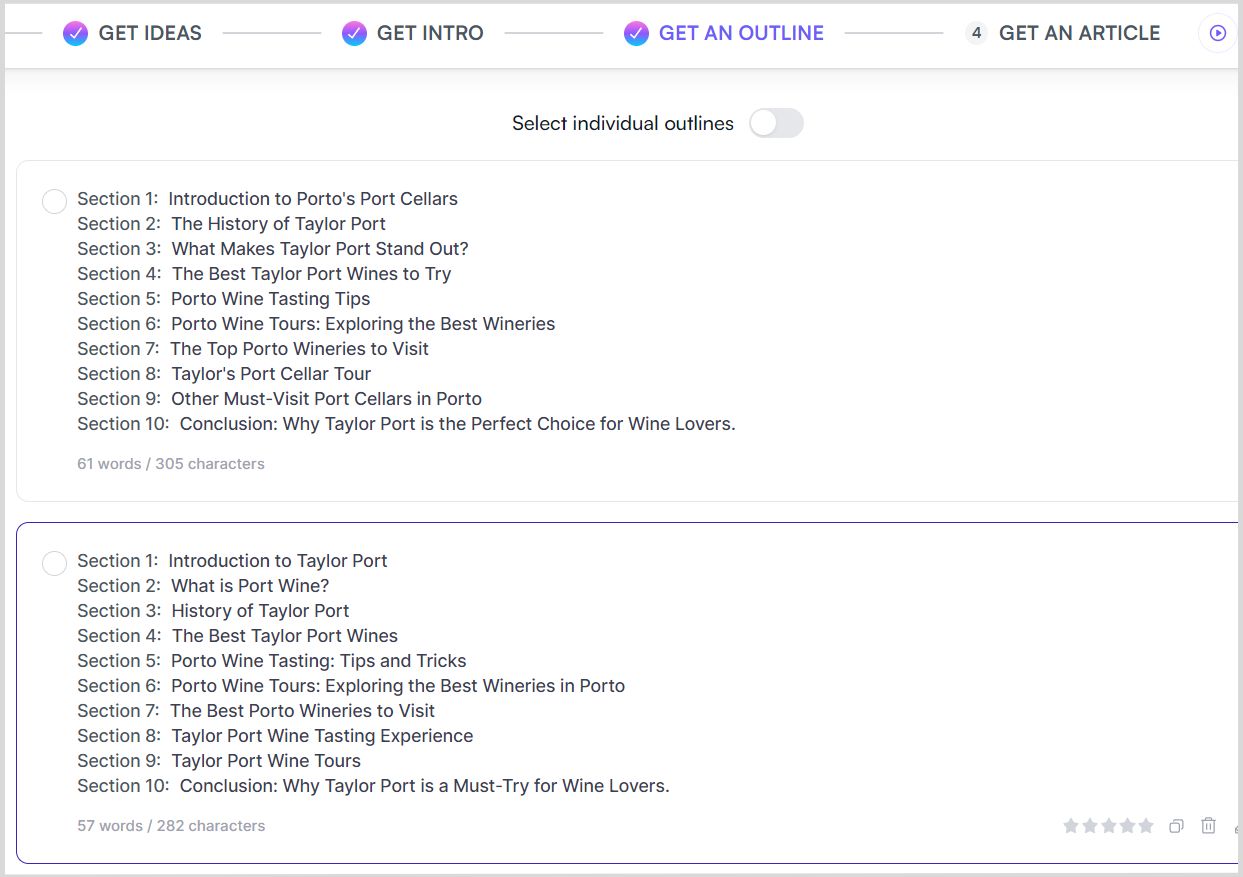 Then finally generate the article. Here's how it looked: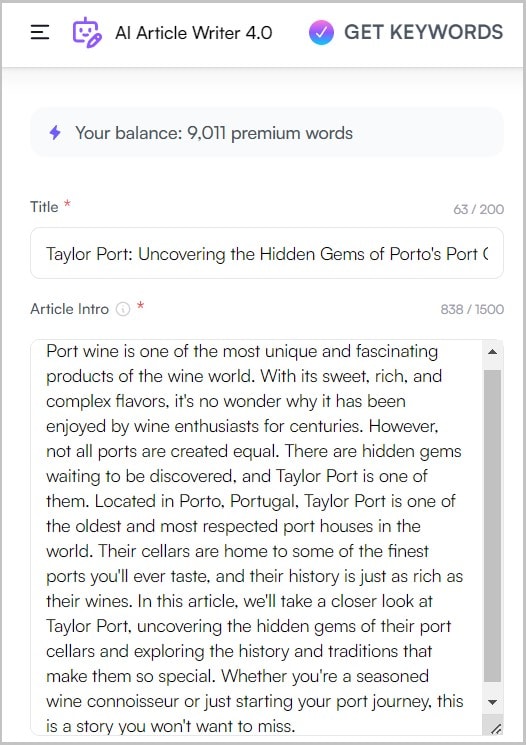 I was actually surprised at the quality of the content that Writesonic produced considering how little input was required from me. It nailed the tone of voice (which was certainly engaging), and the short piece wouldn't look out of place on a lot of travel blogs. 
Features
Sentence expander: This is really useful for helping you to build up sentences based on one or two words.
Paraphrasing tool: I found this helpful when I was looking for a new way to phrase a sentence.
Landing page generator: This allows you to quickly generate landing pages for your site.
What I like:
The thing that stood out to me when using this AI writer was the templates it provides.
These are split into separate groups: There are groups of templates for articles and blogs, ads and marketing tools, general writing, eCommerce, social media, website copy, and others.
Writesonic allows you to tweak the outlines it generates until they're just right. It's easy to use and doesn't take much getting used to.
In fact, this is one area where it excels compared to Jasper. Using Jasper's templates to their full capabilities involves a steeper learning curve. If you want to get up and running as quickly as possible, then Writesonic will suit you more than Jasper.
So, Writesonic is a pretty versatile tool.
It's also one of the few AI writing tools so far that has adopted GPT-4 technology. This gives it an advantage over the likes of Rytr when it comes to the reliability of its information.
What I don't like:
The most frustrating thing about Writesonic is how limited the number of words is for the lower price tiers. They lure you in with a low starting price, but this only gets you 60,000 words, which is unlikely to be enough for most content writers.
Plus, the free trial doesn't give you enough words to properly test all of your content ideas.
Pricing plans:
Writesonic's free trial limits you to 10,000 words. Its Long-Form plan starts at $12.67 a month and is designed for freelancers and bloggers.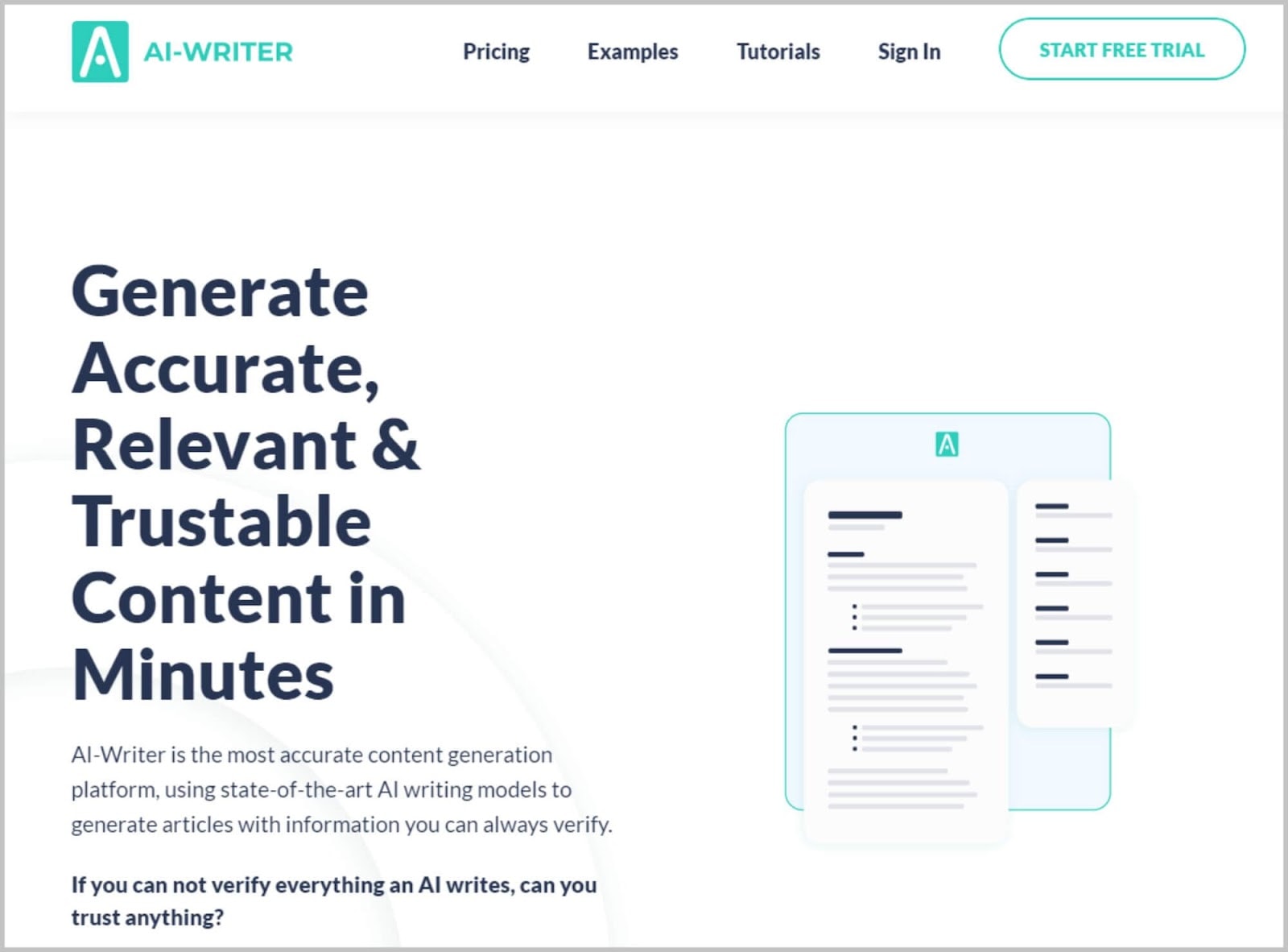 AI-Writer is a useful tool for writing SEO content. Once you enter a headline or topic into AI-Writer (that's all you need to give it), it starts generating content that's designed to help your website's SEO.
I used "10 Most Common Mistakes In SEO" as my title, and AI-Writer generated my article in a matter of minutes.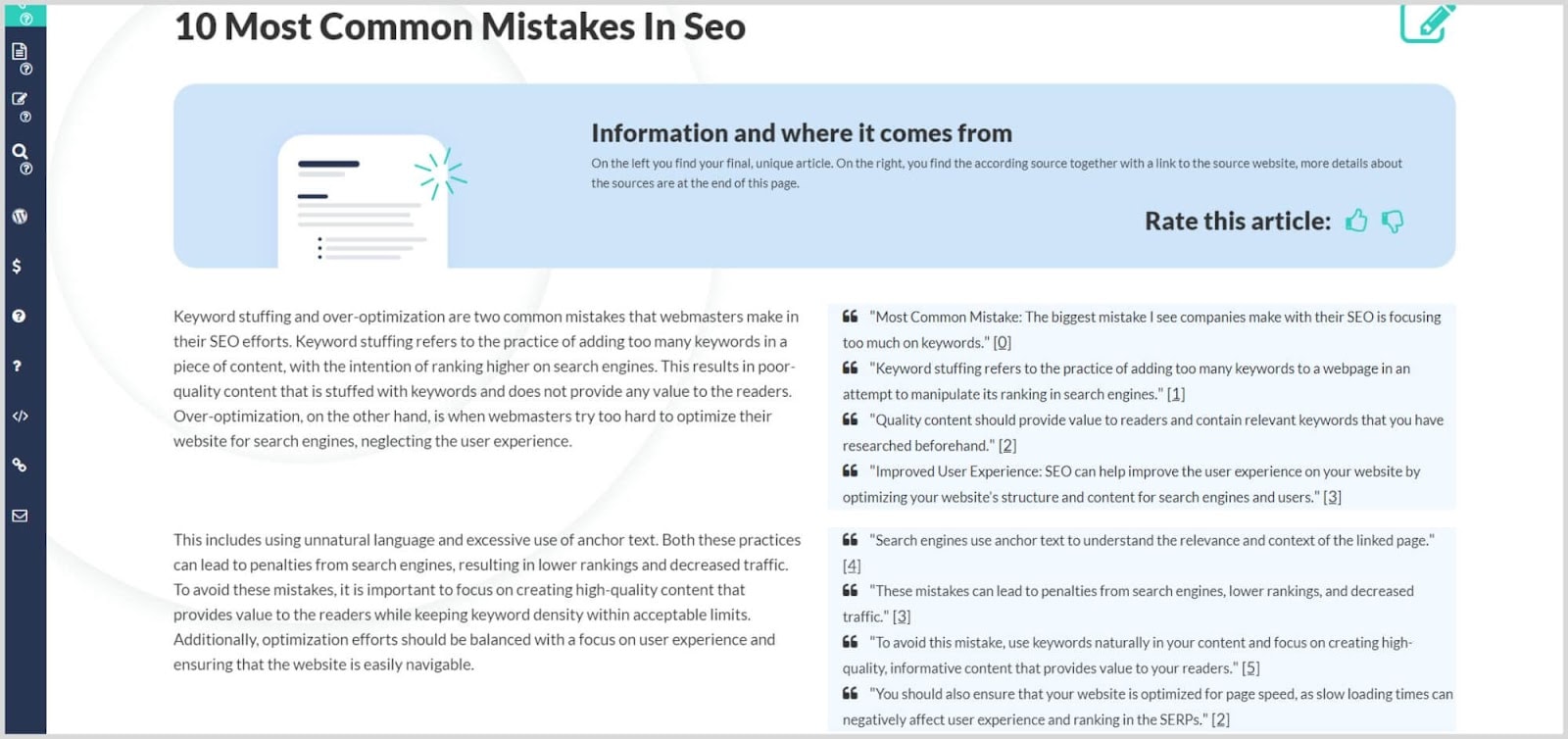 Features
Multi-platform compatibility: AI-Writer is compatible with Mac, iOS, Android, and Windows.
Syncing: AI-Writer can be synced with iCloud, Dropbox, and other storage services.
Rewording function: This allows you to enhance content that you've already created or even published.
What I like:
I really liked the fact that the interface for AI-Writer is nice and simple. Some other content generator tools are overly complicated, such as LongShot and Simplified (ironically), which I find off-putting. AI-Writer is easy to use and doesn't have any unnecessary frills.
What I don't like:
The content that AI-Writer generated for me was often quite generic. It usually lacked any distinct voice and I wouldn't say it was overly enjoyable to read.
Pricing plans:
AI-Writer is one of the more expensive options I've come across. The Basic plan is $29 per month, the Standard plan is $59 per month, and the Power plan is a massive $375 per month. AI-Writer does also have a seven-day free trial.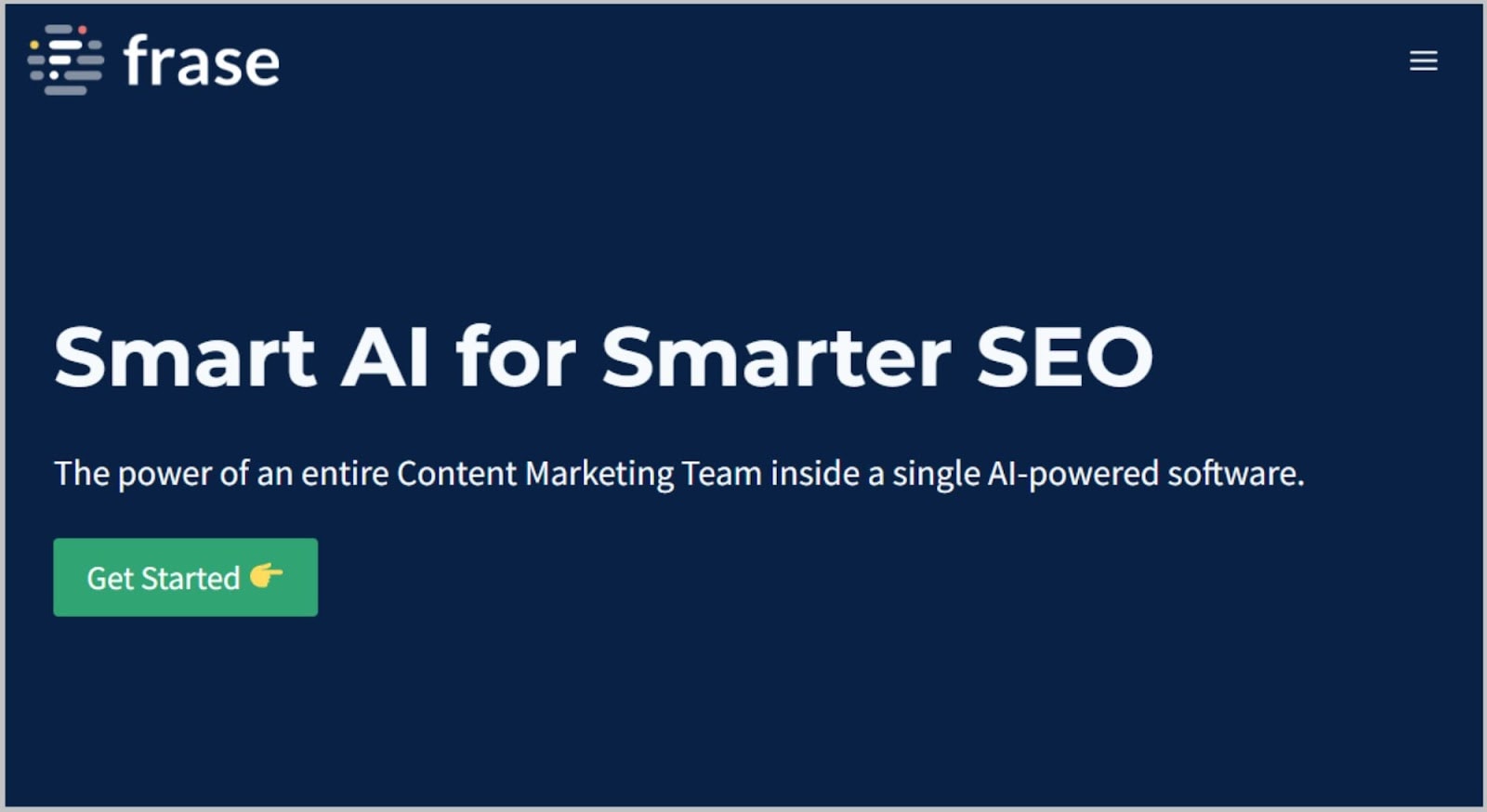 Frase is one of the best AI content generators I've used for SEO-focused content. While it can't compete with an expert SEO writer (of course), it's extremely useful for helping you to generate SEO content—and would be one of my go-to for this type of copywriting.
You access the AI content generator from the main Frase dashboard. You only need to input relatively basic prompts to get it going, such as "write me an optimized blog post based around the keywords sneaker proxies and sneaker bots with a maximum of 500 words".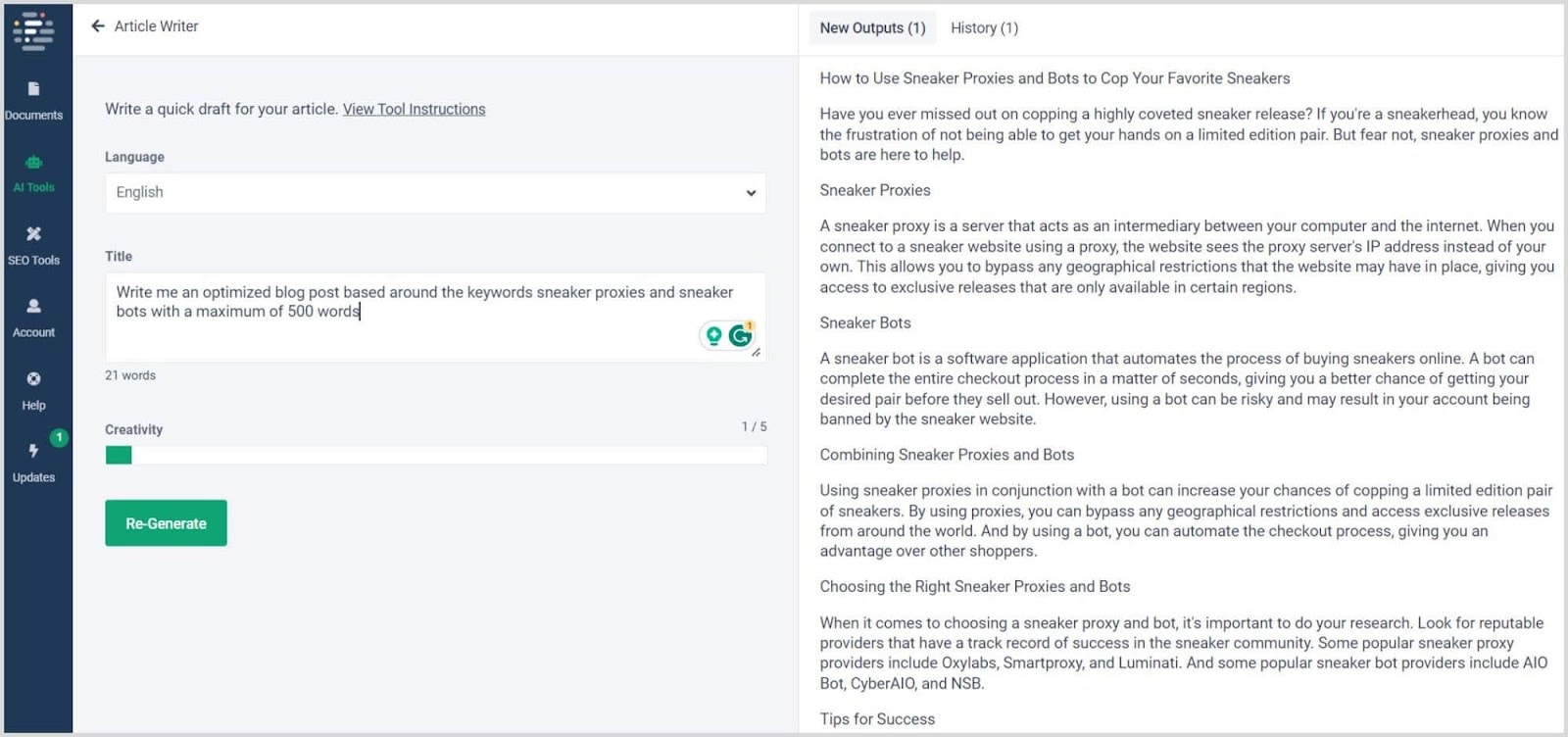 Features
Integrated optimization: Frase structures its AI-generated content based on top-ranking results in SERPs.
Brief generator: Generates SEO-friendly, full-length blog templates automatically.
What I like:
The thing I LOVE about the Frase AI content generator is probably the thing that everyone else likes—its focus on optimization. Frase asks you for a target search query and then creates content designed to rank for this search.
Another thing I was impressed with were Frase's automated content briefs. The AI lets you check at a glance what your competitors' headings are and what they're writing about. Frase then uses this and other information, such as topic clusters, to generate a detailed brief for you.
In just a few seconds, it outputs large volumes of text pretty seamlessly. It's PERFECT if you need to generate a lot of content in a short space of time.
Frase also has an Attention Interest Desire Action (AIDA) template which is really handy for generating ad copy and product descriptions. All you need to do is input a brief product description, some information about your audience, and select the creativity level.
So, if you're looking for ways to enhance your digital marketing and sales strategies, I'd highly recommend taking Frase for a spin.
Another reason Frase is great for SEO content is its listicle template. With just a title, it generates engaging listicle articles that can be as creative as you want them to be.
What I don't like:
I like to get plenty of bang for my buck and I find Frase to be overly expensive. The word limit for its writing tool stays the same even if you pay for the pricier plans. However, you can't access many of the best features if you only have the most basic plan.
Pricing plans:
The Solo plan will set you back $14.99 per month and the Basic plan costs $44.99 per month. The Team plan is $114.99 per month.
The Pro add-on for your subscription costs another $34.99 per month. This gives you unlimited access to the AI writing tool. Without it, you can only generate 4,000 words a month. There are no free trials for Frase.

ContentBot handles both short-form and long-form copy pretty darn well. If you're a content marketer, digital marketer, or copywriter, then this AI writing assistant will be right up your street.
When using the Instruct Bot feature, you can ask ContentBot to generate any type of content you want. If you struggle to come up with a prompt, you can select one of the "community prompts".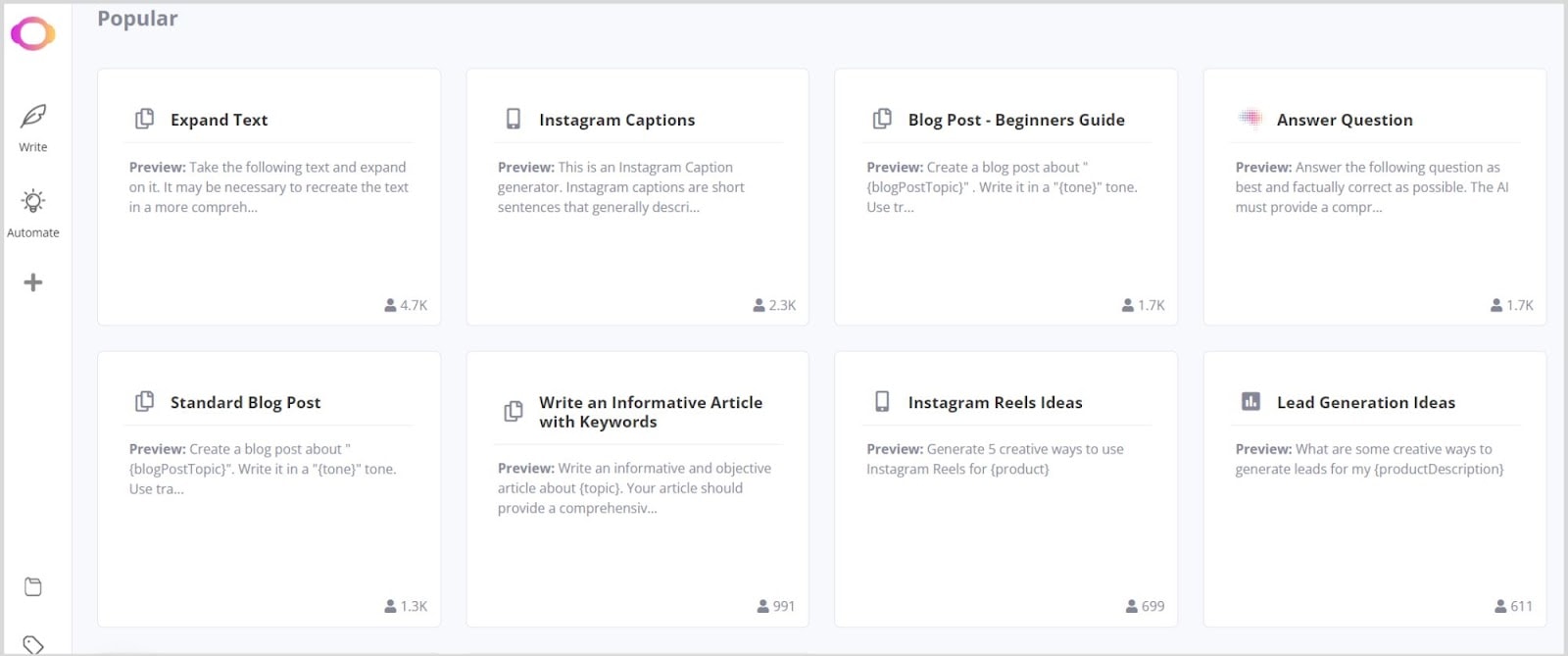 Then, you just let ContentBot get to work!
Features
Blog Shot: This lets you automatically create a blog post with just one click.
Press release tool: Allows you to auto-generate press releases.
Integrations: ContentBot has a plugin for WordPress and a Chrome extension, so you can use it just about anywhere.
What I like:
I found ContentBot's AI paraphrasing tool to be a really handy feature. It lets you enhance and rewrite long-form content quickly and easily.
What I don't like:
As with Writesonic, this AI content generator doesn't give you enough words in the free trial to test it out properly.
I'm NOT a fan of this.
I much prefer a purely subscription-based trial where you don't have to worry about running out of words while you're in the middle of something. Fortunately, many AI content generators use this model.
Pricing plans:
ContentBot's free demo gives you 5,000 words. The Starter plan costs $19 per month, the Premium plan is $59 per month, and the Premium+ plan is $99 per month.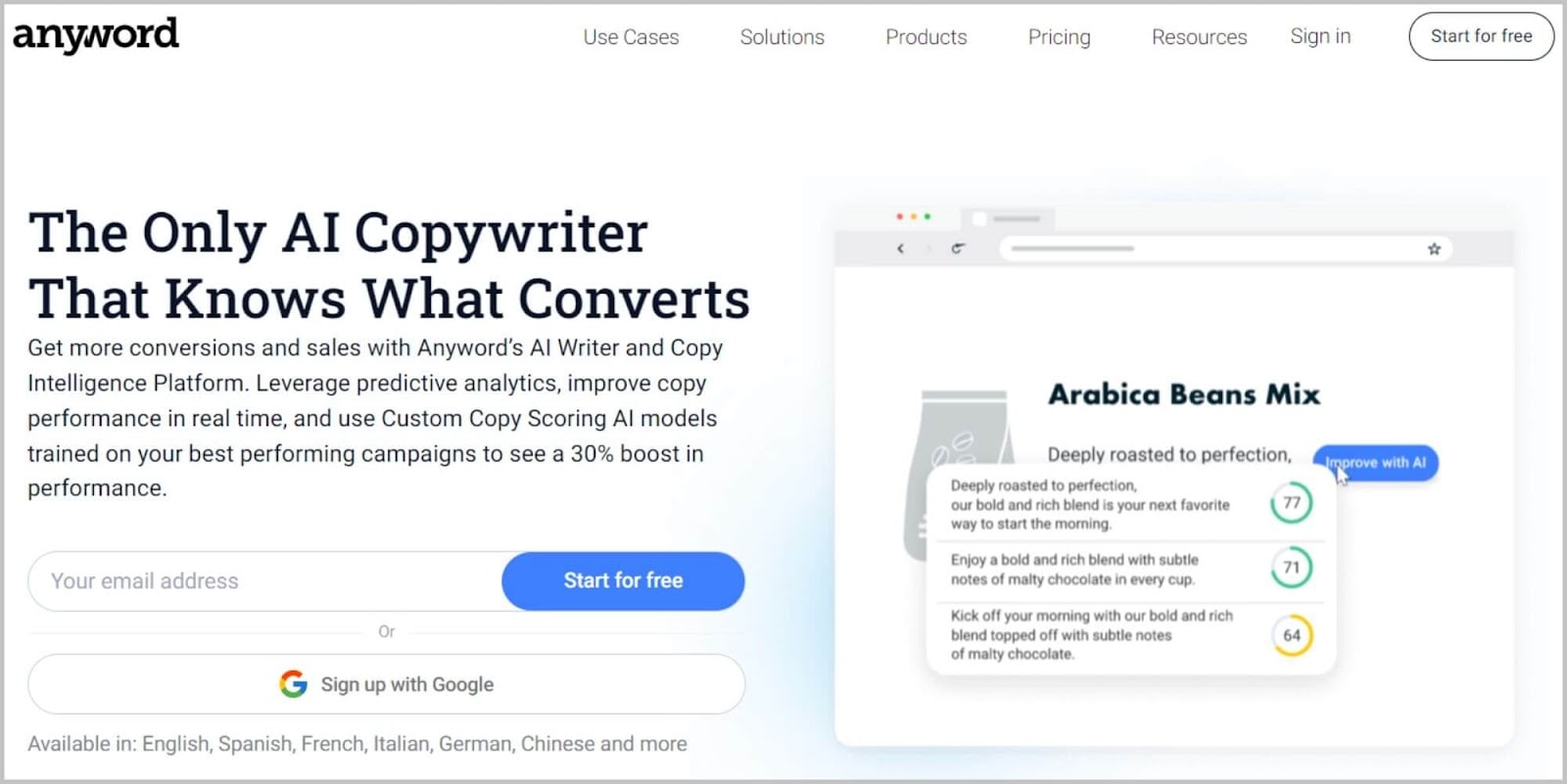 Anyword is similar to Copy.ai in that it generates blog posts without much fuss.
To get going, you describe the type of blog post you want and supply it with the keywords you'd like to target.
My prompt was "The Best Hiking Trails In California" and I used related keywords like "best hiking in the Golden State" and "best coastal hiking in California".
You then need to choose one of the titles it suggests and approve the blog post outline it generates. Once that's done, you're all good to go.
Here's how it did:

As you can see, the title Anyword suggested was right on the money. The introduction also has a really nice flow to it.
Anyword isn't just limited to creating blog posts, though. It also has tools for creating landing pages, ad copy, company bios, and social media posts.
Consider it your all-in-one content creation sidekick.
Features
Collaboration tools: Lets you get the whole team involved.
Data-driven editor: Gives your content engagement scores and helps you target it to your specific audience.
What I like:
I really like the amount of control Anyword gives you during the content creation process. At every stage of your outline, you can give the AI instructions. This includes what style to use, which facts to mention, and what details the content needs to cover.
What I don't like:
My only real beef with Anyword is that you have to pay for one of the most expensive plans to gain access to most of the features. If you're not willing to break the bank, then you're stuck with a really basic AI tool.
Pricing plans:
Anyword's free trial lasts for seven days. But as I mentioned, you don't get to try out many of its features. The Starter plan begins at $24 per month. The Data-Driven plan, which you need to get the best features, starts at $83 per month.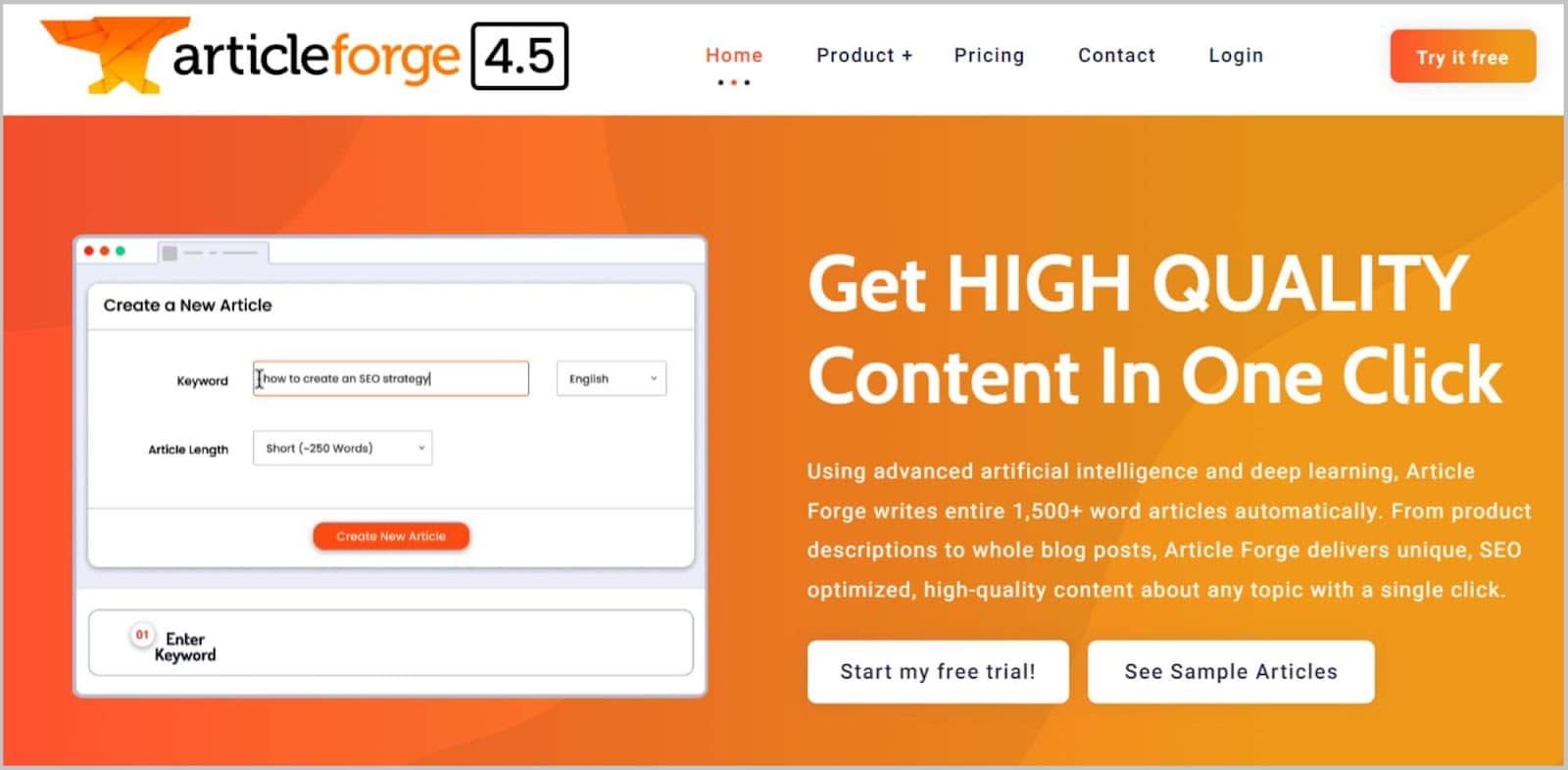 To generate content with Article Forge, you only need to give it three pieces of information—language, keywords, and length. As it generates content, Article Forge can also insert images, headings, and hyperlinks automatically.
Features
Integration: Article Forge's API allows for integration with an array of apps.
WordPress publication: You can post articles on WordPress directly from the Article Forge generator.
What I like:
Article Forge has an intuitive interface, making it easy to customize elements of your article such as secondary keywords, length, and subheadings. This allows you to create high-quality content that should rank in search engines.
What I don't like:
The main issue I had with Article Forge is that it often produced sentences unrelated to the topic. Of course, this meant I had to do quite a lot of editing.
Pricing plans:
Article Forge starts at $27 per month. It offers a five-day free trial and a 30-day money-back guarantee.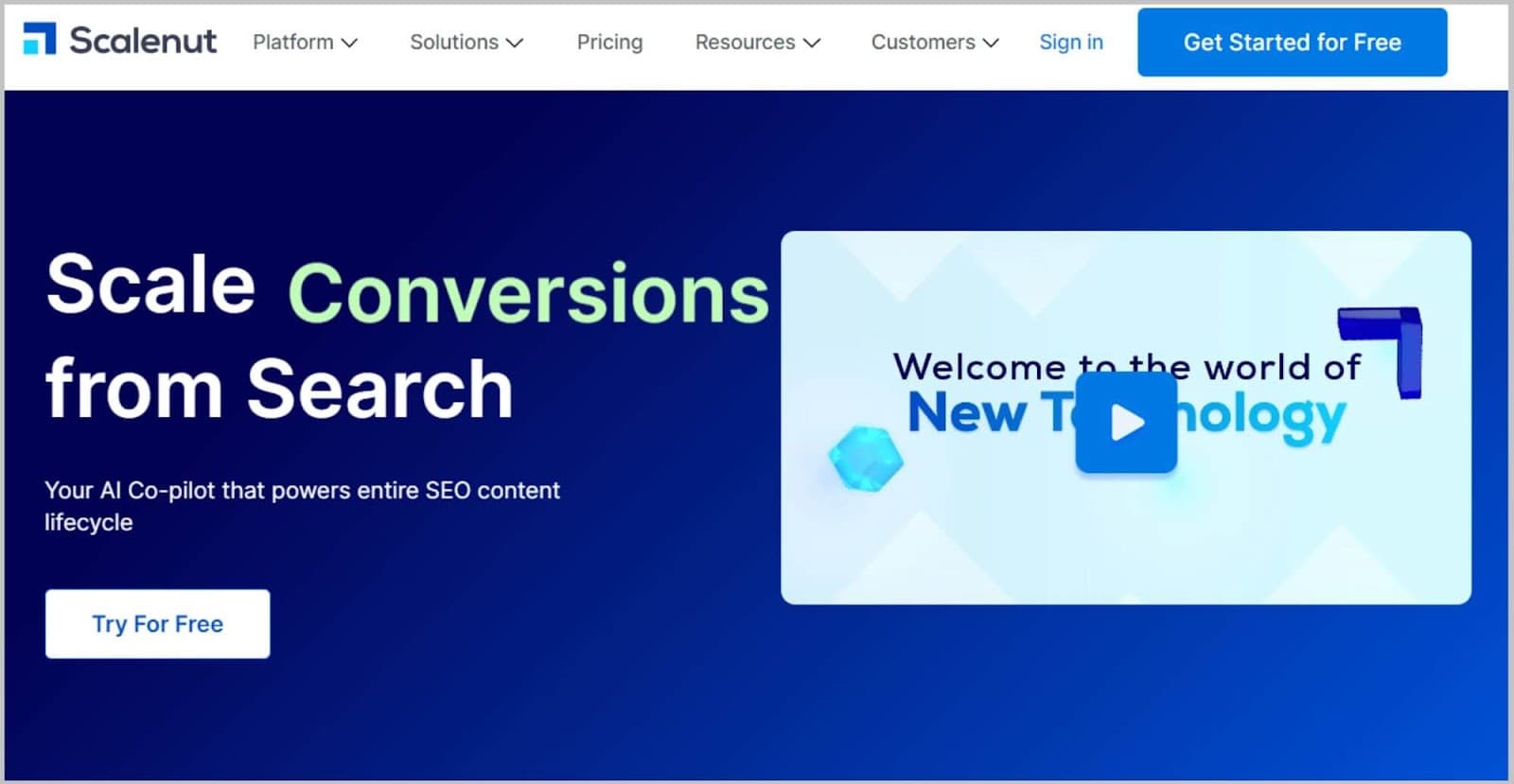 You can use Scalenut throughout the ENTIRE content creation process. From topic research and keyword planning right through to writing an optimized blog post, you can do it all in one nifty tool.
To produce articles, just type your keywords into the Topic Cluster tool and click the Create Brief button. It then lets you edit the outline before it starts writing.
Features
Natural Language Processing (NLP) analysis: This AI writing assistant gives you keywords semantically related to your topic and uses them to create optimized content.
Cruise Mode: In just five steps, you can plan and generate an entire article.
Integration: Integrates with platforms including Copyscape, WordPress, and Semrush.
What I like:
Scalenut gives you actionable insights on keywords and trending topics. It can then generate content your audience is interested in.
What I don't like:
As with Article Forge, I sometimes had to edit Scalenut's content quite heavily. This was pretty time-consuming. However, this wasn't always the case. A lot of the work that Scalenut produced for me was high quality and just required some minor tweaking before it was good to go.
Pricing plans:
Free trial: seven days
Essential: $23 per month
Growth: $47 per month
Pro: $89 per month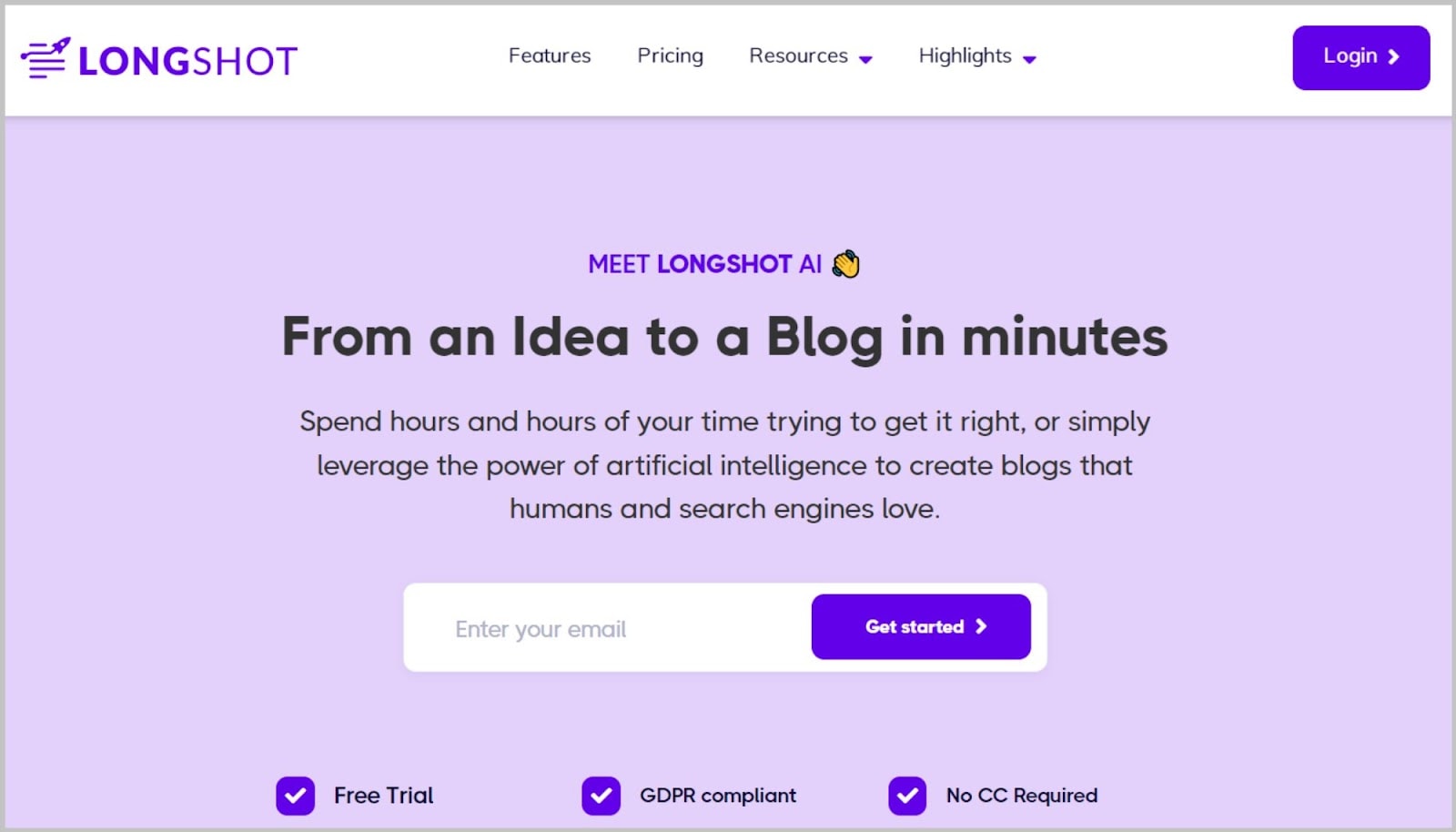 LongShot is great for writing blog posts and for generating short-form copy-like meta descriptions. To start, you select a type of content and then provide LongShot with some fairly basic information about what you want it to write.
When writing a blog, you simply give the AI a topic and tell it what keywords you want to optimize the blog for.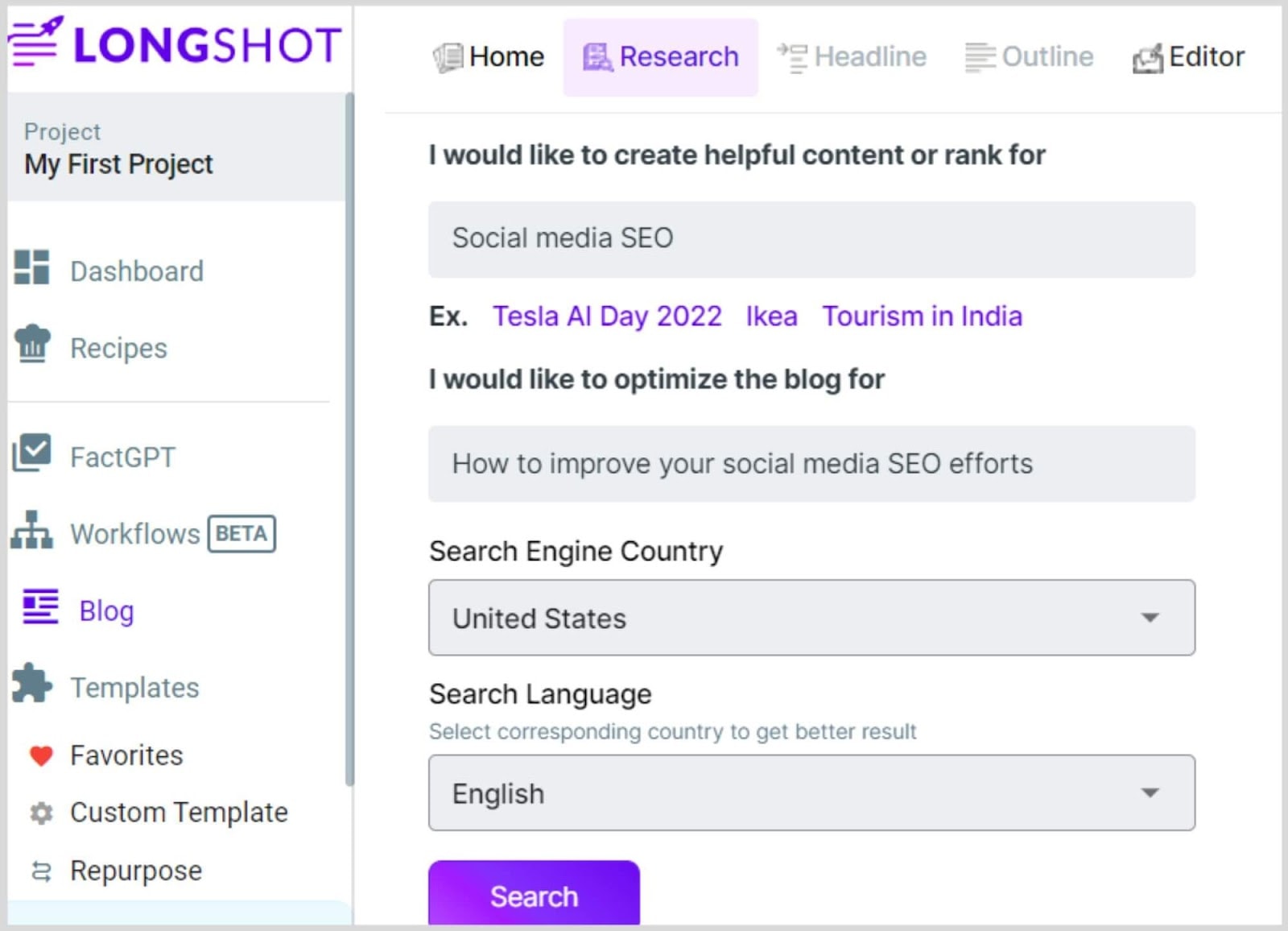 Then, you pick some of the suggested keywords, subheadings, and questions to give LongShot more of an idea of the type of blog article you're looking for.
LongShot uses this information to generate headlines for the article. Once you're happy with your title, you select one of the suggested outlines and LongShot gives you your text.
For my blog, the topic prompt I used was 'Social media SEO' and I asked LongShot to optimize the blog for 'How to improve your social media SEO efforts'.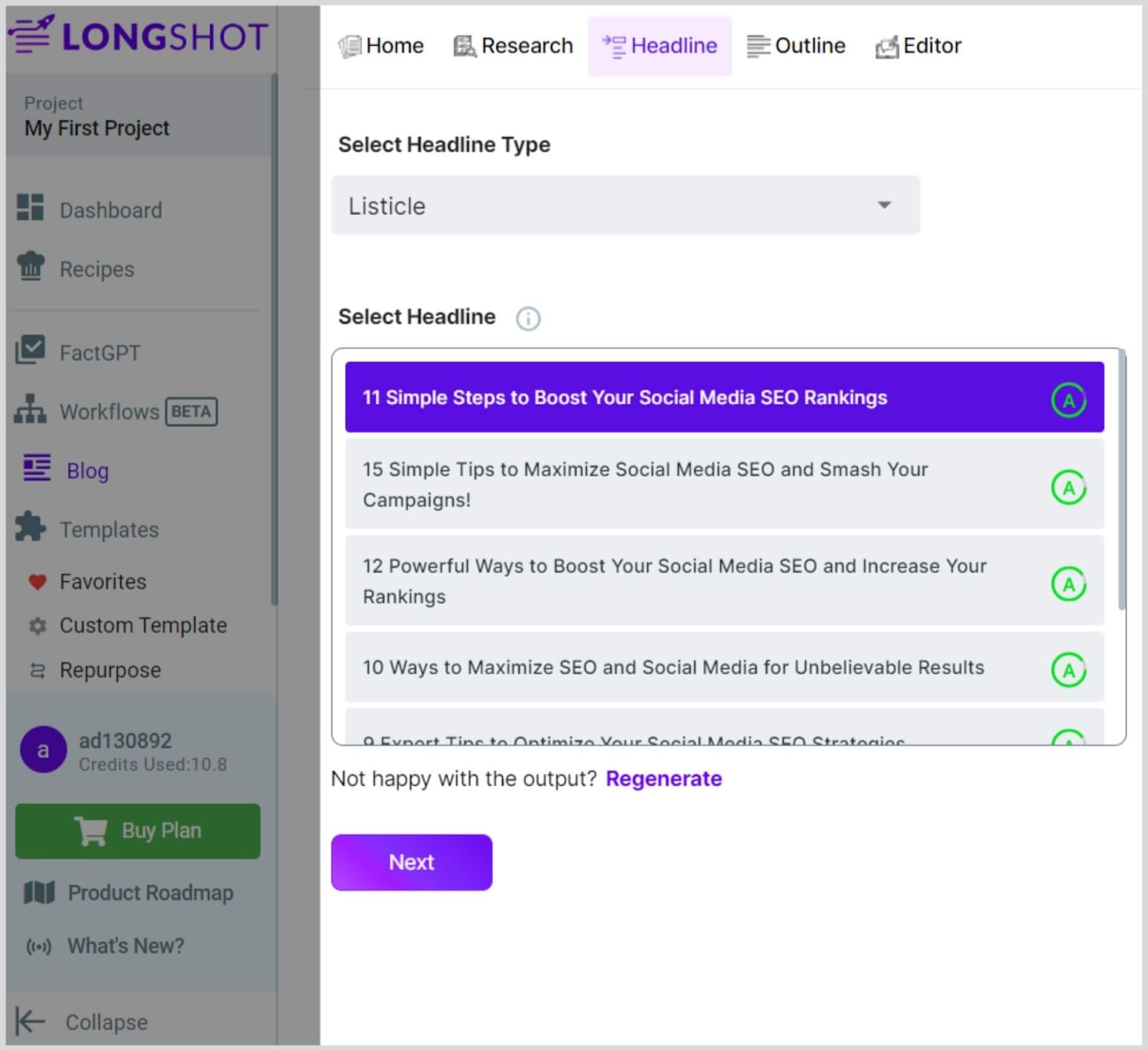 Features
Fact generator: LongShot automatically provides facts related to your topic. These facts are pulled from authoritative websites within your niche.
Fact-checker: Detects questionable facts automatically.
What I like:
The fact-checker feature makes LongShot really stand out from other AI content generators. Factual inaccuracies are one of the biggest issues with AI-generated content.
So, having an in-built fact-checker is a HUGE plus. Of course, you should still fact-check all content produced by AI yourself, but this tool should make that a less laborious task.
What I don't like:
LongShot takes some getting used to if you want to get the most out of its features. The learning curve is quite steep to start generating SEO content.
Pricing plans:
LongShot has a free plan, but you only get 50 credits (which will run out quickly). The other three pricing tiers are:
Pro: $19 per month
Team: $49 per month
Agency: $299 per month
The Agency plan makes LongShot a good option for SEO agencies looking to scale their content production.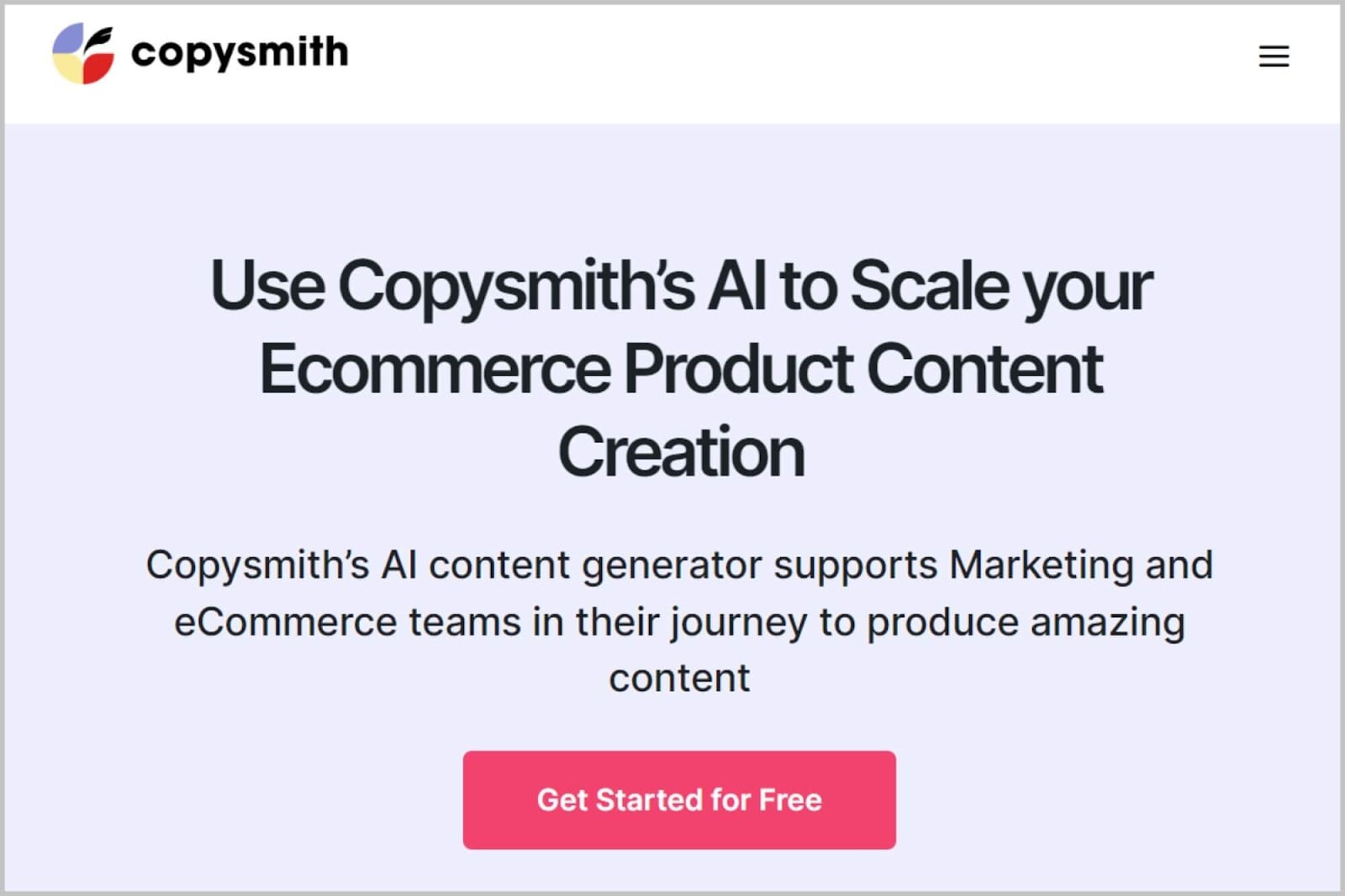 Alongside Jasper, Copysmith's AI Article Writing Assistant is the best for generating long-form content. To use it, you type in a topic that you want to cover, choose one of the generated ideas, select an outline, and Copysmith starts writing.
It's one of the best AI tools for freelancers, marketing agencies, and eCommerce store owners looking to quickly generate a LOT of content.
To put Copysmith to the test, I asked it to write me a blog about "mobile friendly SEO". Here's what it came up with:

Features
Team collaboration: Copysmith allows you to share your project's folders, files, and content generator tools with your colleagues.
High level of integration: It can integrate with WooCommerce, Frase, Microsoft Word, Google Docs, and more.
Bulk content generator: You can generate content for multiple entries at the same time. This is a HUGE time saver for busy marketers.
What I like:
Copysmith can create up to 15 content variations, each with a unique tone of voice. This is ideal for generating content based on various use cases.
I also like the fact you can use it to audit your existing content. It allows you to easily enhance, extend, and rewrite your sentences if you're struggling with writer's block.
What I don't like:
The only real downside of Copysmith is it's not great for creating content in languages other than English. Copysmith does claim to support other languages, but I found the results to be poor.
Pricing plans:
Copysmith has a seven-day free trial and its Starter Plan is $19 per month. The Pro Plan, which is $49 per month, is best suited to individual writers like freelancers. If you want to use it for your company, you'll need to get a custom quote for Copysmith's Enterprise Plan.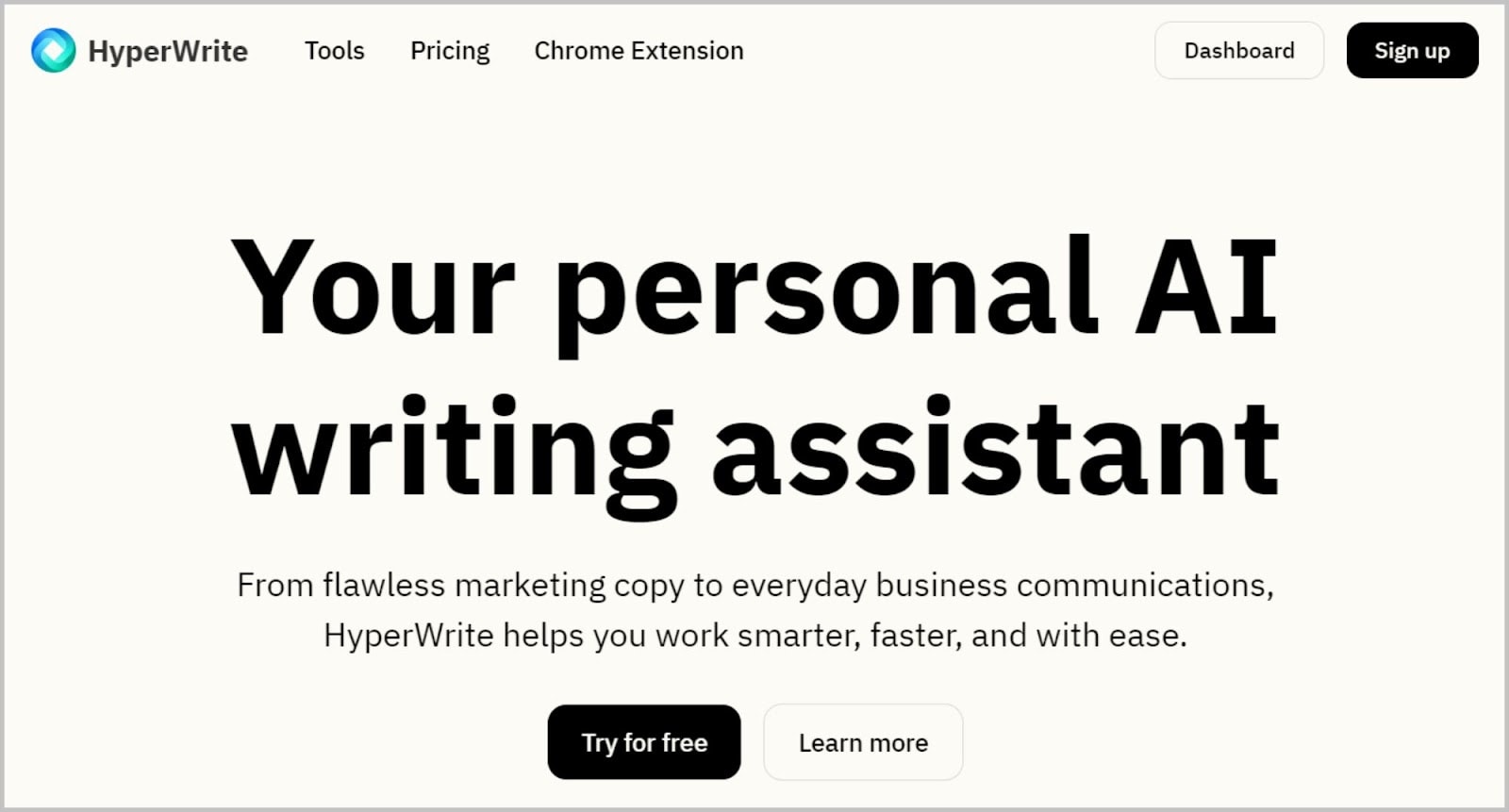 HyperWrite is better for research and generating ideas than it is for writing content. It works in the same way as ChatGPT: You give it a prompt and it responds.
I used its "Expert Writing Assistant" to get some help with the introduction to an article. I used the prompt "give me advice on writing an introduction for my article about the best vacation spots in the US for families".
HyperWrite then gave me a few different introduction ideas to get the juices flowing. The jury's out as to whether it can be considered an "expert" or not, but the results were not bad: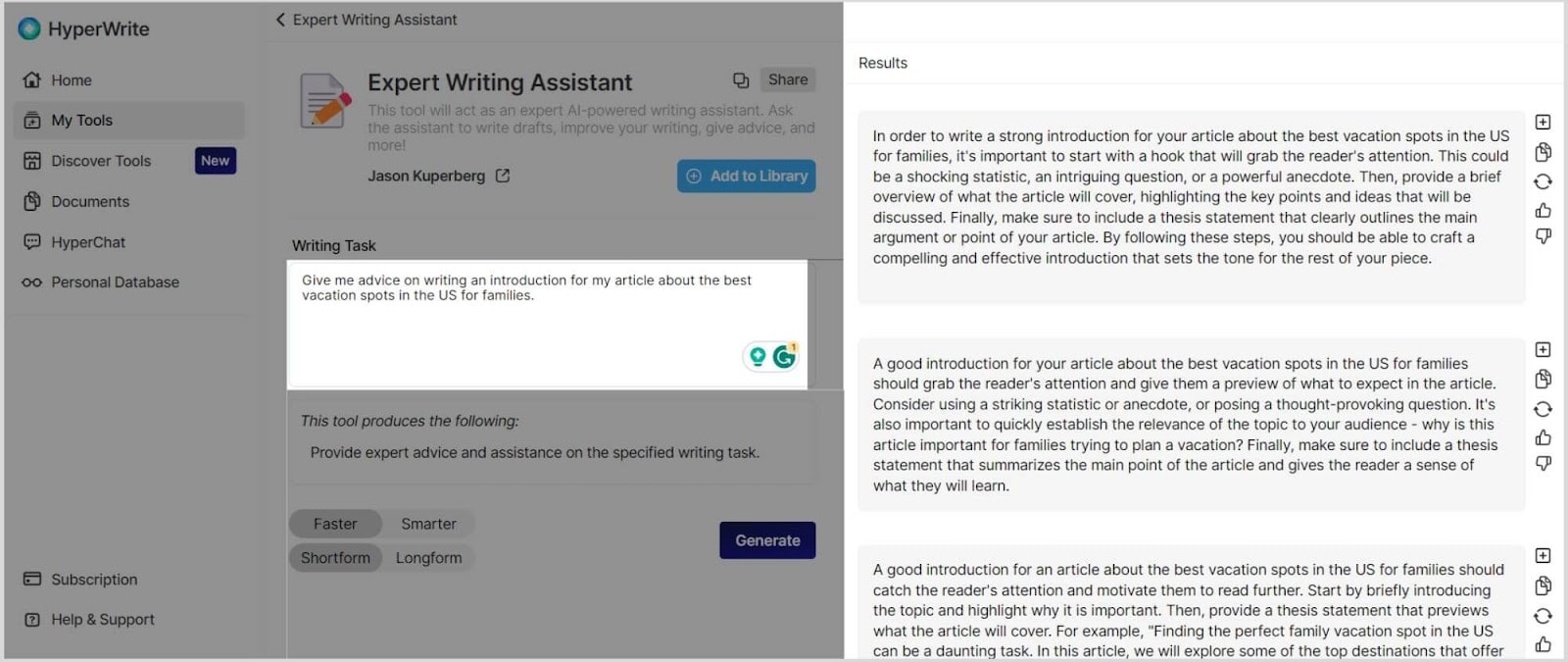 Features
Chrome extension: Works with Gmail, Google Docs, LinkedIn, and more.
Personal Database: This feature teaches the AI to write in your voice for a more consistent output.
What I like:
HyperWrite comes with fifty templates for a variety of different use cases. So, everyone from content writers to marketers and web designers can use it.
The Personal Database is another nice feature. The AI scans documents you've written to analyze your writing style so that it can emulate it. Now, like me, you may find it a little bit unsettling that a machine can imitate you—but it's worth being a bit creeped out by how useful this tool is.
What I don't like:
Although you can integrate HyperWrite with third-party apps like Google Docs, Microsoft Word, and Gmail, you can't integrate it with plagiarism tools like Copyscape. This means it's a little limited in functionality compared to tools like Scalenut.
Pricing plans:
Hyperwrite's most basic plan is free forever but is VERY limited. The Premium plan is $19.99 per month and the Ultra plan is $44.99 per month.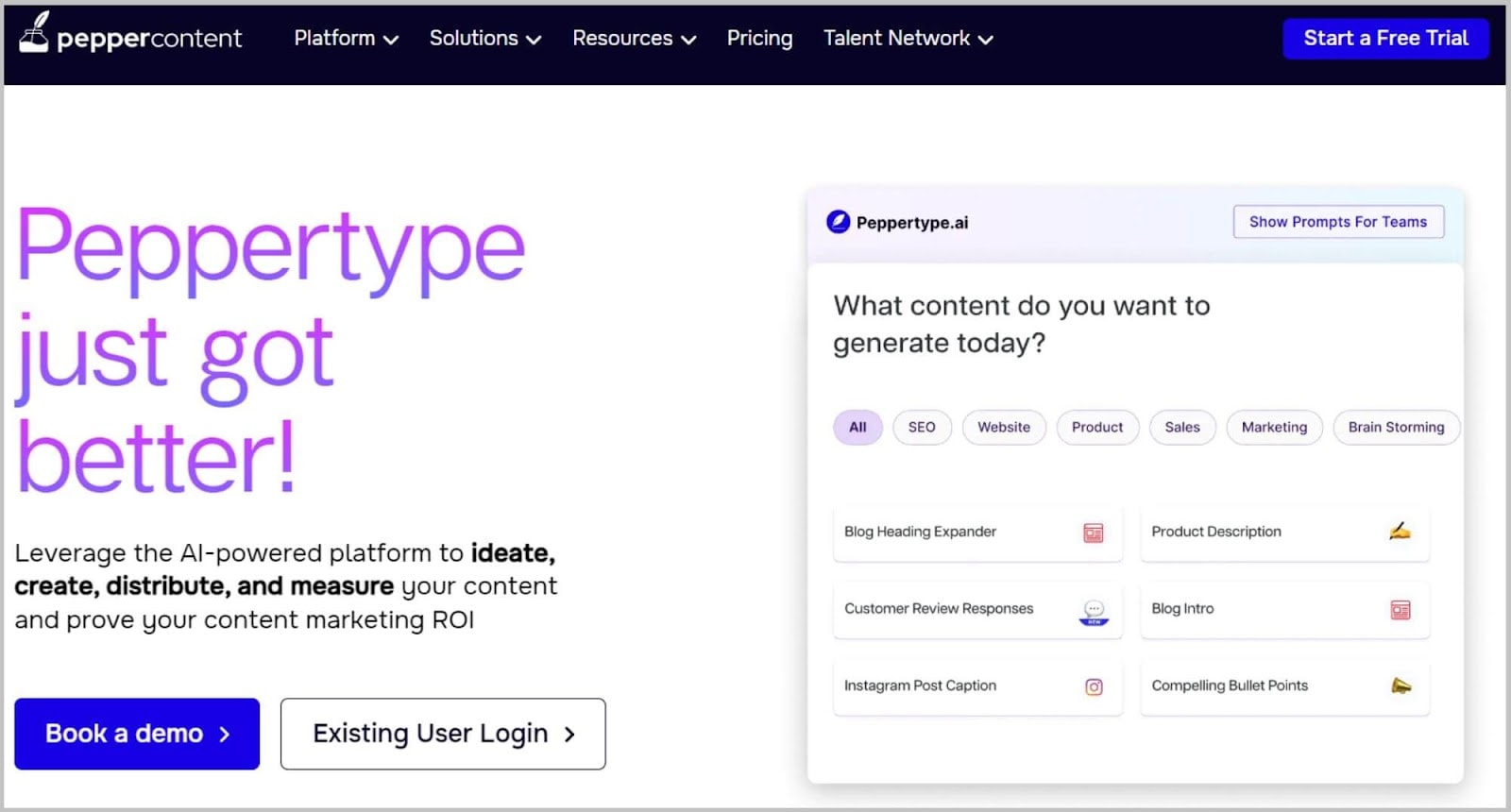 The Peppertype AI writing assistant is powered by GPT-3. It can handle most types of content and using it is effortless.
You just need to choose a style and a subject, and Peppertype serves up your content.
Features
Team features: Peppertype allows you to share your account with your team members (but you have to pay more for each user).
Templates: Peppertype comes with 50 templates, making all your content creation tasks a breeze.
What I like:
I found the Blog Heading Expander tool really useful. After giving Peppertype a heading, it gave me plenty of ideas for engaging content.
What I don't like:
The content that Peppertype produced was often full of errors that took a long time to correct. I don't think there's much danger of Peppertype's output being referred to as high-quality content just yet.
Pricing plans:
There isn't a free trial for Peppertype as such, but you can book a demo. There are three different pricing tiers:
Personal: $33.33 per month
Team: $37.50 per user, per month
Enterprise: Custom pricing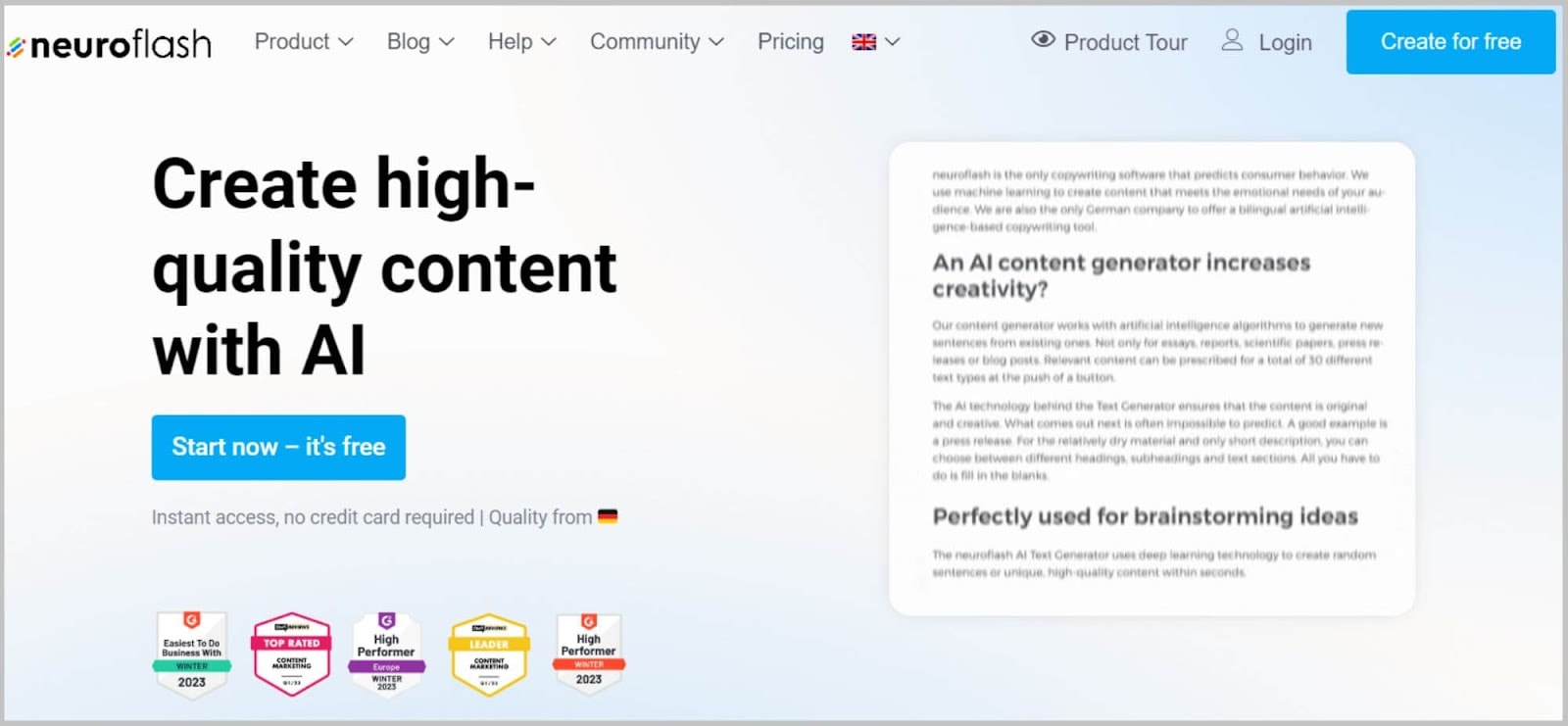 NeuroFlash's AI content generator allows you to create marketing text in eight languages.
All NeuroFlash needs from you when creating a blog is your chosen topic and title. You then select a suggested outline and click the Create button.
Simple.
My topic prompt was "baking bread" and I went with the title "5 Easy Steps For Baking Your Own Bread".
Here's how it performed: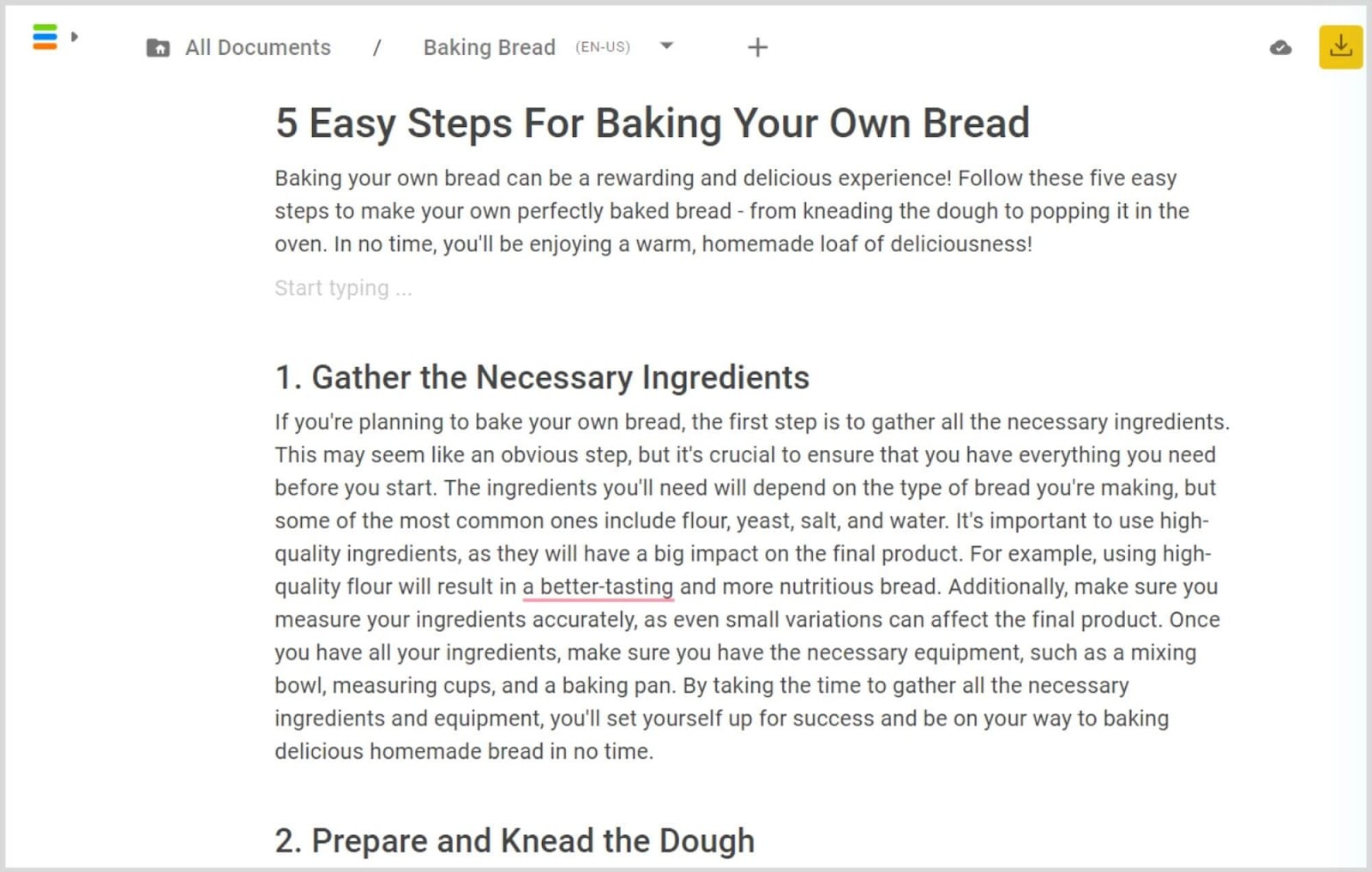 Features
Image generator: Great for adding visual flair to your content.
ChatFlash: NeuroFlash has a chatbot built into its interface.
What I like:
The AI Tester feature is pretty neat. It allows you to set a communication style and then NeuroFlash will analyze your text to see if it matches your content goals.
What I don't like:
Neuroflash doesn't include a plagiarism checker. The company claims the content is plagiarism-free, but Copyscape picked up plenty of matches when I tested the content it generated.
Pricing plans:
NeuroFlash's free plan is limited to 2,000 words a month.
Its priced tiers are:
Basic: $29 per month
Power: Starts at $59 per month
Premium: $199 per month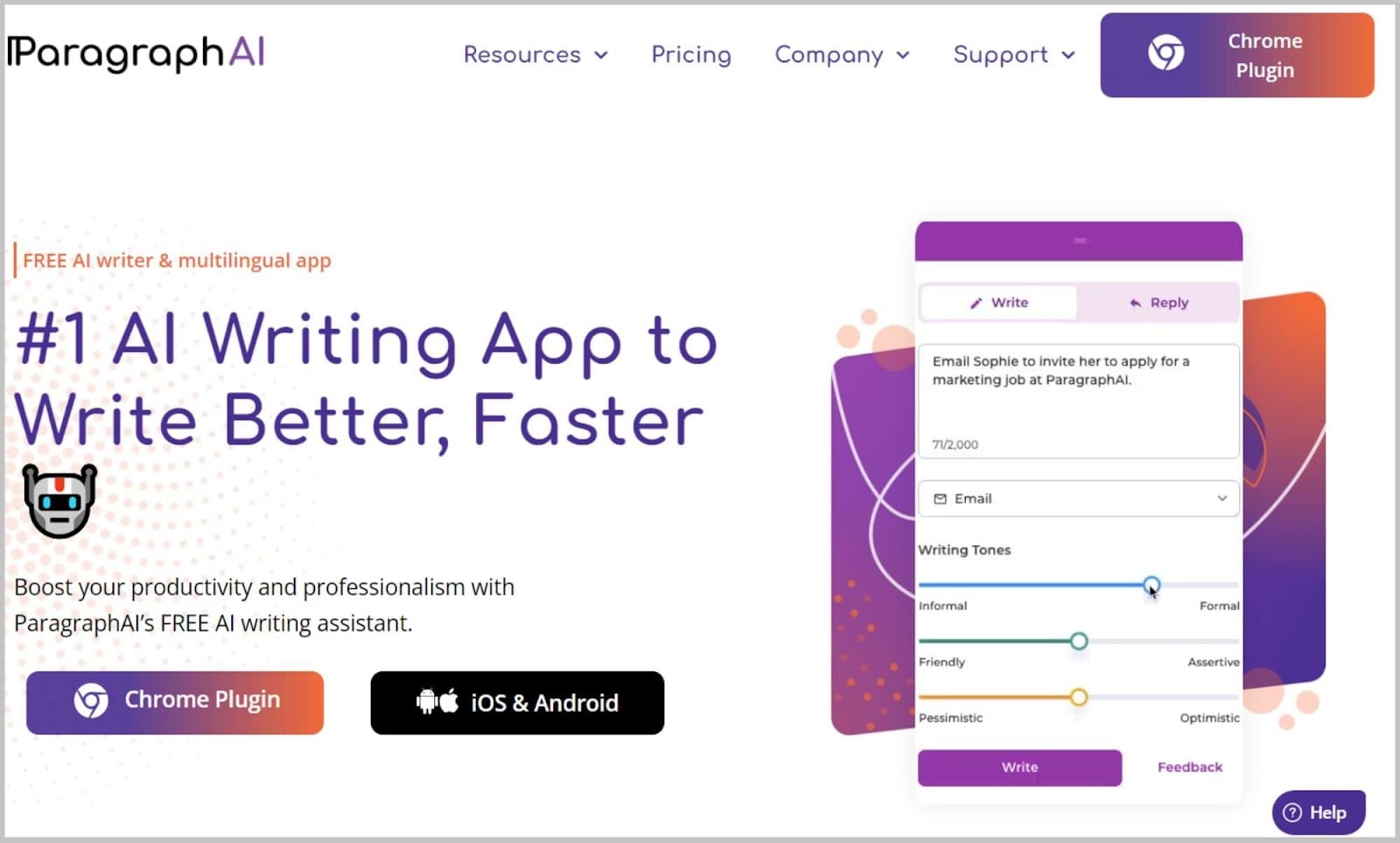 ParagraphAI is best suited to marketers looking to generate ad copy. It works in the same way as ChatGPT—by responding to your prompts with text.
The Chrome extension lets you effortlessly create short-form copy whenever you need it. The tool can make paragraphs, lists, messages, emails, or full articles.
All you have to do is tell it what you want the content to be about, then select a tone. You can further tweak the tone using the sliders to set how formal, assertive, and friendly the copy is.
Here's how it did in my quick test: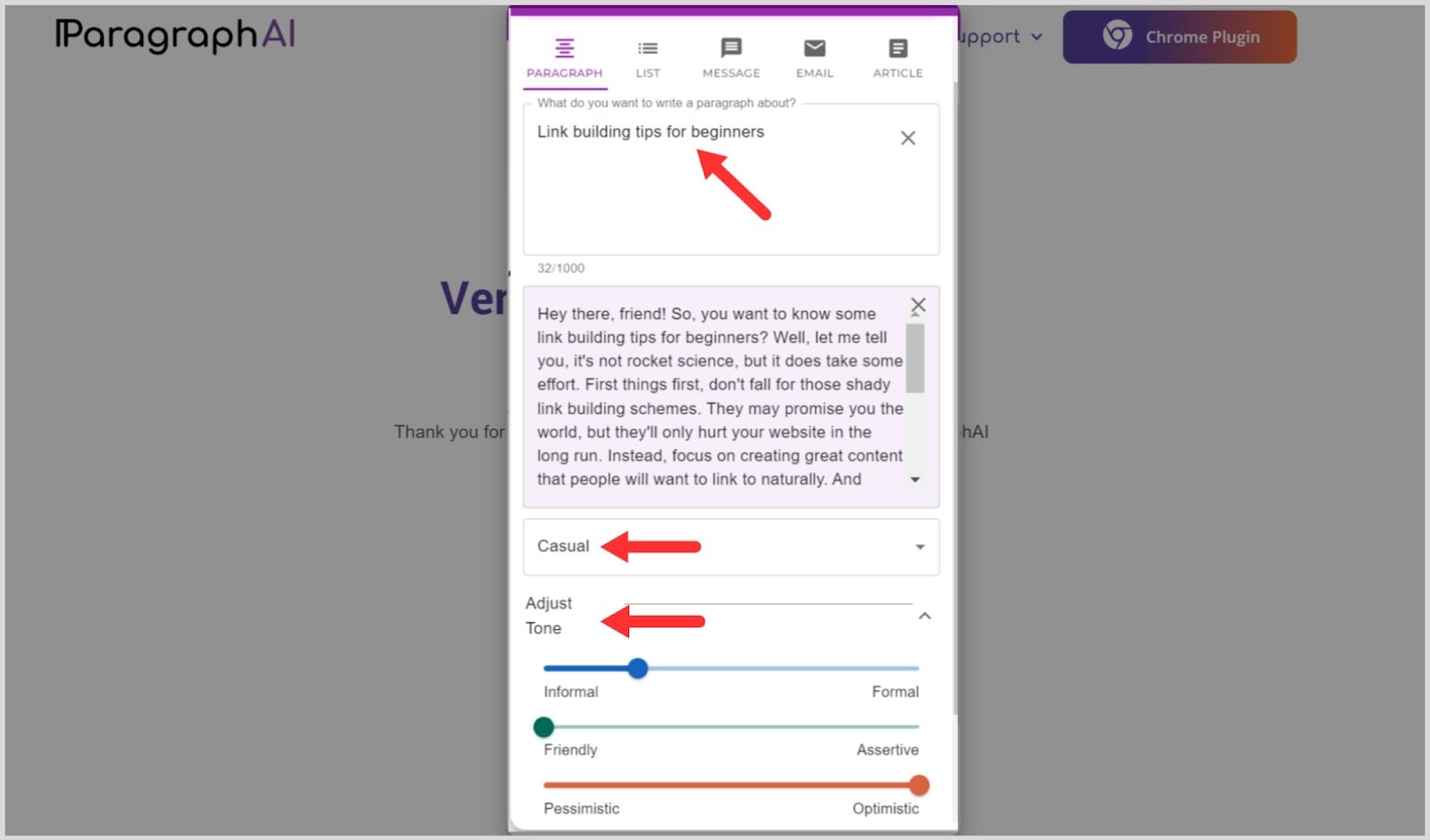 As you can see, it's pretty light-hearted (as I asked) and the information is relevant.
Not bad!
Features
Multi-platform compatibility: ParagraphAI works on Android, iOS, and Chrome.
Languages: Generates content in over 30 languages.
What I like:
The best thing about ParagraphAI is that you can download it as an app on your smartphone. The app's smartphone keyboard makes ParagraphAI very convenient and easy to use.
What I don't like:
The content that ParagraphAI produces is FULL of factual errors. Out of all the AI content generators on this list, this was the worst example of factual inaccuracies that I came across.
Pricing plans:
ParagraphAI's free plan is free forever, but you're limited to 5,000 words a day. Still, that's pretty generous if you ask me.
The three pricing tiers are:
Student: $9.99 per month
Professional: $12.49 per month
Team: custom pricing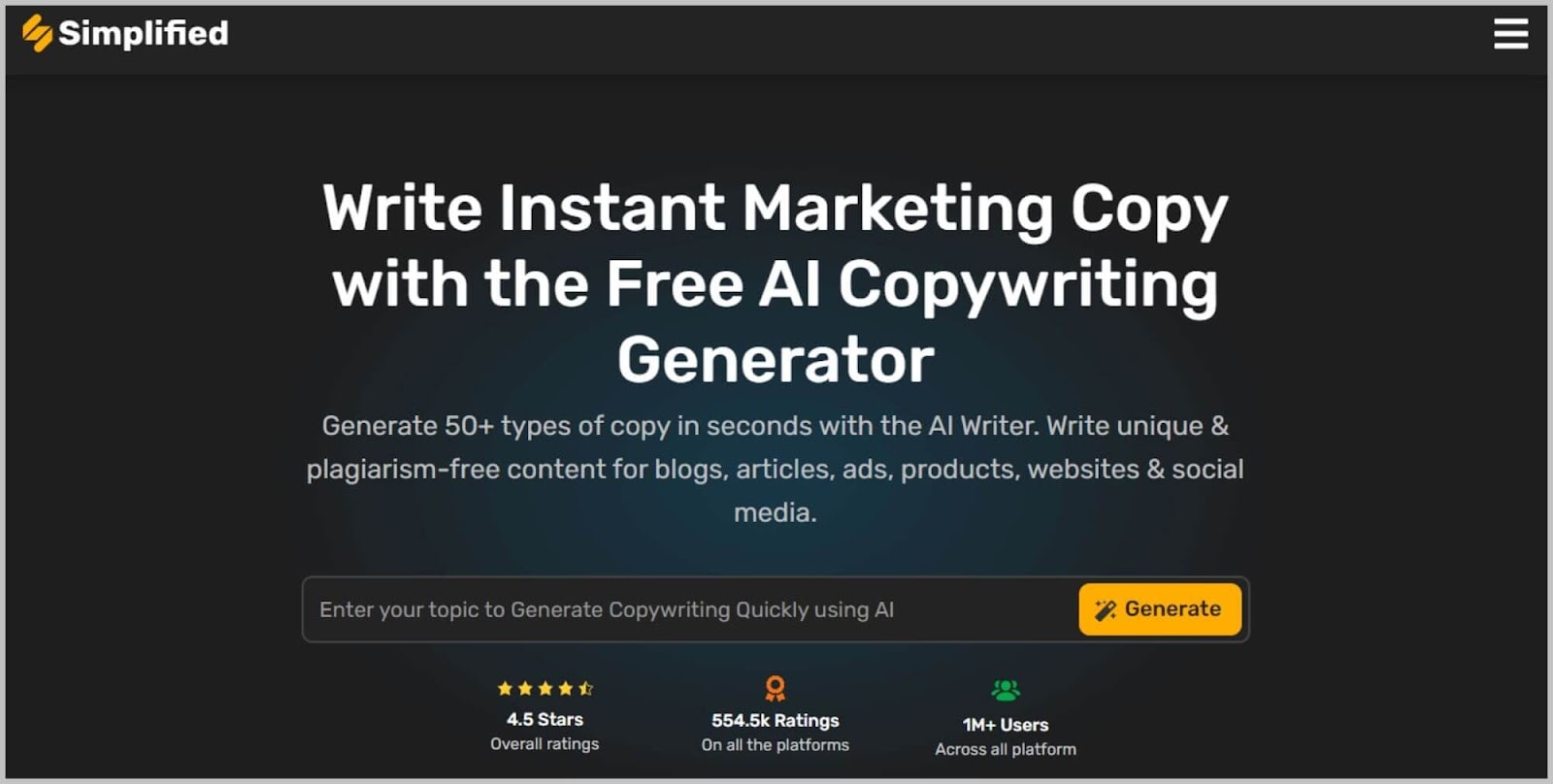 This AI tool is simplified by name but not by nature.
It allows you to generate many different types of content, including ad copy, blogs, eCommerce product descriptions, and company bios.
As with many of the AI content generators on my list, all Simplified needs are a few simple commands. For instance, when I asked it to generate an Amazon product listing for me, I provided a product name and some of its features: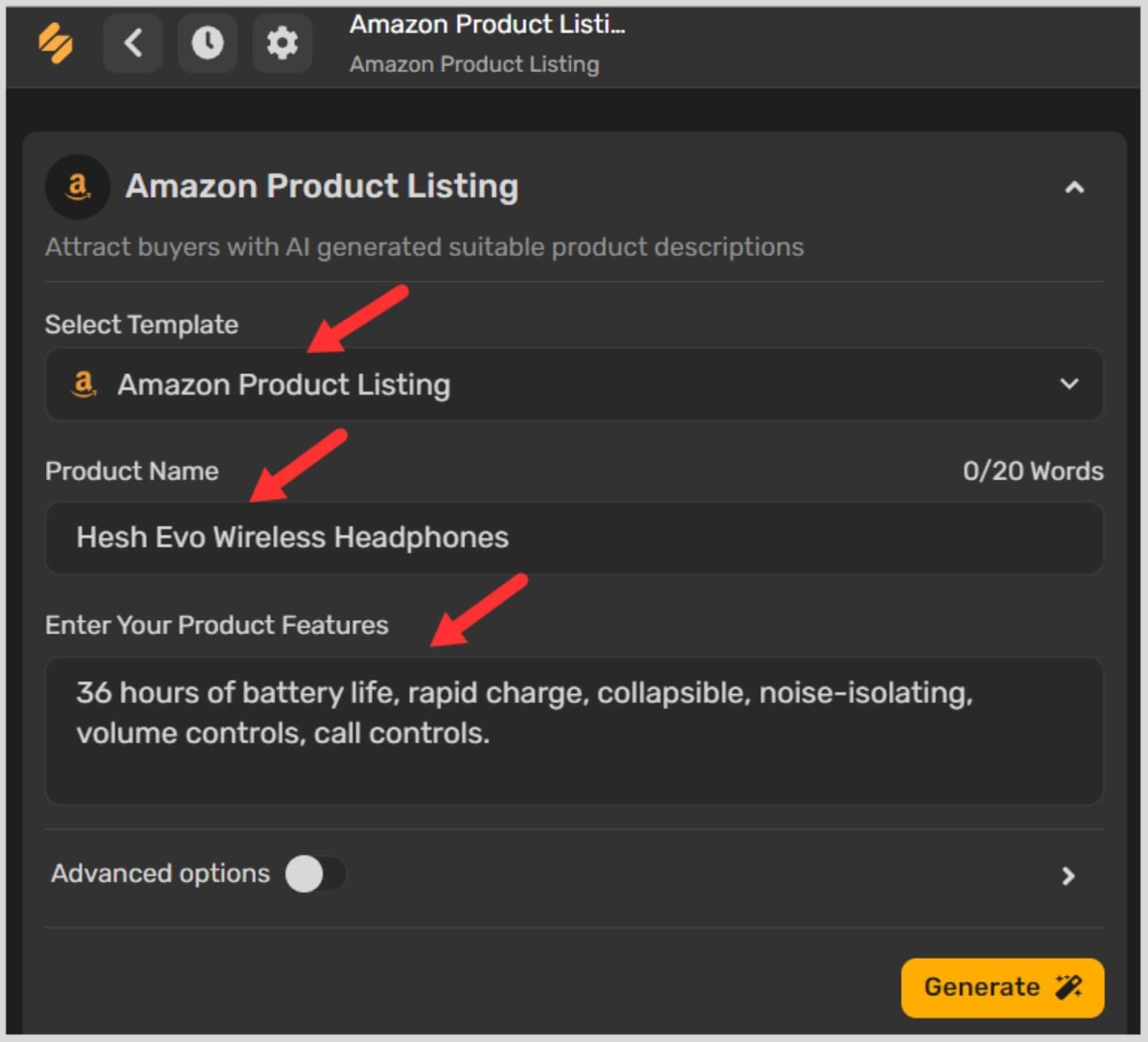 That was all Simplified required to whip me up a detailed listing. I was pretty impressed with the output: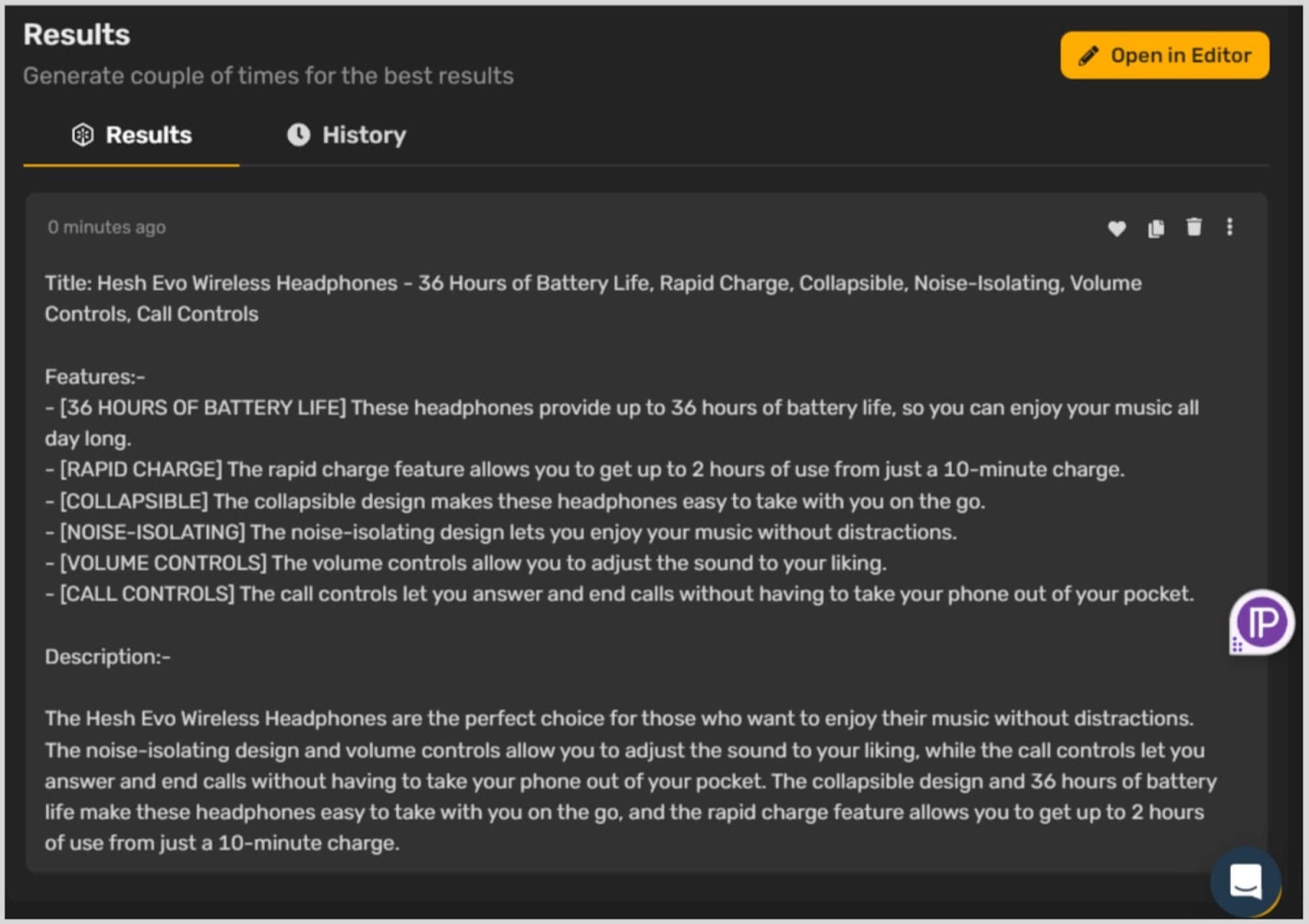 Features
Copy types: Simplified gives you access to over 40 types of content templates.
Graphics: The tool can automatically generate graphics and layouts for your content.
What I like:
Simplified is great for scaling pieces of content, which is particularly helpful if you're a marketer.
For example, let's say you need to create a series of Facebook posts. You just feed Simplified some keywords and a brief company description, and it'll automatically generate a series of posts.
What I don't like:
The biggest drawback of Simplified is its UI. Despite its name, I found it a bit frustrating to use—it's difficult to locate some of the tool's key features.
Pricing plans:
Simplified has a free plan that stays free forever. However, this is only really useful if you just want to try out some of its features.
The Small Team plan is $30 per month and the Business plan is $50 per month. The Growth plan, which is designed for high-growth businesses, will set you back $125 per month.

Zyro is primarily a website builder, but it comes with AI tools built-in. You can use these tools to ensure the websites you create are fully optimized.
The AI slogan maker, business name generator, writing assistant, and logo maker are all incredibly helpful when designing websites.
To generate text, you first have to choose a category: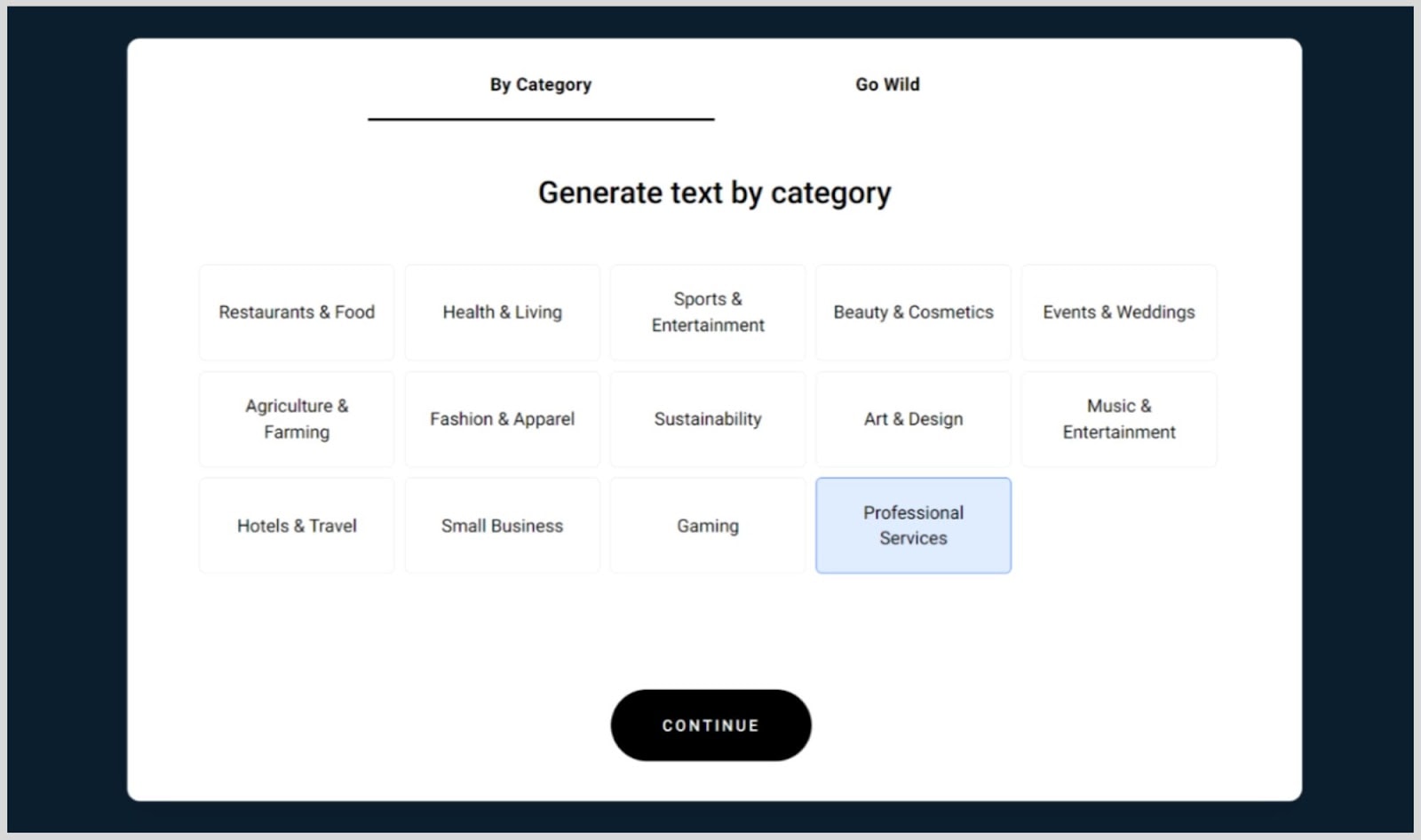 You then choose a more specific category from the list provided, and the tool will automatically create seven variations for you to choose from. Here's a quick look: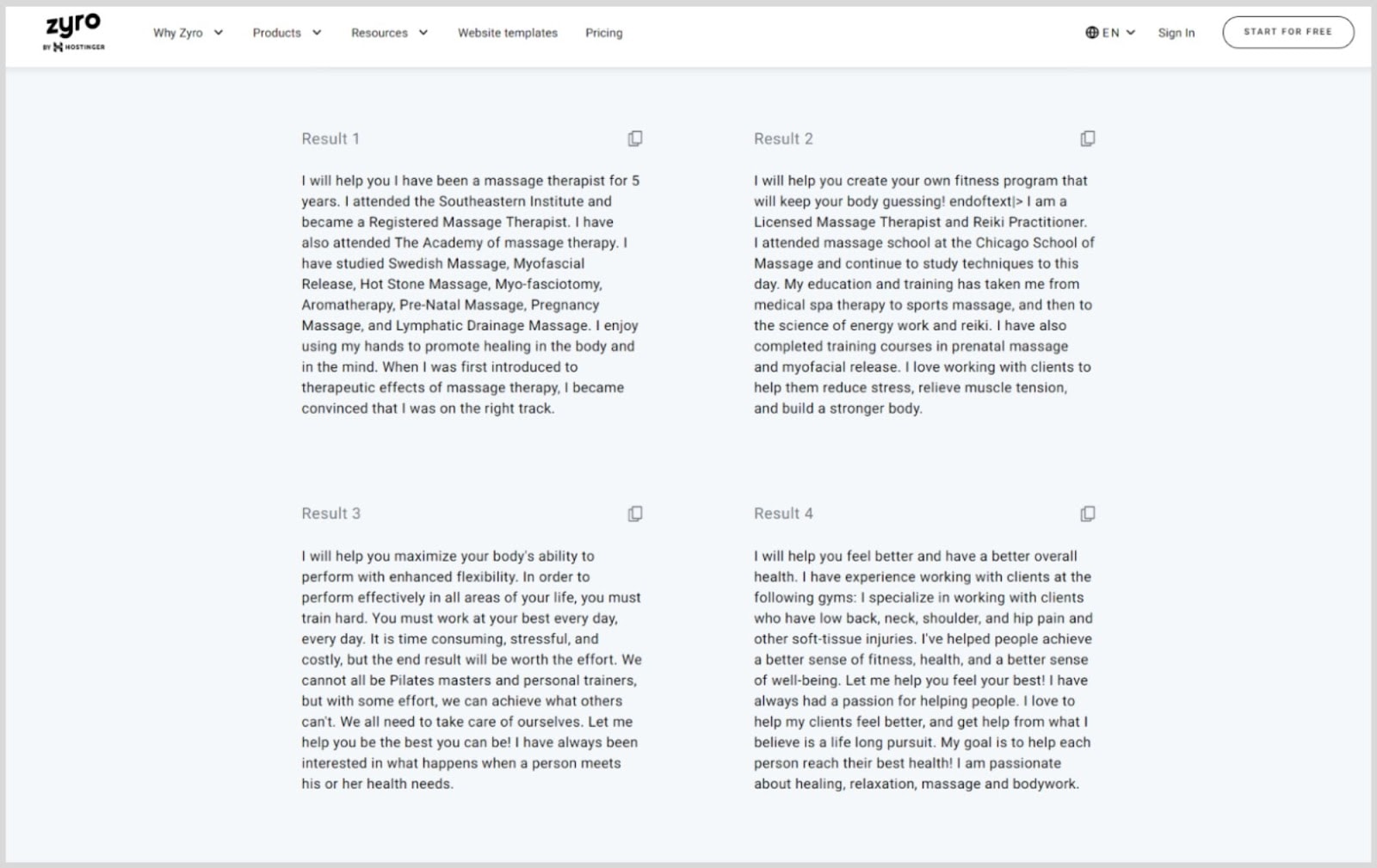 While you'd have to tweak the text depending on your services, the output is a GREAT starting point.
And I didn't even have to give it any prompts—all it took was a few clicks.
Features
AI image upscaler: This enhances images to match the quality of your website.
AI photo resizer: Automatically adjusts image dimensions for different devices.
AI heatmap: This tool can predict visitor engagement so that you can design high-converting landing pages.
What I like:
To be honest, I like most of the AI features that Zyro has to offer. All of the tools I mentioned above come in handy and make building an optimized website a breeze.
In terms of content generation, Zyro can create blog posts that are also fairly well-optimized. It isn't as good at this as Semrush or GrowthBarSEO, but it's still fairly impressive.
What I don't like:
It would be nice if Zyro released a stand-alone AI writing tool. Currently, the only way to access it is to buy a subscription to Zyro's website builder. I'd like to be able to access the AI tools without doing so.
Pricing plans:
As mentioned, you need to pay for a subscription to Zyro to access its AI content generator. This means paying $11.99 per month for a Website plan or $14.99 for a Business plan.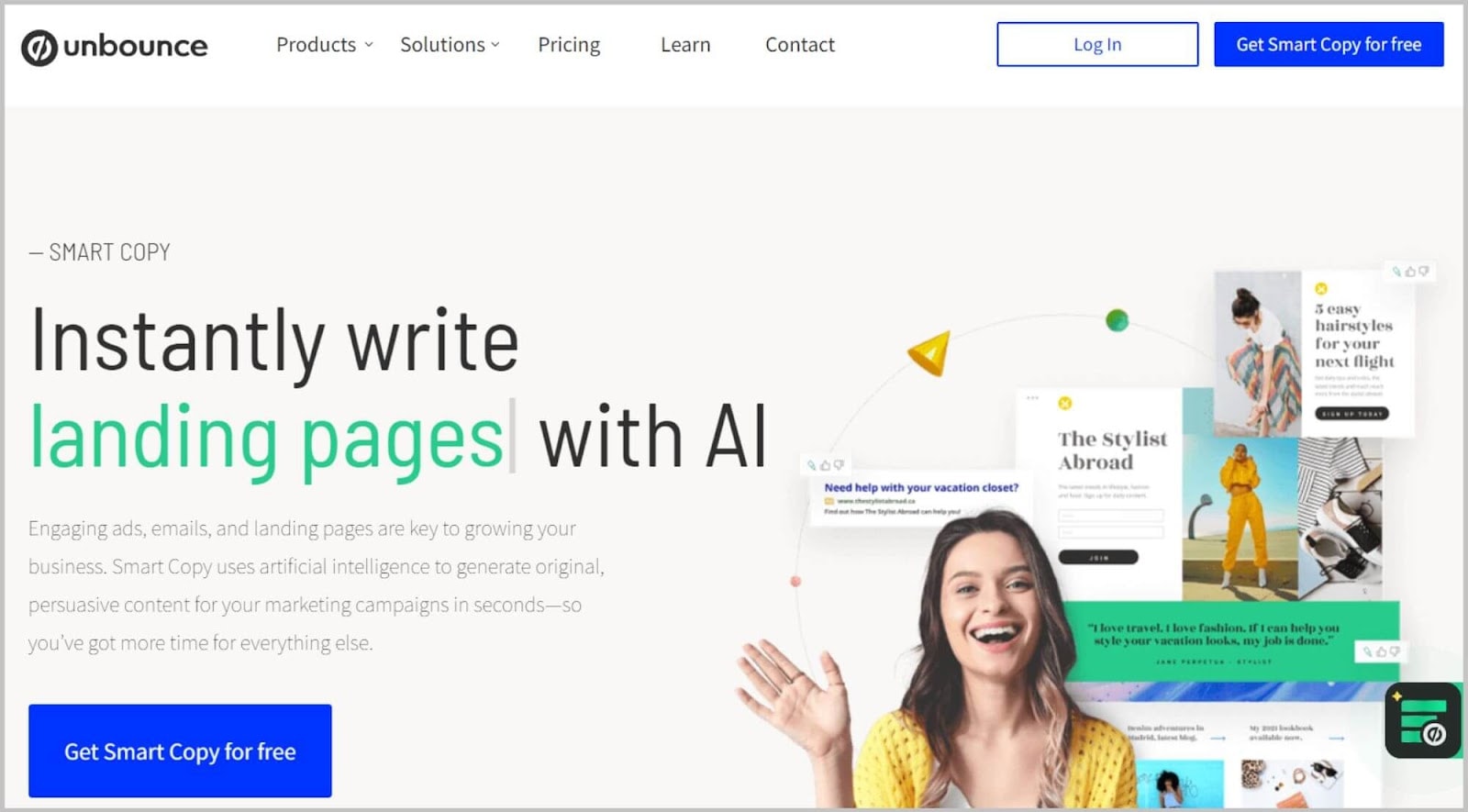 Smart Copy can write most types of copy—from Google Ads to landing pages. It has over 45 templates to choose from and can even make suggestions for TikTok videos.
Once you've chosen a template, you provide Smart Copy with some information about your target audience and your products or services. Then, just leave it to do its thing.
Or, you can use Brainstorm Mode to create content with virtually no input from you.
To create a landing page, I simply told the AI that it was for an eCommerce store and that I wanted the page to be optimized.
I have to say, I was impressed with the results I got from such little information.
See for yourself: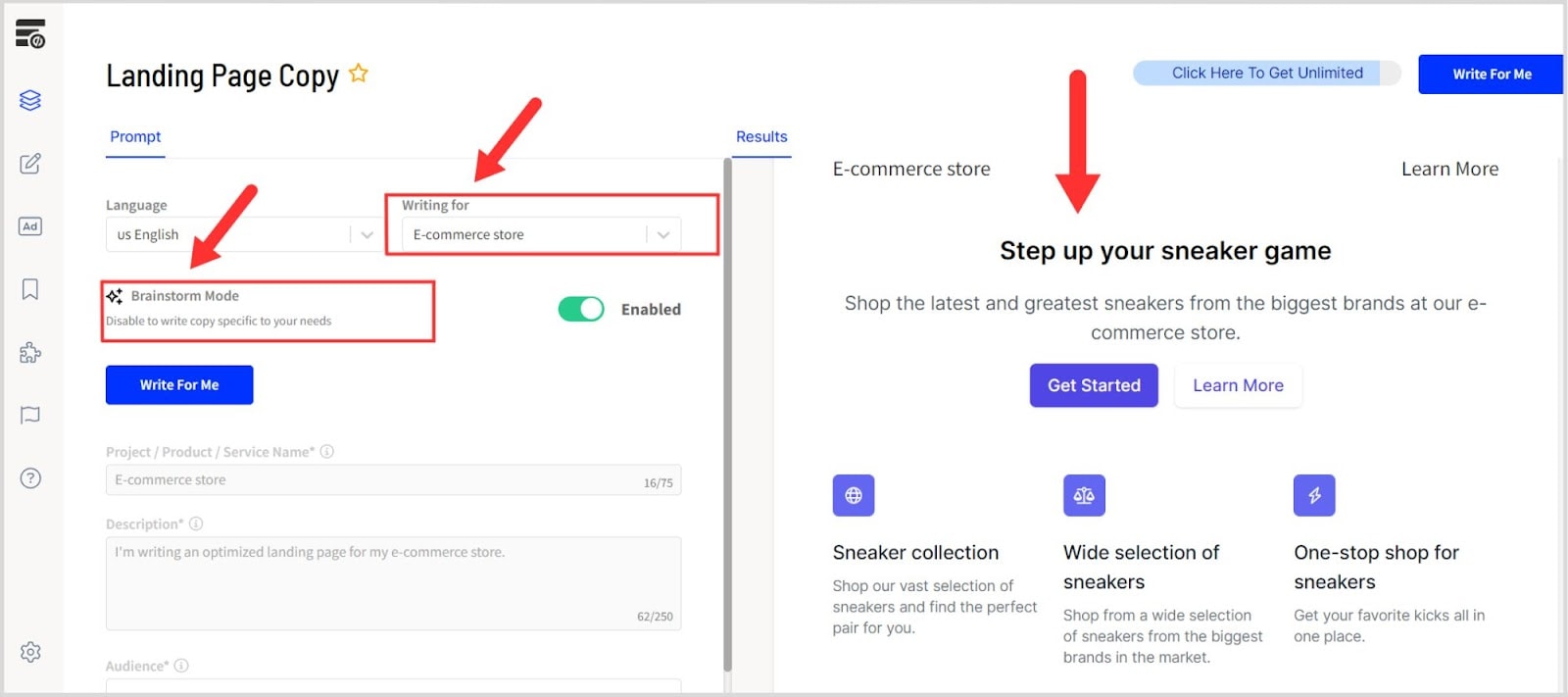 Features
Straightforward UI: Smart Copy has kept its interface nice and minimal, which makes it really easy to use.
Profiles: The tool allows you to build different profiles so the content it generates closely matches your goals.
Extensions: You can install Smart Copy as a Chrome extension.
What I like:
I found Smart Copy's refining feature to be a really nice addition. It allows you to fine-tune the content generator so you get the EXACT length and tone you're looking for.
What I don't like:
I have to say, several of the blog posts I asked Smart Copy to write for me were pretty low quality. There were numerous grammatical errors and the writing just felt, well, clunky. Still, when I used it to create landing pages the results were REALLY impressive.
Pricing plans:
You can test Smart Copy for free, but you only get 40 credits a month. This is enough for just one project. You'll need to upgrade to the Essential plan for $19 per month if you want full access to the tool.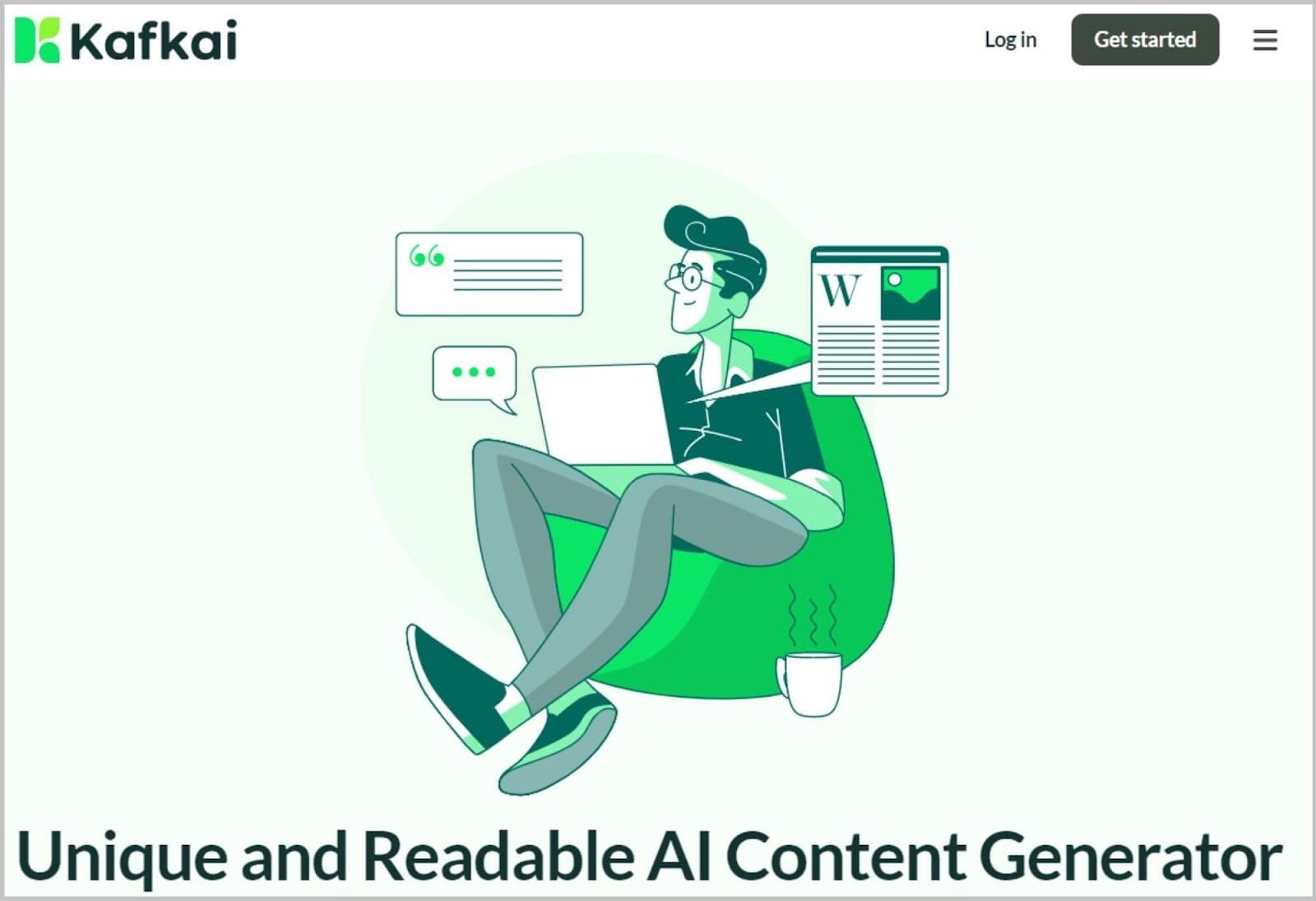 Kafkai is a good option for bloggers looking for a wide array of blog post templates.
To write a blog post, you select a template related to your niche and then type in a paragraph describing your desired content. Kafkai does the rest.
Features
WordPress integration: Kafkai offers a WordPress plugin for seamless integration.
Template library: This includes templates for niches such as education, health and fitness, and finance.
What I like:
The most basic Kafkai plan allows you to generate up to 100 articles every month with no word limit.
What I don't like:
Kafkai is limited in its uses and is definitely only suitable for bloggers. If you're a marketer, then this isn't the AI content generator for you.
Pricing plans:
Kafkai offers a three-day free trial and has four different pricing tiers:
Writer: $29 per month
Newsroom: $49 per month
Printing Press: $129 per month
Industrial Printer: $199 per month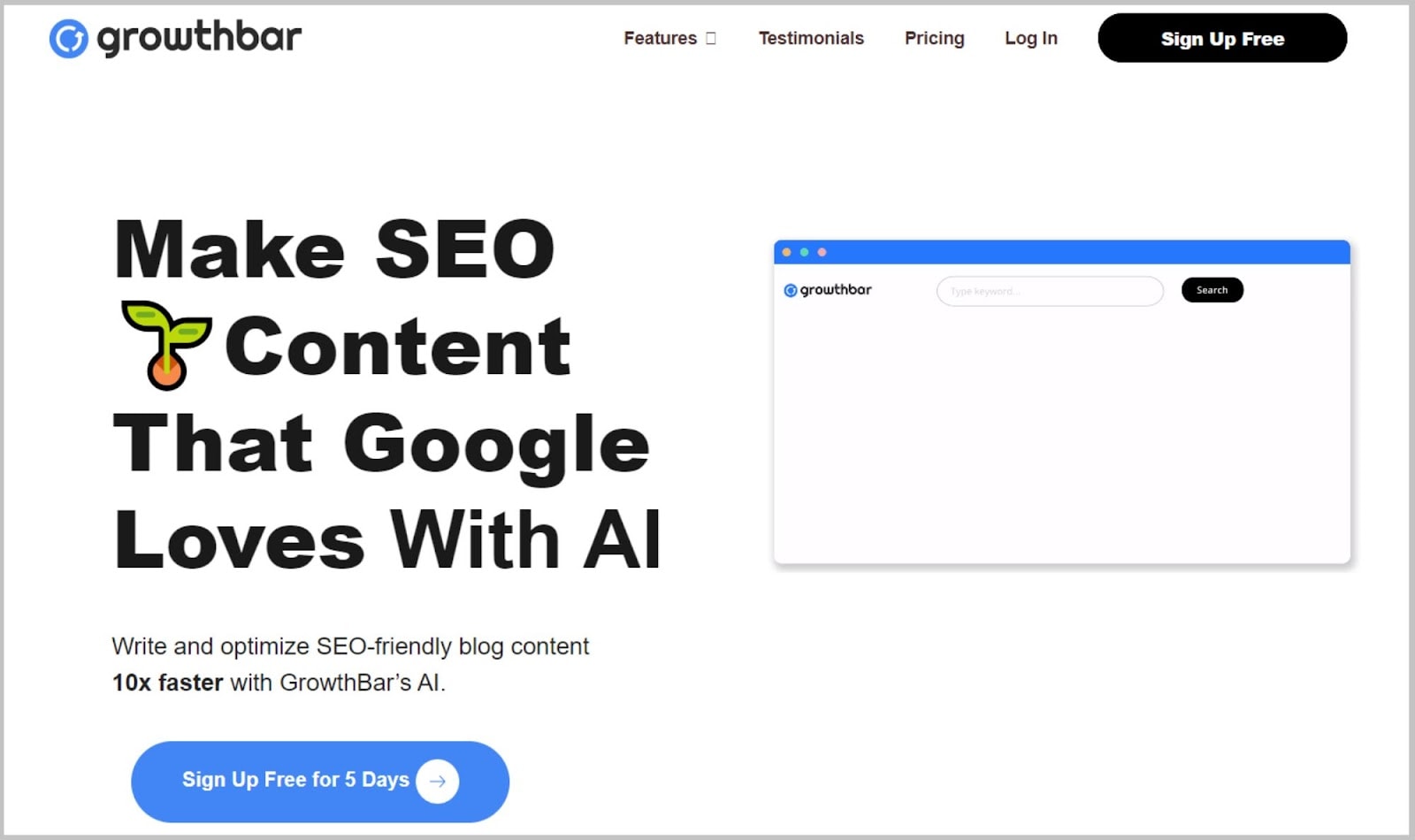 GrowthBarSEO makes writing long-form SEO content relatively hassle-free. You can use it to research keywords and then generate optimized blog posts that adhere to SEO best practices.
The BEST thing?
It only takes two clicks to do this.
The first click selects whether you want to create a new article or optimize an existing article.
Then, you type in your prompt and add a domain (if you want).
Lastly, you click the submit button and wait for your content.
Features
Integration: You can generate content directly into WordPress.
Optimize existing content: GrowthBarSEO allows you to import your content and gives you recommendations for improvements.
What I like:
My favorite thing about GrowthBarSEO is its custom AI models.
If you give it some information about your goals, it builds a custom AI model that creates content in your desired tone of voice.
What I don't like:
As with most AI content generators, the text that GrowthBarSEO produces needs a lot of editing and fact-checking to be usable.
Pricing plans:
There's a free five-day trial available and three different pricing tiers:
Standard: $48 per month
Pro: $99 per month
Agency: $199 per month
Will AI Content Generators Replace Content Writers?
Since AI content generators first emerged, there has been a LOT of fear and apprehension among everyone in the content writing world.
Of course, I've also been concerned about the impact these tools are going to have on content writers and agencies.
The good news is that I don't think the consequences of this are going to be as negative as we all thought they might be. In fact, the results may actually be fairly positive within the industry.
Instead of replacing content writers, AI tools should help to make their jobs easier. They can assist with more mundane tasks such as researching, editing, and rewriting. This will give writers more time to focus on making their writing more engaging and effective.
Plus, agencies can use AI tools to help them scale their content and analyze it. It'll be easier than ever to create optimized content, and these tools will remove some of the workload from very busy SEOs.
But why won't AI content generators be used instead of humans?
Quite simply, they can't create content with the same emotions and creativity that humans can.
When you read a piece of AI-generated text, it may seem fine on the surface—but you can tell that something is missing.
What's missing is the human element. Until AI is able to replicate that, content writers' jobs are safe.
What Is Google's Stance On AI-Generated Content?
Not long ago, Google made it clear that AI content was definitely against its guidelines. However, this quickly changed.
Now, Google says that as long as AI content generators are used in the right way, the content they produce won't go against the guidelines.
So, what does Google mean by this?
Essentially, any content generated by AI needs to meet the same standards they'd expect from a human writer. It needs to provide value to the user and be of sufficient quality to satisfy Google's E-E-A-T guidelines.
Google uses techniques such as NLP algorithms to detect content that's been generated by AI. Yet, as long as this content is within the E-E-A-T guidelines then the site that publishes it won't be penalized.
The key takeaway from this is that you need to avoid posting content that's been completely created by AI without any fact-checking or editing. You should mostly be using AI for research and to generate content ideas.
If you do want to publish a piece of AI-generated content, you need to heavily edit it first and make sure that it's up to the standards you'd usually require.
Google is still on the hunt for spammy, over-optimized junk, whether it's been created by a human or AI.
When it detects content like this, penalties follow. As you know, this damages your credibility and causes your rankings to take a nosedive.
FAQs
Is AI-generated content plagiarized?
Content generated by AI isn't classed as plagiarism as the AI isn't directly copying someone else's work. However, some AI tools have a tendency to lift content straight from published articles. So, you should always put the content through a plagiarism checker once it's been generated.
Do AI content generators work?
AI content generators do work and, depending on which one you use, they will be able to generate different types of content based on your goals. Still, you need to be careful. Avoid publishing AI content as it is. Always edit the content and make sure that it won't violate Google's guidelines.
Is AI content detectable?
Yes, AI content is quite easily detectable. Google has several methods for detecting it, and so do agencies. There are now plenty of AI detectors online such as Originality.AI, Copyleaks, and Content at Scale. These use NLP algorithms and machine learning to detect AI-generated content.
What is the problem with AI writing tools?
One of the biggest problems with AI writers is that the work they produce is often factually inaccurate. Plus, AI is prone to keyword-stuffing and producing content that doesn't provide value to the reader.
Is AI content writing worth it?
Some AI tools can produce high-quality content, but you can't usually publish it as-is. So, in that sense, AI content writing isn't worth it, as you'll still need to spend a lot of time editing it to ensure it's of a high enough standard to publish. When AI writers are used in the correct way, they can help you to enhance your own content.
Who owns the copyright on AI-generated content?
This is still a very gray area. Currently, the US government is trying to decide whether a human who prompts an AI to create something should be able to copyright the work. Until now, US copyright law has prohibited AI from being classed as an "author". At the time of writing, this debate is still ongoing.
Sources:
https://www.stylefactoryproductions.com/blog/growthbar-review
https://www.greatsoftware.io/review/hyperwrite#hyperwrite-pros
https://www.saasworthy.com/product/articoolo
https://www.visualoak.com/best-ai-copywriting-software/writesonic-review/
https://www.bitcatcha.com/research/jasper-ai-review/
https://www.bitcatcha.com/research/copy-ai-review/
https://www.kasareviews.com/anyword-review-ai-copy-generator-tool/#Anyword_Pros_Cons
https://startupplugs.com/unbounce-smart-copy/
https://www.forbes.com/advisor/business/software/zyro-review/#other_benefits_section
https://www.writecream.com/simplified-co-a-comprehensive-review/
https://medium.com/@bedigisure/free-ai-content-generator-11ef7cbb2aa0
https://www.hostinger.com/tutorials/ai-content-generators#9_ShortlyAI
https://www.jasper.ai/blog/ai-content-generator
https://contenthacker.com/can-google-detect-ai-content/#:~:text=Google%20can%20detect%20AI%20content,you%20used%20to%20create%20it.
https://www.pixelproductionsinc.com/the-future-of-ai-in-content-writing-whats-the-impact/
https://akaike.ai/is-ai-going-to-replace-content-writers-in-the-near-future/
https://www.socialmediatoday.com/news/google-says-that-ai-generated-content-is-not-against-its-search-guidelines/642356/
https://www.spiceworks.com/marketing/content-marketing/news/ai-generated-content-not-against-google-policies/#:~:text=Google%20Clarifies%20Its%20Stand&text=Using%20automation%20%E2%80%94%20including%20AI%20%E2%80%94%20to,including%20AI%20generation%2C%20is%20spam
https://www.vaslou.com/neuroflash-review#Key_Features_of_Neuroflash
https://medium.com/@bedigisure/peppertype-review-d0ea1055f4cf
https://openai.com/blog/chatgpt-plus
https://www.pcguide.com/apps/what-is-chat-gpt/
https://bestaisites.org/ai/longshot-ai-review/
https://www.longshot.ai/pricing
https://www.scalenut.com/pricing