For most small business owners, Google My Business (GMB) is an incredible marketing lifeline. Having an optimized Google My Business listing is one of the most effective ways for small businesses to improve their local search visibility.
Without a GMB profile, small business owners will find it more challenging to establish a local online presence, improve brand authority, and contact prospective customers. If prospective customers have a difficult time reaching your business, sales and in-person foot traffic will slump.
So what do you do if one day, you log into your GMB listing and find that your profile has been suspended? If you're looking for tips and advice on how to get your GMB profile reinstated, then you've come to the right place.
Below, we cover everything you need to know about GMB suspensions, from why your listing may get suspended and the different kinds of suspensions to the steps you need to follow to resolve a suspension issue.
Let's get started.
Understanding Google My Business suspensions
Before we tackle how you can get your profile reinstated by Google, we need to understand the nature of your business suspension. When your listing gets suspended, you will receive one of two types of suspensions from Google; a soft suspension and a hard suspension.
Image Credit: Search Engine Journal
Soft suspension
A soft suspension will result in your business becoming unverified. While you can still access your listing through the GMB dashboard, you will be unable to make updates to your listing. The GMB profile visible in Google Search and Google Maps is also more susceptible to erroneous edits.
Hard suspension
The harsher penalty of the two, a hard suspension, deletes your GMB listing off Google Search and Google Maps. In the case of a hard suspension, prospective customers will be unable to find your listing online.
Why did your GMB listing receive a suspension?
Now that we've differentiated between the different types of suspensions let's define why GMB listings get suspended in the first place.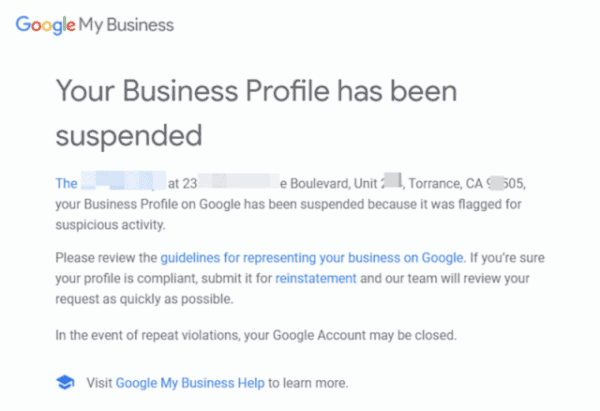 Image Credit: Search Engine Land
There are several events or actions that can trigger a GMB suspension, and typically they all violate the Google My Business guidelines in one way or another.
Some reasons why your account may trigger a suspension includes:
Making too many edits via Google Maps
Misrepresenting your business on Google
Promoting illegal or fraudulent activities on GMB
Using spammy or black hat SEO tactics (e.g. keyword stuffing)
Changing your store's address
Incorrect hours of operation
Creating multiple listings for the same business
Creating an account for an ineligible business
Duplicate listings for the same business
You should also know that some business categories are also more susceptible to suspensions. Categories like locksmiths and plumbers have been known to spam Google My Business with fake listings, resulting in these businesses being more at risk for suspensions.
Other high-risk industries include:
Lawyers
Pest control services
Rehab centers
HVAC
Home service businesses
If your main GMB category is considered a high-risk industry, then you'll want to read the next section.
How to resolve a GMB suspension
When your listing receives a suspension, Google will notify you through email. Previously, account managers wouldn't know that their listing got suspended until they either logged into their GMB dashboard or noticed a dip in foot traffic or calls.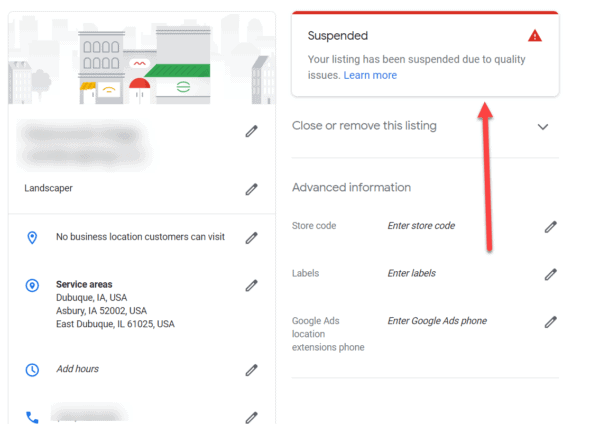 Image Credit: Search Engine Journal
If this is the case for your GMB profile, you may want to immediately address the issue by submitting a reinstatement form to Google.
But before you jump the gun, you need to be sure that you've addressed the actual issue causing the suspension. The best way to do this is by reading through the Google My Business guidelines.
You may find that you have violated one of Google's rules without even knowing it.
You should also take this time to pore over your account information within your GMB dashboard to see if any account sections violate the guidelines.
For example, keyword-stuffing your Google My Business name is a clear violation of GMB's guidelines.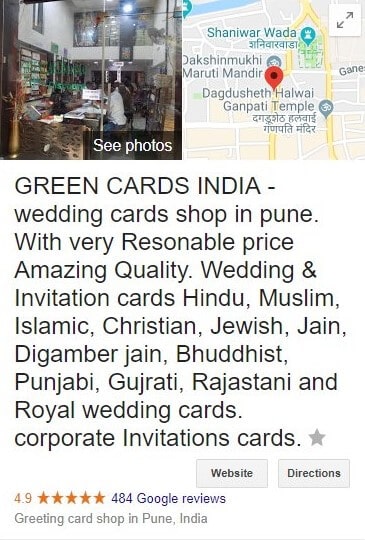 Image Credit: Joy Hawkins via Twitter
The spammy words found in the business name can lead to a GMB suspension. This business would need to delete the spam words from their account name before they submit a reinstatement form.
Figuring out what issues led to your suspension will help improve your GMB profile's chances of getting reinstated.
Once all of the issues have been addressed, then you can submit a GMB reinstatement request.
If your GMB listing has yet to experience a suspension notification from Google before, here's how you can avoid it. You will need to answer a series of questions to prove that your business is legitimate. Be completely honest with all of your answers.
As part of your reinstatement process, you may need to provide photos or screenshots of your storefront to prove its validity. Your photos will need to be of high quality and display pertinent information like your business logo, street address, etc.
You may also be required to provide supporting documents to prove the legitimacy of your business. These documents can vary but typically include your business license, insurance papers, tax identification papers, and video documentation of the company.
Once your appeal has been submitted, Google will review your reinstatement request. You will receive an email from Google updating you on the status of your request. The reinstatement process can take up to two weeks.
If two weeks have passed and you have yet to receive feedback from Google, consider contacting GMB support for an update. The best way to reach GMB support is through a contact form. You can also contact Google through social media via Twitter or Facebook.
Whatever you do, DO NOT try to circumvent the suspension by creating a new GMB listing. Doing so will result in all of your hard-earned reviews disappearing from your GMB profile and any ranking power your listing has previously generated.
Final thoughts
Experiencing a GMB suspension can feel like an overwhelming experience. It's important to remember that a GMB account may be suspended for numerous reasons, some that may be entirely out of your control.
By following the advice above and sticking to Google's guidelines, you help set your business up for local search success and ensure your local marketing efforts never skip a beat. Be sure to do regular checkups on your account's info to avoid that oh-so-costly GMB suspension.