Link building for e-commerce sites is hard. There just aren't that many obvious opportunities to get links to product and category pages.
But luckily, there are some. And there are plenty of ways to build links to other types of pages.
In this post, you'll learn how to build links to your e-commerce product pages, homepage, and other content on your site.
Doing guest post updates is where you ask editors if you can update one of their existing blog posts. 
They trump regular guest posts because you can cherry-pick a post that already has backlinks, meaning you end up with a stronger backlink to your site. 
You can sometimes use them to build links directly to product pages, but they're most useful for getting links to blog posts and other informational content.
How to do it
You can find guest post update prospects in Ahrefs' Content Explorer, a searchable database containing billions of pages of content with SEO metrics. Just search for non-competing, outdated posts mentioning a topic you already have content about.
Here's how to search for matching pages in Content Explorer:
"topic" -title:"topic" title:(2020 OR 2019 OR 2018 OR 2017 OR 2016 OR 2015)
For example, if you sell smart home products and want to build links to a beginner's guide to HomeKit, you may search for this:

This looks for pages that mention "HomeKit" somewhere on the page but not in the title. In other words, non-competing pages that talk about the topic but aren't directly about it. It also looks for pages with years 2015 through 2020 in the title, which is a sign of an outdated page.
You can then narrow down the list to focus on what you need by setting a couple of filters:
Referring domains filter to a minimum of 50 to find pages with backlinks
Domain Rating (DR) filter to a minimum of 40 to exclude pages from new and low-authority sites
Here's one of the results that pops up for our search:

It's a list of open-source home automation platforms published in October 2019 with 89 referring domains. However, according to Content Explorer, its search traffic has started to drop in recent months.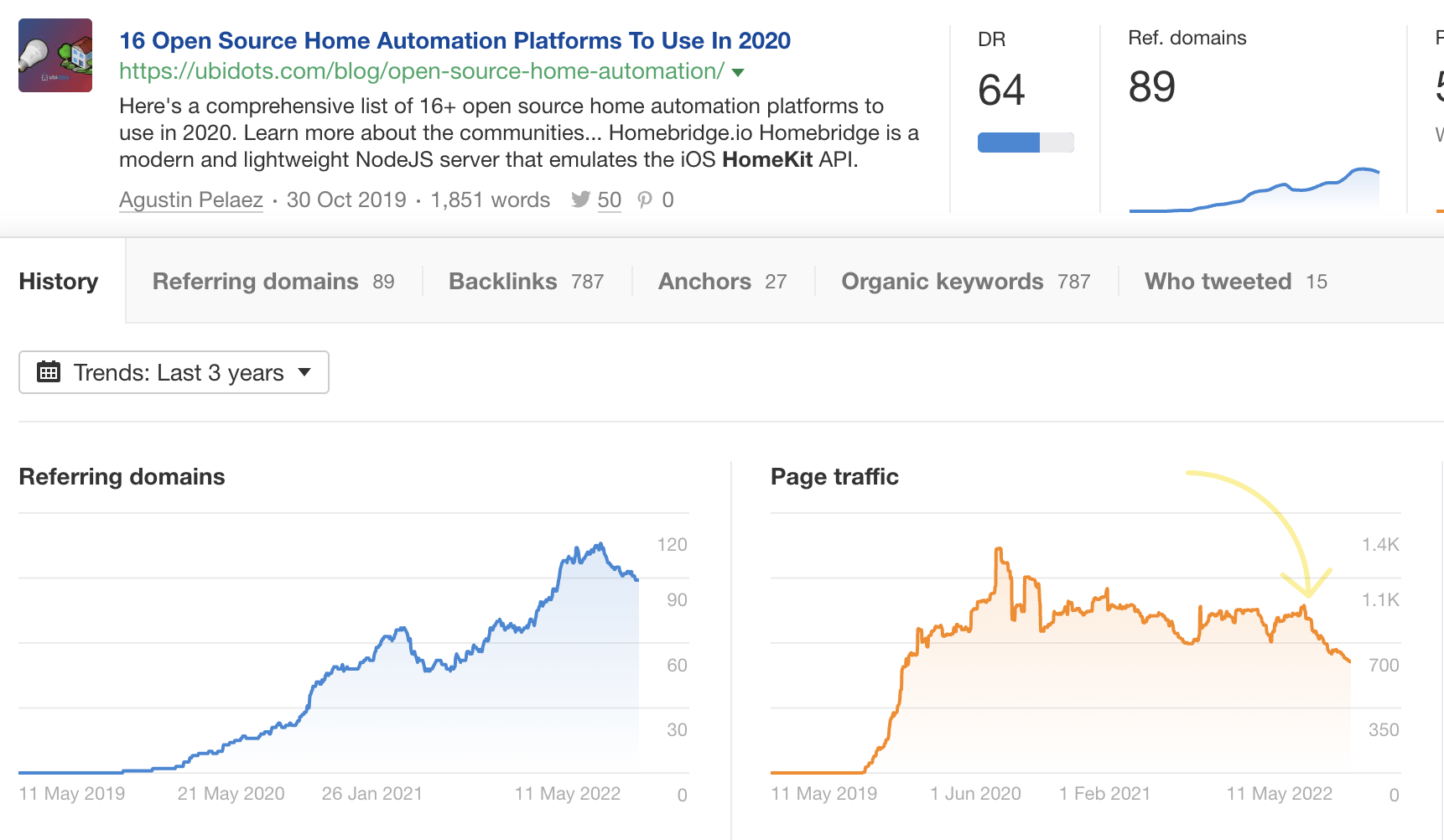 This is good for two reasons:
It means the page's backlinks are probably high-quality, so a link from this post will be a strong one. (It's always worth double-checking this in Ahrefs' Site Explorer before pitching.)
It gives us added value for our pitch, which is that having us update the post may help improve its organic rankings and traffic.
Here's an example pitch we can send to the person in charge of this blog:
Hey [Name],

Josh here from [site]. 👋 LinkedIn tells me you're in charge of the Ubidots blog?

Thought I'll reach out because I see you haven't updated your list of open-source home automation platforms since 2019. Some of the listed platforms no longer work, and Ahrefs tells me the post's organic search traffic is starting to drop. 

I think a quick refresh can help improve both of these things. Would you be open to me updating it for you? I sell smart home products, and I'm a big supporter of open-source platforms, so I think I can give the list a pretty nice revamp.

Can we work together on this? 

Cheers,
Josh
Unlinked mentions are online mentions of your brand or product that don't link back to your site. For example, a mention of iPhone or AirPods that doesn't link to apple.com.
You'll often find easy link opportunities on pages with unlinked mentions for two reasons:
Their authors are already familiar with your brand – Thus, they're more likely to give you the time of day. 
They already like your product – This isn't the case for all unlinked mentions, but it is for many. 
However, before you can pitch them, you need to find them.
How to do it
Finding all of your unlinked mentions can be pretty time consuming and complicated. But you can find a good chunk of them quickly using Content Explorer. 
Search for your brand or product name in quotes
Click "Highlight unlinked" and enter your domain
Filter for "One page per domain"
Click "Export" and toggle the option for "Only pages with highlighted domains"
Here's what that may look like for Bellroy: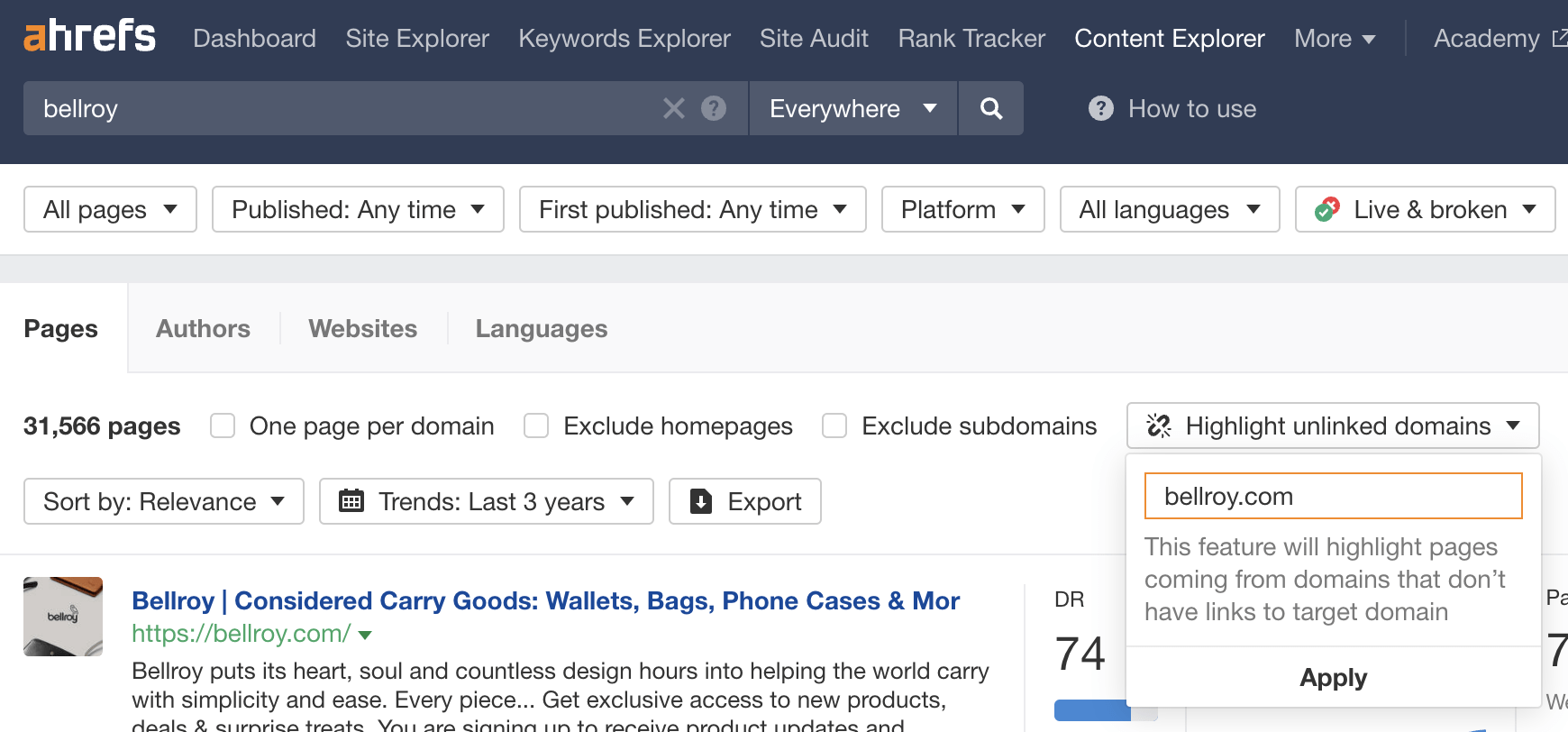 In this example, we end up with thousands of unlinked mentions. 
That's a lot of prospects, so it is worth filtering the export by DR or website traffic to remove the low-value opportunities. You can then sift through the filtered list to look for opportunities that make sense.
Here's one for Bellroy: 

This author has written a whole blog post about why they love Bellroy, with multiple product mentions and photographs along the way. Yet they haven't linked to Bellroy once in the post—probably because it was published by a store that stocks their products.
But as the store only has one physical location in Canada, this could be a link opportunity.
Here's a simple pitch that could win the backlink:
Hey [Name],

Josh here from Bellroy. 👋 

Just wanted to say thank you for your love and kind words in this post. It's amazing to see our stockists so proud to carry our products.

One quick (mutually beneficial) suggestion: Could you add a link to our materials page?

I saw that you talked a lot about our materials in the post (thanks!), but we have more details on that page. Just thinking it may help your customers/readers decide whether we're the right brand for them.

Cheers,
Josh
Note how we didn't just ask them to "make the link clickable." That can sometimes work. But it's quite a generic request, and it only benefits you. Instead, we're asking for a link to a page that makes contextual sense. Also, we explained why this is useful for their customers as well as us.
Stockists or "where to buy" pages do what they say on the tin: They list stores that stock and sell a company's products. If you stock third-party products, it's worth checking whether those brands have stockist pages and pitching for inclusion if they do.
How to do it
Make a list of brands you stock, then search Google for the following: 
[brand name] intitle:("where to buy" OR "stockists")
For example, if we run this search for Hive, a popular manufacturer of smart home products in the U.K., we see that it does indeed have a page listing stockists: 

If we look at the page itself, we see that logos link to retailers (even the broken ones):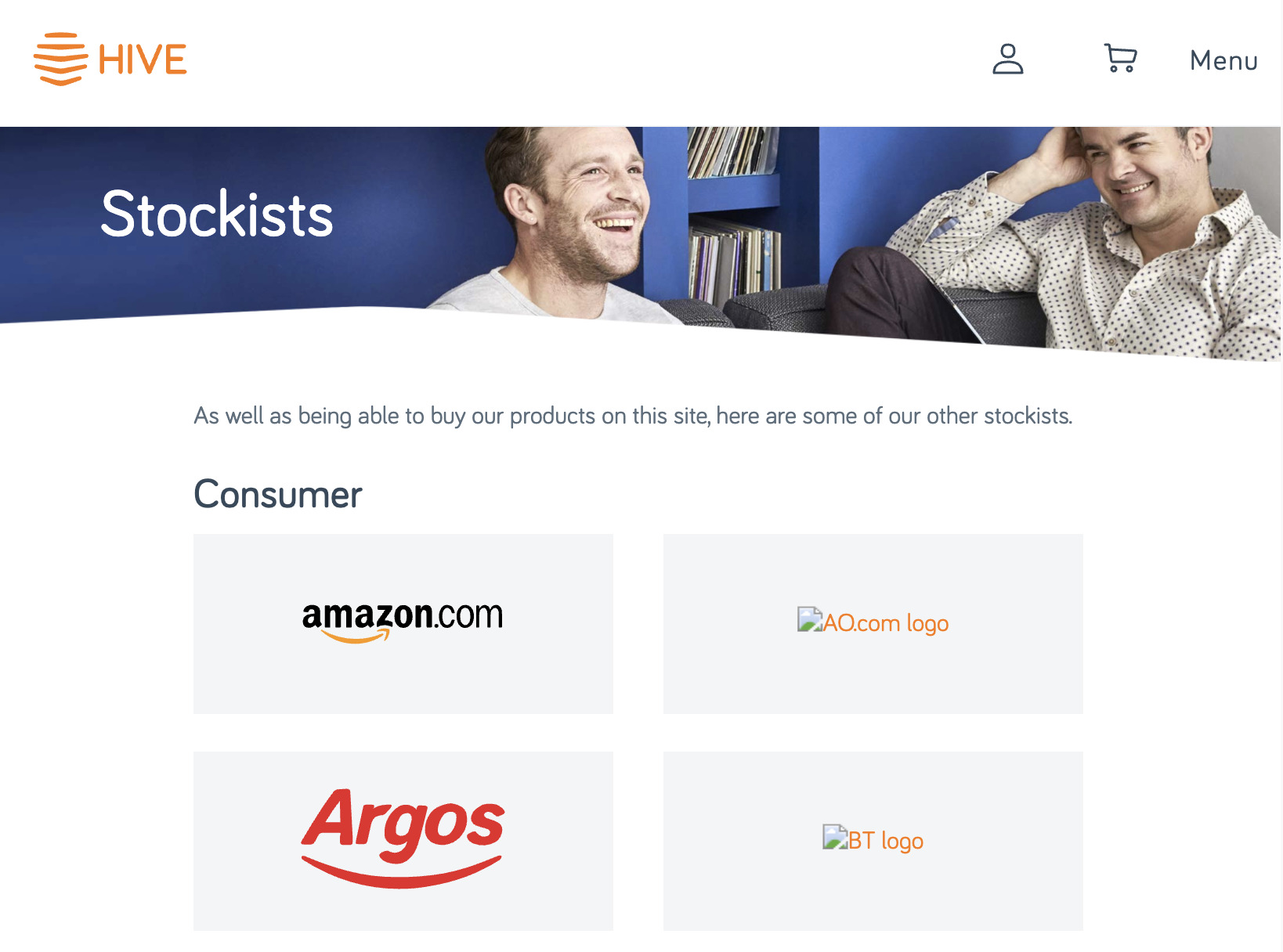 You can also find stockist pages with Site Explorer. Just enter a competing store's domain, go to the Backlinks report, then filter for referring pages with "where to buy" or "stockists" in their titles. 
For example, if we do this for vesternet.com, a popular e-commerce store selling smart home products, we see a few links from manufacturers' stockist pages: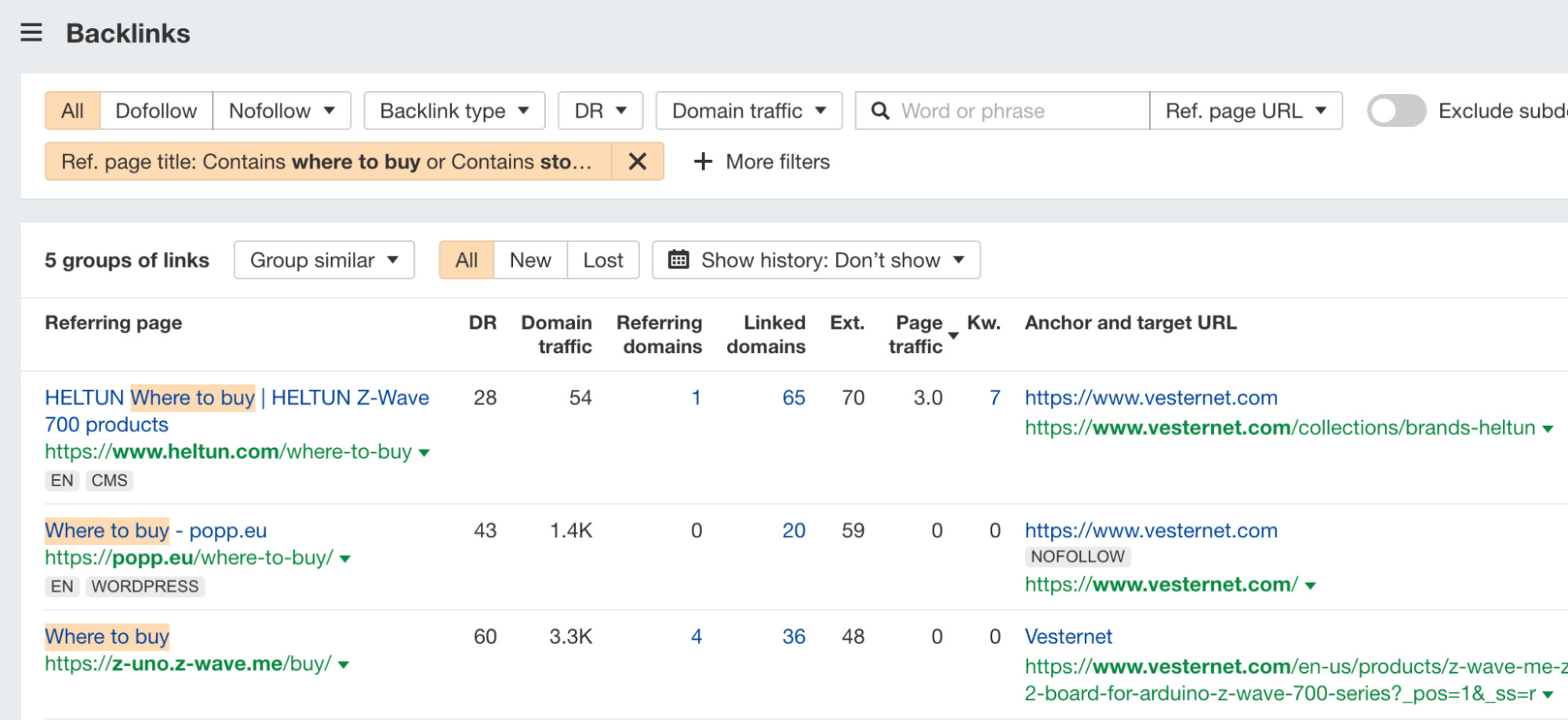 Here's a straightforward pitch to land links on these pages:
Hey [Name],

Josh here from [Store Name]. 👋 

Do you have a process for getting listed on your "where to buy" page? We stock and sell your products and will love to be included. 

Cheers,
Josh
Keeping things simple is the name of the game here because the value proposition is obvious: Being included on their page helps more people find a place to buy their products.
Statistics pages list facts and figures about a particular thing. They often attract backlinks because those searching Google for statistics tend to be bloggers and journalists looking for sources for their articles.
For that reason, publishing a list of curated statistics related to what you sell is a simple way to attract relevant backlinks to your site.
How to do it
You first need to find what kind of statistics people are searching for. You can do this in Ahrefs' Keywords Explorer. Just enter keywords related to your business, go to the Matching terms report, then add words like "statistics," "stats," "facts," and "figures" to the "Include" filter.
For example, if we sell smart home products, we can enter keywords like "smart home," "smart bulbs," and "home automation."

Then we'll go to the Matching terms report, add our modifiers to the "Include" filter, select "Any word," and hit "Apply."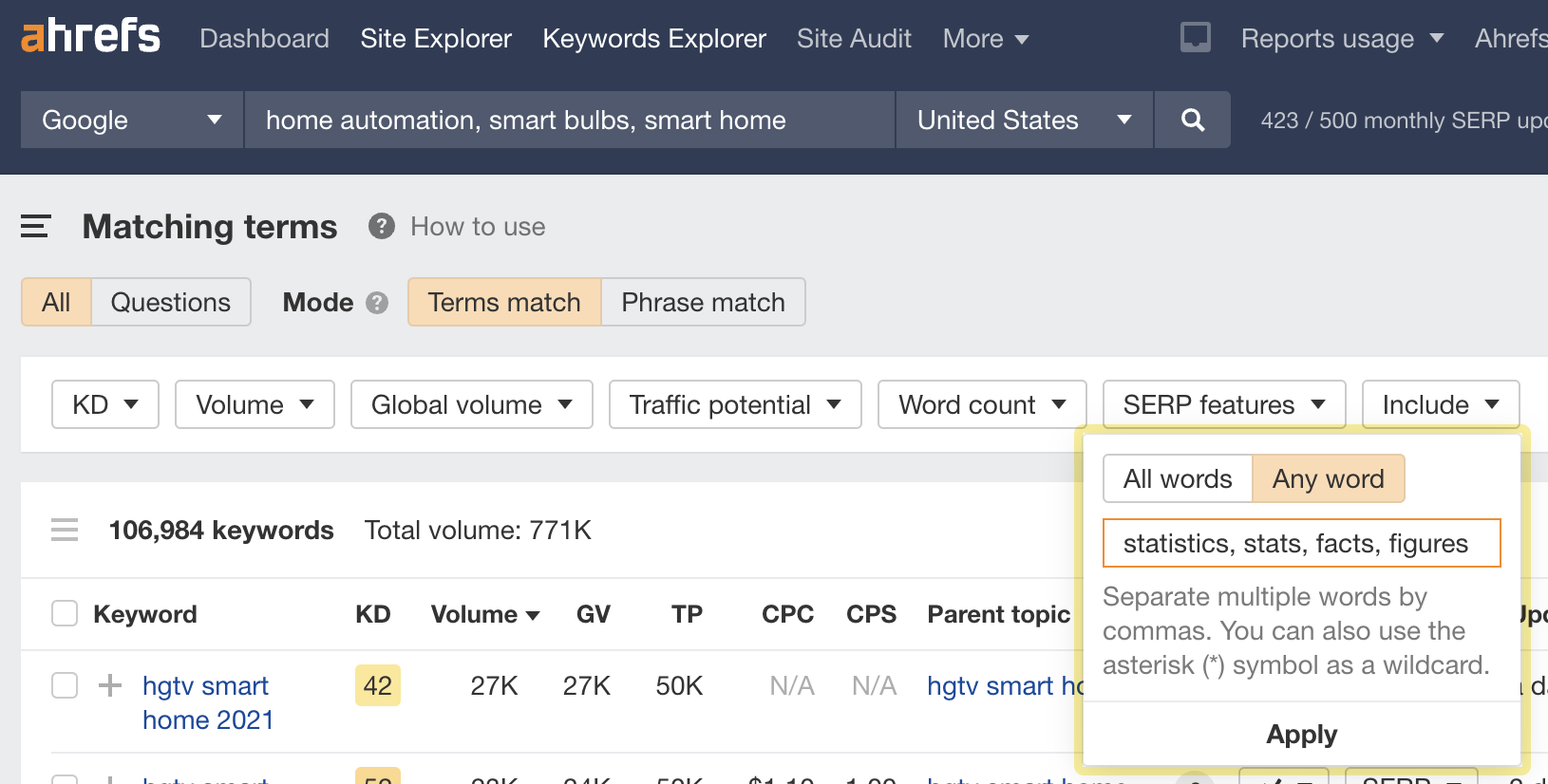 It looks like "smart home statistics" is the obvious choice for a statistics page. 


Before settling on a topic, hit the SERP caret to see the top-ranking pages. Ideally, you want to see many backlinks to them. This shows people are indeed searching for statistics to include in their articles.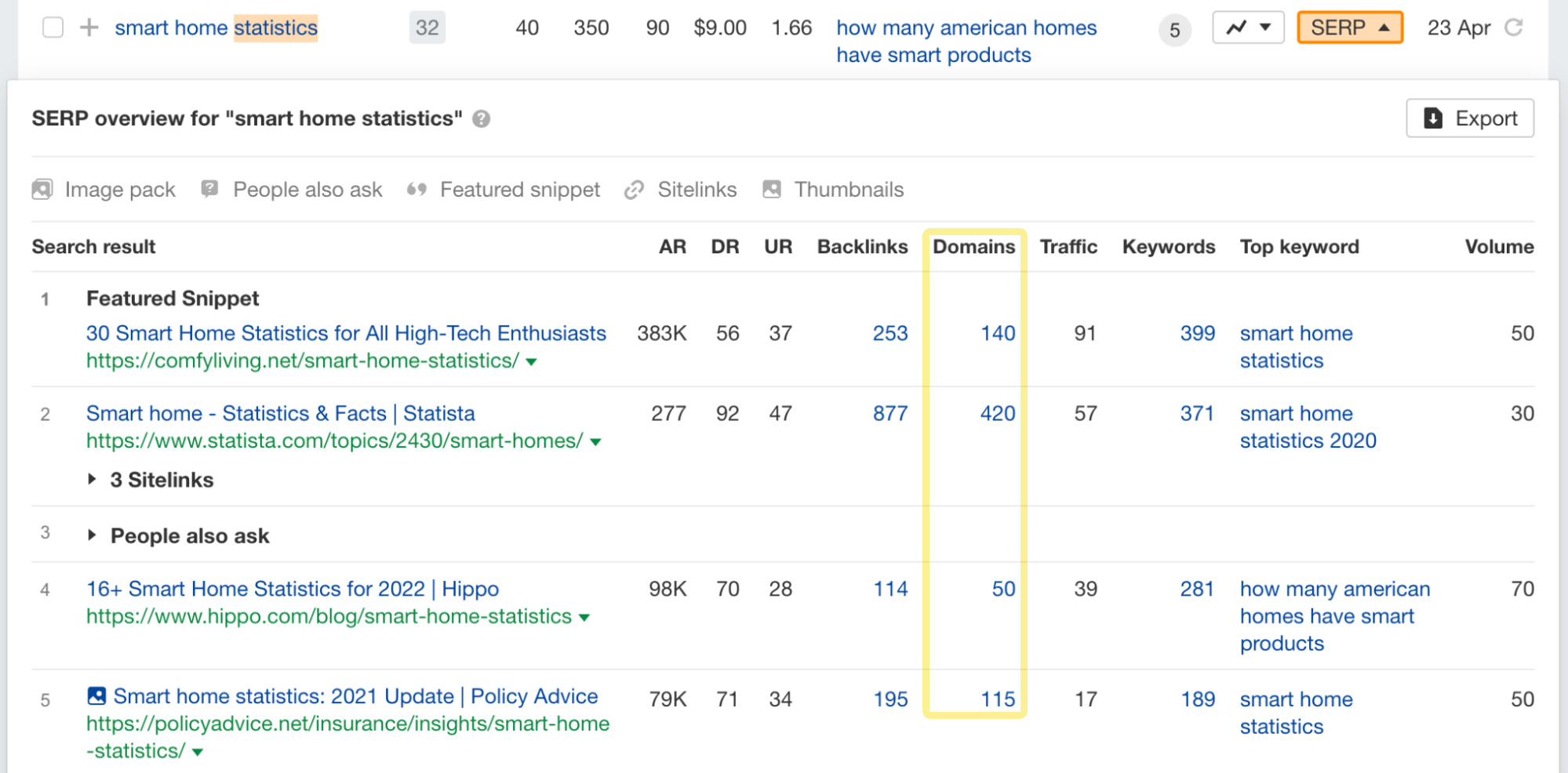 It's then simply a case of creating your own statistics page and doing outreach for backlinks.
We did this for our SEO statistics page and built 37 backlinks. (If you want to know how and follow along, we documented the process step by step in our link building case study.)
After this, you can use the middleman method to send some of that "link equity" to the pages that matter. 
Final thoughts
Building links to e-commerce sites is hard. It's usually easier to build links to your homepage or content than to your product pages themselves and then direct link equity to the pages that matter with internal links.
Got questions? Ping me on Twitter.