---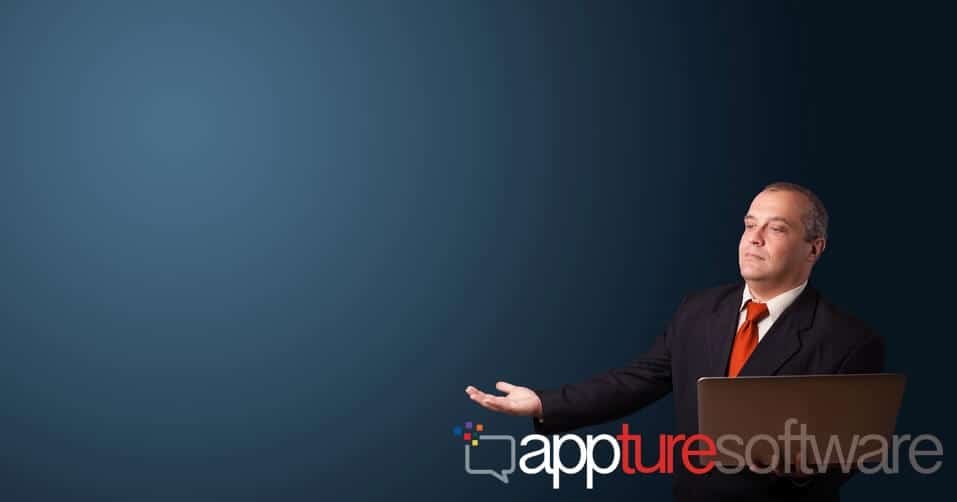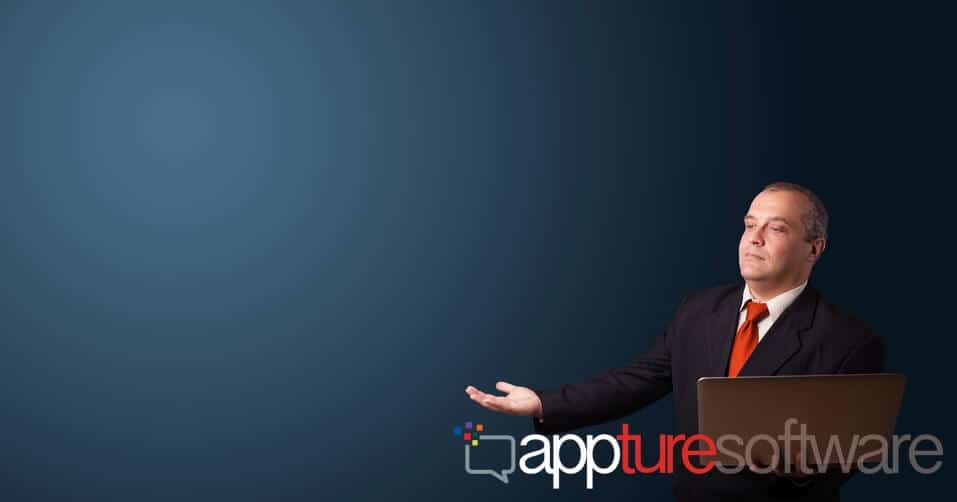 ---
Talks about the mid-June Core Web Vitals release made SEOs worry. Google states that Core Web Vitals will become a ranking factor, but doesn't say a thing about how important this factor will be. Still, when it comes to ranking, it's always better to optimize anything that could somehow affect your positions than just leave things as they are. Moreover, Core Web Vitals optimization will be useful anyway, even if its impact on ranking appears lower than it is supposed to be now. Core Web Vitals are all about user experience, so your users will only thank you if they see your website works smooth and fast.
The hype around the CWV release made SEOs ask for some new tools that could let them turn the Core Web Vitals optimization into an SEO routine. This demand for new optimization opportunities made many SEO software providers release new modules for working with Core Web Vitals. Still, the functionality of most of these tools is too limited to let you analyze all of your website's pages in-depth. The features that you do need to effectively audit and optimize CWV are as follows:
Possibility to bulk check all the pages of a website to have them all optimized and bringing you traffic;
Possibility to check both Core Web Vitals field metrics (to see how Google sees and evaluates your website) and Lighthouse lab metrics (to see and fix any page performance issues);
Possibility to bulk export the data to easily share them with web developers or clients.
All this said, let's take a look at the 5 popular SEO tools and see what they offer for CWV optimization.
WebSite Auditor
WebSite Auditor is a well-known desktop SEO software solution. The tool loves the concept of "the more data the better", which couldn't but reflect in the new Core Web Vitals module. The tool features reports on more than 80 page speed metrics. What's more, all the data are taken directly from Google via the official API, which means you see the same data and recommendations as Google does.
One of the WebSite Auditor's undoubted benefits is the possibility to check all of your website's pages at once. Thus, you don't need to check any single URL manually as you'd have to in PageSpeed Insights.
WebSite Auditor lets you get all the CWV optimization details within a couple of clicks. Launch the tool, enter the domain and let the tool collect the information. Then, go to Site Structure > Pages, and switch to the Page Speed workspace.
Click the update sign on any column, put a tick on Page Speed data, and enter your Google API key. The tool will now collect the data and present them on the screen.
The Page Speed module will show you what pages pass the Core Web Vitals assessment and what don't. The table will also specify what exactly makes your pages fall behind, and give you detailed instructions on how to optimize CWV.
You can find the optimization opportunities for a specific URL if you can click on it and look at the lower Page Speed table.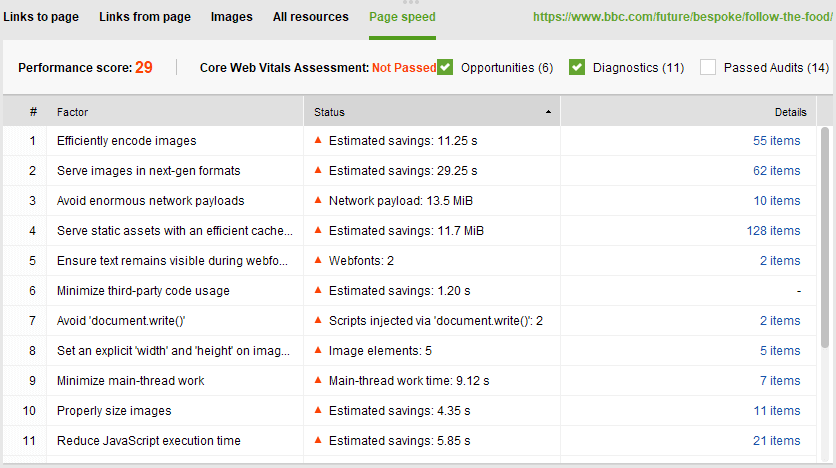 If you need a more detailed report on each page, you can go to Page Audit > Technical Audit, and analyze each page separately. Then, go to Mobile Friendliness and Page Speed section to check Core Web Vitals for desktop and mobile in more detail.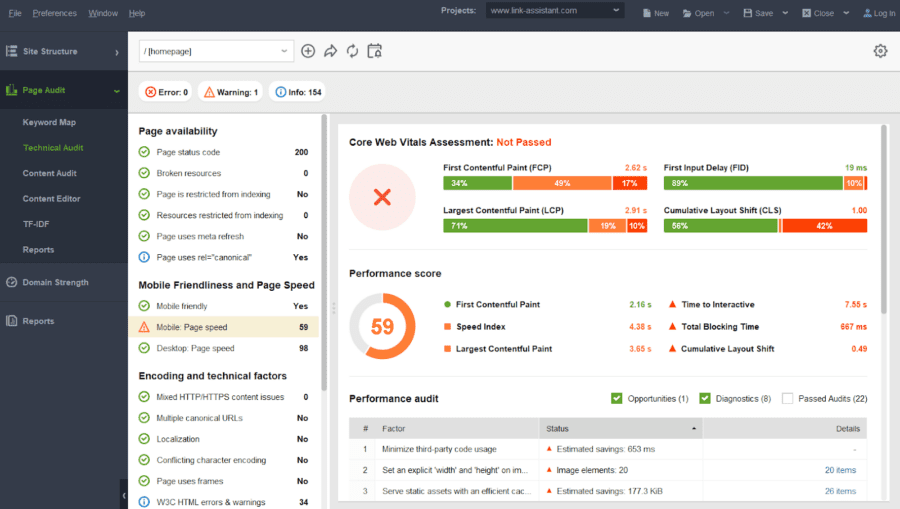 If you need to see all the Core Web Vitals optimization issues on your website, go to Site Structure > Site Audit, and scroll down to the Page Speed section. This section features 33 reports, each including the list of the affected pages.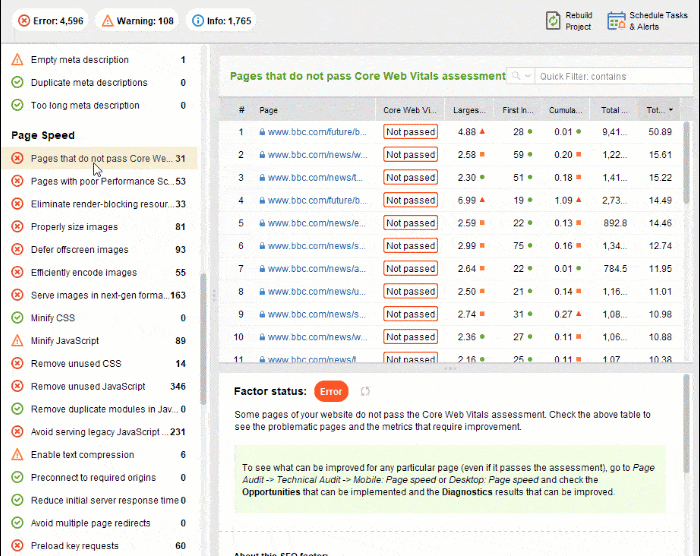 One more advantage of WebSite Auditor is the possibility to save and bulk export CWV reports in CSV. So you can easily share these reports with your colleagues or send them to your clients.
Price: The most affordable edition — WebSite Auditor Professional — will cost you $125/year (unlimited number of pages to optimize). You can also use a free WebSite Auditor sandbox version to test the tool before the purchase. The free edition is nice for time-to-time checks for a smaller website (under 500 URLs).
Screaming Frog
Screaming Frog lets you check your website for all the SEO troubles and provides suggestions on how to fix them. It also uses direct data from Google for its new Core Web Vitals module.
Just like WebSite Auditor, Screaming Frog will require an API key from Google. This means that the number of pages checked per day will be limited to 25,000. To start your work, launch the tool, go to Configuration > API Access > PageSpeed Insights, paste the API key from Google, choose the user agent (either mobile or desktop), and set up the metrics you want to see (you can choose all of them, too).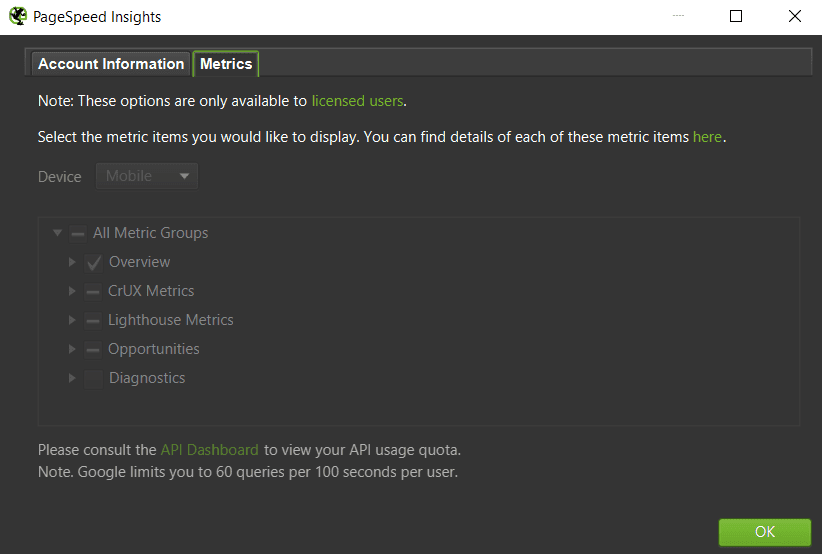 Then, enter the domain you need to check, click Start, and wait until the tool collects all the data. Switch to the Page Speed workspace to see which pages pass the Core Web Vitals assessment or not, and see specific data for each separate page speed metric.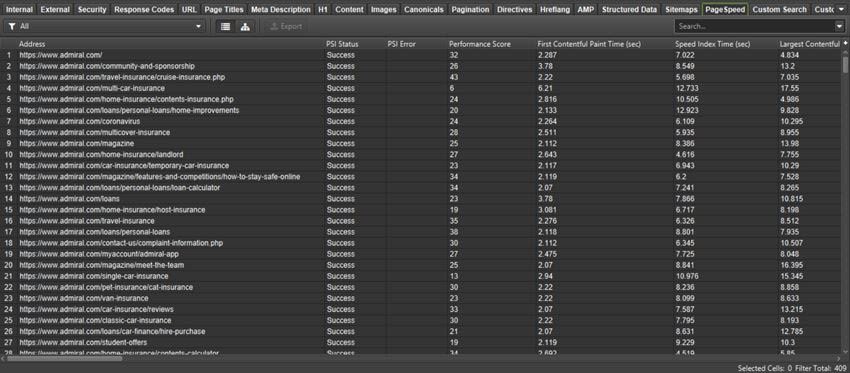 Switch to the Overview workplace to see the opportunities for improvement. The workplace features the list of possible changes and tells you which pages they could be applied to. If you click on any specific URL, then the Page Speed details lower tab will show you more details about this page. The information will also include all the possible ways to optimize the page's performance.

The downside of Screaming Frog is the inability to bulk export the Page Speed report. In case you need to do that, you'll have to manually copy and paste the lines into an Excel table. Still, you can export the reports with Page Speed optimization opportunities to hand them to web developers for fixing.
Price: Keep in mind that you can only check the Core Web Vitals of your website with the paid version of Screaming Frog. One license costs £149 per year (around $209; may vary due to exchange rate fluctuations).
DeepСrawl
DeepCrawl is the cloud SEO software for businesses and corporate clients. Literally — you will need a corporate email to log in to the service. Emails like @gmail.com are not accepted. DeepCrawl doesn't seem to use the Google API key, and all the Core Web Vitals data are taken from their own controlled environment.
To see how your website handles the Core Web Vitals assessment, you'll have to switch on the JavaScript rendering feature. Then, just let the software crawl your website, and go to the Performance menu.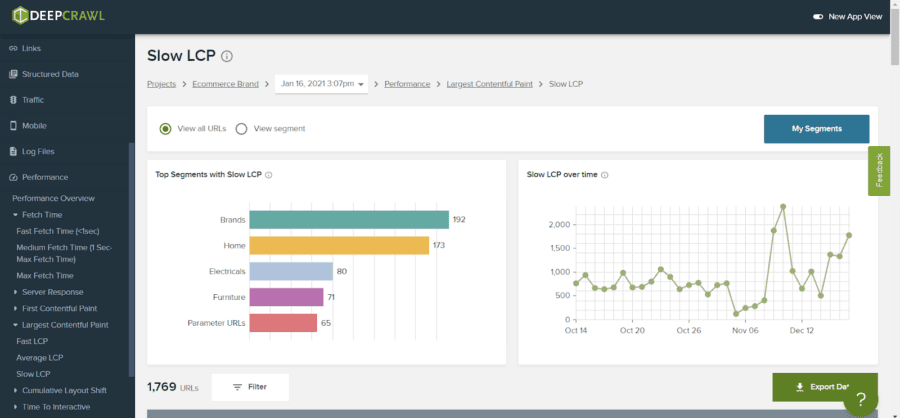 Click on the i sign to see additional information on how to optimize a certain metric.
The reports are available in the Data Studio connector. To fetch new reports in the existing dashboard, edit and reconnect the source.
Note: Core Web Vitals will only be measured for the desktop version of the website.
DeepCrawl will not show you any data on the First Input Delay (FID) metric. FID is a field metric; to collect it, the field real user experience data are needed, which cannot be anyhow simulated in any lab environment. That's why the DeepCrawl creators suggest using their tool together with your own CrUX dashboard to receive more accurate data.
Important! Any cloud SEO software will not provide you the FID data. This happens due to the physical impossibility to retrieve the field data (at least, none of the cloud tools does this now). As Google only uses the field data to evaluate your pages, you should keep in mind the possible inaccuracy of the lab data. If you need clear and accurate data, you'll have to use desktop software that collects the data via Google API. You can also keep checking pages with PageSpeed Insights, but you'll hardly appreciate checking all of your URLs one by one.
Price: DeepCrawl doesn't have the price listed on their website, and you'll have to request pricing individually (you'll also need a business email to do that). Still, many reviews on various forums and marketplaces mention that the tool is pretty costly, and will probably suit businesses with bigger budgets on SEO software. There's no information on if there's any kind of free trial, but you can book a personalized demo.
SEMrush
SEMrush is one of the most popular cloud SEO tools. SEMrush creators decided to keep this popularity, and enriched the tool with the Core Web Vitals module.
Auditing your website's Core Web Vitals with SEMrish is easy. What you need is to perform a general audit of your website. Go to On Page & Tech SEO > Site Audit, enter the domain you want to analyze, and choose the type of user agent.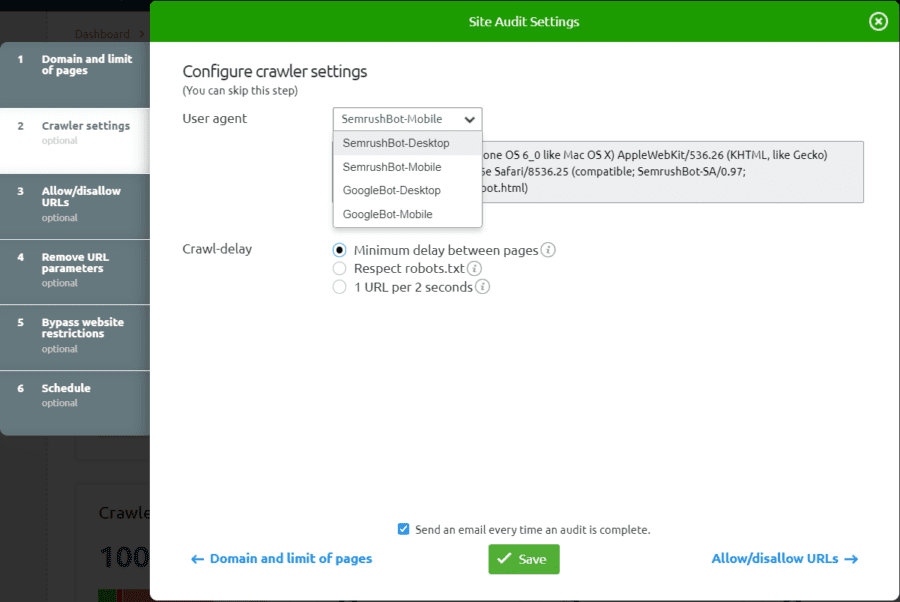 Once the data are collected, click on the Core Web Vitals widget. The graphs will demonstrate if something fails to pass the CWV assessment.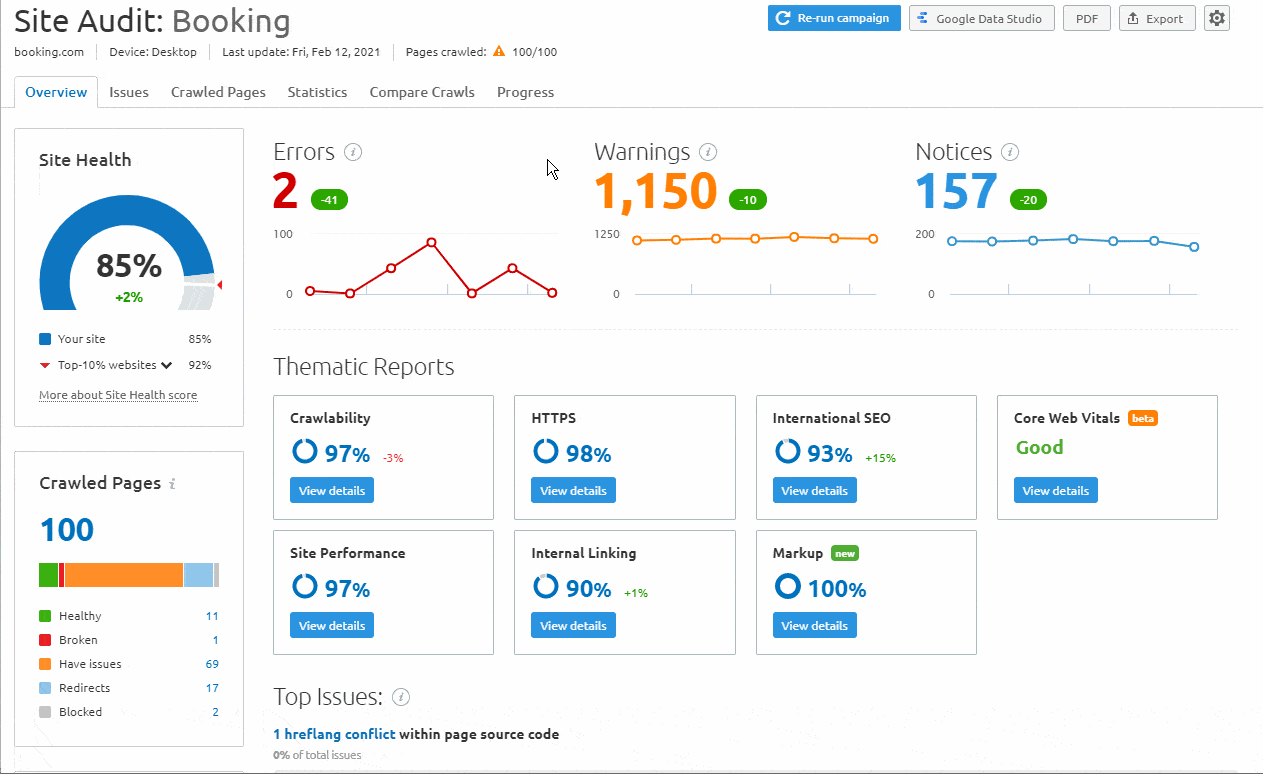 As SEMrush doesn't use Google API and takes all the lab data from Lighthouse, you will not get the FID metrics data. Moreover, the Lighthouse lab data don't fully reflect the real assessment of your page and are less likely to be considered by Google when ranking your pages.
Note: SEMrush shows the Core Web Vitals data for the homepage only.
As for the exporting, you cannot export the CWV report from the tool. If you need to show it to your clients or website developers, you'll have to take a screenshot of the page.
One more downside of the SEMrush Core Web Vitals module is that you will not get the improvement opportunities on the spot. Instead, it is suggested that you visit the Site Performance report and see the suggestions listed there.
Price: The cheapest edition — SEMrush Pro — will cost $119.95/month. This edition lets you work on 5 projects and crawl up to 20,000 pages per project monthly. The largest package (Business) is limited by 40 projects up to 100,000 pages each, but the general monthly crawling limit cannot exceed 1,000,000 pages. You can also get a fully customized edition if ready-made plans don't suit your business needs. A 7-days free trial is available for Pro and Guru editions, but you'll have to provide your credit card data to get it.
MOZ
MOZ is another well-known cloud SEO tool. The growing industry demand on Core Web Vitals checks made the MOZ team release a Performance Metrics module (beta version available yet). This module shows the data for both mobile and desktop website versions. As cloud tools don't seem to use the Google API key, MOZ takes the lab data from Lighthouse. These data don't reflect the real users' behavior.
The Performance Metrics module is placed under the Site Crawl tool. You can check all of your pages, or you can save some time and choose to check your top pages by page authority, top-ranked pages, or pages with any crawl issues.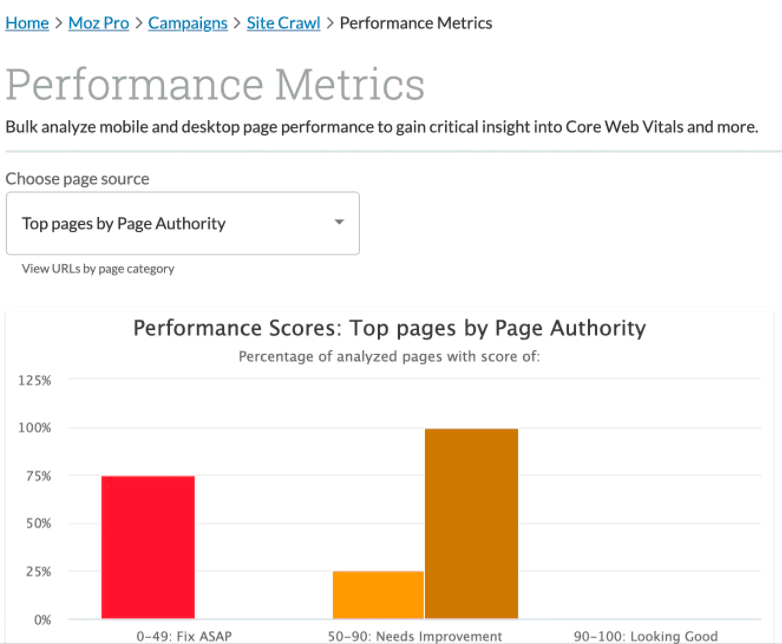 Keep in mind that the number of pages you can check is limited as of now — you can check up to 6000 pages per project monthly.
Once the tool collects the data, you will see a table of results, which will tell you how your pages perform on both mobile and desktop devices.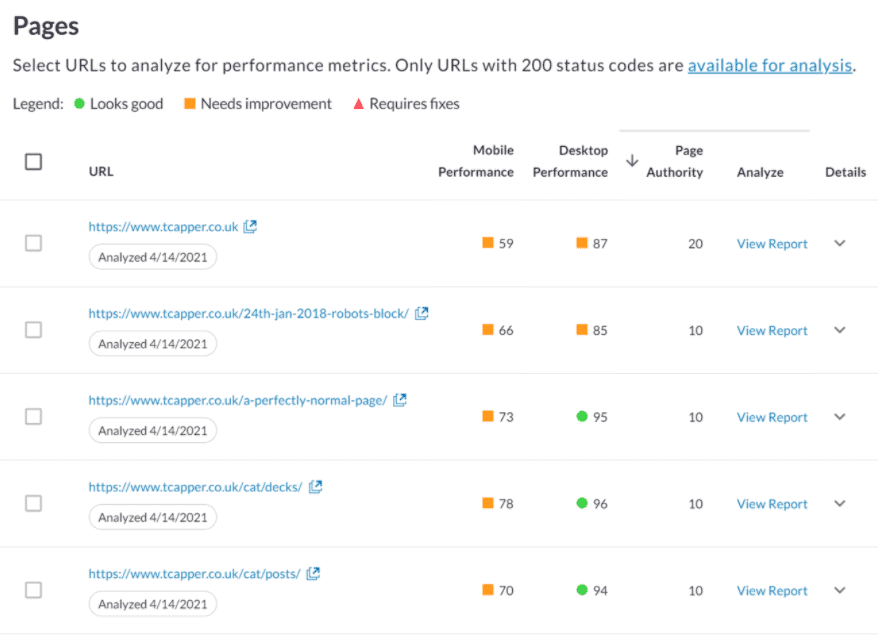 For more details, click View Report.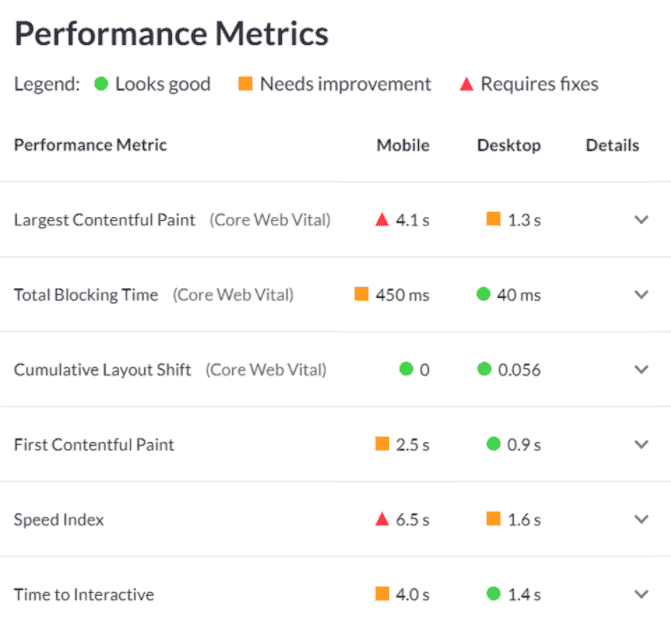 As you can see, the field FID metric is replaced with the lab TBT (Total Blocking Time) one in this report.
The tool will also show you some basic opportunities for improvement on both mobile and desktop pages' versions.
MOZ is probably the only cloud SEO tool that handles the bulk checks and collects the data for all types of devices. Despite the limited functionality of cloud software in terms of CWV checks, MOZ seems capable enough (mind that it's just a beta version). The team also plans to enable exporting of the Performance Metrics report. As for now exporting is unavailable.
Price: The most affordable MOZ edition will cost $99/month. This edition is limited by 100,000 pages per week, but, as you remember, you are still limited to 6000 pages for CWV checks monthly. A free 30-days trial is available before the purchase (credit card credentials needed).
Bonus: PageSpeed Compare
PageSpeed Compare is not an SEO tool in the way it is usually meant. It's a kind of free sandbox that can help you in competitor analysis. The tool lets you compare the Core Web Vitals of your page with the pages of your competitors. PageSpeed Compare will show you both lab and field data. Just like PageSpeed Insights, but you can enter several different URLs to compare them.
PageSpeed Compare is easy to use. You just need to check the URLs you want to compare one by one.

Once the page check is done, the tool will offer you the comparison report provided with diagrams and bar graphs. The menu under the URL line lets you navigate through various types of reports such as Lab data, Field data, Savings, and so on.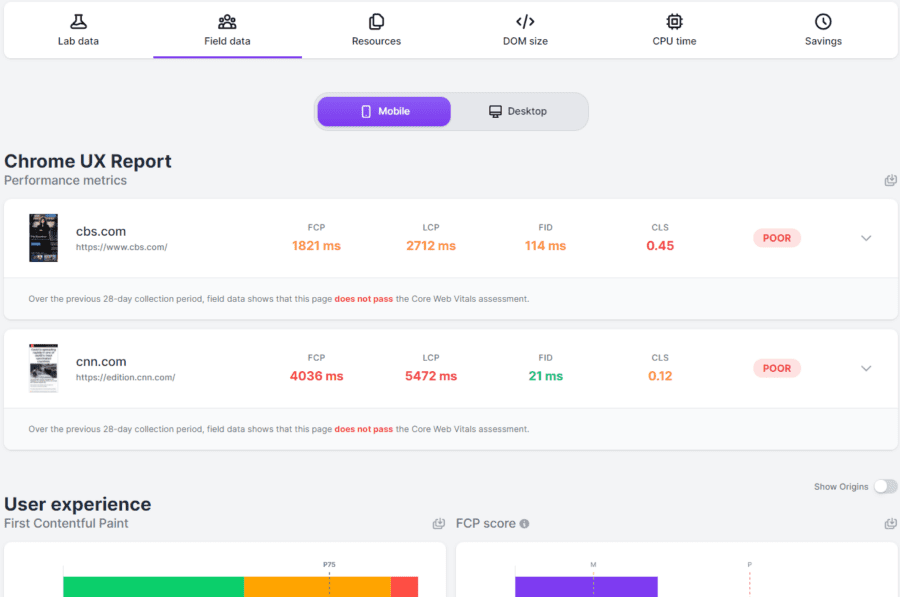 The tool will also show you the opportunities for improvement, both for your page and for competitors' ones.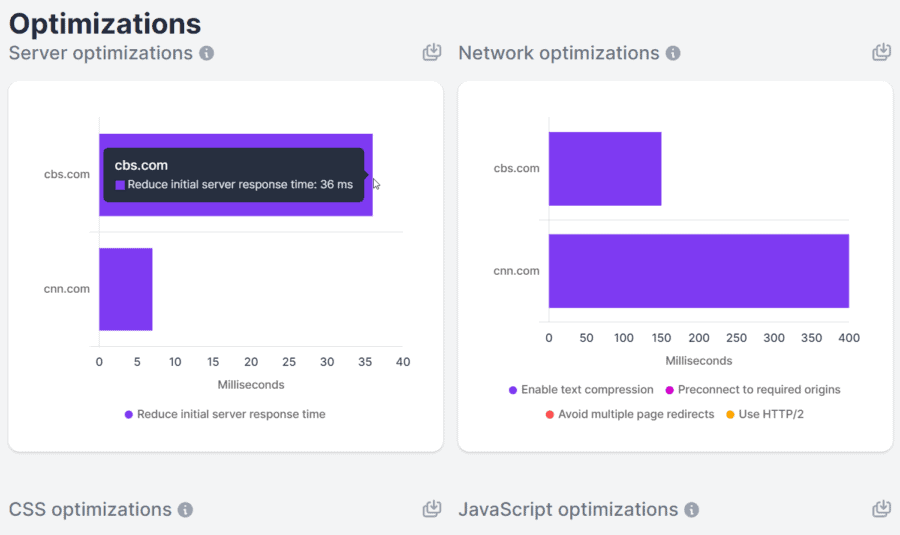 Each report may be downloaded in CSV, PNG, or JSON. Bulk export is unavailable.
As PageSpeed Compare is a free sandbox tool, you cannot save the results of your checks. Still, the checks don't take much time, and you can easily repeat them as often as needed.
Conclusion
As Core Web Vitals became an agenda not so long ago, the list of SEO tools with the CWV module is likely to keep growing. As for today's situation, it's pretty obvious that desktop tools handle the Core Web Vitals checks better than the cloud ones. Anyway, no matter what tool you're using, make sure that page experience optimization's on your radar this year.