We address some of the biggest SEO challenges marketers are facing today – including UX optimisation, algorithm updates, top spot domination in the search results and getting stakeholders onboard.
The SEO landscape changes every year, bringing new opportunities but also added challenges that search marketers need to overcome. We know the events of 2020 had a major impact on the way people search and shop online in the UK and, this year, it's the changes going on behind the scenes at Google that are shaking things up.
Aside from the high volume of major algorithm updates, we've also had big technology announcements from Google and a preview of what the next chapter in search will look like. In this article, we explore how the latest changes in search create new challenges for SEOs and make some older ones even trickier to deal with.
1. UX becoming a top ranking factor
With the recent page experience update and the rollout of Core Web Vitals, Google is paying more attention to user experience (UX) signals than ever. Over the years, we've had mobile-friendly updates, page speed signals and a range of UX factors introduced to the ranking algorithm but, now, Google has a cumulative signal for page experience capable of measuring the user experience of websites and individual pages.
Historically, signals like mobile-friendly have never been too demanding but Core Web Vitals puts pages under the microscope.
Currently, there are three Core Web Vitals and Google says it expects to introduce new ones in the future:
Loading: This simply refers to loading times although Google is changing the way it measures this with a new standard called Largest Contentful Paint (LCP).
Interactivity: Measures the responsiveness of interactive elements on your page (links, buttons, etc.) after users click them, using a new standard called First Input Delay (FID).
Visual Stability: Detects the movement of elements after they've loaded on the page and any instability this causes, using a new standard called Cumulative Layout Shift (CLS).
Page speed has been a ranking factor to varying extents for many years but Google is now checking to ensure pages also respond quickly to users actions and elements stay where they are on the screen.
This is a big leap in Google's ability to measure specific UX qualities and it's telling us to expect more signals of this nature in the future.
2. Google updates changing the goalposts
Google is constantly rolling out updates to its search algorithm and the broader search experience. Across June and July, Google rolled out two core updates, the page experience updates and two parts of a spam algorithm update that heavily targeted weak content and low-quality links.
Once again, Google has lifted the bar on content quality and improved its system for detecting link spam and other deceptive tactics.
With Google rolling out several updates over a short period of time, it's increasingly difficult for SEOs to attribute ranking changes to specific updates and understand what's affecting what – especially when Core Updates are thrown in among other, more specific updates.
At the same time, Google is on the verge of rolling out a new search experience using the Multitask Unified Model (MUM) technology it announced earlier this year. Google says MUM is 1,000x more powerful than the BERT algorithm it rolled out in 2019 and the new system is capable of handling multiple complex tasks at the same time, such as translating content from multiple languages and interpreting the content of images.
In the new Google Search experience, users will be able to take pictures with Google Lens and include these in their search queries. For example, if they see an item of clothing they like or a pattern they want to find on a different type of clothing, they can include the image in their search to find similar products.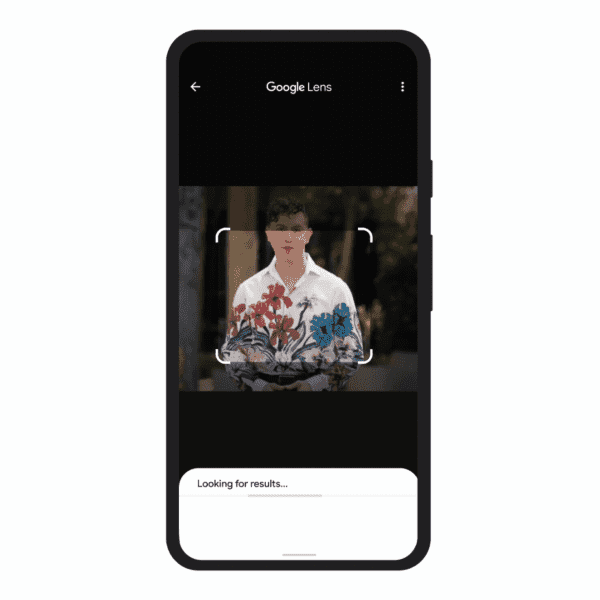 In another scenario, a bicycle owner may have a broken component on their bike and need a replacement part. If they don't know the name of this part, it's very difficult to start the search process and find a replacement part without taking the bike into a specialist store or taking a picture of the part and showing it to someone who knows their stuff.
However, soon users will be able to take a picture of the broken part and search for replacements using Google's image recognition technology.
Another key update in Google's search experience redesign is a greater emphasis on exploration. The search giant wants users to spend less time typing in queries and more time exploring topics, related searches and refining their interests.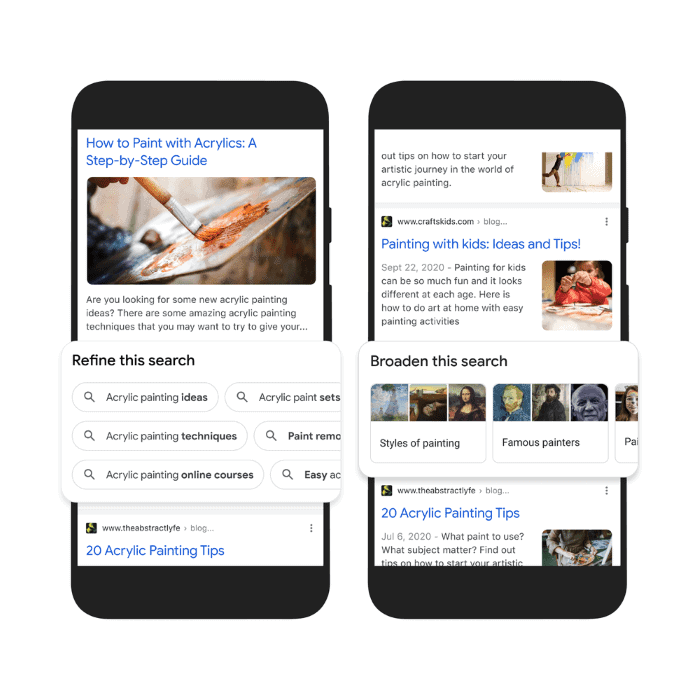 These updates will change the way users engage with search and the content made available to them. This opens new opportunities that SEOs have to respond to and also creates new challenges – for example, optimising for an experience that involves fewer keyword searches and more exploration.
3. Increased competition & top-spot domination
Competition increases every year in online search but 2020 drove millions of businesses to make the online transition in order to cope with the challenges of Covid-19. The number of businesses fighting for search positions is growing all the time but the results page stays the same size.
In fact, you could argue the organic SEO opportunities are getting smaller as blue links are pushed further down the page by ads, featured snippets and rich results.
Combine this increased competition with the top-spot domination of major brands and the space left for smaller and growing businesses shrinks even further. So how can SEOs continue to find opportunities that carve out space for websites looking to climb the SERPs?
The answer lies in data – and lots of it.
More specifically, recombinant data sources information from multiple data sources to achieve a greater level of insights. By integrating dozens or hundreds of sources, you can build a more comprehensive picture of the search landscape.
For example, you might compile data from Google Trends, track organic keyword impressions, crawl the "People also ask" section, pull in related keyword volumes and track competitor rankings for all of the keywords/queries compiled in the report. By automating this process, you could identify emerging search trends, instantly pull up a list of related queries and check competitor rankings to identify new content opportunities and determine how much competition you're facing.
In fact, this is one of the many ways we use recombinant data in our intelligent automation platform, Apollo Insights, to find new search opportunities for our customers.
4. Getting stakeholders on board with performative SEO
One challenge every SEO experiences is trying to keep stakeholders on board with what really matters in search optimisation. In many cases, stakeholders have no technical knowledge of SEO – and why should they?
In fact, it's often worse when they do know a little bit about SEO and mistakenly think they have it all figured out from a few blog posts they read back in 2010. So, how do you explain to a stakeholder that there's more to SEO in 2021 than simply cramming a few keywords into a weekly 500-word blog post?
Again, the answer lies in data but, this time, we're talking about analytics and reporting that demonstrates the importance of performative SEO. You have to demonstrate the impact of signals like loading times upon search rankings and show how this affects the financial performance of the business.
You need a system in place that attributes lead capture, conversions and purchases to SEO campaigns. This is crucial for the modern consumer journey that can include hundreds of touchpoints if you're going to show the value of content that captures leads but doesn't necessarily convert them during the first session.
By demonstrating the wider impact SEO has on business success, you can show stakeholders the success of your current campaigns and open their eyes to the possibilities not yet being realised. You can encourage them to set realistic goals and allocate more budget to search campaigns by highlighting the performative aspects of SEO in hard numbers.
Every challenge opens new opportunities
If you look at the ever-growing list of SEO challenges, it's easy to feel overwhelmed by the increased demands. However, every new challenge also opens up new opportunities and it's worth remembering that every company and SEO faces the same challenges.
For example, every search marketer will have to analyse the upcoming Google changes, powered by MUM, to determine how the new experience impacts search habits, the keyword opportunities available and the touchpoints building up to meaningful action.
The key is to respond to these challenges quickly by analysing recombinant search data to find the new opportunities that emerge from changing search habits. Pinpoint these before your rivals and you can turn the latest search developments into gains while the competition is still trying to overcome them as challenges.