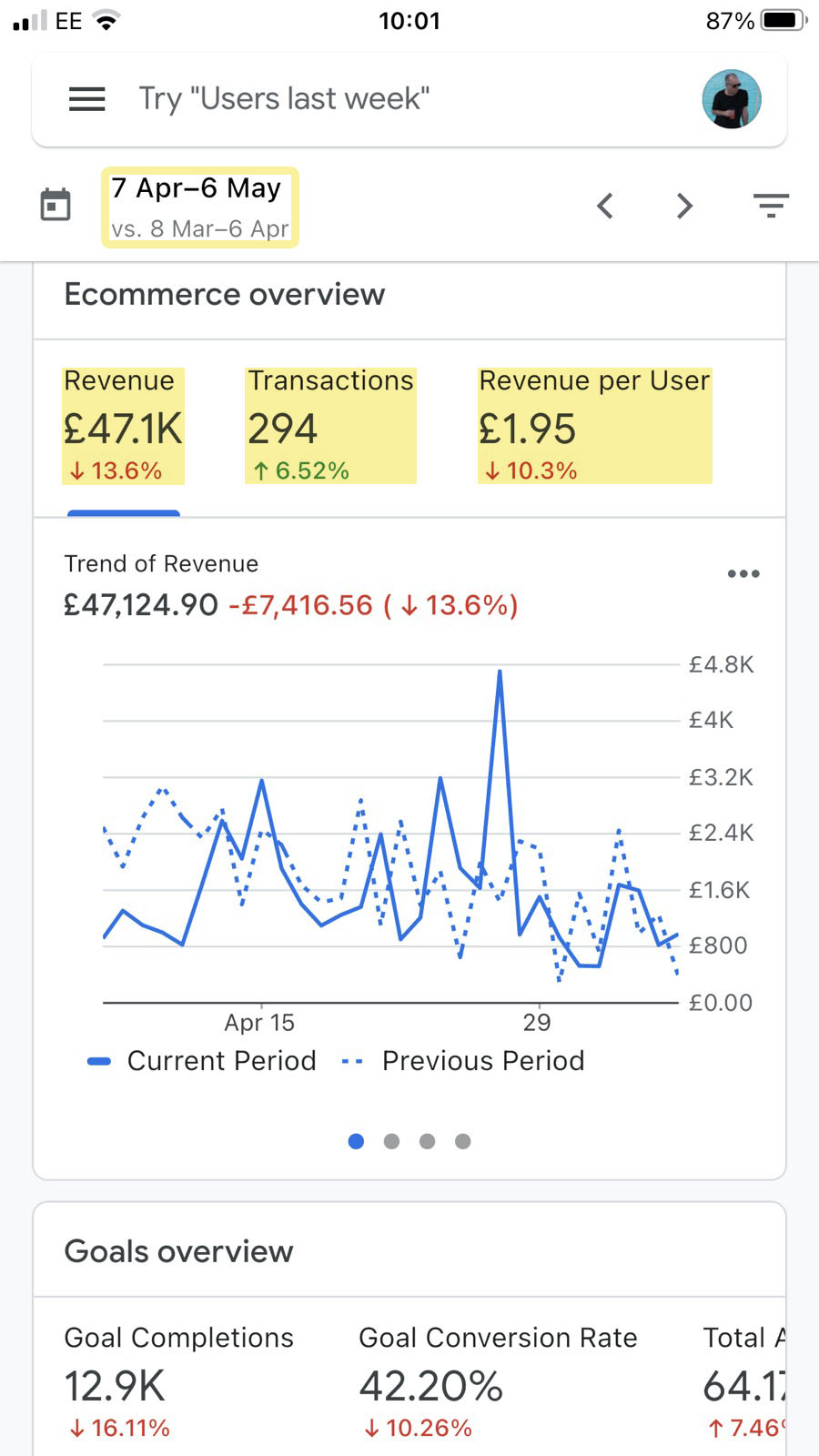 There are thousands of marketing tools, but only a few fit the bill for small businesses. Some you may already know; others you should consider using.
We'll outline how to use the best feature of each tool so that you can get started on delivering some real marketing success today.
Sounds good? Let's get into it.
Intercom is an all-in-one marketing platform that helps businesses build, automate, and scale customer relationships. It includes email marketing, chatbots, social media management, and CRM features.
Intercom is suitable if you're looking to answer visitors' questions via live chat, keep them interested in your products or services, and turn them into customers.
Pricing
Price range: from $74 per month
Free tier: yes
How to use it
Select Operator
Select Qualification
Choose data fields
Add response rules
ConvertFlow is an online marketing platform that helps you convert website visitors using CTAs, landing pages, forms, quizzes, surveys, and personalization.
It is suitable for most websites, including e-commerce, service, and software businesses.
According to Statista, e-commerce conversion rates vary between 0.6% and 5.5%—or expressed differently, around 94% of website visitors leave without taking any action.
You can use visitor segmentation to help you identify who visits your site, ask them one or two questions to determine what they're interested in, and provide them with a CTA to encourage them to enter your sales funnel.
Pricing
Price range: $0–$300 per month
Free tier: yes
How to use visitor segmentation and a CTA
Before getting started, ensure the ConvertFlow script is added to your website's <head> section.
Add your website
Go to Dashboard
Create a CTA
Choose a template, e.g., visitor segmentation, sticky bar, pop-up
Preview and use template
Name it and create CTA
Customize
Add a form to step #2
Connect step #1 to step #2 using confirmation actions
Save, publish, and preview
Launch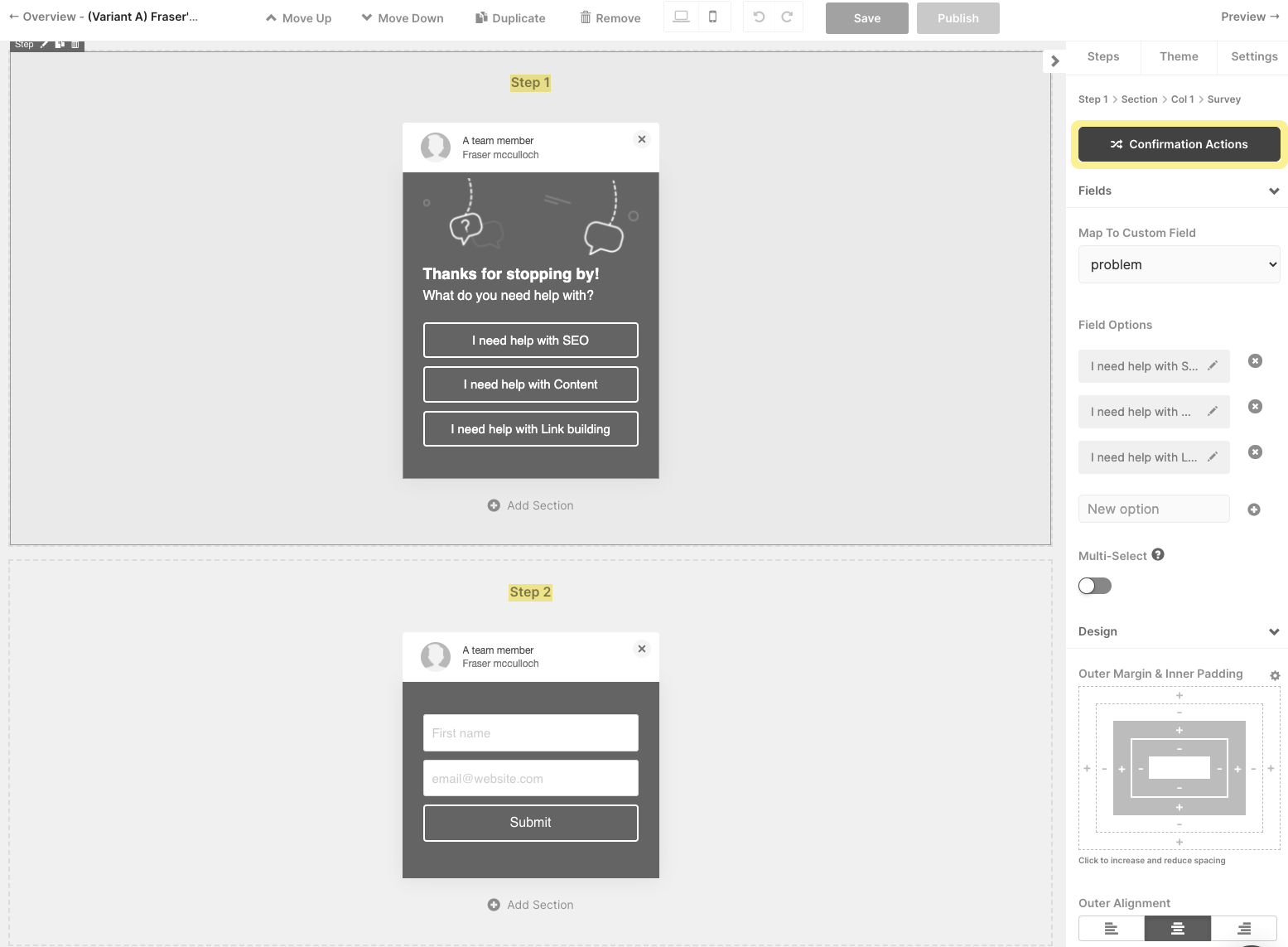 ConvertKit is an easy-to-use online marketing platform that helps small businesses and individuals grow their audiences using email marketing, forms, and landing pages.
Its landing page feature works well for small creative businesses, such as those run by marketers, coaches, writers, etc.
Pricing
Price range: $15–$2,599 per month, depending on the number of subscribers
Free tier: yes
How to use it
To use the landing page feature, follow these steps:
Grow > Landing Pages > Create New
Landing Page
Filter by Profile
Choose any profile template
Click each component and customize
Click Publish and add to your social media profile or embed the page in your WordPress site
https://youtu.be/g6fy9ixlDAs?t=88
Calendly is an online scheduling tool that allows business owners to create appointments, meetings, and events, send invitations, and manage bookings.
Calendly is ideal for those who provide professional, IT, recruitment, beauty, and marketing services.
Pricing
Price range: $0–$20 per user, per month
Free tier: yes
How to use it
Log in
Create > Event Type
Create a one-on-one or group event
Provide event name, location, and instructions
Set the event date, time, and schedule
Set additional options such as invitee questions, workflows, notifications, and confirmation page
Turn the event on
Select Account > Share your links > Choose the option to email or embed on your website
https://www.youtube.com/watch?v=Sd8qzy0UUXc
Revue is an editorial newsletter service owned by Twitter itself.
Connecting Twitter with Revue is suitable for any business that wants to encourage users or followers to subscribe to its additional content by clicking its profile and the "subscribe" button.
Pricing
How to use it
Sign in to Revue with your Twitter login
Select Account Settings > Integrations > Connect Now (under the Twitter logo)
Click Create and write out a subject line for your first newsletter
Copy/paste or write the body copy of your email newsletter
Preview it
Schedule it
Share it
Repeat steps #4 to #8
📣 We've got big news. (You're really going to like this.)

Starting today, your followers can subscribe to Revue newsletters directly from Tweets in their timeline.

This is already enabled for all Revue writers on desktop and mobile web, with iOS and Android to follow soon. ✨ pic.twitter.com/6eBxvGWyxH

— Twitter Write (@TwitterWrite) October 22, 2021
TryInteract is an interactive marketing tool that helps you create online quizzes that generate new subscribers and leads, segment your audience, and drive website traffic.
TryInteract is best suited for those building brand awareness or have pages with less commercial inten­t that don't get any conversions.
Pricing
Price range: $29–$209 per month
Free tier: no
How to use it
Create New Quiz
Select a category from the filter
Hover over template > Preview > Use Template
Customize the quiz color
Change the quiz questions and answers
Click the Lead Generation option to connect quiz respondents and answers with your CRM or marketing platform
Choose Publish
You can share the quiz link in an email campaign, in a social post, or as a website post or announcement bar
Ahrefs' Keywords Explorer identifies millions of keywords and topics, their ranking difficulty, and their traffic potential.
It is suitable for small businesses that wish to find and target low-competition and easy-to-rank opportunities that drive more organic search traffic.
Pricing
Price range: $99–$999 per month
Free tier: no
How to use it
This involves quite a few steps and requires an understanding of some concepts and metrics. Your best bet is to follow this step-by-step video tutorial:
Calculoid lets you build and add calculators to your website with little technical know-how.
Its calculator templates suit businesses that require custom quote forms.
Pricing
Price range: $0–$99 per month
Free tier: yes
How to use it
Open Keywords Explorer
Search for "calculator"
Go to the Matching terms report and apply filters (words related to your business, KD, etc)

Get relevant ideas for calculators
Sign in to Calculoid
Create a new calculator
Choose a relevant template
Customize the fields and calculations
Add submission form (if you wish to capture leads)
Publish to your webpage using the embed code or WordPress plugin
Ahrefs' Content Explorer is a search engine containing billions of pages, all with SEO and social metrics.
The Content Explorer feature is suitable for small businesses that wish to earn backlinks without investing in email outreach campaigns.
Pricing
Price range: $99–$999 per month
Free tier: no
How to use it
Use this report link or go to Content Explorer, enter keyword AND ("statistics" OR "checklist"), and select "In title"; remember to replace "keyword" with a seed keyword
Sort by Referring Domains
Select Exclude Homepages
Use any other filters, e.g., I filtered by DR 20–30 and found 111 referring domains to an "SEO checklist for lawyers"
Identify a common theme among pages
Create page content containing the most frequent statistics or checklist items (refer to Canva checklist instructions below)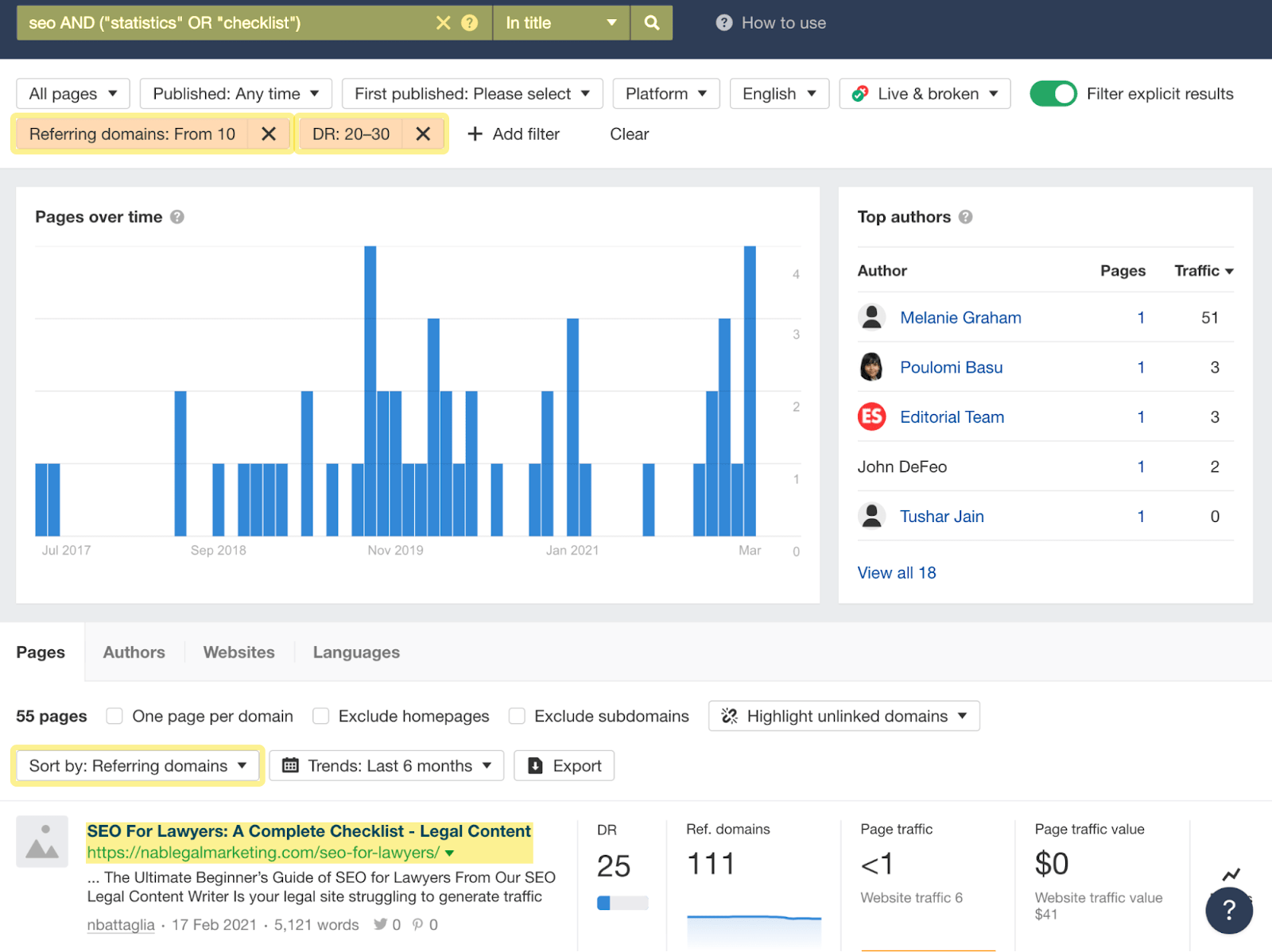 Trello is a project management platform similar to Basecamp or Asana. It lets you create boards with lists, add cards to those lists, assign tasks to other users, track progress, and collaborate with others.
It is suitable for anyone who manages or is involved in digital marketing or SEO campaigns.
Pricing
Price range: $0–$17.50 per user, per month
Free tier: yes
How to use it
Register or log in
Create a new board
Customize the board
Add colleagues or clients
Build a workflow
Add tasks and to-do items
Set deadlines
Repeat for the next project
Canva is an online tool where you can create images without being a graphic designer.
The Content Planner tool from Canva allows you to create and schedule posts ahead of time for your social channels from within its design platform.
This is ideal for companies that want to repur­pose their website content or simply grow their social media presence.
Pricing
Price range: $0–$12.99 per month
Free tier: yes
How to use it
Go to Canva Content Planner
Press "+" next to a date
Select a graphic you have already created or create a design
Choose a destination, e.g., Twitter, LinkedIn, Facebook, etc
Write a caption
Schedule post
Repeat
https://youtu.be/ebqqPnMEZwk?t=328
Microsoft Clarity, similar to Crazy Egg and Hotjar, is a free online tool that helps you analyze, understand, and improve your site performance and user experience using heatmaps and user recordings.
It helps website owners understand how users found their websites, what they did, what they did next, and why they left the website.
Pricing
How to use it
Sign up or log in
Go to settings, copy the code, and add it to your website's <head> section
Leave for a few days until data has been collected and return to Clarity
Look at the heatmaps of top pages and see how far users scroll down the page or compare different page versions and see how users scroll and click
Share with your web team or developers and ask them to implement solutions to any identified problems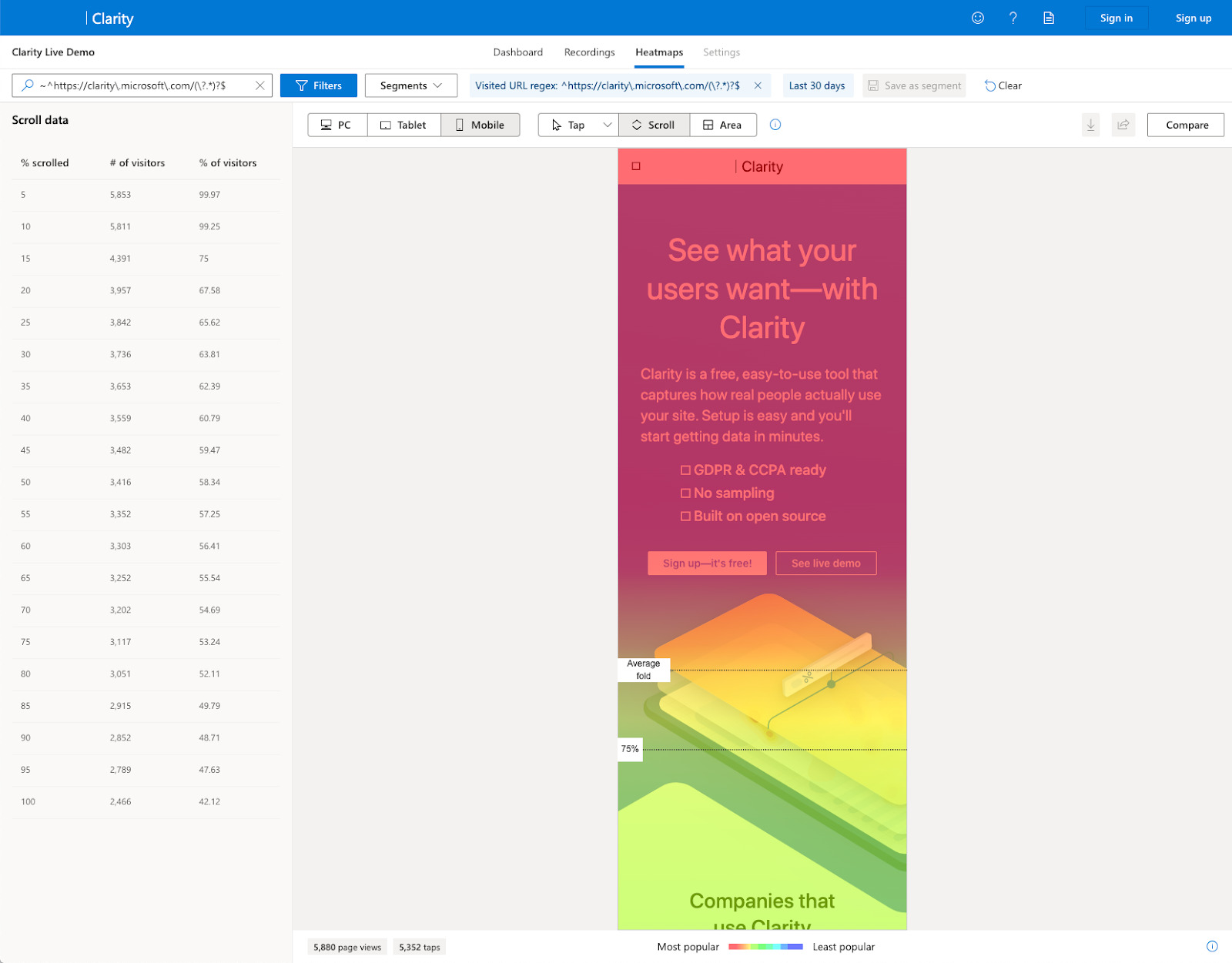 Grammarly is an online grammar checker, spell checker, and plagiarism detector; it can also help with your writing style, sentence structure, and word choice.
Grammarly is useful for people who want their website copy to be clear and well written.
Pricing
Price range: $0–$12.50 per user, per month
Free tier: yes
How to use it
Create a Grammarly account or log in
Select Apps
Click the Chrome Store link and install the extension
Click the icon in your browser and change the settings to suit
Go to the program where you have written your content
Click the icon and action the suggestions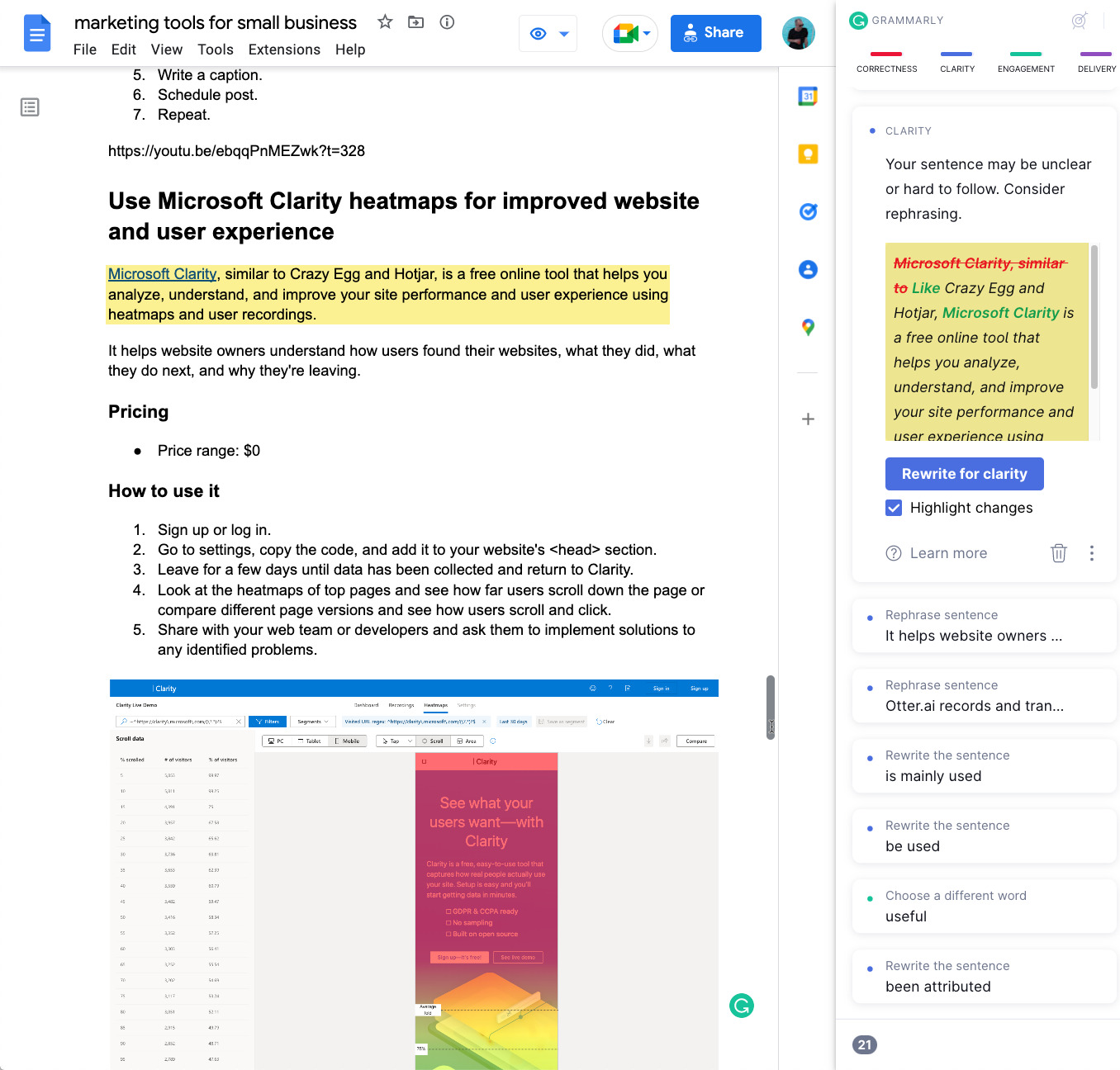 Wordable is a tool that allows you to export your content created in Google Docs to your WordPress or HubSpot website, which has saved Ahrefs a ton of time.
– Do you write your content in Google Docs?

– Does your blog run on WordPress?

I hope you're using @wordable_io 🔥 then, because if not – you're sesiously missing out.

Our content team at @ahrefs has been using this tool for at least 2 years now and it SAVED US TONS OF TIME!

— Tim Soulo 🇺🇦 (@timsoulo) January 13, 2022
It is suitable for anyone who regularly produces and publishes blog posts and articles.
Pricing
Price range: $49–$999 per month
Free tier: no
How to use it
Log in and connect to Google Docs
Connect your website
Import and export your documents
✅ Clean HTML, remove <span> & <font> tags
✅ Auto Table of Contents anchor ID links
✅ Resize, compress, and upload images
✅ Optimize image file names & alt text attributes
✅ Nofollow and/or open links in a new tab
✅ Bulk exports in 1-click
✅ https://t.co/rz0qsumZ4t pic.twitter.com/FqxDwtuyMu

— wordable (@wordable_io) May 6, 2022
Otter.ai records and transcribes audio conversations and meetings on your desktop or mobile device by using artificial intelligence.
Interviewing and recording customer interviews have helped me write better copy for the customers' service pages.
Otter.ai provides better playback and editing features than "voice typing" with Google Docs; you can press the "play" button to listen back and edit any copy errors.
Pricing
Price range: $12.99–$30 per month
Free tier: yes
How to use it
Log in or register
Select Record
Press the "stop" button when you are finished
When the conversation is processed, press the "play" button to listen back and edit any copy errors
Google Forms is a useful, free tool for creating survey questions and distributing and analyzing your survey results.
Pricing
How to use it
You'll need a good-sized audience, such as your email list or social media following.
Let's say you want to survey others about Google Ads. Here's what to do:
Create a Google Form with your questions
Include fields for the respondent's name, email address, website, social addresses, and questions you want to ask
Send the Google Form to your social account or email list
Analyze your responses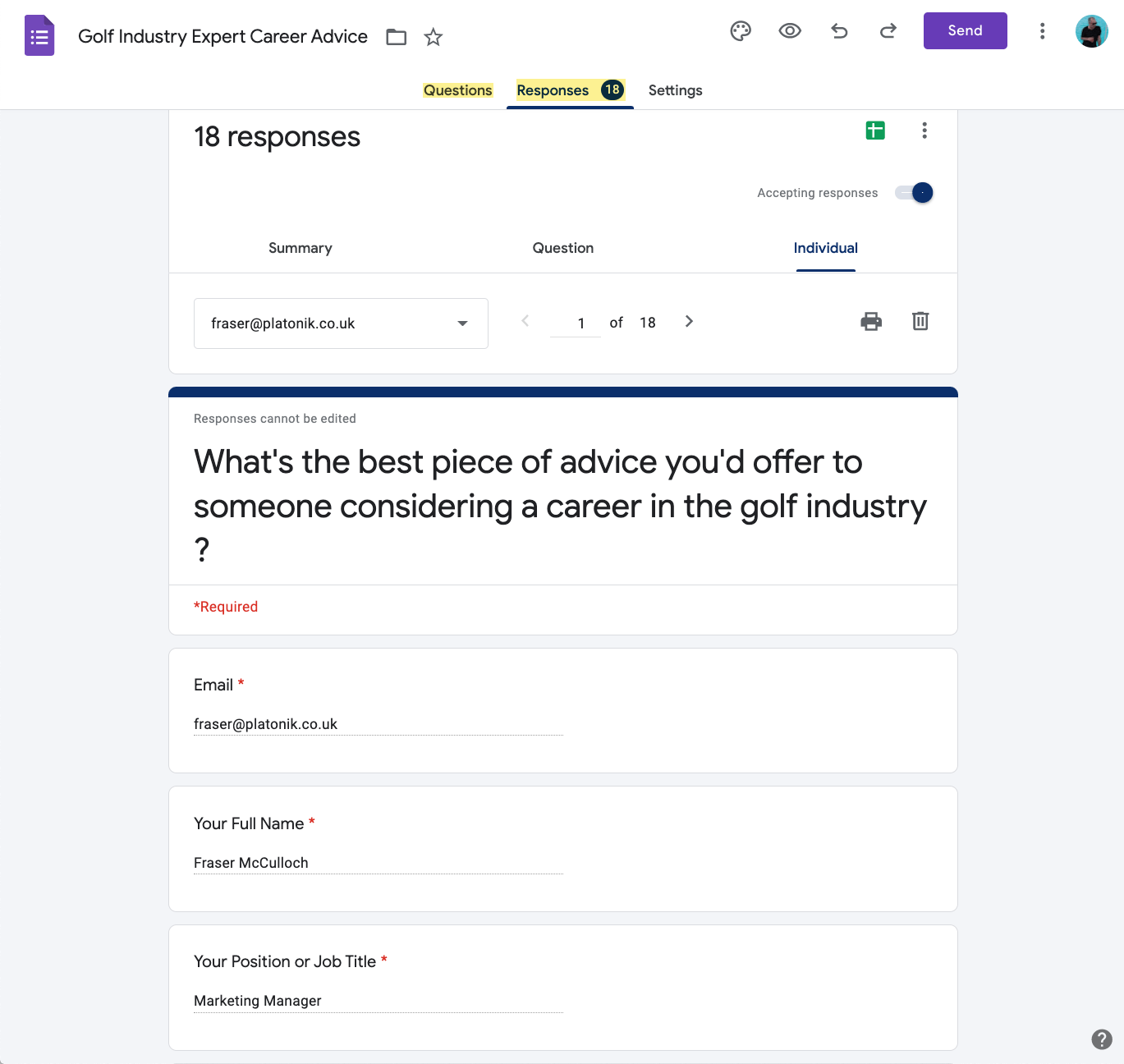 Canva has hundreds of predesigned checklist templates you can customize for your customers (without being a design expert).
Pricing
Price range: $0–$12.99 per month
Free tier: yes
How to create a linkable asset with Canva
Use the filters to find a template and open it up
Add your checklist items and descriptions
Change the colors and fonts to match your brand
Download, share with customers, or add to your webpage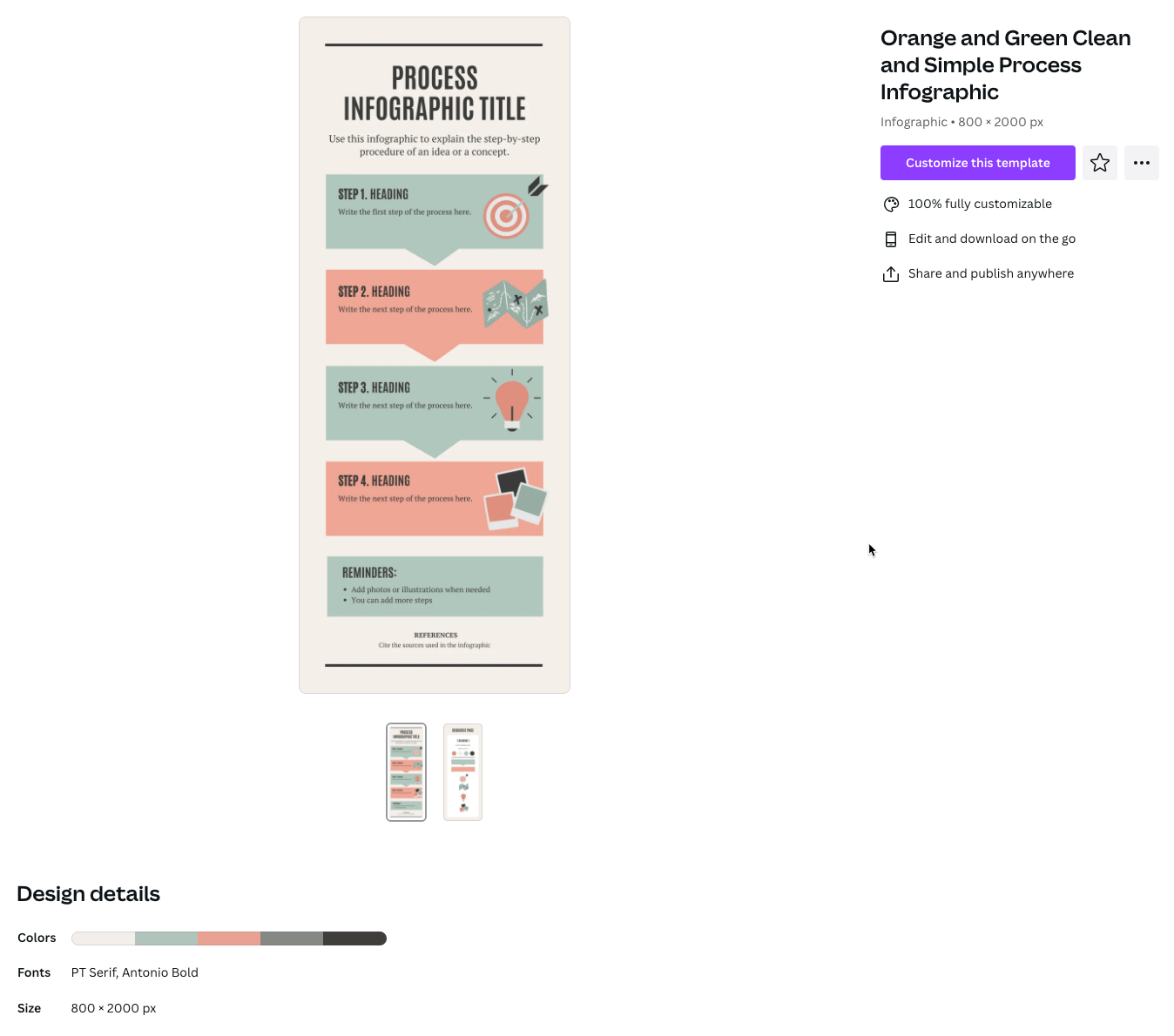 A large part of Ahrefs' success has been attributed to our educational content.
Our training academy features courses on using Ahrefs, how to grow your traffic, SEO training, and the best of our YouTube videos.
In total, we have over 20 hours of educational content.
Pricing
How to do it
Upload your video to your YouTube account
Design and add your thumbnail to your video (use a Canva template)
Press the "share" button underneath the video
Copy the link or the embed code
Add to your webpage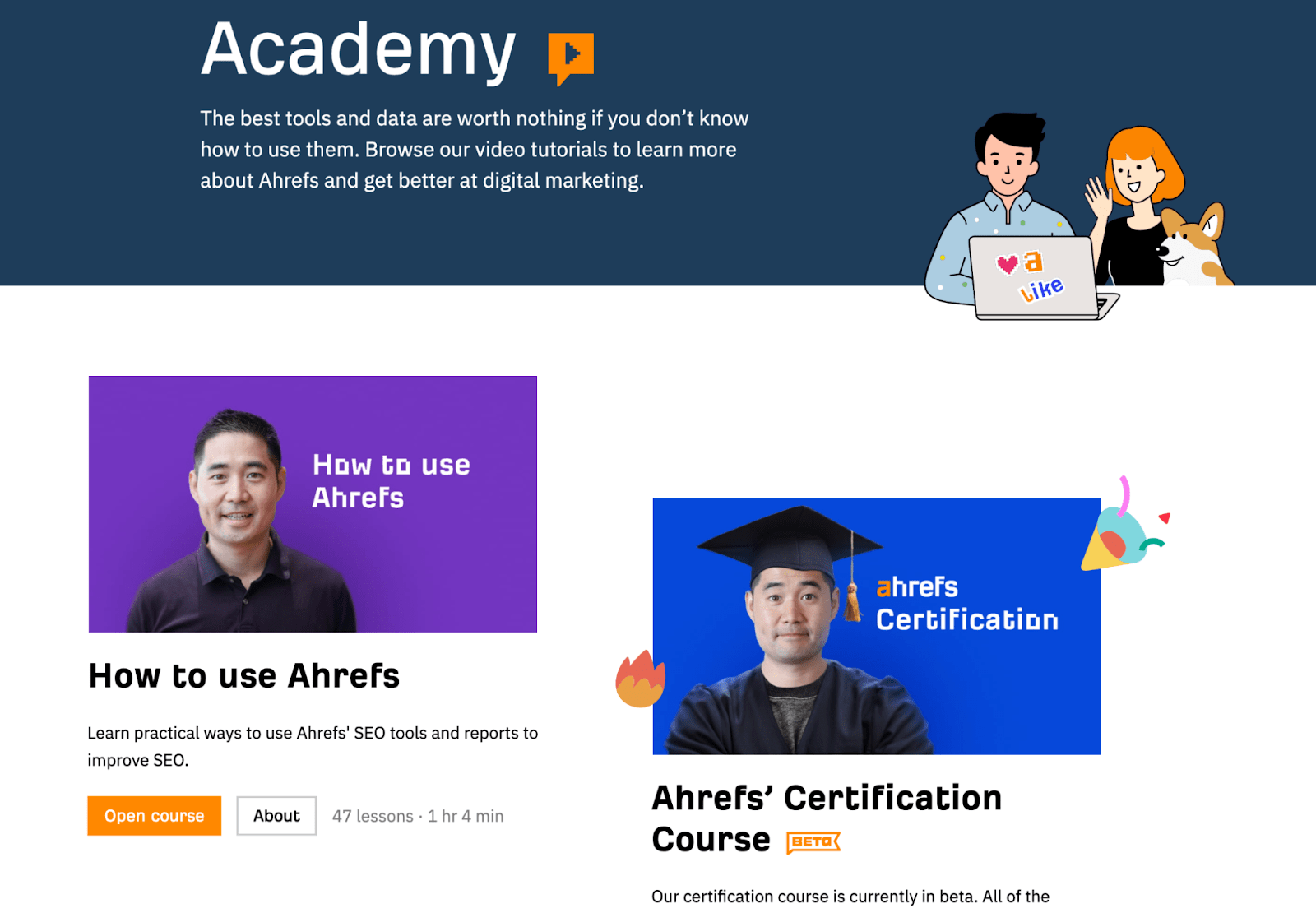 BrightLocal provides a suite of online marketing tools for local businesses that help them rank high on local search results, deliver accurate business information, and generate and manage customer reviews.
The reputation management feature is suitable for any business with a multi-channel presence that wants to generate more positive reviews of its products, services, and brand.
Pricing
Price range: $8–$79 per month
Free tier: no
How to use the reputation management feature
Customize your template
Set up email and SMS that go to customers asking for reviews
Add review sites, e.g., Google My Business, Facebook, BBB, TripAdvisor, OpenTable, Yelp, Trustpilot, etc
Import customer details and send email/SMS to ask for a review
Create a list or carousel widget and add it to your website to display all reviews
https://www.youtube.com/watch?v=8G9BLDVAXHg&t=1200s
Final thoughts
We've chosen ways to help you improve your marketing game; pick the marketing tools that work for you and use our suggestions to implement their best features.
Got any questions about using these tools? Ping me on Twitter.