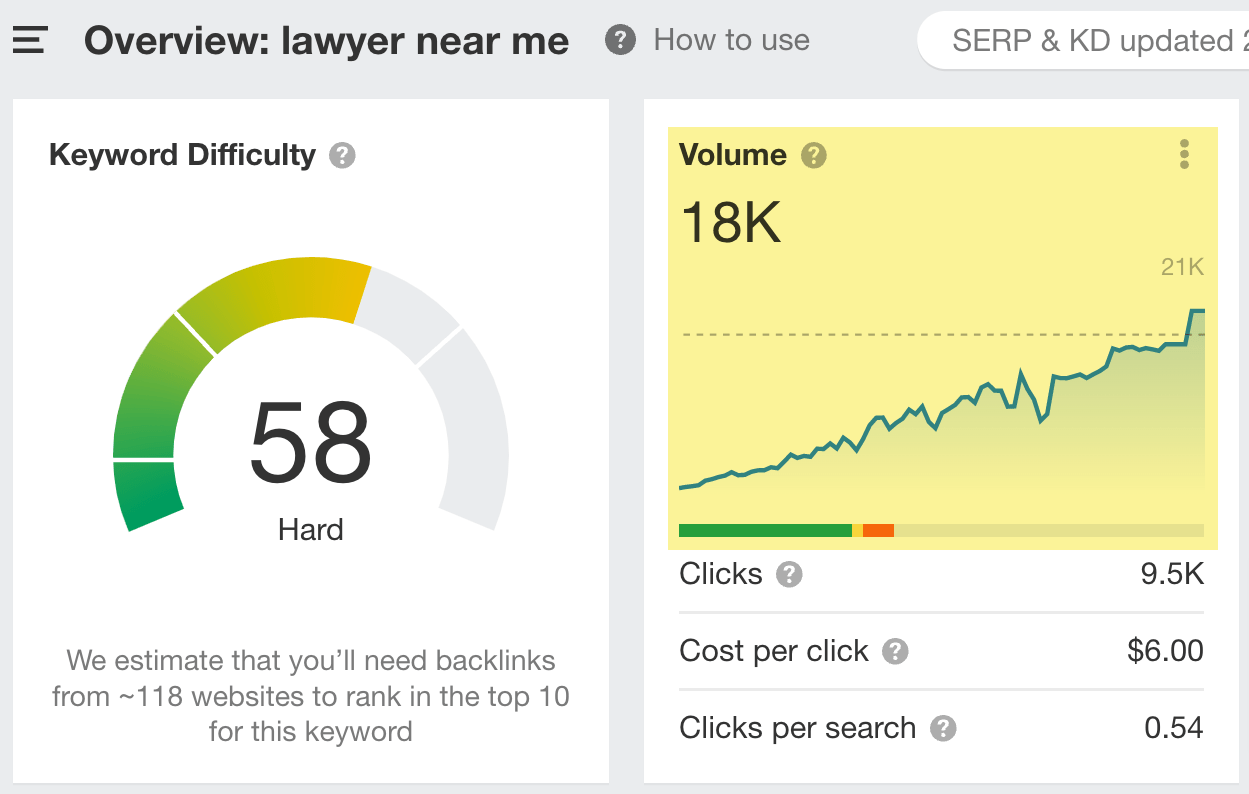 Local online marketing is a set of marketing tactics that use the internet to target potential and existing customers within a business's physical location.
Online marketing is a crucial aspect of promoting a local business because:
People look for nearby products and services online.
They use search engines and social media platforms to learn more about local companies.
They look up specific information like opening hours or driving directions. 
In this article, we'll look at 10 ideas that can help you grow your local business through SEO, social media, advertising, and more.
If you haven't created or claimed your Google Business Profile (GBP) yet, make sure you do. Because here's what people usually see when they look for something in their vicinity—a list of GBPs "recommended" by Google for a given search query.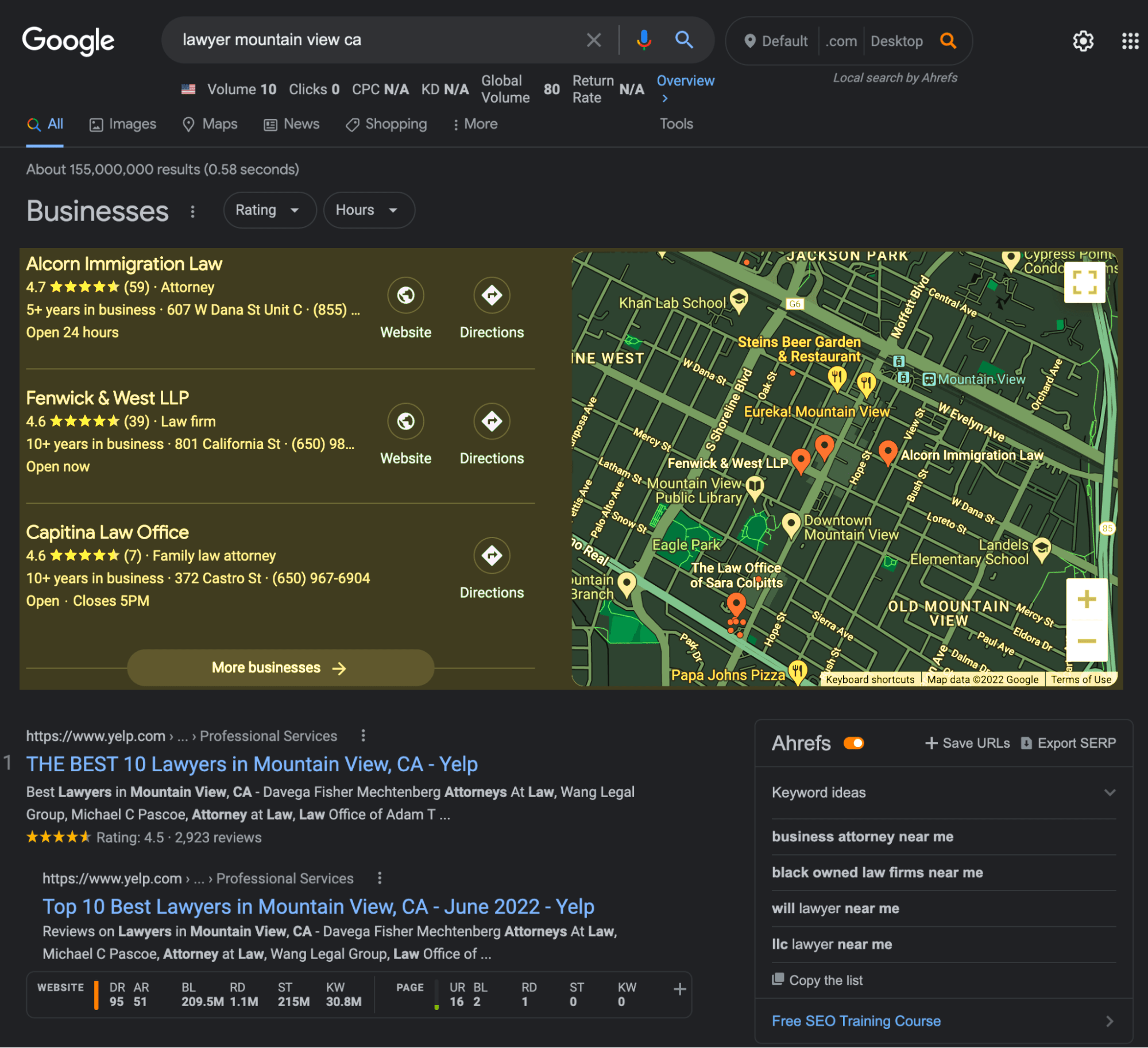 In all, 84% of GBP visits come from discovery searches (source). This means that a striking majority of your potential customers won't be looking for you. Rather, they'll be looking for businesses that offer things or services they need. 
So what you want here is not just a GBP…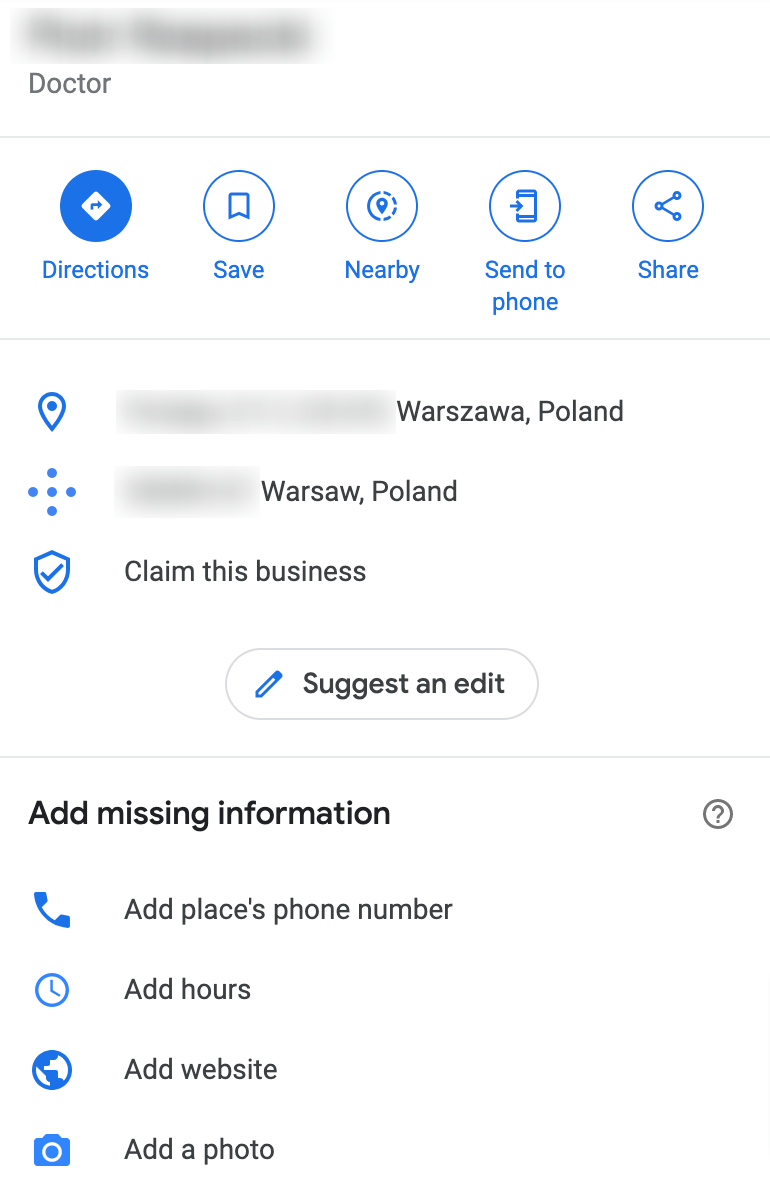 … but an optimized GBP. One that shows accurate and helpful information and clear, useful photos. It's a straightforward process that you can complete in 30 minutes, and it has two goals: 
Ranking higher to be more visible through optimizations that can impact rankings in Google Search and Google Maps 
Looking more attractive to people searching for businesses like yours
All optimizations can make a business look more attractive to customers, but these few are known to impact its ranking on Google. 
Name of the business
Having a business name consisting of the thing or location people are searching for can impact rankings. I don't think I have encountered a study of local SEO ranking factors that doesn't mention this as one of the most important factors. 
Fortunately, this doesn't mean you have to change your business name to something like Dentist Near Me. 
This "hack" doesn't work anymore, at least not in Google Maps. 
Nor does it mean that having an SEO-driven name beats every other ranking factor.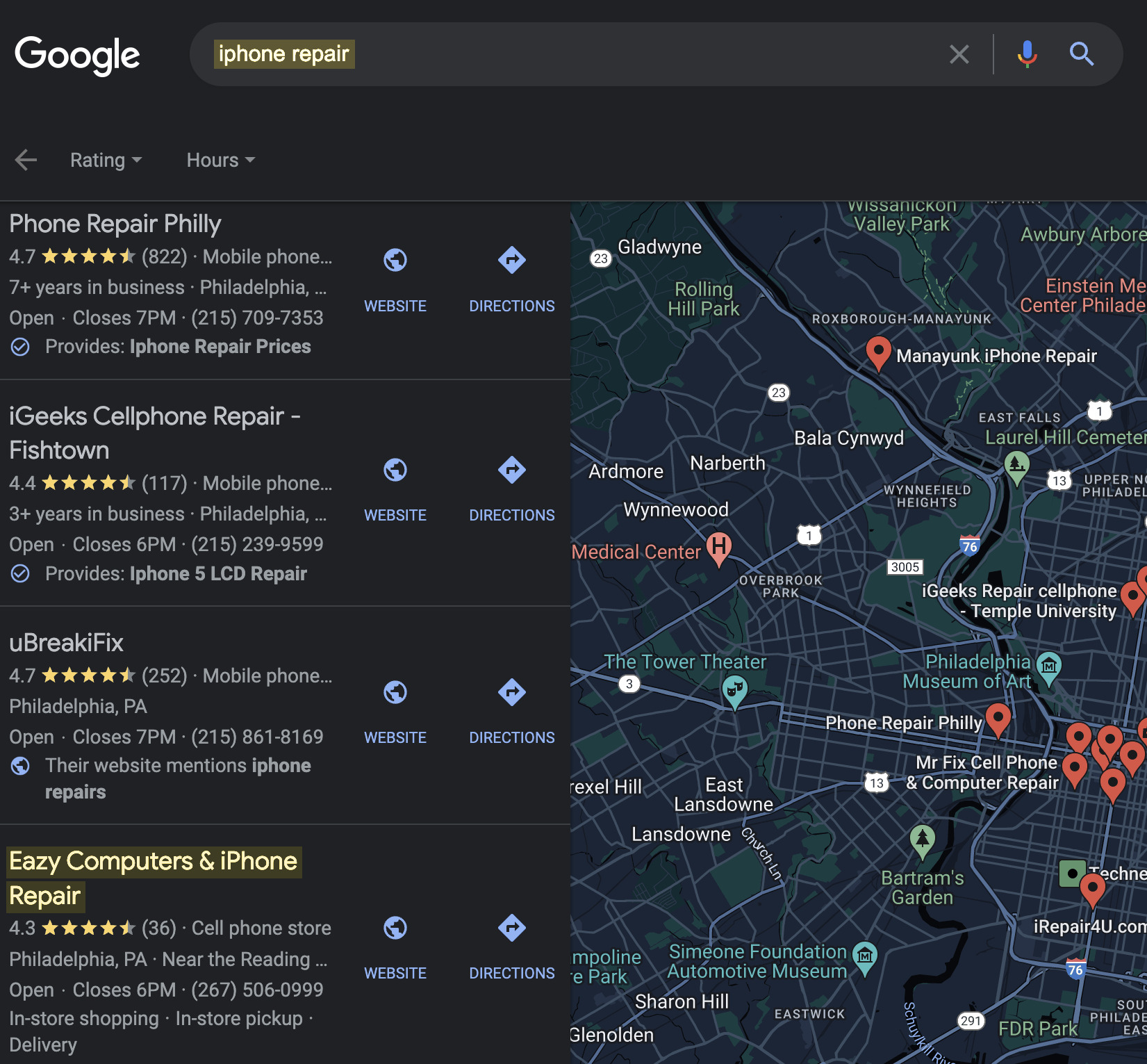 But this means at least two things:
You can report a competitor trying to keyword-stuff their business name on GBP, i.e., use a different name than the registered one. If you feel like doing so. 
If for some reason, you want to have an SEO-driven name, you probably can expect some uplift from that. I suppose this is something to consider when starting a new business. But if you want to change to an SEO-driven name, you'll actually have to change the name everywhere, meaning a full rebranding. An SEO-driven name may actually make sense if it's something that accurately describes your business and helps you stand out. For instance, a car dealership called "BMW of Beverly Hills" since there is more than one BMW dealership in Los Angeles. Or to have both "plumbing" and "heating" in your business name if you're a plumber specializing in both. 
Business categories
You can help Google understand your business better by selecting up to 10 business categories. And that will most certainly impact your rankings. 
Google has thousands of categories to choose from. It seems that the reason behind it is that it wants its results to be as specific as possible. This is something to keep in mind when picking your categories. 
Moreover, Google keeps adding new categories every month, so it's a good idea to keep an eye on that and update your GBP accordingly. For example, if you're a local optician offering glasses repair, you may add that category as of August 2022. 
Attributes
You can think of attributes as labels or tags that convey additional information about the business, which may help searchers find what they need. For example, curbside pickup or Wi-Fi inside.
Some GBP attributes are objective (aka factual), meaning they can be controlled by the GBP manager. For example, "black owned [business]."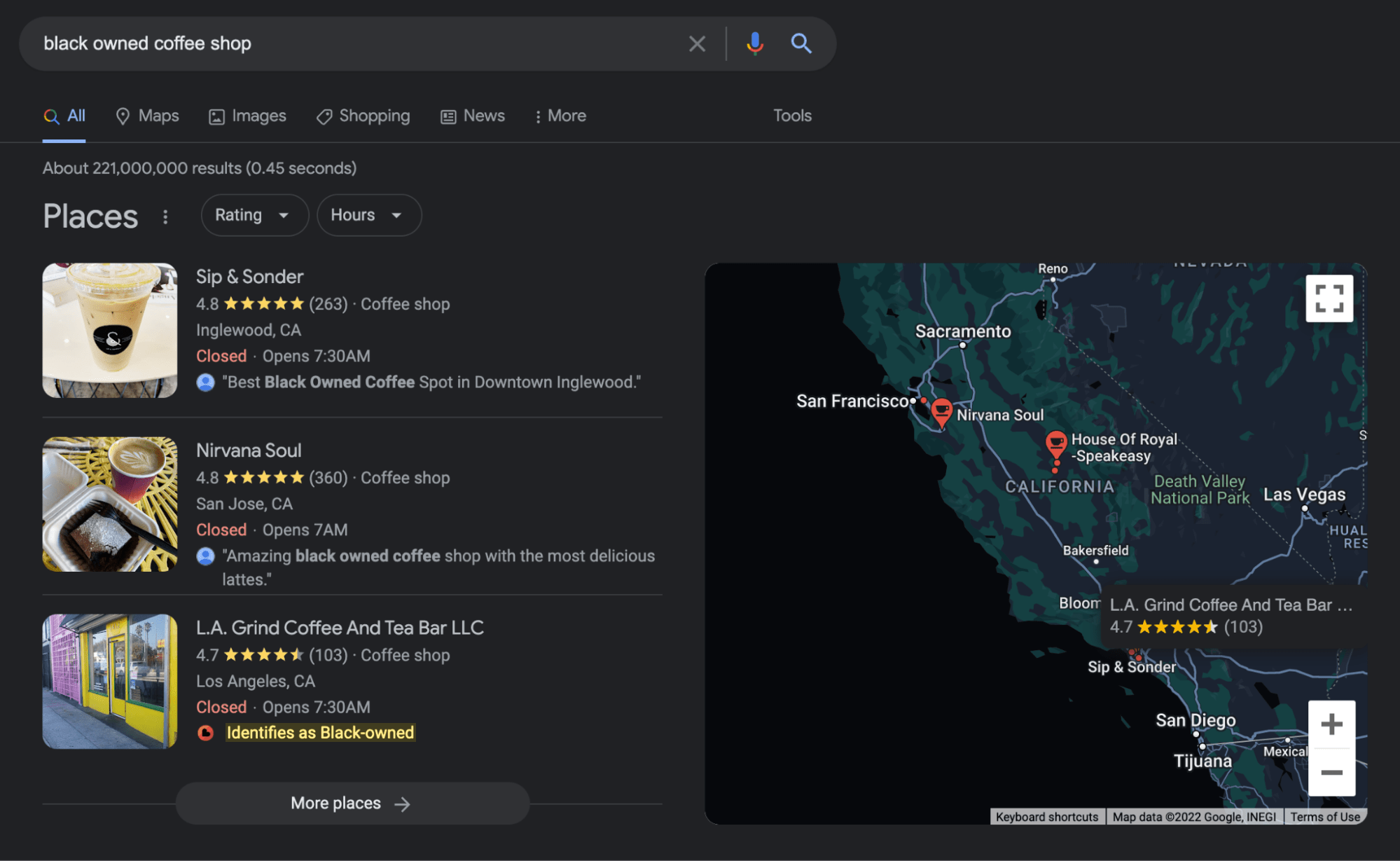 Other attributes are subjective. They are sort of earned when a certain feature of your business is often suggested by the customers. For example, "cozy" or "good for kids." You can only impact them indirectly by making them part of the experience. 
Just as categories, attributes are regularly updated by Google. If you want to learn more about their impact on rankings, check out this case study. 
Reviews
They greatly impact rankings and visibility. While the ones you get on your GBP will likely have the most impact on Google's services, reviews on third-party websites and even reviews published on your website also count for Google. 
Since reviews are quite a nuanced topic, I'll discuss them in a separate point below. 
Everybody relies on online reviews. 
Customers rely on them because they make choices more effortless and less risky. And even if not everybody trusts online reviews, plummeting rankings and negative comments never look good.
Online platforms also rely on reviews. Reviews tend to be a fundamental part of ranking and recommendation algorithms so that platforms can suggest the best choices to their users. And it's true for SEO too. The number and the sentiment of a business's reviews can impact local rankings in Google (although they are probably most important for Google Map Pack and Google Maps). 
But let's address the elephant in the room: Can you pay or otherwise incentivize customers to write any kind of reviews? 
Generally, it's a bad idea, and you can get prosecuted for it. Here's why:
Most countries protect consumers from fake or misleading online reviews. And an incentivized online review can be seen as such. For example, according to the Federal Trade Commission, incentivized reviews must be clearly labeled as such. What's more, they have to come from real customers and can't be influenced by the incentive (good luck proving that in court), among other things. So while a review like that may "fly," you need to ask yourself if it is worth it. 
Most third-party websites clearly prohibit incentivizing reviews in any form. Examples: Google Business Reviews, Amazon, Tripadvisor, etc. Some, although probably not many, prohibit even just asking for reviews, like Yelp. While these platforms may not necessarily pursue legal action, banning an account is just a few clicks away for them. 
Having said all that, since incentivized reviews are legally allowed in some circumstances, you will find platforms like Capterra, where you can offer something in return for reviews. Then the question is one of ethics and dealing with possible negative outcomes of such reviews (here are three great examples of those). 
So here's what to do instead:
Provide a great and memorable experience – Some customers will leave positive reviews even without you asking. And in any case, you will have the best possible reason to ask for a review (which is perfectly fine outside of the likes of Yelp). 
Ask for a review when you have the opportunity – The best opportunity is when the customer expresses their satisfaction, whether they say it personally or online. But you can also "create" that opportunity in a conversation by casually asking something that will lead to a customer sharing their experience. For example, "Have you ever tried a similar product?"
Use tools to gather and manage your reviews – Check if the platform where you list your business allows for sending review requests. To make your life easier, you can use a tool for both requesting and managing reviews, such as Podium or Birdeye. 
Respond to all your comments – The science behind that is a) according to this study, replying to comments can help you get better ratings and fewer short, unconstructive, and negative types of feedback and b) most customers overlook negative comments with adequate responses (source). By the way, it's all right to have some negative reviews. 
Collect the review by using the channel the customer is comfortable with – Example: It will look awkward if you've been talking via Whatsapp so far, but you suddenly send an email with a review request. 
Show off your positive testimonials – After all, they exist to be seen by other customers. 

Sidenote.
You may come across advice like "include keywords when replying to customers" (fortunately, most of them probably don't work) or "suggest to customers to include certain keywords in their comments" (I haven't seen any evidence, but some SEOs say this works). Even if you find hard evidence for "optimizations" in this area, be careful because you may easily harm your business's reputation.
Setting up pages describing what you offer and where you offer it is pretty much standard practice. But you can give these pages an additional SEO boost if you use the kind of language searchers use. 
To illustrate, let's say you offer an electronics repair shop specializing in phones, consoles, and computers in the U.K. By doing keyword research in a tool like Ahrefs' Keywords Explorer, we can discover how people search for these kinds of services. 
The first step is to type in the names of basic services, select the U.K. as the country, and then go to the Matching terms report.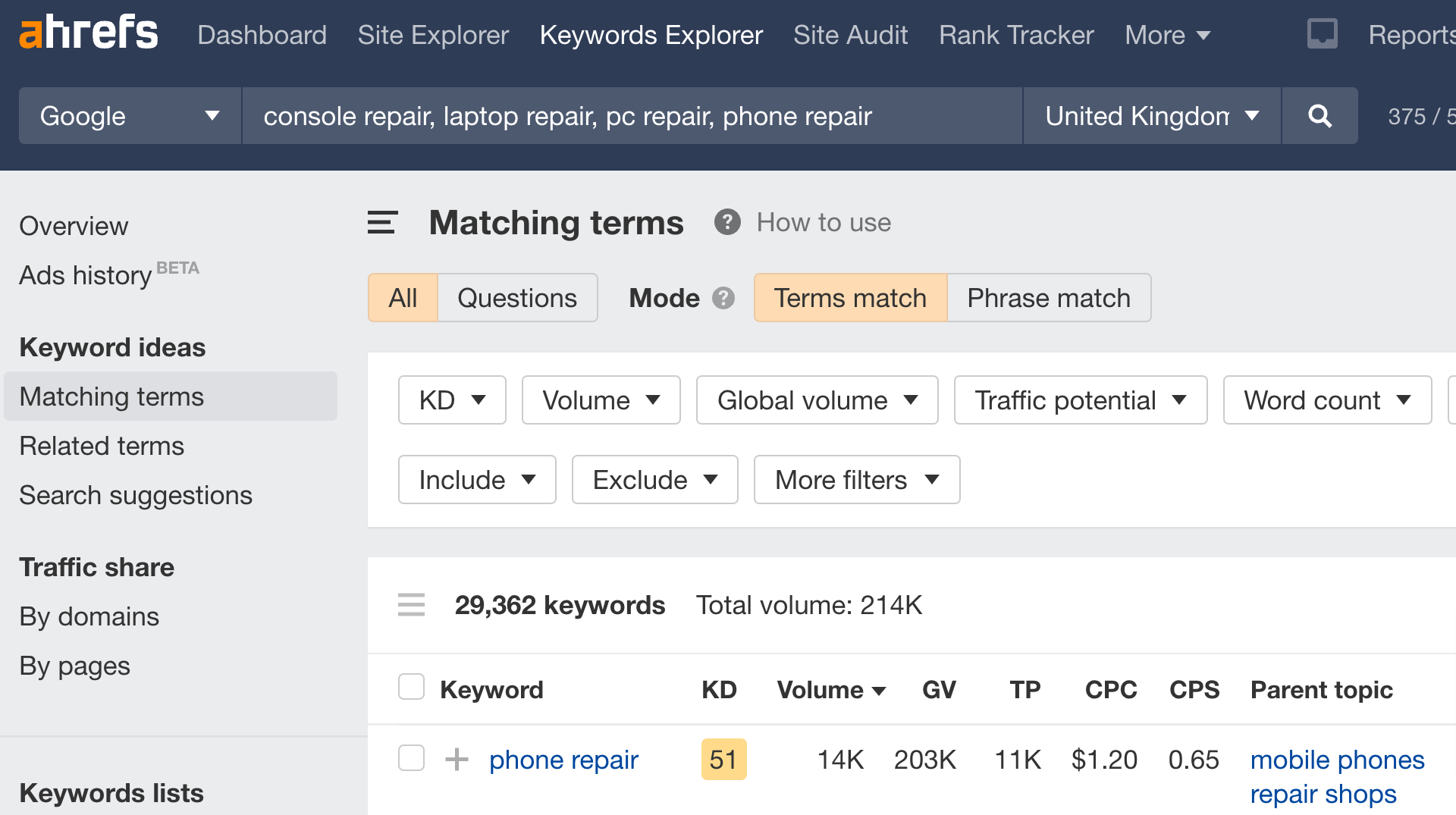 On the results pages, we can see that people use the brand of the hardware they need fixing or the type of damage.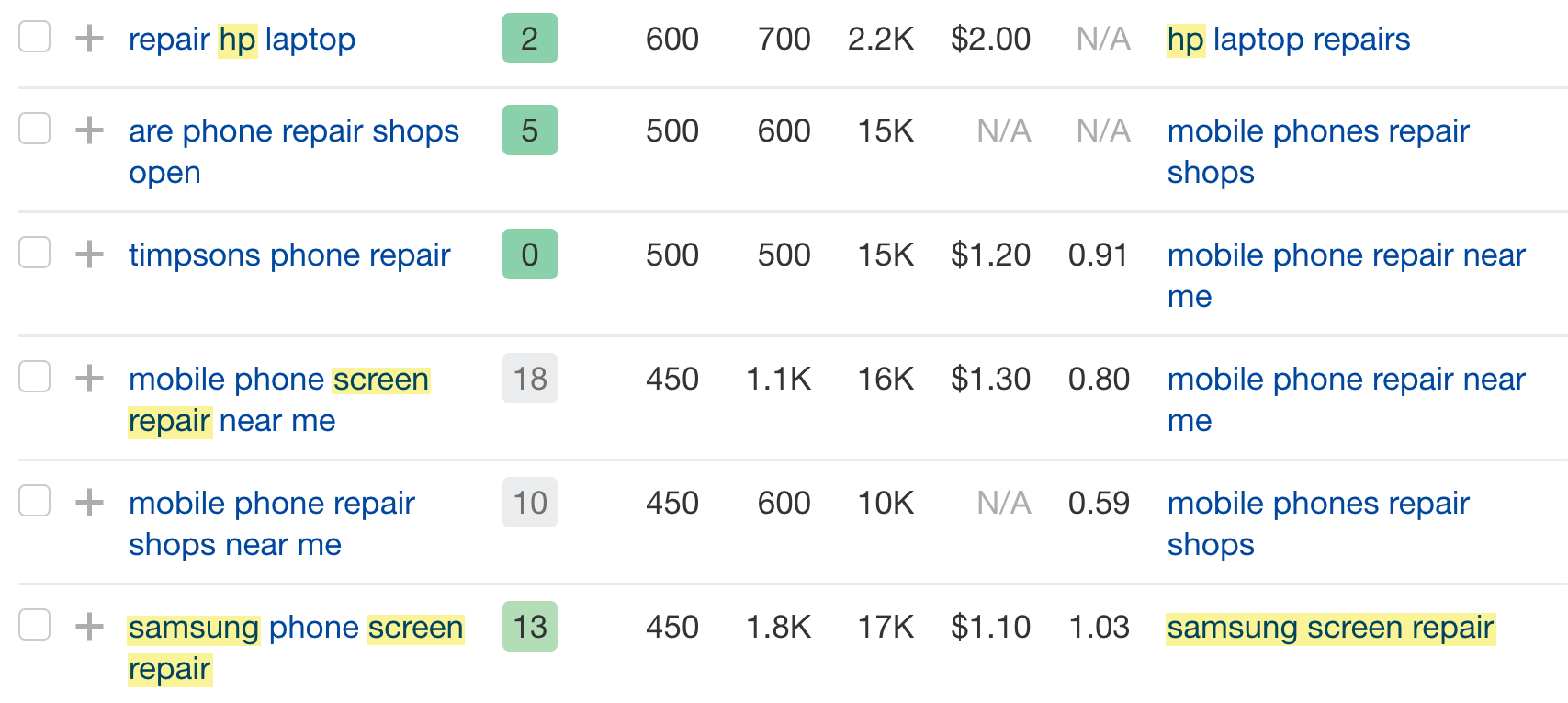 An interesting example here is water damage. If your shop offers this service, it will be a good idea to mention it on your website (you can also consider expanding your services with this kind of repair).

From this point, you can go even further into competitive research. By clicking on the SERP button, you can reveal other keywords this page ranks for. Just click on the caret next to the URL and then "Organic keywords."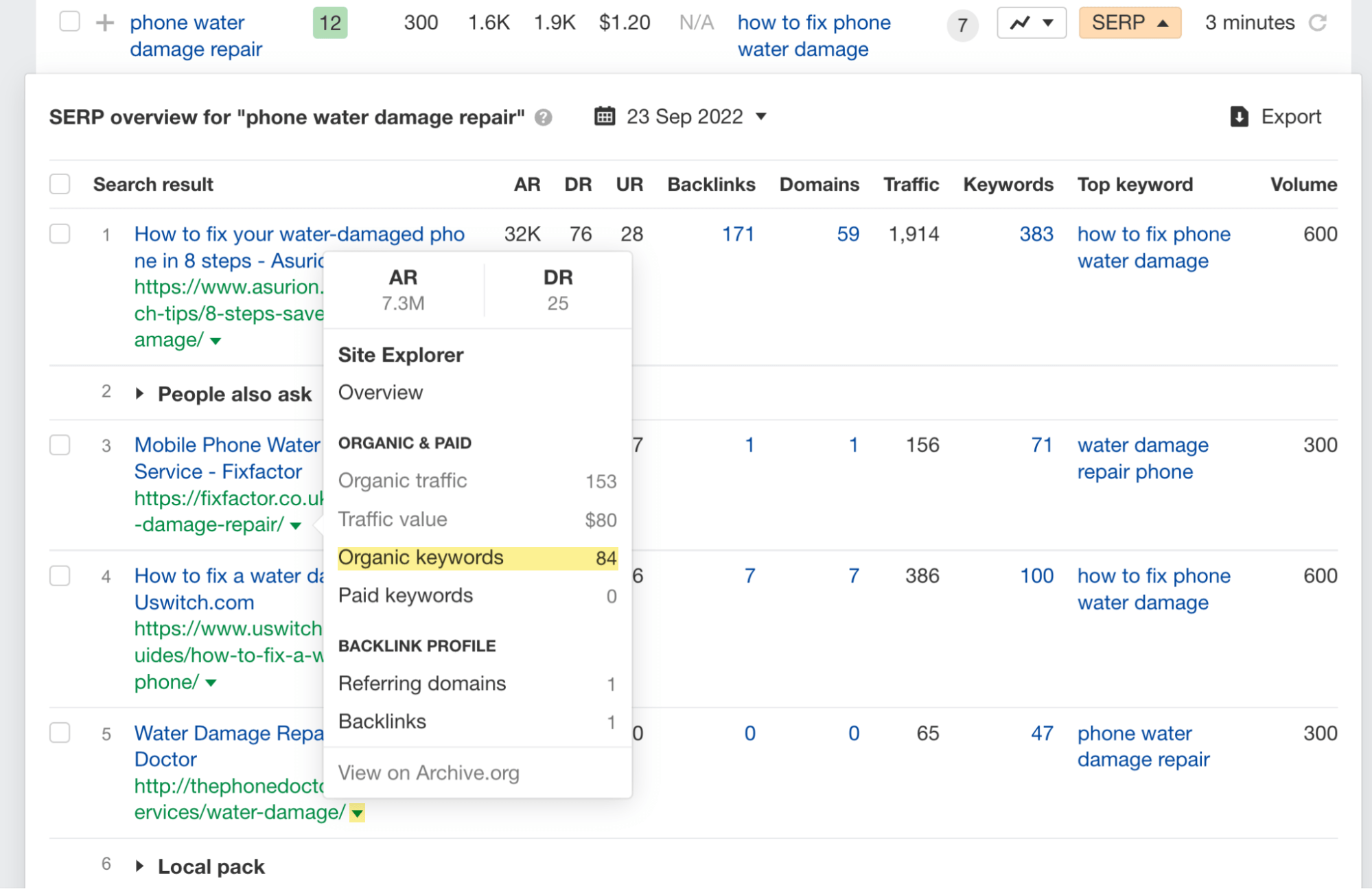 You will be directed to a report showing keywords and their SEO metrics.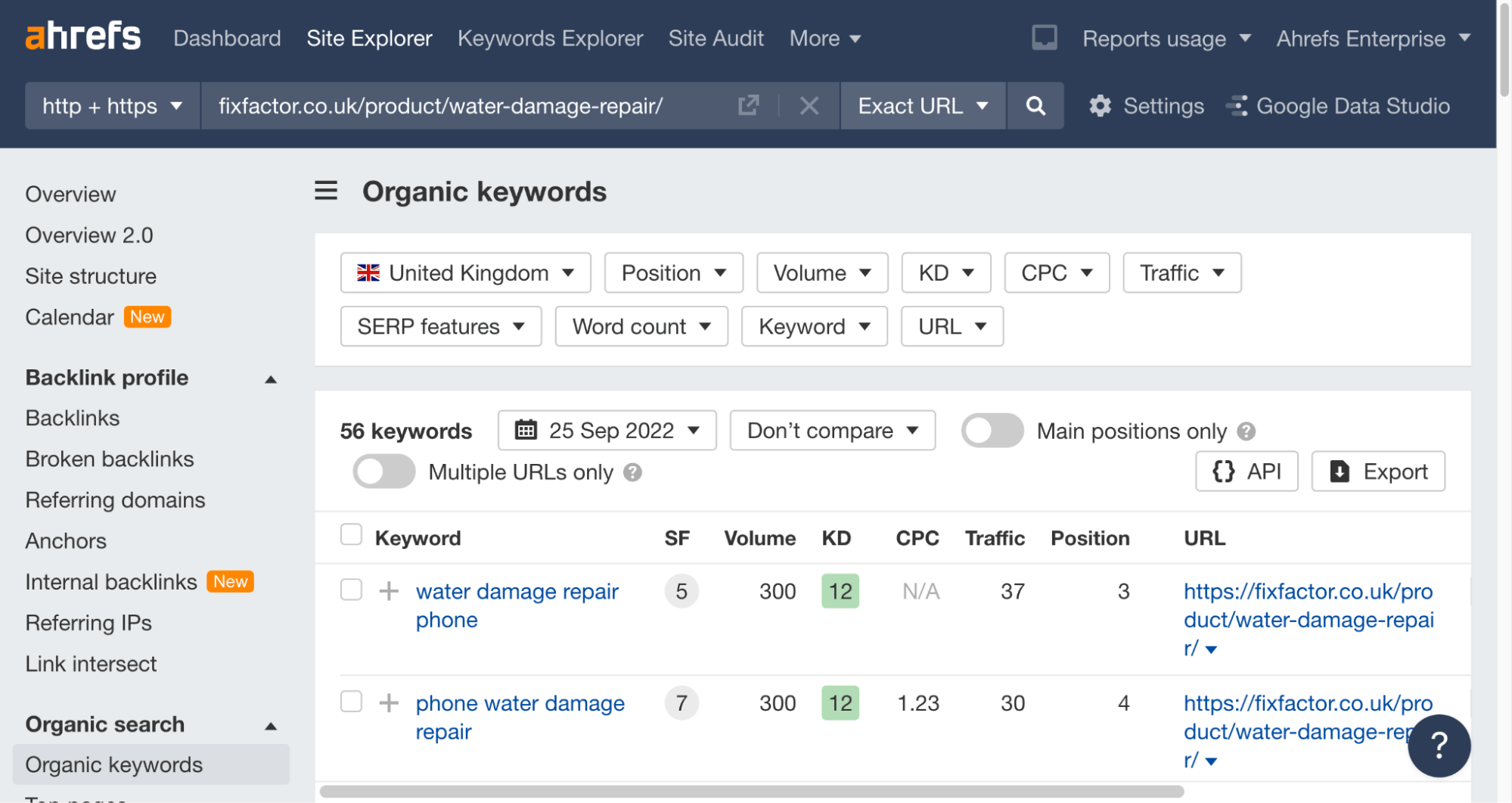 You can then change the mode to "Subdomains" to see keywords the entire domain ranks for. 

And this can lead to other interesting finds: 

Recommendation
If you want to make sure you're looking at a keyword where people are explicitly looking for local services (according to Google, of course), look for the "Local pack" feature. These keywords trigger the Google Map Pack with local businesses.

Additionally, you may want to see if a specific service is also a GBP attribute.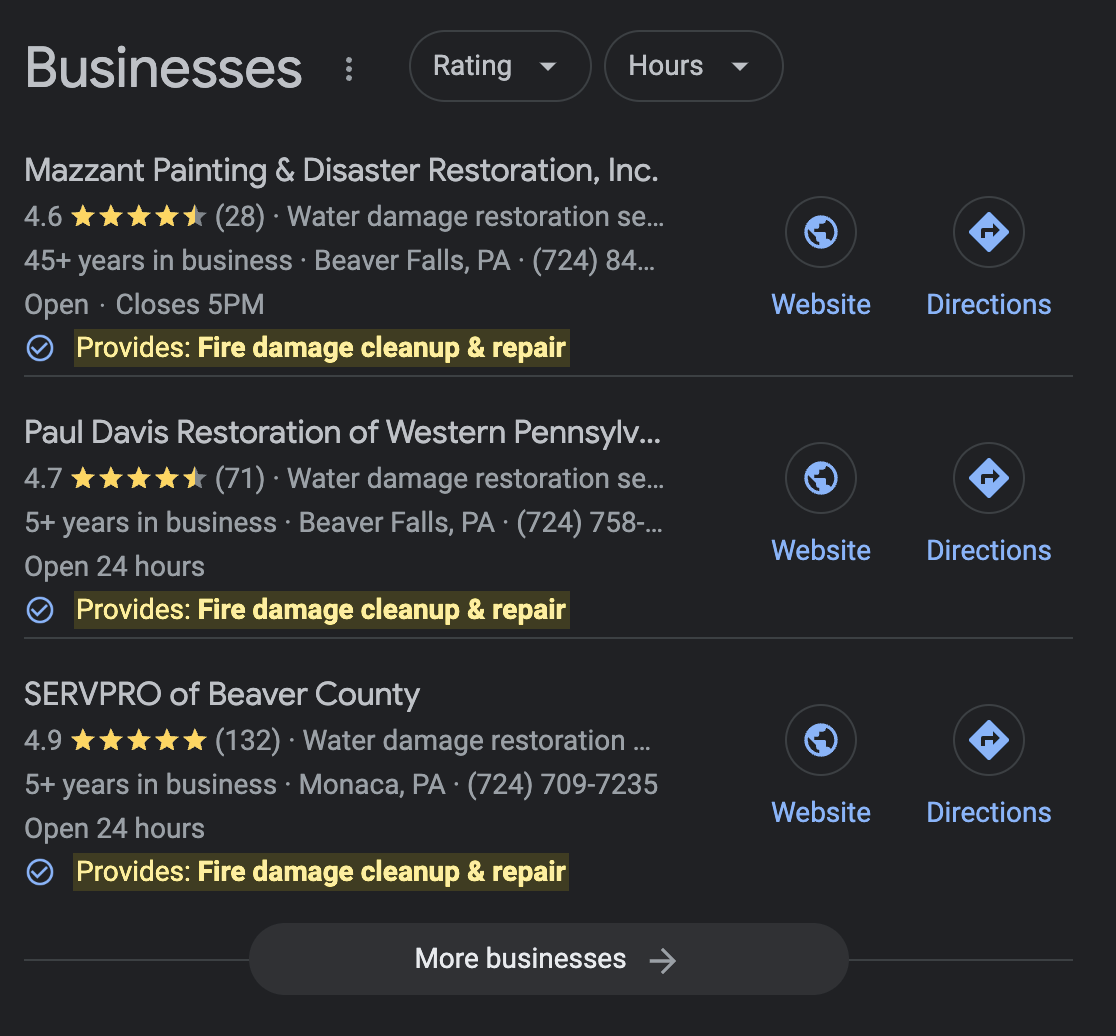 Just like everybody else, your potential customers look for solutions to their problems online. 
Using keyword research, you can learn what those problems are and then address them with helpful blog posts. Result: free traffic from search engines. 

Here are two methods for finding relevant topics with search traffic potential. 
First method – Explore related terms 
Create a list of things related to your service, i.e., seed keywords; for example, an electrician may come up with these terms: wall chasing, wires, wall sockets, wiring, appliance, lighting, breaker box, etc
Plug them all at once in Keywords Explorer 
Go to the Matching terms report and toggle "Questions"
Look at the results to find the most relevant questions that you can provide answers to via blog posts
Second method – Analyze competitors (and other content in your niche)
For this method, you need the URL of a website with content related to your business (likely your competitor) and an SEO tool like Ahrefs' Site Explorer. 
There's a report in Site Explorer called Organic keywords, where you can explore keywords of any website. Along with the keywords, you will see SEO data—such as volume or Keyword Difficulty (KD)—that will help you choose the right keywords.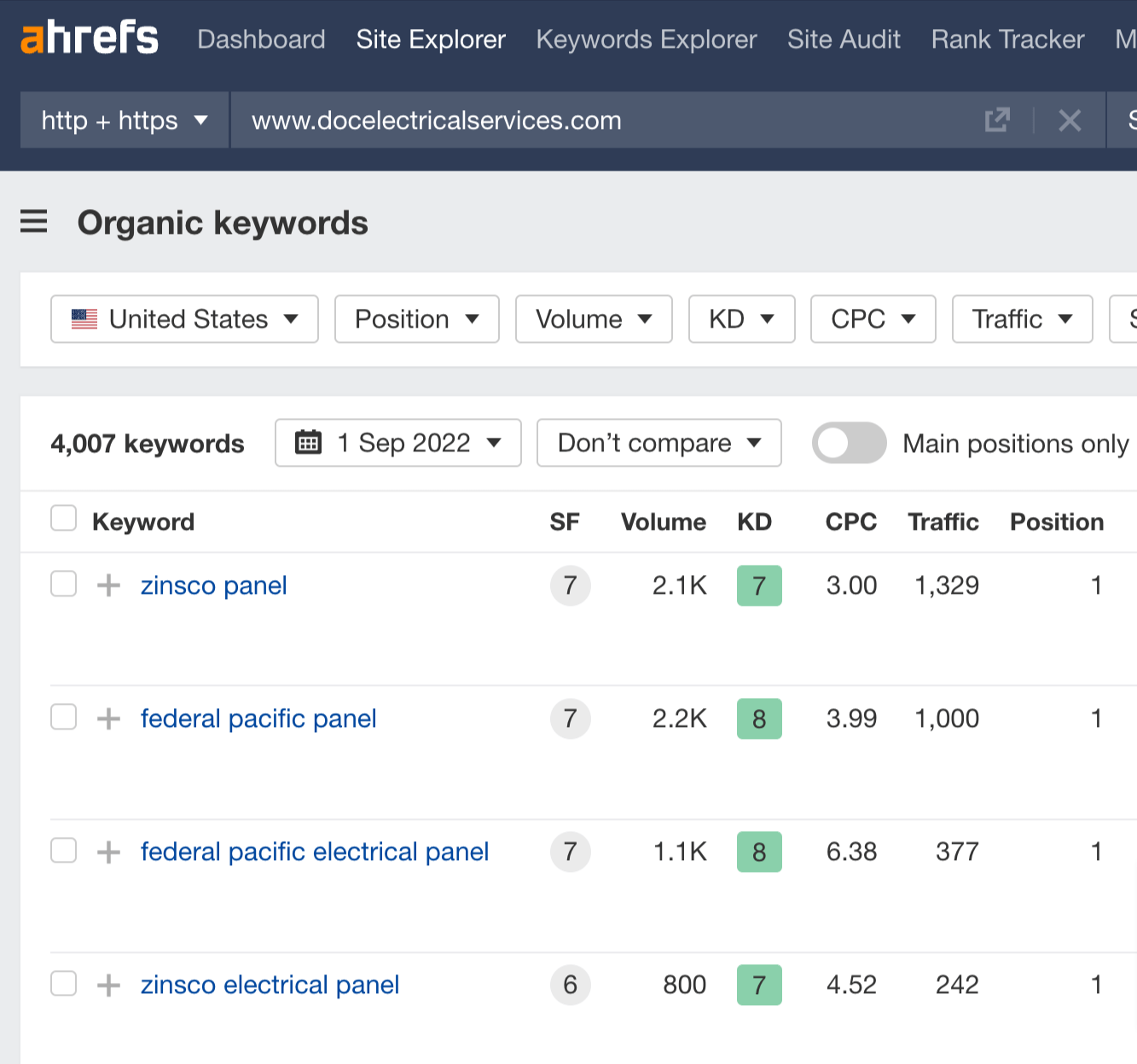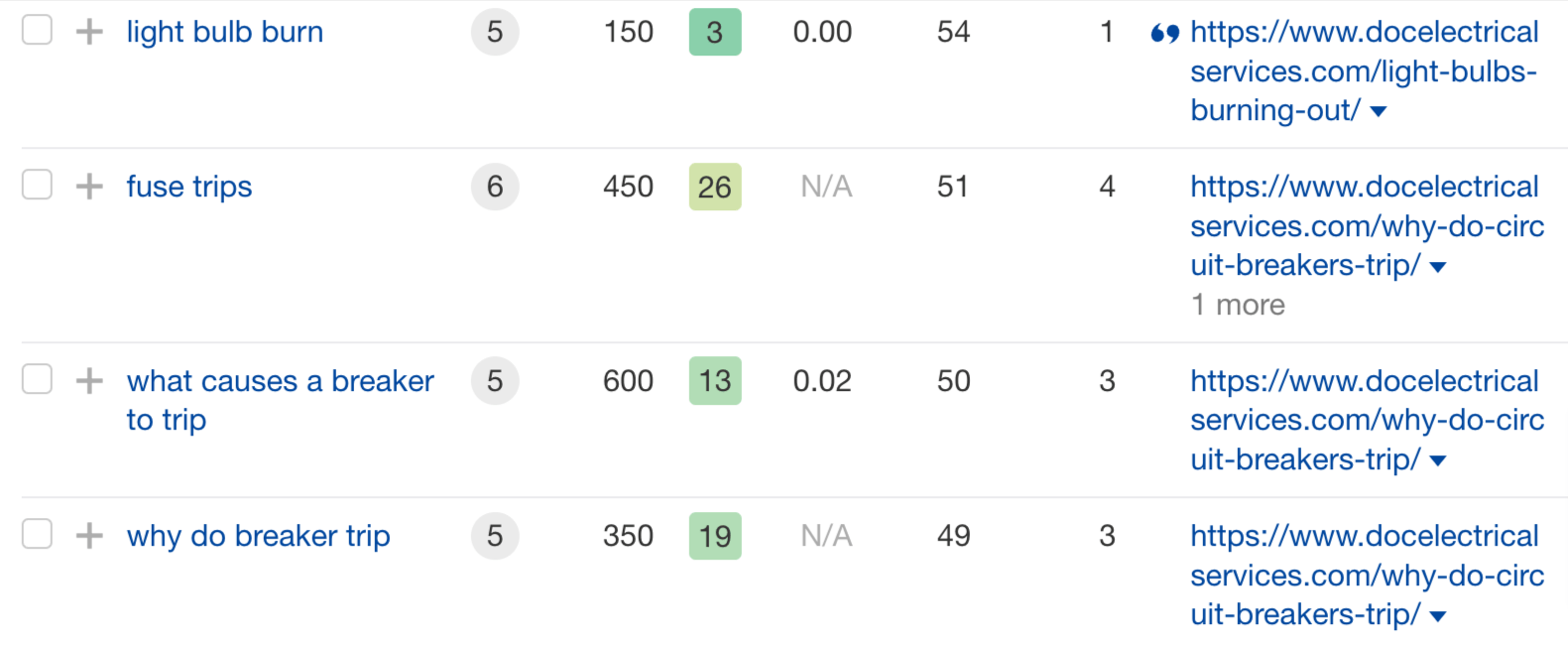 If you know what kind of keywords you're looking for, you can use the provided filters.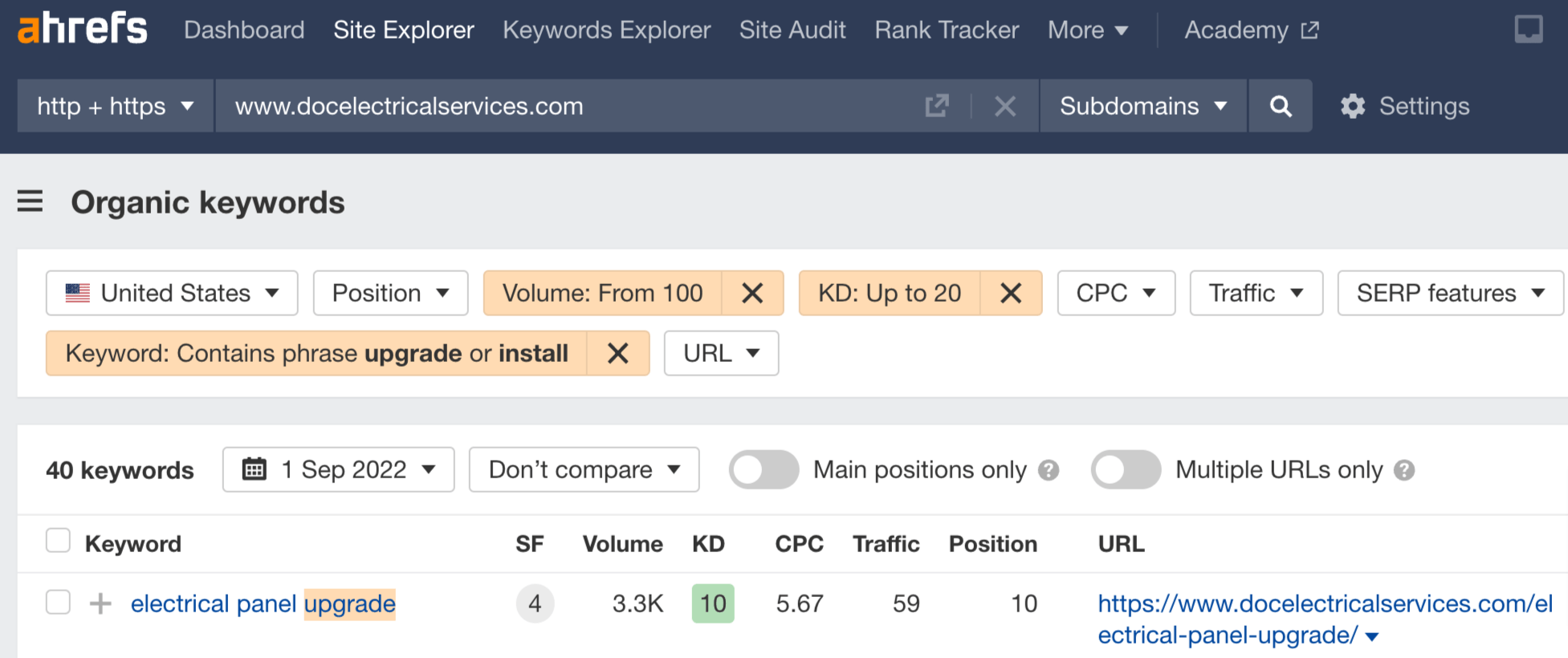 You can also analyze competitors in bulk, even simultaneously comparing them to your existing content. For this, use Ahrefs' Content Gap tool in Site Explorer.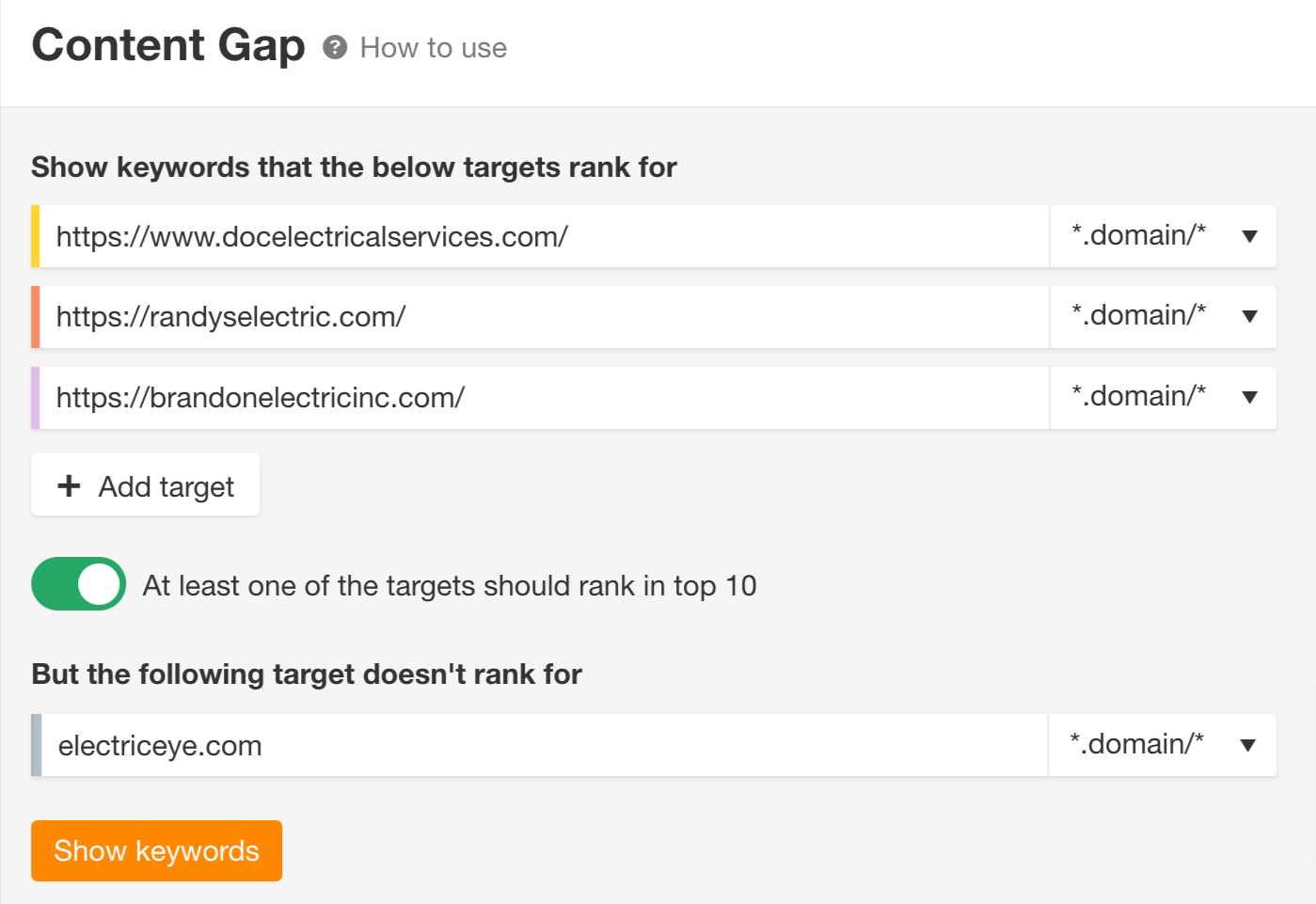 These are broad, non-local keywords, so not every visitor will come from your area. But some potentially will (or will tell others about you). Plus, you can earn links to your content and boost your SEO. 
Recommended reading: How to Write a Blog Post (That People Actually Want to Read) in 9 Steps 
Recommendation
You may be wondering why give out knowledge for free. Consider this: 
People will likely remember you for the content and keep you top of mind next time they need help from a professional. 
DIY guides about complicated or even risky jobs often have an "opposite" effect. Anyone who has ever done kitchen or bathroom remodeling by themselves knows this. You think you can do it yourself, so you Google some tutorials. You read the guide, realize you will break more stuff than fix it and, finally, decide to call a professional. 
Citations are online mentions of your business. And let me be blunt here: You need those if you want customers to find you online. And this is because people search for businesses like yours either through search engines like Google or through niche directories and aggregators like Tripadvisor or FindLaw. 
Case in point. This is a search result from Google for "electrician near me." Right below the GBPs, which we have already discussed, we see directories.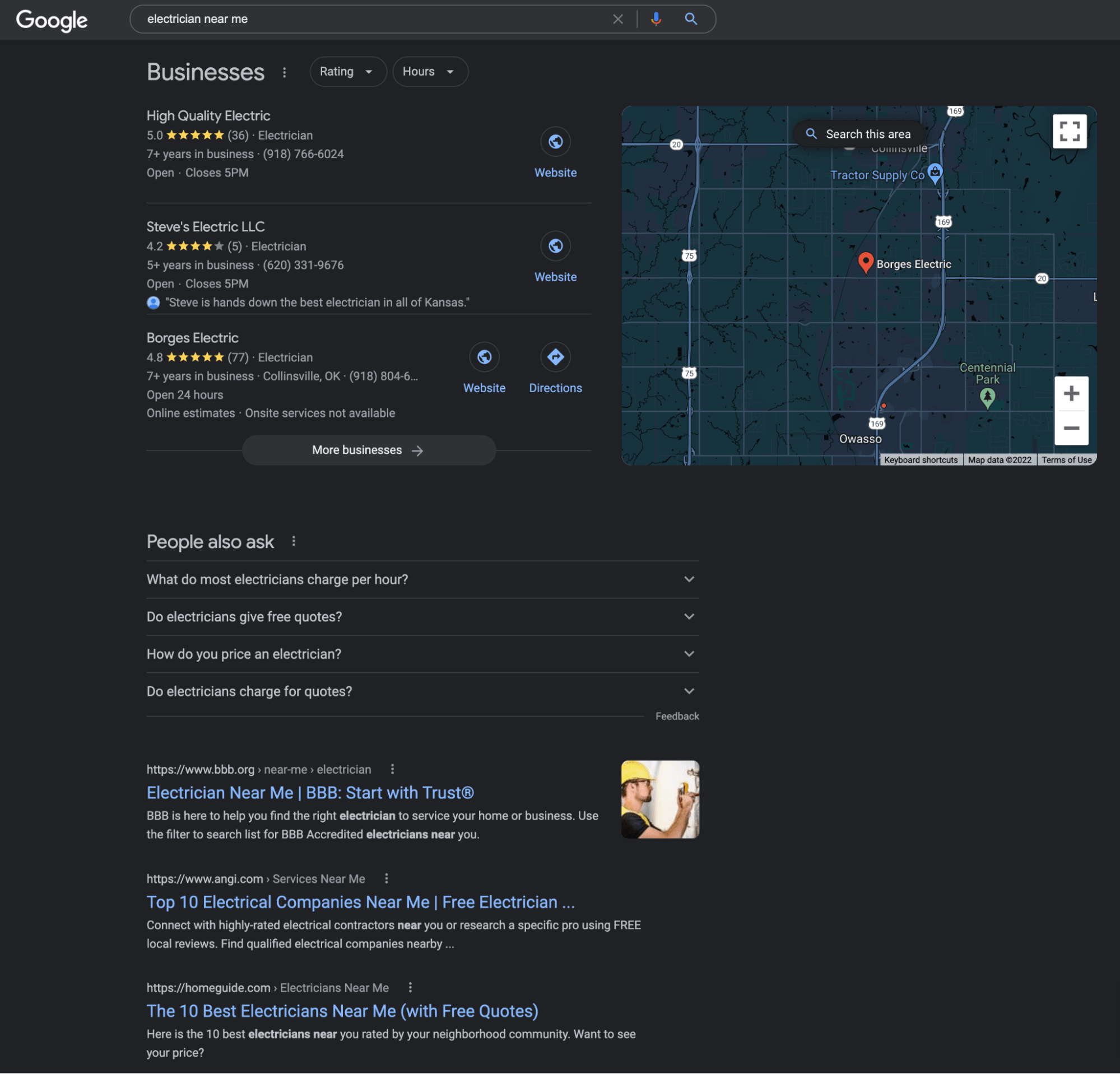 On top of this, local citations can help you rank higher in the Google Map Pack (source 1, source 2).
I'm sure you already know some directories in your niche suitable for your business. You can add some more by:
Adding your business to big data aggregators – For example, Data Axle in the U.S. The services distribute information to other websites, so being listed here can generate listings in multiple directories.
Using a citation list – Like this one from Whitespark or this from BrightLocal. 
Looking at your competitors' citations – This is something you can effortlessly do with Ahrefs' Link Intersect tool.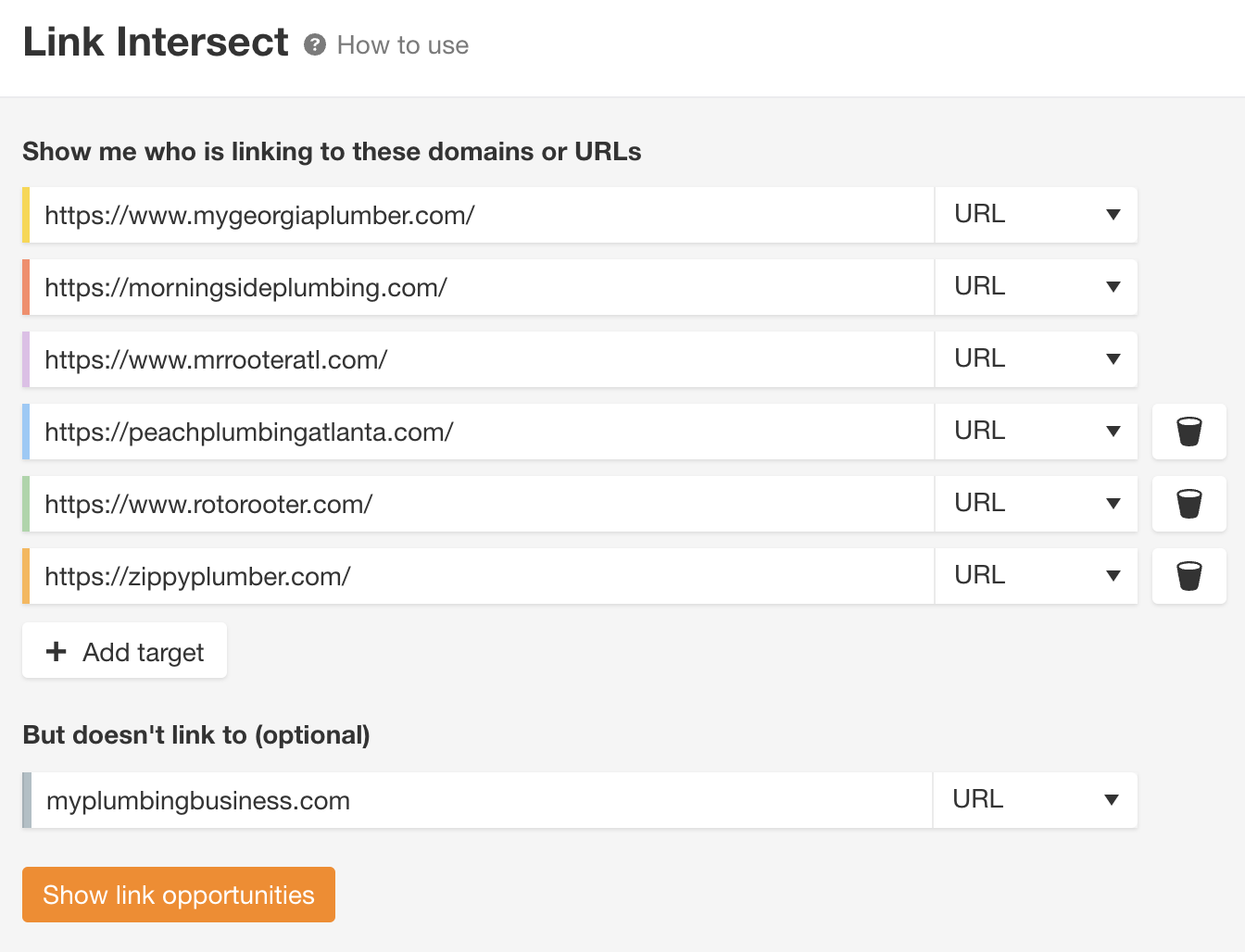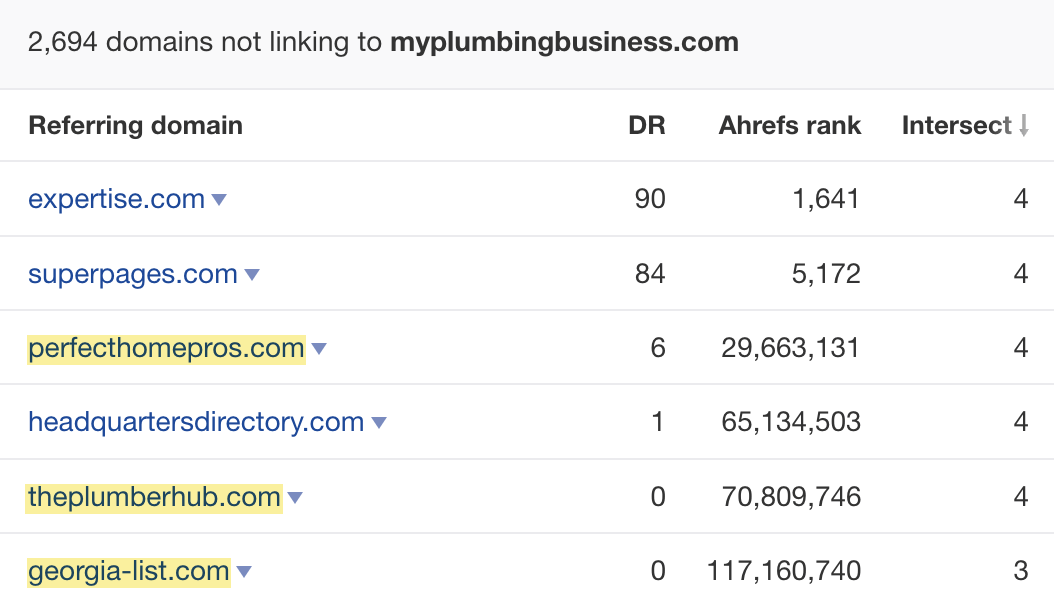 Two important things to remember. You should:
Adhere to the guidelines when submitting your listing to directories. Otherwise, you can get banned for something that may seem OK to you.
Keep your citations consistent and accurate.
Because of the reasons above, you may want to consider a tool that will help you manage your listing, e.g., Yext, Uberall, etc. Such tools offer additional, useful features like managing reviews, so you can consider the tools as longtime investments. 
Recommended reading: How to Build Local Citations (Complete Guide) 
According to Facebook, this should be the first thing you do when setting up your ads:

Thing is, nobody really wants to see ads. People want what they came for, and ads are a distraction. 
At the same time, online ads are still an effective form of promotion. But making them work is hard because effectiveness relies on so many factors—geographical relevancy being one of them. (Naturally, local businesses can leverage that.) 
Apart from the opportunity to attract local customers, ads have the advantage of being:
Fast – You can set them up in minutes and have them reach your audience on the same day, oftentimes in a matter of hours. 
Easy to set up – You don't need to hire an agency for that. 
Easy to measure – Website visits, ad impressions, ad clicks, and costs are easy to monitor here. Local businesses can use special ad goals like phone calls and driving directions. 
Performance-based – For example, with Google Local Services Ads, you pay only if a customer actually contacts you after seeing an ad. 
Easy to scale – If you want to reach more people, you can simply invest more to reach more locations, target more keywords, or outbid competitors. 
Oversimplifying things, there are two types of ad products. You can target:
Prospect's action – These will be your search engine ads like Google or Bing search ads or services with search engines like Tripadvisor. The searcher enters a search query, and the platform shows them an ad related to that search query. Thanks to these ads, you can reach your audience exactly when they are in the market for a specific product or service. Sometimes (e.g., using Google Ads), you can add another layer of localization—when the user is located in, is regularly in, or showed interest in a particular location. 
Prospect's profile – These will be your social media ads and ads you can buy in locally focused online magazines. They will have data points that you can use for ad targeting or just the right kind of audience.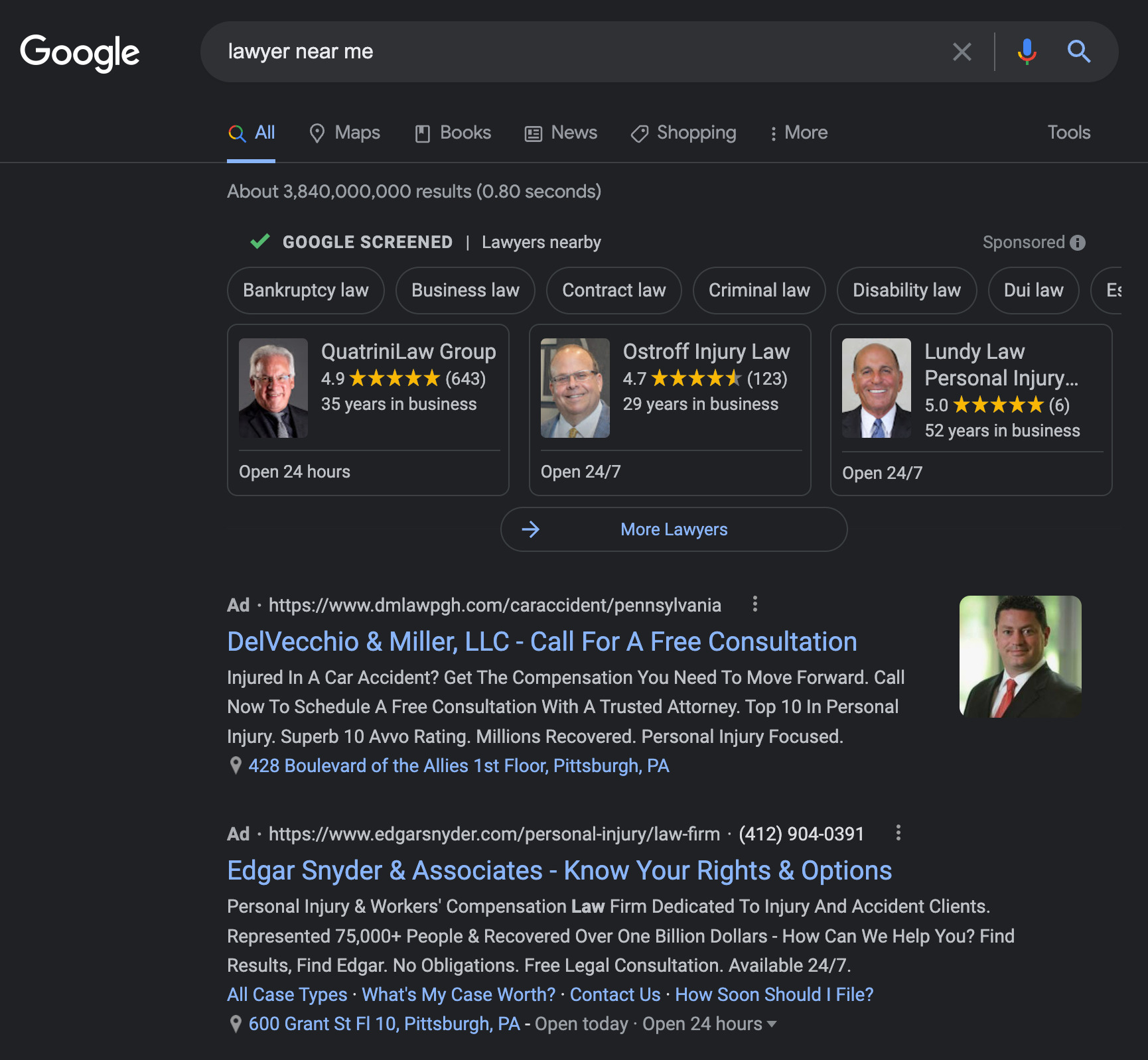 IMPORTANT
There are certain limitations to geotargeting. At least on Facebook and Google. That is one reason why it's called geotargeting and not geofencing.
Geofencing usually refers to drawing a location fence in a small area. Well, the smallest area you can target on Meta's and Google's products is 1 mile. 
So let's say you run a casino in Paradise and want to show what real fun looks like to the folks who have visited the venue across the street. Unfortunately for you, that casino will be in the same circle as other casinos, a couple of local churches, and Costco.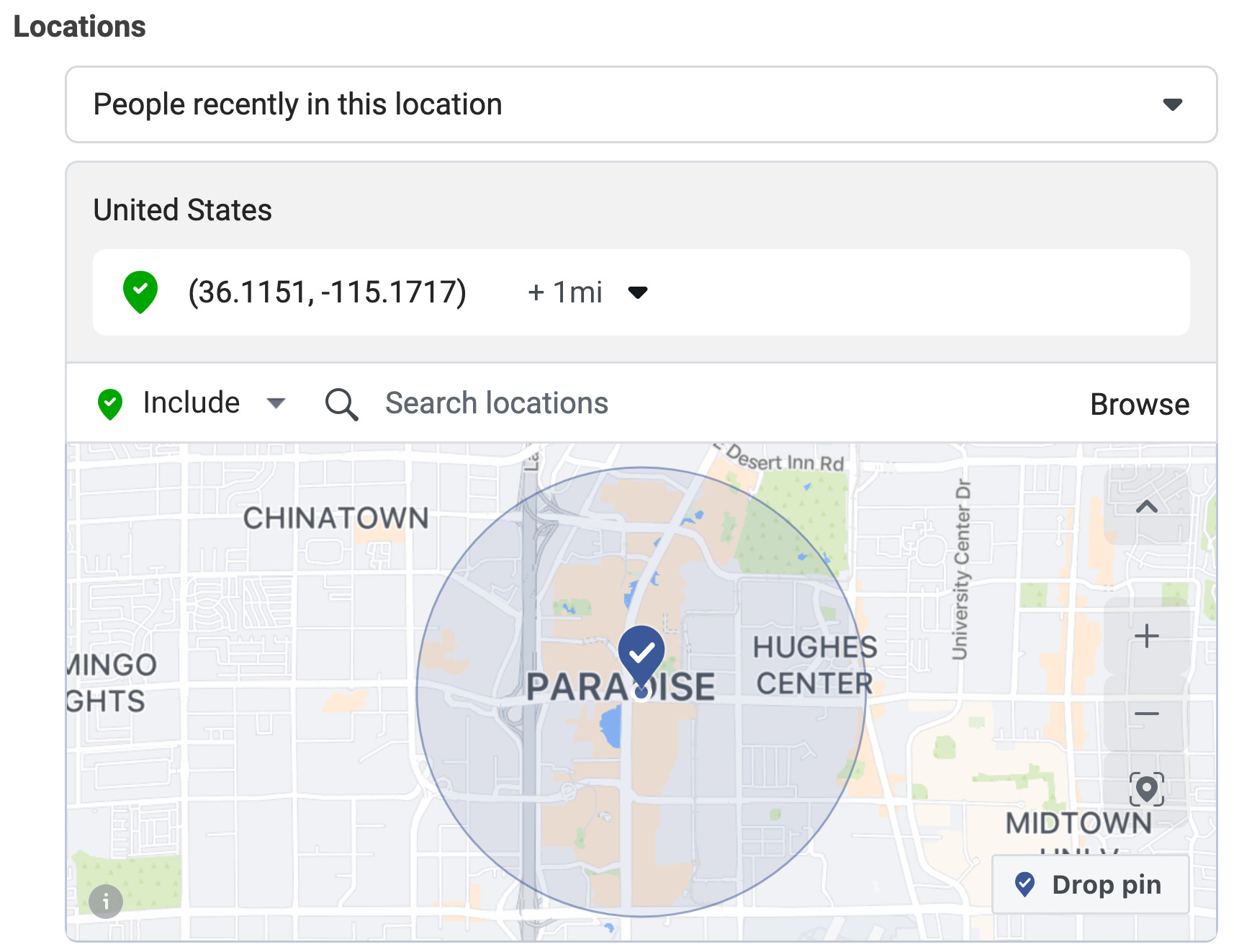 The web has plenty of ad options to choose from, and each deserves a dedicated guide. But according to my experience, these rules seem to be universal:
Iterate on your ads – Aim for a lot of small changes that you can easily introduce and measure. 
Refresh your ads regularly – Ad fatigue affects even the best ads. 
If none of your ads work, consider looking into your offer – You may find that, for example, it's too expensive or lacks a critical feature. 
Start small with geotargeting – Say targeting by ZIP codes and not the entire city you can potentially serve. This way, you'll know where your best customers are, and you'll be able to prioritize your spending.
Learn from your competitors – See what ads they bid on, what language they use to advertise, and where they send visitors to. 
Recommendation
Some SEO tools can help you with ads too. Look for tools that can show you paid keywords of your competitors, their search ads, and the CPC costs while you do keyword research.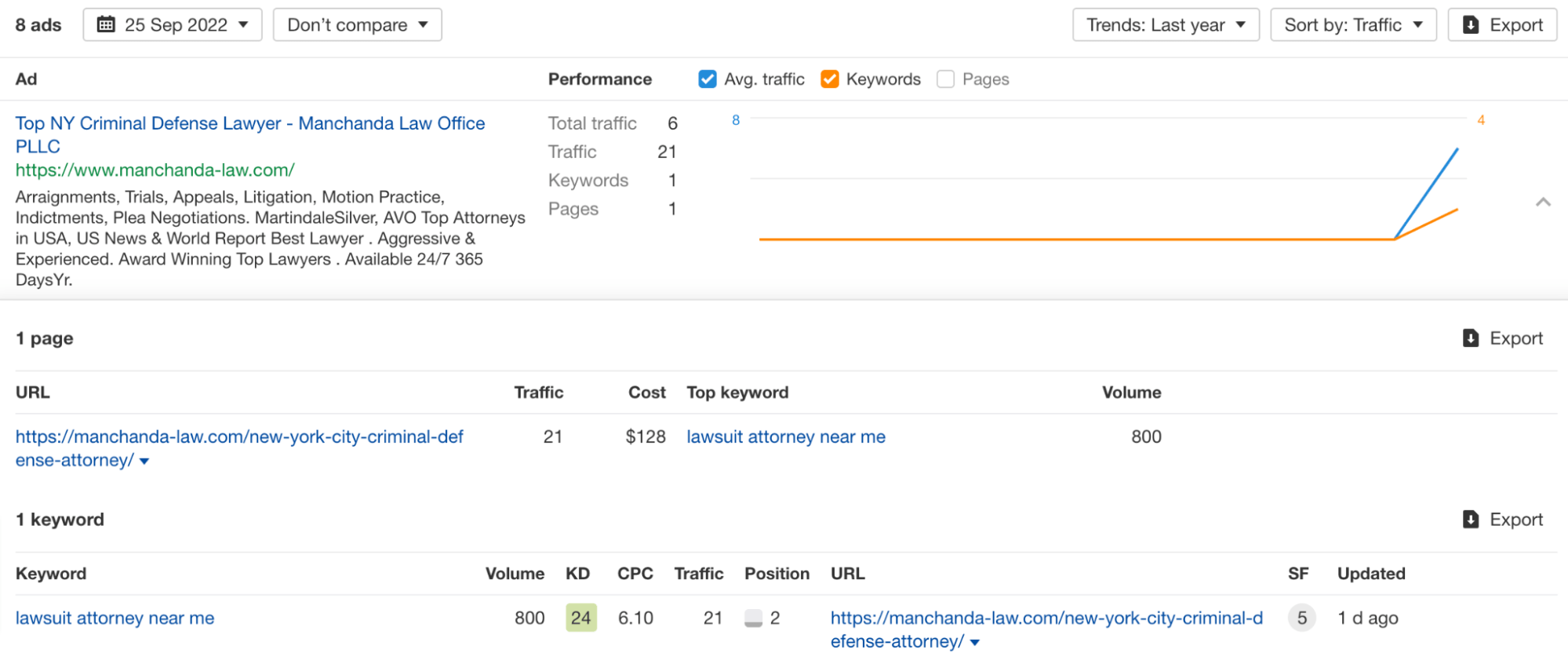 Recommended reading: PPC Marketing: Beginner's Guide to Pay-Per-Click Ads 
You could go all day listing reasons why your website should be optimized for mobile phone users. Basically, at least half of the people will look up your business on their mobile phones. 
If you already have a website, you can check its mobile-friendliness in minutes with a free service like Google's Mobile-Friendly Test. It allows you to test one page per test, so you may need to run it a few times to test the most important pages on your website (such as homepage, services, locations, contact, etc.).

For checking website speed (both mobile and desktop), there is a whole other set of free services, such as the popular PageSpeed Insights one from Google. What's particularly useful in this test is the use of Core Web Vitals, which are part of Google's Page Experience signals (a ranking factor).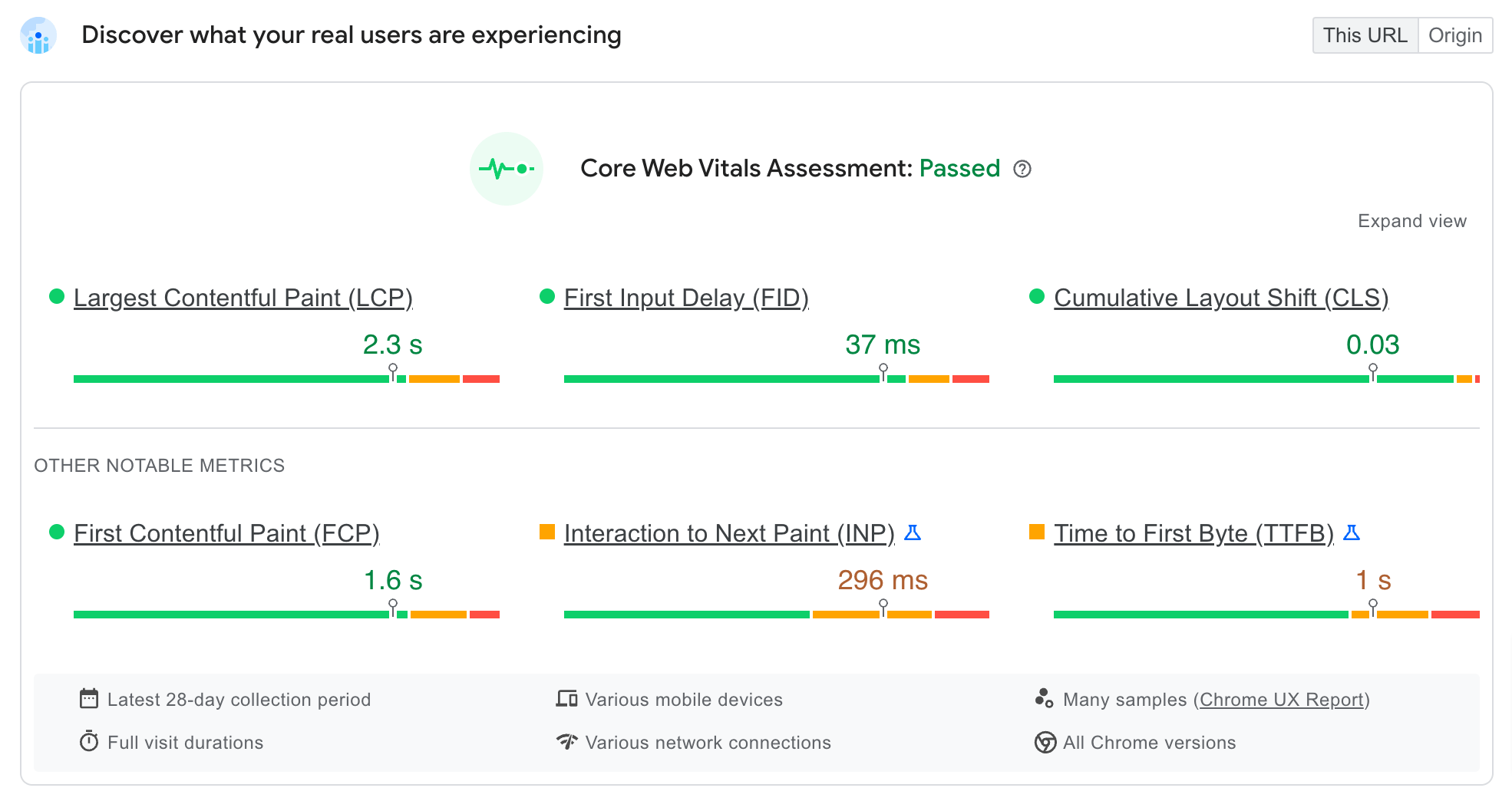 Both tests will show you what needs to be fixed in terms of speed and design. If there's too much to be fixed, it may be better to invest a few bucks into a new website than to spend time fixing holes in the old one. A cost-effective solution here is using a service like Squarespace or Wix. There, you can set up a mobile-friendly, fast website without technical skills. 
People want to know what it's like to be your customer. They tend to do a bit of online research to see whether you're the kind of business or even the kind of person they want to deal with. 
So don't be a stranger and make the research easier for them: show the effects of your work, show how you work, share tips, or even show that comfy chair they can sit in while waiting for the service to get done. 
For example, Nick Bundy is one of the many electricians from the U.K.'s Midlands. But what sets him apart from the competition is how much you can learn about the quality of his work before you hire him. 
He's promoting his business on YouTube and Instagram with simple videos that either show how he works or answer questions, such as how to price a house rewire. 
What may look like content made for other electricians is actually a signal for potential customers that other people trust him. Moreover, he's so confident about his trade that he shows it publicly (some more "inquisitive" customers can read the comments too).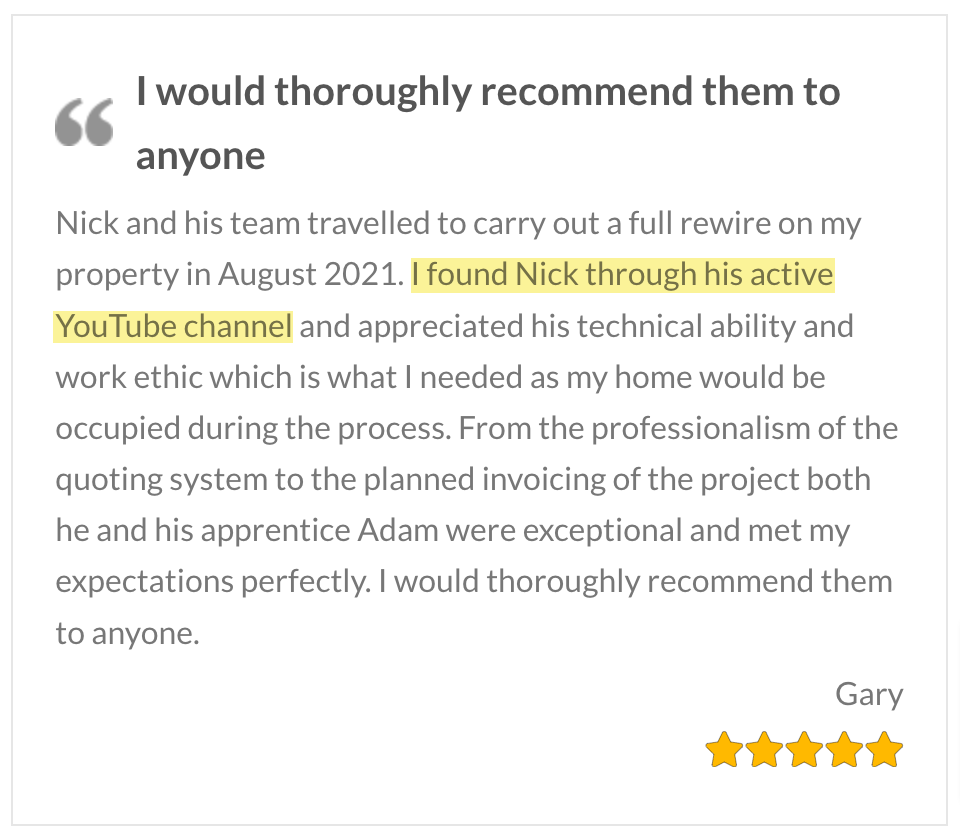 And it seems that Nick is very aware of the effect that his videos have. Good for him: 

He's also aware that his videos have "wider than local" reach. So he makes a note that, in any case, large jobs outside of his hometown are also welcome. 

Of course, many people realize the boost that social media can give to a small local business, and they use it similarly to Nick. You can find creators like him in probably every niche. 
Sidenote.
By the way, Nick seems to be quite proficient with the monetization of his work—something you may also want to look into if you decide to create similar content. The same videos that promote his business generate ad revenue from YT (which he talks about in this video). On top of that, he utilizes sponsorships, does affiliate marketing, and even co-designed a product.
Not everyone simply looks for the best bar in [whatever city]. Some people want more specific things like "rooftop bars," "arcade bars,"  "jazz bars," or even "weird bars." 
Like their more popular counterparts, these niche search queries often have their own rankings and guides. These could be easier to get featured in while still offering a good opportunity to attract customers. 
Here's how you can find them. You can:
Go to Keywords Explorer and type in keywords that define your business. For example, "bars." Use the singular form for more results, but the plural form will usually weed out most of the branded keywords (i.e., those including the bar's name).
Set your country and hit search. 
Go to the Matching terms report after the results load.
Use the Include filter to type in words that define your location. Enter "San Francisco, SF" and select "Any word." Then hit "Show results."
Pick a keyword and click the SERP icon to see if there are any guides and rankings.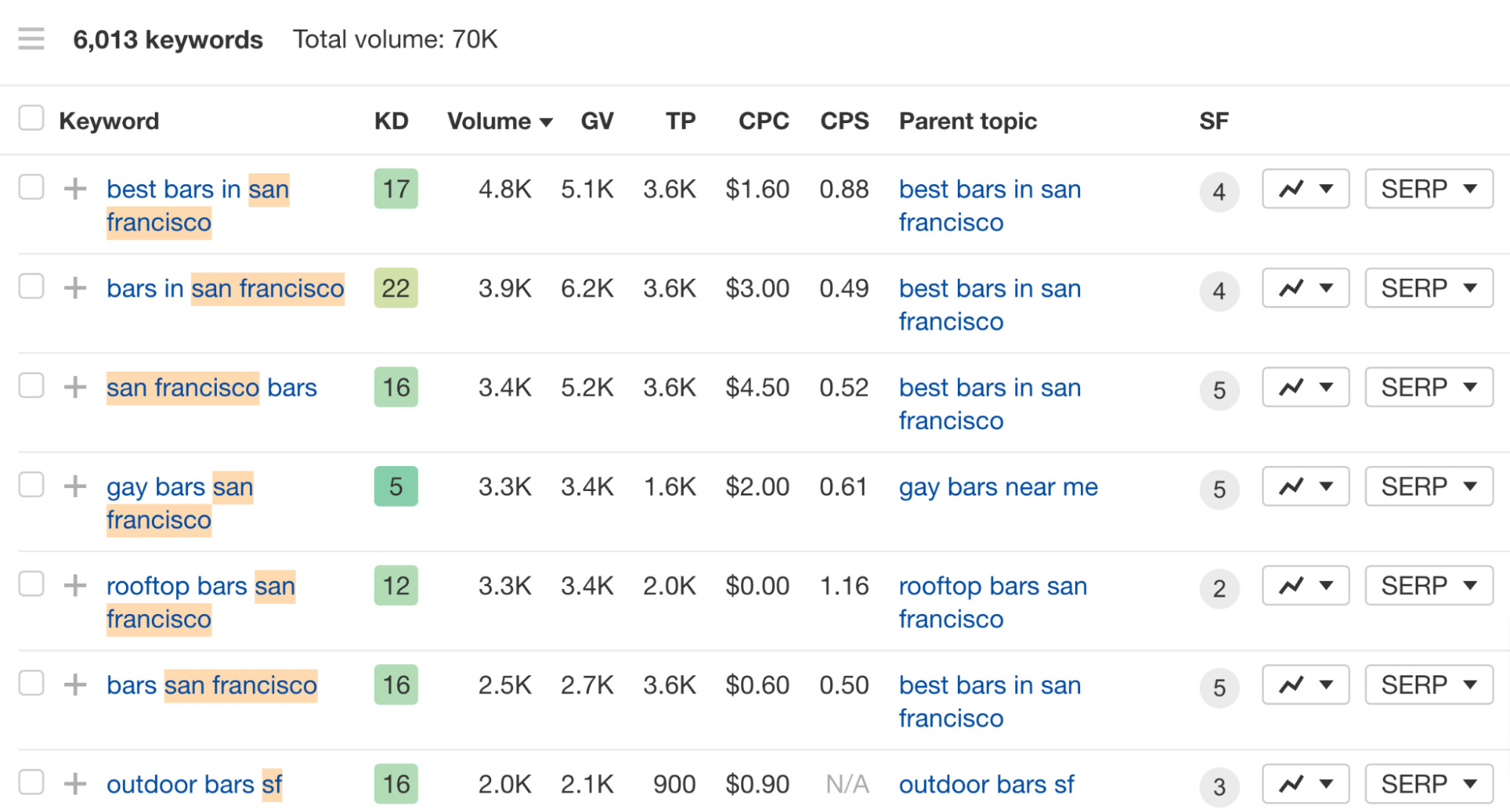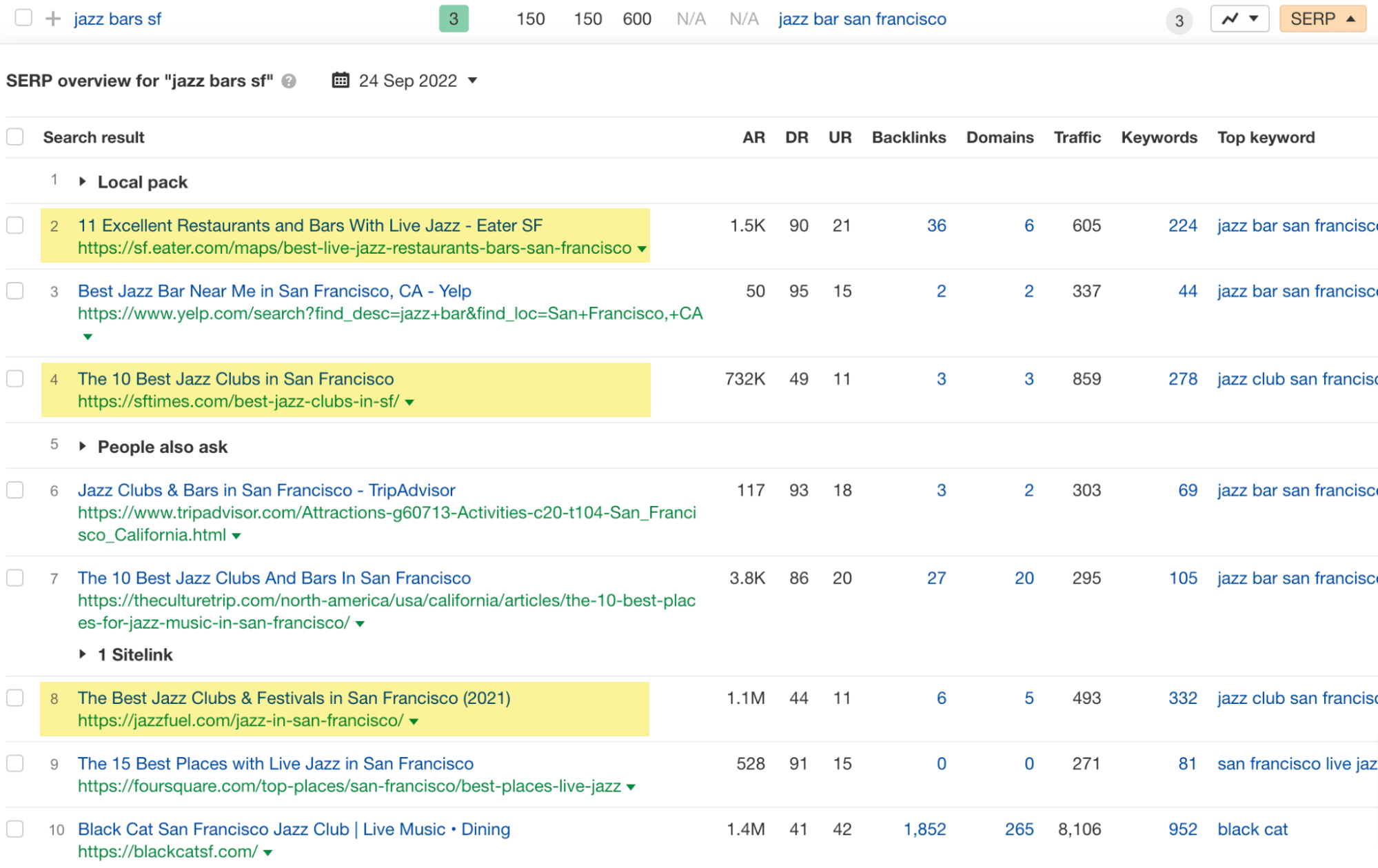 Once you find them, the last thing to do is to contact these websites and tell them why they should add your business to their lists. 
Even small local businesses can get free press. What matters to the press is the attention it can get by telling your story, not necessarily how big or profitable the business is. 
And every business has its own story. It can be related to how it started, the unique idea behind the business, the values it lives by, or the unique way it manufactures products. 
But you may be wondering how you can actually benefit from that:
Press coverage makes readers aware that your business exists – Or reminds them about it if they have already seen it somewhere. It also creates awareness among journalists; after one story, you may be asked to do another or to provide commentary on another related story.
Stories are powerful message carriers – Not only will they help people understand what's unique about your business, but they will also make it easier to remember. 
Press coverage acts like a seal of approval – If you're wondering whether a company is trustworthy, having seen it in local newspapers tells you that someone has screened it before you. 
Last but not least, digital media is great for link building – That means website visitors and an enhancement of your backlink profile, which may lead to higher rankings on the SERPs. Links from media are often sought after because of their strong link profiles. 
You can earn free press typically in one of these two ways. 
The first is simply pitching your story to the press. The outcome may be something like this: An interview with a local entrepreneur in a local magazine featuring the story behind creating an ethical and sustainable jewelry business.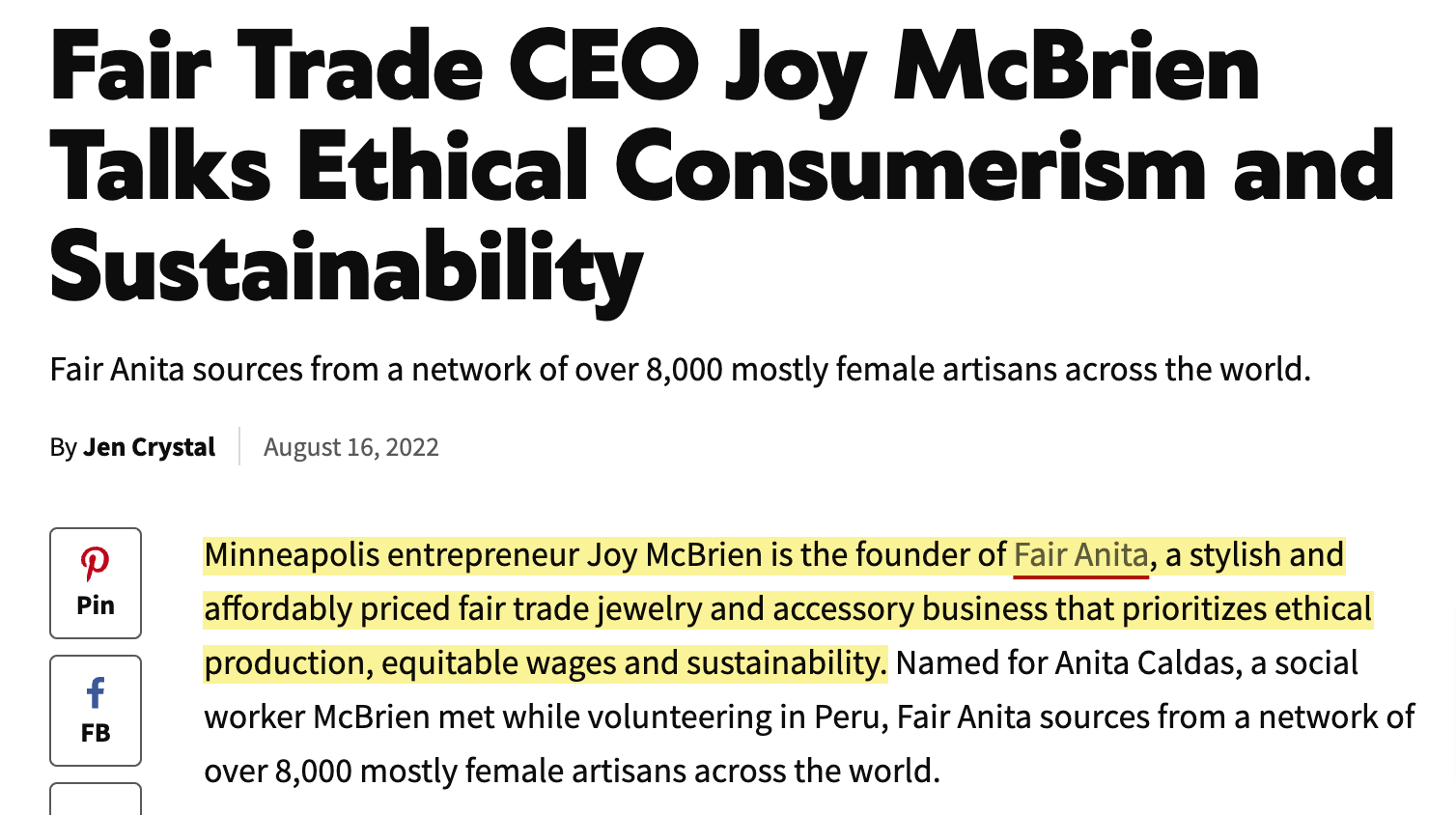 Of course, nothing stops you from pitching your story to multiple outlets (also national ones). Here's another example linking to Fair Anita; it shows a link from a popular local magazine, Star Tribune.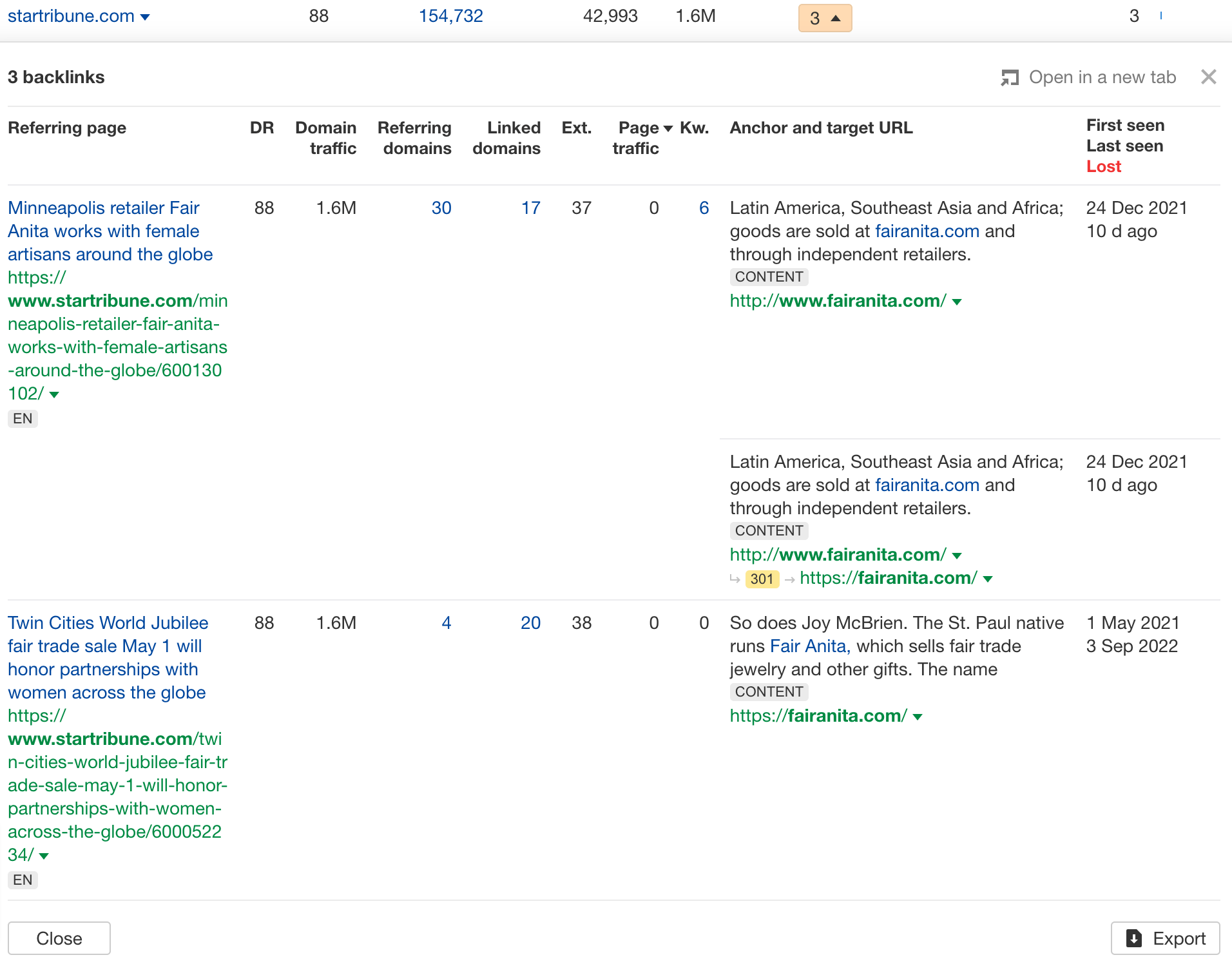 The second method is providing expert commentary per a journalist's request. You can monitor relevant requests through services like HARO, SourceBottle, or Terkel. If you answer well enough and quickly enough, your quote may be featured along with a link to your website.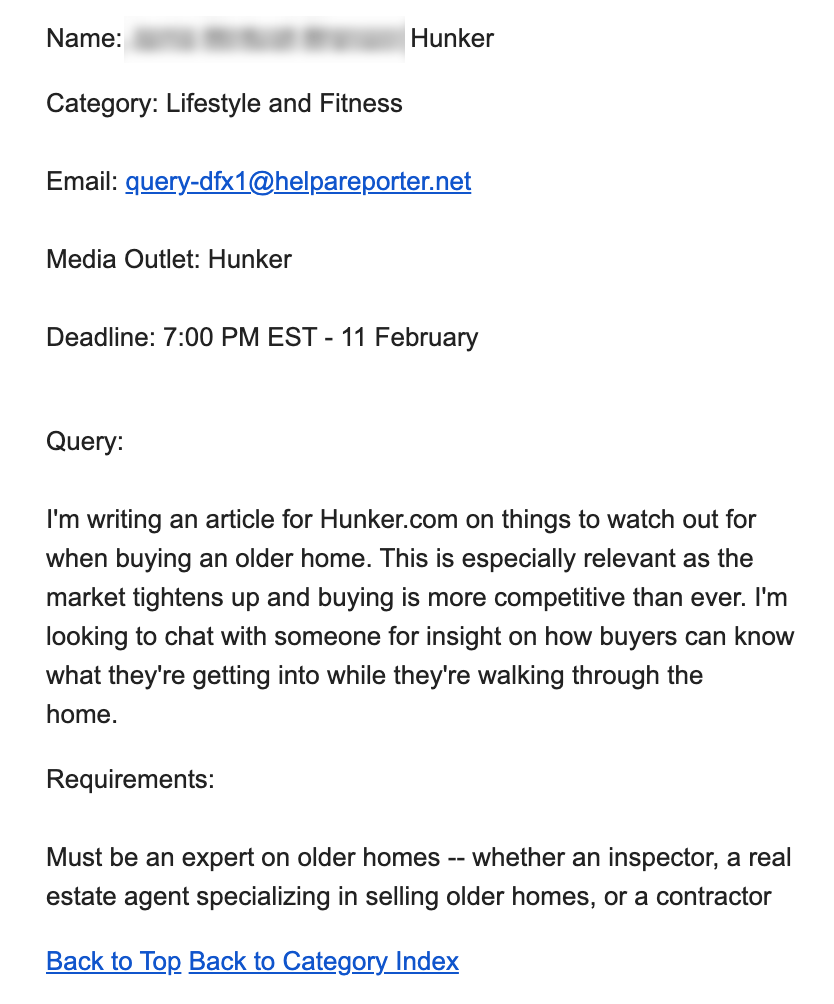 Final thoughts 
Local online marketing tactics seem to be focused on the promotional aspect. So speaking in terms of the classic four Ps of marketing framework, make sure you don't neglect the other Ps— product (or service), price, and place—while doing promotion. Promotion is actually the very last step in creating an effective marketing strategy. 
Got questions? Ping me on Twitter.