---
Five Golden Rules of Re-engagement In Your Email Campaigns
by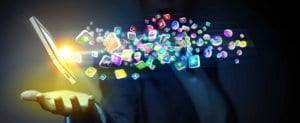 It takes a lot of time and resources to build email marketing campaigns that are powerful enough to get you the desired result. A Marketing Sherpas research revealed you can lose around 22.5% of your subscribers every year owing to natural email attrition.
Email marketing databases decrease due to various reasons such as subscribers changing jobs or not using a certain email address. Subscribers may also opt out of your emails because they no longer find them useful or relevant.
Although you are losing a bunch of subscribers, it must be noted that it is not permanent. You can reach out to them again by using effective re-engagement emails. It is not difficult to re-engage with your subscribers, if you use proper email management methods. If done right, re-engagement emails can boost incremental engagement.
Let's take a look at some of the golden rules you need to know when it comes to re-engagement email campaign management.
1. Personalized emails will go a long way
Personalized emails make a deep impact on your subscribers because they show the effort being taken to approach them. People generally get many emails a day and it feels good when an email is specifically written for them. 
As per a report by Campaign Monitor, emails with personalized subject lines enjoy 26% higher chances of being opened. Personalized emails assist you in creating a special bond with your customers thereby increasing chances of engagement. Along with mentioning the name of the customer, mention a couple of facts related to them. You can also mention their purchasing history and offer recommendations based on their past behavior.
For example, if you are an airline company, you can engage with your customers by letting them know they have accumulated a certain number of miles and they will expire soon. List out all the benefits they can avail by using these miles. 
Finally, urge them to book a flight soon before the miles expire. A re-engagement email with all the aforementioned details will most likely push the client to at least consider the option of using the miles.
2. Lure them with attractive offers
Rewards can help you gain back your customers! Let's take a look at some ways you can reward customers to win them back:
Birthday Rewards – Note and store birth dates of all your customers. This can help setting up an annual re-engagement calendar. Giving birthday rewards to your customers can instil a feeling of them being important and celebrated by your brand.
Reward For Feedback – Encourage your customers to provide feedback in return for points or discounts, and let them jump with joy. This will not only make them choose your product again but gives you constructive feedback as well.
Offer Timebound Discounts – Limited time discounts to your customers can encourage them to revisit your website. You have to convey to them that the offer is exclusively for them, but only for a limited time.

 
For example, ModCloth analyses the data of inactive customers and then implements time bound reactivation emails to win them back. They offered coupons as a 6 month anniversary reward to make customers feel special. The target customers visited the website to redeem their coupons and entered the active email customer list again.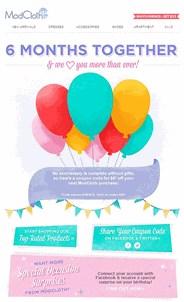 Extend Exclusive Invites – Inviting disengaged customers to events such as a product launch, meet & greet, free webinars etc. can help you gain back customer attention.

 
3. Come up with unique content
Create content that your customers would want to read. Your content can help them overcome problems or obstacles they may face. Content can also revolve around product or service use and maintenance.
If you sell electronic goods, your email content can teach customers how to use the product, installation tips etc. Create emails that assist your customers and add value to their lives.
Remember to proofread your email before you send it. Have your team assist by reviewing it again to avoid grammatical issues. Spelling mistakes and grammatical errors can cut down the credibility of your email.
4. Customer feedback is important
Customer feedback when collected appropriately can help enhance your product and the services that support it. Moreover, understanding what your customers think about you is important for every business. It will help you build customer-focused values that enhance your services to existing, and potential, customers.
A short and simple email is the key. Try not to ask lengthy questions because chances are you won't receive a response. So, keep the text minimal.
Ask specific questions. Mention product names, ticket id, event, product or service etc. Yes, that's how specific you need to be.
Don't be satisfied with ratings (1-5) or a simple Yes/No. Such responses won't yield any benefit. Encourage exact responses.
Asking for feedback from your customers will instil trust in your business. They will value your effort to understand their experience. They might also provide you with a better way to communicate with them. For instance, the email marketing effort from many businesses include options for unsubscribing from, or staying in, the emailing list. Providing  customers with the option of choosing the kind of emails they want to receive will be appreciated.
 

5. Remind them what they are missing
Winning back and re-engaging is only required for customers who have been classified in the inactive list. This strategy will not be applied to all your customers. At some point, however, almost all your customers will likely need some extra effort to re-engage.
An inactive customer may not have purchased but may not be disinterested in purchasing. The inactive customers might just be passive and need extra attention to become a purchaser.
Therefore, creating exclusive content to remind them of your excellent product or service is the key. Refreshing memories of purchases is the backbone of re-engagement campaigns.
Try sending variations of re-engagement emails such as "We miss you, do you still want to hear from us", or sending rewards.
A strategic approach to such emails is the best option to re-engage. Creative, clear and succinct email campaigns can help you bring back inactive customers.
6. Send series of emails
As a business, spamming is the first thing you would want to stay away from. You may fear being labelled as a spammer,  if you are regularly sending emails to your customers. However, there is a fine line between spamming and being consistent. Sending emails to random people maybe spamming, but emails to people who have willingly subscribed to your email list cannot be considered spamming.
So, don't be reluctant in sending regular emails to your list of subscribers, and you will ensure higher sales. 
It has also been proven by studies that people check their emails regularly. Hence, it is a proven fact that when you send emails regularly and consistently, you are doing the right thing. You must not do what your competitors fear doing and end up losing business.
7. List all inactive subscribers
A quality, active email list is often overlooked by email marketers.
It is important that your subscribers open and read your emails to reach your website and make a purchase, but at some point your list of subscribers will also need overhauling. 
Inactive subscribers do not add any value to your business. Therefore, the unsubscribe button must be visible in the email.
It is not advisable to cling to subscribers. Let them unsubscribe, if they wish to. Not providing them the option to unsubscribe can make your emails fall into the spam category.
Wrapping up
Re-engagement email campaign management is a long journey and cannot be accomplished quickly.
It requires a lot of patience, customer-centric approach, process, technology and the perfect consolidation of all the ingredients.
When creating a re-engagement strategy, focus on retaining existing customers with regular personalized messages, along with trying to re-engage inactive customers by incentivizing them.
Bad customer experiences will lead to customers leaving your email list. The best approach is to assist them in the journey and provide them the delight factor in interactions and best in class services.
The hard truth is that, even the most interactive and targeted email campaigns can fail. Therefore, the right approach would be drawing a timeline either to continue or move on from trying to re-engage them.
---
Vishal Vivek is an eminent Indian serial entrepreneur. Despite having to shoulder huge family responsibilities at a tender age, lack of proper training, and a dearth of resources and funding, he started SEO Corporation and scaled it up to a well-known SEO Company with sheer will power and integrity of character. In the uncertain world of search engine optimization, he is one of the few experts who gives guarantees and honors them. The Times Group recognized him as a legendary entrepreneur and published his biography in the book I Did IT (Vol 2) when he was just 30!
Recommended Posts
January 14, 2021
January 1, 2021
January 1, 2021