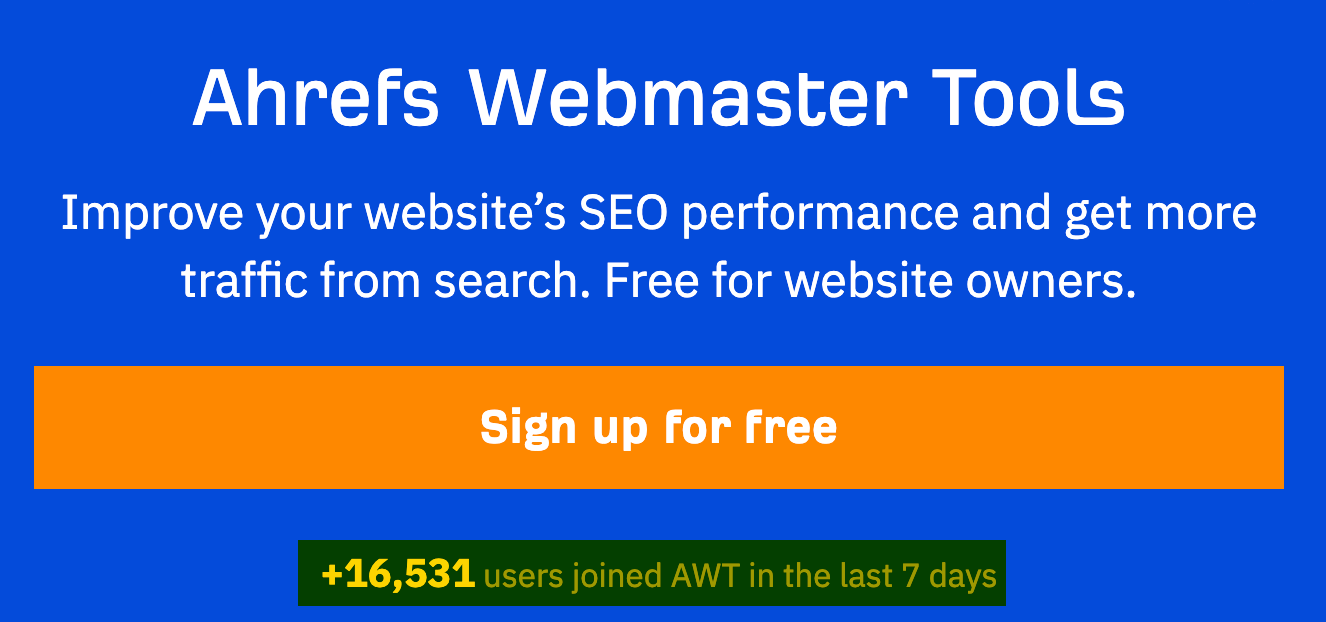 The beauty of SEO is that searchers are actively looking for your product/service or the problem you solve.
This usually means higher-quality leads, which makes SEO a fantastic lead-generation channel. 
However, it doesn't mean you can create any piece of content, gate it, and hope that you drive thousands of leads to your business. 
Neither can you send these leads to a dedicated autoresponder sequence, and they'll suddenly be "nurtured" and "ready to buy."
The buyer's journey doesn't work like that in the real world:
The buyer's journey is not linear – Nobody's searching for a problem, discovering the solution, immediately jumping on a demo call, and converting into a customer. 
If you're creating top-of-the-funnel (TOFU) content, your "leads" are early in the marketing funnel – They probably don't know they have a problem or just discovered it. So while they can technically be considered "marketing-qualified," the sales development representatives (SDRs) are going to find them of poor quality and a waste of time. (And these leads will wonder why SDRs are calling them!)
That's why, in this post, we're going to explore a better way to generate leads via SEO. 
How to use product-led content to generate leads via SEO
Product-led content weaves your product into the narrative to help solve a problem. It's not a hard sell. You're not trying to aggressively pitch your product. You're still trying to provide helpful advice, with the exception of presenting your product or service as the best solution.
Product-led content is the main way we generate leads and customers at Ahrefs. And it works:
It works well as lead generation because:
For most businesses, there is a group of people who are looking for solutions or ready to buy. These people make great leads. You'd want to target them first before going up the funnel. Our process of creating product-led content mainly targets such keywords.
Product-led content shows your product or service in action. It encourages a simple next step for them to sign up for a trial, demo call, or more.
So how do you create product-led content that generates leads? Here's how:
1. Do keyword research
Product-led or not, you need a way for people to discover your content. Given that 53.3% of all website traffic comes from organic search, Google's a good place to start.
But if you want to get search traffic from Google, you need to target topics that people are searching for. That's where keyword research comes in. 
Keyword research is the process of discovering valuable search queries that your target customers type into search engines to look for products, services, and information. 
The easiest way to begin is to use a keyword research tool like Ahrefs' Keywords Explorer:
Go to Keywords Explorer
Enter one or a few relevant keywords
Go to the Matching terms report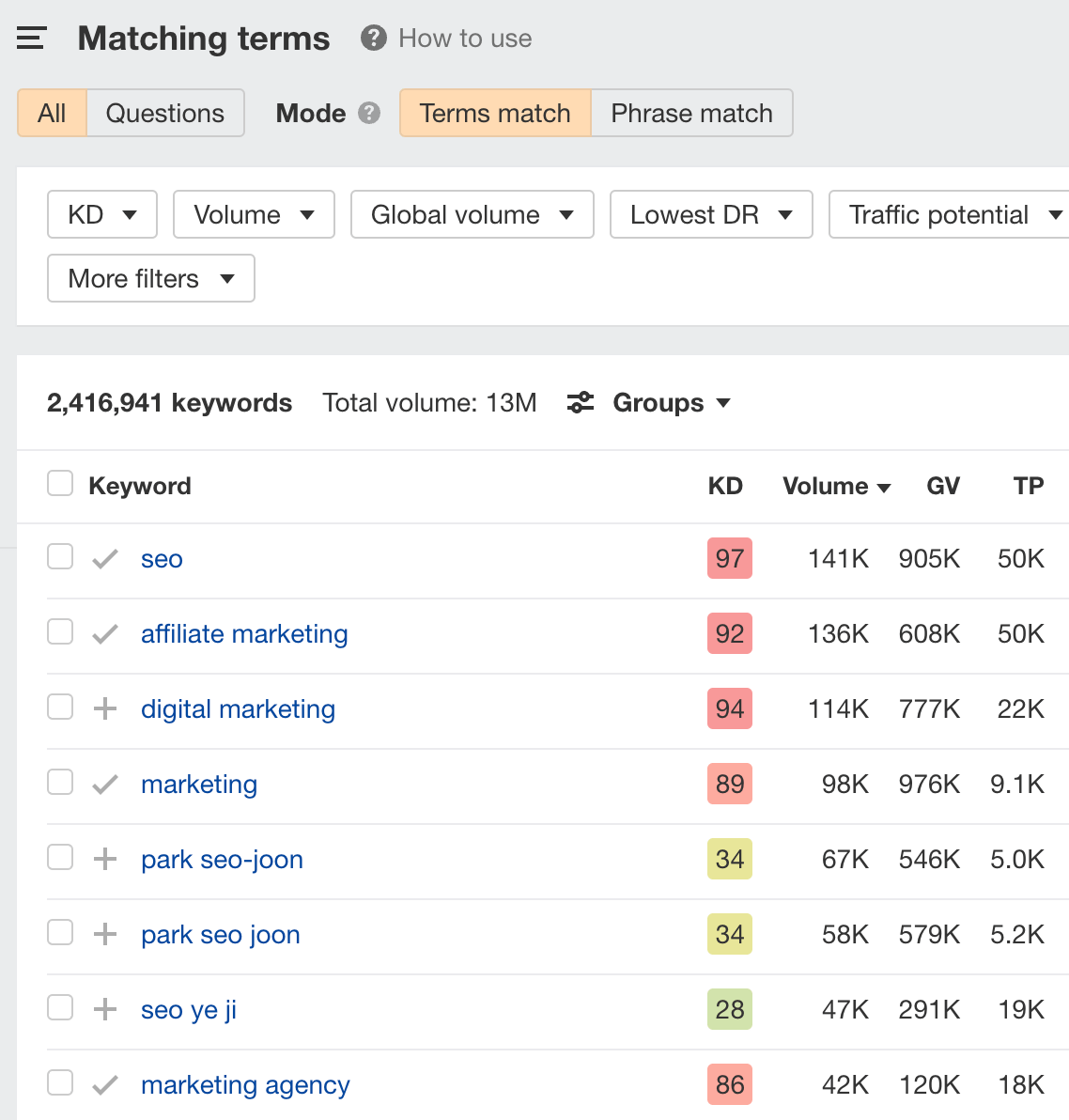 Look through the report and pick out the keywords that are relevant to your site. 
Don't think about whether you can create product-led content for those keywords yet. We'll do that in the next step. For now, focus on collecting as many relevant keywords as possible.
2. Assign each keyword a "business potential" score
To make product-led content work, the best way is to target keywords with high buying intent. 
The way we identify these keywords is to assign all of the keywords we discovered in step one with a "business potential " score.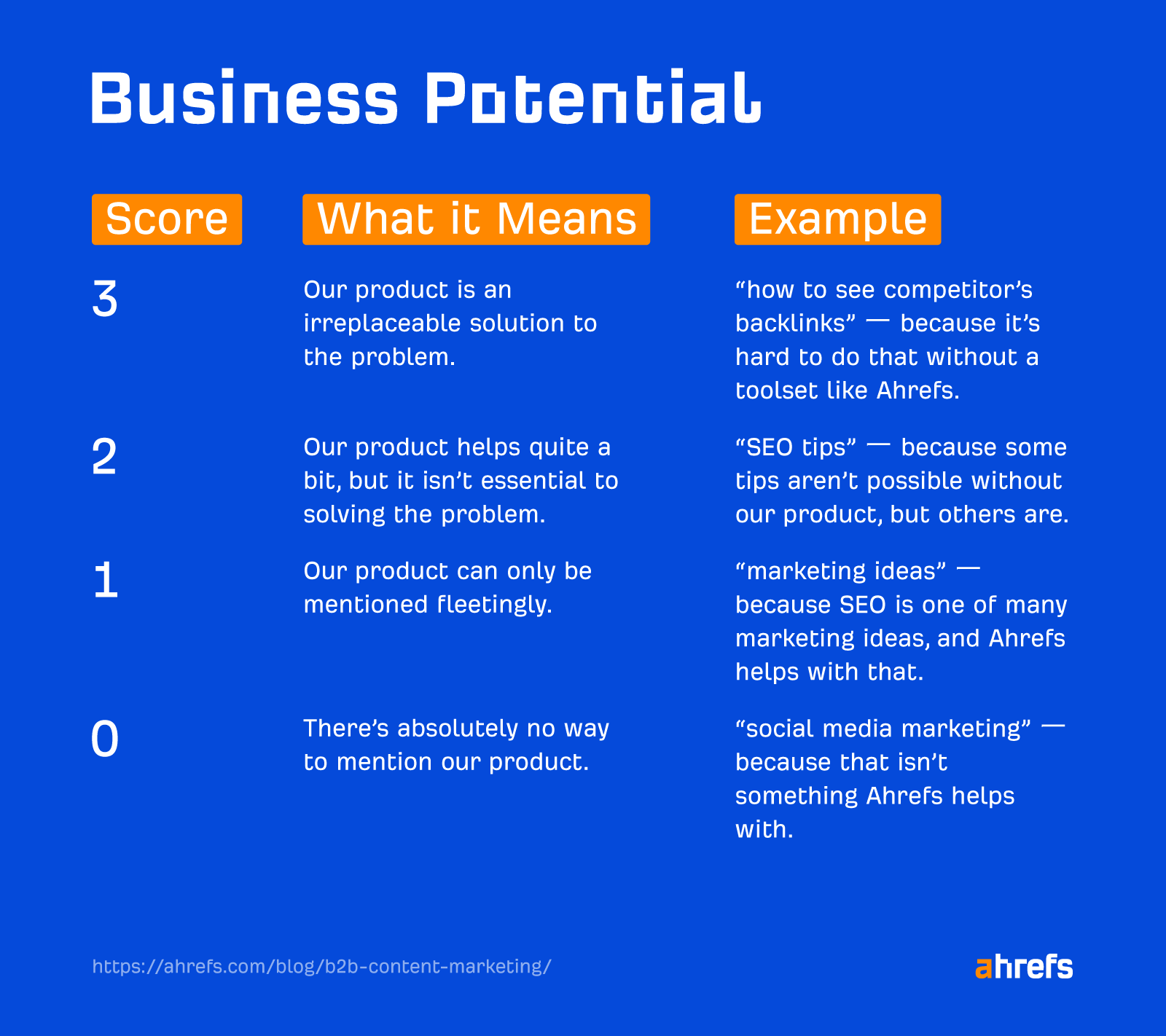 By prioritizing only topics that score at least a "2," we make sure that every mention of our product is natural.
3. Create product-led content that ranks
This is the most difficult part of the process. That's because creating a great piece of product-led content isn't simply whipping up a 1,000-word blog post and adding a link back to your trial or consultation call. 
It often requires deep product knowledge, creativity, and smart copywriting. Essentially, the writer needs to: 
Understand what Google and searchers are looking for—and match it.
Understand the product or service so well that they can weave in use cases naturally.
Add unique nuggets of information so that the post not only stands out on the SERPs but also encourages people to link to it.
Make sure the content is engaging and not "oversell" the product.
Let's look at what's involved:
Match search intent
If you want to rank high on Google, you need to understand why the searcher is looking for a particular topic. This is known as search intent and you can figure it out by analyzing the SERPs for the three Cs:
Content type – Are they blog posts, product pages, landing pages, or something else?
Content format – Are they tutorials, listicles, how-to guides, recipes, free tools, or something else?
Content angle – Is there a dominant selling point, like low prices or how easy it is?
For example, if we're targeting the keyword "inbound marketing," the three Cs will be: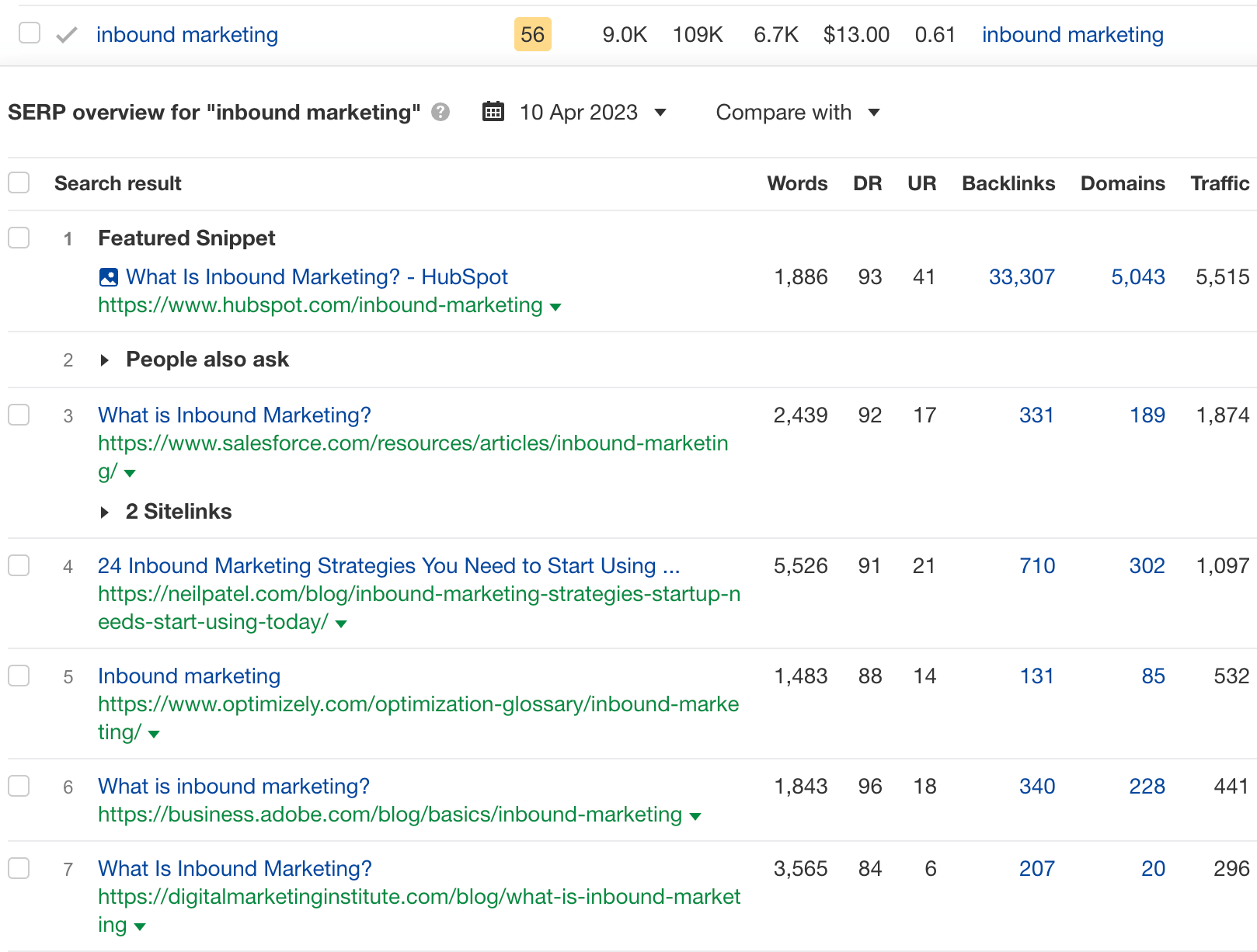 Content type – They're all blog posts.
Content format – They're all definition-style guides.
Content angle – No particular standout angle for this keyword.
So if you want to rank for this keyword, it's likely you'll have to create a definition-style blog post. 
Cover important subtopics
If there are subtopics that most of the top-ranking pages cover, it's likely they're important and searchers expect to see them.
We can find out what these subtopics are by looking at common keyword rankings:
Enter your keyword into Ahrefs' Keywords Explorer
Scroll down to the SERP overview
Select three to five top-ranking articles (make sure they're similar)
Click Open in and choose Content gap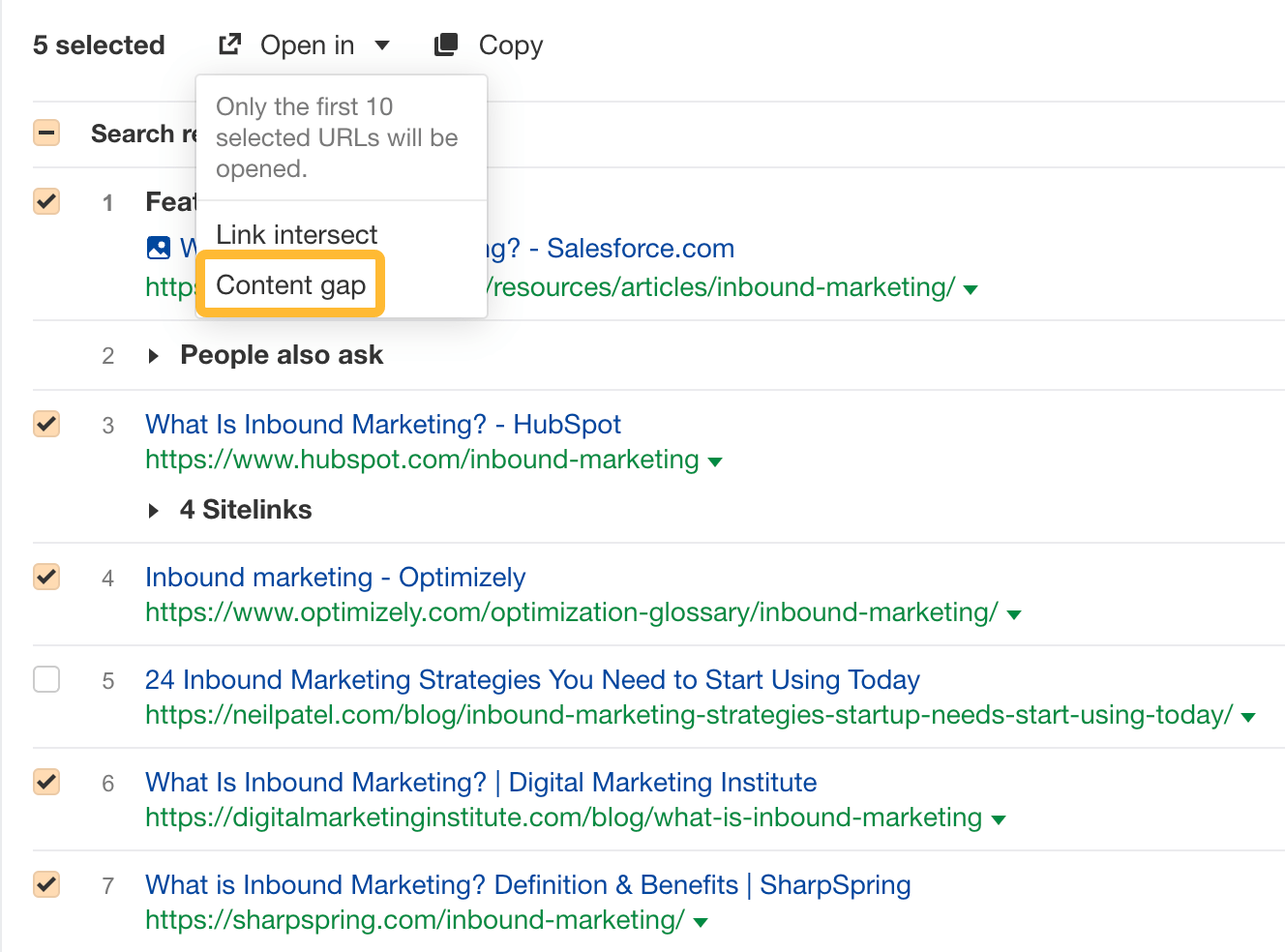 We'll then select the Intersection dropdown and choose "4, 5" to see only the most relevant subtopics: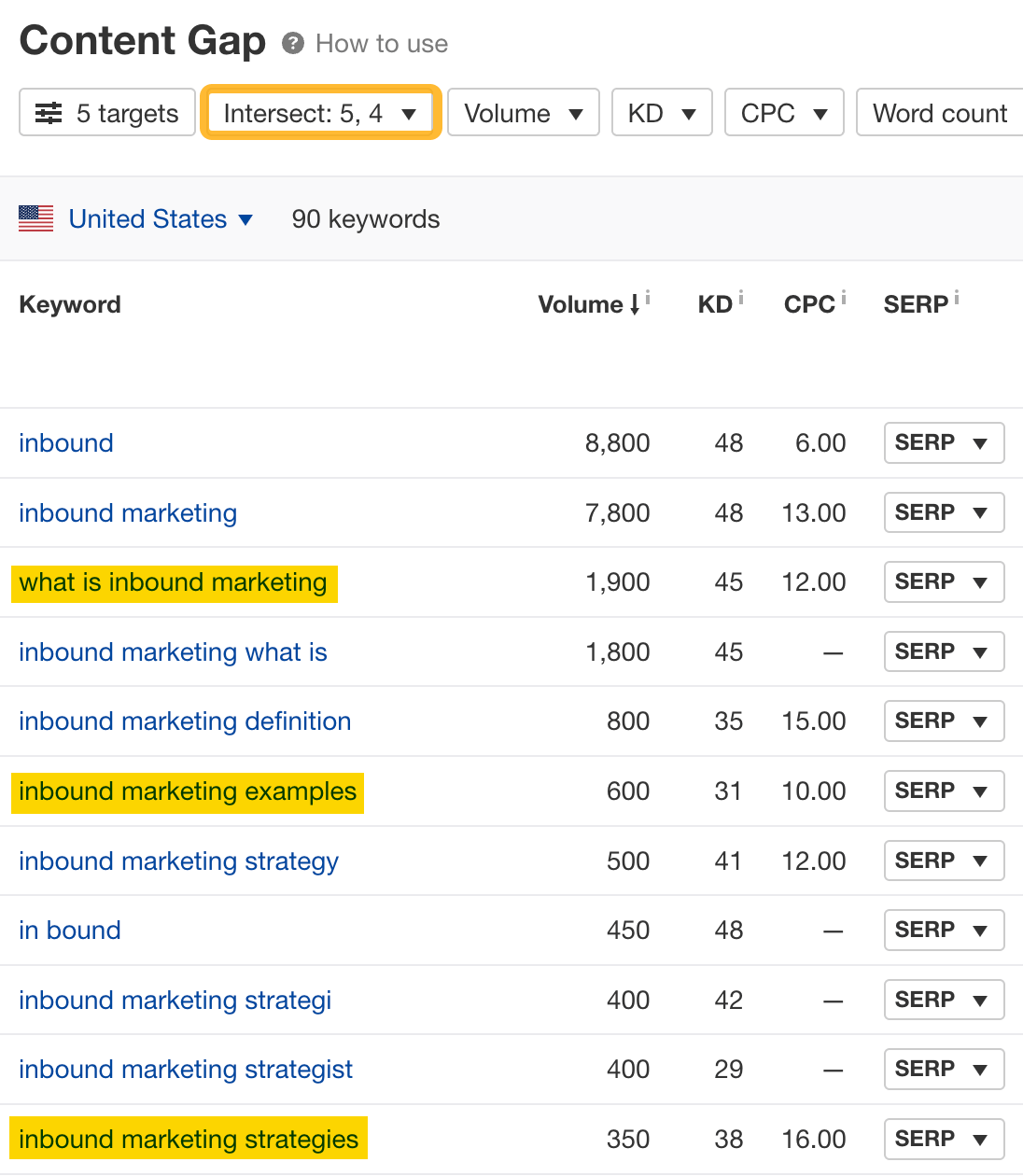 In this example, it's likely we'll have to cover these:
What inbound marketing is
Examples of inbound marketing
Inbound marketing strategies
They will make good subheadings for the post.
Insert unique nuggets of information
Links are a confirmed Google ranking factor.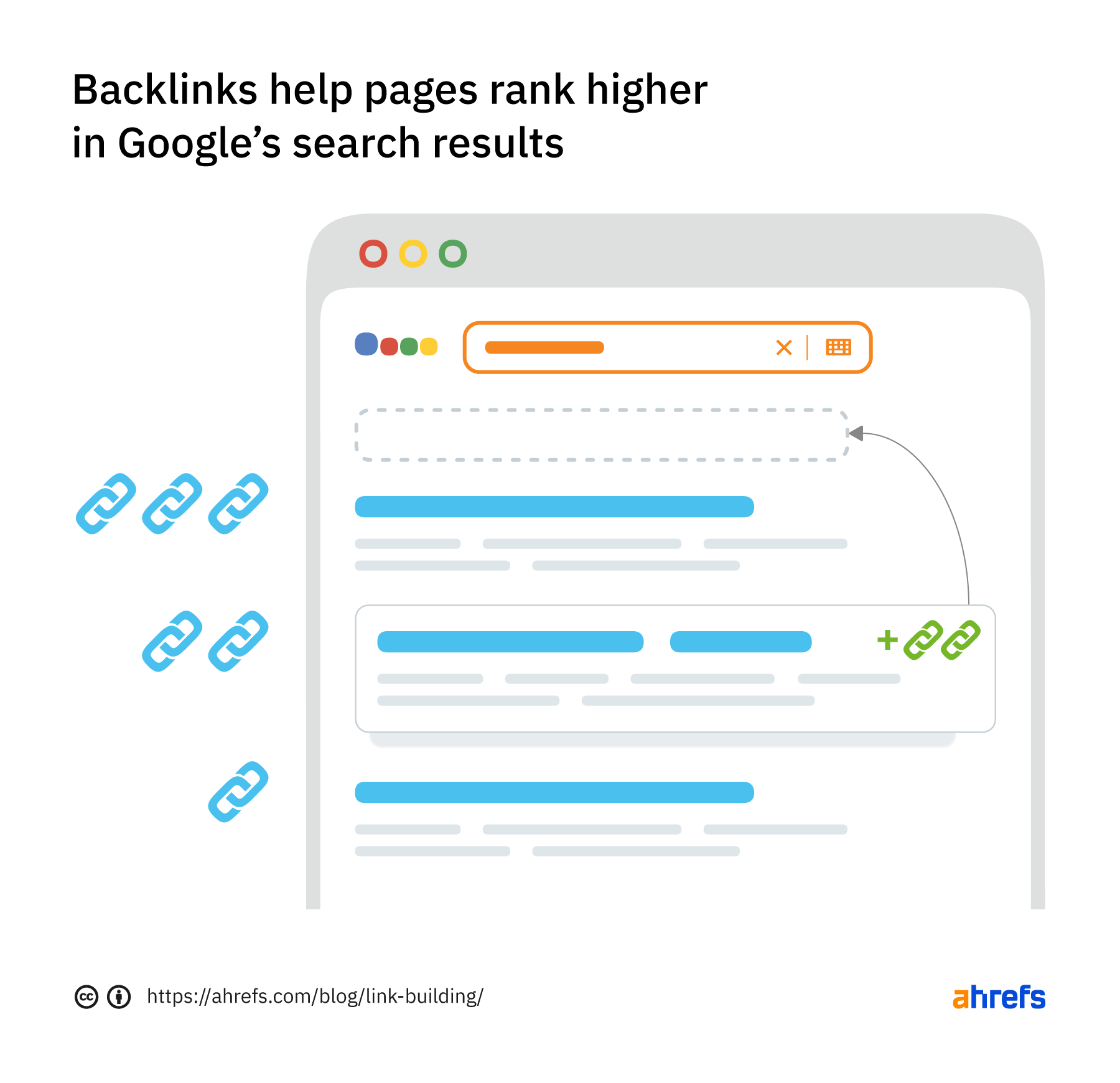 But if you want people to link to your content, you need to give them a reason to. Here are some reasons why people link:
You'll have to find ways to insert such unique nuggets of information into your content. 
Weave your product naturally into the content
Wherever it makes sense within the content, include your product use cases. With step-by-step details (using screenshots, GIFs, and videos), show your readers how to solve problems with your product.
There is no "right" way to do this nor is there a "correct" number of use cases you should include. It depends on your product, the problem you're solving in particular, and your copywriting skills.
You've seen how I've naturally included many Ahrefs use cases in this post. Here's another example where Chris has integrated Ahrefs use cases into his post.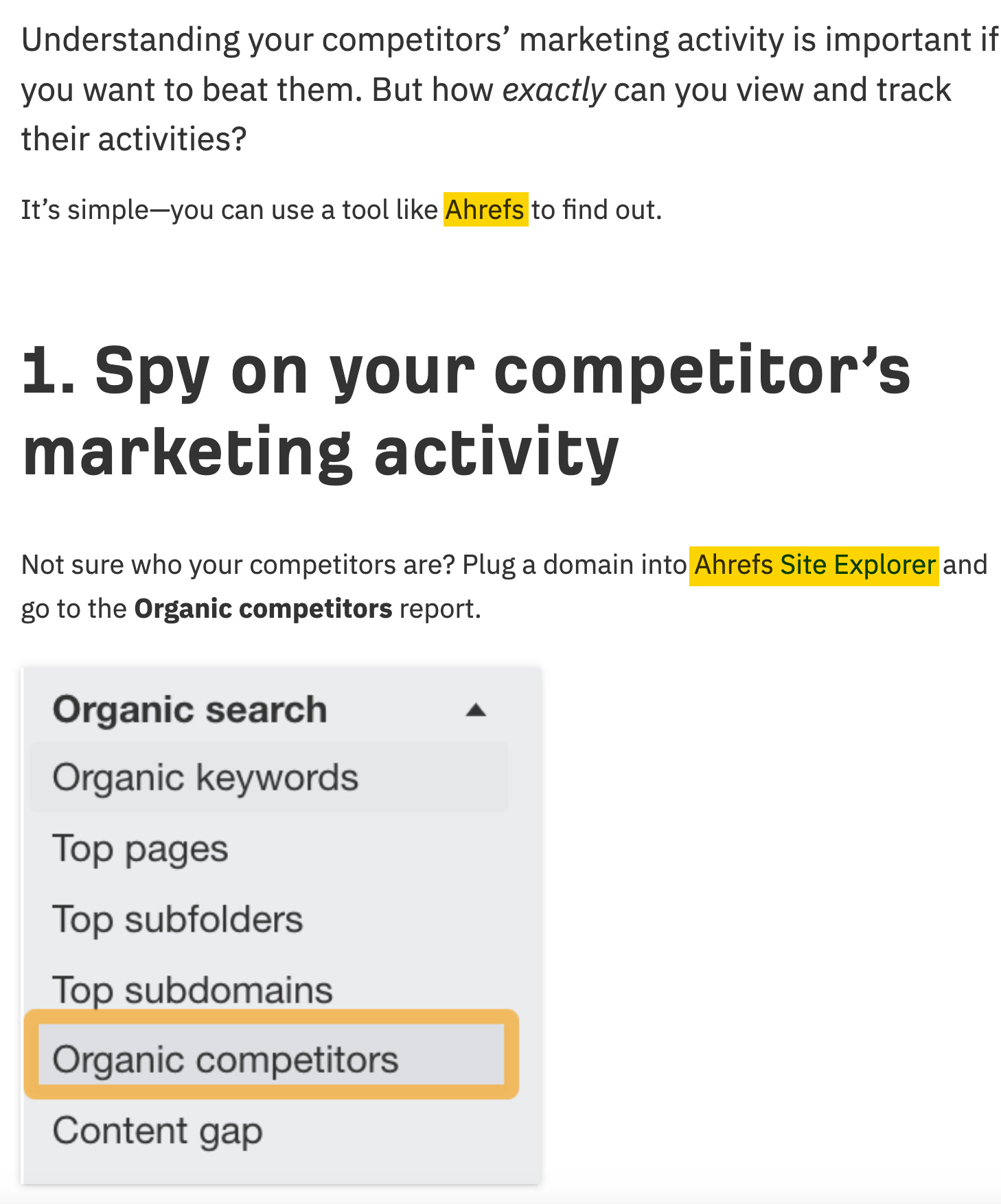 It's natural because of the topic—it's difficult to do competitor analysis without Ahrefs.
Final thoughts
Does this mean that you should not create TOFU content?
No. TOFU content still has its place.
I asked Bryan Casey, the director of digital at IBM, and this is what he has to say:
B2B buyers aren't in the market for products 95% of the time but they're in the market to get better at their job 100% of the time. So, that traffic is not looking to be routed to a sales rep the next week. 

But if you can make the audience "sticky" by getting them more connected to the brand so you can reach them perpetually, you're top-of-mind and that's a great outcome.
The goal of TOFU content is not to generate leads. It's for brand awareness and building a relationship with them. You can still encourage them to sign up for your newsletter, but this is not a sales play. You're simply getting your brand to be top of mind for them.
Any questions or comments? Let me know on Twitter.