---
How To Select Your Web Partner ~ Issues to Consider.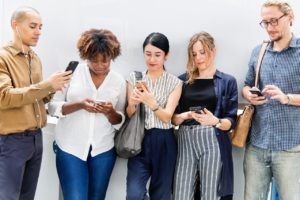 The World Wide Web is different from any other medium experienced so far in human history .
It is global it can reach anywhere. It is dynamic and it can change quickly. And it is interactive, that is, it engages the user. The Web is like all of the media of today all wrapped up into one. Imagine the possibilities for your business or organization.
It is not surprising, then, that there an enormous number of choices to be made for any particular website. Content can be accessed and presented in many different ways — as text, graphics, audio, or animation.
You can provide "flat" screens or highly interactive experiences. You can have your website be in contact with databases at other sites to return valuable information to the user. In short, although there will be costs and tradeoffs, you can accomplish pretty much of whatever you might want to using the World Wide Web, the numerous Web development tools available today, and the vast network of computers called the Internet.




So you are at the point where you know you want to take advantage of the enormous opportunities offered by the Internet. Perhaps you have a website already, but it is not "there" yet in terms of giving your company the benefits you know you want to have.
Perhaps you need a new look and feel to update your site, or maybe you are ready to undertake some new, powerful functionality such as online ordering. Or maybe this will be your first website, so you would like some guidance on what to include and what not to include, so that you "get the biggest bang for the buck".
Perhaps you have quite a bit of experience with a public site, and have now realized the enormous benefits in efficiency and productivity that your organization could derive by using the Web for in-house functions — by using an "intranet"– and you're looking for someone to help you.
Whatever your particular situation or size of your project, we at Appture realize how important it is to find the best Web development partner for your needs. We'd like to help. The task even to choose a partner may at first appear a little daunting because, after all, if you had the skills of a Web team in-house already, you would not be looking to outsource the work.
There seems to be a lot of people out there, but are they all the same? And, you're starting to realize that the knowledge and skills required to have a successful website will not reside within one person–yourself nor others. How do you know what you're getting, and that you're paying the right amount?
Here is some input from the Appture team about what you should consider as you make your decision. We are happy to discuss your situation further to see if we might be that right partner for you.
---
Recommended Posts

May 5, 2022