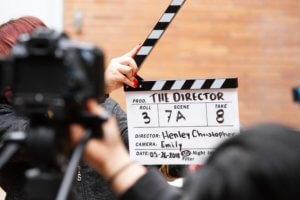 We've all heard it: it's no longer "content is king" as much as it is "video is king". That is all well and good, but how do you actually get started with video marketing? What kinds of videos should you create to promote your business? How can you consistently create quality videos for your social channels without spending a fortune, especially if you don't have any filming or video editing skills of which to speak?
In this post, I'm going to show you how to get started with creating social media videos for your business. 
These Statistics Will Convince You to Start Creating Video Now
Video is outperforming most other types of content, not just on social media, but online as a rule. Billions of hours of video are watched every day. In fact, it's believed that by 2020, online videos will account for over 80% of all consumer Internet traffic.
By 2020, online videos will account for over 80% of all consumer Internet traffic. Click To Tweet
Currently, over 8 billion videos (or 100 millions hours of video!) are watched on Facebook every day; on Snapchat, that number is even higher: 10 billion. What's more, video gets a lot more engagement on social media: 1200% more shares than text and image updates combined.
Video on social media gets 1200% more shares than text and image updates combined. Click To Tweet
Plus, the Facebook algorithm seems to prefer videos as they receive 135% more organic reach than an image update. 
Videos updates get 135% more organic reach than image updates on Facebook. Click To Tweet
There are a lot more stats where these came from, one more convincing than the next. But all the clues we need are in our own social newsfeeds, which are often filled with Stories, GIFs, videos, live streaming videos and video ads. 
So, how do you join in and create your very first social media video campaign?  
How to Come Up with Video Ideas
There are a couple of aspects that make video creation a seemingly daunting task: coming up with good ideas for videos in the first place and then, of course, actually creating the videos (and making sure they look good enough – or rather, great!). We'll get to the actual content creation tools in a moment, but for now, here are some top tips to help you come up with great video ideas for your social media channels:
Study top-performing blog posts, including yours and others in your niche. If you have a blog, head over to your web analytics tool to see what your top blog posts are — the ones that consistently get the most traffic and clicks, as well as the most shares. These can make great ideas for topics, either by turning the blog post into a video (a how-to video, for example, a video with interesting statistics, etc.) or by using the blog post as inspiration for a video, such as focusing on one aspect of the blog post. You can do the same research for all blogs; just use a content research tool like Social Animal or Buzzsumo to look up the most popular content being shared in any niche. These top performing pieces of content can serve as inspiration for your video.
Study the competition. What types of videos are your competitors sharing on their social profiles? Which ones perform best? Use this not to copy, of course, but to get inspiration on the types of topics you can choose for your video, as well as to gain a better understanding of what types of videos work on social media
Interviews: short interviews (the long form version of the interview can be used on your website or blog or on certain social networks, like Facebook) with influencers from your niche or with other people that your audience would appreciate.
Don't forget to have some fun as well. Educational and promotional is great, but sometimes it pays to take your hat off for a bit (depending, of course, on your brand); for example, show behind the scenes videos of your team.
Promotional/marketing videos: Use social media video to promote your products. For example, create short product tutorials or teasers for upcoming projects.
Tips and hacks: Whatever industry you're in, there are always some tips and hacks that can bring a lot of value to your audience. These types of short videos are super useful and highly shareable. For example, below is a short video I created using one of the tools in this list (Wave.video) with tips and best practices for creating amazing social videos.
How to Record Your Videos
Later, I'll share some useful tools that will allow you to create your very own marketing videos with absolutely no need to film anything. However, if you want to create the videos by yourself, you'll need a few pieces of specialized equipment.
The great news is, you can easily use your very own smartphone – it's social media so it's OK if your videos aren't absolutely perfect from that point of view. That said, to get the most of your smartphone's camera, you should get a few extra pieces of equipment to help:
A tripod for making sure your video looks more professional. A wobbly video won't make the best impression.
Get some pro lights to improve lighting. Lighting can make or break your video so if you're going to film anything yourself, especially indoors, this should be one of the first pieces of equipment you get.
And last but definitely not least, you need a microphone (or several) to make sure the sound great.
Best Practices for Social Media Videos
When you create videos for social media – especially for different social networks – there are certain things that you need to keep in mind.
Here are some best practices for creating amazing social media videos for your video marketing campaigns:
Always make sure your videos are easy to understand without the sound on. Many social media users don't have their sound on or headphones in while browsing their newsfeeds; in other words, most social videos are viewed with the sound off. Because of this, make sure your videos are easy to understand even without any sound (an easy way to navigate past this issue is to use subtitles), that your calls to action are very clear, and that your message gets across
Always make sure your videos work for that social network. Whether it's the actual format of the video or its content, in most cases you can't post the exact same video on just any social network. Use different formats and change up the content a bit to make your videos work across platforms. Plus, try to upload your videos natively as that can help with your video's reach.
Use calls to action to drive people to take action, particularly with promotional and marketing videos.
Keep your videos short. In some particular cases, longer videos can work on social. However, in most case, shorter is the much better route (60-90 seconds or less).
Make sure your branding is visible. Any time you create and share a video, make sure your branding is visible
Useful Tools for Creating Social Media Videos
In order to create quality social media videos on a consistent basis, you need a few tools to help. Here, I'll share some video creation tools that include stock footage that you can use, as well as useful tools to help you edit your videos.
Wave.video: for online video editing and stock video footage 
Wave.video is an online video maker that was actually built with social media video in mind; that's because they have over 30 different accepted formats that you can instantly resize to – simply choose the format you want while you're creating your video: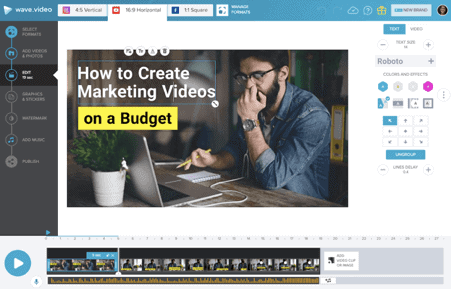 But what about actually creating the video? You can use your own videos if you want and edit them with the tool, or you can add videos and photos from their collection of stock footage (there are literally millions of stock video clips available). 
In the editing booth, things are quite simple even if you have no experience editing videos: easily zoom in and out of your video, trim video segments and add more, add subtitles to each screen in your video and much more. Plus, you can watermark your videos with your branding, add music from their library, change the format if needed to share it on multiple platforms and then publish it directly to your social networks of choice. 
Vyond: for animated videos 
Another good option is Vyond – formerly GoAnimate – but exclusively for creating animated videos. And no, you don't need to know how to animate. Or draw for that matter.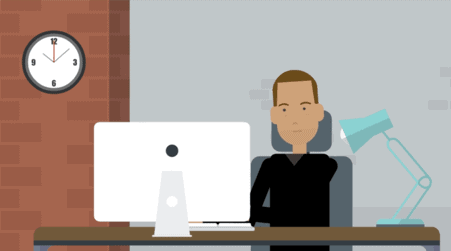 The tool is surprisingly easy to use; mostly, because you have access to an incredible array of templates and animation styles you can use for your video so the effort is minimal. 
To customize your animation, you can easily browse through different elements, characters and so on and add them to your video; for example, if you want to add a new character, simply search through the list of characters, choose their clothing and their look and then choose the actions you want them to take in that scene (for example, have them looking at their clock, worried); it's really that easy to add any animated element you want to your video.  
It's also worth mentioning that you have 3 different video styles to choose from: business-friendly, whiteboard (for whiteboard video animations) and contemporary. 
Animoto
Animoto is a great option for businesses and marketers. While you can also use it for personal and family videos, with the marketing option you get numerous templates depending on your goals: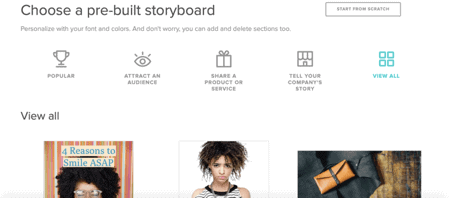 While the name of the tool might suggest animation is involved, this tool is all about live action videos. 
Back to the builder though, start by choosing the storyboard you like (unless you want to start from scratch); then, simply change the short videos in each segment by uploading your own photos and videos or by adding one of the Getty stock images or videos that you can find with their search feature. 
After adding your videos, you can easily watermark them, add text and customize the font and add filters and music. In terms of video formats, you can change them between landscape and square. 
Conclusion
Getting started with social media videos is not as difficult as it might seem at first glance. You even can get away with never filming anything yourself and still end up with high-quality marketing videos.