---
Facebook Decline Is Increasing,
With reports of significant Facebook reach decline surfacing, marketers have started looking for alternative social media sites to maintain their online presence. Let's explore the best ones and find out how you can make the shift from Facebook to another site to make up for the lost traffic.
Facebook reach decline alternative: LinkedIn
LinkedIn is already a popular choice with professionals for networking. The site has been recently enjoying a 60% year-on-year increase in user engagement numbers. This growth has kept LinkedIn viable for networking despite its smaller user base.
The focus on professional interaction is carried over to the interactions that you do on the platform. Neil Patel's posts, for instance, are followed by marketing professionals who are directly interested in his marketing insights.
The site also actively encourages users to create more professional and in-depth conversations with their peers. To facilitate that, LinkedIn revamped its comment sorting algorithm to display the best comments. This doesn't just depend on the number of likes, but also on personalized factors like how you are networked to the commenter. The site also put a renewed focus on its Groups feature for the same purpose.
In 2017, LinkedIn made significant changes to its user interface, resulting in a similar look to that of Facebook's, as shown here: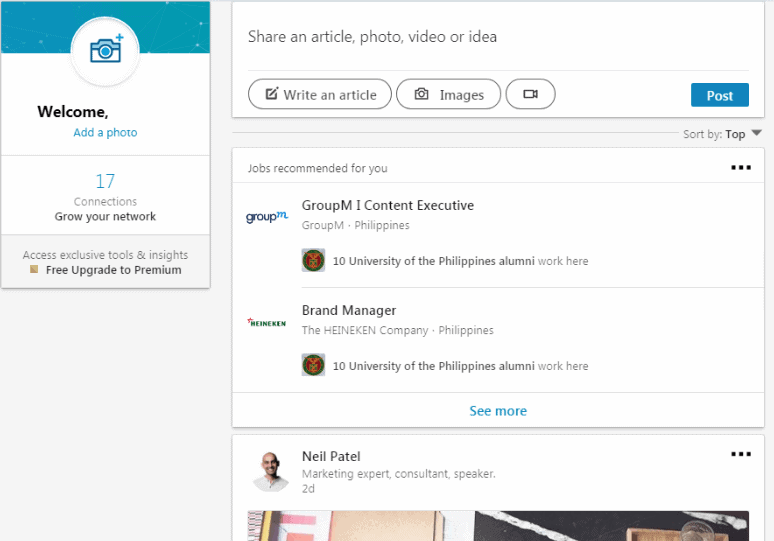 The familiar look makes it easier for professionals to gradually move from Facebook to LinkedIn.
Building your authority
The site's professional nature has a large impact on people's perception of you as a credible source of information. By building your Linkedin presence the right way, you can better capitalize on that initial impression and establish your clout more.
LinkedIn also lets marketers like you blog about the subjects that you have authority on through its Pulse Publishing platform. The Pulse Publishing platform serves as a more professional space right within LinkedIn to post your content. Facebook has limited options for publishing articles within its platform.
Facebook reach decline alternatives: YouTube
In the next few years, videos are expected to make up around 80% of online traffic. This development is expected to put YouTube as an even more important website. In particular, the site has attracted a large audience among younger users. 94% of Internet users from the 16-19-year-old bracket now go to the site monthly.
This younger audience is increasingly using YouTube for more than just watching videos. They now also use it for varied activities like:
Listening to music
Getting educational materials
Communicating with friends
This "all in one" usage makes YouTube a strong social media alternative should your Facebook reach decline further.
Capturing viewers better
With Facebook, video marketers often have to contend with other content types that flood audiences' news feeds. This usually causes people to create shorter videos to better fit the platform. On the other hand, people are on YouTube specifically to watch videos and are more welcoming of longer content. This creates longer engagement periods for more organic traffic.
Another crucial factor here is the ease at which YouTube videos can be shared outside of the site. Aside from the available social media sharing options, YouTube videos can be easily embedded on external sites. Embedded videos can help improve the bounce rates of your websites.
YouTube videos are also more visible in search results. This works well for both your brand channel and associated website. In contrast, you need to be specifically looking for Facebook videos for them to appear in search results.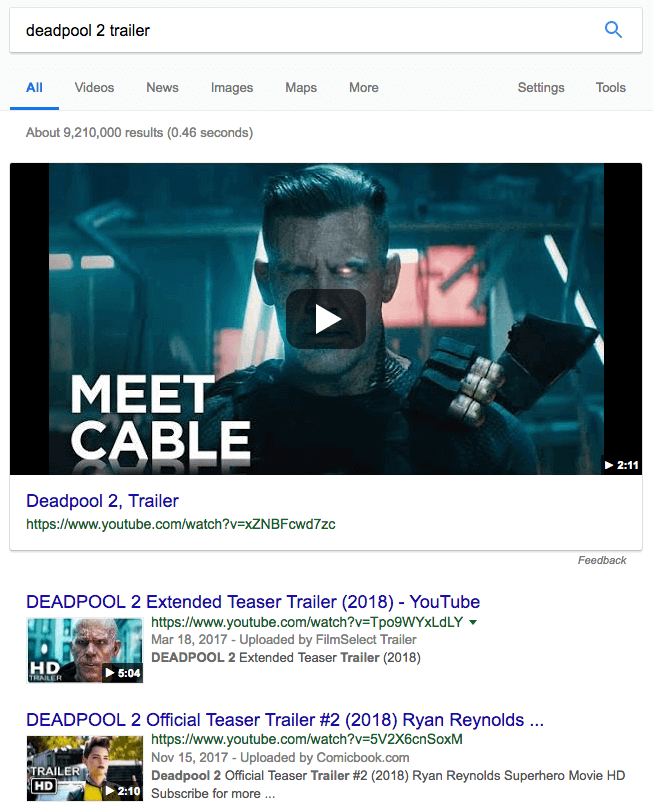 The first three video results were all YouTube for this search, and many more like it are going to give you the same results.
Getting better ad returns
Brands spend a significant part of their social media budget on paid advertising to ensure that they are seen. YouTube has considerably lower ad costs than Facebook, at just $0.04  per view for a 30 second ad. In contrast, Facebook charges $0.11 a view for the same ad.
Furthermore, Facebook typically registers a video view after just 3 seconds of watch time. This means that you are charged even before your audience sees the full ad. It is also possible that viewers can skip your ad after the 3-second mark.
On the other hand, YouTube considers an ad viewed after 30-seconds of watch time. This longer watch time ensures that your viewers see most of your ad before you are charged. The setup also provides a more accurate picture of the number of people interested enough to watch your ads in full. This serves as an effective measure of your ads' effectiveness.
Facebook reach decline alternatives: Pinterest
Facebook is facing stiff competition from Pinterest when it comes to visual content marketing. With the latter's user base reaching 200 million people in the last few years, it is now considered as one of the fastest growing social media platforms.
To keep its user base engaged, the site regularly emphasizes the importance of having cleaner and more engaging images at the center of successful content. It also frequently provides guides on how to create better pins around these images. These guides are created for specific pinned categories, making it easier for brands to adopt the strategies to their products.

Pinterest pins also have a longer shelf life. On Facebook, images are visible in people's feeds for a short time before they get buried under other posts. Pinterest pins are continuously saved and shared by users to their peers. This keeps content relevant for much longer. Your Halloween content from last year could be found again this next Halloween. It doesn't disappear like it does with Facebook.
Greater advertising opportunities
Pinterest users often have greater intent to make purchases compared to those on Facebook and other sites. The site said that more than half of users make purchases after seeing product pins. This makes advertising on the platform more likely to succeed. To further increase the effectiveness of ads, Pinterest made sure that they are well-integrated into the user experience. Unlike Facebook ads, Pinterest Promoted Pins look and function the same way as regular pins.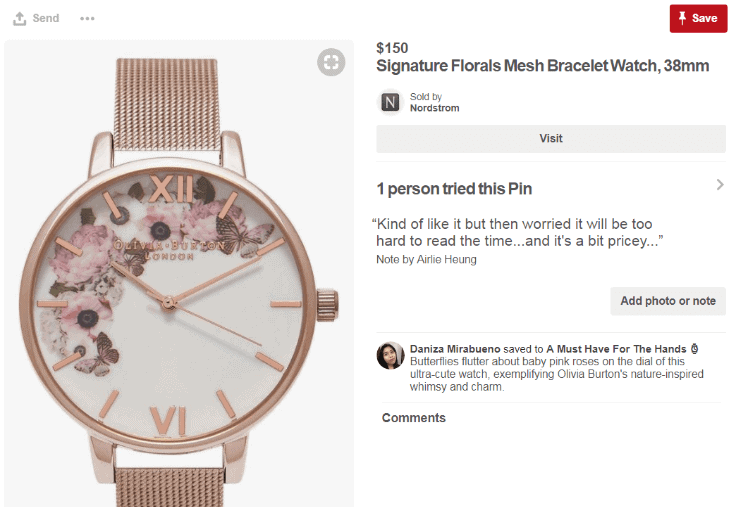 Since Pinterest ads retain the same functions as regular pins, they create organic traffic when shared by others. This lets you increase the reach of your ads considerably without having to pay more. By putting your Pinterest advertising campaign in line with your Facebook ads, you can augment the prominence of the latter considerably.
Jump from Facebook to these social media platforms
Facebook's ongoing decline in active daily users will definitely have a large impact on social media marketing. Luckily, you can use these three social media sites to recover this lost traffic:
LinkedIn: Use the professional network to connect with your professional circle, and to reach out for business opportunities.
YouTube: Being the biggest video sharing platform makes YouTube ideal for video marketing, which is a growing section of the online space.
Pinterest: Pinterest's sole focus on image sharing makes it great as a dedicated channel for visual content marketing. Users' higher intent to purchase products also makes it great for direct marketing.
By gradually migrating specific aspects of your overall social media marketing strategy to these sites, you can easily continue your marketing efforts when your Facebook reach declines.
The post Facebook Reach Decline is Getting Worse, Which Social Media will Help the Most? appeared first on Devumi.
My Dad was a Creative Director all his life. I spent my youth working in the agency, and the apple didn't fall far from the tree. All those experiences made me into a thinker, dreamer and doer that specializes in integrated branding, marketing, digital and public relations services. I feel my key value to clients is the ability to turn creative concepts into analytically driven marketing plans and tools with greater stopping power & relevance, leading to greater results.